Whether you're planning a wedding or just looking to brighten up your home décor, glitter can add a sparkly touch to any project. From your beauty routine all the way to your bookshelf, it's easy to incorporate some bling into every part of your life. These 28 DIY glitter ornaments ideas will show you how to make everything from glitter ornaments for your tree to eye shadow and iPhone covers. You can even use it to make a mirror look nicer or jazz up some plain plastic containers. The possibilities are endless! Making these glitter ornaments from scratch is not hard at all and you don't even have to spend a lot of money on supplies. You can make them with almost anything, just put a little effort into it and you'll love the results.
Sparkles and glitter can be found in a number of places during the winter holiday season, from snow on Christmas Day to elaborately decorated Christmas trees. But glitter and sparkles are also used in a wide variety of DIY craft projects all throughout the seasons. Inner sparkle is one of the most important things to look for when picking out a significant other, and that should extend to your Christmas ornaments too. By using glitter as a decorative munter, you can create beautiful projects to accentuate your home, give as gifts, or place them on display in your home. Here are 28 DIY glitter ornaments ideas you can use to add a little sparkle to your home this holiday season.
These 28 DIY glitter ornaments are a fun way to bring some sparkle into your life this holiday season, all of them can be made with kid-friendly materials and they're perfect as gifts too.
MATERIALS NEEDED:
½″ thick wood discs, cut into circles – 1 per ornament
Burlap fabric – ¼ yard will make 4 ornaments
Hot glue gun and glue sticks
Paintbrush
White paint
Gold glitter
Ribbon or twine for hanging
Modern Rustic DIY Glitter Ornaments
Make your holidays sparkle with this easy DIY glitter ornament. Purchase a clear glass ball from your local craft store, then paint the outside of the ornament gold and copper. Once dry, cover with white glue and roll in copper glitter. These ornaments look beautiful on the tree or in an apothecary jar around your home! These ornaments will surely make your home look festive this holiday season. Great for a gift, party favours, and decor. These glitter ornaments look beautiful when they are displayed on a tree, wreath, and garland. This is a perfect tutorial to make with your kids!
SKILL LEVEL: EASY
DIY Glitter Ornaments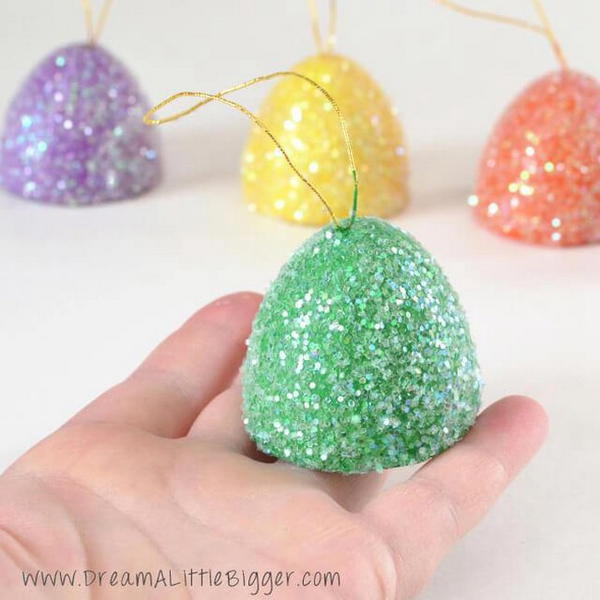 If you love sparkle and shine, here's a way to create your very own giant decorated ornament. They're perfect for bringing sparkly cheer to any room, especially when hung on Your Tree Hugger Tree Branch Shaped Coat Rack. Get started with the supplies needed. It is a quick and fun activity to create a beautiful ornament for your house for Christmas. With colorful decoupage, glitter paint, and gumdrop colours, you can make this project in no time. Kids will love creating glittered ornaments with you as well! Add as much as you want for a fun, bright pop of color to your home decor.
SKILL LEVEL: EASY
How To Glitter Christmas Ornaments
Add some sparkles to your Christmas tree with these glitter ornaments. You will be learning how to add glitter to Christmas ornaments using a clear plastic ornament, clear acrylic sealer, the glitter of your choice, and funnel. Create your own glitter ornaments as a fun hobby during the holiday season. This tutorial will show you how to create your own glitter ornaments using a clear plastic ornament, clear acrylic sealer, and the glitter of your choice. These homemade Christmas ornaments will be a great way to add glitzy décor to your home this holiday season.
SKILL LEVEL: ADVANCED
DIY Easy Glitter Ornaments
This DIY kit makes it easy to create your own glittery ornaments for the holidays. Place icing on the top of each ball and sprinkle with our beautiful snowflake glitter, perfect for creating homemade presents that will look like they were made by a professional. The word "handcrafted" evokes a feeling of uniqueness and authenticity. That's what we strive to create when we hand pour our glitter into ornaments, jars, and another fun home décor. Whether you are creating for yourself, a friend, or your home, we hope you enjoy making these unique items as much as we have!
SKILL LEVEL: ADVANCED
How To Add Glitter To Dollar Tree Ornaments
Add Dollar Tree ornaments to your decor in a whole new way. With just glitter and glue, you can add some glitz to a plain plastic ornament this holiday season. You have to put glitter on the ornament. There's a little hole in the top and then you can pour it and seal the top, and then you shake! And that's how you add the glitter. So it's very simple, easy to do, and looks super cute once it's done. Adding glitter is a great way to personalize any gift, and these clear plastic ornaments from Dollar Tree are the perfect blank canvas that can be used as hanging decorations on your tree, or even as gift tags on presents!
SKILL LEVEL: ADVANCED
DIY Glitter Ornament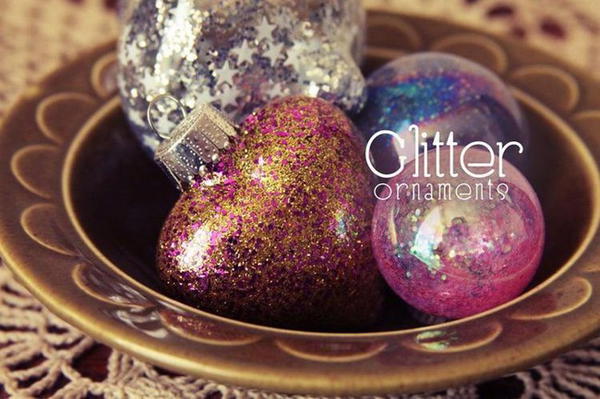 In this video, we walk you through how to make a DIY glitter ornament. It's the perfect gift for folks that love the colour gold or glitter anything! Simply take an ornament, pour in some floor finish, add your glitter and shake it up. No mess, easy clean-up, and super fun to give as gifts! This Christmas tutorial shows you how to create your own DIY glitter ornaments. The main benefit of this idea shows how to create the perfect metallic finish and keep the outside smooth and shiny.
SKILL LEVEL: ADVANCED
DIY Simple Glitter Ornaments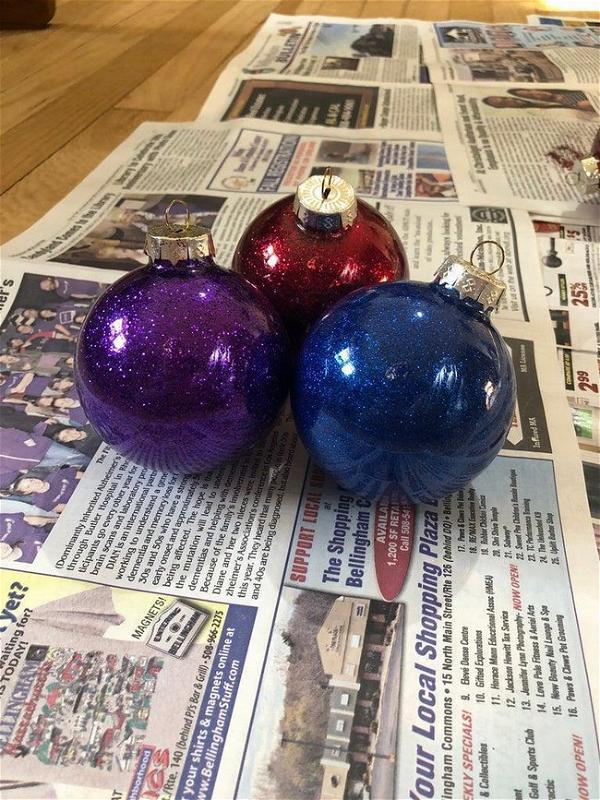 In need of a quick Christmas craft to brighten up your home? Or maybe you're looking for a great hostess gift this Holiday Season! This simple-to-follow tutorial creates festive glittering ornaments with items around your home! Create memorable keepsakes with the special memories you've made while enjoying these DIY ornaments. This DIY is both fun and easy to do. An overall simple, beautiful ornament you can make in just 10-15 minutes and display on your tree or around your home.
SKILL LEVEL: ADVANCED
Christmas Ornaments Glittering Stars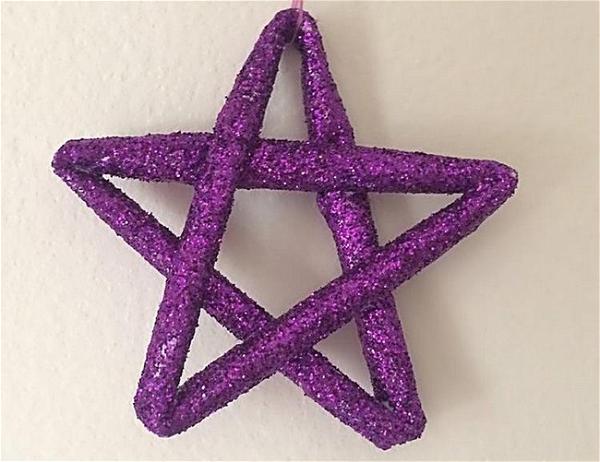 These DIY Christmas Ornaments will brighten up your holiday season. Make a statement on your tree this year with these Glittering Stars. Impress your family and friends with this unique take on the traditional Christmas ball! Choose from a wide selection of colors, finishes, and sparkles to make your very own ornament to keep or give as a gift this season. Kids love to make crafts, especially during festive times and it will be treasured as a beautiful memory forever. This project is easy and fun to make. You can find the required materials in any local craft store or hardware store.
SKILL LEVEL: EASY
DIY Glitter Striped Ornaments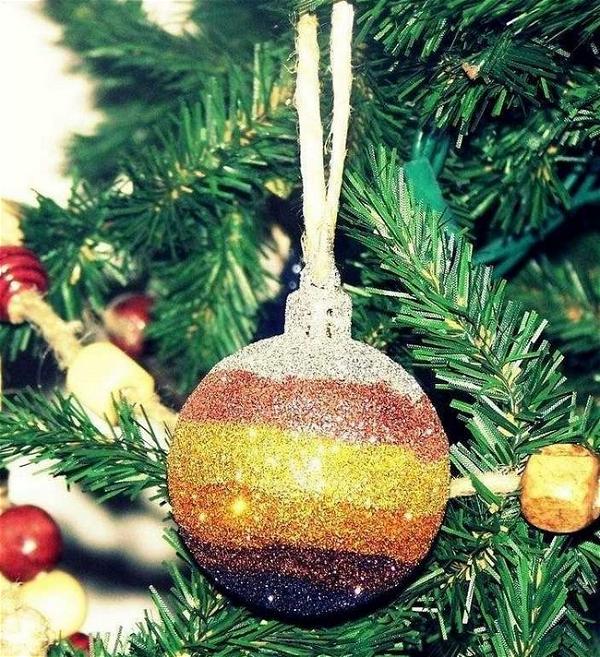 If you are looking for a perfect ornament for your family and friends this holiday season, this is it. This DIY Glitter Striped Ornament is so easy to make and it will be the focal point on any tree. Make your own gorgeous glittered simple ornament by painting on Mod Podge and adding glitter stripes. It's a super easy homemade Christmas ornament project! Display it on your tree and you will have an instant showstopper. With this easy-to-follow guide from our craft experts, you'll be able to create beautiful DIY Glitter Striped Ornaments that will last long after the holidays are over.
SKILL LEVEL: EASY
How To Make Glitter Unicorn Christmas Ornaments
These glitter unicorn Christmas ornaments are sure to be a hit for the holidays. Make a craft that will last for years to come. You will love this glitter unicorn craft project. A glittery unicorn ornament that is perfect for your Christmas tree. Quick and simple to make, you can transform a clear plastic bulb into a unicorn decoration in less than 5 minutes. Add some ribbon to hang them from the tree or leave it as it is, either way, you are going to love the finished result. Glitter is the best!
SKILL LEVEL: EASY
How To Make Glitter Ornaments
Add some sparkle to your Christmas tree by making your own glitter ornaments for the tree. This is great for beginners or advanced crafters because it is fast and easy! But it's also really versatile: you could make a whole set of these in all your favourite colours, then use them to decorate your tree, but you could also use them for other purposes: for gift tags, bookmarks; gifts for co-workers and friends; if you're doing a Secret Santa, these would fit perfectly the bill. This is a super fun project for kids of all ages, and once you make one, you'll want to make more.
SKILL LEVEL: EASY
DIY Glitter Ornaments For Beginners
Let yourself sparkle this holiday season with these DIY glitter ornaments! Glitter Christmas balls ornaments are so easy to make and can be customized in every way. Choose your favorite color of glitter, a pretty ribbon, and a beautiful ornament topper. Follow this easy tutorial and make some fun DIY gifts or decorations! It's a super easy tutorial that's perfect for beginners and makes a great present (or decoration!) This quick and easy DIY project is a great way to relax and take your mind off the hustle of the season while making something special you can share with friends, family, and loved ones. Your creativity will be enhanced with some great tips and techniques that will have you making dozens of ornaments in no time!
SKILL LEVEL: EASY
How To Make Glitter Ornaments For Beginners
This holiday season you're going to own it. With stores filled with gorgeous ornaments, there's no reason why you can't make an ornament that is proudly displayed on your tree. This easy glitter ornament tutorial is perfect for beginners, and all you need is a few supplies. Making your own glitter ornament is relatively easy. Basically, you'll need an empty sparkling water bottle, scissors, glue and glitter, a ribbon and these are optional: Mod Podge sealer and spray paint. Make sure to work in a well-ventilated area when working with spray paint. As always, read the instructions on the can.
SKILL LEVEL: EASY
Best Glitter Ornaments
This is an easy ornament craft that anyone can make. You will be amazed at how beautiful these DIY glitter ornaments are and your friends and family will love them just as much too. This DIY tutorial will show you how to make your own Christmas glitter ornaments that are perfect for beginners! What a fun way to decorate inexpensive Christmas tree ornaments. Plus, adding one of these DIY glitter ornaments gives your Christmas tree a sparkling special touch. They are easy to do and will add an eye-catching piece of decor that looks like you bought from a very expensive boutique.
SKILL LEVEL: ADVANCED
DIY Glittery Wood Slice Ornaments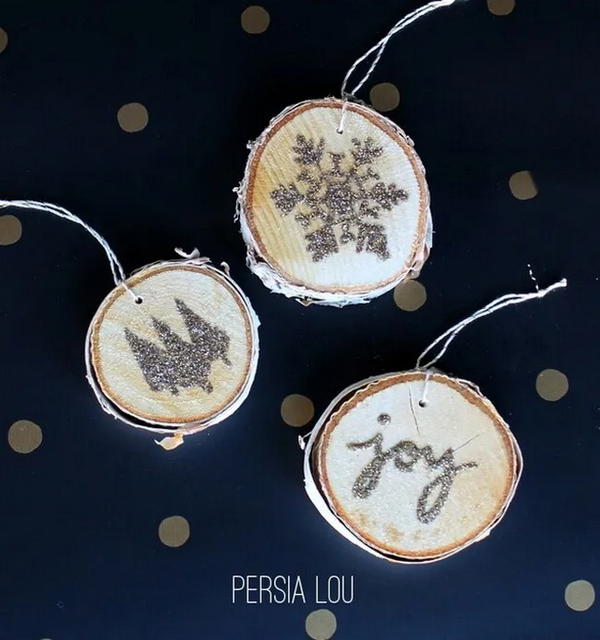 Wow, your guests and family with these beautiful DIY Glittery Wood Slice Ornaments. They are easy to create, and only require a Mod Podge, extra fine glitter, and a small brush. Add the mod podge to your design, then sprinkle glitter on top. Repeat for each section of the wood slice until you have covered the slice completely with mod podge (be sure to get the sides) and add additional glitter as necessary. Let each section dry before moving on to the next. Once complete, spray with a sealer to ensure that your glitter stays in place.
SKILL LEVEL: EASY
DIY Colorblock Glitter Ornaments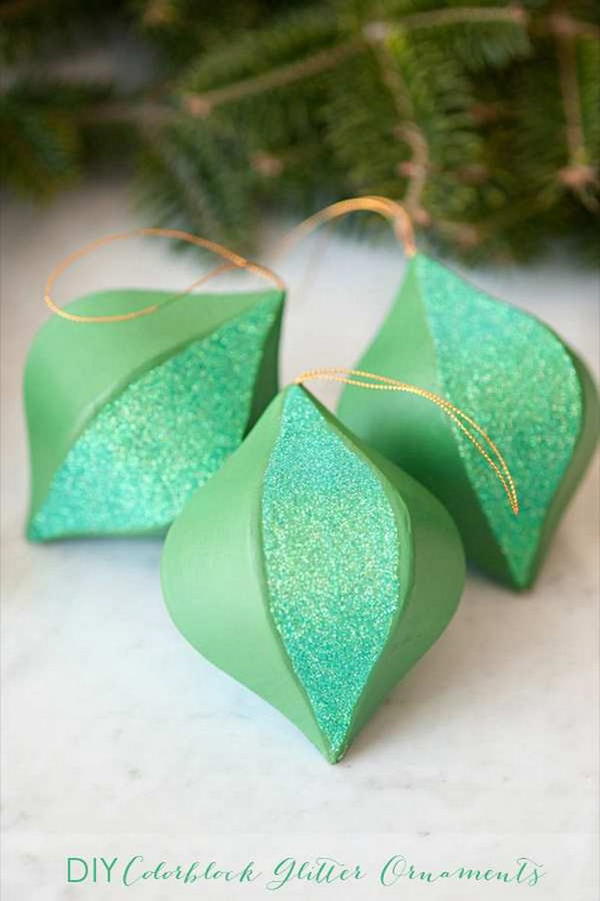 Looking for a simple and fun do-it-yourself holiday project? We have just the tutorial for you! This fashionable colorblock ornament is perfect to craft with some friends after your Thanksgiving feast or while curled up on the couch during those cold winter nights. With this DIY, you can easily make your own festive decorations. After a trip to the craft store and about an hour's worth of effort, you'll have shiny ornaments ready to go. You only need a paper mache ball, paint, mod podge, glitter, and gloss spray to accomplish this colorful DIY in no time!
SKILL LEVEL: EASY
You can also see: Decorations For Thanksgiving Feast
How To Make DIY Ombre Glitter Ornaments
You'll have the most blinged-out Christmas tree in your neighbourhood when you make DIY ombre glitter ornaments. These sparkly, beautiful ornaments are so easy to create. Add string and hang them on your holiday tree, or gift them to friends and family for a personal touch. You and your loved ones will enjoy these pretty, eye-catching Christmas decorations for years to come. This DIY ombre glitter ornament tutorial is easy-to-follow, and you're going to love the results. You can make a few in just one session, making them perfect for upcoming parties or as last-minute stocking stuffers.
SKILL LEVEL: ADVANCED
How To Make Shimmering Star Ornament
Make the family Christmas tree shine with our festive Shimmering Star Ornaments. They're a snap to make, but they look impressive on your tree. This easy DIY ornament is a beautiful addition to any tree! Let your creativity shine with shimmers of Star Ornament. Holiday decorations can be just as wonderful as the season itself. Use this time-honored tradition to capture your children's imaginations and make craft time family time. There are so many ways to bring love and joy into the holiday season, let this DIY ornament show off your family a little bit more.
SKILL LEVEL: EASY
How To Glitter Ornaments Using Polycrylic
These glitter ornaments made using polycrylic and distilled water are beautiful, easy to make, and non-toxic. They last year after year and are perfect for any room in the house or gift-giving. Ideal for kids projects too with no mess! And they look gorgeous on the tree! Create a craft that you can use throughout the year. Glittering Ornaments. Always have ornaments available, multiple Christmas Ornaments not only look festive but can be used seasonally as home decor. It provides several coats of protection and is relatively easy to apply. It's also inexpensive and goes on smoothly.
SKILL LEVEL: ADVANCED
DIY Red Glitter Ornament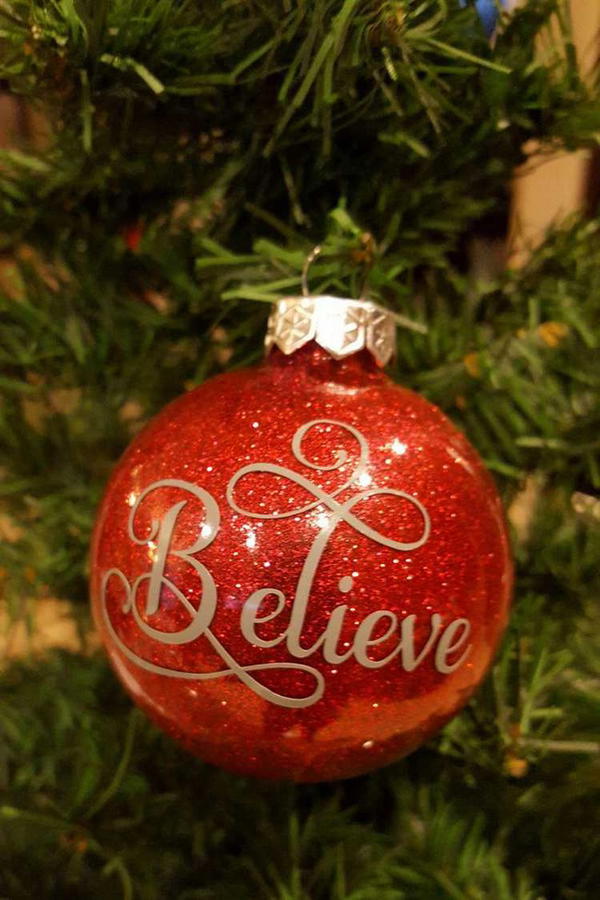 Make your Christmas tree more amazing with this red glitter ornament. This simple ornament is a perfect and fun way to add glitter to your Christmas tree. You can use any color of glitter you want and make it yours! This ornament is fun and easy! This ornament is the bee's knees. Simple to make and dazzling in style. Paint inside of a glass bulb with acrylic paint, then pour out any remaining paint and add glitter in its place. Put the lid back on, and you have a homemade decoration that's unique to your personal style.
SKILL LEVEL: EASY
DIY Glitter Star Ornament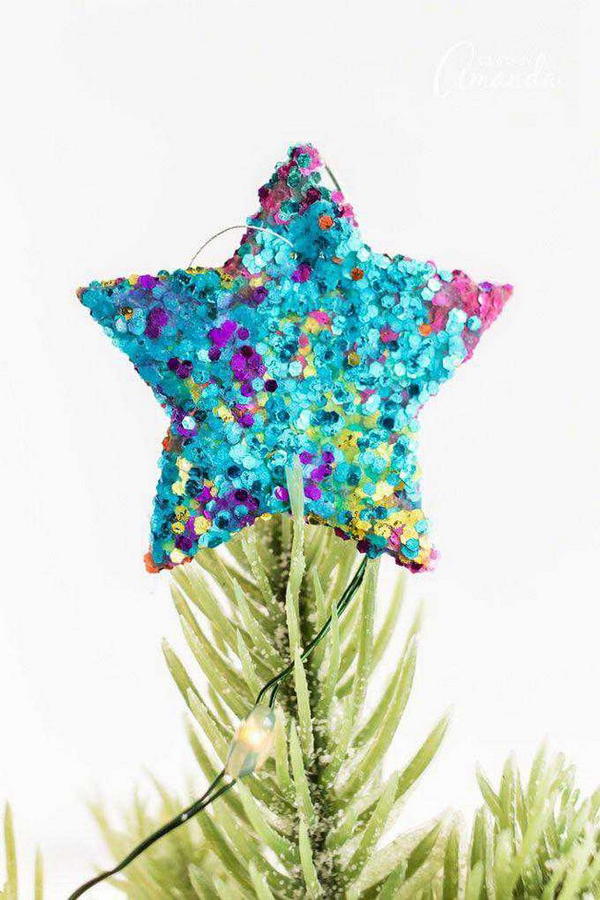 Have fun making your own sparkly star ornament. This easy craft project is a great way to use Crayola Glitter Dots. This season, encourage your little makers to create a dazzling holiday ornament with this easy DIY tutorial. Kids will squish, roll, mould, and cut these glittery ornaments into festive shapes like candy canes and stars. These glitter dots are specially coated with a shimmery finish that you'll have a way to clean up than traditional glitter. The kit includes everything needed to make six ornaments. It's the perfect gift for kids who want to create twinkling art projects.
SKILL LEVEL: EASY
DIY Dipped Glitter Ornament
These glittered ornaments are so easy to make and fabulous. This crafting project can keep the kids busy and allows for their creative side to flourish. Create a fun, modern ornament with this easy DIY Christmas design. All you need is a few supplies and your creativity. Pair it with some of our other decorations to add some glitter to your holiday! With just a handful of supplies, you can make your own DIY dipped glitter ornaments. These are extra quick and easy because, unlike other dipped glitter ornaments, there's no waiting for the ornaments to dry completely before using them.
SKILL LEVEL: EASY
DIY Glitter Dot Ornaments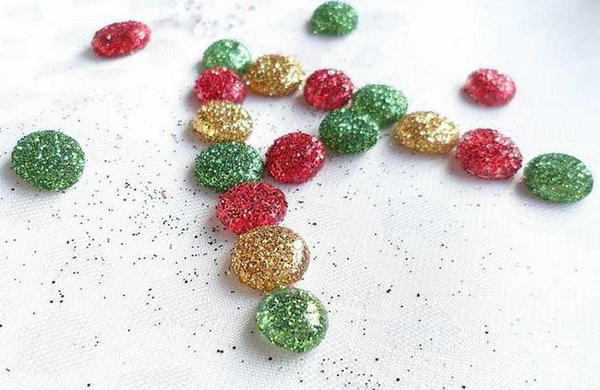 This is another fun craft project for kids. If you have young kids, this is the perfect craft project to do together. The hardest part of this glitter dot ornament is making sure you don't get hurt with your glue gun or glitter all over your house. Of course, the end result is a great ornament that your kids can hang it on their tree and be proud to show off to their friends. Start the holiday season with this DIY project for kids. Kids will have so much fun making these glitter dot ornaments, and it's a good way to get them excited about decorating the tree!
SKILL LEVEL: EASY
DIY Glitter Ornaments With Vinyl
Glitter ornaments are the best, right? This DIY glitter ornaments tutorial with vinyl is perfect for you if you're new to the world of crafting and decorating with vinyl. It's simple, easy, and fast. Some of these will be a great beginner project for those of you just starting out with your craft cutter too. Not only are these glass ornament decorations fun and festive, but they are also useful as well. You can use them as Christmas tree ornaments, as a gift tag, or even on your Christmas Gifts with a gift card attached!
SKILL LEVEL: ADVANCED
DIY Glitter Ornaments For Kids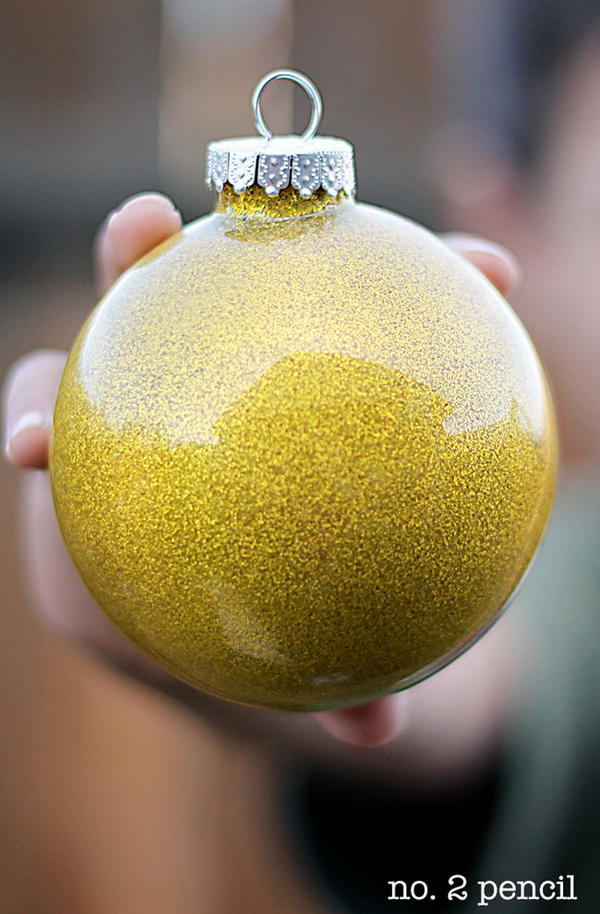 This holiday season, make these DIY glitter ornaments with your kids. They're fun to assemble, and they'll enjoy hanging them on the tree! Making glittery ornaments with the kids makes for a fun afternoon of crafting and a pretty accent to your holiday tree. It's an easy activity, but it's also very easy to make a mess! This time around we used our specially formulated Mod Podge Wash Out for Kids to get the same sparkly results without the litter box cleanup. The clear formula makes it easy to see where you are gluing and avoids any staining.
SKILL LEVEL: ADVANCED
DIY Glitter Ornaments Including A Grinch Ornament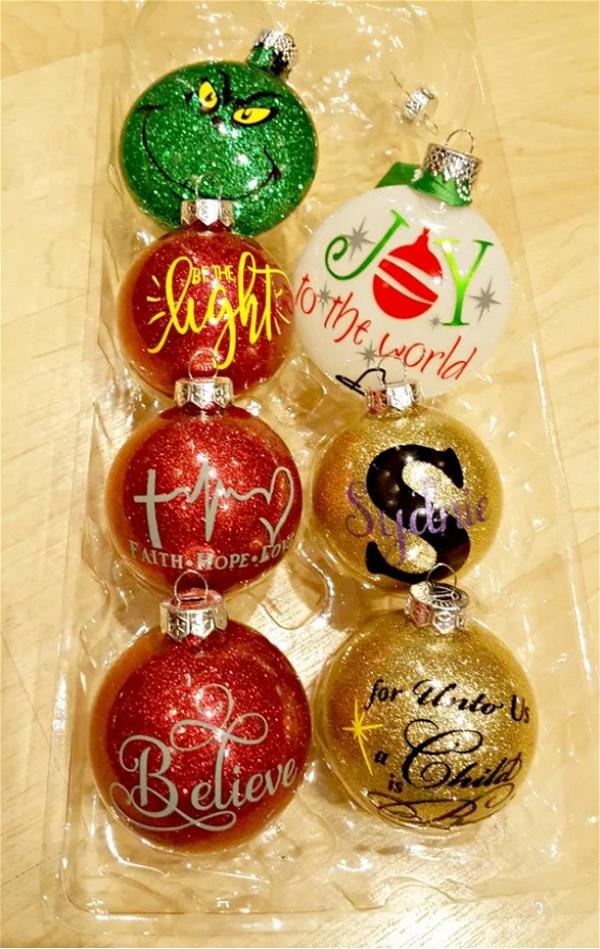 Are you ready to glam up your home for the holidays with glitter ornaments? These beautiful clear ornaments are so lovely. Make your own glitter ornaments for Christmas with these fillable DIY ornaments. These clear glass globes are perfect for decorating and would make a great Christmas gift for friends and family! These DIY Glitter Ornaments at your Favorite Adventure are a festive, fun way to get your family in the holiday spirit. They make great gifts and will complement any Christmas tree! Using glittered balls is an easy way to add shine and glam to your home!
SKILL LEVEL: ADVANCED
Make Easy Glittered Bulb Ornaments
How to make sparkly, glittery bulb ornaments. These are the easiest ornaments you'll ever make! Easy to do with kids! Making ornaments that look like glass but are actually made from inexpensive plastic work great. These easy-to-make glittered light bulb ornaments look like they're really made of glass and have won first place ribbons at craft fairs. It's a snap to create your own ornaments with clear glass bulbs, Pledge FloorCare Multi-Surface Finish, and craft glitter. These projects are also fun to do with kids — they make great gifts.
SKILL LEVEL: EASY
How to Make Glitter Ornaments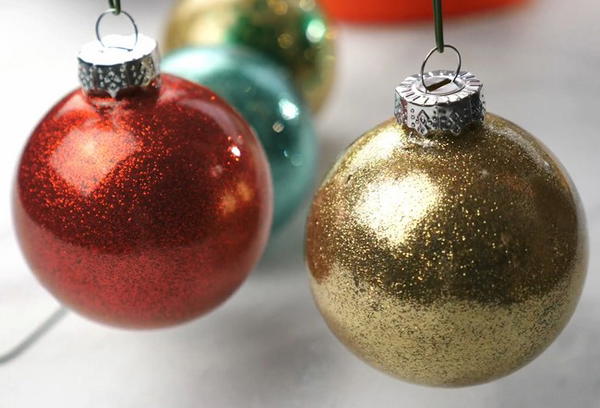 Looking for a fun project to make with the kids at home? You will love this glitter ornaments DIY because it's not only easy but also a great way to introduce the little ones to craft. Even better, the supplies are probably already laying somewhere around your house, so you'll be able to start right away! These ornaments have a LOVELY sparkle and their cream color works well in any home. A RETRO decor feel that transcends generations! This is a quick project to put together and makes an adorable Christmas ornament that your kids can help you create.
SKILL LEVEL: ADVANCED
CONCLUSION:
Christmas only comes once a year, but that's no reason to not look your best. After all, you never know who you'll be sitting next to at the office holiday party. Luckily, we've compiled a list of 28 ways that you can make your own festive and sparkling decorations for this holiday season. From sprucing up your Christmas tree, wreath, or garland to creating ornaments and glittery décor for other parts of your home, we've got a variety of projects that are sure to fit your style. Even better? They're all made with items you can easily find at any craft store.