Lemonade stands are a quintessential summertime project that kids can do with a little bit of help from mom and dad. But they're also a great project for kids to do on their own if they're old enough and responsible enough. Make the most of summer with our DIY lemonade stand plans! This Lemonade stand is a classic project for kids; this stand is much more sturdy and useful than your average cardboard box. The kids will learn about money, business, and the value of customer service.
DIY Lemonade Stand Plans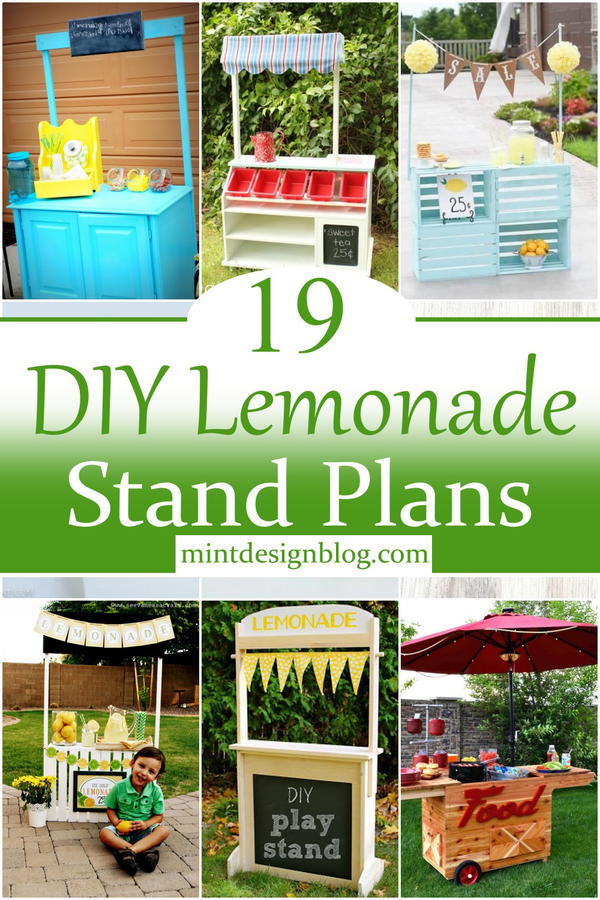 Kids love lemonade stands because they get to set their own hours and have complete control over the product they are selling. They get to be creative with the stand and have fun with it as well. The most important thing, other than making some extra cash, is that kids get to practice math skills by keeping track of their inventory, money, and ingredients that go into the drink. Each of these is an actual plan with real actionable directions, supply lists, and tool requirements. If you are serious about taking on this project, there is absolutely an option here that will get this project checked off your list.
Crate Lemonade Stand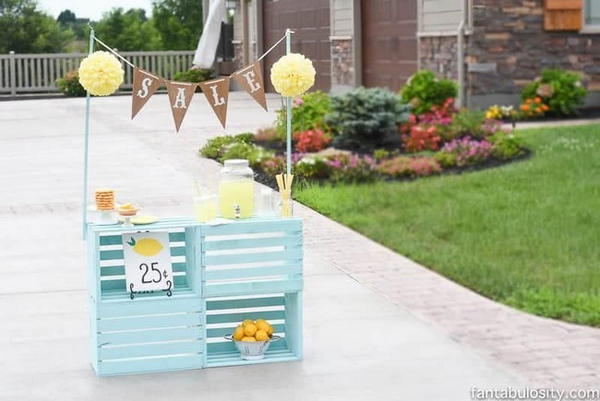 Good things come in small packages--especially this Crate Lemonade Stand. The Crate Lemonade Stand - If you are looking for a quick and easy lemonade stand, this would be a great choice. It has a classic look to it and is incredibly easy to put together. The best news is that once you purchase the crates for the base, you can have this lemonade stand completed in a matter of minutes. This model is best suited for smaller children, but you could always add some crates to make it suitable for big kids as well. Perfect for a day at the ballpark or the local farmer's market, it features a push-button swing top that can hold two regular glasses or cups.
Child's Lemonade Stand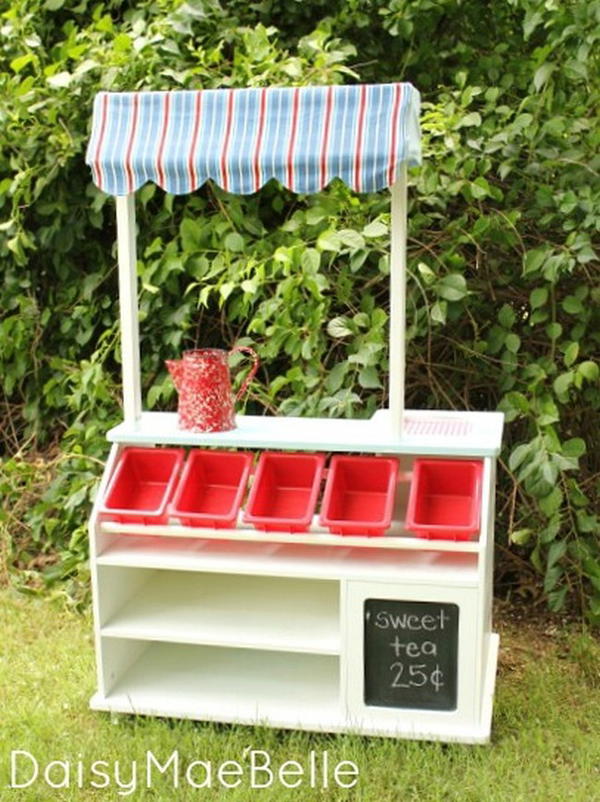 The Child's Lemonade Stand is a perfect spot for selling lemonade and much more. This model comes with a roof, walls, and windows that slide on and off easily. A small retail space is included on the interior of the model - ideal for children to use their imagination when playing grocery store or any of their other favorite games. When not being used, this model can be disassembled, and the walls can act as a storage shed for toys, etc. The durable plastic construction ensures that it can handle your kids' wild imaginations for years to come. Its two awning-covered windows make for a nice spot to set up the cash register, and its shelves allow for a little display of your child's favorite figurines or toys.
Cabinet Lemonade Stand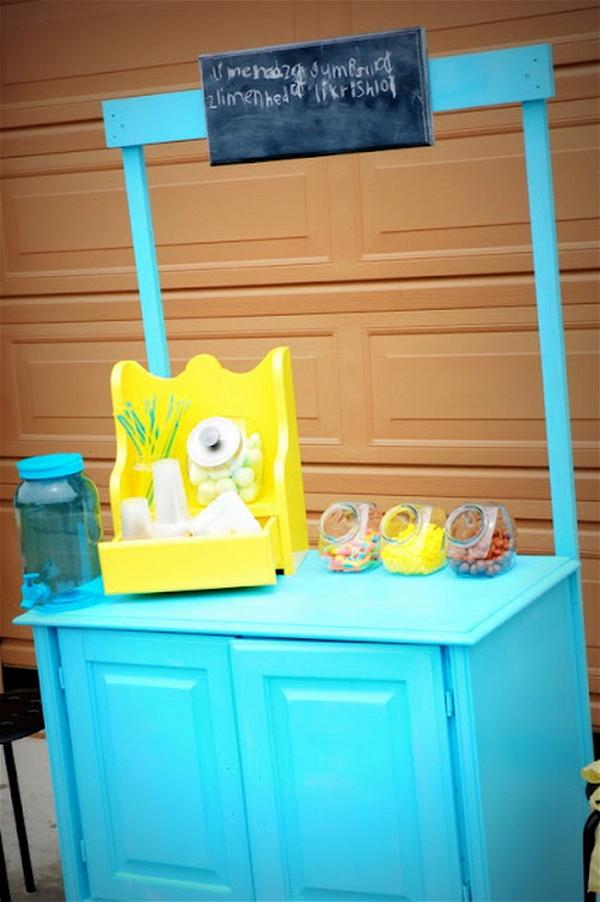 If you are looking for a unique way to start a small business, the Cabinet Lemonade Stand is just the piece for you. Similarly, the Cabinet Lemonade Stand is for you if you want to save money on building an actual lemonade stand. Inexpensive and easy to build, this is really a wonderful product!. It might cost you some time and a little elbow grease to transform your cabinet into a stand, but the end result is a cute stand that is perfect for parties and gatherings. Similarly, the Cabinet Lemonade Stand is for you if you want to save money on building an actual lemonade stand. Inexpensive and easy to build, this is a wonderful product!
Lemonade Stand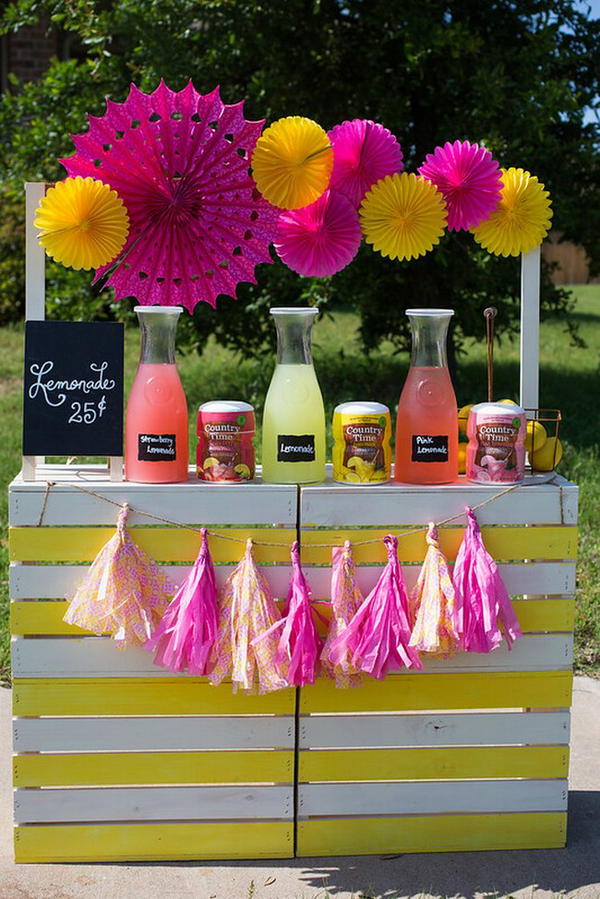 Help your children's business dreams come true with this little wooden Lemonade Stand. This is the place to go if you need a plan for an easy lemonade stand, with a recipe included. The Lemonade Stand is a simple model that also uses crates. Crates seem to be a common theme in the lemonade stand world, mostly because of their price and ease of use. The directions will clearly show you how to put this together and get this great yellow and white paint pattern to help your lemonade stand shine. This business model also includes a great paint job. This is an older model of the stand. It comes with a recipe for making your own delicious lemonade. It is also a super simple lemonade stand that works great for kids' parties or a fundraiser.
Crate Lemonade Stand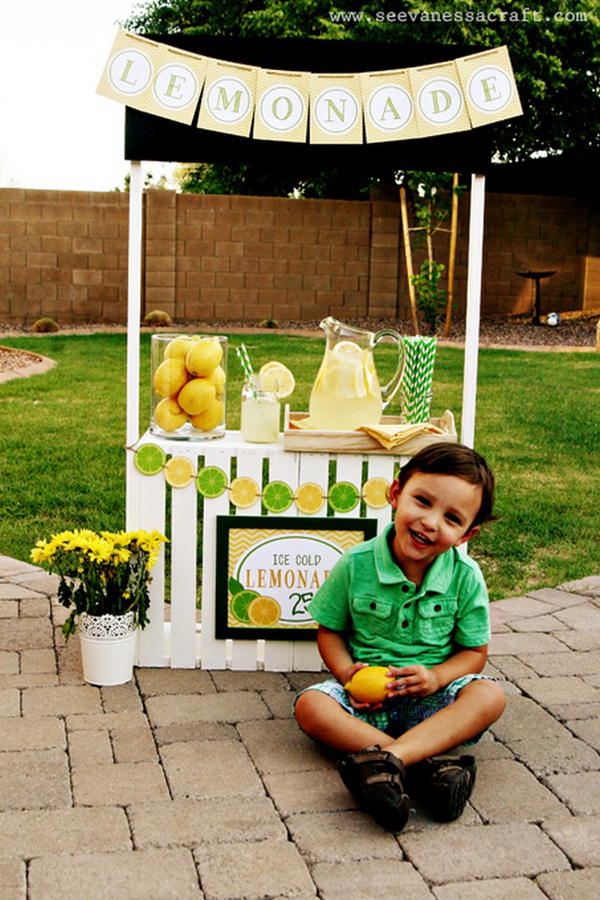 Even if you're not a full-time lemonade entrepreneur, this setup is a great weekend project for anyone with a love for old-fashioned lemonade. Customize your stand with removable wood crates and by choosing your own unique serving bottles. This small crate lemonade stand is the perfect size for your kitchen. Whether you need a place to rest take-out boxes or would like an easy way to dole out treats at parties and events, this crate design will serve you well. The white paint the look of a classic piece and can easily be refreshed with one coat every so often. Paint the wood pieces first, then spray on your color of choice and add the handles, box liner, and tray for easy serving.
Play Lemonade Stand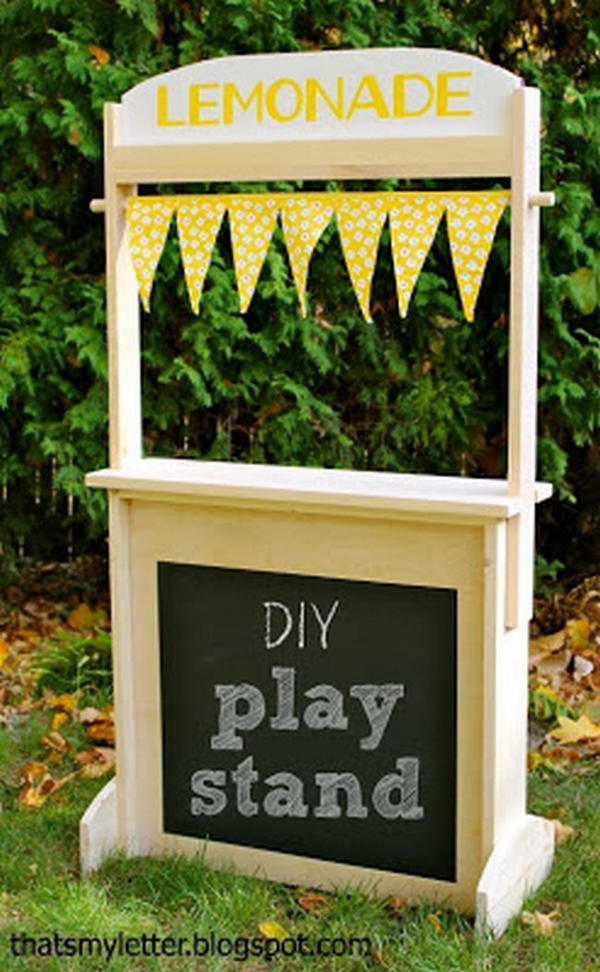 The Play Lemonade Stand is one of the most versatile designs you will find. This is a great choice if you need a real lemonade stand or just a play one for the kid's room! The project is quick and easy to complete and cost-effective too! This play lemonade stand is the perfect place for your child to set up an imaginary juice stand or sell other types of merchandise. It has lots of opportunities for kids to show and express themselves and imagine that they are in business for themselves. This item is also a great gift idea and will create a lasting impression.
Lemonade Stand With Wheels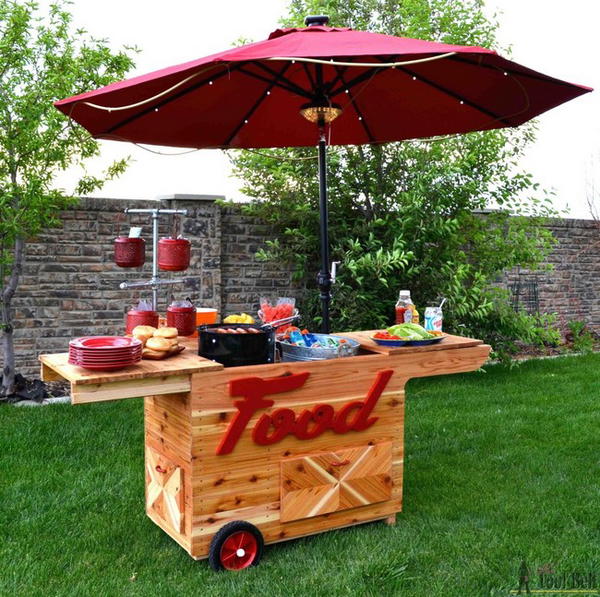 Bring a little bit of the country to your next cookout with this fun and authentic-looking lemonade stand. The stand is made from cedar and it is designed to be placed in your yard or at the end of an aisle. It has a storage area for boxes of lemonade, and the roof opens up for quick serving access. This is really the ultimate lemonade stand with wheels. The wheels make it into a portable lemonade stand that you can roll around to where you need it and even take to parties or fairs. The stand makes it easier to transport ingredients and supplies to-and-from your lemonade stand. This is the ideal stand if you want to sell lemonade year-round at county fairs, parties, and neighborhood events.
DIY Nightstand Lemonade Stan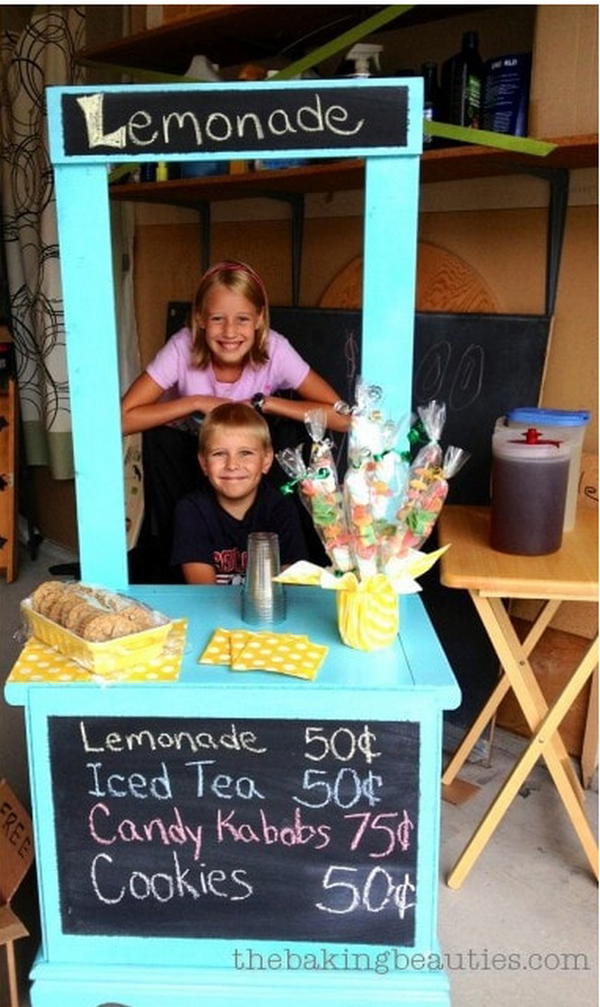 This DIY Nightstand Lemonade Stand looks like so much fun that you might want to set it up in your living room. It's perfect for an afternoon of lemonade 'shopping' with the kids. They will all be entertained when they see the finished product, and even more so when they get to stand behind this and serve their friends and family. This is a project that you can do with your children or grandchildren. The next time you are looking for an idea for a cool project for them, consider adding this DIY Nightstand Lemonade Stand to your list! To make this stand work for your little one, use the recipes for their favorite lemonade, or just mix something simple.
DIY Roadside Lemonade Stand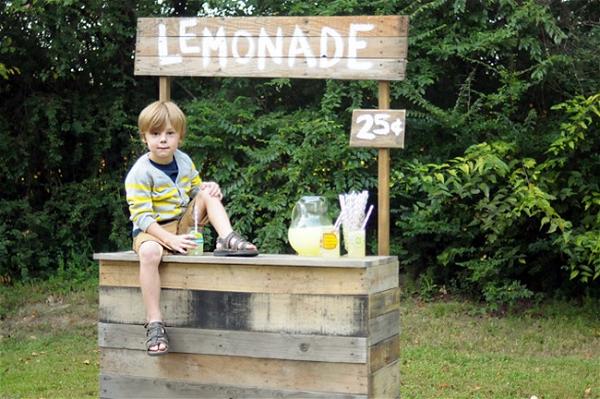 Your little entrepreneur will love having his or her own lemonade stand this summer. The DIY Roadside Lemonade Stand is an absolutely adorable, garage-sale bargain that will help your child earn a little pocket change and teach them the art of salesmanship. Being able to make your own lemonade stand is sure to stir up lots of smiles and customers, as it creates a neighborhood feel - however you decide to finish the lemonade stand! This homemade roadside lemonade stand will make your child's imagination run wild with ideas for possible businesses. It even comes complete with a chalkboard so you can advertise what kind of treats will be available for purchase.
Do It Yourself Lemonade Stand
If you are looking for a thoughtful gift for a child, the Lowes Do it Yourself Lemonade Stand is one that might be a great option. Designed for young children, this lemonade stand is made from all brand new wood and painted to perfection. We really love the shade that the top piece of this model provides, and it will definitely be perfect for keeping your little ones protected from the hot sun. Children are known to spend countless hours at a lemonade stand, selling cool drinks to family, neighbors, and others. This comes pre-assembled, but we recommend you check that everything is installed correctly before allowing your young ones to use it. This will be a great addition to any child's toy collection!
Lemonade Stand Plan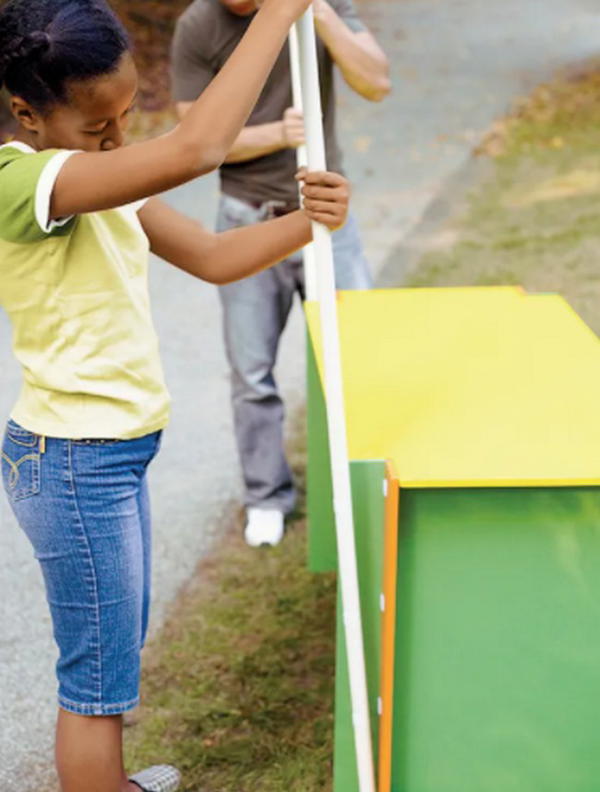 If you have kids, it's time to brush up on your carpentry skills with these plans for a children's lemonade stand. You will love that this project allows parents and children to team up to construct something together. This classic children's toy offers the perfect opportunity to teach kids about building and all the fun that comes along with it. This plan is perfect for the child who loves to help and hang around at home while you work on a project. Children will have a great time helping build this summertime lemonade stand. With an open back, the stand provides enough shade while they are ready to greet their friends and neighbors with fresh-squeezed lemonade.
Easy DIY Lemonade Stand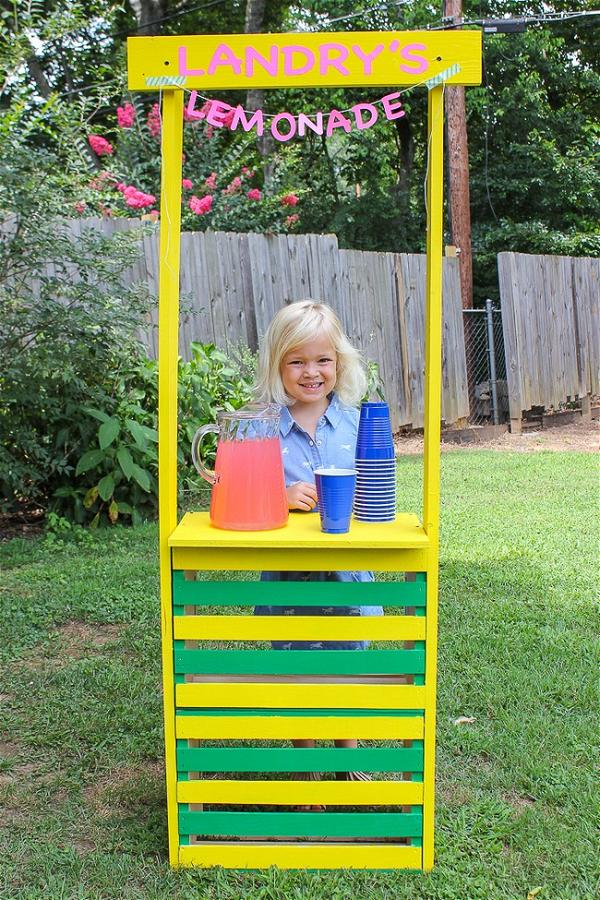 Let your kids create their own lemonade stand for the summer that's both charming and doesn't cost much. This Easy DIY Lemonade Stand is a quick weekend project that will leave your kids smiling. We love how simple this plan is laid out and the fact that even a novice woodworker could put this together for their kids. Add some bright paint and a pitcher of lemonade, and nobody will ever be able to tell that you put this together for just a few dollars. This easy DIY lemonade stand plan uses cinder block, scrap plywood, and hardware to make an open box that will get you back in business whether you're serving ice cream cones or lemonade.
Low Effort Lemonade Stand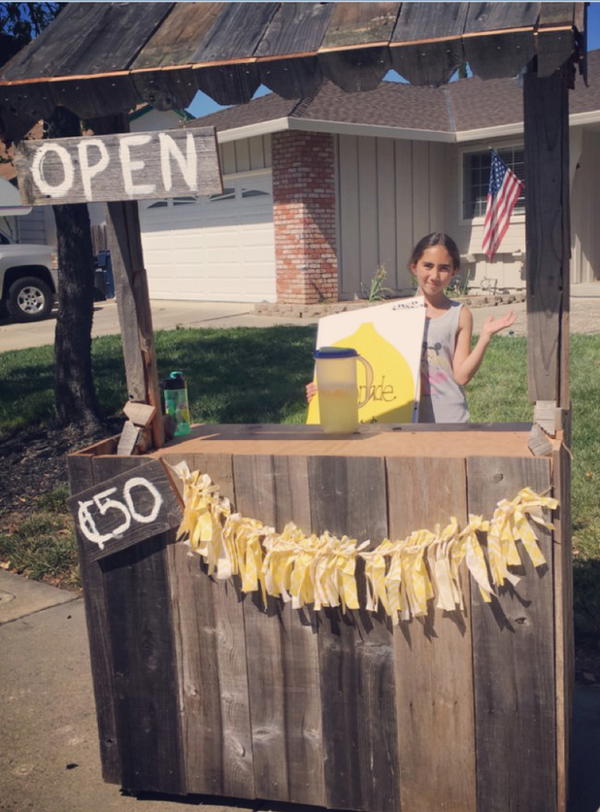 It doesn't have to take a lot of effort to enjoy a day at the lemonade stand! This mini lemonade stand goes together quickly using fence boards and plywood and works perfectly for the smaller kids in your life! Whether the kids in your life are setting up shop in a backyard or parking lot, they'll have an exciting time serving their favorite summer drink. And better yet, this mini stand is just as cute when it's put away for winter! The wheels make it easy to wheel around, perhaps accommodating your customers. Stick a sign in the front, pour some fresh lemonade, and you're all set for an afternoon of fun!
Deluxe Lemonade Stand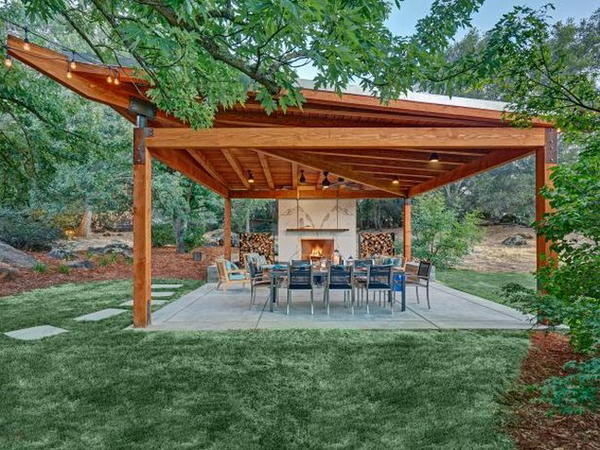 The DIY Network is proud to bring you the Deluxe Lemonade Stand. This product is an officially licensed children's lemonade stand model that makes for an adorable playtime or party decoration. This product comes with a warranty from the manufacturer and should not take you more than a few hours to put together. It comes with everything you need, including the lemonade cups, signs, and tables to set upon. You'll have icy-cold lemonade on hand with this easy and stylish stand! The Deluxe Lemonade Stand is an adorable model that should not take you more than a few hours to put together. The Stand uses sheets of plywood with holes cut in them, and you can fold this stand relatively flat when you are done selling for the day. Get as creative as you would like when it comes to decorating this bright and colorful stand.
Pallet Lemonade Stand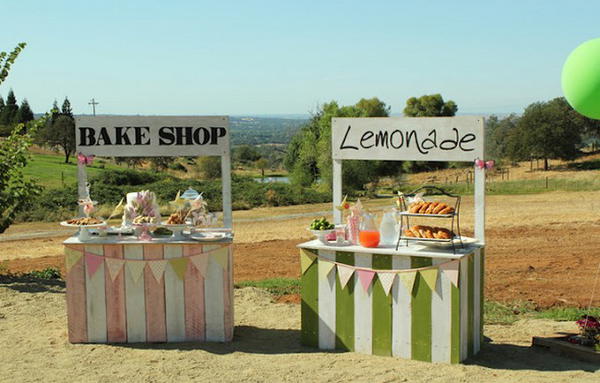 Let's be honest; there is really only one thing that makes running an entire lemonade stand worthwhile. That one thing is the lemonade. With our Pallet Lemonade Stand, you can make your delicious homemade lemonade the way you want it, knowing that your customers are going to love the flavor of your homemade concoctions. You want to build a lemonade stand but don't want to spend a bunch of money on materials. To remedy that, let us introduce you to our DIY pallet lemonade stand kit. You only need to supply some elbow grease and a few Saturday free hours. Just dig through those old pallets, and you will have the materials you need for your kid's lemonade stand and so much more.
Conclusion
We've put together some Do-It-Yourself plans for creating your own little lemonade stand. This do-it-yourself project is something fun to create and we have something that will keep you busy making valuable memories with friends and family! This kit has everything you need, including a step-by-step instruction booklet to guide your way. Create your own lemonade stand with this wonderful, inspirational guide.
See Other Projects