If you have a kid and want the kid to play with things because they are not playing when he should be playing, go ahead and build a ball pit. If he likes balls as much as you think he might enjoy balls, there will be a lot of fun having a ball pit out in your backyard in which you can dip your toes and charge at full speed. Your kids are going to love this ball pit! They will be eager to dive into it. Moreover, as a parent, you will love the DIY ball pit ideas aspect that reduces the cost by a minimum amount.
DIY Ball Pit Ideas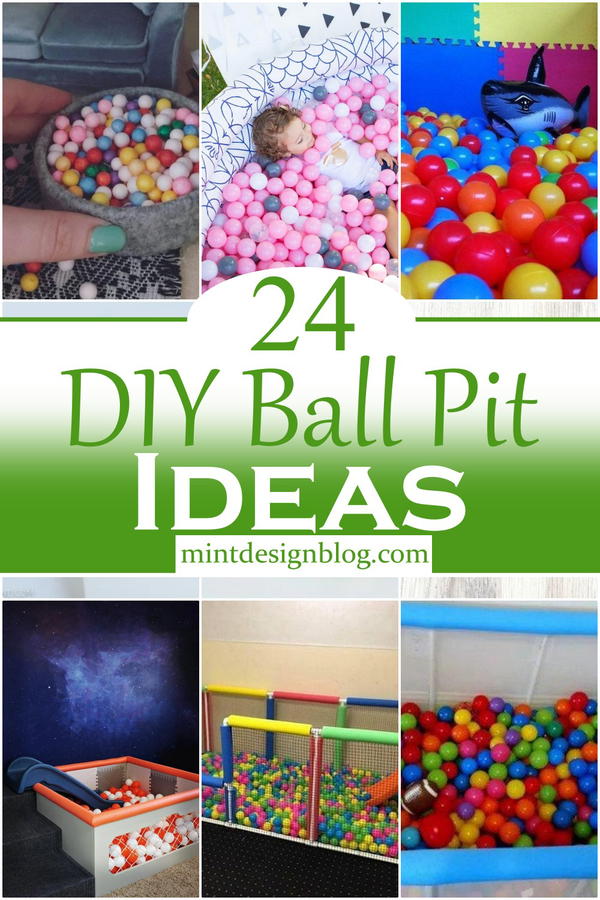 Fun Balls are an excellent accessory for any playroom or bedroom, especially for kids under six years old. Depending on your child's age, you can make the ball pit safe for them by eliminating harmful objects such as toys with small pieces that could get lodged in the throat. This summer, these 24 DIY ball pit ideas will help you build a ball pit for your kids. I hope your kids enjoy them as much as we did. The guides will show you how to make the most accessible homemade ball pit for your kids and other tips for making the best toddler ball pit. These DIY ball pit ideas will have you feeling like a kid again.
Materials and Tools:
 plastic or wooden balls
large cardboard box
 duct tape
scissors
pen
ruler
How To Build A Ball Pit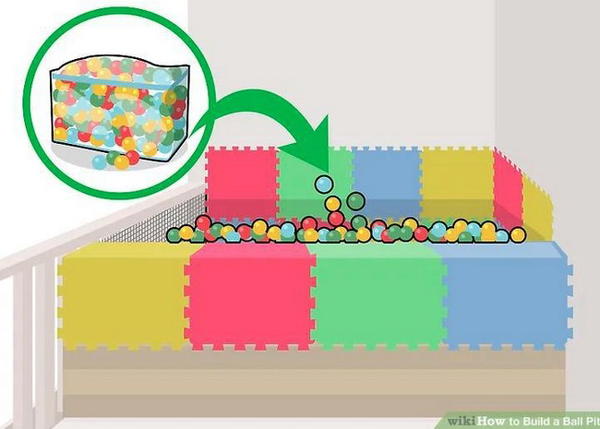 Ball pits are great for a variety of reasons. It is a fun alternative for children who may not be ready for traditional playground equipment. First-time visitors to a public place like a park or playground can also use this pit by playing without knowing the site's play equipment. The ball pit is perfect for play dates and birthday parties. You need to get some balls, dirty your hands, and build a ball pit. There are two steps to a successful project when building your ball pit: location and balls. Sure, you need enough balls to fill your ball pit. But first, think about where the ball pit will go.
Skill Level: Beginner
Homemade Ball Pit Using Pool Noodles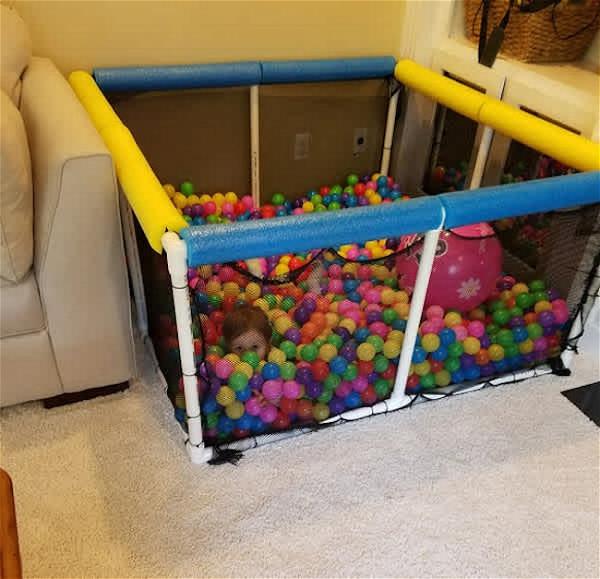 A ball pit is a fun toy to have at home. It will entertain your children while providing them with a comfy nest. It can also encourage physical play, which is always suitable for your kids not to be lazy. A simple yet attractive ball pit frame can be constructed and decorated using pool noodles – one of the best ideas. This homemade ball pit is best for small kids or toddlers. You can make it in no time, and you don't need any other materials except PVC pipes, pool noodles, and tape. Please check out the following steps for more information on making this ball pit assembly with pool noodles.
Skill Level: Beginner
DIY Foam Ball Pit
This ball pit is an excellent environment for learning, playing and growing; it saves space and money. When your kid gets older and wants toys from the toy market, this won't be much of a hassle because all you need to do is take out the foam boards. This DIY craft is a great project that your kids or grandkids can help you with. This post includes many pictures and descriptions to take you step by step through the whole process. This project made it as inexpensive as possible while still maintaining its durability. An exciting project that will provide kids with hours of fun.
Skill Level: Beginner
DIY Ball Pit
As a parent, you desire to give your baby everything. What else can be more fun, comfortable and enchanting for your cutie than their own homemade Ball Pit? Do you want to build a ball pit for your newborn cutie? Or do you want to learn how to make a simple ball pit for your toddler? This video tutorial will learn everything you need to build your awesome ball pit. You will also learn the appropriate materials suitable for your cute baby. You can learn from this tutorial how to make a DIY ball pit for your baby. Get the materials, tools and step by step instructions on making this ball pit.
Skill Level: Intermediate
GAGA Ball Pit DIY
The GAGA Ball Pit DIY is an excellent way for your kids to spend hours playing with their friends. Even better, when their friends leave, it can be packed away and be used later - even years later! A circular saw and hammer drill are needed to make this ball pit, plywood and straight edge. The tools required are pretty simple, and you won't need any special tools to build this. Use the above plans to keep you on track when building your ball pit. You can make an impressive pool out of this washer-base stand-alone gaga ball pit, and it is not that hard to design.
Skill Level: Intermediate
DIY Toddler Ball Pit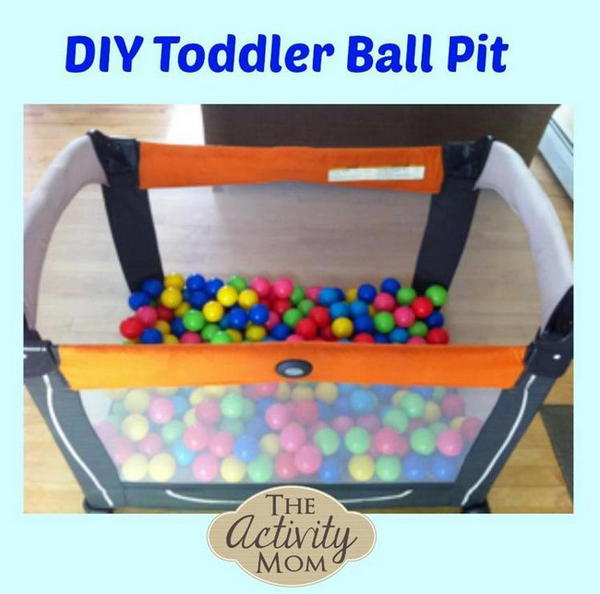 A DIY toddler ball pit is an excellent toy for children. It is so fun for them because it has a lot of balls. They can also play with their friends. However, you need to prepare enough balls and time for this activity. Toddlers love playing with balls, but those soft plastic balls are a choking hazard for younger toddlers. While you may be able to watch your toddler play with them, it's even better to let him play in an enclosed space that keeps the balls from going everywhere and becoming a safety hazard. In a few minutes, you can quickly turn an old pack- n-play into a safe ball pit.
Skill Level: Beginner
How To Build A Ball Pit On Your Balcony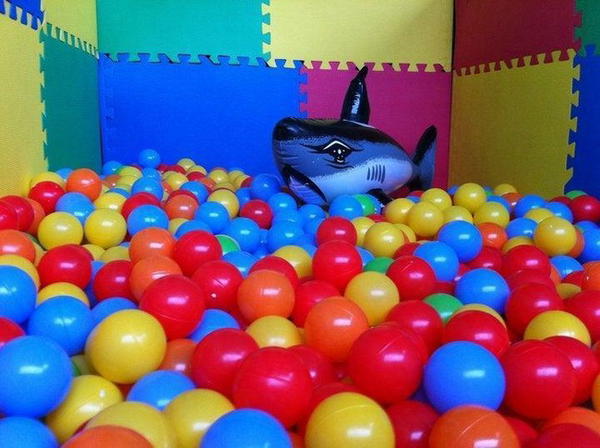 It is now possible to enjoy a ball pit without going out of the house. Thanks to what some creative people developed to build a ball pit on your balcony using just everyday household items like playpen balls, wood, foam padding, and screening. Here is a complete guide and steps to making your own big ball pit on the balcony. With this inexpensive tutorial to build your ball pit on your balcony using materials you may already have at home, you can now play in a ball pit as an adult. It's one of the most incredible DIY you can create and have more fun than playing with dolls.
Skill Level: Intermediate
15. DIY Ball Pit
Most parents desire their kids to go to swimming pools when summer comes. But in reality, not every family has enough money to pool. DIY Ball Pit functioned as an alternative way for the kids to play with water. You only need an inflatable kiddie pool and plenty of plastic balls! Your kids can have fun with this Pit. With this Ball Pit, your kids will never run out of fun in the pool, and you won't have to worry about rashes due to sun exposure. Create a ball pit that looks just like the one on your local playground. Inflate a kiddie pool; use some plastic balls! Instant fun.
Skill Level: Beginner
DIY PVC Ball Pit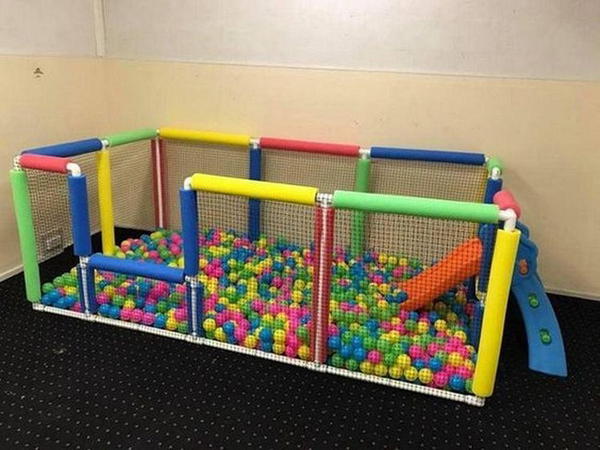 The ball pit is one of the ultimate childhood items. Kids love to play with balls, and children love to jump in them, making ball pits the perfect toy. This guide will show you step by step instructions on how easy it is to make a PVC ball pit loved by children and adults. You can fill up this ball pit with inexpensive pool noodles and balls or even water. If an enormous ball pit is desired, use larger tubing or connect multiple tubes. If you are ready for an epic DIY project, this ball pit is for you. The PVC pipe and pool noodles come together to create a unique look. It will require some work, so don't despair.
Skill Level: Experienced
Homemade Ball Pit
Are you looking for a new way to keep the kids happy this summer? A ball pit is a great way to provide hours of fun. But who needs a constant source of balls smashed in their house? This video will show you how to make a DIY ball pit much cheaper than purchasing one, and you can use it repeatedly. It's also super easy to make - let's get started! This homemade ball pit will be the life of their next party or outdoor event. With this outdoor toy for kids, you'll be the most relaxed parent on the block.
Skill Level: Beginner
DIY Baby Ball Pit
The DIY Baby Ball Pit is an excellent toy for your kids to play in the pack-n-play. This DIY kit helps you set up a ball pit in minutes. With this fun ball pit, your baby will have lots of fun and create more interest in the world of ball pits. It is perfect entertainment for your baby and needs no money. Take time creating the ball pit in your living room or nursery. Feel free to fill the pack-n-play with plastic balls and let your babies dive into it. When you see those soft and mischievous smiles on the face of little ones, you will feel so proud of yourself!
Skill Level: Experienced
The Making Of A Ball Pit
This project will be an ideal ball pit similar to those in most children's playschools if you have kids. That is if you intend to make a ball pit for your kids. But, if you are looking at it as a project you would like to explore with your friends, nothing can stop you from trying this out as there is nothing much more complicated about it. These portable balls can be stored anywhere, in the cupboard, in your room. The only materials required are plywood, hot glue, and colourful balls. No prior experience in carpentry is needed for this project. The steps are well illustrated with videos.
Skill Level: Beginner
DIY Ball Pit For Dog
The ball pit is a famous amusement for kids. However, when you have a dog, why not build one for it? It may sound odd if you first hear it, but dogs can also enjoy playing inside the ball pit. A dog ball pit is an entertaining toy for the dog. Let your dog play with balls or other toys and see how your dog enjoys it. You can watch your dog play inside the ball pit through the holes on the cover or even throw some toys into it for your dog to catch. Here step by step procedure for making a DIY ball pit for dogs at home.
Skill Level: Intermediate
DIY Ball Pit
Are you worried that your kid doesn't have enough educational opportunities in the house? Then this project is perfect for you. You'll feel good while making it and when you see how happy your kid is after it's all finished. Connecting with your kids is easy when building a DIY Ball Pit! Fathers and children can both help in the process of making this ball pit. You can make a ball pit in less than an hour and have many fun days with the kids. You will need to build the frame with PVC pipes and cover it with a net.
 Skill Level: Beginner
How To Make An Oval Foam Ball Pit
If you enjoy playing in foam ball pits, but you want an enormous pit, this foam ball pit idea is for you. The great thing about using a rigid box like this storage bin is that it's sturdy and won't collapse while kids jump in the pit. Foam ball pits are great for parties, kids, and having lots of fun. So, you will know how to make one shaped like an oval, so it's bigger than a circle but still easy to move and clean up after. A fun DIY project that costs less to make and can be customized in any way you choose!
Skill Level: Experienced
DIY Easy Ball Pit
A ball pit is a popular toy for kids. They can enjoy the balls there, play with different things, move freely and even play games. It is great fun for your kids. But if you don't have the money to buy it? Don't worry! With this video and the PVC pipe, you'll know the steps to build it quickly. With this fun DIY project, you can turn any room into a ball pit zone for your children or make one for kids to play in your backyard. It's pretty straightforward and should not be too much of a challenge for most people.
Skill Level: Experienced
How To Build A Ball Pit With Slide And Stairs
How to Build a Ball Pit With Slide and Stairs Do you want your kids to have a ball pit that they can play in? This tutorial will show you how to build a ball pit with a slide and stairs. The material used in making this ball pit is cheap and available at most local home improvement stores. You can customize this project by using different colours or shapes for the corner pieces. You can also use plastic or metal pipes instead of bike tires and pool noodles for the slide. And try painting the outside of the ball pit in bright colours.
Skill Level: Beginner
How To Make A DIY Ball Pit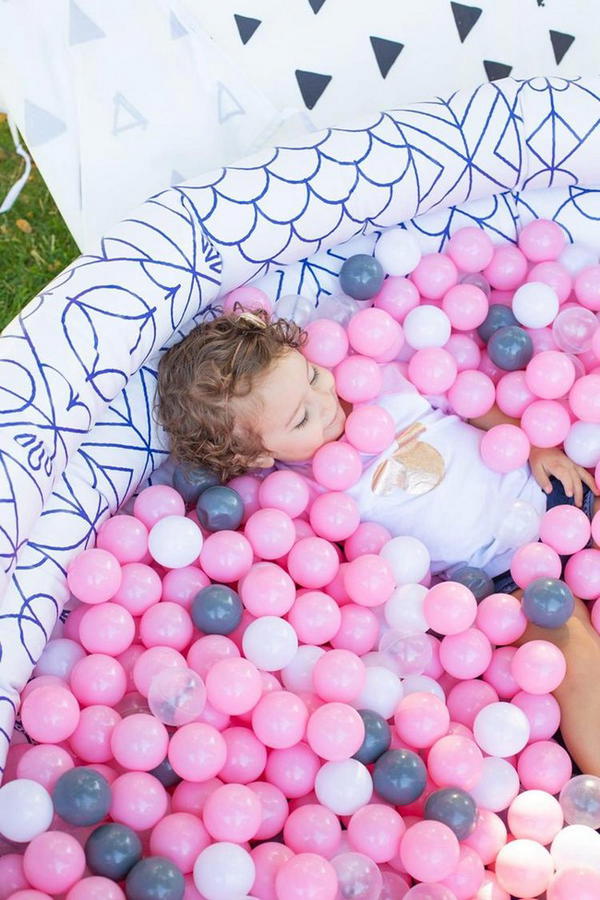 Kids love ball pits. They bring a smile to their faces and allow them to have fun with friends at school, daycare, and the playground. Filling an inflatable ball pit with plastic balls is a simple way to inject fun and excitement into your children's play space. A ball pit is a toy that encourages kids to play and exercise. It provides them with many different ways to develop essential skills such as fine motor coordination, problem-solving, and social interactions with other kids while they play together. Filling a kiddie pool in your backyard with balloons and colouring it is enjoyable stuff to do. You can use this filled pool as a ball pit. It's also a great idea to fill the pool with water in summer. It makes it easy to cool down in the hot weather.
Skill Level: Intermediate
DIY Ball Pit With Slide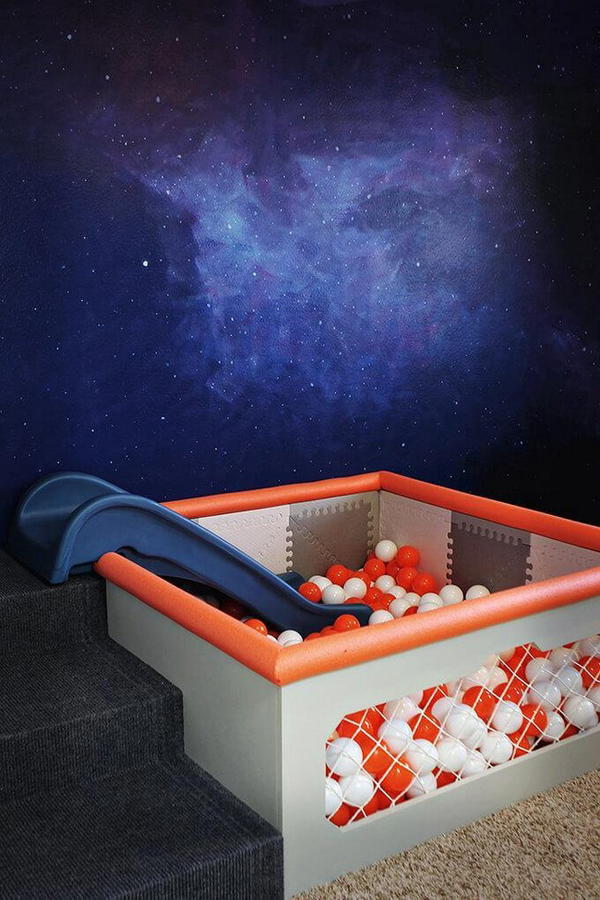 The summer season is the best time of the whole year to make a ball pit! This DIY ball pit was made using plywood and other supplies standards around the house. It's an excellent activity for children of all ages, so get your kids involved in making this fun summer toy. This DIY Ball Pit is perfect for your children to play in. You can make this ball pit with things you usually throw away, so it costs very little money and can be used repeatedly! It is soft enough that you do not need to worry about them getting hurt from falling.
Skill Level: Beginner
DIY PVC Pipe Ball Pit
This DIY ball pit is made from PVC pipes. Almost every PVC pipe ball pit has pool noodles on the edges. Another thing common to all ball pits with a PVC pipe is that they are relatively easy to build, and they cost very little if you have access to scrap materials, such as old pipes. This one has been tested by an adult too! So if you need a cheap homemade gift idea or are looking for an activity for your child (or even yourself), this project can also be helpful because it is fun! This DIY project is very excellent! If you want something easy, cheap and fun for parties for your kids, this could be it!
Skill Level: Experienced
DIY Ball Pit Build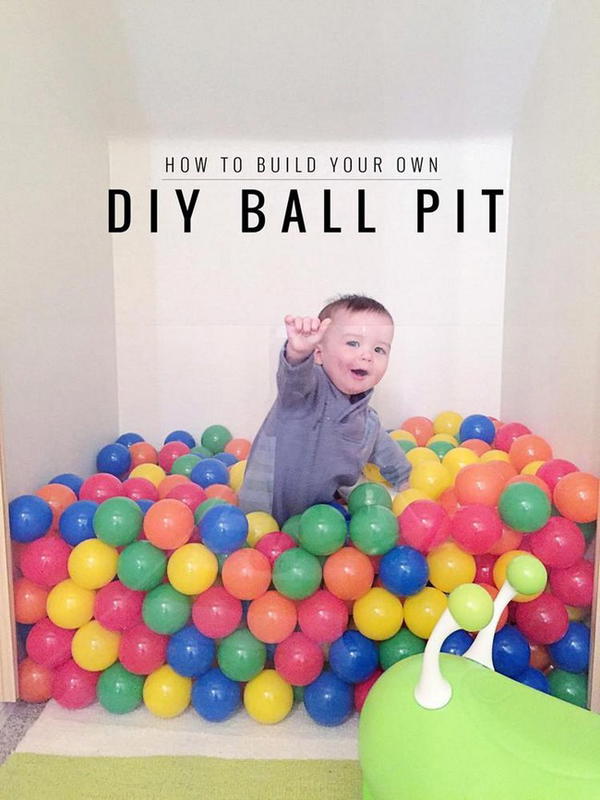 Do you need an additional play station for your kids? This guide will help you with everything you need to make a simple and adorable ball pit. You can change the size of this ball pit depending on how many balls you want it to hold and how much space in your home it needs to be placed into. Send your kids into a frenzy of entertainment with this easy to make DIY Ball Pit. This pit can fit in any room and keep your kids busy for hours. Once built, this ball pit will become your kids' favourite play station. It would be best to place the ball pit in a safe environment where children can play while an adult is watching them.
Skill Level: Experienced
Mini Ball Pit DIY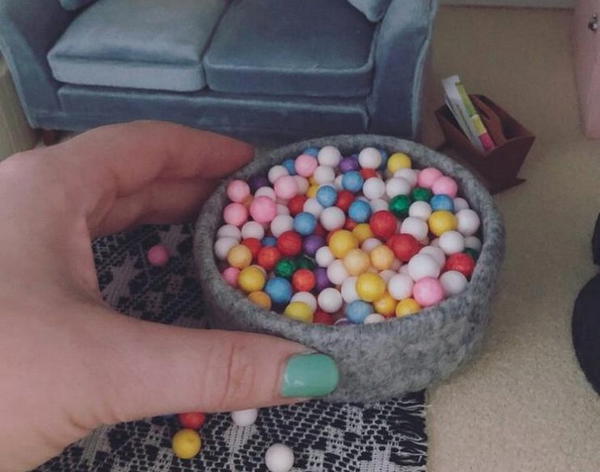 DIY mini ball pit frame is effortless to put together and will attract the attention of anyone near it - children in particular, of course. The frame is made from a sturdy card with instructions printed clearly on both sides to guide you through the steps involved. The frame is designed with little polystyrene balls, which you can buy from any toy shop, and little clothes pegs used to secure the balls. It takes just minutes to attach all of the balls and is an excellent activity for older kids or groups. You can easily create a simple DIY ball pit to keep your baby entertained and happy.
Skill Level: Experienced
Homemade Ball Pit For Babies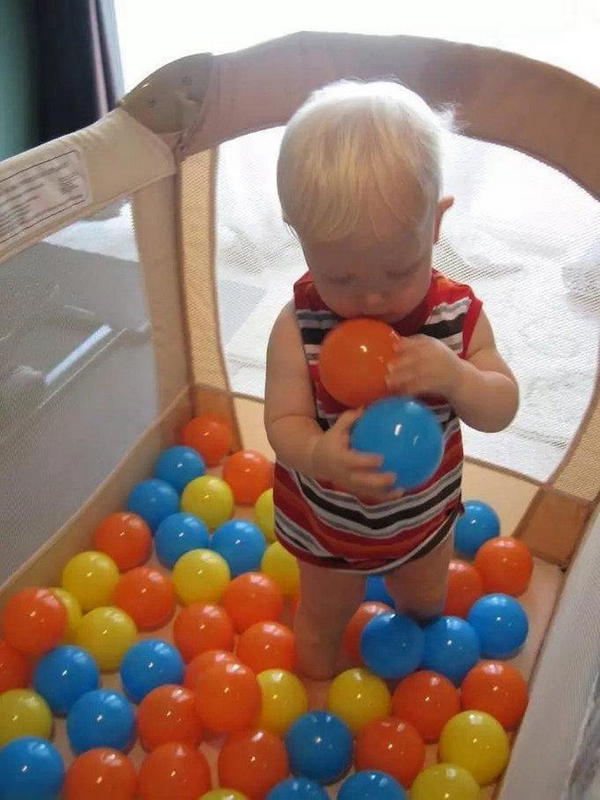 Ball pits are usually found in public establishments, and children have the luxury to enjoy their time playing inside with their friends. If your child loves to play with balls, this DIY project will win her heart because you can build a portable ball pit. The easiest way of making a ball pit for babies is by assembling plastic balls of one-inch diameter and cutting the tops open. You can also make a ball pit for adults. It does not need to be filled with the same plastic balls as those for babies; instead, get lots of tennis balls. You can do this DIY project easily if you follow these instructions carefully.
Skill Level: Beginner
How To Make A Mini Ball Pit
Cat lovers all agree that cats are cute animals. Some cat owners even find them adorable. Why? Because they are fluffy, cuddly and like to play. Of course, they need a lot of toys. But not all of them like to play with balls. That's why we need to make a mini ball pit for them. The video will show you exactly how to make a mini ball pit for your cute little cat. It's surprisingly affordable, colourful, and will be an excellent addition to your home. The step by step instructions and the complete guide are easy to follow, so anyone can do this.
Skill Level: Intermediate
Conclusion:
A ball pit is an excellent way for children to learn about physics and have fun. They can develop motor skills, improve their hand-eye coordination and even burn off some energy. While ball pits are usually found at the mall or in children's gyms, you can make one at home. There's just something about jumping into a big pile of hundreds (or thousands!) of colourful balls that are so much fun. The following 24 DIY ball pit ideas will give your kids lots of enjoyment. All you need is some materials, a little bit of time and some creativity!