DIY Kids Bookshelf Plans are a great way to keep your little ones engaged and learning. This DIY kid's bookshelves collection will give you some inspiration for keeping your kids' books organized and tidy. This super simple bookcase is perfect for any room in the house. It provides a great way to keep your child's favorite books at hand while making them look like they belong on the wall. You can use a few tools and some basic knowledge of carpentry, and you can complete this project quickly and easily.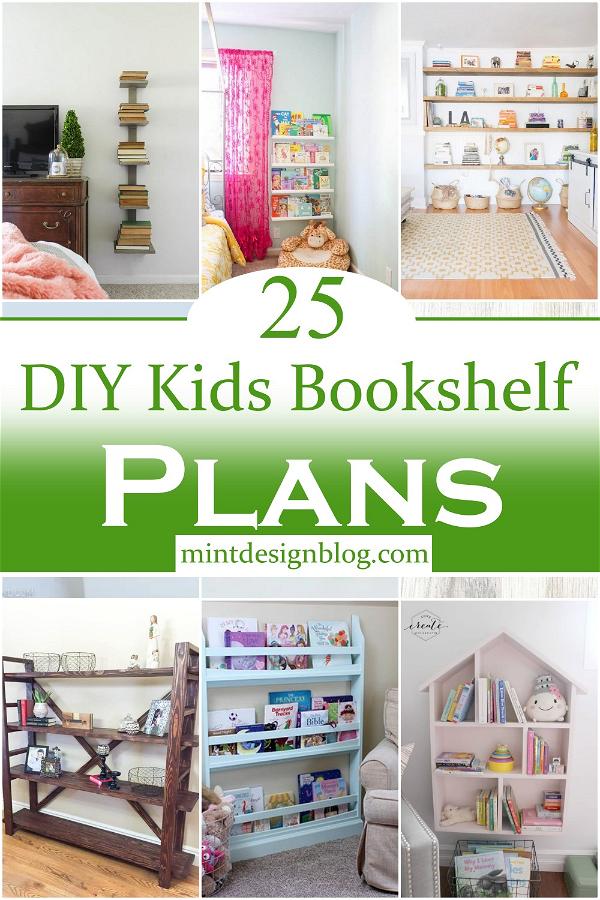 This colorful bookcase is perfect for kids who love to read. The bright colors will keep their attention and make them want to read more! It's easy enough for anyone with basic carpentry skills and a drill/driver to complete within a few hours. These DIY Kids Bookshelf Plans have built-in storage space and open shelving that make it easy for children to reach their favorite books without help from an adult every time they need one! The hooks on top allow your child to hang up jackets or backpacks without taking up valuable floor space in their bedrooms or playrooms. If you're interested in starting a kids' bookcase project, check out these DIY Kids Bookshelf ideas. There are lots of different styles available, so there's sure to be one that suits your needs perfectly!
Bookcases are a great way to store books and toys, so these 25 DIY Kids Bookshelf Plans will help you build the right bookshelf for your family.
Materials and Tools:
Plywood
Wood glue
Wood screws
Circular saw
table saw
Drill press
drill
Floating Bookshelf on Wall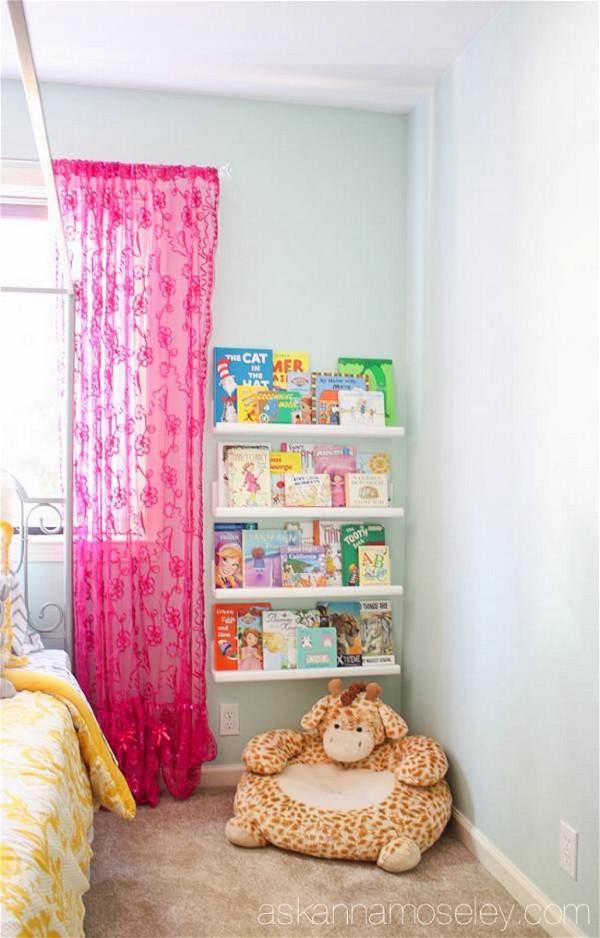 You will never feel that your kid is too small to read. As you can rotate the shelf from the bottom up, a bedtime storybook is just within reach of its hand. The component provides the correct distance to let your kid enjoy their favorite story with sufficient lighting and space. You know your kid loves books and wants to read throughout time. But you are worried about how to arrange these books neatly. The Floating Bookshelf on Wall offers an intelligent way to solve this problem. It's only three steps to finish the whole project. Installing the floating shelf on the wall is a must for those with little kids. And, for the growing kids, it serves as a good spot for placing books or toys that hold their interest at night time when they are about to sleep.
Skill level; Expert
Wooden Bookshelf Platform
This project is an appealing way to create a distinctive shelf for the unused space. It requires several layers of scrap wood and supplies that you may have at home. The steps are pretty easy to follow through, but you will provide expert tips to help with the project. Installing a functional shelf has never been this easy. The final result is an advanced wooden platform that will serve you with many ideas to consider in the future. If you want to achieve something more than these, you need some help from experts. The tutorial will provide a structured plan to follow and get the work done quickly with few instruments.
Skill level; Intermediate
Classic Bookshelf Upgrade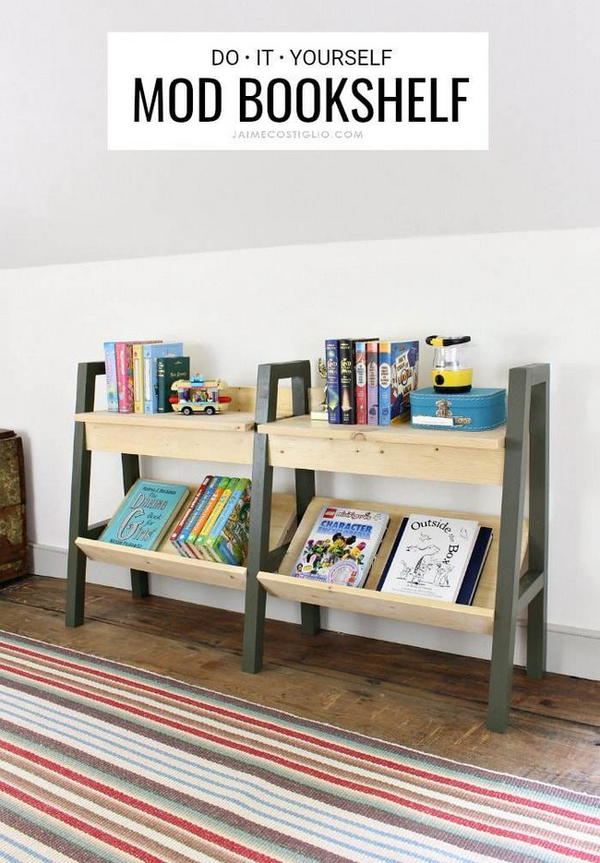 The children's bookshelf upgrade is worth making with its antique appeal, and its storage capacity is perfect for keeping things well organized. The dimensions are written in the photo section, so check that before building. Upgrade your kid's bedroom or playroom with a classic bookshelf. The pages are all made out of pine, and the three levels of storage allow plenty of room to organize toys, books, and knick-knacks. A few items may require some significant handiwork, like drilling holes into existing structures and cutting wood. But all in all, this project should take two weekends – max!
Skill level; Expert
Bedside Spine Bookshelf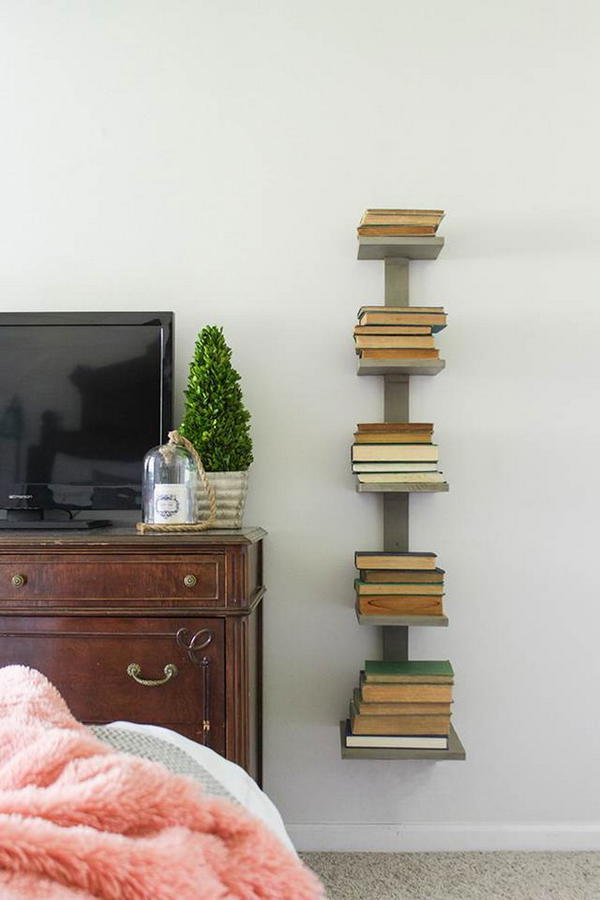 Your child can have their bookshelf to keep things in order with the Bedside Spine Bookshelf. This small, compact platform with a subtle arrangement will fit any room. The bookshelf will support almost all the items you need for your little one, including books and toys, while the sturdy wood construction ensures they can stand upright. Available in multiple vibrant colors to fit any décor, these sleek shelves are an attractive addition to any bedroom. You can place them at any place you like. And when not in use, its compact platform allows you to store things on it neatly.
Skill level; Intermediate
Simple Rolling Crate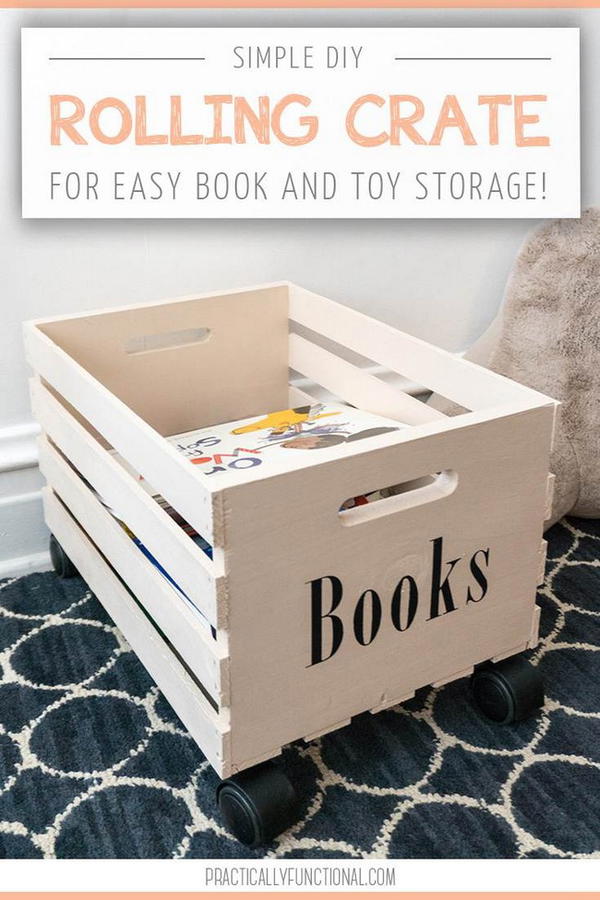 Roll out the red carpet for your kid's favorite toys and books with this rolling crate shelf. It's easy to make, and you can use any wood, paint color, or style! A simple rolling bookshelf takes an old crate into a functional bookshelf for bedtime stories or toys. Necessary items for this project require a little woodworking knowledge, but pics and instructions should help you complete the work. This step-by-step tutorial will show you how to turn old wooden crates into a simple, portable bookshelf. It's a quick weekend project you can get done in just one afternoon.
Skill level; Expert
Book Storage with Bench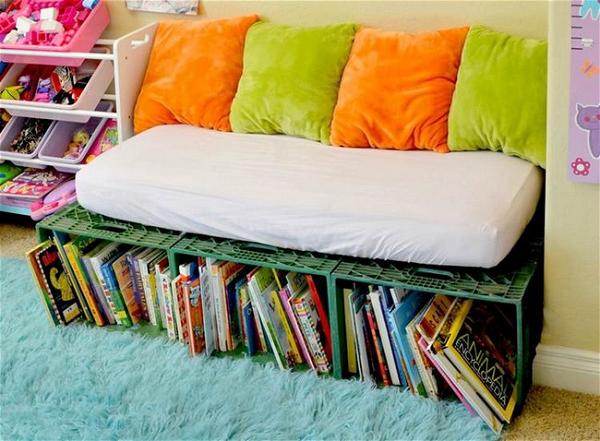 Kids' storage using crates in the room is always exciting and experimental. Make your kids a cozy nook for reading with this appealing book storage. The multi-purpose unit provides your kid a platform for sitting and reading books, making it perfect for children who love to keep their belongings organized. Here, this idea tells how to reuse plastic crates to store your kids' books, toys, and stationery items. Kids get to study or read on top of it on the go. It's an entertaining way to get them to keep their room tidy and is sure to be a hit!
Skill level; Intermediate
Toscana Indoor Bookshelf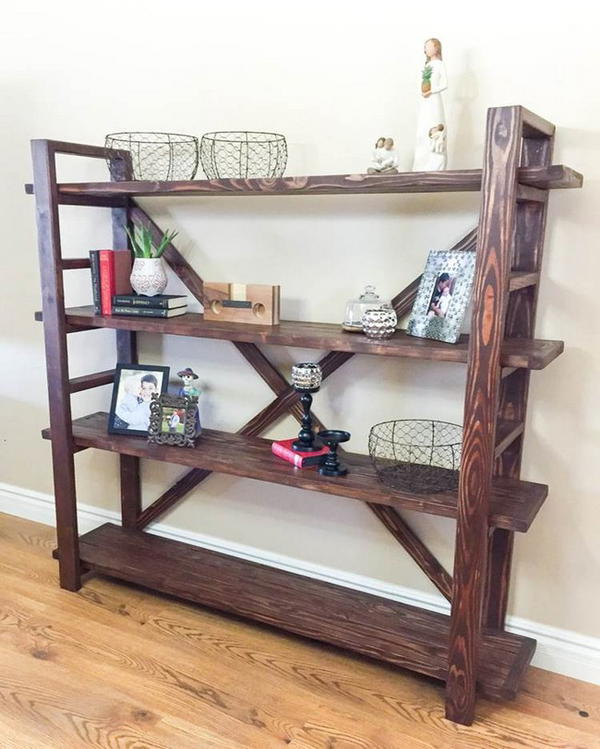 The Toscana indoor shelf can bring a beautiful and functional element to your home or office. This shelf comes in various sizes, which means you're free to set it up in just the right spot. Plus, both the finish and overall look are nicely designed to provide a little extra character to any space. You can be placed it against the wall or show off the beautiful design with floor to ceiling setup. And with its simple and best strategy, you can easily organize your books, decorative items, and other essential memorabilia. The Toscana shelf has a rustic feel and looks to it. It can be used on its own as a shelf or in other arrangements as part of a larger unit.
Skill level; Expert
Children's Wall Bookshelf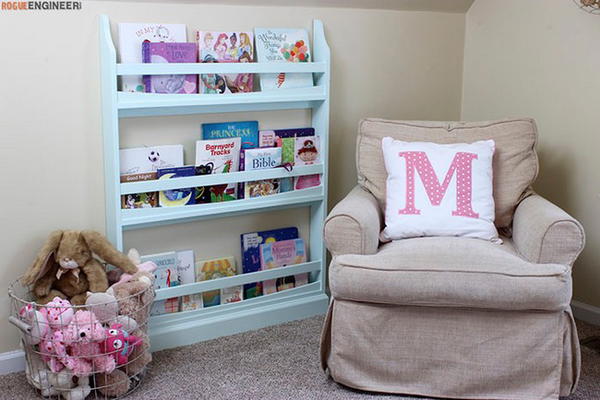 Turn your child's storybooks into something more than just a simple library. A creative children's bookcase is a unique bedtime story bookshelf you can have in your kid's room. With this wall-side shelf, you can put the brackets right next to their bed so they can reach them easily while decorating the walls with beautiful colors. It is a straightforward project that contains two lists of tools and items needed and described words for computer illustrations. The project also helps you learn easy bookshelf maintenance methods as well. The instructional guide is designed for transforming a used bed into a sleek and sophisticated space.
Skill level; Expert
You can also see: DIY Bookstand Ideas 
Open House Bookshelf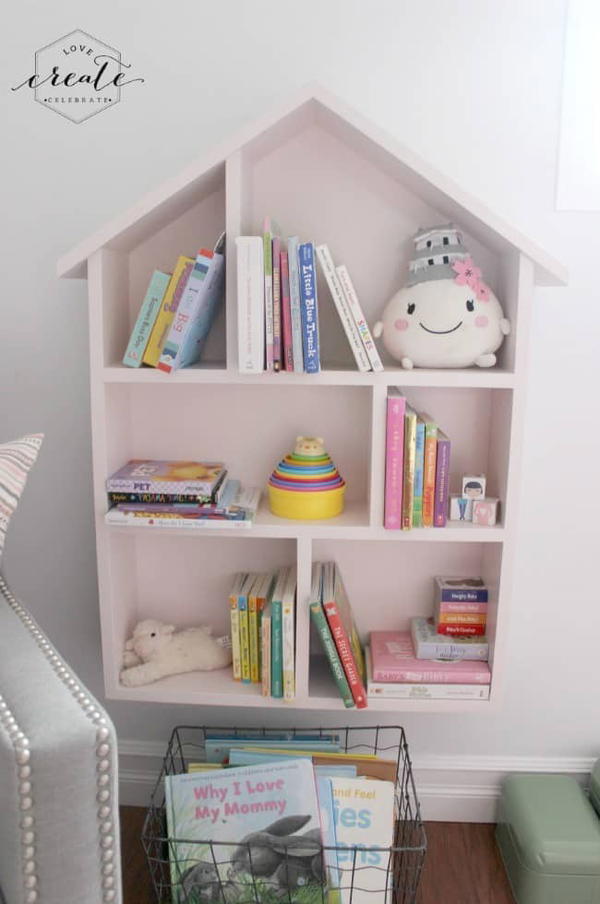 A House shaped Bookshelf is a fun and creative way to encourage your child to organize their toys, books, and other belongings. This house bookshelf is made with softwood, so it's easy for you to cut each piece, sand, and paint to create this unique shelf that perfectly fits your space! The Open House Bookshelf project is perfect for a small room, like a playroom or kids' bedroom. This project uses plywood and simple hardware to build a cedar roof and shingles. It is the house-shaped bookshelf option designed to practice the skills related to building a shelf. It will initiate an impression for little kids to organize their things.
Skill level; Intermediate
Alphabetic Wall Shelf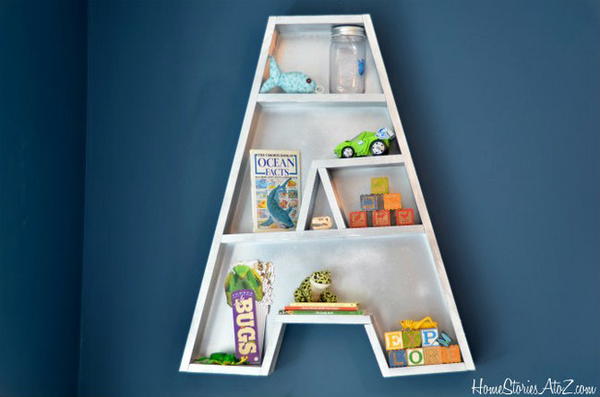 The alphabetic Wall Shelf is an ideal choice for kids' books. You better keep going with the pictures to understand how to build this bookshelf. And good words on every image should suffice your understanding at once. Create an alphabetical bookcase or wall shelf with simple tools and materials. The frame can be built in any style you like, using any parts. Still, this instructable will focus on building a basic A-Z bookcase using the most commonly available materials. You can change the design to suit your needs or decorate it as you see fit.
Skill level; Expert
You can also see: DIY Built-in shelves ideas 
Spacious Kids' Book Bin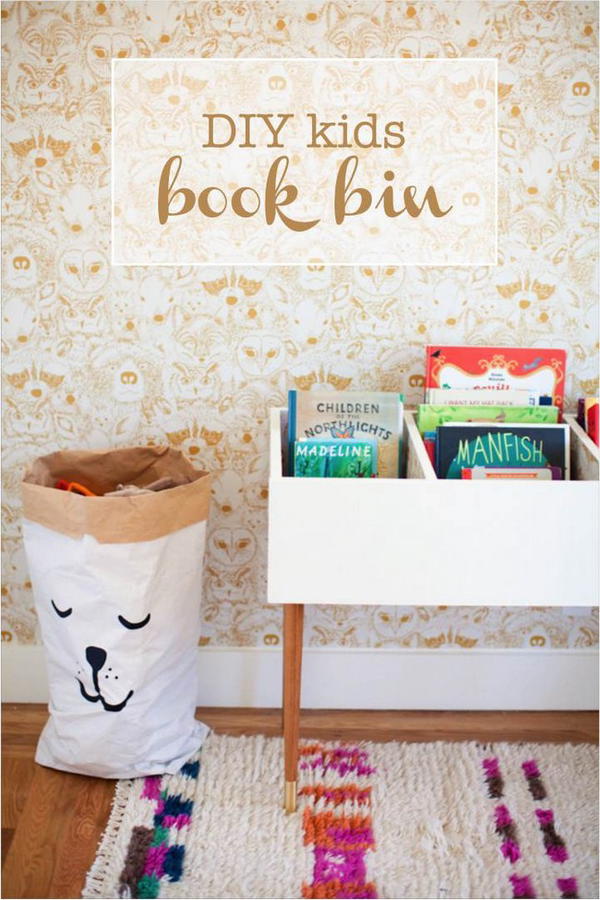 Turn an old table into an organized and clean-looking bookcase for your child. This book bin looks very neat since you can keep them close to your hands when you sit down with your kid. Give your children an in-home library with this repurposed table. The bin is just big enough for a few small books and keeps them close at hand. It's easy to make, requiring only slight modifications to the existing design. And you can customize it depending on your child's interests. Keep kids' books organized and within easy reach with this space-saving book bin. It is simple to make using an old table; you can paint or stain it to match your child's room.
Skill level; Intermediate
Rustic Bookshelf Décor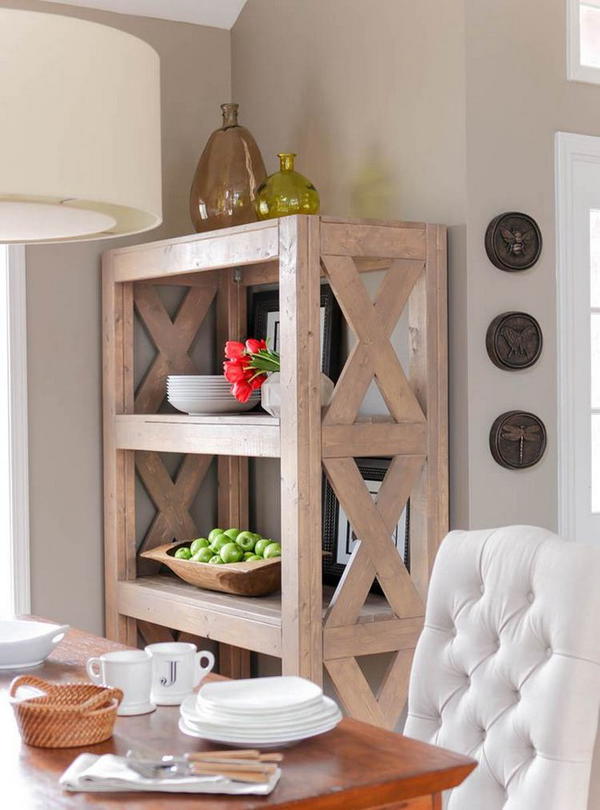 This rustic bookcase brings a touch of the countryside to your indoor décor. It requires your attention to scrap or leftover pieces of wood and connects the individual work. Pre-cut boards help stand simple and precise. With an eye for detail, the rustic bookshelf is designed to enhance any home décor. This piece can serve as the perfect addition to your home, whether for display or storage. With simple steps and shapes, you can create this project from scratch or from old wooden items at home that are no longer in use. The most crucial step in building this shelf is learning how to connect the individual pieces to form a stronger bond for added stability.
Skill level; Expert
Hanging Metal Basket
You could always add to your room décor with shelves or cases, but consider repurposing metal baskets into one if you're looking for something a little more rustic and natural. As it turns out, metal baskets are pretty durable! With the right tools and enough know-how, you can make one for yourself or your kid, who probably loves collecting books. The rustic bookshelf is a simple but decorative way to store and display your kid's books. This DIY project comes with easy mounting on the wall and won't take long to build. You need a few essential tools, like a drill and some screws. This DIY project is easy to follow and will make your home more beautiful.
Skill level; Intermediate
Closet to Book Nook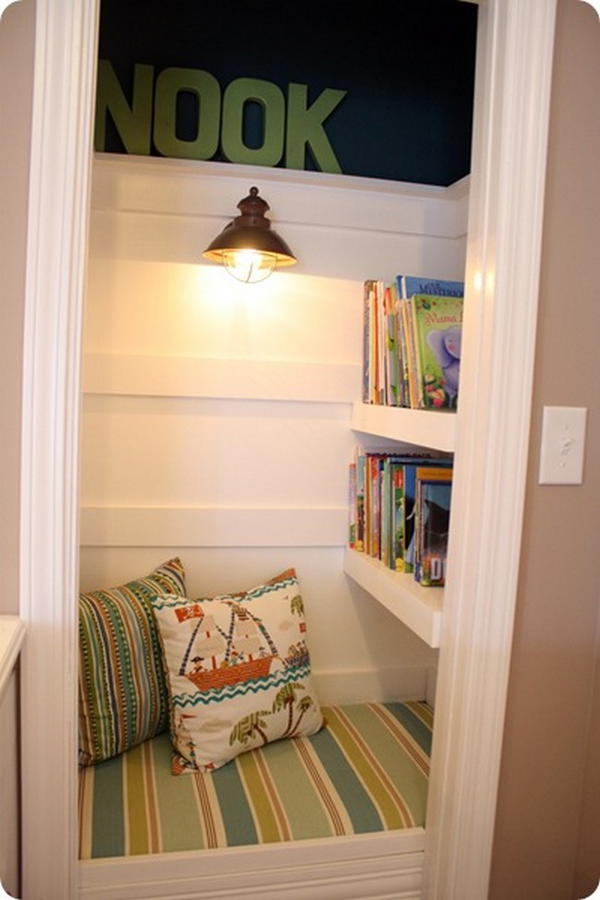 Reading is a great and best way to pass the time for kids. But a problem we often face is that sometimes kids want to read in places other than their bedrooms. A closet might be the perfect place for this! Here, you will know how to turn an empty, useless closet space into an impressive reading facility for kids using elementary and standard materials. Transform a plain, open, useless closet into a kids' room reading nook. This project requires several modifications to the space and minor installation of supporting facilities (such as shelf brackets). Turn empty, unused space into a reading facility for kids.
Skill level; Intermediate
Rain Gutter Bookshelf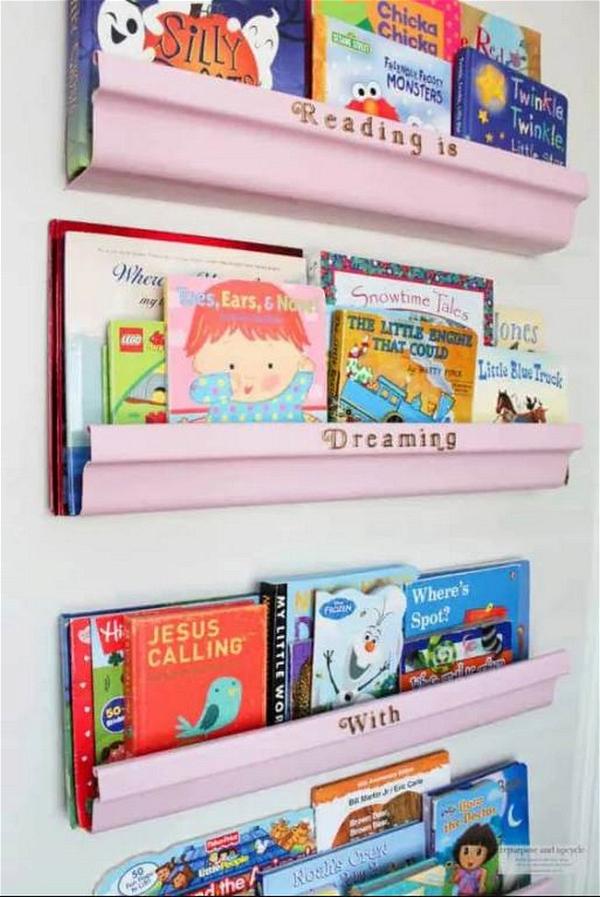 If you have a young reader in your house, you know that it's essential to encourage their love of reading by creating a fun and inviting space to curl up and read a book. Rain gutters are easily accessible, cheap, and come with the right curve to create an eye-catching bookshelf. This project is straightforward enough for kids to do independently with help from an adult at home or school. This project requires a lot of essential building skills and tools. With the suitable materials and enough patience to measure, drill and screw, anyone can build this bookcase that fits snugly over your home's windowsill.
Skill level; Expert
Repurposed Ladder Shelf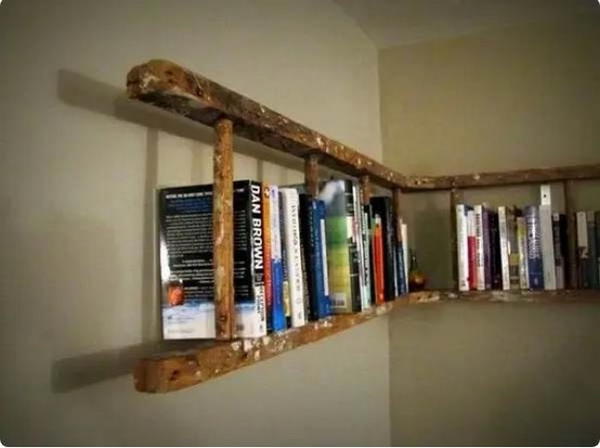 Every home has old household ladders that you can repurpose into a piece of new furniture. The old existing ladder can help you organize kids' stuff or other things inside the room. Please don't throw away these leftover scrap items; use them to repurpose them in several ways. You can use the material for storage purposes and even additional shelving inside the room. Here are two ideas for repurposing an old ladder into a bookshelf or clothing storage. Old wooden ladder from the garage can repurpose as sturdy shelves. This storage space is designed to hold toys and dollies inside a kids' room. You can place the books on a dresser. Want the books to be neatly arranged? Then, it would be best if you had another idea that utilizes ladder rungs as steps for the child to climb to take a read from each book.
Skill level; Intermediate
Compact On-Wall Bookshelf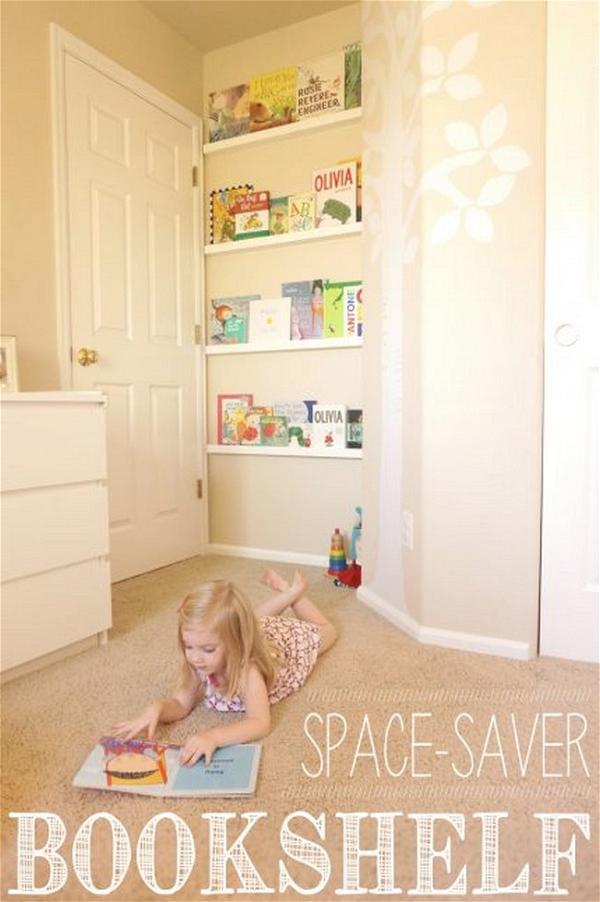 Go beyond an ordinary bookshelf by installing a Compact on-wall bookshelf that saves space and gives an incredible place to keep your favorite books. It is a passive wall trim with non-invasive features and multiple compartments to hold on to stuff. It is the perfect solution to your book storage needs. This project is very simple, very functional, and very useful; it can save space and provide you with much more space for holding your books. It compresses your book collection into a neat and organized structure, available right when you need it. Its clean lines will blend effortlessly with various interiors without taking up valuable floor space.
Skill level; Expert
Old Spool Redo Bookshelf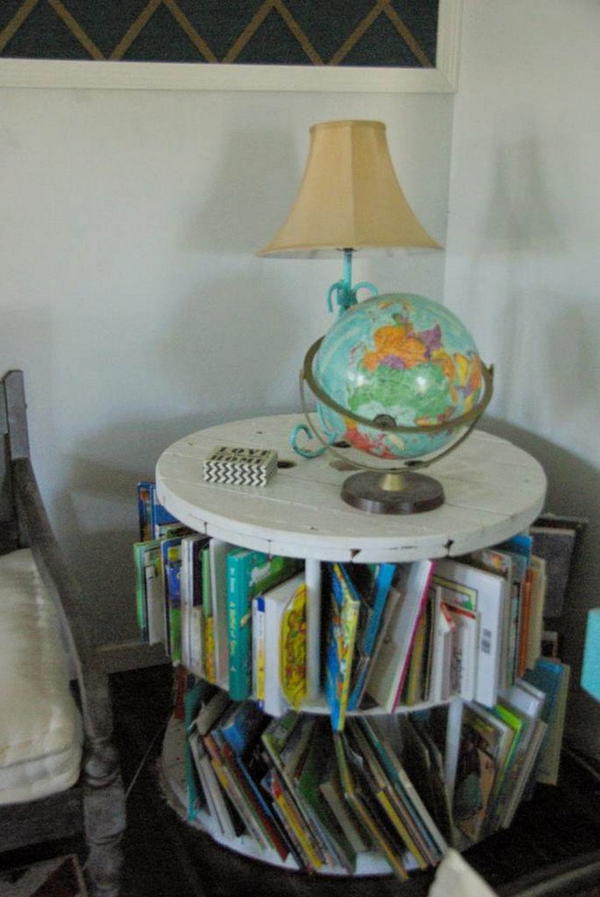 A spool redo can be quite a functional object. One way to make it so is by eliminating the side of its shape and turning it into a shelf. Pull a few strings as needed when you've got a spool redo to manage. Instead of leaving the spool as-is and collecting dust, use its shape to store your items. The Old Spool Redo Bookshelf is a small piece of furniture and the Old Spool Redo Bookshelf is a perfect addition to your home decor. This unique piece features a rectangular shape and shelves that you can fold out from a central support. It's also made from solid wood and handcrafted with care by our expert artisans. Your spool redo is just the beginning. Paint it, mount it and fill it with your favorite things. You'll enjoy this do-it-yourself project for years to come!
Skill level; Intermediate
Movable Bookshelf Storage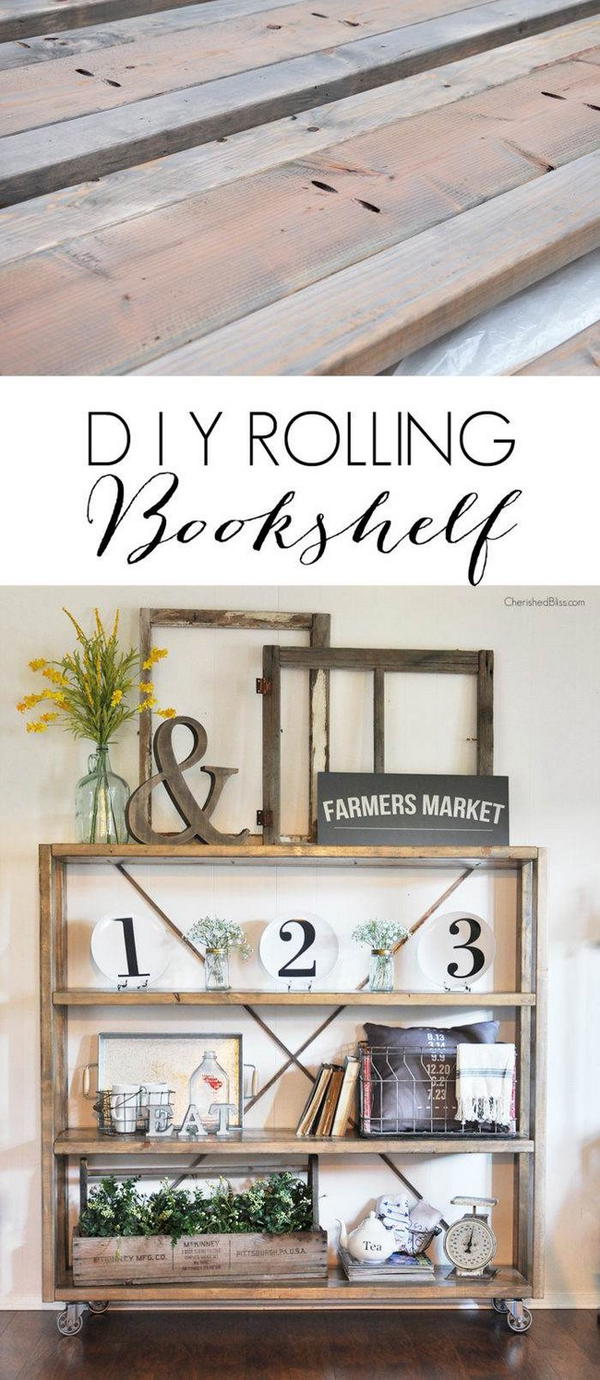 This portable storage looks like a traditional bookshelf so that the design will not be out of place in the living room or dining room. The shelves and drawers can hold various items and even toys for kids. The moveable storage is simple and practical, with rolling wheels to help you move it quickly. The most significant part of building this project is to make sure you have the precise measurement in joining the wooden pieces. The moving shelves are great for following your space requirements since it comes with wheels; kids can move the storage with them. You can take advantage of the rolling wheels to be moved whenever you feel like changing their position.
Skill level; Expert
Modern Rustic Bookshelf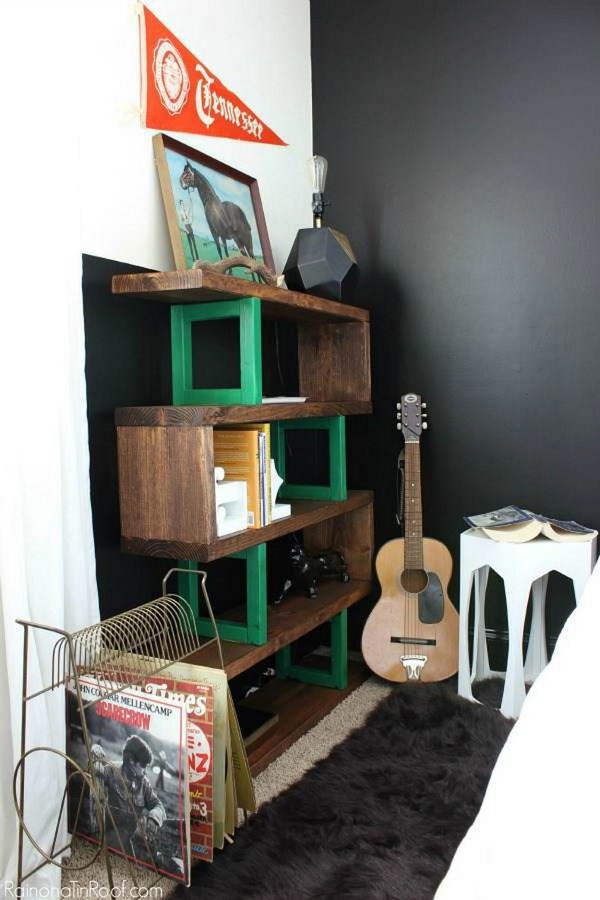 The project plan of this modern rustic bookcase is to get rid of old cabinetry using a well-executed DIY project. The outcome will be an impressive shelving unit with ample storage and a pattern inspired by ancient aesthetics. Create a rustic bookcase using scrap pieces of lumber, which you can easily purchase for less than $50. These step-by-step instructions cover the entire process, from cutting the wood to drilling holes for shelves and assembling it. You used cheap or scrap woods with lots of DIY skills and tools. After completing the whole project, you will have an attractive piece for your living room!
Skill level; Expert
Steady Bookshelf Rack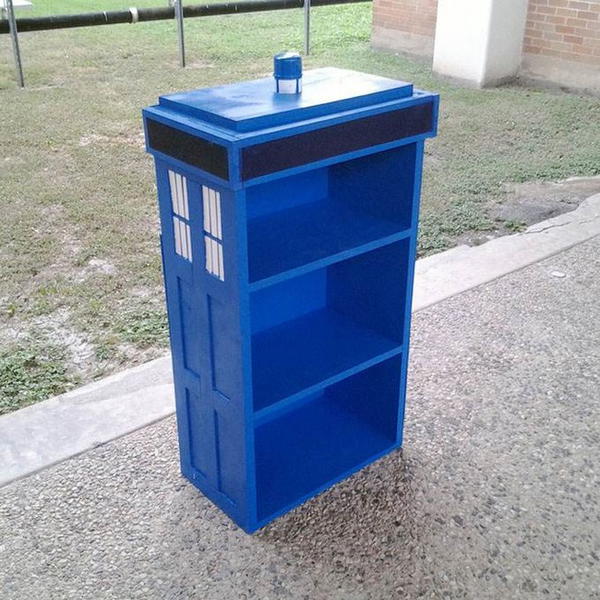 The Steady Bookshelf Rack is perfect for storing and displaying books, board games, family photos, etc. The uniquely shaped bookshelf will soften with your kids as they grow and move through their childhood. It is a project that allows you to shape a colorful rack for books. The tutorial explains everything in minimal detail, skipping other words. And you'll know the measurements through a computerized picture for an individual part. Even a total investment will stand under $60 for essential items. Make a colorful bookshelf rack for your children to place their favorite books. Made out of a minimum of materials, it is bright and sturdy.
Skill level; Intermediate
Wide Floating Bookshelf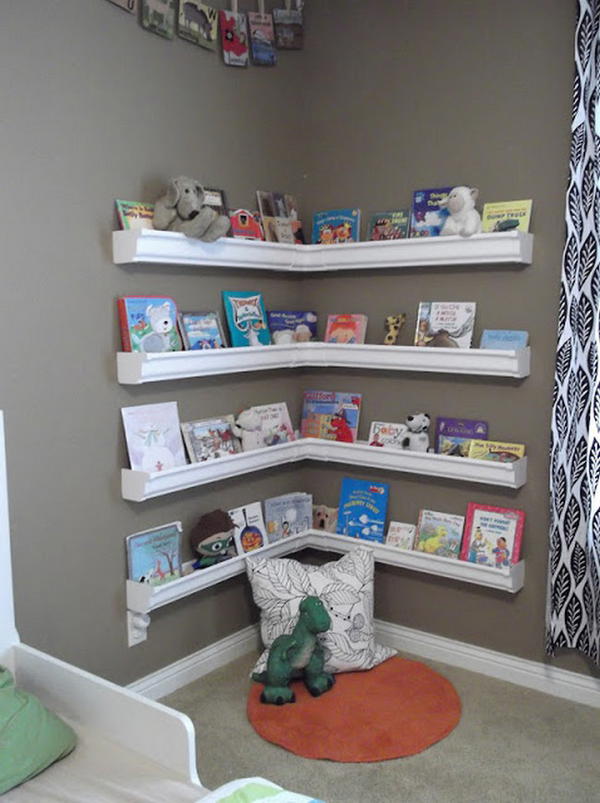 Hanging hooks on the wall is a great way to save space, but it can also be messy and impractical. Steady Bookshelf Rack takes advantage of the open space between two walls to create a movable bookshelf that's sturdy, easy to use, and will free up more floor space than other solutions. Just hang one end on each wall and fill it with books! The Steady Bookshelf Rack project is a simple solution to kids' book storage problems. Books placed on this shelf don't need to be stacked because the bookshelf is sturdy. It will not topple or fall even with lots of books or toys.
Skill level; Expert
Multipurpose Book Storage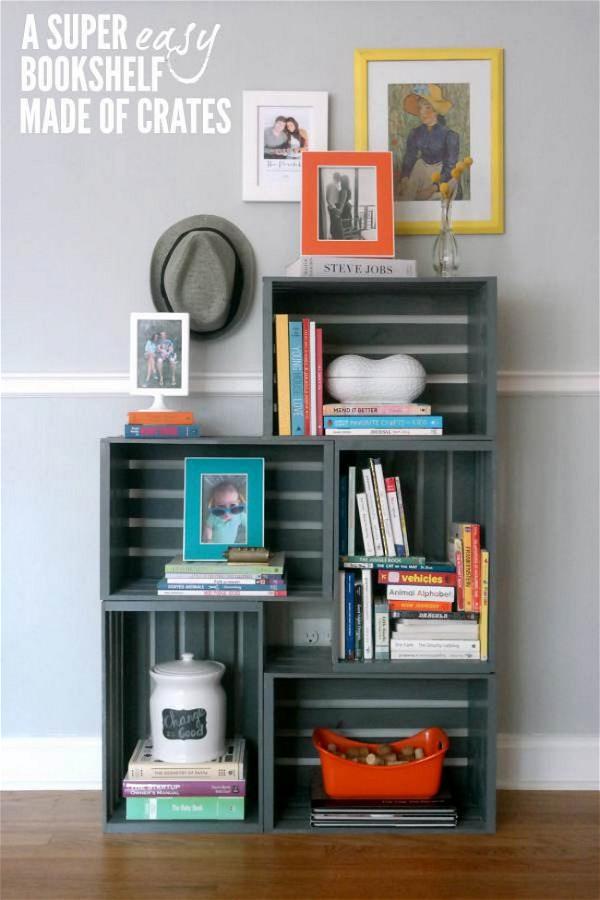 Getting organized can be daunting, but the proper storage solutions can transform your space significantly. This multipurpose book storage crate is a quick and easy solution! You can use this multipurpose book storage for many purposes, such as storing books, magazines, and newspapers. You can also use wooden crates to store decorative items in the living room or bedroom. Place the boxes next to a wall to arrange all of your articles as per your liking. The best part about this design is that it does not demand much money and tools; you can make it at home.
Skill level; Intermediate
Kids Clutter Organizer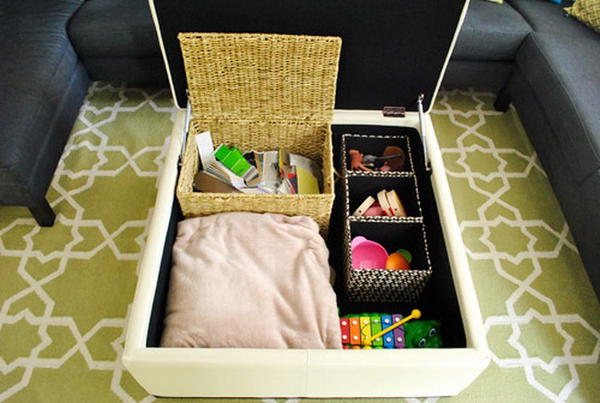 Child's toy organizer for storing clothes and toys. It can be used as a book storage shelf, too. It's the perfect choice for any nursery or child's room. This project is an excellent way to utilize the space under your kid's bed with a clutter organizer that fits an entire toy collection, helping you keep their room neat. The primary purpose of this "Clutter Organizer" is to place children's toys and books. You can use it in a box or container to create your storage solution on top of the organizer. you can use the multi-purpose design for either "Toys" or "Clothes" or "Books."
Skill level; Expert
22. Reclaimed Pallet Bookshelf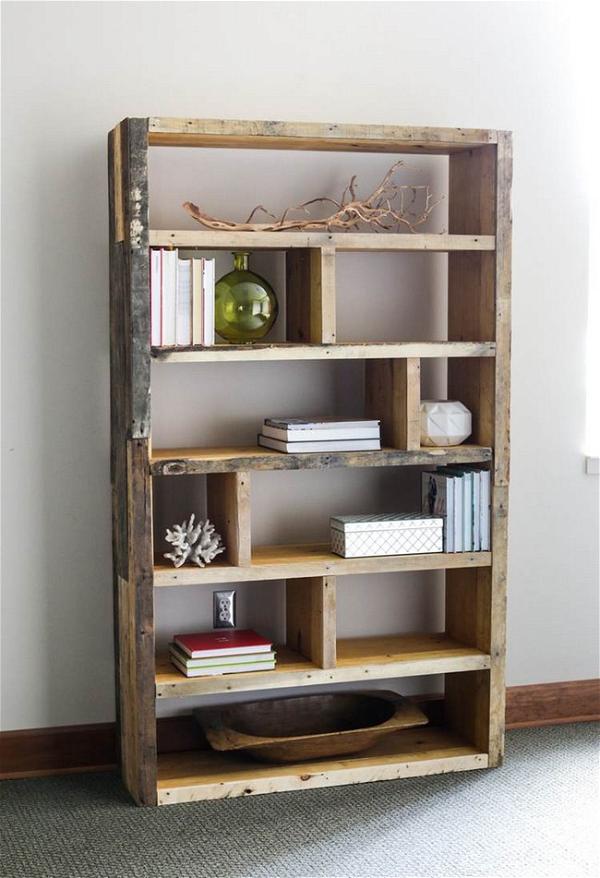 The reclaimed pallet bookshelf combines a more straightforward style and practical function. It is a perfect bookshelf whether you are planning to display your prized collections, share your favorite on the shelf, or need extra storage for your books. However, it can be created by anyone with the skills of power tools and patience. You can make your bookshelf from reclaimed pallets. You will need some essential tools and a plan to construct a bookshelf that suits your requirements. This Reclaimed Pallet Bookshelf will soon become a focal point in your living room. Get the instructions and materials right after the introduction.
Skill level; Intermediate
Conclusion:
If you want to get your kids involved in home improvement and construction, these DIY Kids Bookshelf Plans will provide you with the basics for building a bookshelf that kids can help with. The cool thing about building a shelf is that you can use what you have on hand, so you don't need to make a considerable investment. With a wide variety of styles to choose from, you're sure to find the perfect bookcase that fits into your kid's bedroom or playroom. This DIY DIY project is fun and educational, but it can also add a pop of color to any room.
See Other Projects