Making a toddler bed is a great way to save money and reduce clutter in your home. One of the biggest dilemmas is figuring out what to do with crib sheets and blankets. The good news is that there are plenty of ideas so you can create a beautiful and functional space for your little one! They're also when you have to make some tough decisions about transitioning your little one from crib to bed. Whether you're looking for a DIY project or want inspiration, these 20 DIY Toddler Bed Ideas will make the transition easier. These beds will help your child get ready for sleepover parties and sleepovers at grandma's house, from simple DIY beds to more elaborate designs.
DIY Toddler Bed Ideas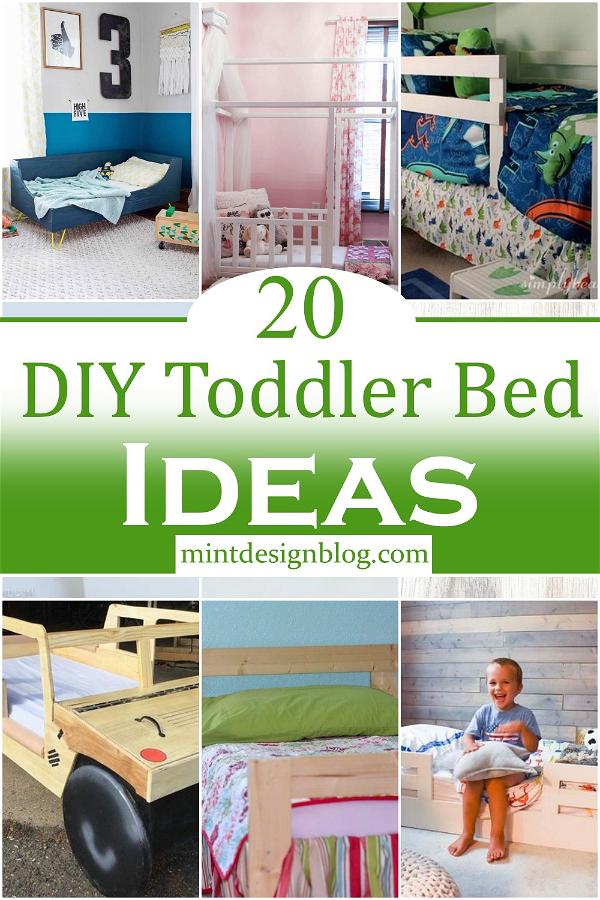 Having a child means having to make lots of changes. As they grow up, it's important to create a safe and comfortable space while they learn. That's why we created these DIY toddler bed ideas. We want to bring you high-quality designs so your little one can live in the best environment possible. DIY toddler bed ideas are a great way to give your little one their own space and make their bedroom look more finished. Plus, it's a great way to save money and recycle furniture you have around the house. Here are some tips to consider when making DIY toddler bed ideas or buying a new bed for your toddler.
These DIY Toddler Bed Ideas are a great way to make your toddler's transition into a big kid bed more fun and exciting. Building your crib is fun, making your little one feel like they have accomplished something big! DIY toddler beds are easy to make and can be customized to fit your child's room. Whether you want something modern or traditional, you have great 20 DIY Toddler Bed Ideas that will fit any style, check them out below.
Materials and Tools:
Wooden planks
 Nails and hammer
 Paint
-Screws and screwdriver
 Drill with drill bits (optional)
How To Build A Toddler Bed
This DIY Toddler Bed is a great way to convert a classic crib into a toddler bed. You can have yourself a simple and low-cost toddler bed. The project is not hard to follow and can be done by any skill level, including beginners. You don't need advanced woodworking skills to accomplish the task; all you need is patience and enthusiasm to make something your child can use in their bedroom. Building a toddler bed isn't tricky, especially if you have the proper tools. This project is simple and fast to make. The best part is getting all the materials at your local home improvement store.
DIY Toddler Bed Under $60
You can make your DIY toddler bed, and it's possible to build for under $60.A DIY tutorial about creating a toddler bed for under $60. You don't need many skills in woodworking to make it; follow the detailed instructions, from picking out woods and cutting them out to assembling and painting it. The materials needed for this project might have at home, or you can purchase them cheaply to help you with your project. If you want to save some money, build your toddler bed instead of buying an expensive one at the store. The tutorial is clear and concise, explaining each step in detail so that anyone can follow along with ease.
DIY Simple Toddler Bed
Making your DIY beds for toddlers is not tricky, and it can be fun. It's super simple and quite affordable too! This tutorial could be just what you need for many folks looking to make their toddler beds. You chose it because it is simple and super durable. This DIY toddler bed is durable and light enough to move from one place to another. The bed is lightweight and easy to move from one place to another. You will make the most excellent and most straightforward toddler bed ever with this easy step-by-step DIY tutorial.
DIY Toddler Bed With Toy Box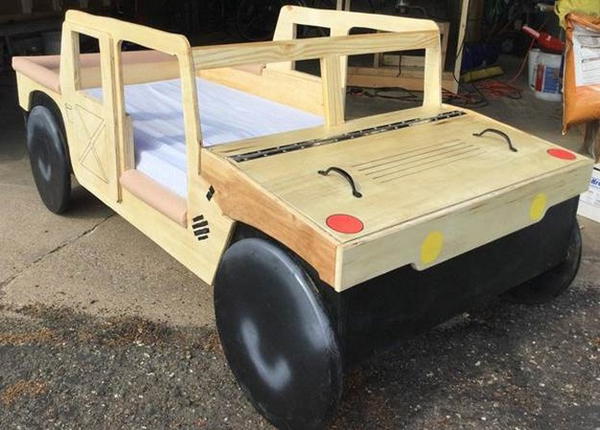 This DIY toddler bed with a toy box is very cool. It's not just a bed but a toy box; your kid will love it and enjoy it. The mattress is made of wood that is quite good quality, so you don't need to worry about its safety and strength. The project can help if you have many boards for this project, wood glue, and plywood. You also need foam pipe insulation for the mattress part, wood finish sealer, etc. You can quickly move this toddler bed from one location to another. Your child will be thrilled with his new bed, and you don't need to be an expert woodworker to build it.
How To Build A Toddler Bed With Bell Rails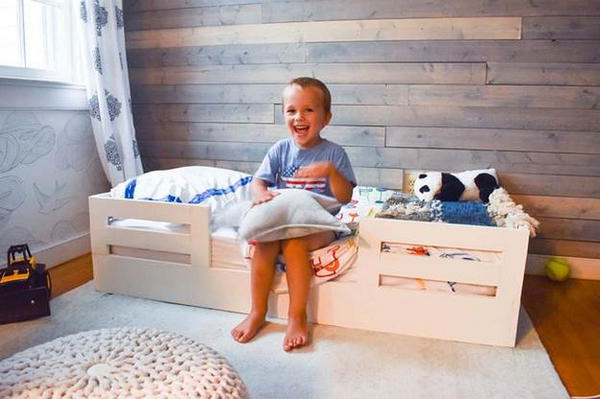 Toddler beds are often an excellent option for toddlers who have outgrown the crib but aren't quite ready for a big kid bed. Toddler bed rails make it safer for small kids and toddlers. This tutorial shows you how to build a toddler bed with railings. It's super easy to do and will look great in any bedroom. You'll need to create an L-shaped frame, cut and attach plywood, and use a few tools. You can use this design to make the rails yourself or buy them premade. Make sure that the length of each rail is equal in size, whether you're buying premade or making your own. The entire process takes less than an hour and is perfect for DIYers!
Stylish Toddler Bed Under $40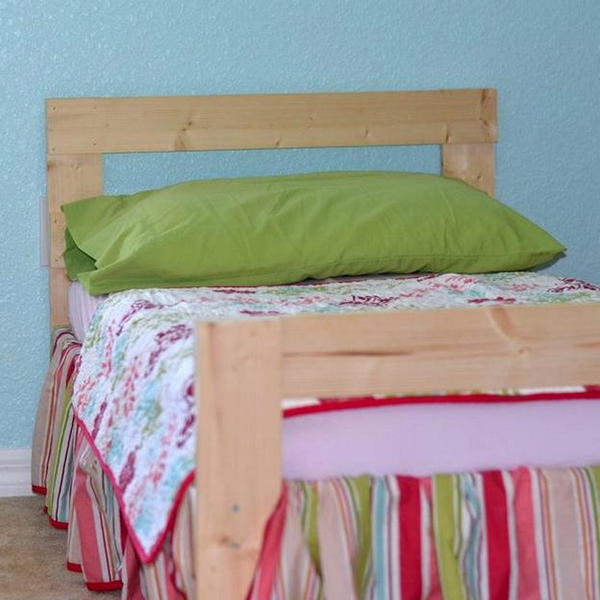 Looking for a stylish and affordable toddler bed? Well, you can have it with this DIY project. It's super easy to build from scratch and only requires a few available materials in your home. Just follow our list of instructions so you won't get confused while making it. Do you want to make your kids happy? Then you can now give them this stylish toddler bed that costs just $40. It is a build-it-yourself bed, saving you the hassle of going out and buying one. Your child will love it; they can have fun playing with it, and when it's time for sleeping, all the fun stops! Their toys will be kept safe within their reach.
You can also see: DIY Cosleeper Ideas
DIY Toddler Bed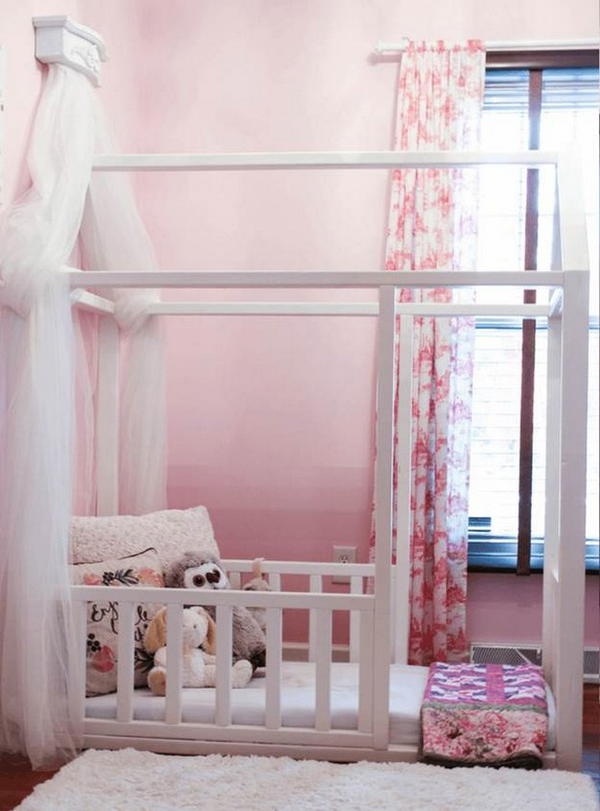 This toddler bed is twin size, and you can use this anywhere in your room. It is also an excellent choice to be placed in the corner of your kid's room if it is too small. The most important thing is that you will never have to worry about how safe it is. The Stylish Toddler Bed is made for toddlers around one year of age. This toddler bed is one type that you can make at home quickly and at a low cost. It requires no specific skills, advanced tools, or equipment, which can be very expensive if you plan to make it from scratch.
Traditional Wood Toddler Bed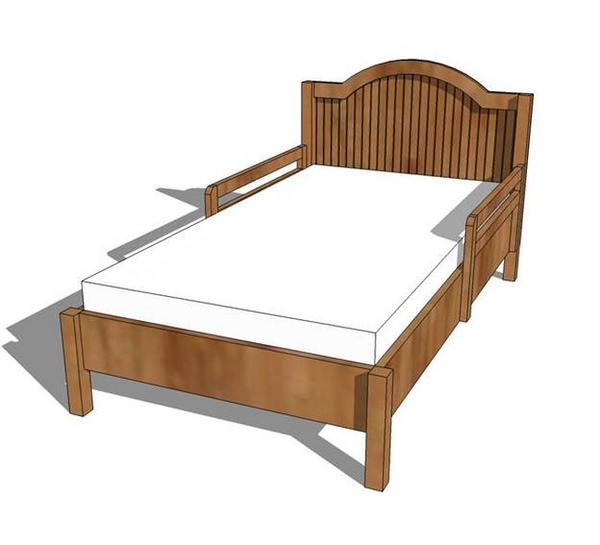 Here is another fantastic traditional wooden toddler bed made from wood boards. It's durable, strong, and easy to cut. The first step will involve cutting the header of the bed with a jigsaw, then cut parts of the frame and mounting them together. Afterward, add your slats, and your bed is good to go.
DIY Modern Toddler Bed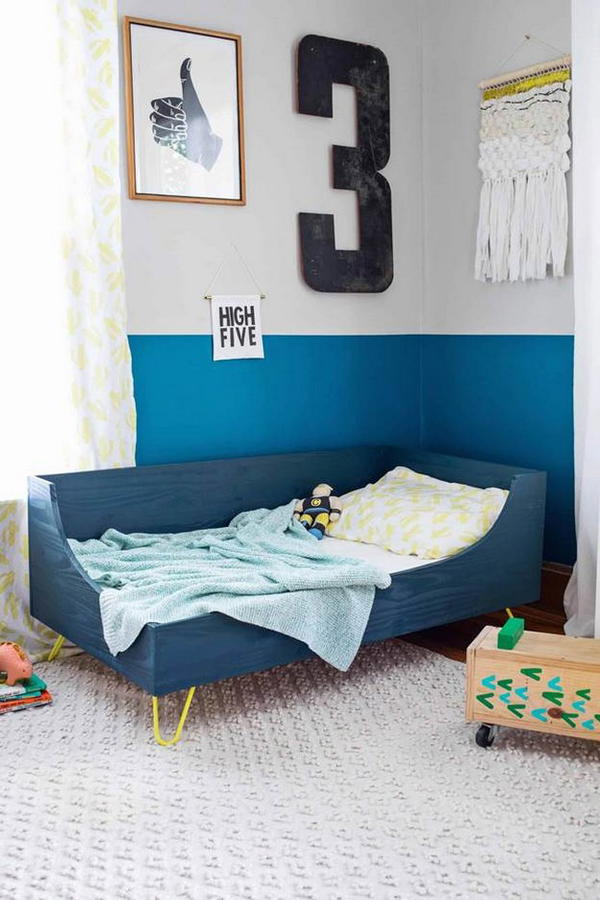 This is a modern way to build a toddler bed. It's indeed a modern toddler bed, the style and the finishing. It has a soft look, but it's completely built to be a toddler bed. You need four 6 inches of powder-coated hairpin legs for the four corners of the bed to help it balance properly.
DIY Toddler Bed With Rails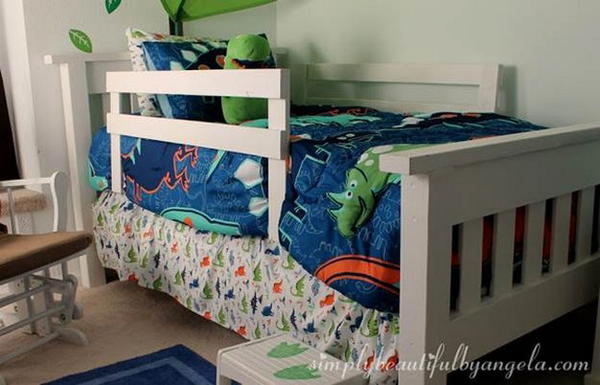 This is like the previous toddler bed with rails. If you told yourself you could build the previous one, you could do this one. Although this particular one is higher than the previous one with rails, the height might be a good thing or not, depending on what you're looking for in the end.
DIY Treehouse Toddler Bed
You can decide to build something this sweet for your kid this weekend. This treehouse toddler bed was made with a drill and a saw. This time-lapse video tutorial started with the creator staining the wood that she had already cut out. However, some directions will be given later about how the wood was cut and the size and dimensions.
DIY Toddler Bed Build
This project is easy and simple, not because it looks small but because it has a simple design and can be done by anyone with any skill level. A table saw is the best tool for cutting all the wood; you'll also need a tape measure to measure and mark parts in the wood for cutting. Once cutting will complete, assembling is the second easiest part of the task.
How To Build A Childs Car Bed
Here is a gorgeous car bed. This was made to be a child's novelty car bed. Don't get scared, thinking, what if I can't build this? Forget about how complex and sophisticated it looks in the video, and It is super easy to make; as long as you follow the instructions carefully, you're good to go.
This is 140mm long and 70 wide. Draw and choose your size, depending on the mattress you want to use before you start building. You need a router, belt sander, orbital sander, hand saw, jigsaw, screws, cordless drills, set square, etc. This is a big project with a small gorgeous child's bed.
DIY Toddlers Bed
Let me introduce a time-lapse video tutorial that goes straight into the making process of this toddler's bed. The process is quick and easy. The creator started by building the base frame with wood, then moved to the sides, cutting the plywood with a hand saw.  The process looks effortlessly easy. Just a nail gun and a bandsaw were all I saw the creator use to build this incredible masterpiece.
House Frame Toddler Bed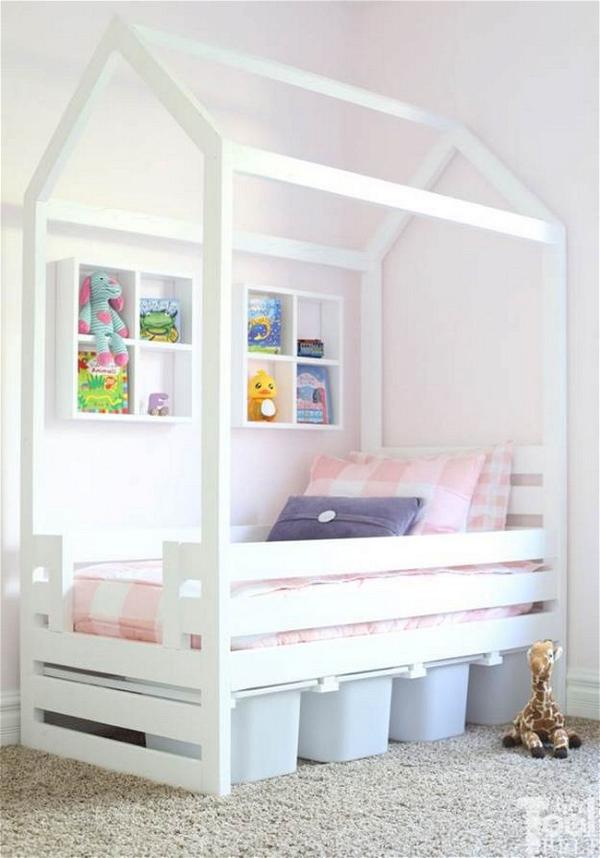 Here's a project that should be the biggest and most fantastic project on my list. This toddler bed is not like any toddler bed you have ever seen. It's simple, high, wide, and has a space for storage underneath. So when it's laundry day, just pull out your dirty clothes from under the bed and send them for washing.
Furthermore, it does not take up much space in the room, although it is quite big. As the creator did, you should make a physical sketch of how the bed will look to give yourself a mental picture to work with. You need wood boards, a sander, wood glue primer or paint, and wood putty.
DIY Toddler House Bed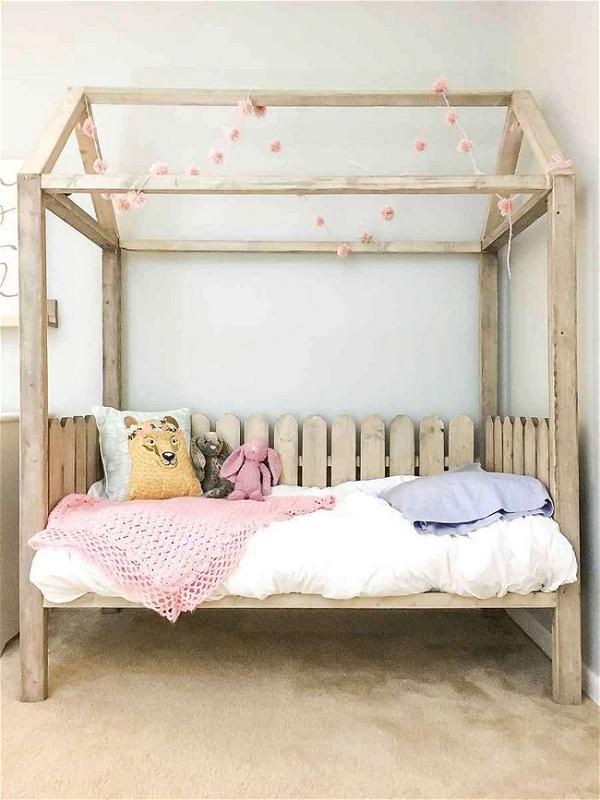 This family already had a toddler's crib for their child, and they wanted to upgrade to a bed, so they decided to make a toddler's bed, they didn't spend much, and it was an easy project due to the style and simplicity of the bed. For just the lumber wood used in this project, it cost only $50, which is super cheap. After the creator made this, it was way better than the crib they had, and they had value for their money.
DIY Toddler Bed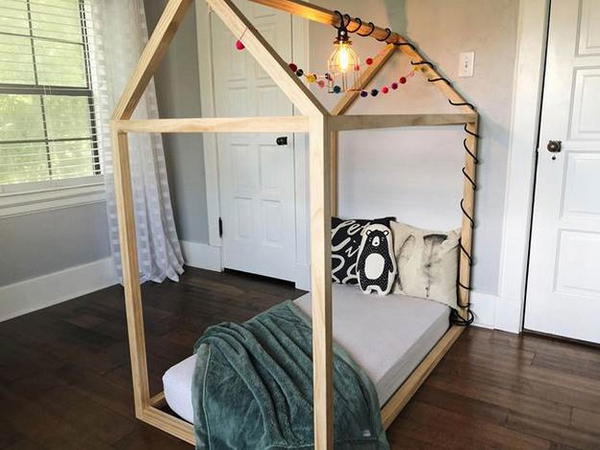 Here's another simple floor toddler bed that might pique your interests. It's super easy to build and design. All you need to do is get some plywood, a Eucalyptus lush blanket, pillow, and pendant Light. The light cost just $25, and the entire project cost about $100.
Toddler Bed DIY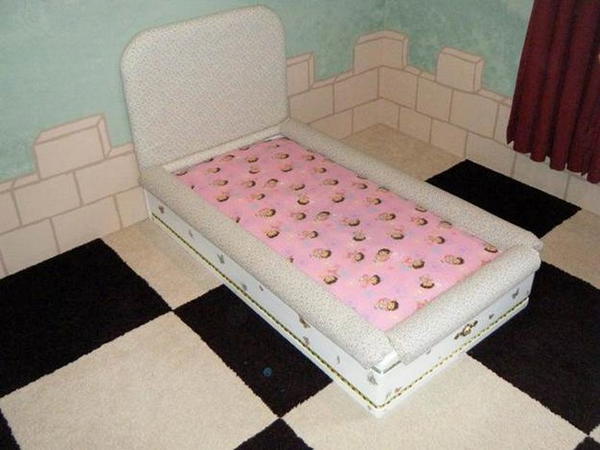 This toddler bed is small, doesn't occupy space, and is elegant, like a king's bed. MDF wood was used with foam and some old waterbed parts. The entire making process is quick and easy and can fit anywhere in your child's room.
Minimalist Toddler Bed
First off, you need four 2x4x8, two 1x4x8, and two 1x8x8, and it costs only $30. Once you have your wood ready, you can start assembling with a few materials like a nail gun or wood glue if you prefer to use wood glue with the nails to make your job more solid.
DIY Tractor Toddler Bed
You will need some advanced skill level to do this take. The tools and materials used in his video tutorial are not so cheap to get. The dimensions need to be calculated and followed carefully, or you might just get the bed all wrong and start from the top. However, the creator tried to make everything easy and simple In this time-lapse video tutorial.
See Other Projects