A skateboard rack is a great way to store your deck when you're not riding it. There are many different racks, but the most common ones fit on the wall or floor. Skateboard racks are essential to have in your home if you have a lot of skateboards. If you don't want to go out and buy one of those expensive racks, You can even make one yourself if you want to get creative. Here are some DIY skateboard rack ideas that you can use as inspiration for your own project!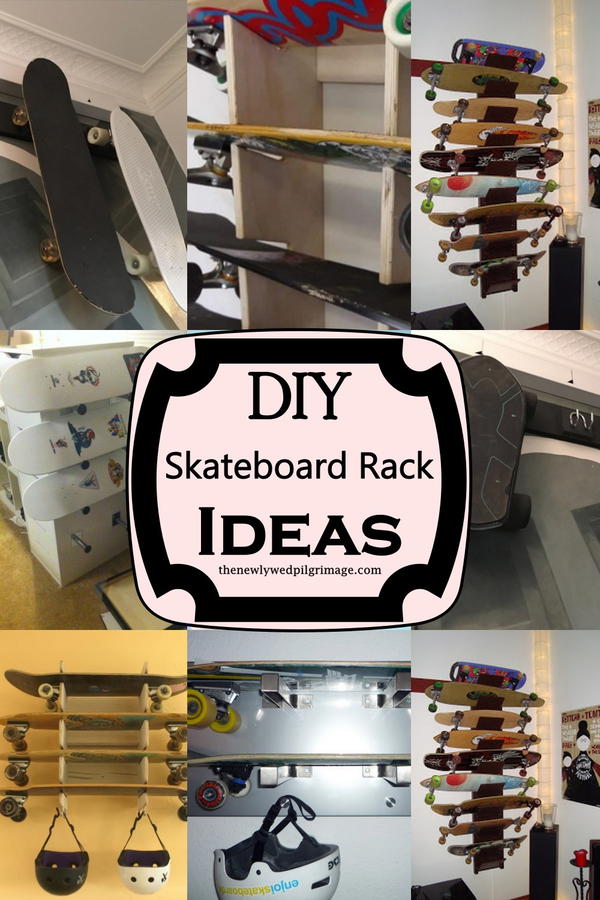 If you are looking for some great skateboard ideas or DIY skateboard rack ideas, you have come to the right place. Skateboard is a fun activity that requires storage space to store the boards. This can be a big problem for those who live in small apartments or houses. Skateboard racks help them in storing their expensive skateboards without damaging them. We have gathered a list of 15 unique DIY skateboard racks ideas that will impress you.
For creative skateboard storage solutions, check out these 15 DIY skateboard rack ideas, Including wall racks, stairs and shower racks.
You May Also Like: 17 DIY Balance Board Ideas
Multipurpose Board Shelf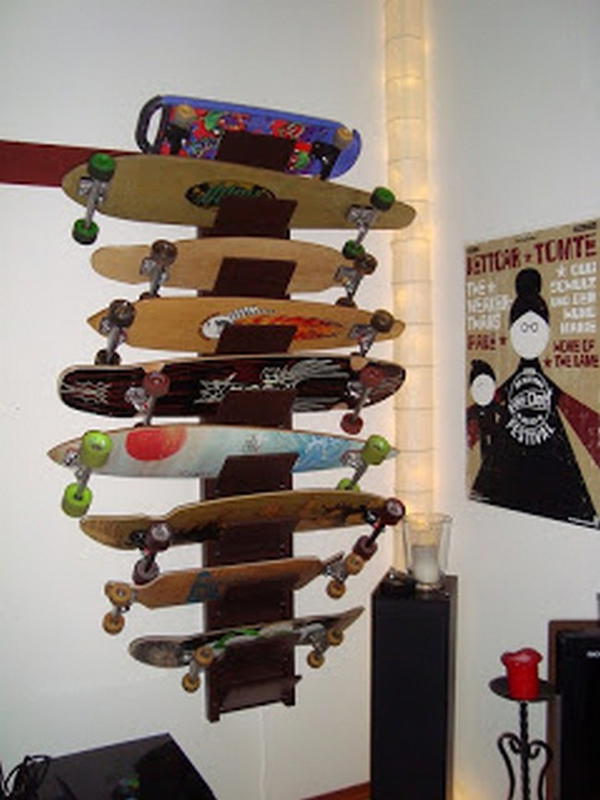 This multipurpose board shelf is perfect for cluttering your space and providing creative solutions. You don't have to check for different facilities or furniture; add an extra board of modular shelves by placing the holding pieces. The multipurpose shelf will cover the entire processing with no potential limits. You can hang on different skateboards on it without fear of less space or being overweight. This guide shows you the complete step-by-step instructions and follow-up steps.
Recycled Skateboard Support
Environmentally friendly skateboard storage offers you an attractive and helpful place to keep your skateboards. The design features recycled wood and copper pipes to create a frame of excellent appearance. While drilling holes in the wood, they are connected in a way to let two vertical sections fit into the exact alignment. This simple wall-mounted rack takes just minutes to build and mounts next to the wall. Will hold 3-4 boards and keep them organized by size.
Skateboard Deck Display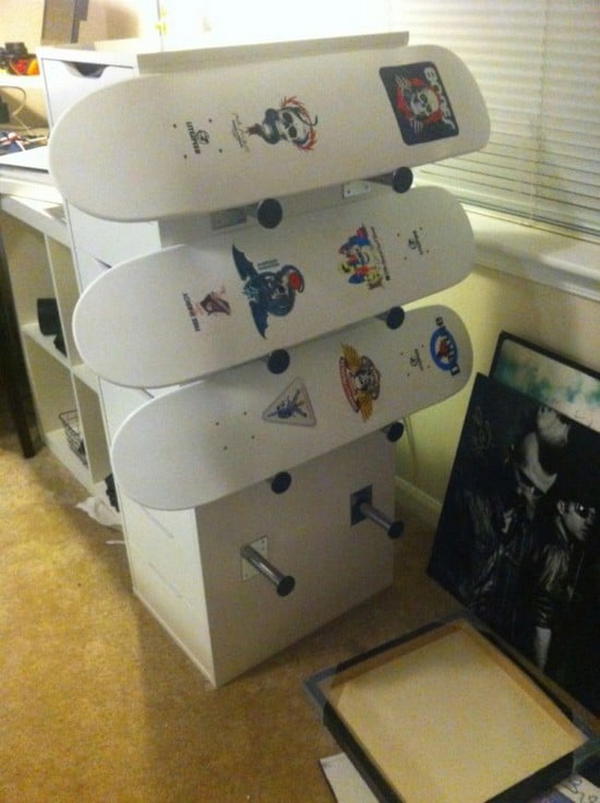 If you're trying to find a stylish and economical way to store your skateboard, look no further. This skateboard deck display is a fun and easy project that will hold up the decks of your favourite skateboards. The best part is that the supporting cabinet remains fully functional & intact from the inside. You'll require capital legs to make space for the storage using wooden nail attachments. You'll need some wooden nails to make space for individual units following installation & take measurements accordingly.
Space-Saving Board Shelf
The DIY skateboard rack can be an excellent option for those who want to save space and place the board in an unusual manner. Apart from its innovative design, this project will add a distinctive touch to your skateboard collection. You'll have to remove the old skateboard wheel assembly from the supporting deck. Drill holes on the surface to install nailed steel support for holding the actual frame of the skateboard. Make holes at an exact deck alignment and connect steel braces with repurposed skateboard using nuts and bolts.
Wooden Skateboard Rack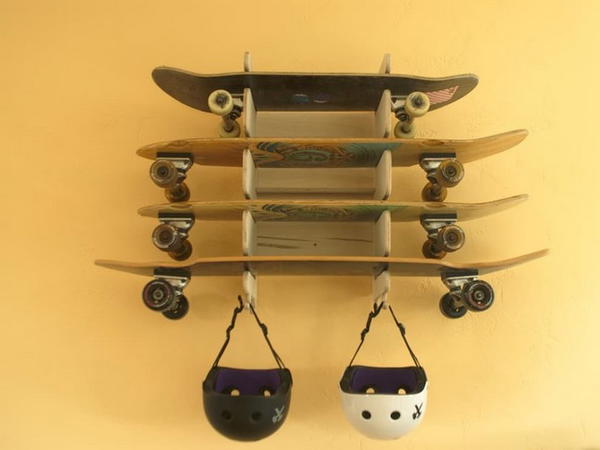 This guide is a DIY idea that helps you construct a rack for storing skateboards. Find out how you can build a high-quality skateboard storage rack by yourself. The complete project allows you to establish your customized skateboard rack on the wall. You should follow the guide to check the required materials and tools for the task. With four simple steps, you can construct the frame. And then mount it on the wall in your room or garage with a short dual-step guide.
Compact Skateboard Platform
This compact wooden skateboard platform stores your skateboard alongside other sporting equipment and displays. Suitable for all sizes, it can install on any wall without obstructing the overall space. The video tutorial shows you how to create this simple décor by attaching two different pieces of wood in a slightly distorted pattern. The base should remain straight to let you install the frame on wall surfaces. Position either wheel side on the distorted wooden platform stepping out of the wall. Simple drilling will do the trick and create a unique décor in your home or garage right away!
Skateboard Wall Rack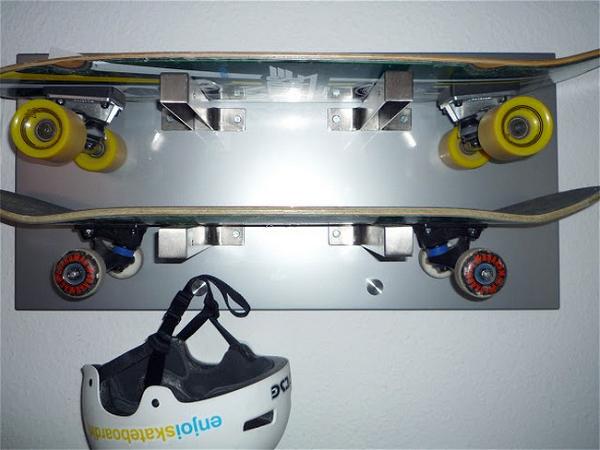 Skateboard storage racks are the optimal solution to free up valuable space in your garage. It won't take too much time to transform a simple wall into a shapely board rack. You will need to buy a few basic things like holding brackets, magnetic skateboards, and supportive hangers. These are not hard to find online or in your local sporting goods store. With this step-by-step guide, you can make your own quality skateboard storage rack at home without breaking the bank!
Single Skateboard Hanger
The single skateboard hanger installs in minutes and requires almost nothing from you; all you need is to drill a hole on the wall surface and insert the nail. With such a simple concept, there's no need for screws or bolts that may weaken the integrity of your wall. Just use a belt from the bottom section of your board to tie it up, and presto! You can now place your board anywhere on the wall. Watch this video to learn more.
Simple Skateboard Rack
This vertical rack is simple to craft and will help you store your skateboards without taking up floor space. The tutorial immediately starts with an integrated video to capture them throughout implementation. You can easily adjust the height of the racks so all your boards will fit, even those with large wheels or broad tails. This video will walk you through the building process of a simple skateboard rack made from one piece of wood. The rack is easy to build and holds up to three boards and frames vertically like a refrigerator.
Striped Skateboard Rack
The Striped Skateboard Rack is a simple and inexpensive design that can hold 3-5 skateboards in your garage. It features wooden stripes with pre-drilled holes to make space for personal gear on a vertical mount. Each strip can fit up to 2 wheels depending on their size, so as long as you have enough room, you can get multiple boards off your floor and onto one of these racks! You can make your own, watch the video tutorial and start making.
Railed Stakeboard Storage
Does your garage have limited space? Are you having problems with the skateboards getting scattered all over the place? DIY Railed Stakeboard Storage is a perfect solution for your situation. Repurposing a Kobalt rail system at a reasonable price lets you store the skateboards. Despite its real intention being otherwise, the design can ideally address your problem. Of course, you're free to choose anything to replace Kobalt's framework. It requires the immediate attachment of the individual holding unit to the stretched frame.
Extended Skateboard Rack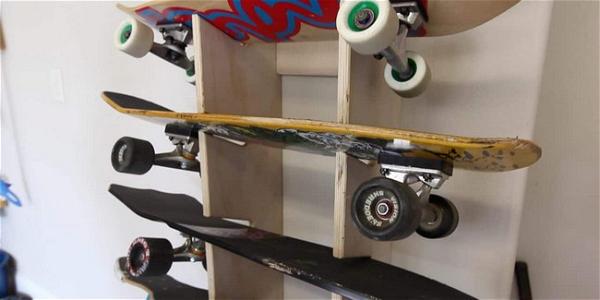 Extended Skateboard Rack is one of the most inexpensive ways to store your skateboards horizontally. In this project, you'll learn how to design and build your rack. It is a perfect way to store your skateboards and make them easily accessible no matter your level. Extending the rack makes it more durable so that you can store more boards and keep them safe from any damage. This rack will be an ideal solution for your home, and it is also an advent calendar for people who love building things!
Outdoor Skateboard Rack
Are you need a fancy skateboard rack to store your board? This outdoor skateboard rack has been thought of as one in a million in its practicality and ease. It's made out of solid wooden cardboard, which you can quickly turn into excellent storage for your skateboard at any place. The best part is that there are onscreen commands to guide you through the process using mechanical tools. With this handy tutorial, you can impress anyone with your engineering skills.
Electric Skateboard Rack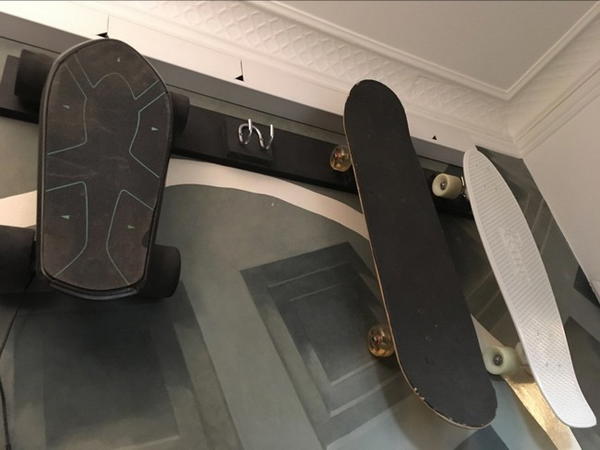 An electric skateboard rack, This project is for you if you want to build something cool, fun, and useful! You are sure to find the electric skateboard rack a perfect solution to store your board safely and securely. The two-tier design saves on space, allowing you to fit a few skates at a time in the shed or garage. Thanks to its lightweight design, the electrical skateboard storage rack is also easy to assemble and relocate.
Skateboard Shelf Storage
Wall-mounted skateboard racks are an excellent solution for storing your skateboards and keeping them off the ground. But if you're looking to make your DIY version, there are a few things you might want to consider: strength, safety, and good looks. This project doesn't require carpentry or tools unless you want a more permanent installation. Just attach several old skateboard decks, hang them from your wall, and then add accessories to create a personalized display for your collection.