Kayaking is a great outdoor activity that everyone can enjoy; This water sport offers you the opportunity to explore the environment while getting in touch with nature. However, kayaks are not comfortable and ideal for long trips. People who love kayaking often complain about the discomfort they feel while on the water. Kayak usually comes with a seat, but most times, the chair is not convenient for the person on the kayak; that is where the need for a kayak seat modification comes in. Here are some DIY Kayak Seat ideas for modifying your kayak seat: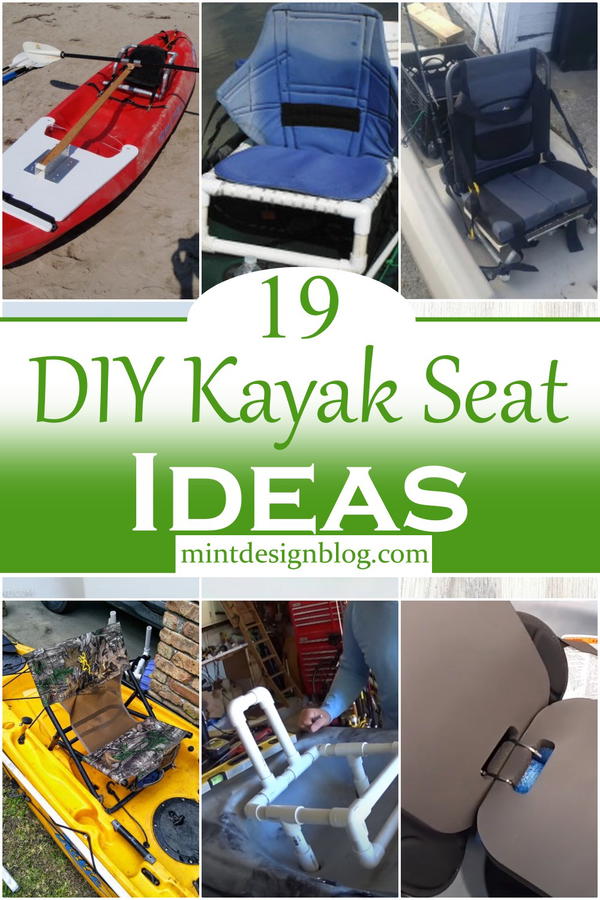 Kayaking is a great way to get away from it all; It's a fun activity that anyone of any age or skill level can enjoy. However, there are some things you should consider before you go out on the water. If you have ever been in a kayak, you know how uncomfortable it can be after spending hours on the water. To make your kayaking experience more enjoyable, it's essential to upgrade your kayak seat to something comfortable and relaxing for you to sit in all day long. You can do this by yourself simply by following some guides. Below are some different DIY Kayak Seat Ideas for modifying a kayak seat:
These 19 DIY kayak seat ideas will be great for your river kayaking; You can easily modify your old uncomfortable seat into a new relaxing sit.
You Can See More: 15 DIY Kayak Rack Plans For Storage And Safety
Kayak Seat Upgrade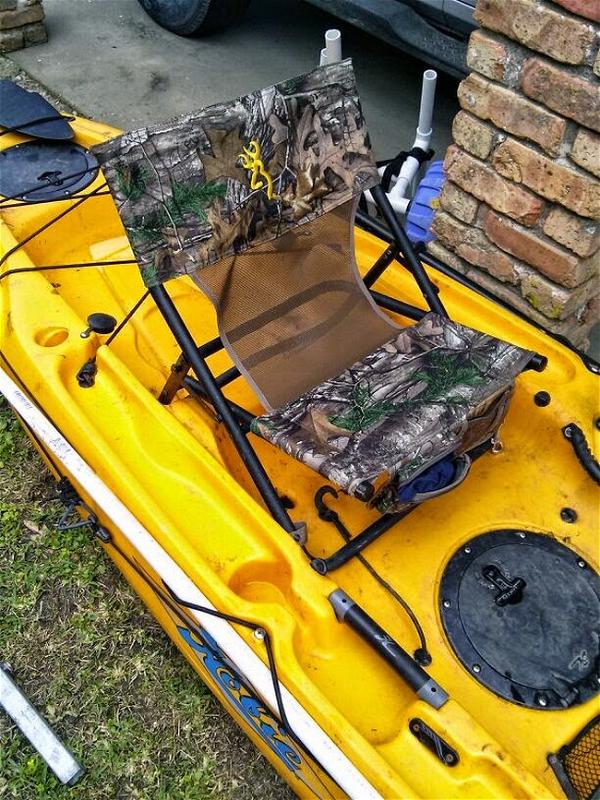 A great way to make your kayak more comfortable is to upgrade the seat. Everyone has had the experience of getting out of the boat after a fun day of paddling and feeling like they've been through a marathon. This is because sitting in a kayak for any time can be very hard on your back. One of the essential parts of your kayak is the seat. If you're not comfortable, you won't enjoy paddling. This instructable uses a standard kayak seat and turns it into a seat that is built to fit you perfectly.
See More: 23 DIY Car Seat Cover Projects
Adaptive Seat Fixture For Kayaking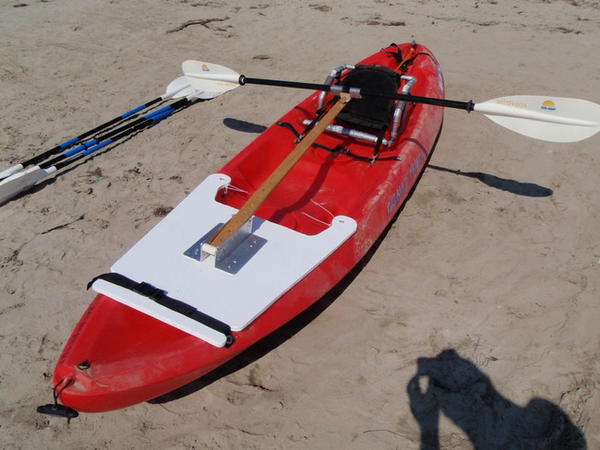 You will find that this seat adaption provides you with the support that is needed to keep your body centered over the kayak, thereby significantly reducing the possibility of a capsize. It's lighter than many other designs yet has proven to be highly comfortable for beginners and advanced paddlers. This adapter provides a "seat" that keeps a paddler's body weight properly positioned over their kayak for those with limited mobility. This guide shows you the complete step-by-step instructions and follow-up steps.
Homemade Kayak Seat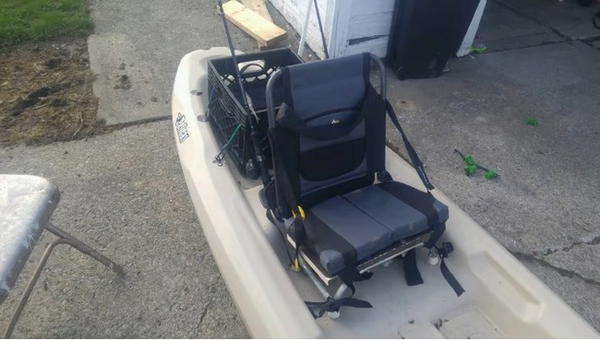 One of the easiest ways to increase your comfort while kayaking is adding a seat lift. Made of high-quality marine-grade vinyl, our seat lifts are soft, pliable, and easy to install. With a wide variety of colors available and at an affordable price, You could add a homemade kayak seat to any kayak. You will like this project because it has adjustable height and adjusts from high seat to low seat by simply flipping a lever. You can fulfill this project on your own; use this guide to learn more!
Elevated Kayak Seat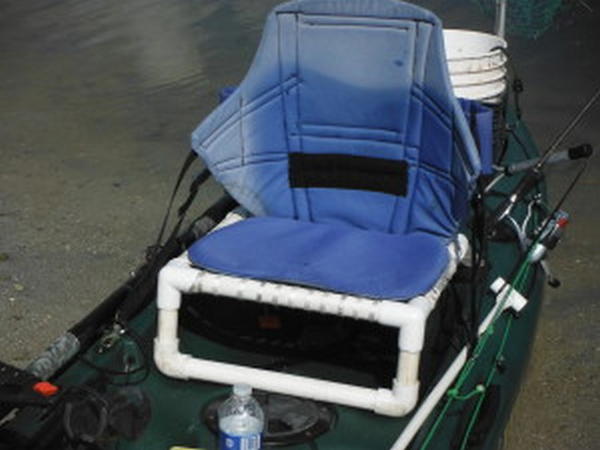 The easy to install seat elevates the comfort level of your kayak. The seat can snap into place on the kayak or float, allowing for multiple mounting options. So whether you are fishing or just spending time with family and friends, you can now comfortably spend it in your kayak without being fatigued from sitting on a rigid boat bottom. This guide shows you the complete step-by-step instructions and follow-up steps that help you make your own.
$20 Kayak Seat
There are many great kayak seats to choose from that are pretty expensive, and you may not have the budget for them. So, If you want an inexpensive kayak seat, try this one out. It is cheap and costs you only 20$ of your pocket, is also easy to use, and is comfortable for paddling or fishing. You can make your own this cheap kayak seat to use on your kayak. It's very comfortable and suitable for summer. Watch this video tutorial that will teach you the whole making process.
DIY Kayak Seat Without Drilling
This DIY kayak seat will make any kayaking adventure a pleasure. You can make your heart using tools you probably have lying around the house, and it should only take you less than 24 hours. The DIY kayak seat allows you to sit higher in the boat and helps you gain leverage over your paddle. It can reduce lower back pain and even help you catch fish more effectively! You can make your own with the help of this video.
DIY Kayak Seat Upgrade
A kayak is a great way to spend a day on the water with family, especially if you are looking for a calm ride. If you are planning on taking your kayak out with friends, however, you will want a little extra room in your boat so that everyone can be comfortable. This DIY tutorial shows you how to replace the seat of your kayak with a stadium-style heart so that you can comfortably fit two or three people along with yourself. Watch this video tutorial that will teach you the whole making process.
How To Make A DIY Kayak Seat
The DIY kayak seat allows you to sit on your kayak without getting tired of paddling. The project is straightforward because all you need are a stadium seat, aluminum tubing, and some tools. It's comfortable enough for an all-day paddle, so try it out if you're looking for a parking lot or lake excursion that's more enjoyable than your standard seat. This video tutorial shows you the complete step-by-step instructions and follow-up steps.
DIY Kayak Seat Upgrade
This project is a cheap, easy upgrade for your kayak; By using pool noodles, you can raise the original seat of your kayak without drilling and without spending a lot of money. You can make a DIY replacement using pool noodles if you want to upgrade your kayak seat but don't want to pay for stadium seats.  You need to cut them up into small, equal-sized pieces and slide them underneath your original kayak seat. watch this video tutorial before startups.
Kayak Seat Mod DIY
Don't think that experts only enjoy Kayaking. There are many ways you can customize your experience and make it more enjoyable. One of the most common problems when Kayaking is that seats can be uncomfortable. If you have a kayak and find it challenging to sit in, here is a solution. You can make an adjustable seat using PVC pipes and their accessories; elbow and tees. Watch this video tutorial that will teach you the whole making process.
DIY Shower Chair Kayak Seat
This video will show you an easy-to-make DIY kayak seat that converts your bath and shower chair into a kayak seat. This chair is waterproof, but you only need some parts, back braces, backrest, and base seat. Once the pieces are out, attach them as shown in this video, and The final result is quite comfortable. However, if you follow these instructions, your chair will soon be ready for use in your sports activities.
How To Make A Custom Kayak Seat
The kayak seat is an essential element of any kayak. It provides support while you paddle and a comfortable place to sit after making it back down to the shore. To build your own custom kayak seat, you'll need one block of high-density foam, a utility knife or sharp carving tool, and sandpaper. This video tutorial shows you the complete step-by-step instructions and follow-up steps.
How To Build A Kayak Seat
If you are looking for a DIY Kayak Seat, this is the best recipe. Pool noodles, PVC pipe, and tee connectors are easy to find in your local hardware store. Using these materials, you can build your own kayak seat that is much more comfortable than the one provided by most manufacturers. The cup holders can be attached to each side at the right height. You can add more details to it, like cushions and storage spaces. It depends on your preference regarding the final design of the DIY kayak seat you want to build.
Best Kayak Seat Modification
Kayak seat modification is a great beginner DIY project because it's pretty cheap and doesn't require inappropriate materials. The best kayak modification to make your experience even better is to get a padded seat from the store and fix it on the kayak. To fix the seat properly, you need an aluminum bar to support the seat on the kayak, which can be easily bought in any hardware store. Watch this video before starting your project.
DIY Kayak Seat Upgrade
This DIY kayak seat modification will make your seat more comfortable and allow you to sit longer without worrying about getting sore. All you need to complete this mod is some cloth tape, which can be purchased from any kayak store. This DIY kayak seat modification will also help you to sit comfortably. The above tutorial is simple, and it takes a few minutes to complete this project. No screws or bolts are necessary; just cloth tape attached to the kayak seat with some stitching.
How To Make A Foam Kayak Seat
If you are looking to make a foam seat for kayaking but don't want to spend money on expensive specialty seats, this is the tutorial for you. It is very straightforward and not time-consuming. You need to get the high-density foam down to size and draw out where you want your seat element to go on it. Then, use your grinder to shape it accordingly, and you're good to go! Watch this video tutorial to learn more!
Raised Custom Kayak Seat
If you need a durable, portable, and lightweight kayak seat for your kayak, then get this PVC pipe-raised seat. Made of high-quality material and constructed to last, it comes with a practical design. This can be assembled quickly and turned into a stable kayak seat. The frame comes with a top strap to prevent sliding while paddling, while the bottom strap keeps it in place. You can screw the edge on the hull for extra stability though this is not mandatory.
DIY Kayak Stadium Seat
If you want to make your own kayak stadium seat, we will show you how it is done in the easiest way possible. There are not too many materials needed for this project – a seat, aluminum bars, and wood pieces. Building a kayak seat is pretty simple: predrill holes on the aluminum bars and wood and then putting it all together. That is it! Watch this video tutorial that will teach you the whole making process.
How To Make Kayak Seat Cushions
Do you like your kayak seat, but sometimes it is not very convenient because of the thin cushion layer? Do you want to make your kayaking experience more comfortable? Then read on to find the best way to make a seat cushion. The foam is used as an interior reinforcement. You can cut it out with a knife or shears. A piece of yoga mat will be glued over the waterproof fabrics, while they, in turn, will be sewn together into one solid part. This is how you will get such an excellent product. The above video shows you the whole process.
See Other Projects