If you are looking for the best DIY yoga mat projects, you have come to the right place. There are many ways to use up your old yoga mat and turn it into something new and exciting. These 21 DIY Yoga Mat Ideas are not just for yoga but for any other workout activity. If you have been to a gym, you probably have seen yoga mats lying here and there. These mats can be costly when you buy them from a store. These projects are fun and creative ways to recycle a used carpet into something that can be enjoyed in your home or as gifts for others. After following this list of ideas, if you're obsessed with creating DIY mats, you might wonder about our series of snuffle mats, doormats, and creative placemat ideas.
DIY Yoga Mat Ideas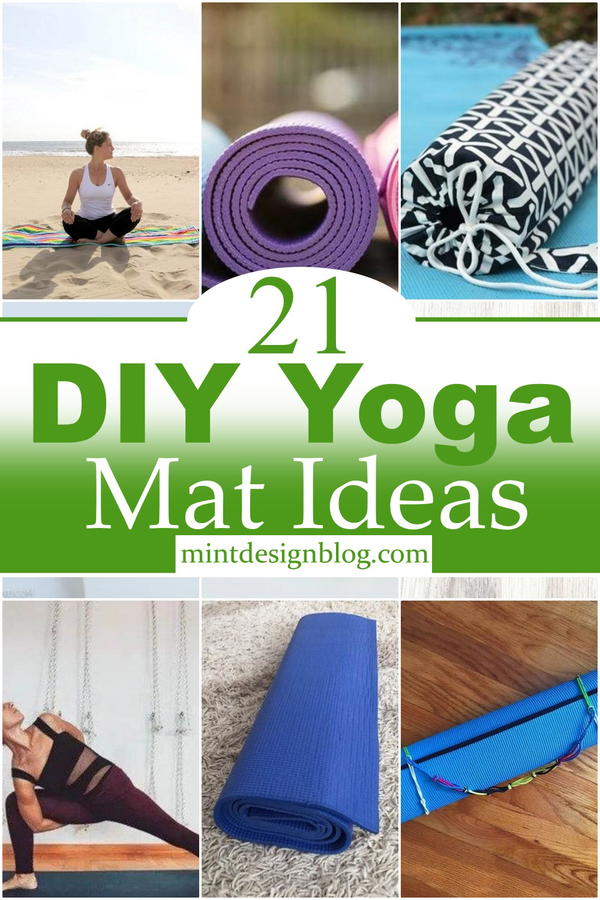 There are various reasons you might want to make DIY yoga mats; they are relatively inexpensive compared to the ones you can buy at a retail store. You can also personalize them to your taste and preferences and make them as comfortable as possible. These projects are easy to follow, have step-by-step instructions with images, and will help you make your DIY yoga mat. We have come up with 21 DIY yoga mats that you can do yourself and give as gifts to your friends and family. So if you want to take a small break from all those workouts, scroll down and check out this list of DIY yoga mat ideas waiting for you!
Advantages Of DIY Yoga Mat Ideas
DIY yoga mat ideas can help you make your yoga mat, recycle old towels and blankets into a new one, or even use an old carpet to create a custom size.
There are many benefits of DIY yoga mat ideas. They are not just cost-effective but also great for the environment. Here are some of them:
You can make your yoga mat that matches your personality and style.

A yoga mat can be personalized with your favorite colors and graphics.

You can reuse old towels, blankets, or other fabrics lying around in your house, giving them a second life by turning them into a beautiful new accessory for your home or studio (and yourself!).
Yoga mats can be expensive, but you can make your own at home with just a few simple items.
Yoga mats are essential to the practice of yoga, and they are often expensive. While you can buy one at your local store, there are many benefits to making your own DIY yoga mat. Making a mat can be inexpensive and fun while also helping you learn new skills and get creative in the process.
Tips And Tricks To Clean DIY Yoga Mat
Here are some tips and tricks to help you clean your homemade yoga mat:
Make sure your mat is completely dry before storing it away so that no moisture gets trapped inside. If possible, lay the mat out on a flat surface in an area where it will not get stepped on or sat upon for several hours after cleaning it.
Use soap and water to clean your mat if there is only a small amount of dirt or oil on it. Use warm water and mild dish soap (don't use harsh detergents) in a bucket and scrub gently with a soft brush or sponge to remove any residue from your hands before class or practice time. Rinse well with clear water afterward.
For more stubborn stains or odors, try rubbing alcohol diluted with water as an alternative cleaner for your DIY yoga mats.
How To Make A Yoga Mat
A yoga mat is one thing that has become a must-have, especially if you often do yoga. A good yoga mat can make your practice more enjoyable. Above all, without it, you will feel uncomfortable on the floor. You need some tools when you're ready to start making your yoga mat. For example, you'll need a large piece of cardboard or foam board. You'll also need some glue, scissors, and fabric. When making a yoga mat for the first time, use something colorful that you love!
How To Make A Homemade Yoga Mat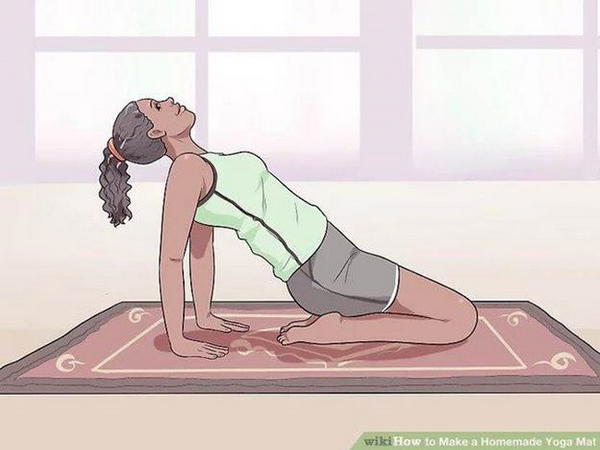 If you are a yoga practitioner, you may want to know how to make a homemade yoga mat. Making your yoga mat will save you from spending tons of money in the market and give you a chance to understand better how it is made and why it should be created in a particular way. The process is super easy, and we will explain it step by step below. So, if you are looking for a unique yoga mat, then this project is one of your best options!
DIY Yoga Mat Alternatives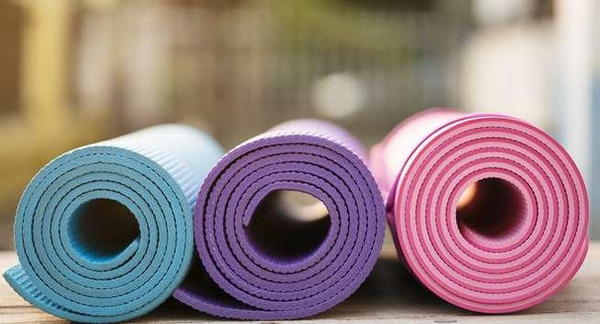 You know that a yoga mat is an essential tool for exercise, not just for comfort if you're into yoga. But these things aren't cheap, and if you want to be eco-friendly and save some cash, there are alternatives. The best part of doing yoga is choosing whatever material you want to use. But if you need an alternative, this article aims to help you choose wisely by describing your options and their pros and cons.
How To Make A Yoga Mat Holder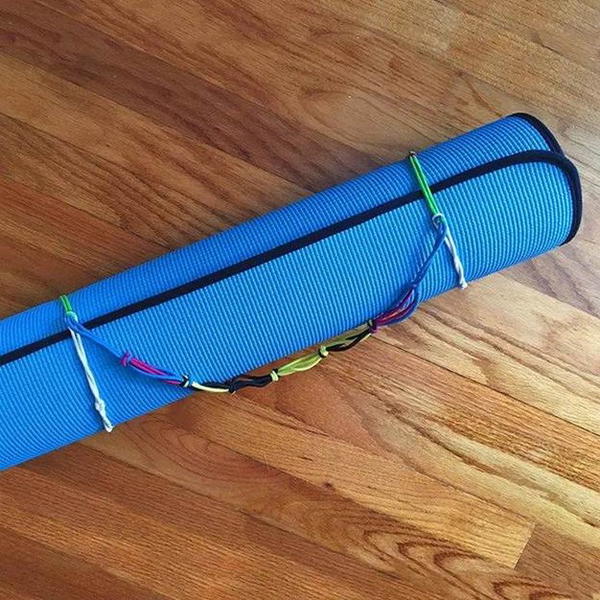 If you are a yoga enthusiast, you know how difficult it is to travel without your yoga mat. Traveling with your yoga mat is uncomfortable and inconvenient because most of the time, you'll need to figure out how to carry it safely. However, with a simple strap made from nylon webbing or leather, if you prefer, it can be so much easier. This strap is easily adjustable and requires the most accessible materials to use. Try to create your yoga mat holder and bring it along when you travel. It's effortless, which means you won't have any problems making one of these. Apart from this strap, you also need some other readily available materials.
DIY Yoga Mat With Unique Sewing Pattern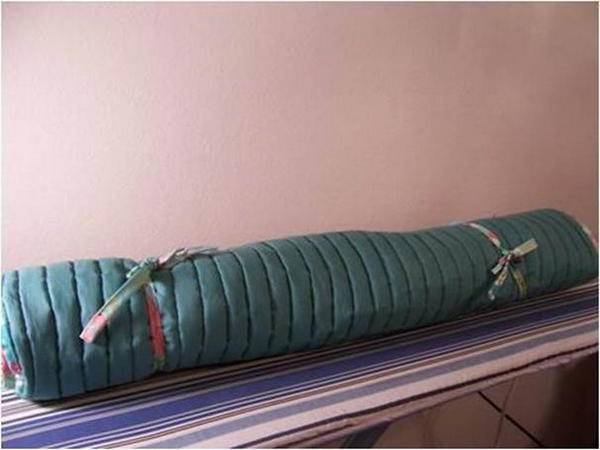 Your dreams of becoming a yoga enthusiast can come true with this DIY Yoga Mat With Unique Sewing Pattern. If you want to get a new mat but aren't sure if it is the best option, consider the benefits of hand-sewing your yoga mat. By sewing your yoga mat, you will have the flexibility of creating just about any size or shape for your personal preferences. Here is a DIY Yoga Mat With Unique Sewing Pattern for you to try. Designed with a unique sewing pattern, it is easy to roll up and take to class. You could now take the stress out of trying to roll up your old mat and focus on your yoga poses.
How To Make Your Yoga Mat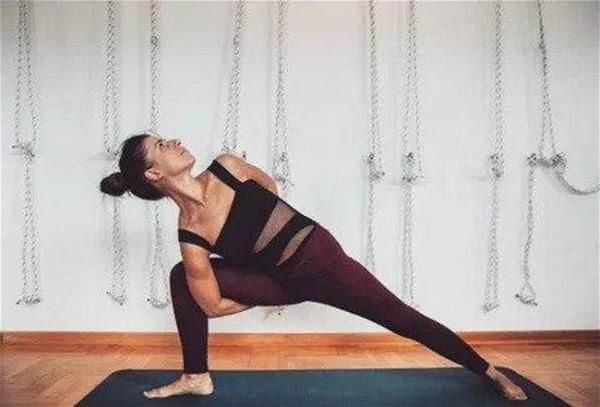 This is an excellent way for those who want to make their yoga mat! You will need some rubber or foam mats and some cotton fabric. Start by cutting small pieces of cotton fabric and laying them on top of the rubber or foam mats to cover the entire surface area of each mat. Next, glue down each piece of cloth until it's all glued down. Congratulations, you have made your very own non-skid yoga mat! When making a yoga mat, it's essential to know that sometimes it can be challenging to preserve. Using rubber mats is excellent, but cotton fabrics can also be great. When adding your nonslip material to the bottom, make sure it glues completely
DIY Yoga Mat Bag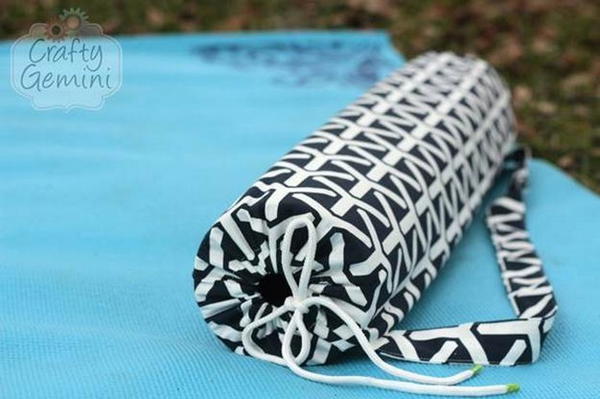 You no longer have to worry about lugging your yoga mat and towel in a bulky bag. Discover the joy of DIY. This Yoga Mat Bag is beautiful and practical. The color scheme of white, black, and gray will forever be in style, no matter what yoga mat you choose to carry around town! With this simple, functional, and pretty Yoga Mat Bag, you can easily take it with you without overpacking your gear. This DIY project is easy to tackle and requires no zippers or pockets (and thus no sewing), just some basic materials and a drawstring closure.
DIY Macrame Yoga Mat Bag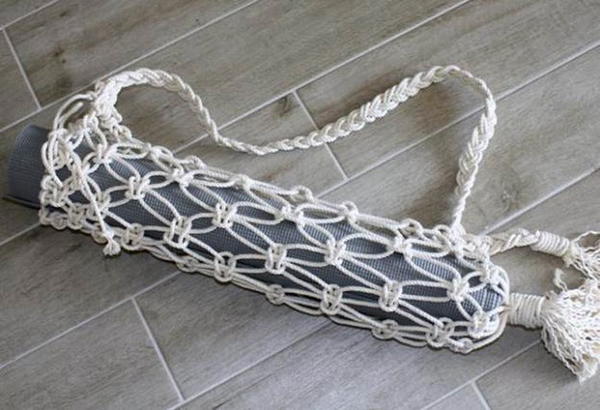 Are you tired of carrying your yoga mat to the gym? This DIY Macrame Yoga Mat Bag will keep your mat clean, protected, and in good shape. This style is easy and fun to make with only a few materials and knots. The project of creating a macrame yoga mat bag is indeed a fun DIY project. Making something for yourself using your own hands is very rewarding, and you will feel more productive than buying it from the market. Macrame is an ancient art that involves knotting strings together to create patterns and shapes. You can come up with the best designs in this DIY Yoga Mat Bag.
How To Clean A Yoga Mat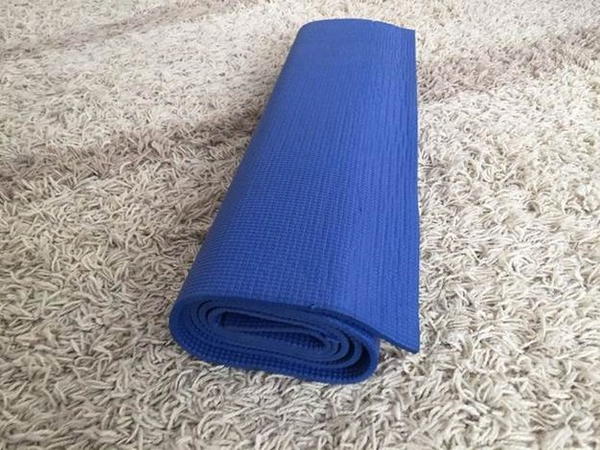 If you are a yoga addict, you might have to face the not-so-pleasant fact that your beloved yoga mat gets dirty along with the session. These mats are used in different yoga poses, and when you sweat, it gets on the mat too. However, there is no point in ignoring this problem, as it is better to clean up your yoga mat after every session, especially before resting it for good. Cleaning your yoga mat is not impossible, but it takes a little bit of effort. One or two hours of cleaning isn't too bad, considering that you will get the most out of using it for years to come.
DIY Yoga Mat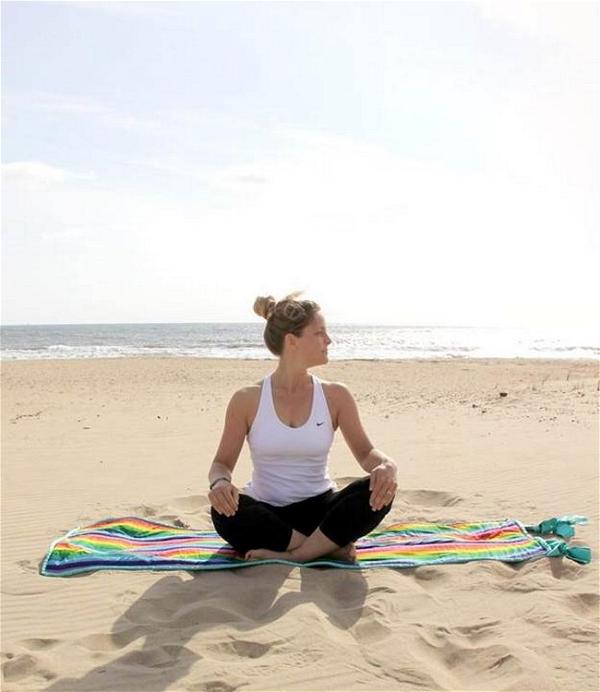 If you're looking for a yoga mat, you can make it yourself; this is the one. It's made from cotton material, giving you an excellent grip. And the bright colors make it fun. It also won't slip around on you, so if you decide to add a stick to the bottom of the mat, then leave it to dry before using it, it should work just fine. This DIY yoga mat is an excellent alternative to expensive mats. This DIY yoga mat will surely spark your interest; made of cotton material and bright colors. Try adding some stick to the bottom of the mat, and then leave it to dry. It will stop your mat from ever slipping as you practice in your room or outdoors!
How To Clean And Sanitize A Yoga Mat
If you regularly practice yoga, you may already know the importance of cleaning your mat. Due to the nature of the practice, sweating and perspiration are unavoidable, so regular sanitization is essential. Germs might escape from your body and move to the yoga mat whenever you sweat. The best way to keep them at bay is to sterilize your yoga mat using particular products available in the market. You can also keep your mat clean by regularly washing it with mild soap and water. However, it is essential to dry the mats properly before using them again, as wet surfaces provide a perfect breeding ground for bacteria and germs.
How To Build A Yoga Mat Holder
If you are a regular yoga practitioner and love doing it, you need to keep your yoga mat in good condition. Without a suitable place to store your yoga mat, it will be difficult to maneuver around when you do your next pose and organize all around the house. A wooden yoga mat holder with four hooks attached to it will securely hold onto the corners of your mat, leaving room for other things. The hooks can hang the clothes or towels after use and make effective storage solutions.
DIY No-Sew Yoga Mat Carrier
 This DIY Yoga Mat carrier is certainly a lifesaver. It is made with the most rigid quality cotton straps available and is advised to use for your one-of-a-kind Yoga Mat carrier. The way it has been tied up could be changed as per your requirement. The fun part is that you can get it customized just as you want it to be. You will love it, and your hands will not get tired of carrying your mat around. This yoga mat carrier is just the right size to fit a standard-size yoga mat and provides enough support for most people.
How To Make Yoga Mat Bag For Old Jeans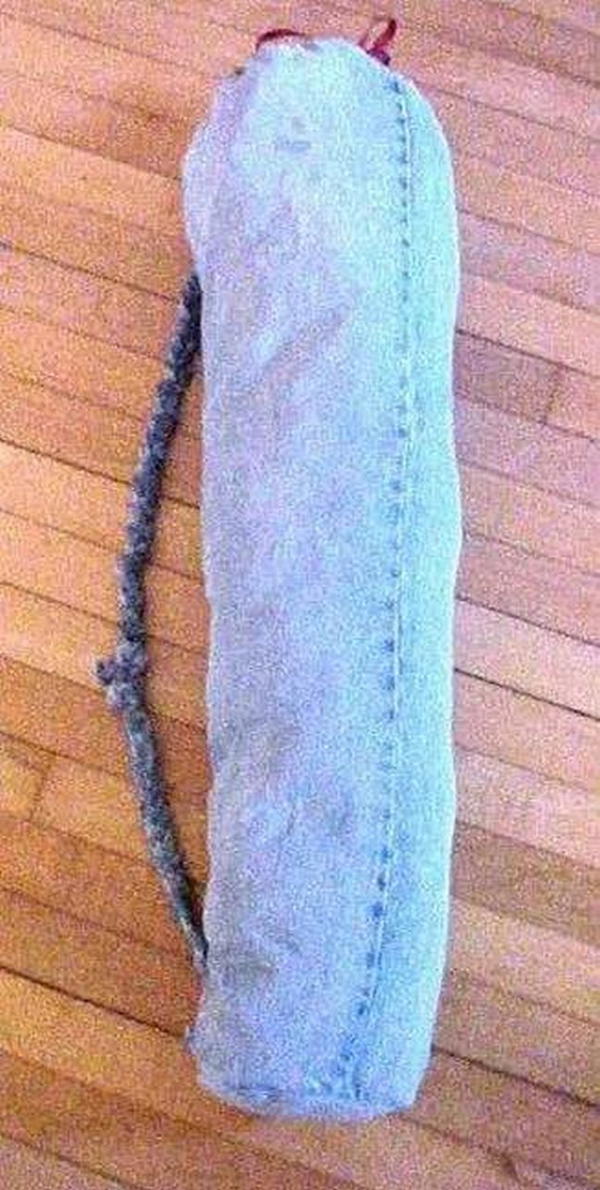 You have to be creative sometimes when you don't have a lot of money. Even if you love doing yoga and going to yoga classes, sometimes you can't afford the latest yoga mat bag on sale in the market. With a little bit of ingenuity and elbow grease, you can make your yoga mat bag out of an old pair of jeans. Yoga mat bags are not cheap, but you don't need to go out and buy one if you don't want to. Recycling an old pair of jeans is a great way to create a functional and fashionable bag that can carry your yoga mat and other things you may need while exercising.
How To Make A Yoga Mat Sling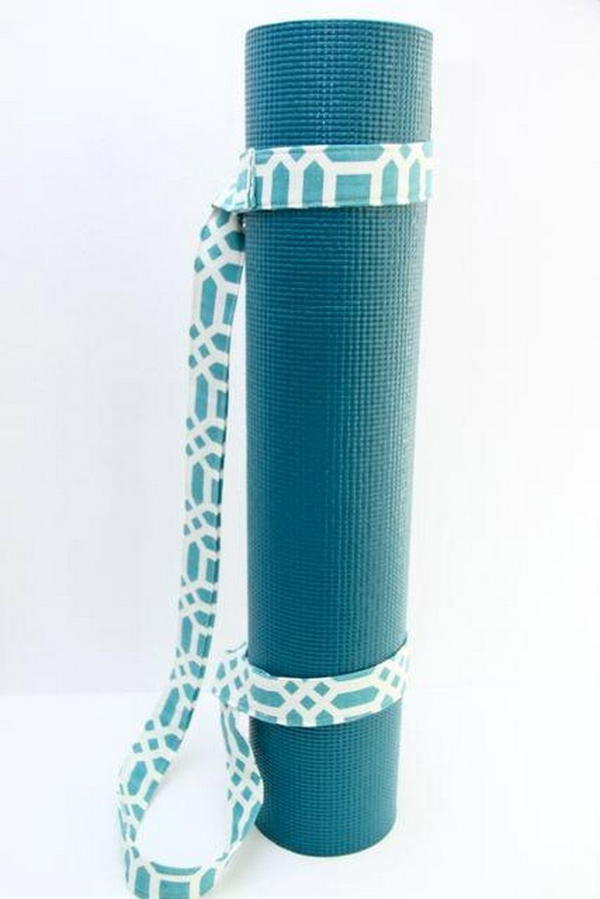 If you love to practice yoga and like to carry your mat around, this DIY is for you. You can use an entire bag to fit your yoga mat, but it wouldn't be as convenient as using a sling. This sling will make carrying and storing your mat easy. You will never have to worry about your yoga mat getting dirty or lost again. Your friends will be impressed with this cute, colorful, and very functional addition to your gym bag. You can also give it as a gift. This Yoga mat sling is a fun and easy sewing project perfect for beginners.
DIY Yoga Mat With Unique Prints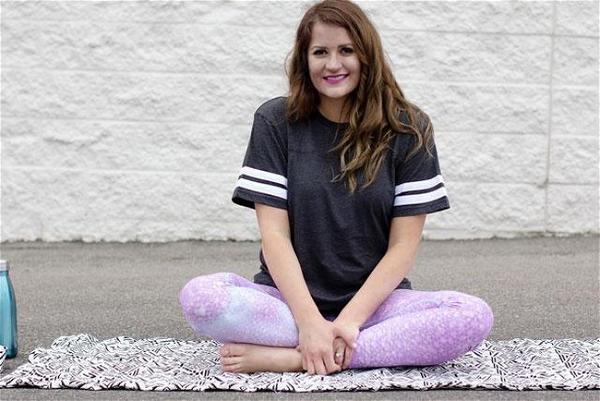 Yoga mats are helpful for those who want to practice yoga at home, but they are also a must-have for those who visit the gym regularly. Nevertheless, it is pretty challenging to find the best yoga mat for you as there are lots of them in the market with different designs and patterns. Instead of purchasing one from a store, you can make your DIY yoga mat. If you want to customize your yoga mat, this DIY Yoga Mat With Unique Prints is perfect. It provides all the materials needed to make a high-quality yoga mat that is fun and colorful. Made with love and care, it creates a fun project that all will enjoy!
DIY Yoga Mat Towel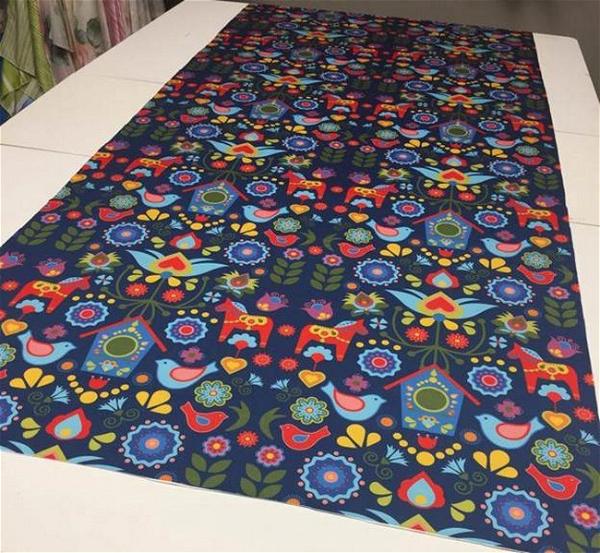 The DIY Yoga Mat Towel is perfect for people who like to design and give a personal touch to the things they use. This is when you can come up with something unique that makes you feel special every time you practice yoga or go for a swim. All you have to do is cut out a piece from that big fold you may have always kept for a special occasion. Cutting a piece of fabric is easy to do and does not require any prior sewing experience. The significant part of DIY Yoga mats is that you have to pick a material for yourself so that it won't be the same as others. You can choose to cut a piece from that big fold you have always kept for a special occasion or just your piece of fabric.
DIY Crochet Yoga Mat Bag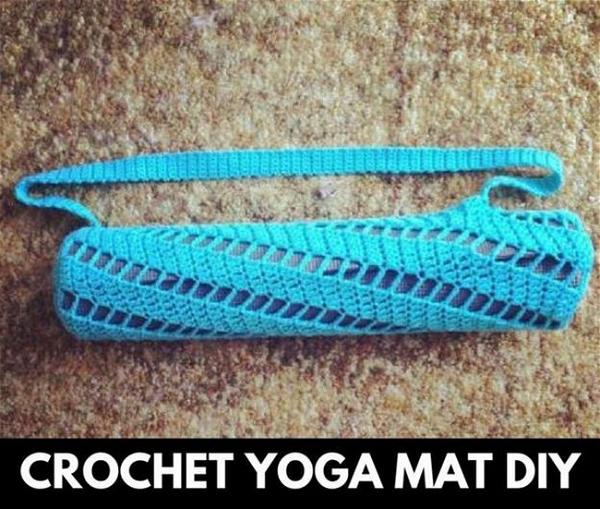 Do you know how to crochet? If you do, you are free from the hassle of buying expensive yoga mats. This new DIY Crochet Yoga Mat Bag will inspire you to make your yoga bag. It is effortless and relaxed for a beginner who wants to explore the art of crocheting. Besides, no sewing machine is needed, as it saves time and money. You only need yarns and a crochet pin! This DIY Yoga Mat Bag is one of a kind. You can even customize your bag by changing the colors that you want. The best thing about this mat bag is that it was made from an effortless item, yet it has a unique look.
DIY Yoga Tote
Treat yourself with this yoga tote. It is time to up your yoga game and get a new tote! This Yoga Tote provides a fantastic way to carry all of the essentials for practicing yoga, plus it will also help you look super stylish. It's compact and lights, making it very to carry around everywhere you go. This bag consists of two compartments, one for your yoga mat and the other for your belongings like a water bottle, hairbrushes, wallet, etc. It's a great way to express yourself and share your experience with the rest.
DIY Yoga Mat Bag Tutorial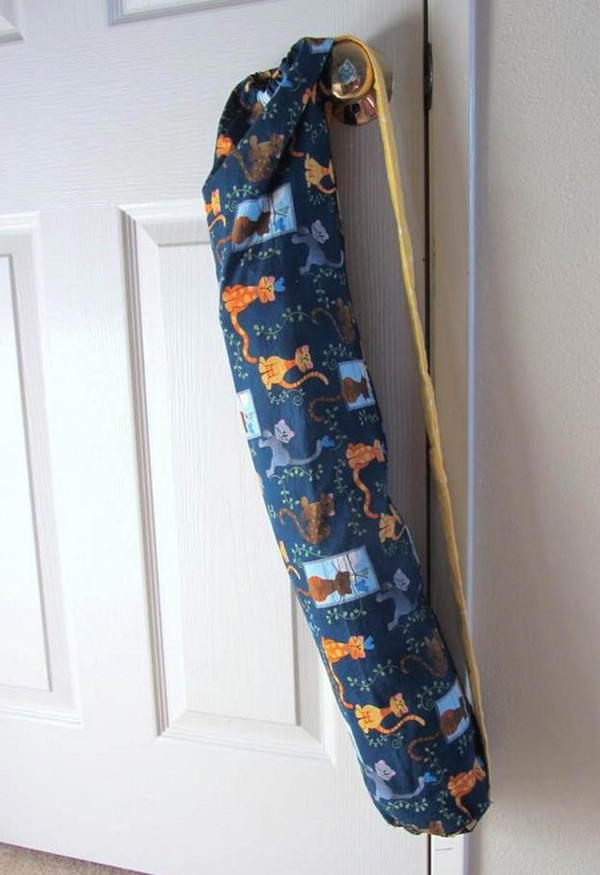 This DIY yoga mat bag tutorial is something that you don't want to miss. It will help you in terms of convenience, durable usability, and a DIY way to express yourself through the colorful pattern of your creation. Please make your yoga mat bag to organize and protect your mat during transport, or store it for safekeeping. This sewing tutorial shows you how to make a yoga mat bag from the same fabric as your yoga mat casing. Using materials found in your house, you can make this DIY yoga mat bag with your own hands. It looks terrific, and it doesn't take much time at all.
DIY Yoga Mat Bag Crochet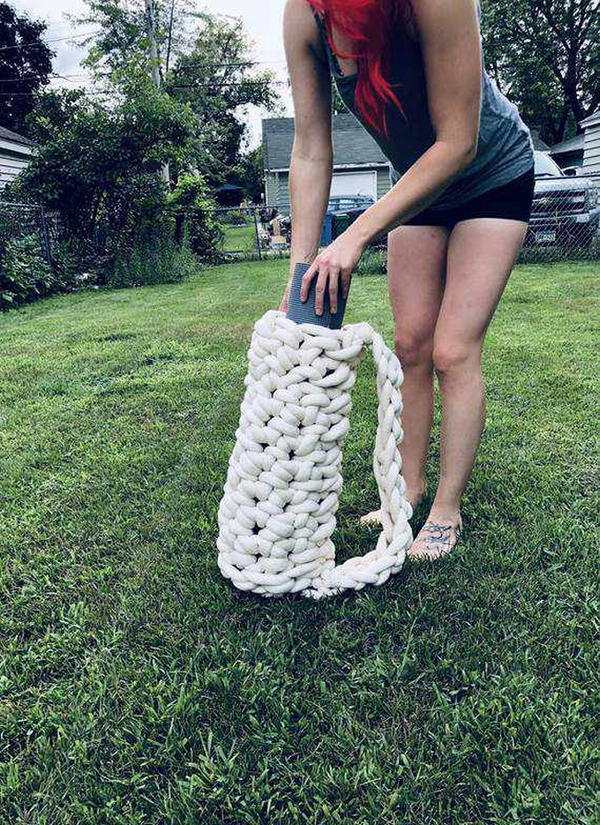 Yoga is an exciting practice and exercise that helps get your body in shape. At times it becomes difficult for us to carry or carry our stuff, and we have no option but to leave them behind. So if you are interested in bringing your mat to yoga class every time easy, this post will guide you through the process. Create this yoga mat bag that is stylish and easy to carry around. You can take it almost everywhere you go, ensuring the mat is safe and clean. The pattern is straightforward to follow and is explained so that anyone can understand. You will know how to make a crocheted bag for your mat in no time!