A placemat is a thin mat usually made of plastic, rubber, or fabric that people put on top of a table before setting the table. Placemats can be used indoors or outdoors. They are used for decorative purposes and to protect the table from scratches and spills. They also make the cleaning process easier by preventing food stains from getting into the table. You can wipe them clean after every meal, and you don't have to worry about stains getting on your table. These 30 DIY Placemat Ideas are very easy and colorful placemats that you can make in just 30 minutes. These patterns are perfect for beginners as it is super easy to make.
Creative DIY Placemat Ideas You Can Make For Your Home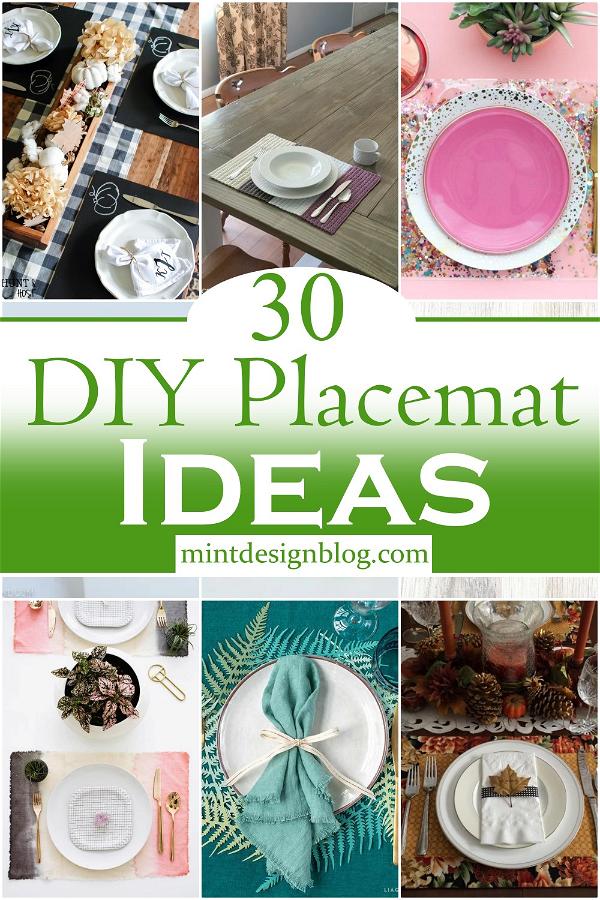 If you are looking for ways to add beauty to your dining room, one idea is to use DIY placemats. The great thing about DIY placemats is that even as a complete beginner, you can make them easily at home with everyday items around your house. All you need are the right tools and materials needed to make them. There are DIY placemats ideas that you can easily make at home for your dining needs. All of these placemats look beautiful and will add a touch of elegance to your dining room decor.
Add an elegant touch to your dinner table setting with 30 of the most creative DIY placemats ideas that are easy, affordable, and stunning.
Tips to Make DIY Placemats
DIY placemats can seem intimidating at first, but don't worry! You can do it.
There are a few tips to keep in mind when making placemats of your own:
If you're looking for an easy placemat pattern, consider using fabric paint to stamp designs onto a cheap set of placemats. This is a great way to make your own customized placemats for less money than investing in the materials to make them from scratch.
For something a little more exciting and versatile, start with a plain white tablecloth from Ikea or some other store, and add your own designs using fabric paint, stencils, or decoupage. You can add everything from geometric shapes to animal print patterns to bright colors to really bring your table together!
If you want to go full out with your placemats, consider adding buttons and other craft embellishments like beads and sequins. Either use the glue gun or sew them on instead of glueing them so they'll stay in place!
Uses of DIY Placemats Ideas
Use DIY placemats as gift tags
Create delicious platters and place them on top of the DIY placemats
Set out the DIY placemats on tables to serve food on during parties
DIY placemats can be used in a variety of ways, right at your dining table
Many DIYs that are using placemats to make costumes and school projects
DIY Placemats are a great way to decorate your dining and living space
Placemats can be free or cheap depending on the material you get
Unlike regular table mats, DIY placemats are colorful and fun to look at
DIY placemats can be made using various materials like fabrics, yarns, and painted paper
placemats help to protect the table
can be used for events and parties
DIY placemats will save you money
Money spent on things like placemats can be invested in your future
Pinwheel Placemats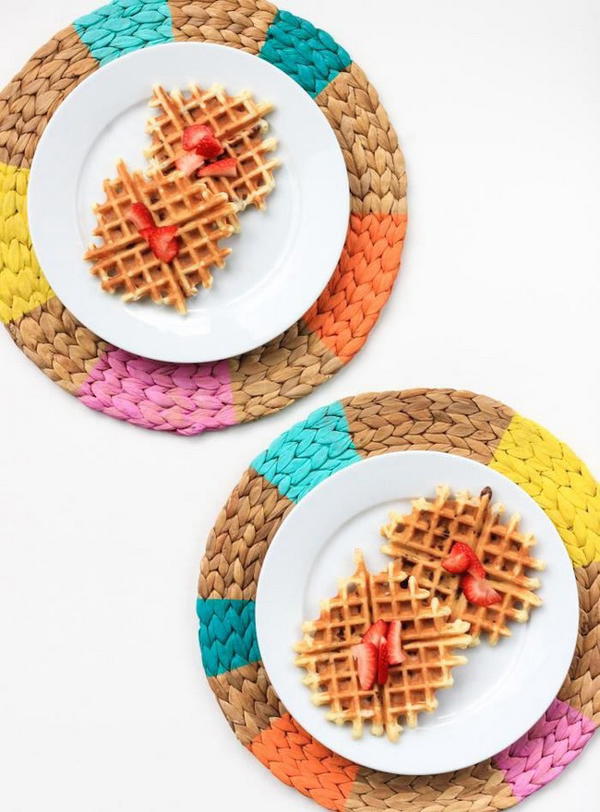 A pinwheel is a simple child's toy made from paper fastened at its centre to a stick by which it is made to spin. These colourful pinwheel placemats are a great project that's easy to make. You only need a few materials that can be found at any craft store and you're done in no time! They would make a great gift for your friends or family too. Make yourself a set of pinwheel placemats to use on your festive table. This project will take some time, but it's a good candidate for making while watching TV or movies.
DIY Color Block Placemats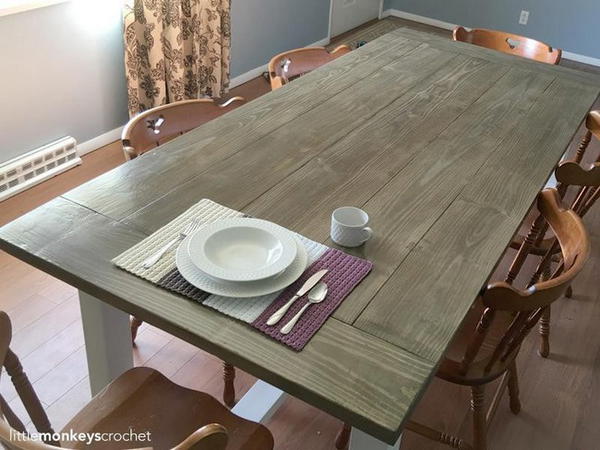 Liven up your dinner table in an easy way by making color block placemats. Color is a springboard for the senses, and invites experimentation and play. With these DIY placemats, available in an array of fun colors, you can use this table decor to get creative with your kitchen table settings. Think about creating themed tablescapes using different colors, or try mixing different-colored placemats on one table. The possibilities are endless. Making your own placemats is a great way to add color and protect your table. These DIY placemats are made with basic sewing techniques and a set of fat quarters.
Denim Placemats
If you want to make your own denim placemats from your old jeans, it won't take long! A unique creation indeed. These denim placemats are made from repurposed jeans. Add a pattern pop with jeans you don't wear anymore and pair them with your favorite table linens for an unexpected look. Just make sure to pick out the right pair of jeans and prepare the necessary tools. Make your own denim placemats with this easy DIY. All you need is scrap denim, a little extra fabric, and some rivets to decorate your table in style.
DIY Sisal Rope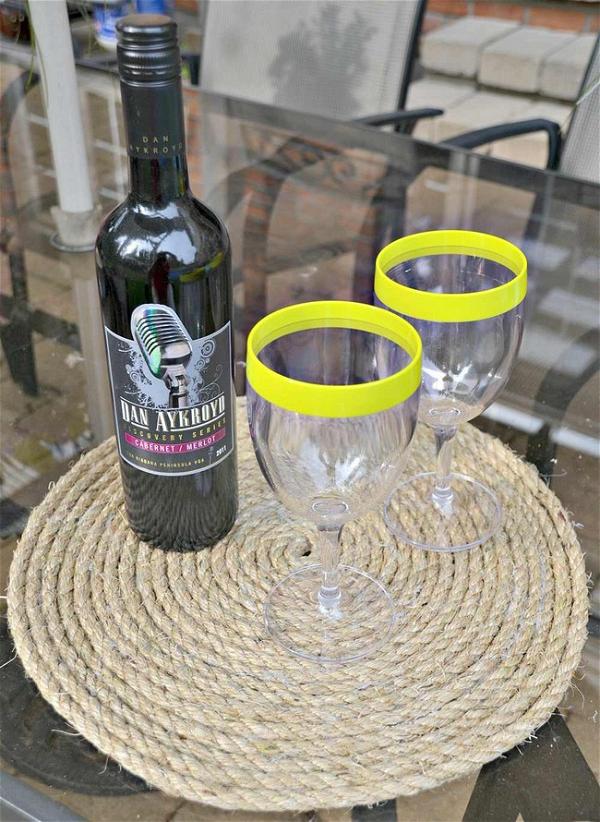 With this Do It Yourself Sisal Rope project, you have the option of creating anything from wall art to a rug! Make this DIY placemat for your next outdoor dining party. This amazing rope placemat is made with a stylish knotted design that very much resembles a nautical design. This project is easy, fun, and leaves your home with some serious personality. This is an amazing placemat that would be perfect for outdoor dining situations. DIY-ers will love the ease of this project – it's a simple way to add a splash of color to your table.
Spring Table Decor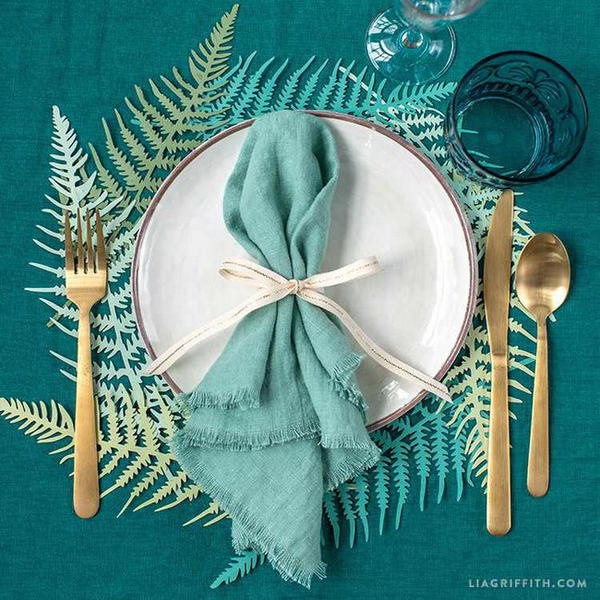 If you're looking for something that's quick and easy to make, then check out this table decor. It's a simple and great way to add a little color to your home. This is the perfect piece for a springtime gathering of friends, family, and loved ones. The soft-colour paper adds a gentle touch of spring to any meal. Spring is a time for fresh flowers and new beginnings. Bring a fresh look to your table with the Spring Table Decor.
DIY Thanksgiving Placemats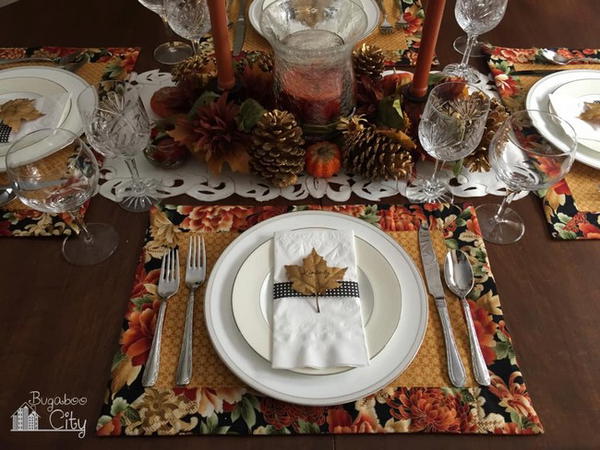 A great way to make your holiday table extra special - these Thanksgiving-themed placemats are DIY, meaning each guest can write down what they are thankful for on their placemat. Might Thanksgiving be a time to give thanks and cherish family and friends, it can additionally be an area to show off your creativity and impress your attendees with these DIY Thanksgiving placemats. From vibrant novelty fabrics to easy printable designs, let your personality shine through with these amazing selections. Construct one of these DIY Thanksgiving placemats to meet the needs of your guests.
DIY Chalkboard Placemat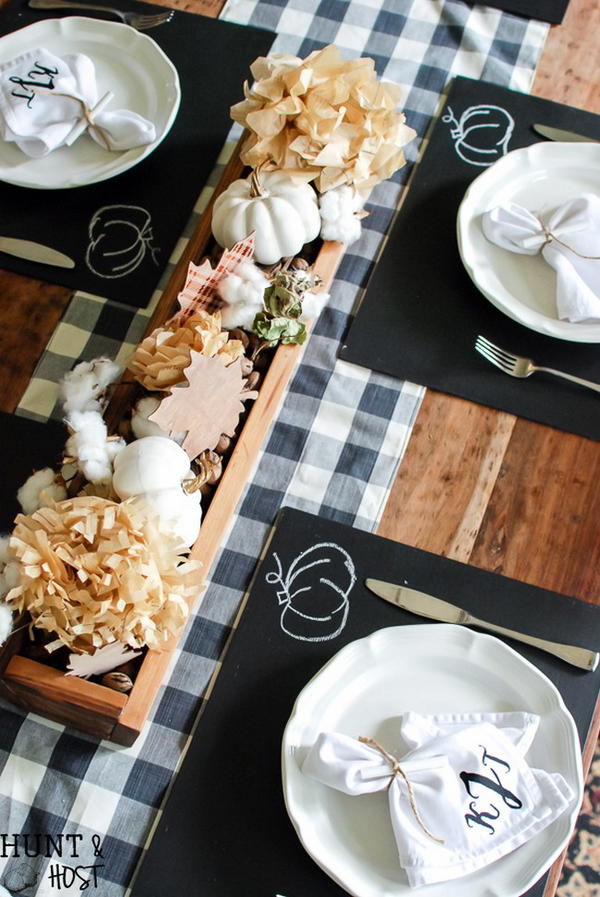 Make mealtimes more fun with this DIY placemat. With a chalkboard finish, it's perfect for drawing and doodling, as well as hosting imaginative games during family dinners. Take the busy work out of mealtime with this reusable and washable cloth placemat. This washable, reusable placemat features a chalkboard surface that turns eating time into doodling time. Perfect for kids who love to use their food as art materials, and a great way to entertain children while they're waiting for their meal.
DIY Dyed Placemats
This DIY dyed placemat is so fun and simple to make, you'll want to make a few sets of these. It's perfect for dining outside on a beautiful sunny day, or even while the snow is falling in late Autumn. Would also be perfect if you're throwing a party and need to spruce up the place setting! This classic tableware makes a sophisticated yet casual impression on any dining occasion. This quick and easy project is great for entertaining. Make them in any color combination to match your personal style, or for a special occasion.
Printable Parisian Placemats

If you're one of those parents who are looking for something great to keep your kids entertained and engaged during their meal, then this is the package for you. Try your hand at making your own tie-dye placemats. The process is easy and the final product is fun and colorful. It would work perfectly for weddings or outside parties. This classic tableware makes a sophisticated yet casual impression on any dining occasion. This quick and easy project is great for entertaining. Make them in any color combination to match your personal style, or for a special occasion.
DIY Pebble Placemats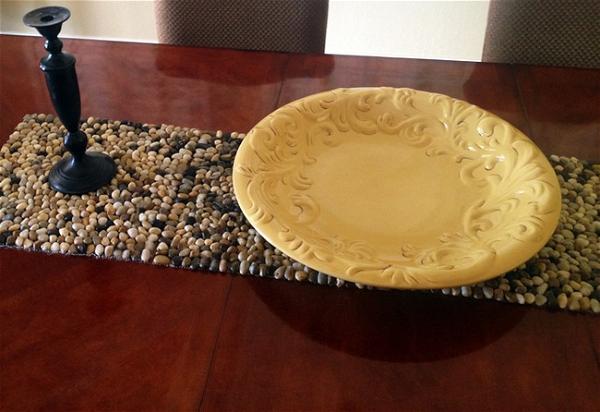 If you love rustic décor, these pebble placemats are for you. They're easy to make and will do wonders for your rustic look! You don't even need to know how to sew—the hidden layers of batting and fabric keep the pebbles locked in place.A dd a fun and mindful touch of nature to your dining table with these pebble placemats. They're so easy to make, you'll have them ready in no time. To make them, all you need to do is find a few pebbles and then glue them onto a piece of cork to create the look of actual place settings. Make sure that your meals look as great as they taste with these DIY pebble placemats. It's a simple but fun little project.
 DIY Confetti Placemats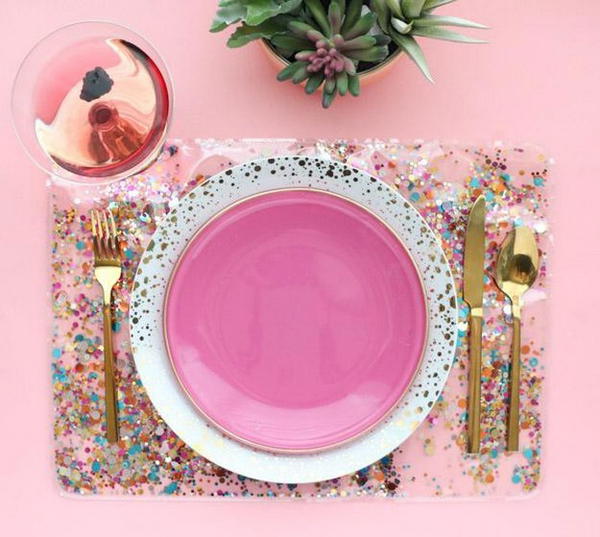 Your dining table will most likely be the center of your home and you want to make sure that it not only looks good but is functional as well. Placemats help protect your dining table from stains and spills, but also give it a nice decorative touch. DIY Confetti placemats are the ideal table accessory for any kind of celebration. Not only do they add a festive feel to the dining table, but they're easy to clean and make. This DIY placemat is a great way to add a fun touch to any dining room table. It also makes for a practical addition as well because it helps protect your table from spills and messes.
DIY Macramé Placemats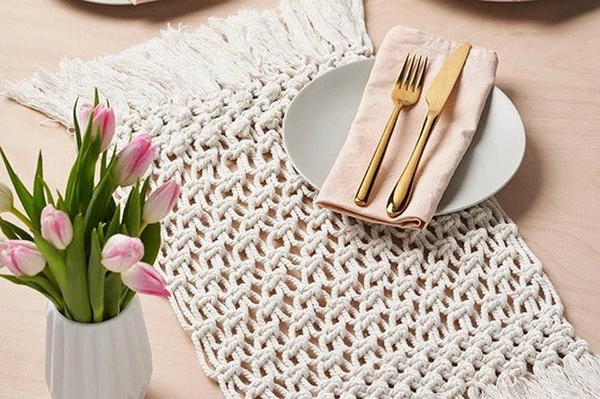 You'll be thrilled to have this DIY Macramé Placemat kit in your collection. Master the art of macrame and enjoy a creative, stress-relieving experience that leaves you with a beautiful end product. The finished product will add a unique focal point to your dinner table, as well as make a great addition to an entryway or living space. Most projects are more fun to embark upon when you have a friend to help out. So grab a couple of friends and get to work building these beautiful macrame placemats, which will definitely bring a bit of relaxation to your next dinner party.
No-Sew Placemats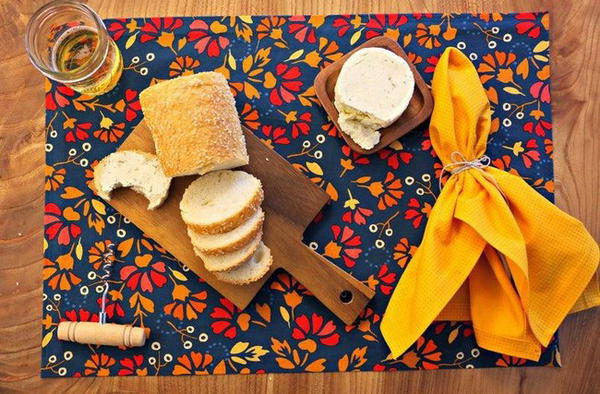 These no-sew placemats will add color and boho charm to your table setting. They're made from adhesive and cloth, with a bamboo ring for an eye-catching look. It's really simple with this technique, and you don't even need to sew something. It's a fine idea for a DIY crafts project that you make in your spare time or just boost your creativity. These placemats have a unique pattern that is great for any occasion. It's fun, easy, and produces great results. You can also use different colors to suit your needs.
DIY Vinyl Placemats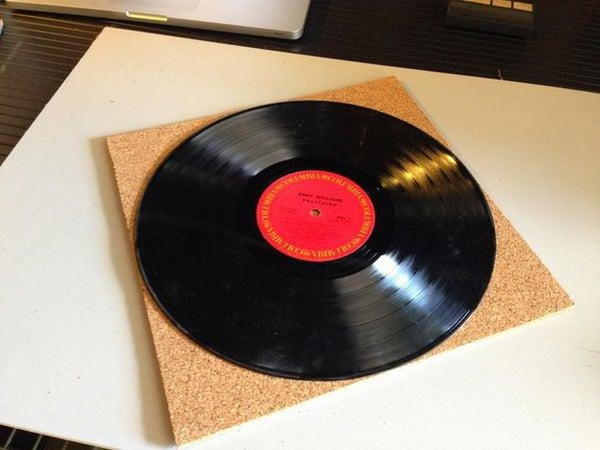 These days, vinyl is more than just for records anymore. Vinyl can actually be used for many things, like this DIY placemat here. All you need is some cork material and some old vinyl that you have lying around the house. In addition to being frugal and functional, it can also be fun and easy if you have the right tools! Make good use of old vinyl and create a unique, beautiful placemat with it. These placemats will hold your dinnerware, protect your table from spills, and make cleaning up easier than ever.
DIY Burlap Placemats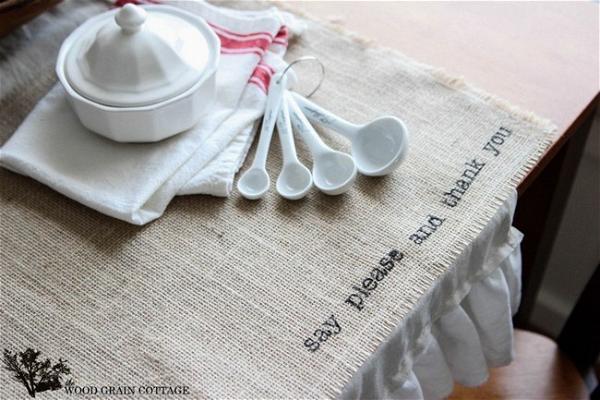 Here's an affordable project that is so easy you could do it with your eyes shut. Add some rustic charm to your kitchen with these DIY Burlap Placemats. They're fun to make and are sure to be a conversation starter at your next dinner party. It is easy to make and you can customize it based on your preferences. You are free to experiment and be creative with this project. You can use other materials such as faux leather or wool fabric and you can also use different types of paint so that the final product will suit the theme of your home.
 No-Sew Floral Fabric Placemats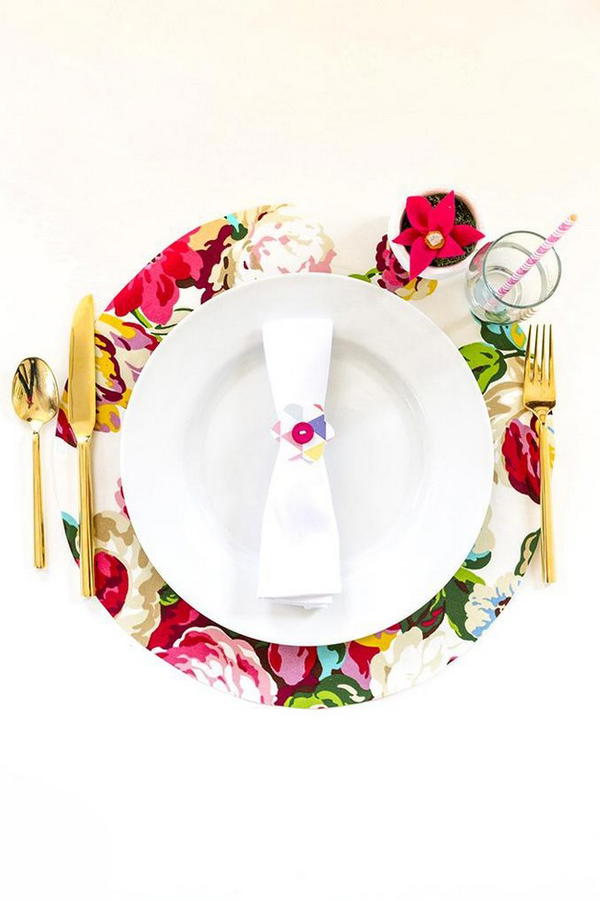 Make these placemats in minutes-you don't even need to know how to sew. Start by using plain placemats and personalize them with decorative washi tape. These beautiful placemats are made using non-slip fabric. They do not slip and slide when you place a plate of food on top. In addition, they wash easily and will last for a long time even though there is no sewing involved in the making of them. A set of stylish placemats at a great price makes this an ideal gift.. And the best part- you don't even need a sewing machine!
15. Colorful DIY Placemats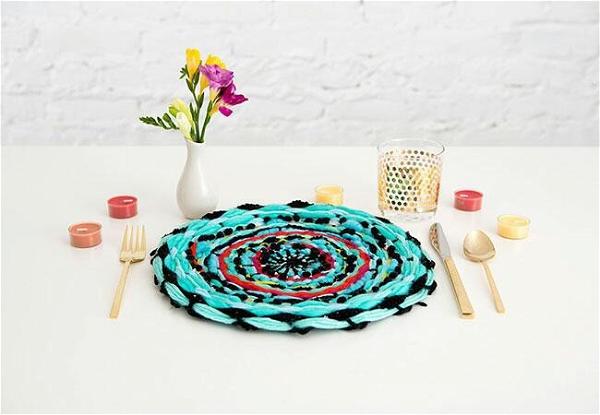 Create a colorful accent piece for your table with this do-it-yourself project. It's an ideal craft for beginner sewers and experienced sewers alike, and it goes together quickly. DIY placemats can add a lot of character to your table setting. You can change the colors to fit your personal style and add some decorative detail to give the placemats an interesting look. Complete your table setting with these simple but colorful DIY placemats. Since they come in a range of rich, saturated colors, they would be an excellent choice for those who want to add some color to the dining table.
DIY Tile Placemats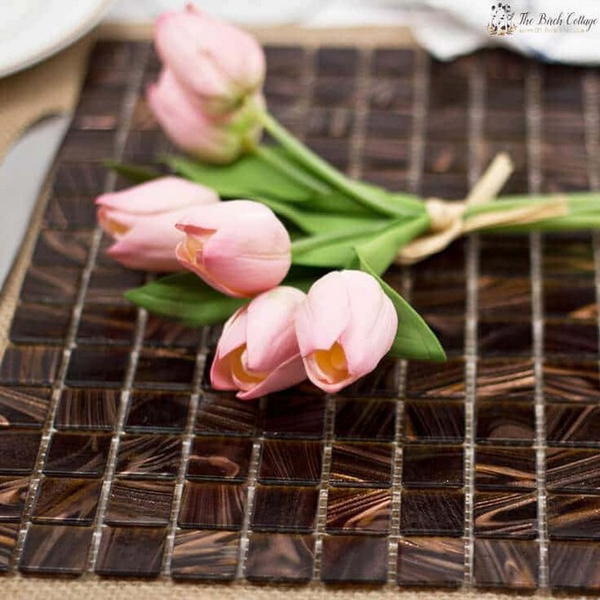 Want a unique gift that requires minimal work on your part? Make these tile DIY placemats. Now you can make your own tile placemats. A modern twist on traditional ceramic tile, these DIY placemats are sure to spark conversation around your table. This easy-to-do project allows you to customize the tiles with any design or color you want, making it a unique set that is perfect for your home. They make great handmade gifts, hostess gifts or even a fun craft to do while out at the cottage.
Speckled Placemats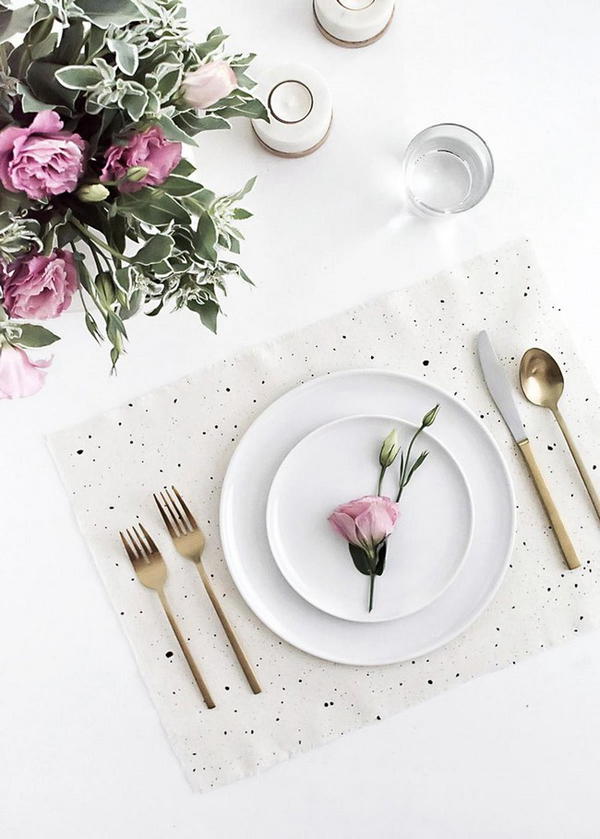 These speckled placemats are so fun to make. You don't even need to be the perfect artist to make these adorable place settings with an eye-catching design. Don't worry if you don't think you are creative enough to make these place mats, anyone can do it! All you need is a basic sewing kit, some fabric, and paint. Making a speckled placemat is a fun and easy DIY project. Trying this out would be a great experience for you and make your dining table look so much better.
Abstract Quilted Placemats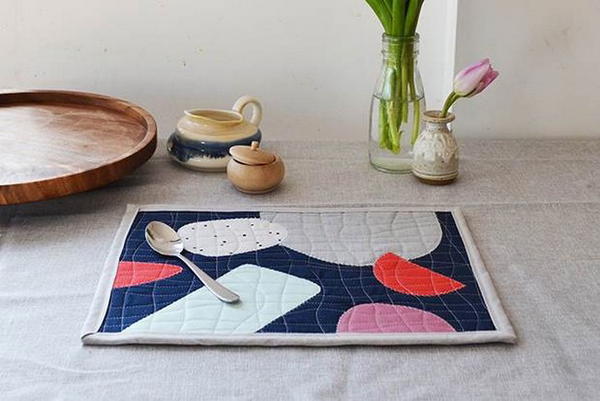 If you love to be creative and want to try something new, then this might be for you. Add some color to your dining table with these fun and easy placemats. Gather together the list of materials found in this DIY tutorial, place your choice of fabric under the plastic template, then trace the shape you would like to cut. Then simply stitch everything together and you've got something that's truly unique! This quilted placemat is easy to make and looks beautiful on the table. You will not just enjoy the process of making this but you can use it or gift it to someone later and make them happy!
Wooden Placemats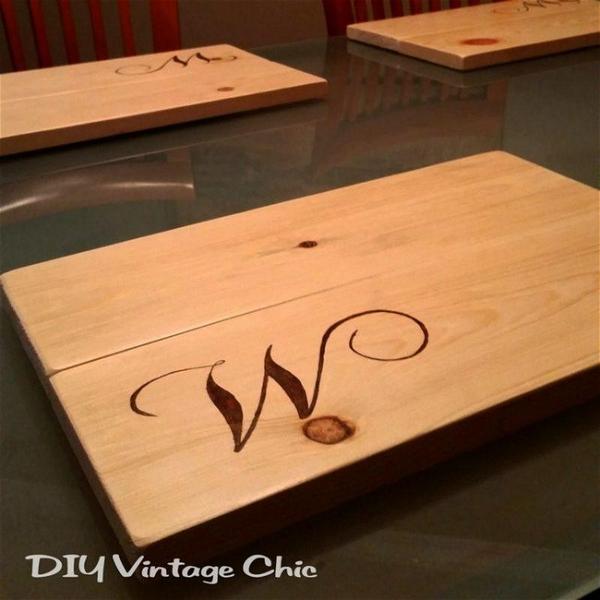 Looking for a quick and easy way to add a nice touch of style to your kitchen? Then make these DIY wooden placemats. Add a little something different to your table with this wooden placemat. Not only will you be making a unique set of table settings to use around your house, but you'll also learn a lot about woodworking in the process. These DIY placemats are easy to clean and look great in any kitchen. The placemat is great for everyday use, special occasions, parties, and much more!
Redesigned DIY Burlap Placemats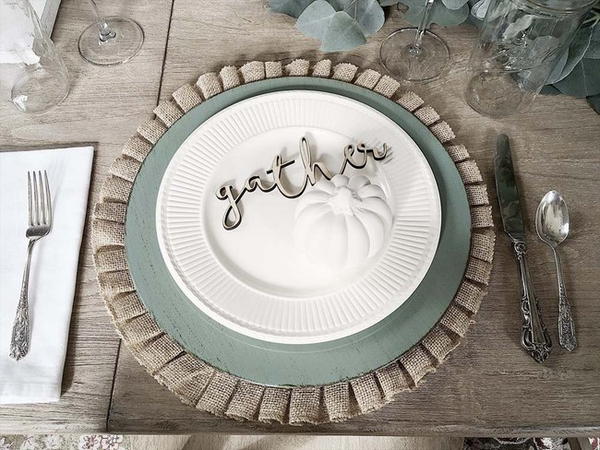 This DIY burlap placemat is perfect for busy families that don't have time to restring the whole house. Making this DIY burlap placemat is as easy as eating a piece of cake. It takes less than 10 minutes to make and it will fit in any kind of kitchen. It can be used for Halloween parties, Thanksgiving dinner, and informal more casual meals! These placemats are very easy to make and you will get tons of compliments from your family when you serve dinner using these beautiful handmade placemats. They are great for outdoor dining, kids' parties, or even for special occasions.
DIY Reusable Table Placemats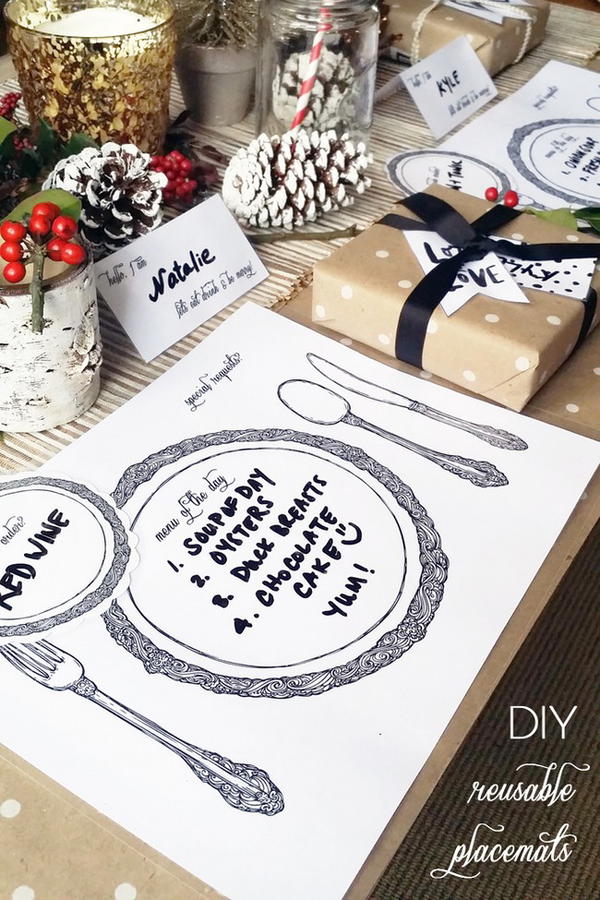 Easy, fun, reusable placemats! You and your kids will love making these placemats! Make sure your family meal is not just nutritious, but fun as well by letting them help you make these adorable DIY placemats. Perfect for even the littlest children to join in on the action, this project will keep them engaged while they wait for dinner to be served. This DIY reusable table placemat is a great idea if you're looking for something to make your dining table more elegant, colorful, and inviting. And you can use it over and over again!
Heart-Shaped Placemats

Heart-shaped placemats are a great DIY project for the crafty. Bring some extra love to your indoor or outdoor dining table with these DIY heart-shaped, heat-resistant placemats. Whether you're planning a romantic dinner, family gathering, or just want to add some flair to your dining room table, this DIY heart-shaped placemat tutorial will give your table something special. All you'll need is your favorite fabric, an iron, rotary cutter and mat, a sewing machine (or needle and thread), and about an hour of spare time. You can create cute placemats for every day of the week or for different holidays or occasions.
23. DIY Tiled Placemats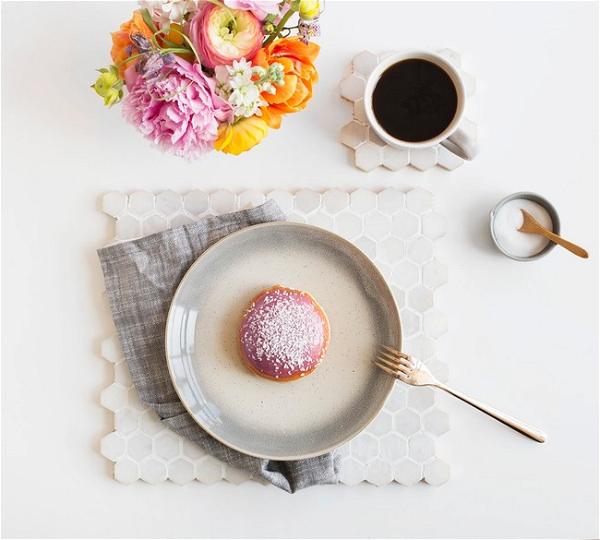 These tiled placemats give your dining table a unique look. All it takes is a quick trip to the home improvement store and a few simple materials to make these modern placemats. Making your own custom placemats is a great way to personalize your table. No matter the occasion, make your dinner guests feel special by setting the table with a one-of-a-kind tile design. It's so easy to create a set of colorful tiled placemats that you'll want to make extras for gifts.
Dyed Wood Placemats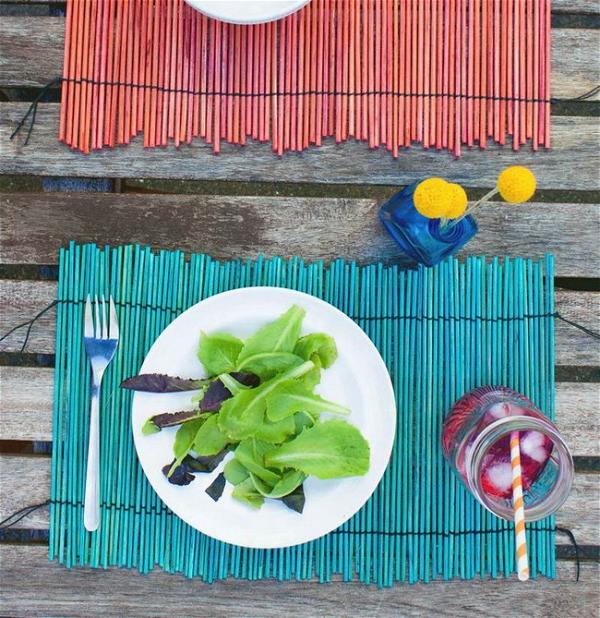 These bright, simple DIY placemats create a happy setting for summer dining. Make a beautiful set of rustic-looking dyed wood placemats with this fun, easy DIY project. These placemats are so easy to make and will add a personal touch to your dinner table. Choose colors that complement your dinnerware and create a unique setting for every dinner party. All you need is an afternoon and some basic craft supplies to transform your table. Great for a summer party or as a gift!
Children's Placemat DIY

It's here, parents! This DIY craft kit is perfect for your little angels who love to eat and make a mess. The crystal clear acrylic design makes this placemat an easy cleaning item. This easy-to-clean placemat is perfect for your little angels. There's plenty of room for their food and the built-in crinkly noise will keep them entertained while you eat. It will help your little ones to keep the table clean and you will be surprised how quickly they can clean up the mess.
DIY Leaf Placemats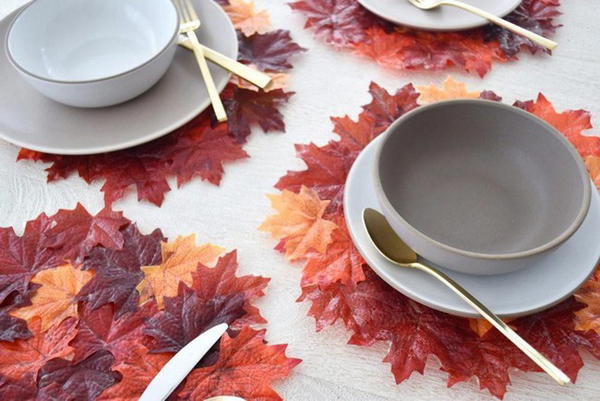 Decorate your tabletop with these beautiful DIY leaf placemats. You can easily make your own placemats in autumn. Create beautiful leaves out of artificial leaves and use them as a great fall centerpiece. It's easy to do and the kids will love it! These leaf placemats are perfect for the holidays or to bring a little bit of autumn into your home. Coated in a non-toxic sealant, the leaves retain that fresh from the garden look no matter where you put them, from your dining room table to the accent table in your entryway. And the best part, they're not just for fall. Leave them up year-round. You'll love it.
DIY Turkey Placemats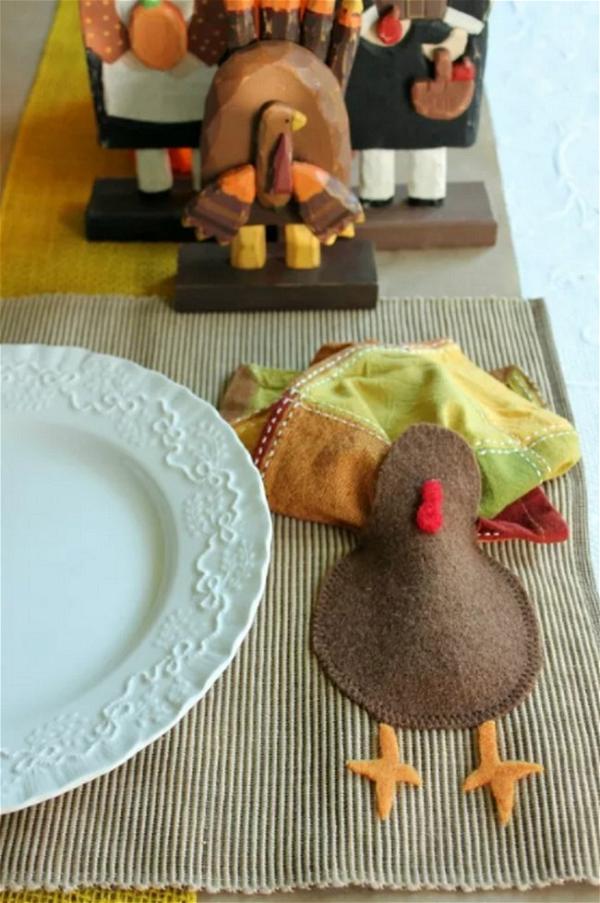 Give your Thanksgiving table a festive makeover with these easy DIY turkey placemats. It is time to turn an ordinary placemat into something extraordinary! Your kids will love putting this DIY craft together and they'll be even more excited to show off their special Thanksgiving placemats. With creativity, hard work, and a little help, your kiddos will take a plain placemat and turn it into creative place settings for the whole family! These adorable little turkeys are a great addition to your Thanksgiving décor.
Creating Custom Placemats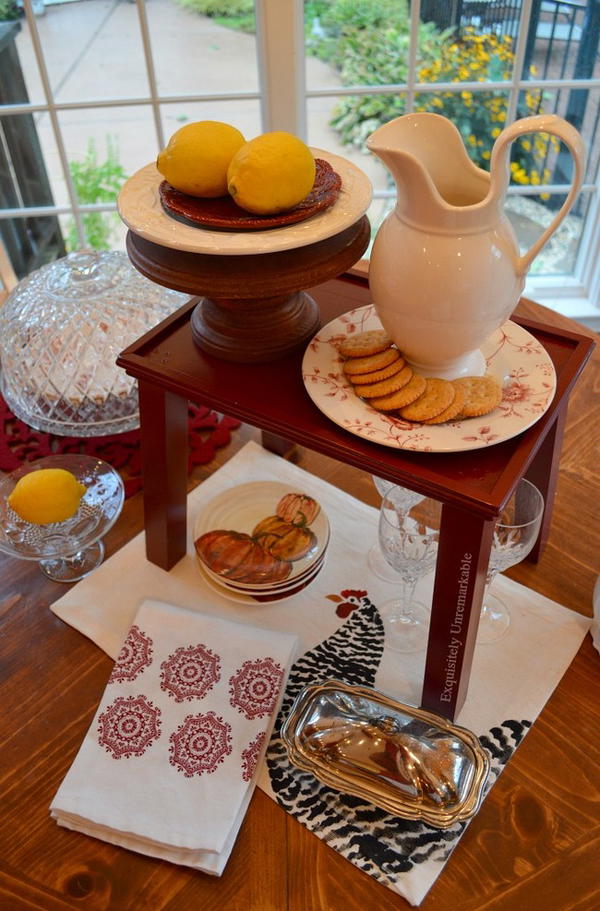 Get creative and create your own placemats to bring a personal touch to the table. Whether you prefer solids or patterns, whether you use them every day or just at special family meals, the project is easy and the finished product will be buzz-worthy. Personalize your table at every meal with placemats that provide a custom touch. A white canvas placemat emblazoned with a name is perfect for the holidays or other occasions, while a scrapbooking technique can be used to make placemats for everyday use. The best part? Making these mats is easy, so you'll be sure to enjoy lunch and dinner on your personalized placemats soon.
See Other Projects