Are you on the hunt for an affordable yet stylish solution to tame the chaos of scattered dumbbells in your home gym? Look no further, as we've curated a remarkable list of 21 inventive DIY projects to help you craft the perfect dumbbell rack in a jiffy. Say goodbye to pricey, store-bought options and embrace the satisfaction of building your very own functional and aesthetically pleasing storage solution. The beauty of these projects lies in their simplicity; there's no need to be a master craftsman or own a fancy toolkit. Armed with just a hammer, saw, and screwdriver, you'll be well on your way to transforming your workout space into a clutter-free sanctuary
DIY Dumbbell Rack Projects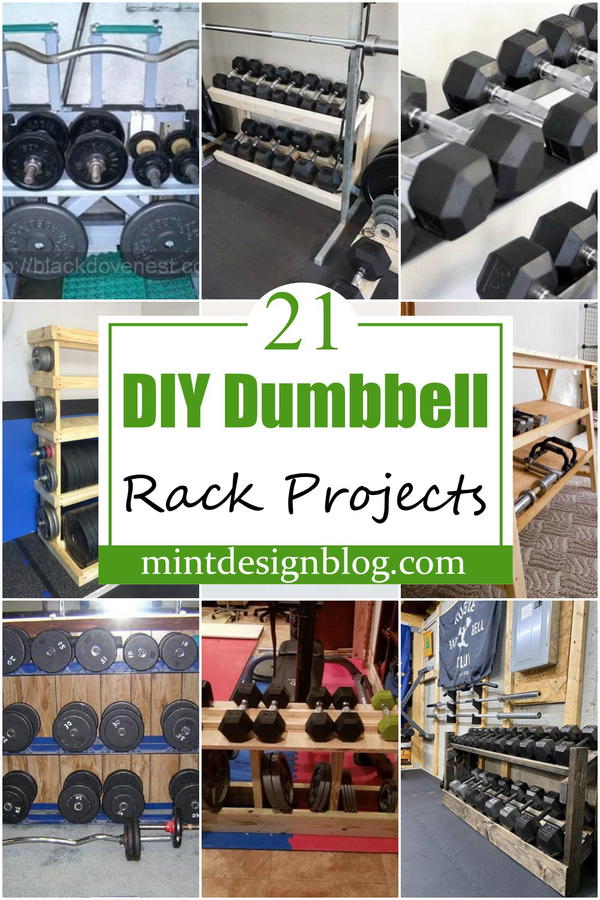 If you have just started working out, you must have realized one thing: Your gym looks messy. The weights are all over, and you can't find what you are looking for. Have you ever wished you could make your dumbbell rack? Well, now you can. 21 dumbbell rack projects will help you get started with what you can do in your gym. If this is the case with your apartment, we suggest you get a dumbbell rack. These racks are great because they help keep all the dumbbells organized and in one place.
Basic Materials Needed For DIY Dumbbell Rack Projects
Basic Materials Needed For DIY Dumbbell Rack Projects
Before you get started with your DIY dumbbell rack projects, you'll need to ensure you have suitable materials. This includes wood, screws, nails, and a few other items.
Wood: You can use any wood for your DIY dumbbell rack plans. It's recommended that you use pressure-treated lumber to last longer and don't warp easily.
Screws: Screws are also essential to your DIY dumbbell rack ideas. You'll want to ensure they're long enough to securely hold the rack together without breaking or falling out over time. Nails are also good options if you don't want screws sticking out from underneath your finished project!
Nails: Finally, nails are another option for holding pieces together when making your homemade dumbbell rack project. They're much cheaper than screws, but they can be harder to install because they don't go in as deep as screws sometimes do, which means they might pop out if there's too much pressure placed on them over time (like when someone is lifting weights on top of that same spot).
Uses Of DIY Dumbbell Rack Projects
DIY Dumbbell Rack Projects are a great way to store your workout equipment safely and efficiently. Although you can purchase a professional dumbbell rack, you can also create one yourself with basic tools and materials. Here are some of the benefits of building your DIY Dumbbell Rack:
They are Affordable

It's Easy To Build

You Can Make It To Fit Your Space Needs

You Can Personalize It To Suit Your Needs
Homemade Dumbbell Rack
A homemade dumbbell rack is an excellent way to organize your workout regimens. Whether you are a professional athlete or want to maintain a healthy, lean physique, this project should help you get some good benefits out of it. The same great benefits can apply to those who do not plan to use these dumbbells for sports and only want to maintain a healthy body weight. Try out this fun project that involves welding. It would help if you had some iron and other tools for this. After hours of hard work, you should end up with an amazing DIY dumbbell rack.
How To Build A Dumbbell Weight Rack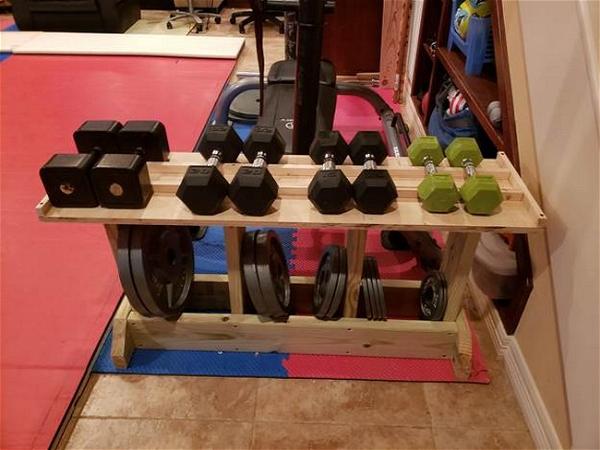 Do you want to organize your home gym equipment? If so, read more about how to build a dumbbell rack. It's a great way to keep your weight plates and dumbbells neat. Creating a weight rack for your home gym might be one of the best things you can do for yourself as a lifter. It doesn't take much time or money and will significantly increase the efficiency of your training. This tutorial will walk you through building your dumbbell rack, including what materials to use and how many dumbbells it can hold.
Low-Budget Dumbbell Rack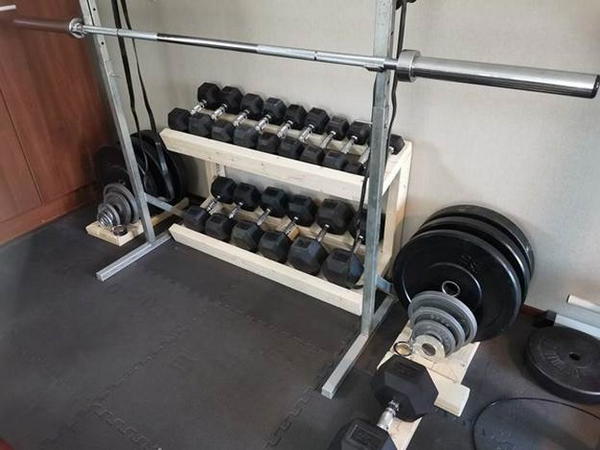 This very easy-to-make DIY dumbbell rack uses only one sheet of plywood. The process is straightforward; you would need simple tools like a jigsaw and screwdriver. Having this low-budget DIY dumbbell rack at your home gym would save lots of space and cost. The benefits of a DIY frame are many. You can hide it in a closet, use it for a home gym, and even stack multiple racks in your garage. Making this is pretty easy, following the instructions and having essential tools on hand.
How To Make A Dumbbell Rack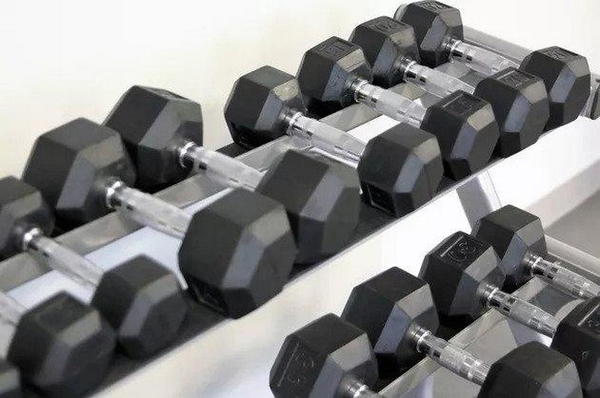 Here is a quick tutorial on building a dumbbell rack out of metal. If you are looking for ideas on creating an ideal space for your home gym, this DIY guide will tell you everything you need to know about building a dumbbell rack that will free up space and keep your gym organized. You do not have to spend a ton of money on a dumbbell rack or build one from scratch. We found this DIY guide to be quite helpful. It will show you how to make a quick and easy dumbbell rack made of metal, which will organize your gym clutter-free.
DIY $20 Dumbbell Rack
When it comes to muscle training, dumbbells are one of the most fundamental tools. A dumbbell rack is a must-have accessory in every home gym. Although the commercial ones are expensive, it is not difficult to make one yourself. If you're not willing to spend hundreds of dollars on a dumbbell rack, you probably don't know that you don't have to. This idea will only cost you $20. A DIY dumbbell rack is not a difficult task. This task can be done in an afternoon or two and will look great in your home gym.
How To Make A Dumbbell Rack From Scrap Wood
There are many ways to make a dumbbell rack. One good way is using scrap wood; you do not have to spend money buying wood. This DIY project is especially for people who have scrap wood in their homes and want to make a dumbbell rack. People often ask me how to make a swing set for their kids; this is one of my most recommended projects since it does not require much work but can be enjoyed by the family for a long period.
How To Build A Wooden Dumbbell Rack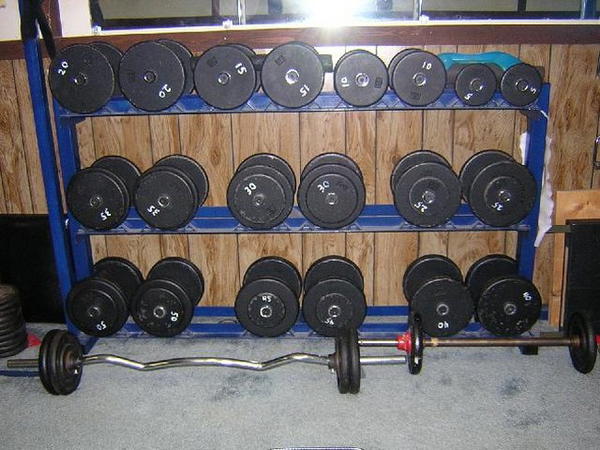 Building a DIY Dumbbell Rack is not an easy task. But it's not impossible either. It would help if you had the right plans, materials, and equipment to build this rack. It will take some time, but the hard work and patience will pay off when you're done making this wooden dumbbell rack. You can build a wood dumbbell rack in a few hours. The finished product looks great and is very functional. A DIY wood dumbbell rack is an easy project to build, perfect for the home gym or community center.
DIY Dumbbell Rack
This DIY dumbbell rack is something you can make yourself with a couple of wooden boards and some nails. The beauty of this rack is that the panels can be separated and stacked up, making it easy to store your dumbbells whenever you want or when you need extra space in your home gym. This unique piece is specially made to accommodate all kinds of dumbbells, even smaller ones. You can easily place two or three on this rack depending on how many you have lying around.
Weight And Dumbbell Rack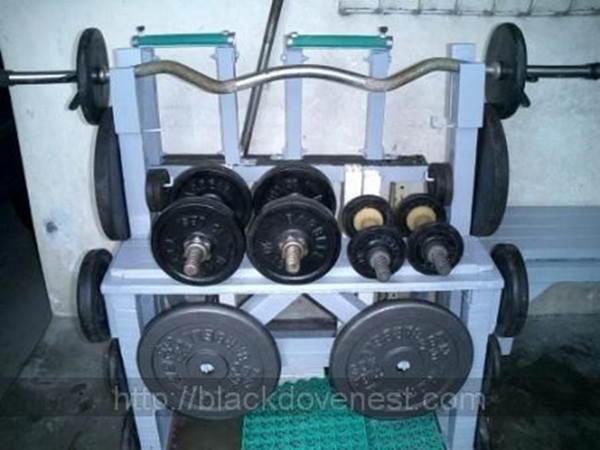 It doesn't have to be time-consuming and frustrating if you're looking to organize your weight plates. This easy-to-build weight and dumbbell rack takes less than an hour to assemble and will keep your equipment from getting all over the place. There are a lot of weight and dumbbell racks available on the market today, but there are still some who prefer to build their customizable rack. This guide will help you find out how to make one that fits your space, needs, and budget.
DIY Barbell And Weight Storage Rack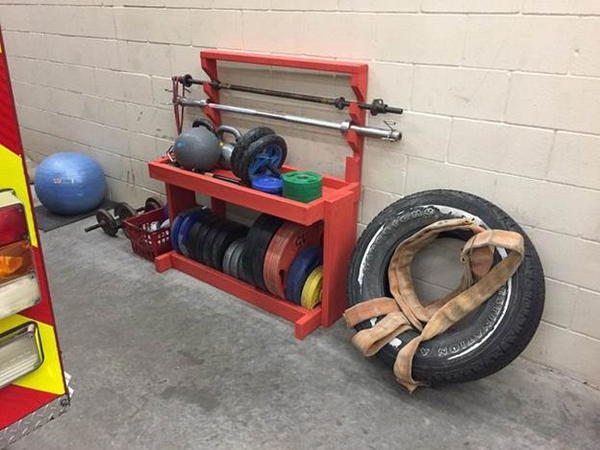 Do you have a confined space in your home gym? If you like to lift weights and need a place to store your barbells and weight plates, this DIY Barbell And Weight Storage Rack are for you. This rack will allow you to have everything in one place, keep your equipment at hand's reach, and maximize your available space. Its fantastic design will enable you to customize the size of each barbell compartment to suit your needs.
DIY Dumbbell Table Desk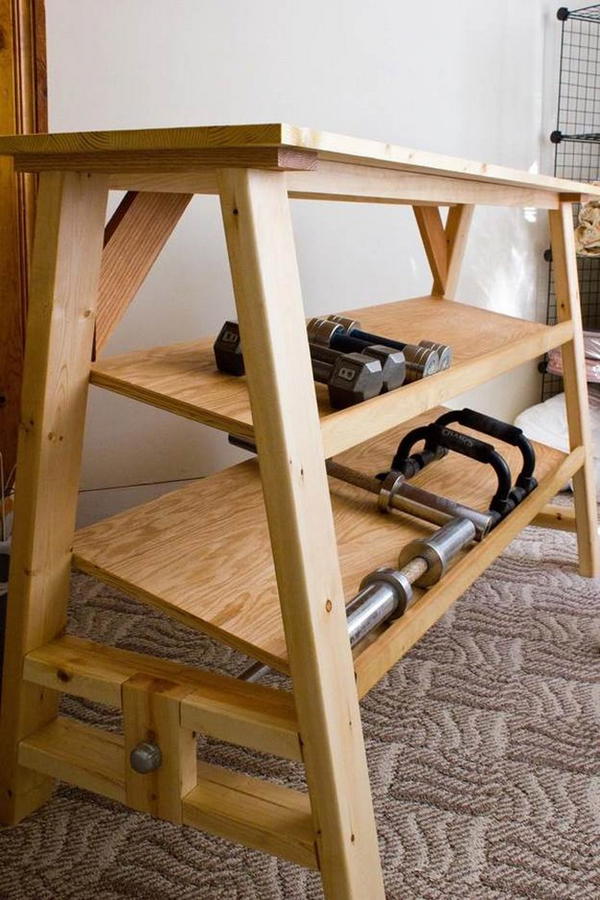 This DIY Dumbbell Table Desk is a pretty cool way to organize dumbbells. The flat top surface is great for setting your drink down while working out! It's inexpensive and easy to build. You can manage your dumbbells and have them close by with this rack. It's very easy to make and takes less than 50 minutes. The best part is that it saves space in your gym room! Featuring plenty of storage space to keep your set safe and organized, you can use this as a desk if you wish!
DIY Cheap Dumbbell Rack
Are you looking for a way to make your dumbbells easy to store but don't want to spend much money on a rack you won't use very often? Here is a great DIY project that will save you some cash and look nice in your home gym. This DIY cheap dumbbell rack is just what you need to get your exercise program going! Use this rack to store your weights and stay on a regular workout schedule.
Custom Made Dumbbell Storage Rack
This custom-made dumbbell storage rack is a practical and stylish way to store your weights. This rack is an ideal addition to any workout room or garage. It can hold a wide selection of free weights, including dumbbells, barbells, kettlebells, etc. Made from solid steel rods, this rack is durable for years. Before making this, make sure you get all the required gear. The making process might be harmful to beginners; you should have some experience before making this. However, this custom-made dumbbell storage rack can be used to organize a lot of dumbbells.
How To Build A Wooden Dumbbell Wall Rack
Wooden dumbbell racks are very convenient because they can be easily adjusted. Unlike the traditional gym dumbbell rack, you do not have to carry big heavyweights everywhere. This gives you an advantage over other beginners and experienced lifters alike. This wall-mounted wooden dumbbell rack is easy to build and a sturdy way to store your weights. The rack can be assembled in less than an hour and comes with all the materials you need to complete it in one package.
DIY Custom Weight Gym Rack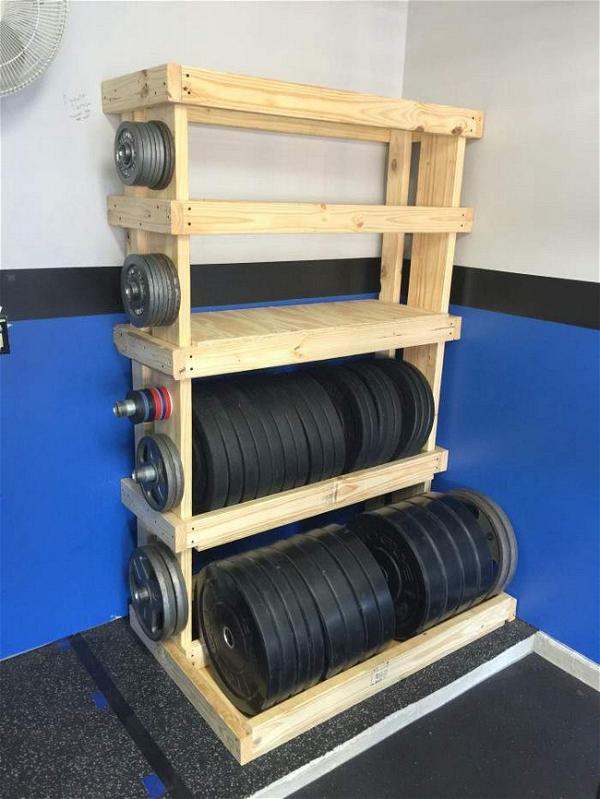 Do you have an extensive collection of weights in your home gym or garage? Looking for a perfect DIY project? Then this DIY custom weight rack is just right for you. The guide will give you some tips on building this gym rack, which can be used to store weight plates and dumbbells. The DIY custom weight gym rack is a great solution to keep weight plates and dumbbells in a garage gym setting. The bottom part of this rack can be filled with sandbags to get more stability when lifting weights on this rack.
DIY Weight Rack Plans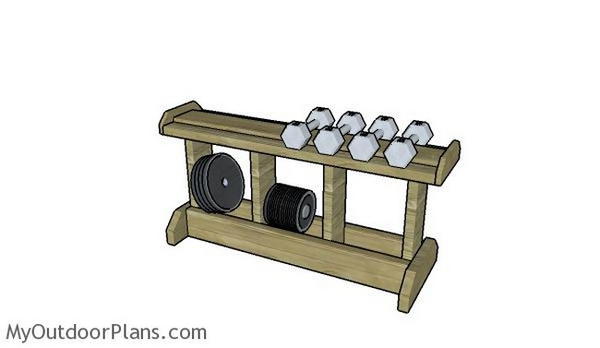 If you are a professional woodworker and want to create your weight rack, this is the right place to be. These free DIY weight rack plans will give you an idea of how to build one. You will learn different techniques that will help you adjust if they don't work for your needs. With this rack, you can take a couple of steps into a room, pull out your favorite piece of equipment and start working out. In addition to its functionality, this rack looks neat and attractive too!
DIY Dumbbell Rack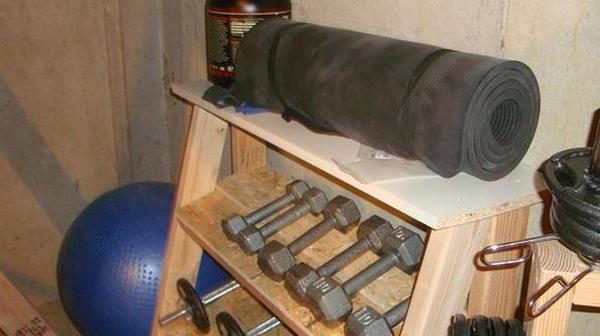 This is the perfect guide if you are trying to save space and make a dumbbell rack for your home gym. It has all the information that you need to do this DIY project. Also, it is elementary to follow along with; even if you've never built anything before, this should be simple enough to make! This DIY dumbbell rack is a convenient way to store and organize dumbbells of all weights. Enjoy the freedom to combine different exercises using more than one pair of dumbbells.
Fancy Dumbbell Rack Idea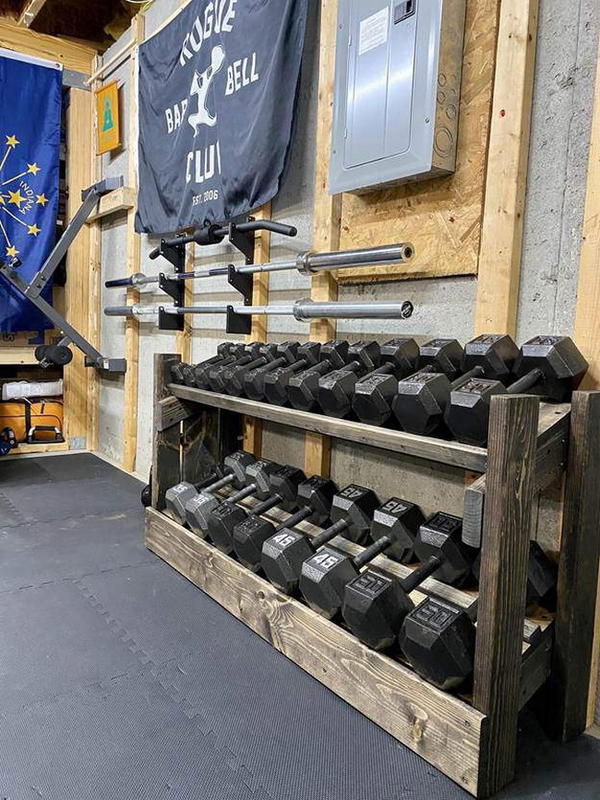 This dumbbell rack looks fantastic and is one of the designs you can try. You will always remember where your dumbbells are by looking at them. All the weights are at an equal level, both top, and bottom, making it easy to watch over them. This unique wood and metal design will give you a great look and protect your fitness machine. This is super cost-effective and easy to make, even if you are a novice woodworker.
DIY Wood Shelf For Gym Equipment
 A DIY wood shelf for gym equipment can be helpful and save space. So, if you ever need extra space, I recommend making this DIY wood shelf. It's easy but requires a lot of materials. This tutorial will help you make a good-quality wood valuable shelf for anyone with available gym equipment. After going through this guide, you should understand how to make this DIY wood shelf. This saves space, so you won't have to worry about stepping over any weights or mats when working out. The creator walks you through each process step, from planning to cutting and sanding to installing.
DIY Homemade Dumbbell Rack
One of the essential tools is a practical dumbbell rack for strength training. With this DIY dumbbell rack, you can quickly get that luxury equipment at a fraction of the cost. Instead of wasting money on several dumbbells and thinking about how to arrange them, why don't you try to build this DIY Dumbbell rack at home? It is inexpensive, neat, and strong enough to hold all the weights you need. This is ideal for small spaces where you don't have much room for equipment and other items.