Rock climbing is fun, but it can also be dangerous. If you are unwilling to risk your life while doing it, you can try rock climbing wall DIY projects. In this composition, we have put together 23 DIY Rock Climbing Wall Ideas of the best indoor and outdoor climbing walls made by others that are pretty simple and doable for your kids. It is so easy that anyone can do it! You can also find some indoor and outdoor rock climbing for kids in this list if you or your kids are into that.
DIY Rock Climbing Wall Ideas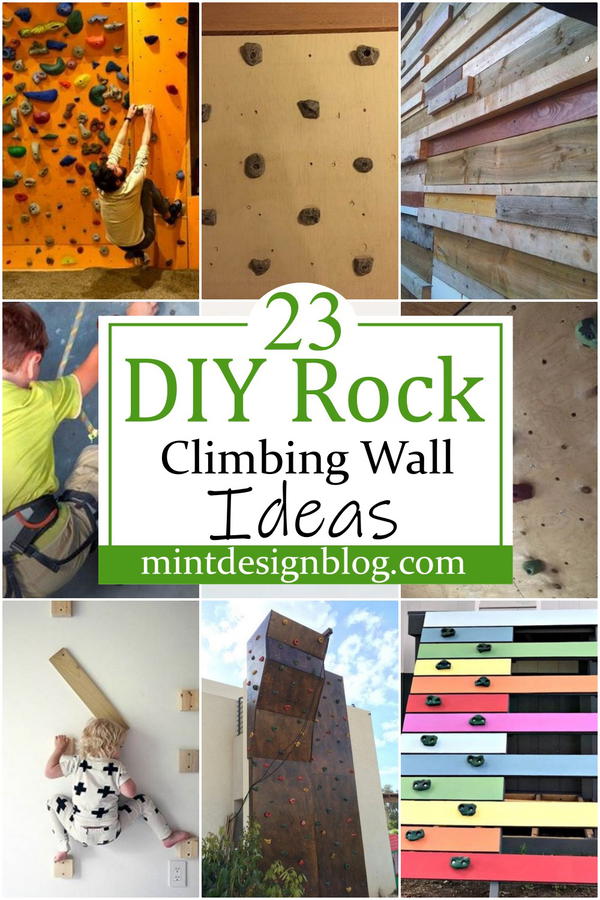 If you are a rock climber looking for a way to simulate actual rock climbing at home, these DIY projects will give you just that. With a DIY climbing wall in your house, you will have everything you need to train like an experienced climber and hone your skills on indoor rocks. DIY rock climbing wall indoor can be made using wood, stones, and cement. The idea behind them is to avoid the cost of going to a rock climbing gym. You don't need any professional skills as most of these projects are easy to make. Moreover, they will allow you to spend quality time with your kids while engaging in physical activity.
If you want something more unique and visually appealing than the typical rock climbing wall, you should try these 23 DIY rock climbing wall ideas.
Precautions Followed During DIY Rock Climbing Walls
Rock climbing is a challenging activity that requires precision and skill. It can be fun and exciting but also comes with many risks. To ensure your safety, follow these precautions when building a DIY rock climbing wall:
Do not use glue or tape on the surface of the rock climbing wall. These materials are dangerous to climb on since they can rip off easily.
Do not use sandpaper to smooth out rough edges on the rock climbing wall. Sandpaper can wear down the surface of the rocks, making it more dangerous to climb on.
When working with rocks, wear gloves because they can be sharp and cause injuries if handled improperly.
Tips To DIY Rock Climbing Wall Ideas
Rock climbing is a fun and exciting activity that gives you a real rush. It is also a great way to exercise and stay fit. If you don't have the time or money to go to a rock climbing gym, why not build your rock climbing wall at home?
Many DIY rock climbing wall ideas can be used to construct your indoor climbing wall. Here are some tips and tricks on how to build one:
Follow safety precautions: Rock climbing is a dangerous sport, so you must follow all safety instructions while building your rock climbing wall. Ensure that all equipment, such as the harnesses, ropes, clips, etc., are checked before use by an expert climber. Also, make sure that no sharp edges on the walls or other parts of the structure can injure people during climbing sessions.
Use high-quality materials: Good quality material is essential for ensuring that your indoor rock climbing wall lasts for years without any problems. There are many types of materials available in different shapes and sizes to build indoor climbing walls. Depending on what suits your requirements best, you can choose from wood blocks and beams, steel beams, or aluminum beams.
DIY Rock Climbing Wall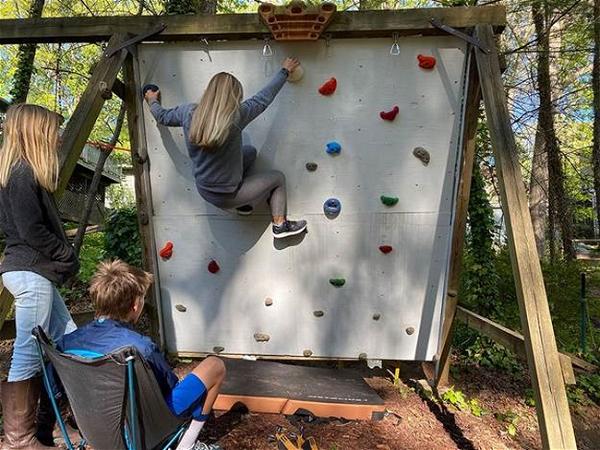 This mountain climbing wall is perfect for both kids and adults. It's more of a DIY project than anything else, so if you're looking to build one yourself, you'll need plenty of tools and some ingenuity to get it done. The author brings up some excellent ideas that are easy, cheap, and, most importantly, don't require any special skills. If you love to climb rocks and want to build one yourself, this is the perfect book.
DIY Climbing Wall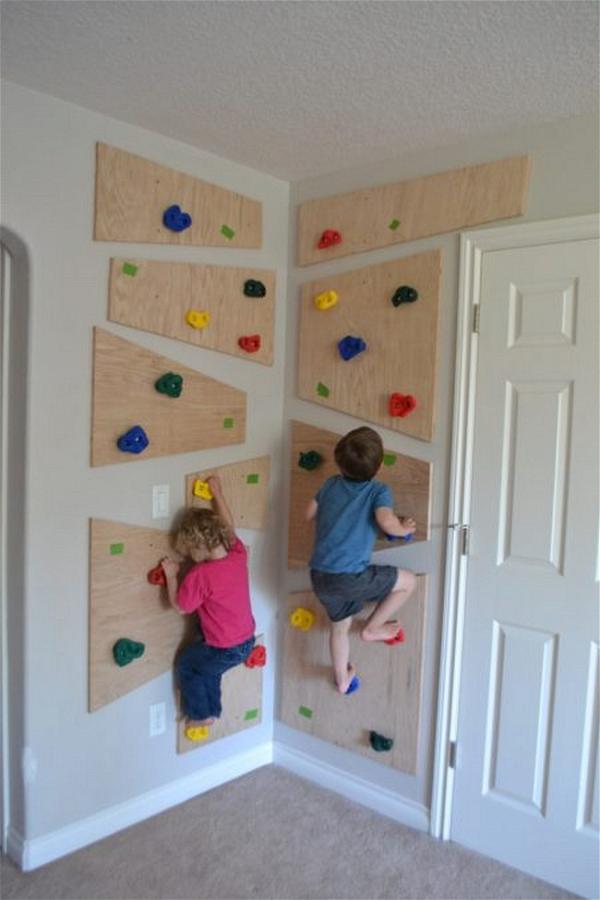 A rock-climbing wall is an excellent addition to any home. Designed with kids in mind, this climbing wall helps develop strength and improve motor skills. It is easy to install and can be built using basic carpentry skills. The creator made this easily by attaching some handholds and then nailing them to the wall. You need a hammer, drill, saw, and wood to start this project. Your kids will love this rock climbing wall for their room. Adapt the idea and build it with your own hands!
Ultimate Guide To Building Rock Climbing Wall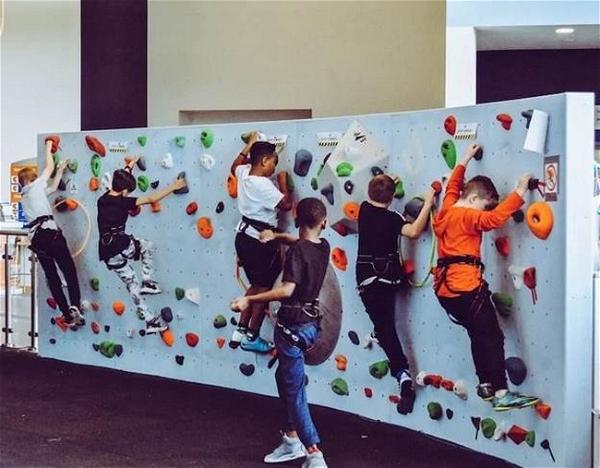 Rock climbing walls are for more than just an ordinary game room. Many people have. They are also great for workouts, stress relief, and exercise. There are many ways to build your rock climbing wall, and this DIY tutorial will show you how. This guide can help you plan, design, develop, and maintain your rock climbing wall to help you achieve your goals. It is meant as a comprehensive guide that walks you through the process step by step.
How To Build A Home Climbing Wall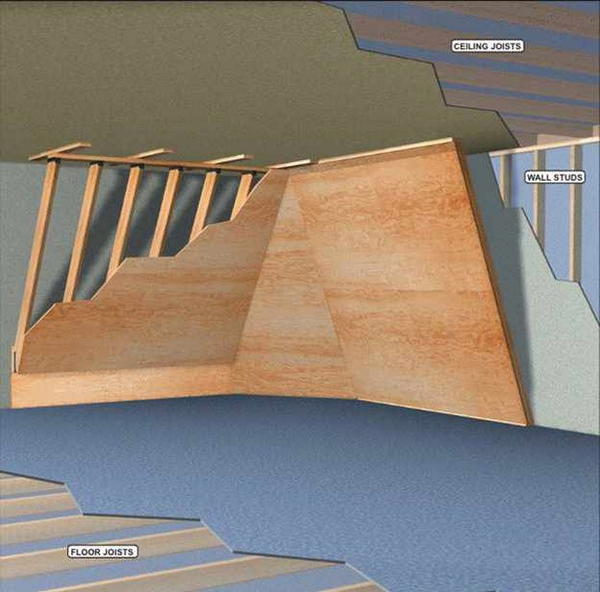 Making your home climbing wall is a fun project that you can do with your family or friends. The design procedure is simple and easy to follow but requires some basic woodworking skills. We have put together a step-by-step guide on building a rock climbing wall that will help you choose the best materials for your project and calculate the size of each piece you need so your climbing wall is safe, solid, and sturdy.
How To Build Kids Climbing Wall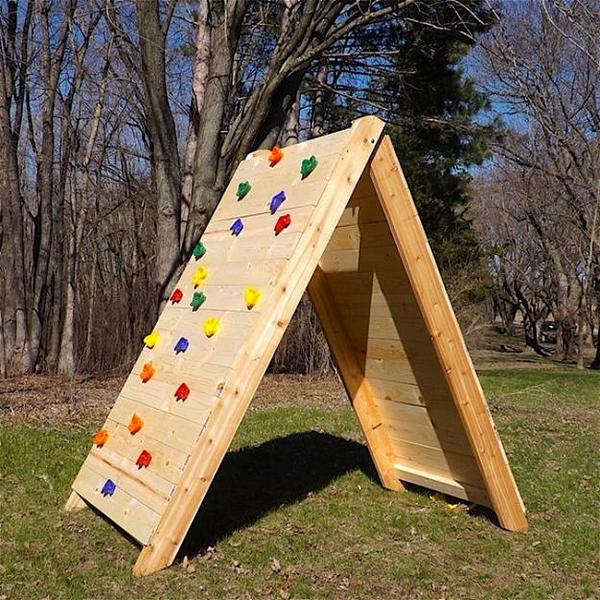 Everyone loves a climbing wall, but this DIY rock climbing wall will be perfect if you want something entertaining for the kids to do outdoors. It's easy to build and strong enough that the little ones can enjoy themselves safely. Whether you're looking for an addition to your home gym or want more space for your kids, this DIY rock climbing wall is a great project to spark their imagination. With this guide, you will learn to build a fun and safe climbing wall for your kids.
Making A Kids Climbing Ramp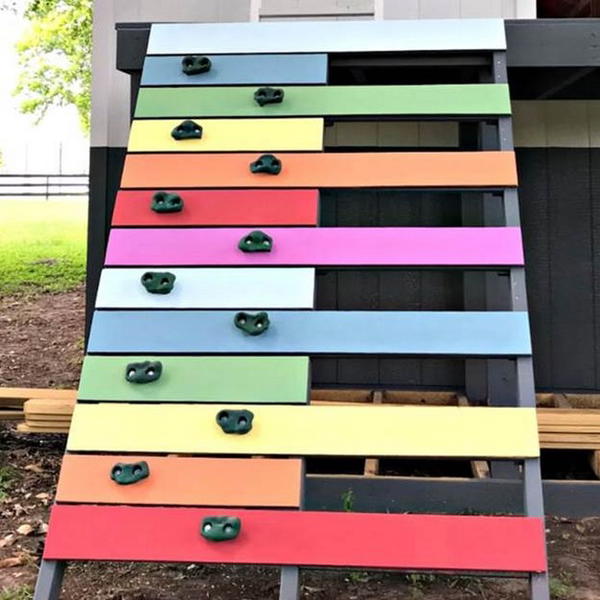 Climbing is one of the best activities that help kids build their confidence. It will boost their self-esteem as they overcome obstacles and master new skills. However, climbing walls or other structures are not always available at home. Making a kid climb a ramp can be your best option for providing this opportunity at home. This climbing ramp has a beautiful look with different colors on both sides, appealing to kids of all ages. The colorful paint creates an eye-catching play space that both toddlers and school-aged children enjoy.
How To Build Rock Climbing Wall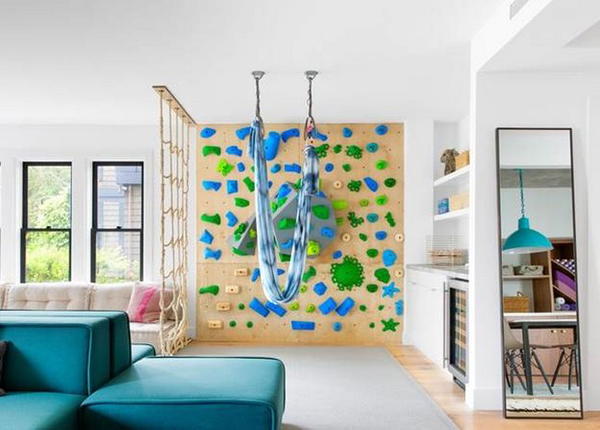 Climbing walls are a great way to create fun and fitness and add to your home. This post will show you how to make a rock climbing wall as beautiful as this one in your home. Here's a pro tip: wear colors matching your home decor when climbing rocks. The Guide features step-by-step instructions that show you how to design and build your rock climbing wall. With this idea, you can have fun and add beauty to your home.
How To Build A Climbing Cave In Your Attic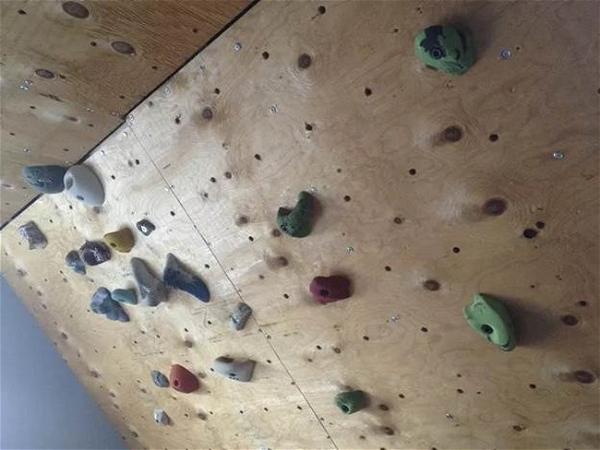 Your attic or garage doesn't need to be a boring place. One way to add beauty to your attic would be by building a climbing cave. It may seem like an odd addition, but it can be beneficial and fun with kids. Before making this, make sure your attic or garage has enough room. This is a woodworking project, don't forget to bring some woodworking tools. Before doing this project, make sure you have enough room in your attic or garage. This is a woodworking project, so don't forget to bring some woodworking tools.
Kids Rock Climbing Wall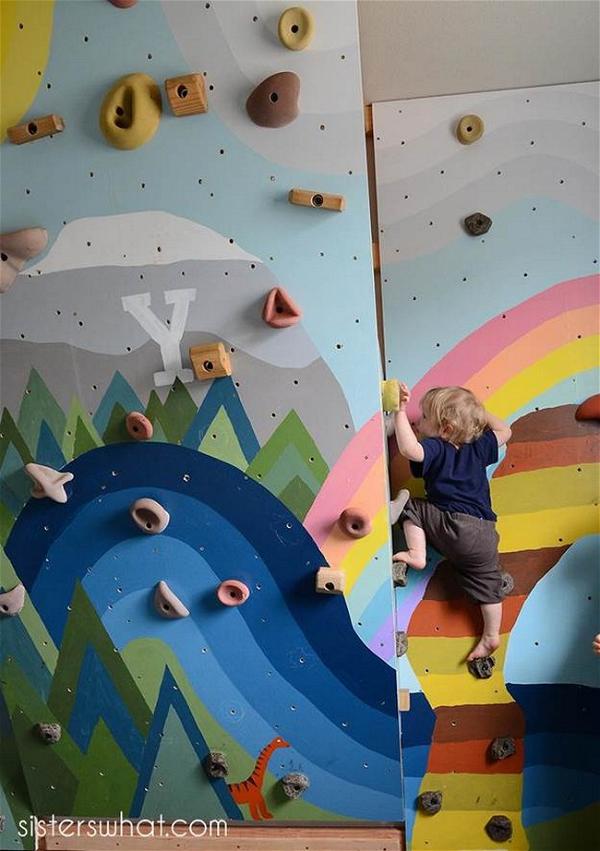 If you are considering a climbing wall for your kid, this is the perfect DIY project! These colorful rock climbing walls are an excellent idea for the kids. They'll have fun while building their muscles and coordination skills by playing on this colorful climbing wall. It can be installed inside the house so they can come to play anytime they want, and you do not have to worry about them falling off. There's no better way to keep your kids active and entertained than building their rock climbing wall.
Outdoor Rock Climbing Wall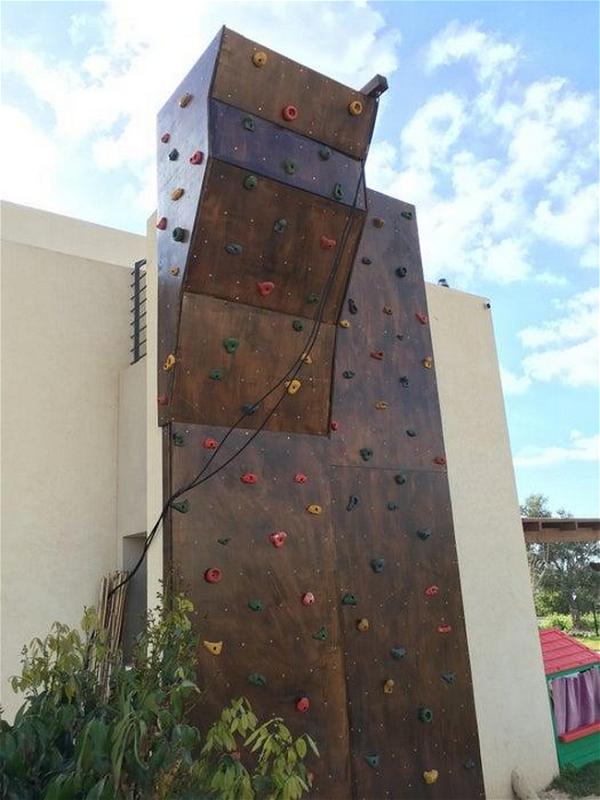 Do you like rock climbing? Then, you'll love this tutorial. You will learn how to build a modern-styled rock climbing wall for adults. Making one of these would take quite a while to complete, but it would be worth it. This project will also show you how to make the rocks that climbers use on their climbs. It is great for climbers of all ages and will give you a challenge. It's a good idea to start with a lower level of difficulty to work your way up to more advanced routes. If the wall is in your backyard, the high level of privacy allows you to practice without feeling self-conscious.
How To Make An Indoor Rock Climbing Wall
Building an indoor rock climbing wall is easy and fun! You can create an indoor rock climbing wall that can be an excellent source of fun, especially for kids. An indoor climbing wall is much safer than its outdoor counterpart. The only danger involved in a built climbing wall is if you are high on it and fall on the floor. So when creating your indoor rock-climbing wall, make sure to place mats underneath it, so that f something goes wrong, you won't get hurt. An indoor rock climbing wall will surely increase the fun quotient of your home. After all, rock climbing is the best way to test your limits and have some fun simultaneously.
Easy Build Rock Climbing Wall
The Easy Build Rock Climbing Wall is the best outdoor rock climbing wall that you can use. It is a DIY project made of wood, and it will not require any woodworking skills to be able to carry out. With this product, you can build an awesome outdoor climbing wall that will provide hours of entertainment for your children. This outdoor rock climbing wall is an excellent project for those with the skills or are willing to learn. You don't need lots of tools, just the materials and knowledge on how to build it.
How To Install Rock Climbing Wall Indoor For Kids
This DIY rock climbing wall for kids is a great way to get your little ones active and having fun. This sturdy, easy-to-manufacture setup can be used indoors or out and comes in two different sizes depending on how ambitious you are! It provides many opportunities for imaginative play; climb, jump, do somersaults – the only limits are their imagination. The installation process makes it easy, and you can use any materials you already have lying around your home – look at what they've created in their backyard!
DIY Childs Climbing Wall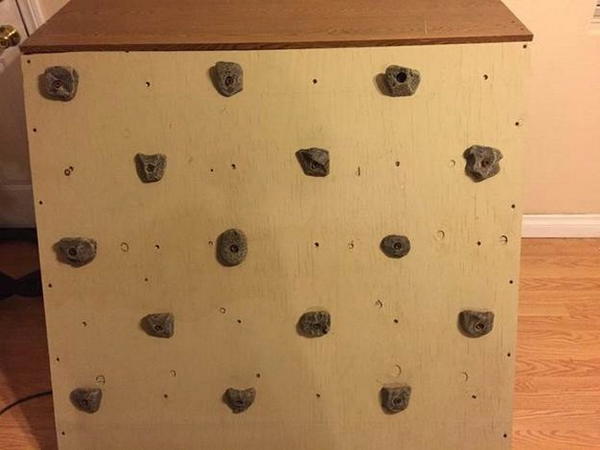 Kids love climbing, but building a climbing wall in the backyard can be expensive. Instead of hiring a costly contractor to create a rock climbing wall, why not make your own using this simple-to-follow DIY tutorial? This rock climbing wall has a few different options to build with your kids. Remember to have fun as you build! If your kids like climbing and have a small backyard, getting a rock climbing wall will help them keep themselves entertained. You don't need expert skills to build one, just put it together and enjoy watching your kids play on it.
Freestanding Indoor Rock Climbing Wall DIY
Building a climbing wall is considered one of the most challenging and rewarding DIY projects. When your family or friends see it, they will ask you to build them one too! Yes, the thrill of rock climbing is universal, and everyone wants to experience it - that is why we created this kit so that everyone can have this fun time at home. The freestanding indoor rock climbing wall DIY is an interesting activity for you and your kids. They will surely have a lot of fun while doing it, and they will also improve their climbing skills. Making this freestanding indoor rock climbing wall is fairly easy, and you don't need to be a skilled craftsman to build one.
Building An Indoor Bouldering Wall For Kids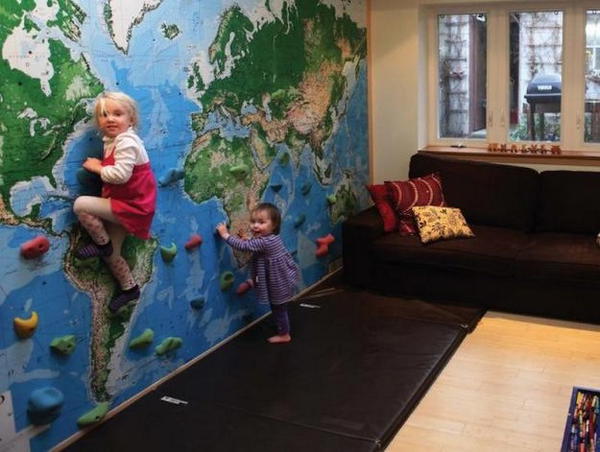 A map background for the wall is a plus to this indoor bouldering wall for kids. The design makes the playground interactive and educational because they will be able to learn some physical geography and other related subjects at the same time. You can make this indoor wall with wood, plywood, and the map background. It will require the use of plenty of tools and resources. Also, make sure that you have enough space before making one.
How To Build An Outdoor Rock Climbing Wall
An excellent outdoor rock climbing wall will help you better shape and increase your strength and endurance. A training wall is the best way to improve your rock climbing technique. There are many benefits of having your own indoor or outdoor rock climbing wall – Improve your grip, improve your finger strength, and build upper body strength. However, if you have previously used a climbing wall, you might want to skip building it yourself. You can hire a company to build one turn-key for you or try to do some research on making one yourself.
Basics Of Building A Home Climbing Wall
If you are looking for a DIY project that can be built in any home and gives your family a great place to hang out, then consider making your rock climbing wall. Building a climbing wall in your home is great for those who enjoy climbing, rock climbing, or even just looking for fun activities with friends and family. This project can easily be done by anyone, whether they have construction experience. There are essentially four parts when constructing a climbing wall: the holds, the rope, the crash pads, and finally, finding the perfect location for your wall.
DIY Climbing Wall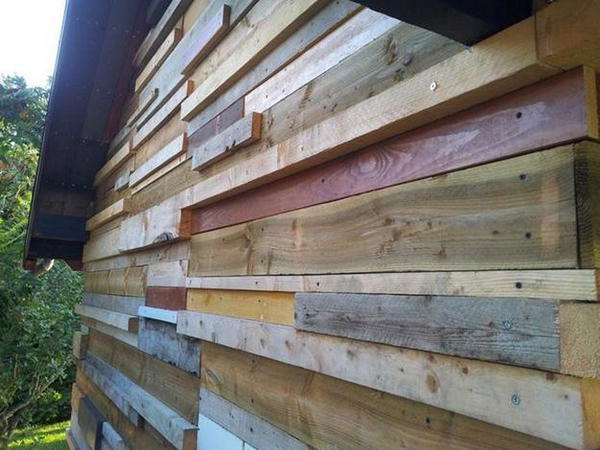 If your kids are always looking for a place to burn out all that energy, here is a great idea. This DIY climbing wall will give them endless hours of fun and joy. This project gives you more than just a climbing wall using just wood and some tools. It's also a great place to hang things like your coats and keys and even make it an extension table by placing the materials. It is perfect for kids who love to climb and stretch their muscles. This DIY toy has a lot of fun, plus it will also help your children develop good and gross motor skills; plus, it's just plain fun!
How To Build A Bouldering Wall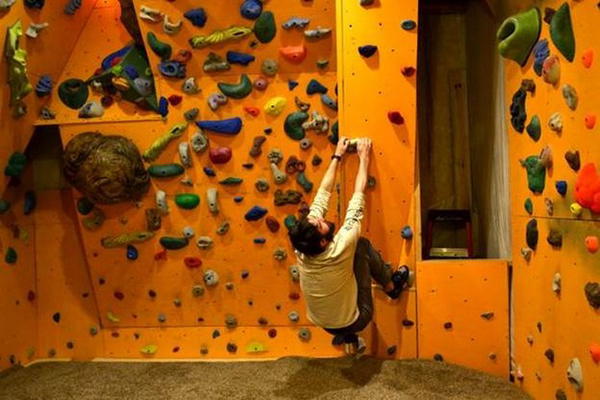 A bouldering wall is a perfect way to keep your fitness levels up or feel good while hanging out with friends. Building one isn't as easy as buying one in a sporting goods store; you have to put some work into this project if you want it to be done right. This guide will walk you through how to build a functional bouldering wall that can withstand the test of time. Building a climbing wall allows you to practice your skills for rock climbing, improve strength and endurance and add something fun to your home that can help keep you fit.
Rock Climbing Wall Idea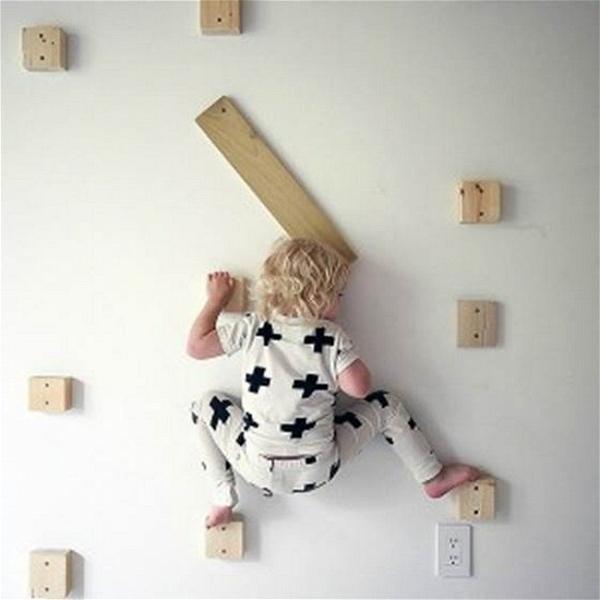 If a sports lover or an adventure seeker has been on your mind to gift someone, then why not make them do the climbing themselves? If you are confused about what kind of gift you can give them, here's a quick DIY idea. You can build this rock climbing wall in your house with just a few supplies. Just nail the cutout wood in specific locations, and it is ready. Once you have finished the project, your kids can have hours of fun climbing up and down the wooden panels of this climbing wall.
DIY Home Climbing Wall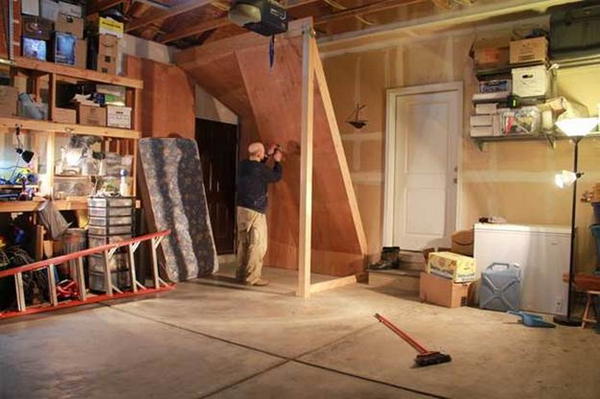 Are you looking for a way to keep your kids entertained and active during the winter months? Why not consider building an indoor rock climbing wall? This DIY home climbing wall can be created using easy-to-find materials, such as plywood, pine boards, and bolts. With a little bit of time and effort, you can create a unique space to exercise, have fun and even spend time with your family. It is a fun and inexpensive way to create an exciting home rock-climbing center. This project requires about two days of work, but it will go much faster if you team up with another person.
How To Build A Rock Climbing Wall For Kids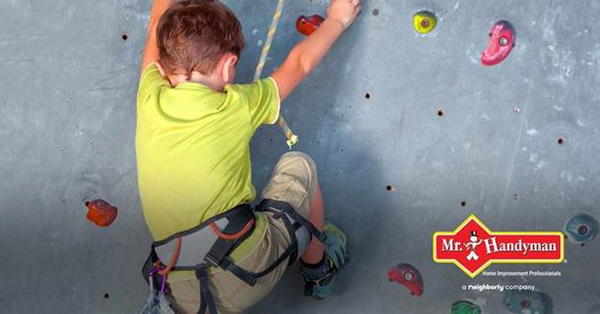 Do you own a home with a space that you know that your kids will love and want to play in? If so, why not turn it into the ultimate climbing area for the kids? Building a rock climbing wall for your children is very easy. No worries if you don't have a spare room that would make a perfect climbing area. You can build one in any home. The best part about installing this rock-climbing wall is that it offers endless hours of fun for the entire family!