As the saying goes, if you want to make a dog happy, give it a job to do. And what better way to satisfy your pup's work ethic than with a DIY snuffle mat? Snuffle mats are great for dogs who get bored quickly and need mental stimulation. For dogs who love to forage for treats, a snuffle mat is a great way to keep them entertained and mentally stimulated. Snuffle mats provide enrichment and exercise, but they also help alleviate boredom and are perfect for dogs who suffer from separation anxiety. With just a few simple supplies, you can make your snuffle mat at home and help your dog get the mental stimulation it craves. Here are 23 DIY snuffle mat ideas for making your snuffle mat inspired by different toys, activities, and tasty treats to keep your pup occupied for hours.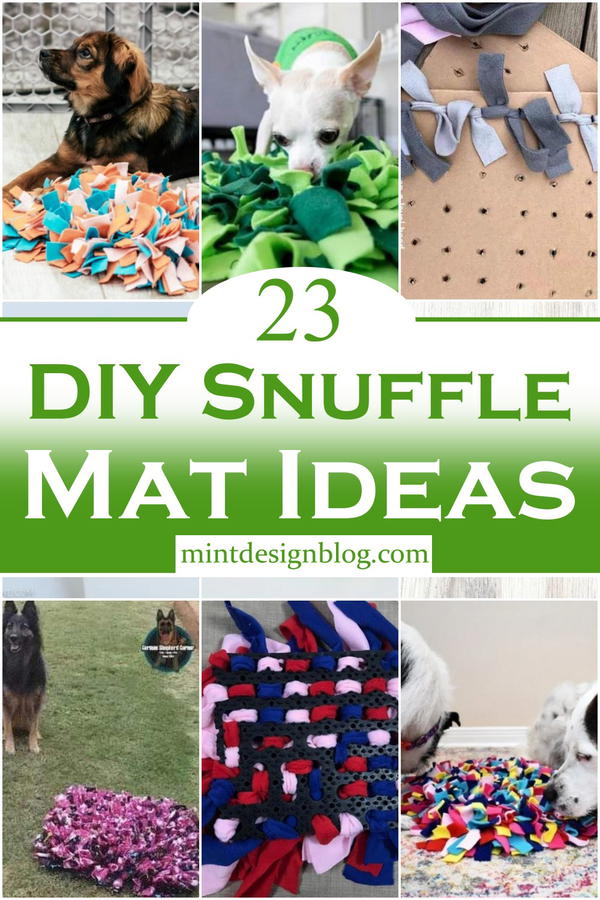 A snuffle mat is an excellent way for dogs to fulfill their instinct to forage for food (in this case, treats). Plus, it can be used for training and exercise purposes. The best part? It's completely customizable depending on what style you're going for and what you have lying around the house. From fleece blankets to old t-shirts and cork boards, plenty of materials can be transformed into one of these DIY Snuffle Mat Ideas.
Here is a list of 23 ideas that will help teach your dog how to use the snuffle mat while keeping them engaged in playtime.
What is a Snuffle Mat
A snuffle mat is an interactive enrichment toy that allows your dog to use his nose. It's a fun way of encouraging your dog to use his natural senses. A Snuffle Mat is a DIY dog toy that you can make at home to entertain your pup. Snuffle mats are easy to make and provide hours of fun for your dog because they encourage them to use their sense of smell to find treats inside the mat's rug-like layers. These mats are made from simple materials, like old rugs and towels, that you can easily find around the house.
How do you make a Snuffle Mat?
Materials:
Old towels or fleece (old clothes will work as well.)
Scissors (or a rotary cutter and cutting board)
Sewing machine, or just a needle and thread. (If you don't want to sew it, you could also make it without using hot glue instead.)
Benefits of a Snuffle Mat
A snuffle mat is a small mat that you can fill with dog food, treats, and other goodies. The joys are buried beneath multiple layers of fleece, and your dog has to work to find them. It's like a treat puzzle for your pup.
Snuffle mats, also known as "nose work" mats, provide mental stimulation, which is good for your dog and helps keep them from getting bored. Letting your dog play with a snuffle mat can also help tire them out (and keep them from chewing up things they shouldn't).
If you want to make a snuffle mat for your pup, try one of these DIY versions!
How To Make A Snuffle Mat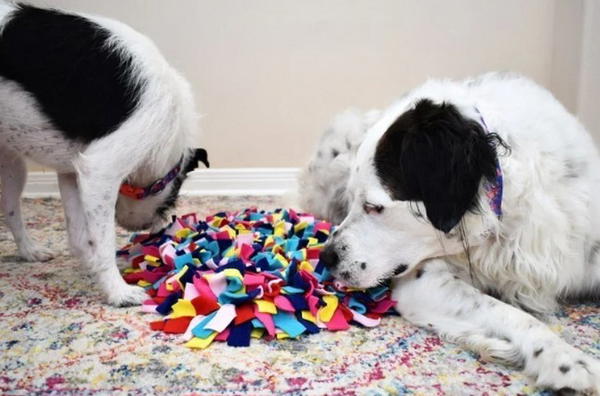 Do you have a dog? If you do, this craft is for you! A snuffle mat can keep your dog amused for hours, and it may even help your dog with its sniffing abilities. When training your puppy not to pick up his toys with his mouth, this snuffle mat will help catch the sharp edges of the toys he's trying to keep. To do this simple project, you'll need a non-skid pet mat and some fleece fabric in a color that coordinates with your decor.
How To Make A Snuffle Mat For Dog Or Cat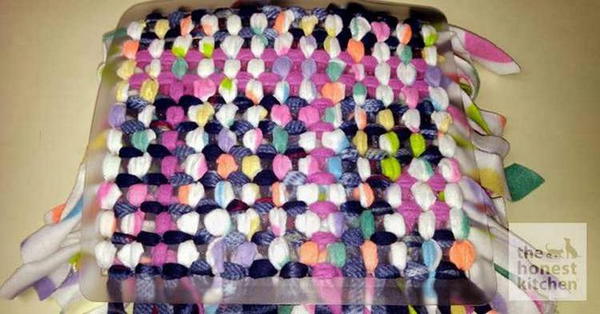 Who doesn't love the soft and snuggly feeling of a Snuffle Mat? It's the best mat that one can make for their dog or cat. This is one of the best ways to keep your pet entertained while you are away from home. These mats and toys can also help reduce the boredom that comes with being alone in a single room, especially if pets are left alone at night. Pets that are busy with this activity won't be bored, so they will not destroy anything inside your house.
DIY Snuffle Mat For Dogs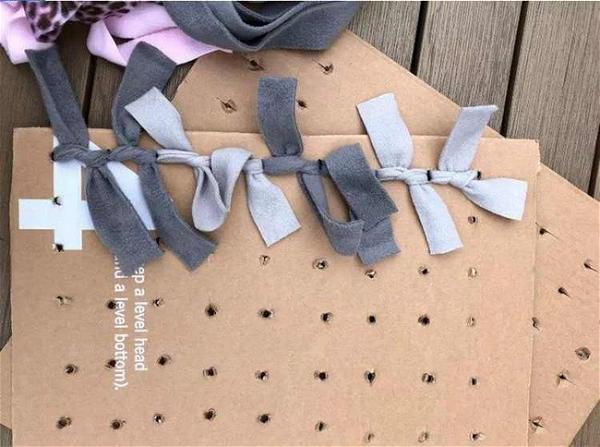 DIY Snuffle mat for dogs. Use a cardboard base for a snuffle mat for your dog to enhance the talent of their sense of smell. This pad is made from fleece fabric, which nicely wicks away the saliva from the places. You will need to make at least four slits in the middle of the base, but you can use more. This DIY cardboard snuffles mat for dogs works just as well as a money-saving option as it does a fun project to make with your furry friend. Vets use them to provide ultimate comfort and vision to the baby pups in their care who need to develop their sense of smell.
DIY Wooly Snuffle Mat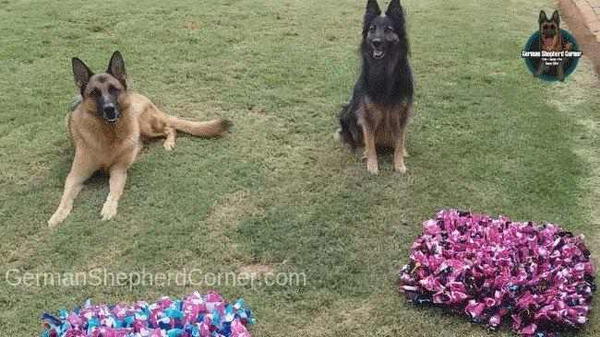 Make a snuffle mat for your dog! This easy rubber back pad is ideal for smaller breeds and dogs with longer snouts. The Snuffle Mat has been designed to be comfy and non-slip so that it doesn't move around when you or your dog breathes through it. With this DIY snuffle mat, you have the freedom to choose your fabrics, making it an affordable, personalized, and beautiful purchase that will last a lifetime.
How To Make A Snuffle Mat
Snuffle mats are a fun and engaging toy for your dog. Making a snuffle mat is easy to do, and it gives a fun toy for your dog. It will keep him occupied for hours, especially if there are treats between the fleece pieces. You can make the size exactly to complement your dog's size. The fleece pieces will give your dog something to smell, and the canvas fabric will help you better customize it for your dog's own needs.
DIY Snuffle Mat
Creating your dog's own DIY snuffle mat would be fun and practical. Not only would a homemade project save you money, but it also lets you add touches of your dog's personality to the design. You can purchase a snuffle mat from the pet store, but why pay the money when you can make your own? All you need is a few materials, and all you need to worry about is having fun with your dog! You could decorate the mat with patterns your dog loves or use their name while designing.
DIY Snuffle Mat With No Base
Snuffle mats are a must-have for every parent of a new puppy. They are easy to make and help to teach puppies to stay off the furniture and not chew on everything. Making a snuffle mat is relatively easy for those with some sewing skills. However, making one without a base is quite fascinating. All you need to do is measure, cut, and tie a few pieces together to create the desired size of your snuffle mat. Before starting this project, ensure that you have the correct measurements for a perfect snuffle mat.
How To Make A Snuffle Mat For Dog
You can make a snuffle mat for your dog. The snuffle mat allows the dog to sniff and smell better. It prevents damage to the floor since dogs have incredibly delicate noses. Follow the following steps carefully, and you will surely make a snuffle mat. Ensure that the sink mat is made of rubber material so that the snuffle mat can be lifted from one ground and placed on another quickly. This snuffle mat will enable snuffling dogs to keep the mud, moisture, and dirt they track into your house outside. It is very easy to make and is designed to fit small or large sink mats.
Snuffle Mat DIY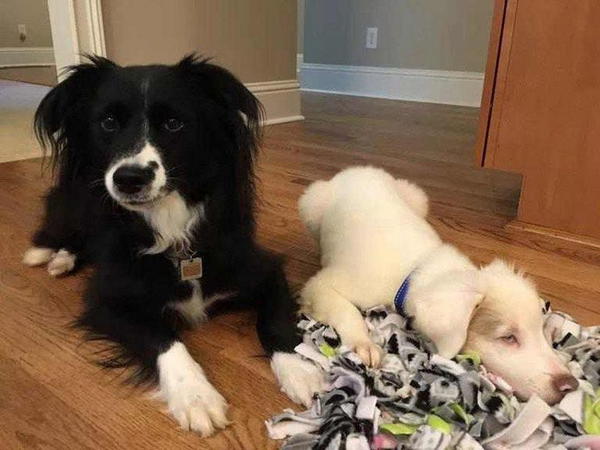 This snuffle mat is perfect for the wiggly pup that loves to root things out of the ground. Even if your dog doesn't tend to dig, this mat is a great way to encourage them to snuffle around and focus on an interactive toy. However, you do need some patience when first attaching the fleece strips. The fleece will tighten as it's moved, but you may have to re-shimmy the strips once or twice before it's completely secure. If you're looking for a unique and fun way to keep your pet amused, this DIY snuffle mat is a great idea. You'll need only one material, and it's certainly cheap!
DIY Snuffle Mat Dog Toy
Make this DIY snuffle mat dog toy by following these simple steps. Cut up fleece, either two solid colors or two shades of one color, to make the middle layer of fabric. Buy a sink mat from your local dollar store and use it as the base (this is optional). Then, cut the fabric into long strips. Push one end of a ribbon through a hole in the sink mat. Tie another strip around it to secure it in place; repeat this process until the entire piece is filled with strips of fabric. Repeat this process with the other color(s) of fleece and opposite direction fillings. "Sew" each end piece together to complete the toy.
DIY Snuffle Mats
Snuffle mats are a great alternative to using snuffle mats. Instead of using loose carpet, you can use fleece fabric. The fleeces are easy to cut and tie around the holes on the base, be it traffic master thick or thin carpet base or roll. DIY snuffle mats are made from fleece fabric and traffic master mats, and the process of making them is pretty simple. Cut the fleece into strips that do not exceed the width of the holes and tie them around the holes on the traffic master mat.
DIY Snuffle Mat Under $5
A DIY snuffle mat is an exciting find for dog owners. It is a must-have item that every dog should have. The purpose is to help train your pup to search and sniff by applying it around the house or in public places. This will also help stimulate your puppy's mind and keep your pet entertained. Although it may sound tricky to sew, you can easily make one by following this tutorial on making a snuffle mat.
DIY Washable Snuffle Mat Dog Toy
Are you looking for a quick, easy, and inexpensive homemade dog toy? Which dog wouldn't love this snuffle mat? It is fun to play with, but it's also entertaining to eat treats from. This DIY washable snuffle mat is perfect for dogs with a nose fetish and is generously filled with goodies that will surely make the dog happy. This DIY Washable Snuffle Mat Dog Toy is not just fun to make and play with, but it is also beneficial. A snuffle mat is like a puzzle toy that the dogs can solve by sniffing.
DIY Snuffle Mat Dog Toy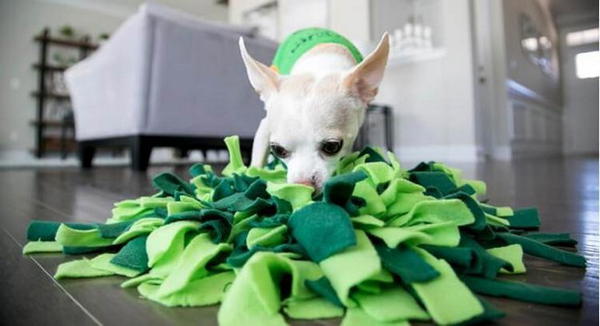 Your dog needs a new toy and you have things lying around the house. Why not combine them? Keep your furry pal busy and make an attractive homemade snuffle mat appropriate for dogs of all ages. This homemade dog toy makes an excellent gift for your canine friends and is guaranteed to keep them occupied. It'll take you about 15 minutes to make this fun new squeaky toy, then all you have to do is wait for the praise and love from your puppy. Your dog will surely love it once she gets used to the new snuffle mat you've made!
DIY Snuffle Mat With Towel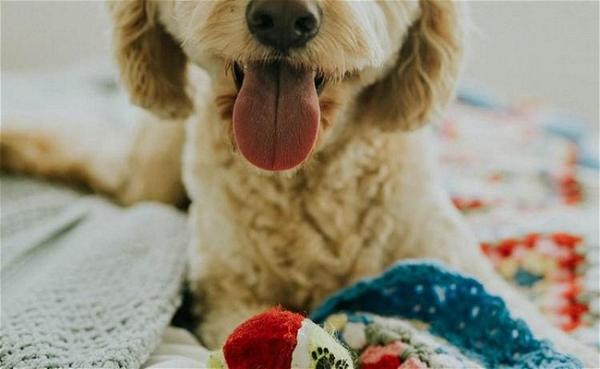 DIY Snuffle Mat with Towel Snuffle mats is a necessity for dog owners who want their dogs to play inside their homes. There are rubber mats specially designed for snuffles that can be bought from the store, but you can also make your own snuffle mat at home from materials you easily find in the market. It is super easy to wash so that it can be used repeatedly. You can place it outside or inside like a dog bed as well. Keep your dog busy and entertained for hours with this DIY project!
How To Make A Snuffle Mat For Your Dog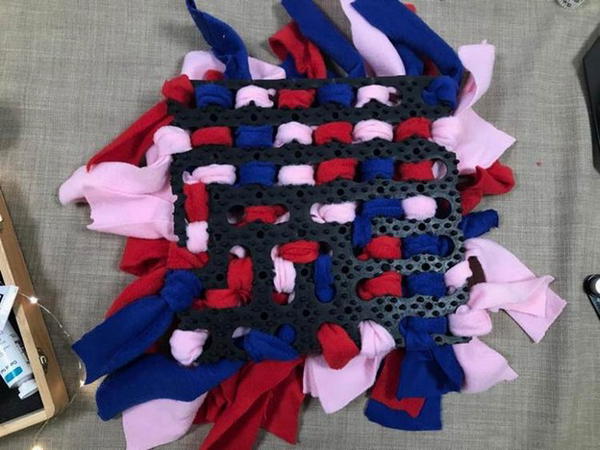 Dogs love to snuffle mats. Creating a snuffle mat is easy to give your dog an enjoyable and valuable play toy. It really is that simple. A snuffle mat is a toy and sleeping place in one. It has a soft surface that your dog can spend hours sniffing, exploring, and "preying" upon. You can create your own snuffle mat by sewing fleece strips through an old rubber bath mat or piece of carpeting. This project is inexpensive, fun, and something you can do with your dog in less than an hour.
Sewn Snuffle Mat DIY
Sewn Snuffle Mats are ideal for cat owners who want to take the worry out of cleaning up after their pets.  This snuffle mat is made of fleece fabric and will ease the snuffles in your dog as it makes his face wet and cool. However, it can be folded easily for storage and transported. Before you start this tutorial, you need to measure your dog's head size and remember to sew a rectangle 2 - 3 inches bigger than the final mat's size. Make this project before going to sleep at night and leave it under the couch for your dog. It's super comfy!
DIY Snuffle Ball Dog Toy
DIY Snuffle Ball Dog Toy is a funny dog toy designed for fun and snuffling. This fun DIY dog toy is a fabric pad with hidden pockets that you can use to put treats. It's slim so that your puppy will enjoy chewing on it as an incentive to search for more goodies inside. The video tutorial provided in this guide shows you a quick and easy way to make this awesome dog toy. This idea is great cause you can place treats or snacks inside the ball, so your dog has to find it. This can be made out of anything, for example, old socks, sweaters. Be creative!
Snuffle Mat DIY For Dog
One of the best details to snuffle is the snuffle mat! Everyone who owns a dog knows how much they love searching for things and chewing on stuff. This quick and easy DIY can be used to make a snuffle mat that will encourage your dog to spend time doing what they do best - sniffing out smells. It just takes a little bit of fabric to create a fun and funky Snuffle Mat for your pooch. Watch this video to see how you can make an excellent snuffle mat for your dog.
DIY Snuffle Mat With Towel
Here is a quick and easy project to make a snuffle mat. This mat is made from any towel, but preferably the more extensive and thicker towels--like the bath and beach towels, which are thicker and more durable. Towels and blankets make excellent snuffle mats. But towels are big and bulky. Try this DIY snuffle mat with a towel idea if you don't have much room. There is NO sewing involved. So quick, cheap, and easy! Making a DIY snuffle mat with a towel is simple and easy. It is perfect for your dog's bathroom usage.
DIY Dog Snuffle Mat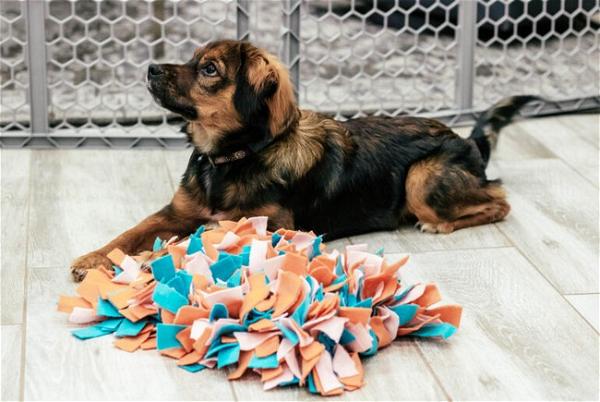 A DIY dog snuffle mat is a fun solution to these situations. You can create your own custom-made dog snuffle mat for your pet to enjoy time after time. It is quick and easy to make, requires minimal supplies, and is accessible on the bank account! Imagine gaining a few extra minutes of sleep in the morning with a doggie snuggle snooze or your pet staying comfortably busy in his or her new DIY dog snuffle mat while you are at work all day. A simple and easy project that will keep your dog active and engaged. Make it as a gift for a friend or family member - or if you're creative, add a few designs and swap out the cover now and again.
Snuffle Mat Mayhem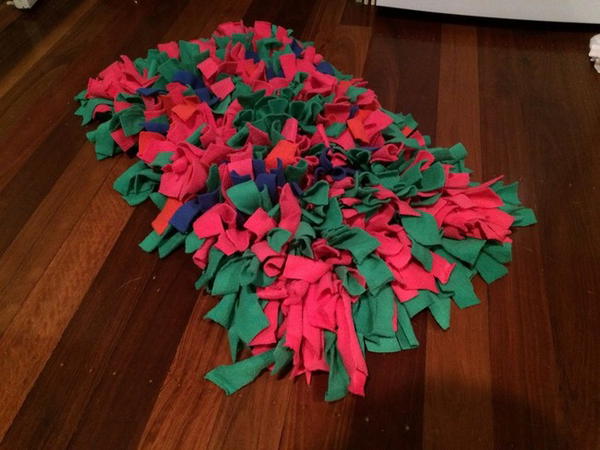 Snuffle Mat Mayhem is a snuffle mat made from polar fleece and cotton. The fleece is held together with two layers of straight line stitching so that there are no loose ends to fray. The cotton ties all the pieces together, ensuring that it comes out as one piece when you cut through the layer. This eliminates the possibility of your dog pulling bits off the mat and carrying them around (not to mention eating them). With a Snuffle Mat, you can save time and money by dispensing food for your pets. At mealtimesSnuffle Mat, Mayhem is a great way to have some snuffle activity!
DIY Pet Snuffle Mat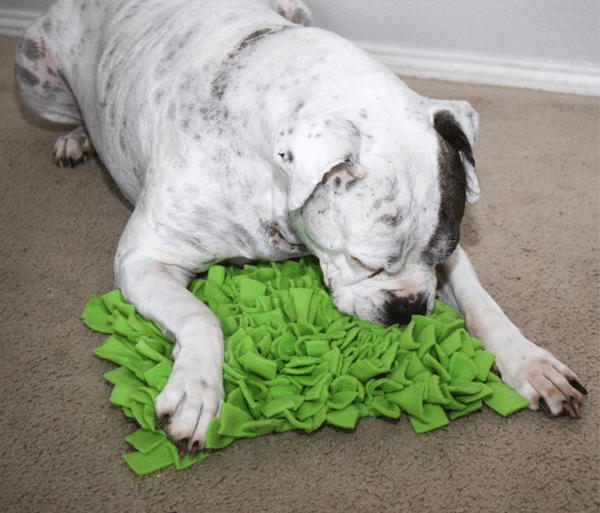 Are you looking for a fun, thoughtful gift for the dog lover in your life? This DIY Pet Snuffle Mat is a quick and easy project that makes a great addition to any home. Perfect for chilly days or rainy nights, dogs will love looking for treats under this charming Snuffle Mat. The easiest way to make a DIY Pet Snuffle Mat. This is a homemade "snuffle mat" perfect for pet detection dogs to find treats buried underground and ideal for children who love to bury their pleasures and other things.
See More DIY Projects For Animals:
DIY Dog Crate Cover Ideas: Explore various DIY ideas for creating a stylish dog crate cover that provides privacy to your furry friend and enhances the aesthetic appeal of your living space.
DIY Dog Collar Projects: Create personalized and fashionable collars for your pet, combining comfort with style for your furry friend using these DIY dog collar projects.
DIY Rabbit Hutch Plans: Explore do-it-yourself plans for a rabbit hutch to provide your bunny a comfortable and safe home. Find designs with enough space and features for content and healthy pets.