If you are a cat owner, one of the things that would make you worry is when your cat scratches your furniture or other objects in the house. The good news is that there are ways to help your cat eliminate this problem. One of these ways is by building a cat scratching post. A cat scratching post is a post where cats can scratch to sharpen their claws and relieve themselves from stress. There are different types of grinding posts available on the market today, and if you want to build one for your cute pet, here are 25 DIY ideas for cat scratching posts that will help you create one for your kitty: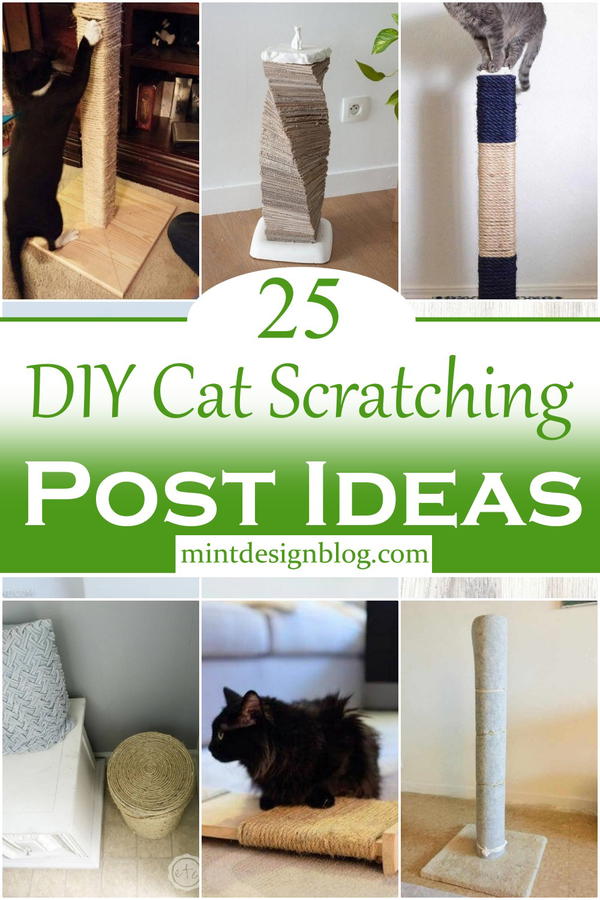 The cat scratching post is an excellent way to keep your cat busy and help them maintain their claws in good condition. Cats need to scratch as it allows them to shed the dead outer layer of their nails; It also permits cats to mark their territories and stretch their muscles. There are many designs out there, and we have listed some of the most popular ones. Below are some examples of DIY cat scratching posts you can make from items you probably have around your home. The process of making a cat scratching post is straightforward.
Check out these 25 low-cost and effortless DIY cat-scratching post ideas that anybody can follow; even you can make this in just a weekend.
You Can See:  25 DIY Cat Tree Ideas
DIY Cat Scratching Post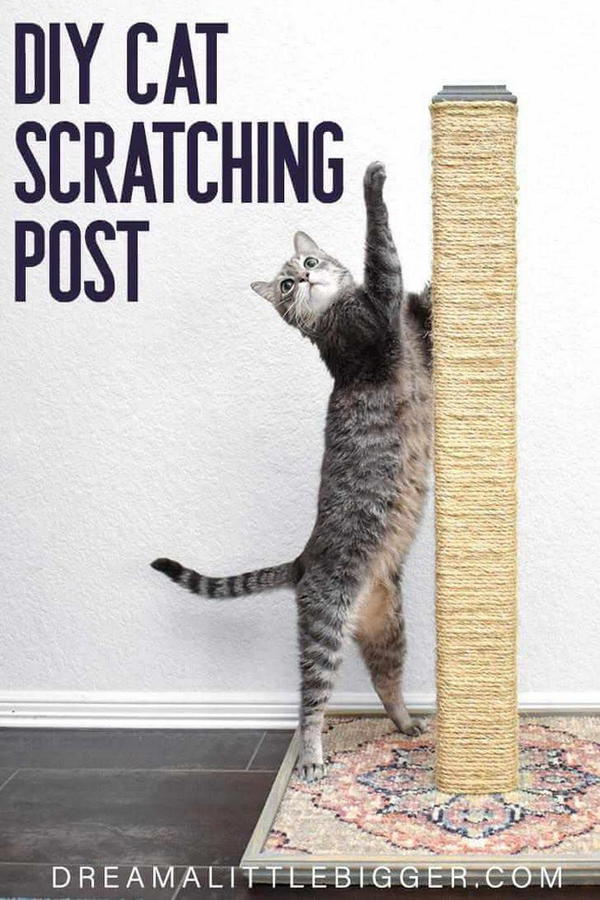 Making your own cat scratching post is a fun and easy DIY project. You can make the perfect post for your feline friend with a few simple supplies. Cats love to scratch to help maintain their claws, but they also need something to climb on top of and relax on. It is a lot of fun, and it doesn't cost much! The above video uses rope and wood glue and some more things to create a durable unit with lots of fun horizontal grooves for the kitty's nails! Watch this to learn more.
Durable Cat Scratching Post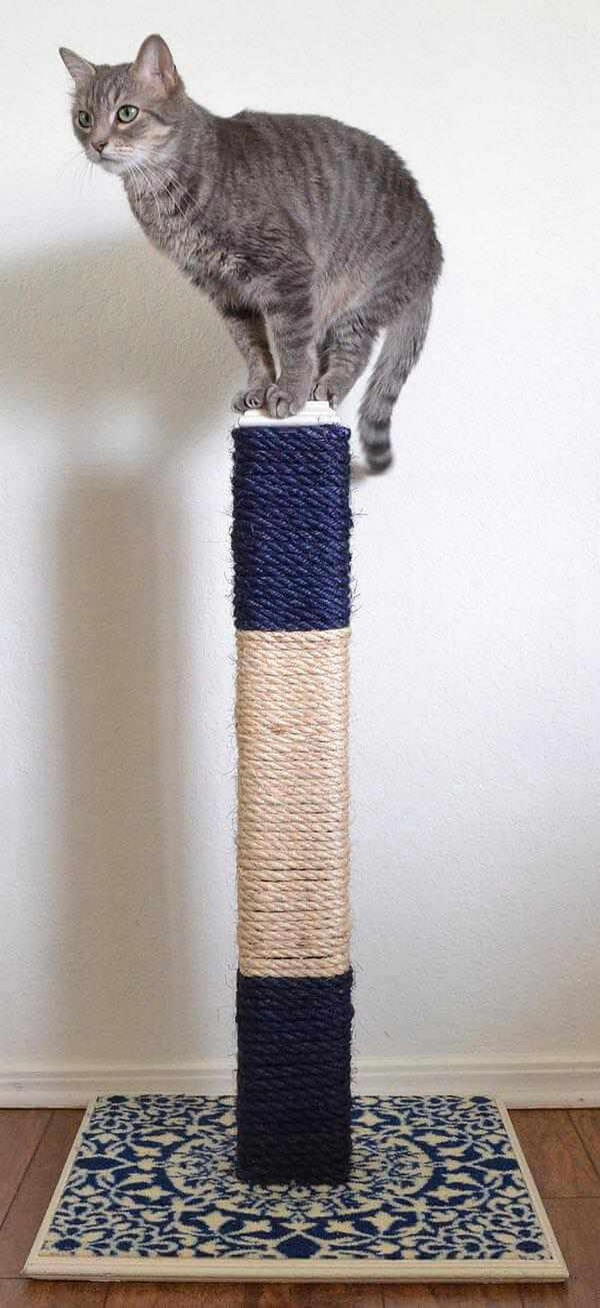 This durable scratching post has an upcycled base and a super-tough sisal rope that provides the perfect outlet for scratching or clawing. The base is made from an old cat scratching post and can be used indoors or outdoors. This is also a great way to re-purpose old toys by turning them into new, fun cat toys! This guide will walk through the complete step-by-step instructions and follow-up steps.
DIY Cat Scratcher With Carpet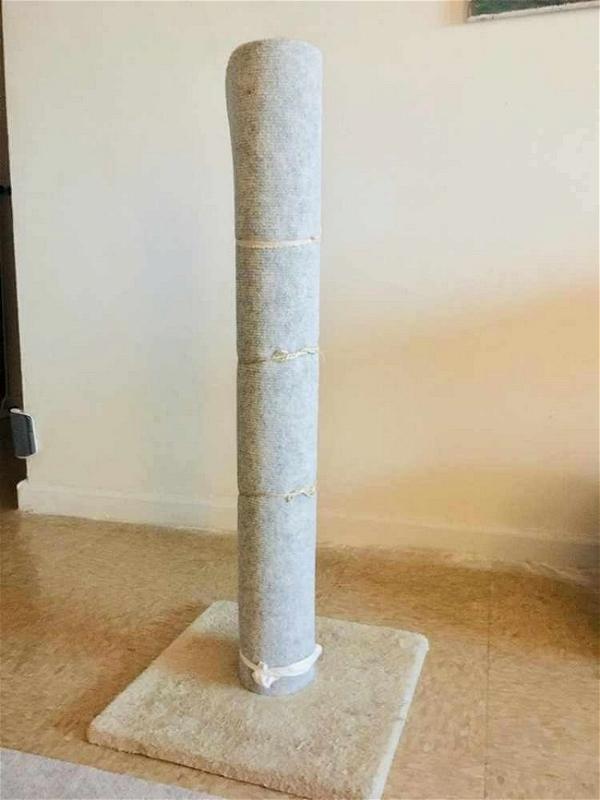 This DIY cat scratcher project is a great way to save money, keep your cat's claws sharp, and provide entertaining activities. Instead of sisal rope, This DIY cat scratcher is made with a carpet that might be already available in your house. The supplies needed are minimal, making this project easy to manage and complete. By doing this, you are saving the money required to buy a brand new scratching post. Use this guide to learn more!
DIY Cat Scratcher
The DIY Cat Scratcher is a handmade cat scratcher that you build yourself. It's made from well-sanded plywood and good-quality rope, sturdy and durable. It's perfect for scratching, climbing, and sleeping. Start by creating your base. Next, attach your post to the base using screws and a drill. Wrap the rope around the bar tightly, then hot glue it to prevent fraying. Your DIY Cat Scratcher is ready with no hassle! This video will walk you through the complete making steps.
DIY Cat Scratching Post Using PVC
You can make this DIY cat scratching post using PVC pipe at home; This scratching post will make your cat happy and keep it active. The materials you will need are wood, PVC pipe, and felt. After you have assembled all parts, add a rope to the scratching tool. This post is excellent for kittens who love to climb and scratch, but it also works for giant cats and adult cats who want to stretch and keep their claws sharp.
How To Make Cat Scratching Post
This beautiful DIY project could be the perfect solution to your cat scratching the furniture. You can either find a wooden stool and attach a scratching post onto it with some screws or nails. Or you can make your own cat scratching post, a tall post with numerous platforms to scratch on, made with rope, fur fabric, tape, plywood, and triangle pipe. The above video shows a cat scratching post shaped like a cactus that looks cool and is a decorative part of your home.
Durable DIY Cat Scratching Post
This homemade durable DIY cat scratching post is perfect for your furry friend. This quick and easy project will give your cat a satisfying place to scratch, climb, and play! If you have a cat, then you know how difficult it can be to care for their scratching needs. here is a tutorial on how to make your very own DIY Cat Scratching Post. This task should take no longer than 30 minutes to complete with all the materials provided!
DIY Cat Scratching Post And Storage Bin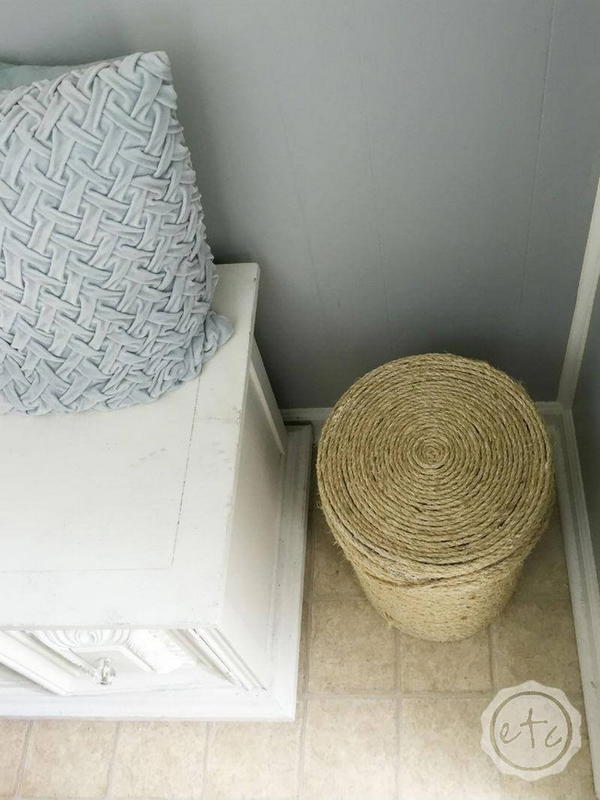 If you're looking for a quick and straightforward DIY solution for your cat scratching post, this is it! Especially if you don't want to put up with any woodwork, glue some rope vertically onto the bucket, hot glue the start of the string over the bucket, and wind it all to the lid of your choice. You may fill the bucket with sand for extra stability if needed. Cats love to scratch, and this post is perfect for that. Use this guide to make it easy.
How To Make A Cat Scratcher
This scratcher is great for cats that like to sharpen their claws on your furniture. It will save you money on replacing expensive carpets or other household items. This is an easy DIY, but it's made from recycled materials! Cats love scratching, and removing the cardboard strips will help them remove old fur from their nails! Anyhow this video tutorial includes complete step-by-step instructions and follow-up steps.
Cheap DIY Cat Scratcher
This cat scratcher is easy to make; it takes less than an hour and works like a charm. You'll need a cardboard tube, wooden base, and carpet mat. Also, rope to cover the tube and a top cap. This project is so easy and inexpensive that anyone can do it. It's a great way to give your cat something to scratch on other than furniture when you're away from home or just looking for a new project. Watch this video to learn more!
DIY Modern Cat Scratching Post
This DIY cat scratching post is a fun and friendly project. You can find all the supplies you need at your local hardware store or home improvement center. It takes only a few minutes to wrap the rope around the wood posts and tie them together at the top to create a post that your cat will love. This homemade cat scratching post can be used anywhere you need to give your kitty a new place to sharpen those claws. This video shows the complete process.
DIY Cat Scratching Tower
This DIY cat scratching tower is an excellent activity for any cat owner who loves to build things. It's also one of the cheapest and easiest DIY projects out there, so it can be an excellent introduction to home improvement if you're starting. Create your own DIY Cat Scratching Tower using the instructions and images provided in this video. Follow the instructions, and you'll be able to start building your own cat tower right away!
DIY Cat Scratching Post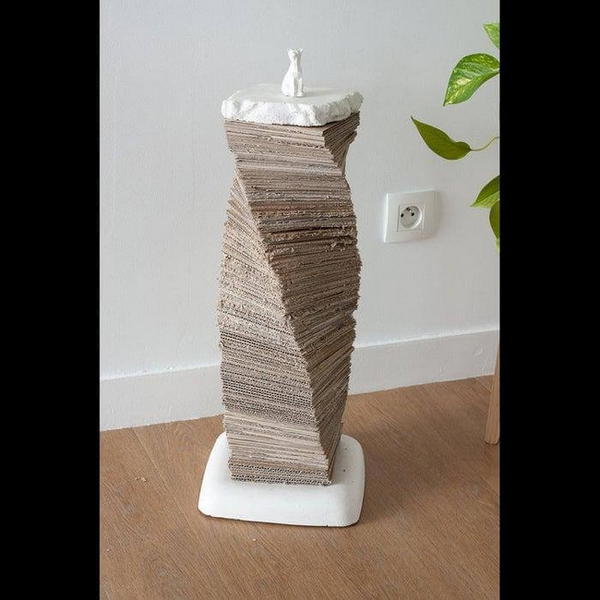 This DIY Cat Scratching Post is fun to make and excellent for your cat and home. It's a beautiful, tall post that your cat will love. The scratching surface is corrugated cardboard to last longer than other scratching posts. It's low enough for short cats to reach the top but tall sufficient for long cats to stretch out. The entire structure is hidden inside a 3D printed cat figurine, so you can decorate it with any design you like or paint it white!
DIY Cat Scratch Post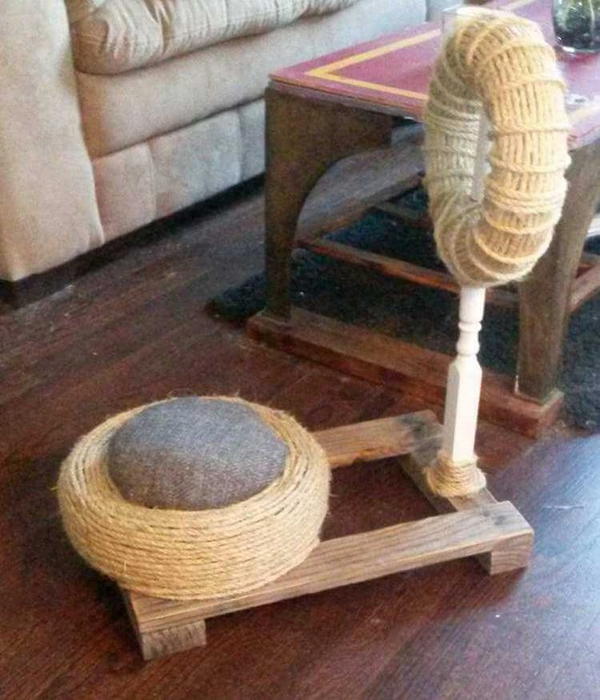 This DIY Cat Scratch Post will keep your kitty busy, and you'll get some nifty carpentry skills in the process. The unique design includes a kneading pad in the center of the tire and a rope wrapped around the tube to provide a scratching surface. It's easy enough for anyone to build, even if you're new to carpentry! This DIY Cat Scratch Post is an excellent way to keep your cat active and entertained. It might sound like a lot of work, but it isn't! And this is a great way to recycle old tires and make them functional again.
Cat Scratching Post DIY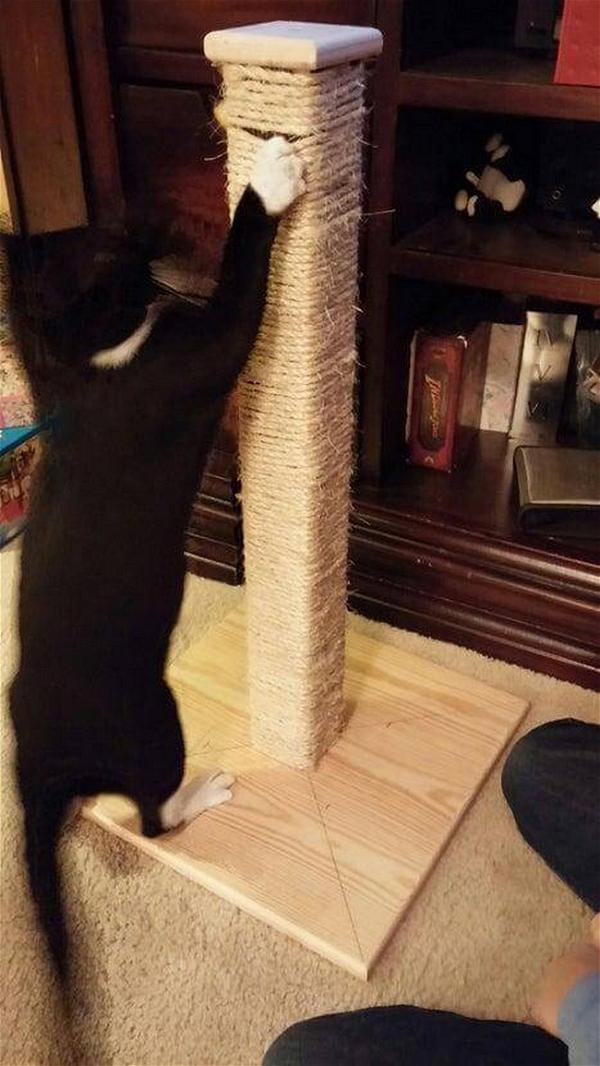 Cats love to scratch their nails on furniture and even on your carpets. If your cat is doing this, it is time to get them their own DIY scratching post made out of a table leg. This project is relatively simple and easy to make. All you need are the right tools, supplies, and materials. This DIY project can be done in no time. It only requires basic carpentry skills, so if you have those, go for it because your kitty will thank you for it!
DIY Cat Scratching Pad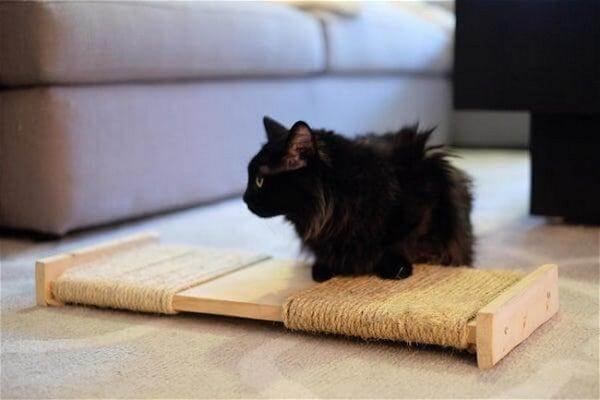 Cat Scratching Pad is a great DIY project for people who like to create things. The scratcher is an exciting product of DIY, which must be made from scratch. Building it from the ground up allows you to customize it in any way you want to truly make it your own. Not only that, but cats love scratching surfaces like this! this cat scratching pad can help if you don't already have one. This DIY project guide will show you how to make an easy scratcher that any kitty would love!
How To Make A Cat Scratcher For Free
Cats love cardboard, so why not make them their own scratcher? This simple DIY cat scratcher is made with cardboard, glue, and rope. It's a great way to recycle old boxes and save money. It doesn't require any skills or tools – perfect for beginners! This video aims to show you how to make a cat scratcher for free, so your feline friend can enjoy having their very own spot to scratch. There are many designs available on the internet that require tools such as a jigsaw or drill, but if you have cardboard lying around the house or office, you can quickly whip up a fundamental design in no time at all.
DIY Cardboard Cat Scratcher
This DIY Cardboard Cat Scratcher is a simple and easy way to make a DIY cat scratcher out of cardboard, which you may have lying around the house. This craft project is geared towards more novice crafters who aren't sure where to start yet still want to make crafts with their cats in mind! The best thing about this scratcher is that it is made from recycled cardboard, so you're saving the planet and saving money at the same time!
You Can See: 20 DIY Cat Feeder Plans
DIY Cat Scratching Pole
If you're looking for a way to help keep your cat from destroying your furniture but don't want to spend money on expensive scratching posts, this DIY cat scratching pole is the perfect solution. It's easy to make your own cat scratching pole, and it won't cost you anything except for time, and you can customize it in several ways. It's good to have something for your feline friend to do when they're not sleeping or eating!
How To Make A Cat Scratcher
In this DIY project, you will learn how to make a cat scratcher for your beautiful cat. This is a quick and easy tutorial that you can complete in an hour. You will need some things for this project; wood pieces from the hardware store and cardboard from the supermarket. If you want, you could paint them with bright colours or leave them as they are. To make things easier, follow the step-by-step instructions in this video and enjoy!
Colorblocked Cat Scratching Post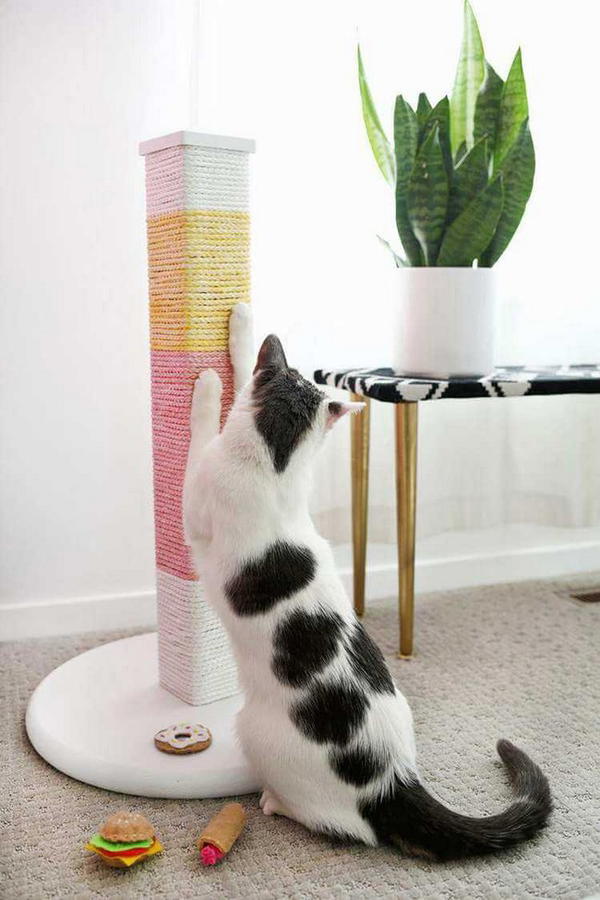 If you have a cat and love to use its claws, this scratching post will be the perfect activity for your feline friend. The Colorblocked Cat Scratching Post is nothing but a wooden post covered with a colourful nylon rope that will let it sharpen its claws and make new friends with other furry animals. This allows the cats to satisfy their natural scratching desires while covering up their tracks. Made entirely from wood components, this piece will last you and your pets years of enjoyment.
DIY Cat Scratching Pad
This DIY Cat Scratching Post is an easy way to provide your pet with a place for them to apply their claws. The cardboard scratching pad is free and can be made from boxes lying around the house. It has the same advantages as a post or pad you'd buy at the store but costs much less to make! Provide your cats a place to scratch of their own with this DIY cat scratching pad. The cardboard rollers create an ideal surface for them to mount and sharpen their claws while having fun!
DIY Cat Scratching Post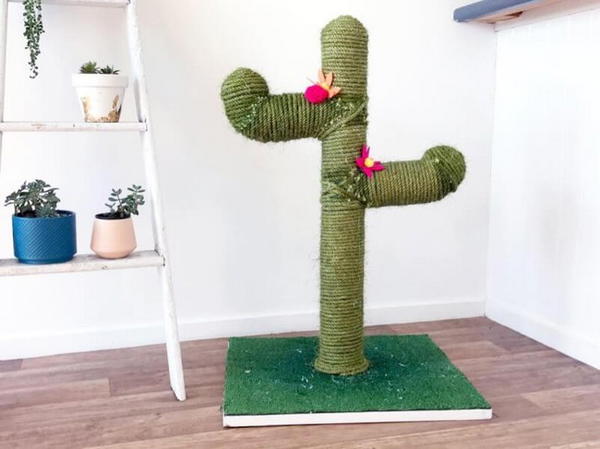 If you want to make your own cactus cat scratching post but don't have the necessary time or skill, this detailed step-by-step guide is just what you need. It features a variety of photos and illustrations to help you through every part of the process. With everything covered in this guide, you will save money by avoiding shop prices and having a unique post that looks fantastic in any home. You can make a scratcher in less than an hour with items that are easy to find in any hardware store, garden centre, or even grocery store!
DIY Hanging Cat Scratching Pad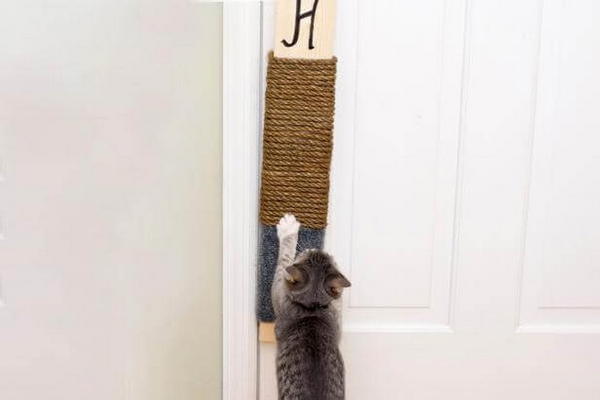 This DIY Hanging Cat Scratching Pad will provide your cat with hours of fun and exercise. It's surprisingly easy to make, too—all you need is a leather string, carpet remnant, scissors, drill, and bit. Making a DIY Hanging Cat Scratching Pad is a great way to give felines a fun and functional place to scratch. This guide will show you how to make an easy scratchpad for any cat using materials you can find at your local hardware store.
How To Make A Self Scratcher For Cats
Cats have a habit of scratching the furniture. If you have one of those naughty little fellows, you might need something to satisfy his itch. And if you don't have money for a giant scratching post, why not make your own DIY scratcher? It's surprisingly easy and will take less than half an hour from start to finish. This scratcher is made of plastic, and as you probably know, cats love scratching on plastic things. So let's start with assembling the parts:
See More DIY Projects For Animals:
DIY Dog Crate Cover Ideas: Check out these DIY dog crate covers ideas that provide privacy and comfort for your pet while enhancing the look of your home.
DIY Dog Harness Projects: Discover easy DIY dog harness projects that ensure a perfect fit, comfort & safety for your puppy without breaking your wallet.
DIY Snuffle Mat Ideas: Explore DIY snuffle mat ideas to make fun, easy puzzles that keep your pet mentally stimulated while enjoying treats.