Cats are very finicky creatures, and they can be quite picky when it comes to their food. Some cats don't like the food that their owners put out for them, and they prefer to eat on their own timetable. But sometimes, your cat might have a hard time eating the right amount of food because he's so busy playing. This is where DIY cat feeders come in handy. A good cat feeder will help you control how much and how often your cat eats. It also makes it easier for you to monitor his dietary needs and make sure that he's getting all the nutrients he needs from his food. If you want to make your pet happier, healthier, and more active, then check out these 20 DIY cat feeder plans!
DIY Cat Feeders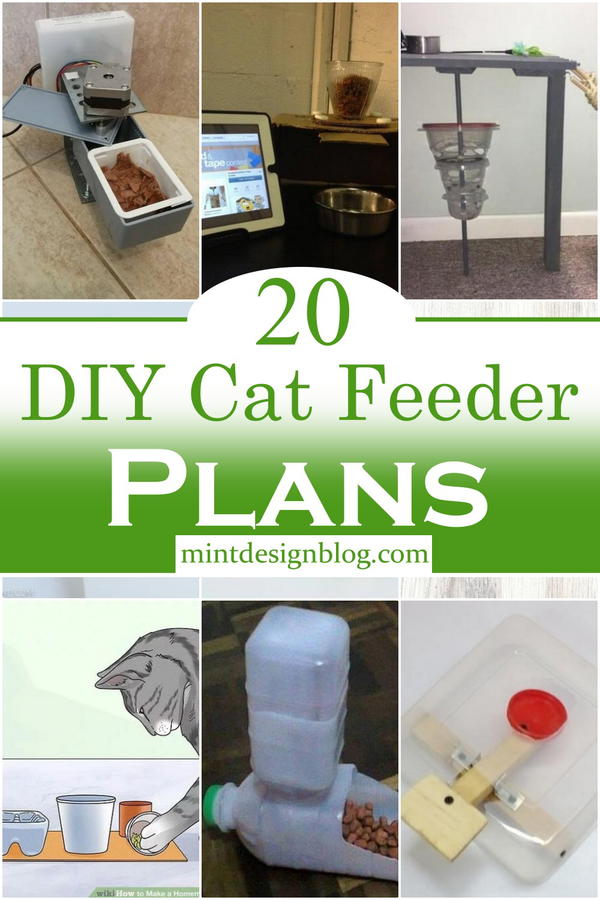 If you have a cat, then you probably know that they can be a bit finicky about their food. Some cats will eat anything, but others will only eat certain brands and flavours of food. Some cats also have very specific feeding schedules, which means that if you don't feed them at the same time every day, they will start to get hungry and beg for food. If you're tired of giving your pet cat table scraps or making multiple trips to the pet store to buy different types of cat food, then it's time to get some DIY cat feeders for your feline friend. There are many different types of homemade cat feeders that you can make at home with just a few supplies and a little bit of time.
If you're looking for some ideas on how to build homemade cat feeders at home, then look no further than this list of 20 DIY Cat Feeder Plans!
You Can see: 25 DIY Cat Tree Ideas To Make Playable Tower For Cats
How to make DIY Cat Feeder Plans
Cat feeders are a great way to ensure that your cat eats on time and gets all the food they need. They can be as simple as a bowl on the floor or as complicated as a computerized system. If you're looking for something simple and easy to build, these DIY cat feeder plans will help you get started.
If you're looking for a more advanced option, check out this detailed guide on how to make your own automatic pet feeder.
You'll need:
Sandpaper
A saw (optional)
A drill or screwdriver
Paint, stain or other finish (optional)
How To Make A Cat Feeder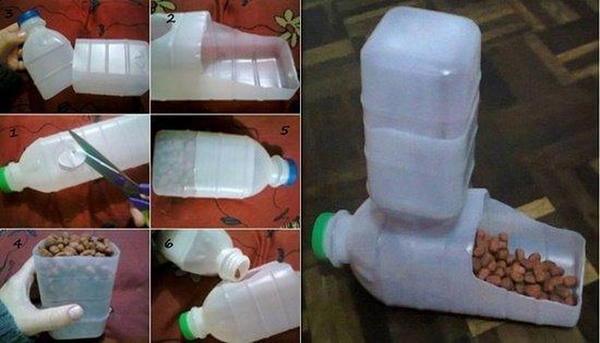 This is an effortless and inexpensive way to help your own cat or another cat who needs assistance in eating. You will only need two plastic bottles, pet food, and scissors. The materials required for this fantastic cat feeder include two plastic bottles, pet food, and scissors. This can be used by cats with disabilities such as paralysis or missing teeth, among others, to eat independently without being fed by people every time. You must provide your pet with fresh food, mainly if they are used to eating out of a bowl. This gives them something different to eat and adds a bit of variation to their meals. A primary cat feeder can be made in less than 30 minutes.
DIY Cat Food Dispenser From Cardboard
Here's a thrifty and straightforward way to feed your cat while you're away. Making a DIY cat food dispenser from cardboard is one of the easiest things. It will save you money, save space and provide your furry friend with food whenever he needs it. The hardest part is cutting the cardboard parts, but it's nothing that you can't handle! Save some money on expensive commercial feeders, and create a cat food dispenser from recycled cleaning supplies. This cardboard food box makes a simple and inexpensive solution for keeping your pet well-fed in your absence.
DIY Smart Arduino Cat Feeder
This DIY Smart Cat Feeder can automatically feed dry food to your cat when the motor is turned on by pressing a button on the remote. The feeder runs on 4 D batteries and uses a servo motor with an infrared sensor to detect when the cat is at the dish to deliver food. The cat must be trained to press the button and move in front of the sensor for the feeding process to start. This project is fun and easy to make and will help you feed your feline friend at the right time of the day. You can take it further by adding other nifty features, such as a night vision camera so you can monitor her while you are away!
DIY Automatic Cat Feeder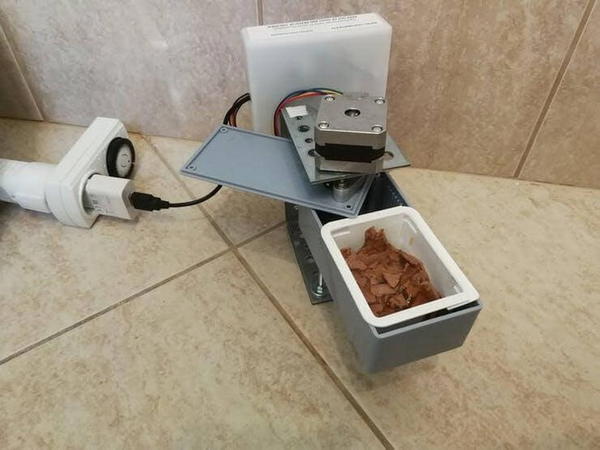 DIY Automatic Cat Feeder gives you the freedom to leave your pet alone at home. The project requires some basic coding and electronics knowledge. In this project, you will learn how to build an automatic cat feeder that allows you to program the timer and control when your cat will eat. Items required for this include:
A mechanical outlet timer.

Stepper motor.

USB wall charger.

Linear shaft support.

Bracket corner brace.

A USB extension cable.
If you have cats that eat at different times of the day or night, it can be challenging to know when to switch out the food in your cat's bowl. This automatic feeder is designed to solve that problem by automatically refilling food bowls at the correct times.
How To Make A Homemade Puzzle Feeder For Cat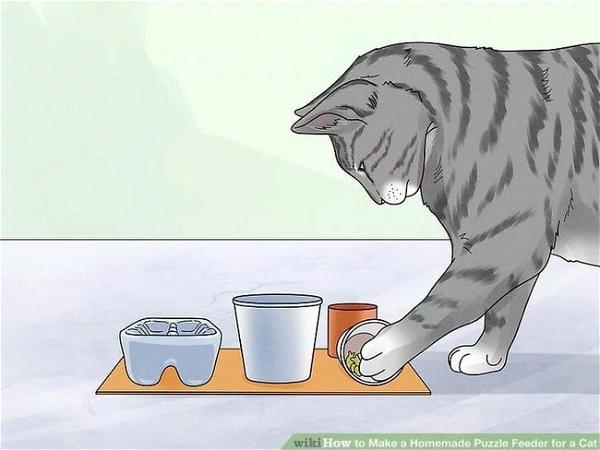 A homemade puzzle feeder for cats can keep your pet occupied and entertained. It will also give them something to figure out, which will relieve stress that may be caused by boredom. To make a homemade puzzle feeder for your cat, you need to cut some egg cartons and paper towel rolls into easy pieces for your cat to move around. Then take a plastic container and fill it with food or treats. After that, glue these pieces onto a flat piece of cardboard and let them dry overnight. Use the rope to hang the puzzle feeder up in an area where your cats can reach it easily. Your cat will enjoy trying to get at the food inside!
DIY Cat Feeder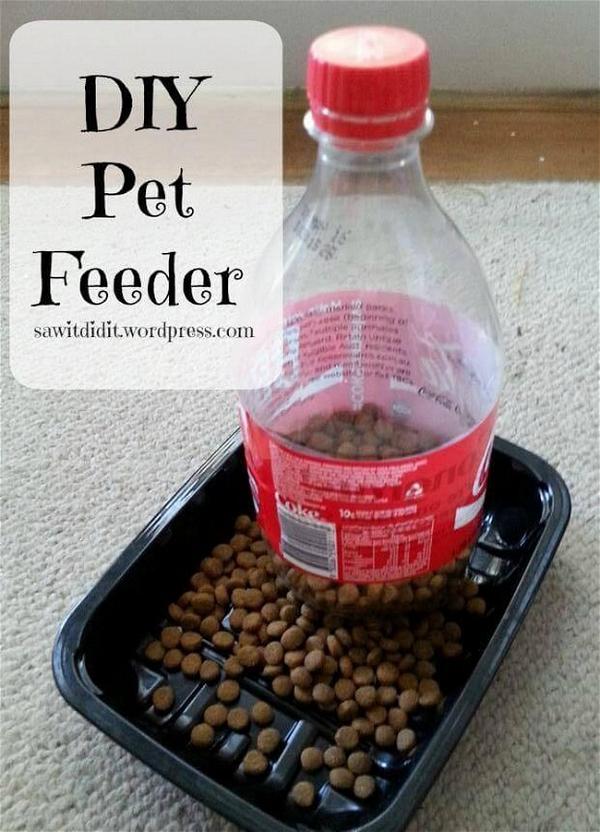 Getting your cat to eat can be a time-consuming struggle, but you'll be eating more easily after making this DIY Cat Feeder! It's a homemade cat feeder made from everyday things that you can get in your kitchen or around the house. This is also great for people who are away from home for long periods as you can easily make enough food for your cat. Glue the top of a plastic bottle onto the bottom of a flat tray for a simple cat feeder that's easy to fill and will keep your kitty from knocking over their bowls. Plus, it's made from clean materials that you can feel good about using in your home.
DIY Cat Feeder
This DIY cat feeder can be constructed quickly. Cut the bottom of an old coke bottle, crosscut two sides of the bottle and open the sphere. Attach a small toy inside the globe using a rubber band. Pass through the rubber band to hold it outside of the mouth of the bottle, insert a popsicle stick through its mouth and close it. This will add some fun to your foodservice routine as you interact with cats and watch them play as they work at getting their dinner. This DIY cat feeder is a fun activity for kids who love pets. You can make it in a few minutes, and it's cheap, too! ? Let them play with this feeder!
DIY Automatic Feeder For Cats
This DIY automatic feeder is ideal for indoor cats, who are more likely to overeat if they are bored. If you have a cat that eats too fast and constantly throws up, this can provide an alternative method of giving them food without having to be present. You can make this feeder by yourself at home, and it costs less than $10. It is a straightforward project that anyone can make in just a few minutes. The best part is that those supplies are available anywhere.
DIY Fun Feeder For Cats
A fun DIY cat feeder for your furry friend. Save time and money and create something original for your pet. A simple and inexpensive homemade solution that you can use to feed your furry friend. Your cat will love eating on this cardboard-made feeder. It's made from cardboard, so it's easy to make and durable enough to last through many play sessions. The feeder has a hole on the top that allows you to fill in dry food or treats through it and comes with magnets on the side so you can attach toys or other magnetic items for cats!
DIY Smart Cat Feeder
The intelligent cat feeder is designed on the computer. You will probably need some experience with designing and a little technical knowledge of how to install a motor in your feeder to make it work. However, if you want to feed your cat using this device and save yourself from being absent during feeding time, then this DIY project will be worth trying out. The DIY Smart Cat Feeder is designed to help you feed your cat the way it's supposed to be done. It uses a motor and bowl as a timer-based feeding machine that can hold up to 5 pounds of dry food. The design of this intelligent feeder was created on the computer system and then transformed into hardware for you to make and use for your cat.
DIY Automatic Cat Feeder
If you are looking for the best way to feed your cat when away, either for business trips or holidays, this automatic cat feeder may help. The trick is to build an automatic food dispenser using everyday materials such as plywood and screws. The box should have a slide opening where cat food automatically rolls out when pushed by the linear actuator. You can program your timer to release food every four hours or at any interval of your choice. This DIY automatic cat feeder is a unique clock that allows you to feed your cat at specific times. Easy-to-build, this automatic pet feeder helps you avoid a last-minute rush to get the job done.
DIY Food Dispenser For Cats
Anyone can easily make this DIY food dispenser. It simply requires using an ordinary household saw, glue, and other materials that you probably already have at home. This food dispenser will allow your cat to eat as much or little as they want without having a mess everywhere because it will store all the food in one place. This is also great for when you are gone during the day because it will keep your cat from overeating and getting sick. This DIY project is great for any do-it-yourselfer and cat owner. The food dispenser allows you to quickly put your cat's food in a container and keep it fresh. By making this project yourself, you can save money by not having to buy an expensive food dispenser.
DIY Smart Cat Feeder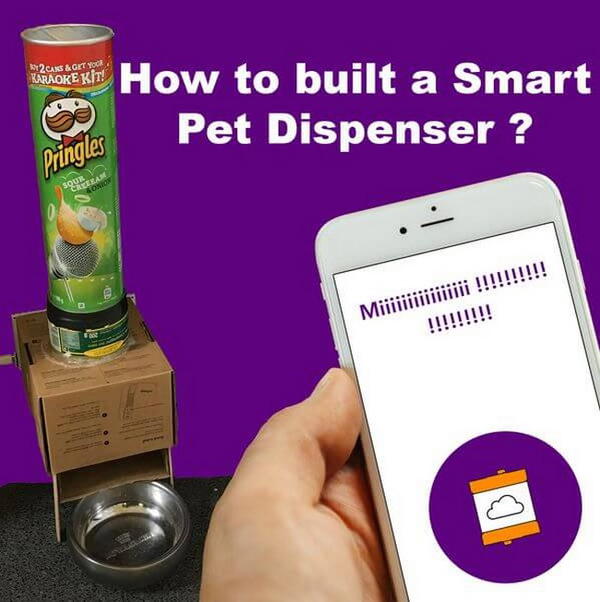 What do you do when your feline friend is more interested in dining than you are? This DIY Smart Cat Feeder is made from a couple of pringles and paté cans, modified to work together. The result is a feeder that allows your cat to eat while you relax. You can make this smart automatic cat feeder using household materials. This DIY project will help you provide food to your lovely cats at the scheduled time. It is a fun and easy way to preserve your loved ones' pet food supply. This is great for those looking to keep their pets healthy and happy while saving money or busy people who need to come home to a well-fed cat.
DIY Cardboard Cat Feeder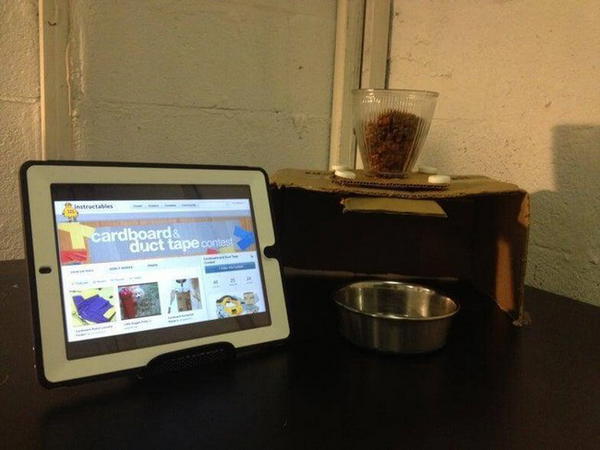 Feeding your cat can be a pretty dull experience. This DIY cardboard cat feeder is designed to keep your pet occupied while eating. It also makes refilling much more accessible, reducing the time and hassle of repeatedly refilling the bowl. While it's made from cardboard, it's very sturdy and well-made, so there's no fear of falling apart quickly. The number one advantage of this DIY cardboard cat feeder is that you can make as many as you want for about a dollar per unit, saving you money at the same time.
DIY Cat Puzzle Feeder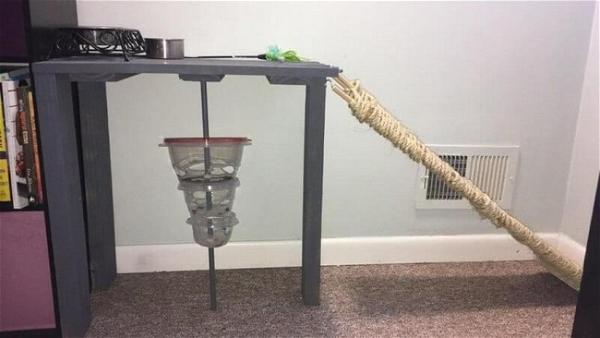 Make your own cat puzzle feeder so your kitty can gain weight and stay healthy. This new feeder is built to make life a little more interesting for your feline companion! The bottom of the platform has four pieces of wood attached at each corner, leaving a small hole for food to fall through. Your cat will have to use his paws to push the food out through the small hole. This will help keep him active and entertained. This DIY cat puzzle feeder is a fun activity for your kitty. This project is easy to make, with only about 30 minutes involved. Once you're done making it, fill it with your cat's favourite snacks and watch them play!
You Can Also See: 24 DIY Cat Bed Ideas
DIY Cat Treat Push Feeder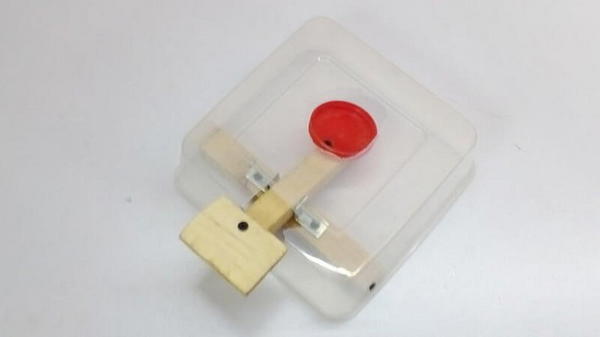 If you love your cat and want to provide them with the best treats available, this is the perfect DIY project. Your feline friend will enjoy eating from this push feeder. Or, If your kitty likes to lick and bite the tip of a bowl, let her properly have fun. This DIY cat treat push feeder is easy to make, and you can use any materials you have around the house. Attach the levers with screws, place them inside a bowl, and secure them with plastic bottle caps. This is a fantastic and fun DIY project that you can make in a short period. It's suitable for play and bedtime treats and works excellent as a feeder at mealtimes.
How To Make Automatic Cat Feeder
This is a simple DIY automatic cat feeder. It's inexpensive and easy to make, as you can use recycled materials for the whole thing. This project does not require any programming skills or soldering so anyone can follow along. A homemade automatic cat feeder is easy to make in just a few steps. All you need are a motor, timer, and cardboard. Measure cut the cardboard into pieces, stick a linear actuator through one of them and connect them. Your do-it-yourself automatic cat feeder is done! The best part about this DIY automatic cat feeder is that it can quickly be done.
DIY Cat Step Feeder
This DIY Cat Step Feeder is a fun way to feed your cat. You can make it with a few simple supplies, including wood pieces and a glass bowl. This feeder can be used with dry food or treats and comes with an open/closed lid to keep your cat's food fresh. This cat step feeder works by having your cat push on the lever at the bottom of the tower, which causes it to open up and let out some food. Your cat can then get access to the food inside. This is a great way to keep your furry friend happy, healthy, and fit. This feeder is easy to make, with just a few easy-to-find materials!
DIY Cat Food dispenser at home
If you have cats at home, you must've noticed that they are picky eaters. Most of them like to eat food fresh out of the kitchen and won't eat it if it gets stale. Making a DIY Cat Food dispenser is not as hard as it might sound. With the right tools and you can do this project at home. To begin with, you need to gather the materials required. The materials required for this include two shampoo bottles, one large plastic bottle, a knife, and scissors. Remove the lid of two bottles, place them over the pipe inside, and make a hole in each bottle. After this, cut the top of one bottle off and the bottom of another. Place these together, then glue them together for an easy to clean dispenser for your pet.
DIY Cardboard Cat Feeder
Animal lovers and pet owners will love this DIY Cardboard Cat Feeder. Make your cat feeder with a little bit of glue, cardboard, and a few other materials. Provide your cat with their favorite treats by building them this unique feeder that you can customize to fit the look of your home. Cut your cardboard into a rectangular box and slide the pieces together to create a feeder. When you are finished with your project, place some treats inside the tray and watch as they roll out onto the floor of your home.
See More DIY Projects For Animals:
DIY Dog Door Projects: Learn to craft a DIY dog door in simple steps, offering your furry friend the freedom and convenience to come and go as they please.
DIY Cat Fountain Plans: Try your DIY skills and create your cat fountain at home! Your feline friends will never run out of fresh, running water again.
DIY Cat Hammock Ideas: Discover how to easily build a cozy DIY cat hammock and provide your feline friend with the perfect relaxation spot at home.