Whether your kitten is an indoor cat or an outdoor cat, they both need a place to call their own. But making a DIY cat bed at home doesn't require professional woodworking skills. As you'll see in this article, making a comfy bed for your feline friend doesn't require any power tools. All it takes is a few household items and some creativity to come up with a perfect spot for your kitty to nap.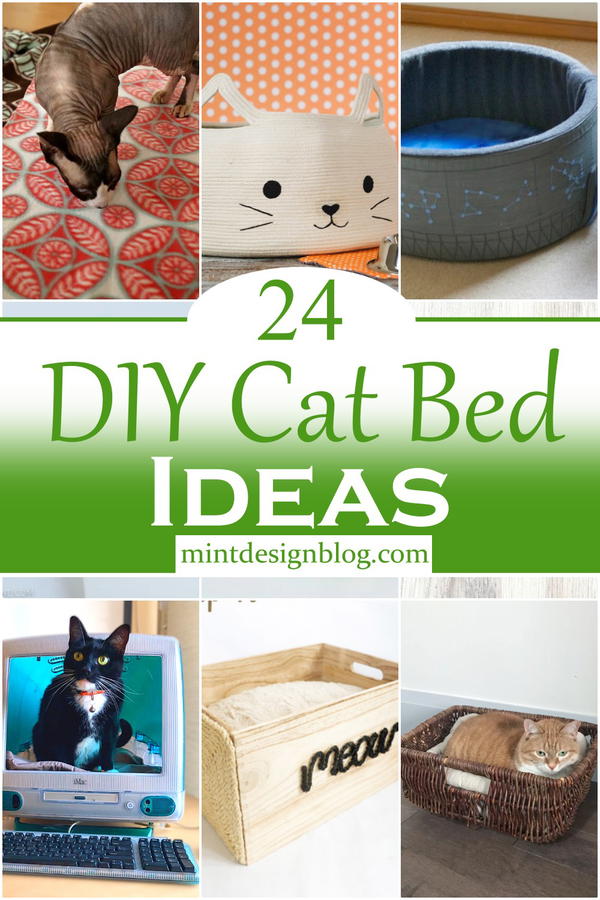 If you have been thinking about crafting something for your kitty, then let us help you realize the idea and make it happen. Scroll down and get inspired by these 24 DIY cat beds that will give you all sorts of ideas on what to do with your spare time. With some time, effort, and a little bit of imagination, you can make something that will provide your cat with hours of comfort.
You Can See:  20 DIY Dog Ramps
No-Sew Cat Bed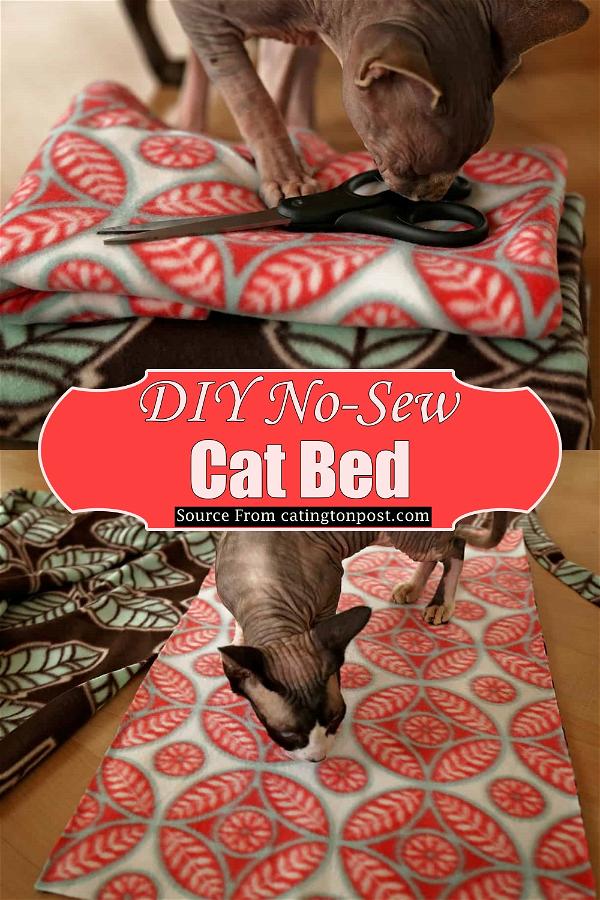 Making a no-sew cat bed is possible even for the most inexperienced crafter. It's affordable, fun, and easy to do. If you have a cat, you know that they love to snuggle up in warm places. Unfortunately, sometimes you can't be there to provide that warmth. So, why not make your cat a bed of his own?
This no-sew cat bed is soft and warm for your furry friend to enjoy. The project is simple enough for a beginner and quick enough to be completed in an evening. This would also make a great gift for any cat owner in your life.
DIY Cat Bed From Old Sweatshirt
Making a cat bed from an old sweatshirt is not only very easy to do, but it's also very cheap. You can craft one with your kids. If you're worried about the safety of your kitty friend, you can use a pillowcase filled with the material instead of a sweatshirt. Once you have made the basic shape of the cat bed, you can decorate it however you like. You can also make a cover for it that reflects your cat's favorite color. This is a great gift for any cat owner, and it will keep them entertained for hours.
How To Make A Cat Bed
If you love cats, then you'll love making this cat bed. It's soft and cozy for your cat to nap in and looks great in any décor. It can be done with the things that you already have at home. This is an easy project and it's perfect for beginners who want to give it a try. You don't need to go to the store to buy anything extra for this project. The only things that you need are some old sheets, pillowcases, and a little bit of time. You can use the fabric scraps to fill in any gaps so that there will be no loose threads. If the fabric has a pattern, make sure it's facing down. To make the cat bed more comfortable, but a few soft pillows inside. Your cats will love it.
DIY Reversible Cat Bed
Don't you just love the way your cat sleeps on a bed? It's not the most ideal place for them, but it's warm and cozy. It's also a bit chilly in the winter and that's when you need to make your cat bed. As you know, cats love to sleep on a soft surface, especially if it's warm. So, this simple DIY reversible cat bed will be a perfect choice for your cat.
These reversible cat beds are super simple to make. They only take two circles of fabric and some quilting batting. Because you'll be turning the whole thing right side out, it doesn't matter what side of the fabric you use as the outside or inside of the bed. You can use any fabrics you like, but remember that the more slippery the fabric is, the more likely your cat will be able to slide out of bed.
DIY Cat Bed
The cat bed is a comfy place for your pet to sleep, especially on cold nights. To make this project you need a piece of fleece, a pair of scissors, and some polyester stuffing. Measure your desired diameter on the piece of fleece then cut two circles out of it. Use the circles to line each other than stitch the circumference of the circle but leave a small opening where the stuffing will pass through. . After that, flip the circle inside out, then measure another small circle on it. Put some polyester filling in the middle and sew it up. Cut out an inch-long strip from each corner, this will help you to turn it inside out without getting stuck. Turn it inside out and use a needle and thread to close the opening.
DIY Cat Bed From Cardboard
Have you ever tried to buy a cat bed? They are expensive and not all that cute. If you want to make your cat a bed, it would be best to make one yourself. Making one is easy and it doesn't cost too much either. The materials needed for this project are cardboard, staple gun, hot glue gun, scissors, polyester wadding, fabrics, and felt. This project is very easy to complete. All in all, this project should take about an hour or less to finish. It would be better if you have some knowledge about using power tools like staple guns or hot glue guns.
DIY Cat Bed With No Money
While you can easily find a variety of pet beds for sale in stores, if you have a little time on your hands and a few spare materials, you should take the time to make one yourself. Not only will you save money, but you will also create a one-of-a-kind pet bed.
A small wooden or plastic crate large enough for your cat to fit inside comfortably. A piece of fabric that is larger than the crate itself. This includes the bottom as well; it should hang down several inches below the crate when finished, so your cat can easily step into it from the top and not have trouble getting around inside.
DIY iMac Cat Bed
Mac and computer parts can be recycled and the exterior casing can be reused for other projects. This allows you to have a clear case that you can customize inside and A true iMac cat bed with a transparent shell. The original color of the iMac could be changed with spray paint. This is a perfect project for recycling purposes. This project is very low cost.
The first thing you want to do is clean the outer shell of the iMac. You want to make sure that there is no dust or debris on the monitor screen. Then, you need to unlatch the hinges. Remove the top of the monitor and lay it flat on a table to use as your workspace. Now lay down a layer of foam padding on top of the iMac shell and glue it down with a hot glue gun or tape it down with strong packing tape. This will be where the cat rests their head while they sleep.
DIY Hanging Cat Bed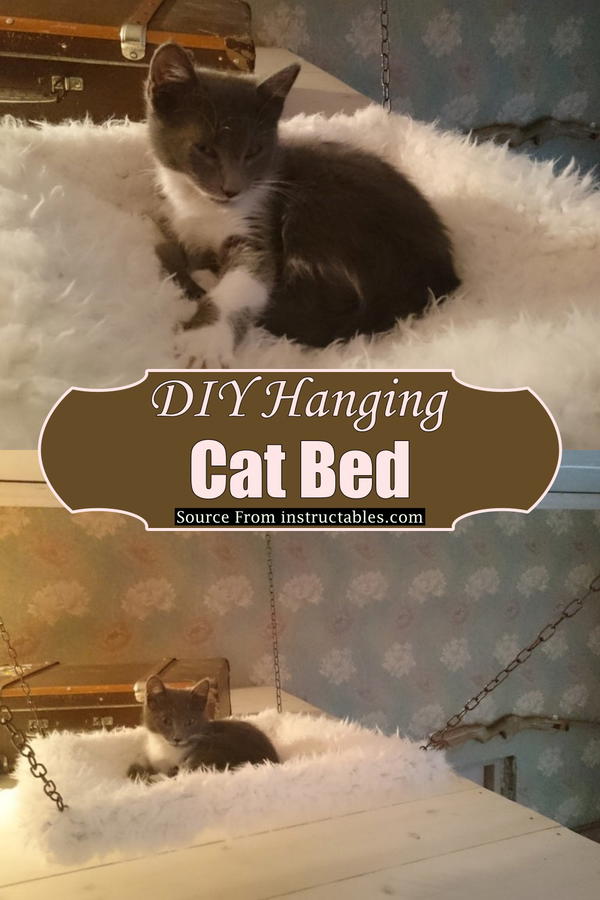 This DIY Hanging Cat Bed is a cute, stylish, and functional addition to your home. It can be easily made in an afternoon, and if you have some basic woodworking skills, it's even easier. The materials needed for this cat bed include wood, fabric, rope, ruler, pliers, nails, hammer, wood glue, staple gun, and scissors. Start by making the frame for the bed then get a long chain or rope and cut it into four pieces. Then, lay down the fabric on top of the frame and secure it using nails and a hammer. Next, you have to secure the chain or rope through the holes in the frame using a hammer and pliers. Fill up holes with wood glue and once it dries use a staple gun to secure it in place.
DIY Stargate Cat Bed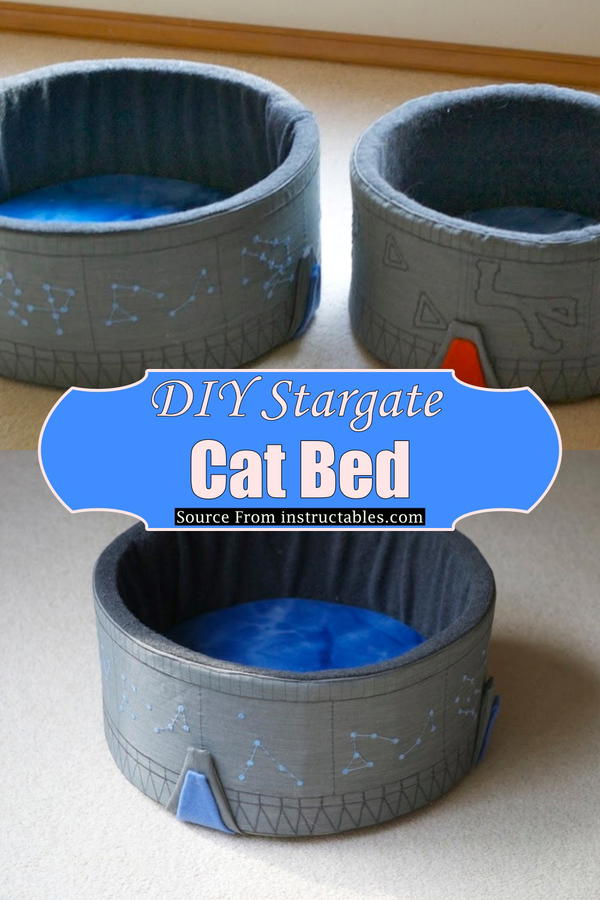 This is a fairly easy sewing project and can be made in just a few hours. This DIY Stargate Cat Bed is perfect for any cat or dog lover. They are great for decorating your living room, bedroom, or even office. If you want to get more creative with how you display your Stargate, you could also hang it on the wall! Even if you're not a cat or dog lover, this project is still fun to make. You will look cool with this hanging in your home.
The only thing you need to do is to print out the template on paper and trace the patterns on fleece fabric. Cut the pattern following the traced lines and then use a hot glue gun to fix them together. This project is perfect to make your cat feel like it is in a real stargate. The cuteness of this item will help you make friends with your cat, so be prepared for many hugs and cuddles when you present them to your pet.
DIY Cat Tent
If you're a cat owner, you can build your kitty a much-appreciated cat shelter. It's simple and fast to make and a truly unique gift for a cat lover. Cat tents are great for cats that like to hide or sleep in enclosed spaces. They're also great for cats who tend to claw on furniture or tear at their bedding. Cats like to have a space that's just theirs, as well as an area where they can relax in peace.
It is a great way to save money, as you don't have to buy an expensive cat toy. You can make this tent with an old T-shirt and some wire hangers. The great thing about building your cat tent is that you can customize it. You can make the bottom larger or smaller depending on the size of your cat or kitten and the space you have available.
DIY Cat Nap Basket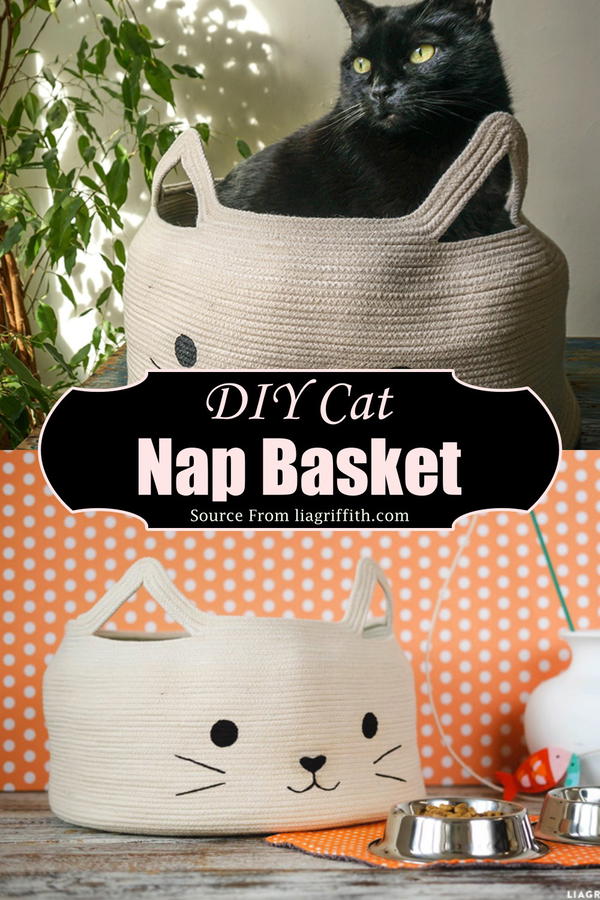 It's good to create your items for the home, whether it be a simple doormat or a basket. It saves you money, but it allows you to customize the item so that it reflects your personality and tastes. The Cat Nap Basket is perfect for a kitty that loves to sleep in her favorite spot. The finished product can be used as decor or filled with toys for your beloved kitty companion.
First things first, you need to measure the stuffing of the cushion. Mark with a fabric pencil where you will sew eight pieces of batting in a zigzag manner. Leaves a small opening where the batting will pass through. It is better to cut one piece at a time to avoid damaging the material from cutting.
DIY Basket Cat Bed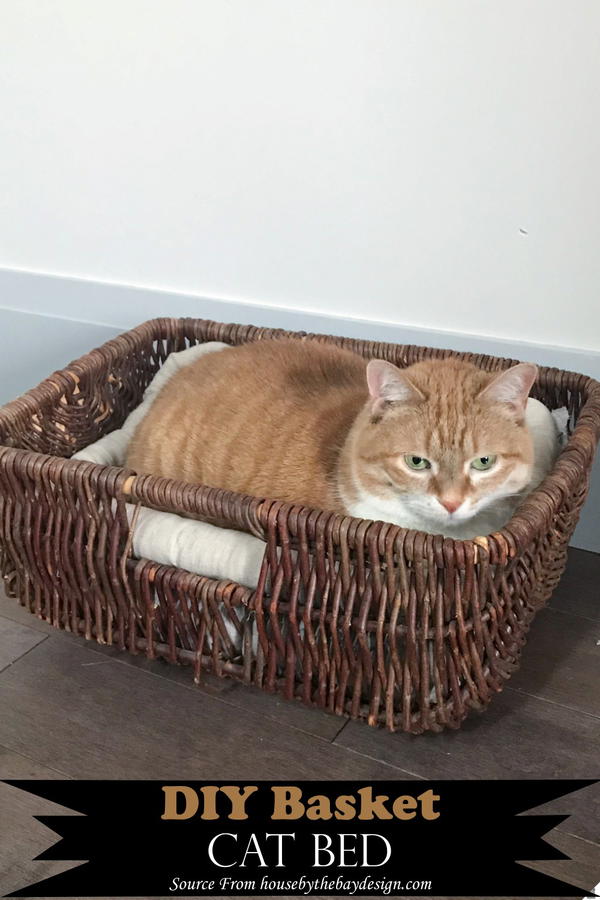 If your cat is having a hard time with fleas and other insects, you need to make sure that you have the right bed for them. It is essential to show your love to your cat as they give their love to you as well. The DIY Basket Cat Bed is a great way to keep a pet entertained while they sleep. It's also an ideal cat bed for cats that can't fit inside the standard ones. Get a basket from the store at an affordable price of course then make the cushion. The shape of the cushion must be the same as the shape of the basket. You can also add some toys and extra bedding so it will look more comfortable for your pet cat.
DIY No-Sew Cat Bed
This no-sew cat bed is perfect for those who love to create but never want to sew. This DIY no-sew cat bed is much cheaper than buying a pre-made one and allows you to choose the colors of your bed. Not only that, you can use this under your chair, in your room, or in a cubby hole in your basement. This cat bed features extras such as sidewalls and a small blanket.
No-sew cat beds are a great way to show off the fact that you love animals. The best part is that you don't have to sew anything. This bed is made with two different colors of fleece and stuffing from a rectangle-shaped piece of batting. You glue the base of the circle to some cardboard and frame the base with another piece of fleece. Cut out the sides walls, leaving a hole in the middle where your cat can climb into the little cave and rest his or her head on top of the cushioned walls.
DIY Multi-purpose Cat Bed Description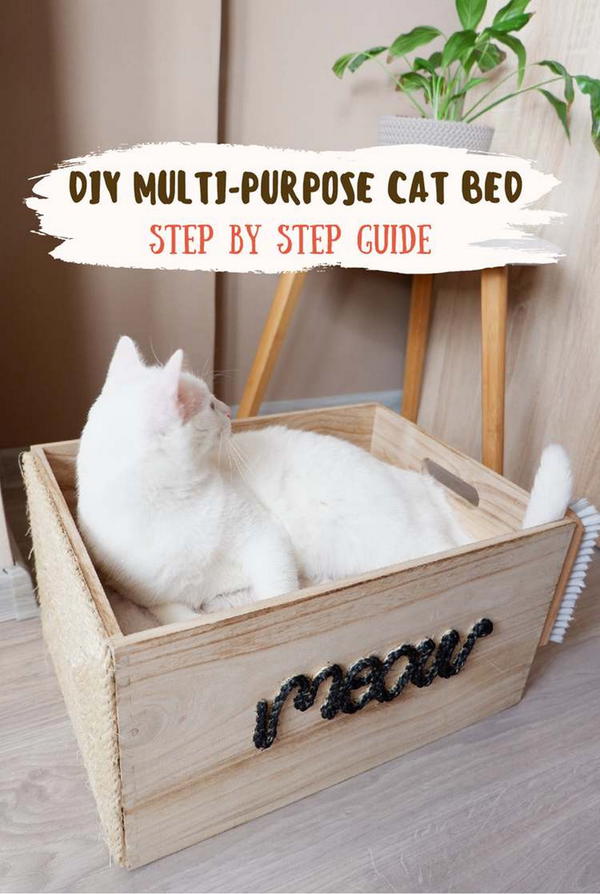 The DIY Multi-purpose Cat Bed is the perfect addition to your cat's cage or a great stand-alone piece to accommodate your cat's needs. This DIY project is easy to make and is made with crafts that you most likely have lying around the house. The materials used are also very inexpensive and can be found at your local craft store.
Tired of your cats always wanting to be in your lap? Or maybe you're looking for an alternative to purchasing more expensive cat trees for your kitty? Well, this DIY project is just what you need! Making this bed will take about an hour, but then again, it depends on how fast you work, so grab a pencil and paper, and let's get started.
How To Build A Cat Bed
Building a cat bed is not very complicated, but there are a few things that you need to consider. The first thing you want to do is cut the wood into the right sizes and shapes. You will then need to sand the wood down to remove any rough edges and splinters. After your wood has dried, you can start putting together your cat bed. Most beds will require you to attach a bottom to the frame of the bed. This can be done using nails or screws.
Once this is complete, you will want to add some cat-friendly features to your bed such as scratching posts or places where they can rest their heads. This will make your cat feel more comfortable in their new home. Lastly, you should cover up any exposed parts of the wood with fabric or soft material so that it is comfortable for your cat.
How To Make A DIY Cat Bed
It's a great way to make your cat happy, and it's also an excellent way to make the house look cleaner. Cutting down on the amount of laundry you do will save money and time. You can also hang a cat bed from the ceiling or attach it to a wall with minor modifications. Just be sure to mount the hooks into sturdy beams or studs. The materials required for this DIY project include a t-shirt, a cardboard box, scissors, duct tape, and two hangers. Cut off the lid of the box and cut off the twirly part of the hangers as well. Then, bend the hanger to form an inverted 'U'. Place the two bent hangers in the box in a crisscross pattern. Your cat can now relax in his or her new home, which looks like a giant shirt.
Stuffed Cat Bed DIY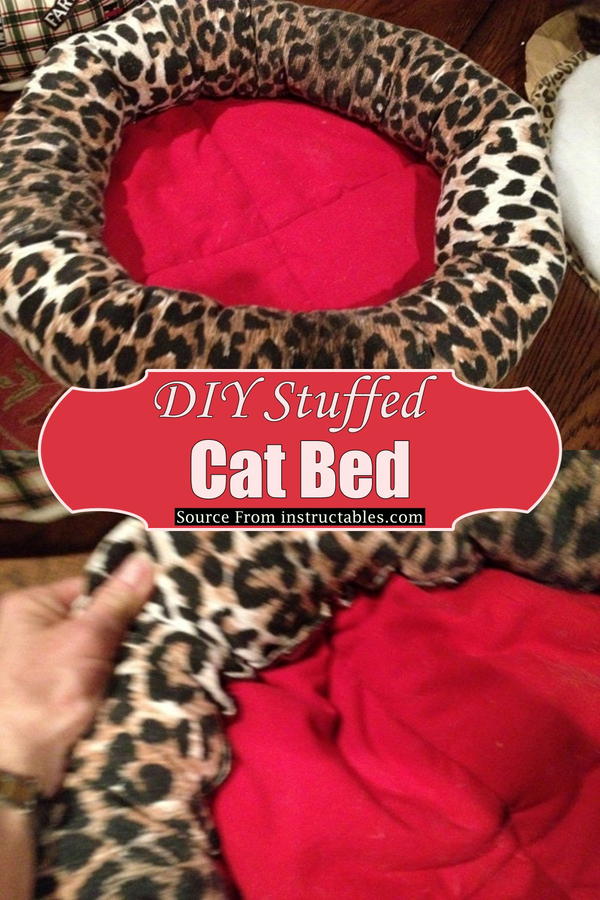 This is a really simple DIY cat bed. It could be a great gift for someone with a cat, especially if it is handmade. This stuffed cat bed looks very simple to put together and it is an easy way to make a gift for someone with a cat. If you aren't that good at sewing, you might want to try making this stuffed cat bed. It might be just the thing you need to get started on your journey of learning how to sew. This stuffed kitty bed seems like it will be easy enough for anyone who wants to give it a try and if you do decide to make one. You will need a 17" circle of fabric, quilting batting, and scissors. Sew together the ends of a long rectangle of batting to make it into a circle. Use this to frame the base circle.
DIY Deluxe Cat Bed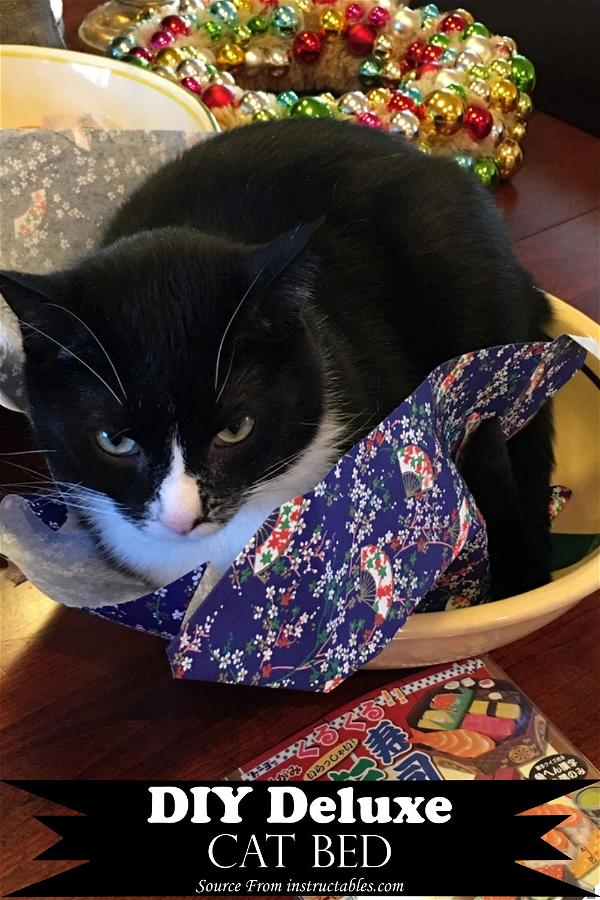 Cats are the best pet in the world. They're super cute, and they don't bark nor do they shed. However, their owners have a hard time when it comes to taking care of them. One of the major problems is that cats love to sleep in high up places. The best way to solve this problem is to craft your cat Deluxe bed. And all it takes is a lot of paper and a printer with good quality printers. You just need to print out the needed pattern using your computer with a good internet network, and then cut out the pieces and assemble them like a big puzzle. The process is easy and very cheap. If your cat has a deluxe bed that makes him feel secure and pampered, he'll never want to sleep elsewhere.
DIY Iron Throne Cat Bed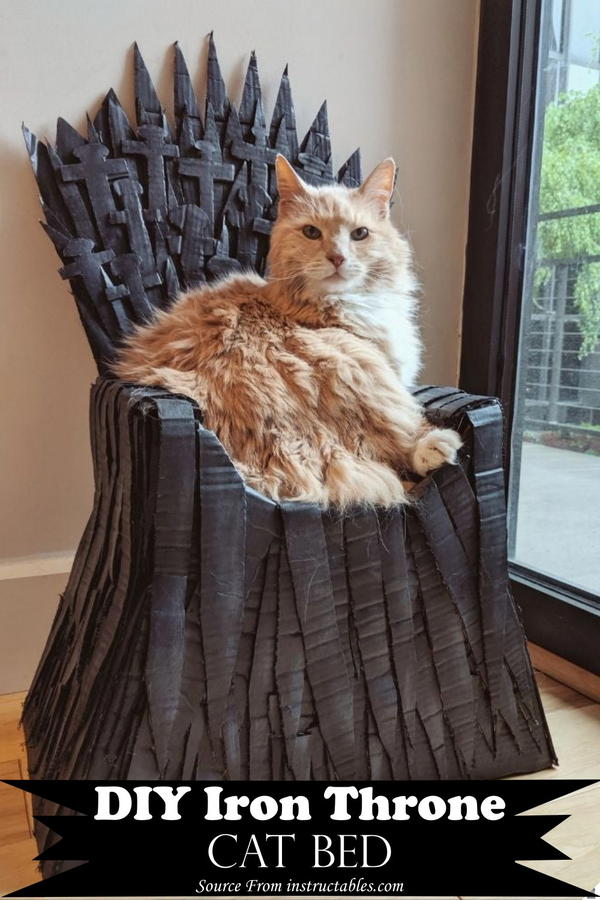 This is a very cool cat bed that you can make using an iron throne. It looks really beautiful as it is made out of cardboard and you can use any color of your choice. You need some common materials like cardboard, paint brushes, acrylic paint, a hot glue gun, a craft knife, and a hot glue stick to make the bed. First, you need to get a cardboard box and then strengthen the structure of the box with hot glue. Cut the sides and top of the lid to assemble the back of the throne. Cut out a ton of swords, then glue it to the back of the throne. It is better if you paint it with a nice color to make it look more attractive. Let it dry for some time, and your iron throne cat bed is ready for use. Your cute cat will love it for sure.
DIY Cat Bed Made Of Jeans
Cats are one of the most popular pets in the world. They are independent, playful, and can be very affectionate to their owners as well. If you have a cat, then you know how much joy these creatures can give you. And if you don't have one yet, then here is a great opportunity for you to make your cat bed.
If your cat has eaten away all your furniture and clothes, then this DIY Cat Bed Made Of Jeans project will come in handy. All you need is a pair of old denim jeans and some butty-shaped foam rubber. The first thing that you should do is wear the jean for each of the butty-shaped foam rubber then tie the remaining sleeve of the legs to form two legs for your bed. There! You now have yourself a beautiful and comfortable home for your cat.
How To Make A Cat Bed
Making a cat bed for your cat is a great way to show your love for it. Cats are known to be picky when it comes to the things they like. They will choose the spot where they will feel most comfortable and close to you.
Making a cat bed from an old box is easy. All you need is some cardboard, a couple of pillows, and some scissors. Cut the four covers of the box and wear the shirt for the box. Tie the Shirley at the bottom of the box and fold the two arms by the side of the box. Bolce the blanket inside the box, and you're good to go. If your cat doesn't like using boxes as beds, then don't force them to sleep inside this one. Try again later at night when your cat is asleep.
DIY Cat Bed Using Ohhio Braid
Cats are funny animals. They feel happy everywhere. They can lay on top of the table or they can sleep in any corner of the room. As long as it is comfortable, they will love it. To make them feel even more comfortable, we have to provide them with a special space.
The Ohio braid is made from a thick string, which can be purchased at any craft store. The four-stitch chain is then used to frame the cat bed — perfect for any kitty who loves to curl up and enjoy a good snooze. They are easy to make and can be great gifts. If you love your cats, but you don't want to spend a lot of money on them, this is the perfect DIY.
DIY Quick Cat Bed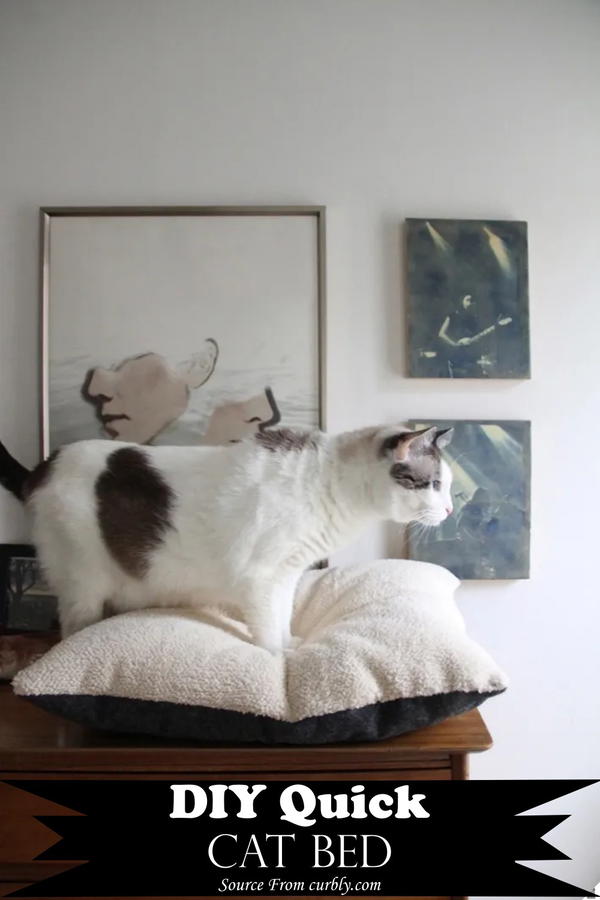 The DIY Quick Cat Bed is a simple project but does not lack style or comfort. You can make it in any size and fabric that you want. It will only take an afternoon to make and will be sure to keep your furry friend warm during the long winter months. The materials needed for this DIY cat bed include stuffing, a sewing machine, thread, and scissors. First, decide what size you want your cat bed to be. Then cut out two pieces of that size from the fabric that you are using. Next, sew the edges round, leaving a small opening where the stuffing will pass through. After that, turn it inside out, then fill it with stuffing. Finally, close up the hole by hand or with a needle and thread.
See More DIY Projects For Animals:
20 DIY Dog Ramps:  Build a versatile DIY dog ramp to assist your pet in reaching beds, cars, and more - a budget-friendly project for your furry companion's needs.
DIY Dog Wheelchair Plans: Craft a DIY dog wheelchair to enhance mobility for your furry friend. A simple, affordable project for their comfort and independence.
DIY Cat Litter Box Plans: Explore DIY cat litter box plans designed to offer privacy for your feline while seamlessly blending into your home décor.