We offer DIY Cat Litter Box Plans that show you how to make an eco-friendly, modern cat litter box from different materials! Your kitty will appreciate these admirable litter boxes and you and the planet!
One of the pet supplies you need to plan as soon as you get your kitten is a litter box. This article shows you how to build DIY cat litter boxes from everyday items in your home. Since it is one of the most popular items sold in pet supply shops, chances are you can find many interesting things on offer. But if you want to save some money, why not show off some handyman skills and try making a DIY cat litter box for your feline friend? You will avoid spending money on materials and items that are not that easy to move from one place to another, but these homemade boxes will also add an unusual touch to your home décor.
DIY Cat Litter Box Plans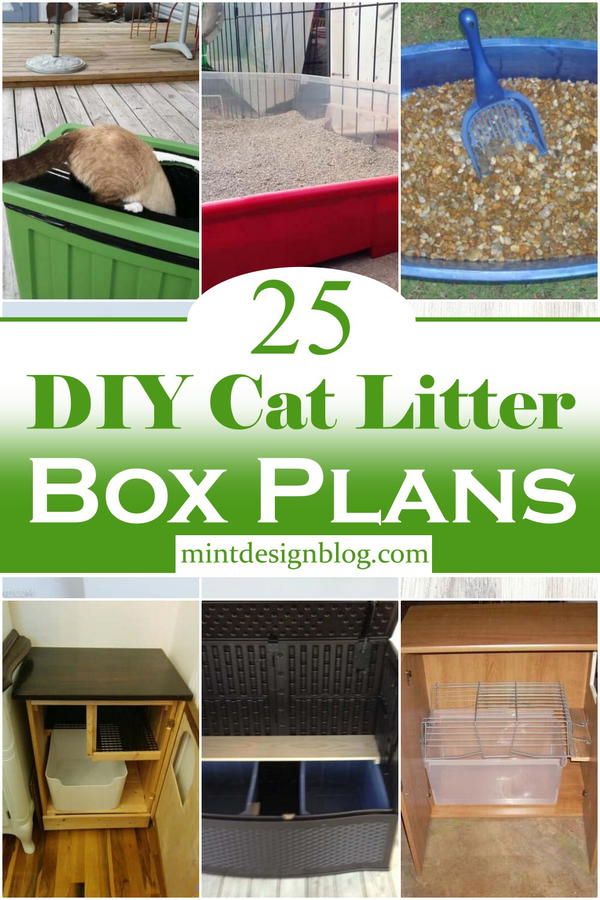 If you love your litter cat but struggle to find a convenient place to keep the litter box in your home, this article will present you with several DIY cat litter box plans. Anyone easily follows these, and they will provide you with great ideas on how to build or modify their litter boxes into something more pleasing, both to you and your kitty.
Outdoor Cat Litter Box DIY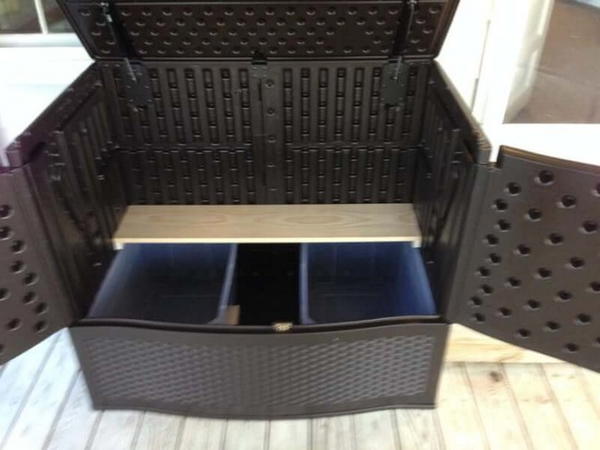 Many pet owners take advantage of the convenience litter boxes to provide; however, those that own several cats often find it necessary to locate their cats' needs near their permanent cat houses. This is done when the owner cannot locate a large enough space for multiple litter boxes without disrupting the living area, rather than crowding and obscuring your home with litter boxes. The design of this project not only allows you to easily move and position the individual litter pans on each side, but it can be easily customized to include a large pass-through door that will connect the indoor cat house with the outside cat enclosure.
Custom Cat Litter Box DIY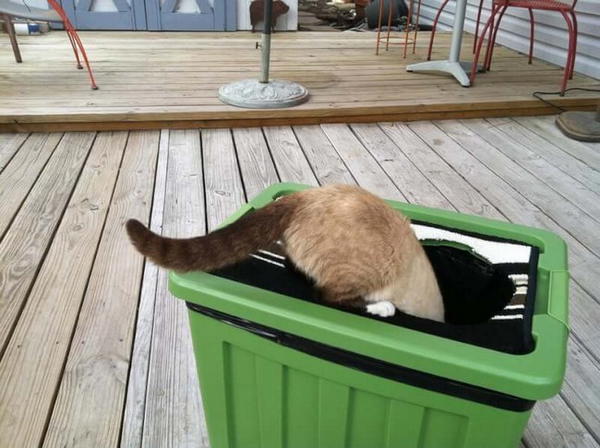 Pets are becoming increasingly more popular these days; this is why there are so many articles about them. In such a case, you can always share with your friend the benefits you get from your pet or detail the stuff you have to do to take care of your pet. If you are a pet owner, maybe you know how it feels when the cat makes a mess inside the house. Fortunately, there are things that you can do to prevent this, one of which is making a litter box for your cat to keep the place clean and tidy.
Pine Pellets Cat Litter Box DIY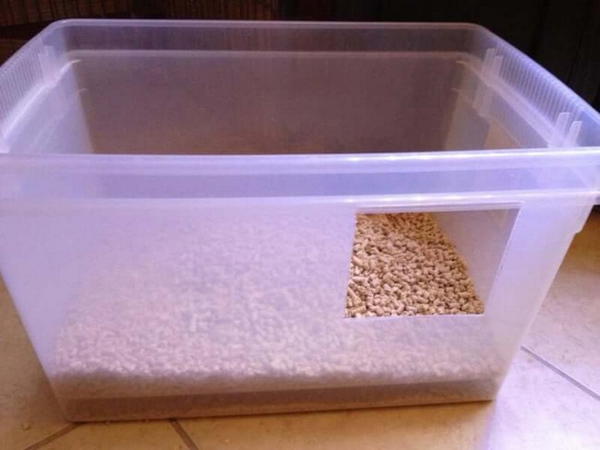 Create a sanctuary for your cat with this beautiful handmade pine-pellet litter box enclosure. Pine pellets are used as the litter, making it smell and stay fresh day after day. Using our dome-like boxes makes it easy to use and clean. There is no need to go out and buy expensive litter boxes when making your own is fun and easy. The advantage of this pine pellet litter box is that it can eliminate up to 95% of the ammonia odors associated with the traditional clay cat litter. It can save on your water and electricity bills. Pine pellets will not stain your cat's paws and will not stick when the kitty uses its paws to bury.
Hidden Litter Box With De-littering Cat Walk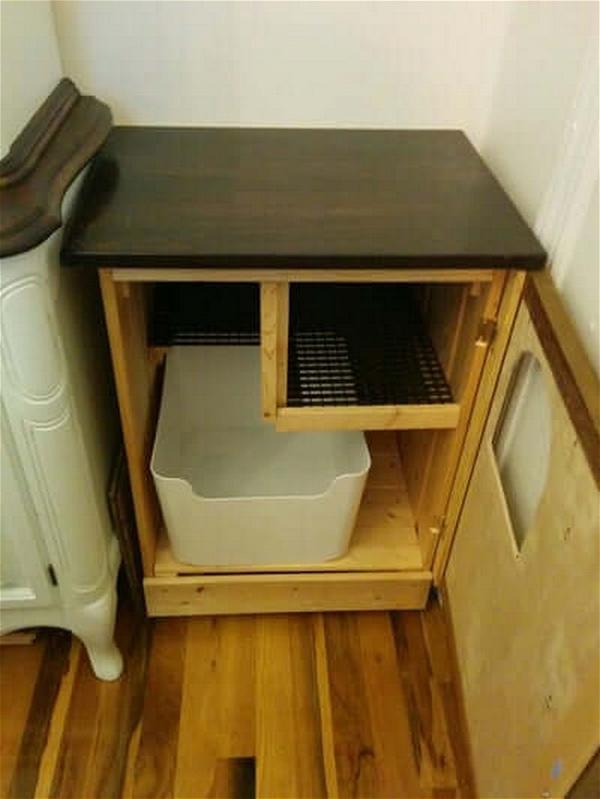 Everyone knows that cats love to hide. They demand it. So many will be drawn to the Hidden Litter Box with De-littering Cat Walk. Your cat can nap and feel secure in this fully enclosed home while rain, snow, and wind stay out. You're free to open the cat door on top and drop in treats. And since this is a recycling bin, you'll have room for all the litter your kitty can kick out each day. This is a cool project to build and the perfect gift for cat owners. This can be hidden in a refrigerator, bookcase, closet, behind curtains, or underneath furniture.
Building a Feline Pine Self –cleaning Litter Box
If you love cats but hate cleaning their litter, may I suggest trying an innovative new product? The Feline Pine self-cleaning cat box is amazingly simple—you add little pine pellets and a cat box liner, fill the top with one liter of water and set your cat down in front of it. Your kitty takes care of the rest! I was suspicious about this idea, but it does work. This ingenious product can save you time, money, and sawdust! Connect it with others by using an L-shaped bracket (or something similar) on the outside. Then put up the pan, fill with pellets, and enjoy!
Giant Cat Litter Box DIY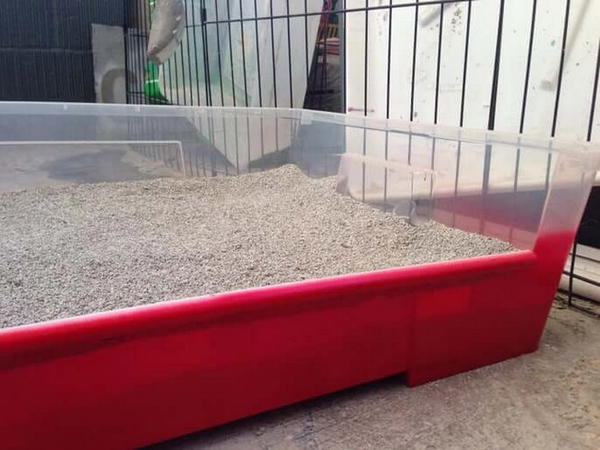 If your cat is difficult to accommodate, take a look at this Giant Cat Litter Box DIY. Here we will offer you pure and detailed guidelines. For bigger cats and family pets, a Giant litter box may solve your home's litter box problems. A large plastic bin with a flat bottom can be transformed into a custom-size litter box. While constructing your Giant litter box, it's important to use only non-toxic materials.
Green Pee Cat Litter Box System DIY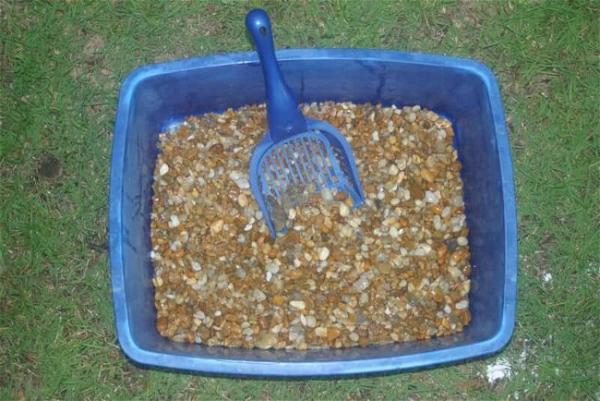 Our helpful cat litter tray works off of anaerobic digestion, an extremely natural process in which bacteria digest solid waste material. Clumps are often coated in urine in a regular litter box, leaving your cat's feet to track bacteria and unwanted odor into your home. Our revolutionary solution keeps the clumps away from the urine to reduce the risk.
This is achieved by using a tray filled with non-porous gravel and punched holes for drainage, sitting on top of another tray with holes filled with baking soda to neutralize odors. Combined, they create an environment where solid waste sits on top of baking soda, allowing the anaerobic bacteria to grow and digest the solid waste slowly over a long period. This makes scooping much less frequent than in a regular box.
Disposable Cat Litter Box DIY
Waste less litter and keep your cat clean every time. Turn a cereal box into an inexpensive litter box that is easy to dispose of and easy to clean when necessary. Using a plastic bag inside the cereal box makes it easier for your cat to retain their scent, while the invention allows you to reduce the cost of purchasing litter by limiting the amount used per day. If you have any doubt about the disposable cat litter box, you can try our DIY design for your cat.
IOT Cat Litter Box DIY
Do an IoT Cat Litter Box DIY to gather statistics about your cat's weight. An iot cat litter box is a cloud-enabled automated self-cleaning litter box that tracks the weight over time of your cat. This cat box also alerts you via an app when it is time for cleaning and sends notifications to pre-determined people in case of emergencies. This is a pretty complex project, so it is recommended for intermediate to advanced users.
Homemade Litter Box DIY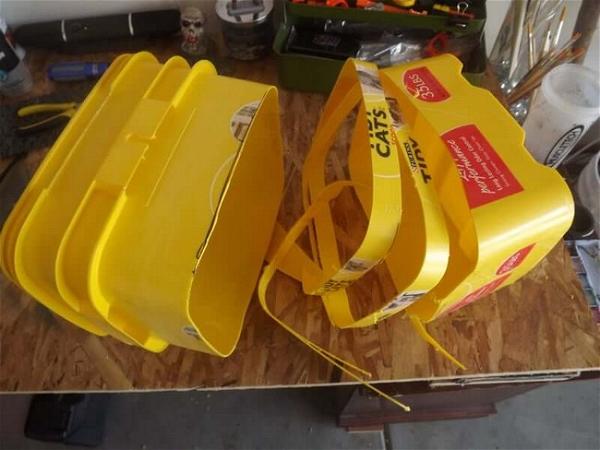 This homemade litter box will make it easier to clean your cat's waste and prevent bad smells. Materials for making the litter box are inexpensive; you can use a food storage container. This DIY litter box is easy to build; follow these steps. Which type of storage containers are suitable? Of course, take into account their sizes. You can also choose their colors according to your cat's preference, although they do not mind being inside this box. This is a great opportunity to show your creativity and save money simultaneously. Although easy, this project requires some basic carpentry skills that you can learn on YouTube.
Odorless Cat Litter Box DIY
Our creative cat litter box design is to be ventilated with this DIY. In my opinion, the stench of the cat litter box can make me vomit. It is not easy to deal with such a rotten smell in the house every day. A careful consideration made me realize that cats need aeration when they use the litter box, and we need a practical solution to fix this issue. I firmly believe this well-ventilated cat litter box should be efficient and eco-friendly.
DIY Cat Litter Box that Doubles as Bench
This DIY offers a cost-efficient design that allows for great storage of supplies. The cat litter box is designed to be an attractive, easy to clean box that doubles as a bench for sitting. This litter box that doubles as the bench is easy to make and requires minimal materials. The best part of this DIY is that you can save space and money simultaneously. It is constructed with the easiest materials, such as PVC and a door pull, and takes minimal time to assemble if you have woodworking tools like a table saw and impact drivers.
Dog Proof Cat Litter Box
This Dog Proof Cat Litter Box is easy to make litter box that will keep dogs out. Whether you have one dog or many, you want their paws to stay off the cat's litter box. And with three different sizes of crates and the right doors, your cats will love this litter box, too! By creating a Dog-Proof Cat Litter Box, you are making it possible to share your home with pets without having to build separate living quarters. The Dog Proof Cat Litter Box will keep large dogs and other animals from the cat's litter box.
Mess-less Cat Litter Box DIY
If you are not fond of the scooping, then it is time that you attempt this mess-less litter box DIY. This will help eliminate the litter poop out of the house and clean your floors. If necessary, the job can be tackled in a couple of hours or overnight. A number of the required materials are already inside your home. This litter box is easy to make, preventing litter from being wasted on the floor. The cat will be able to conserve litter, and you can build this project for about $20.
Hide-in-plain-sight Cat Litter box DIY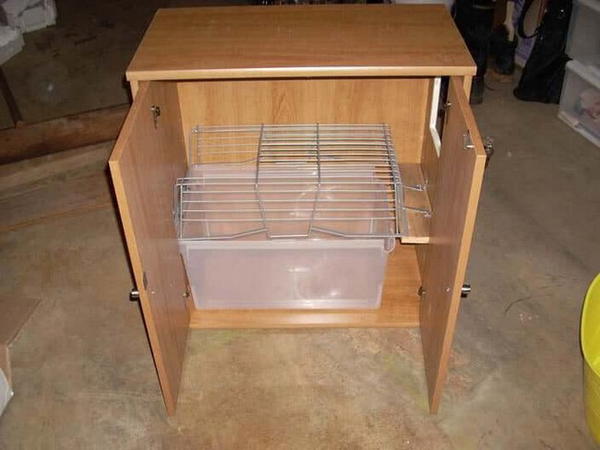 A dirty little secret of cat owners worldwide is that the majority of cat litter boxes have covers designed to keep people from seeing the unsightly mess inside. What most people do not know is that there are innovative, cost-effective ways to hide your kitty's litter box while still maintaining a tidy environment. One of these ways is by building an ingenious system that will enable you to hide your cat's litter box anywhere in your home. This cat litter box is a solution for concealed housing, especially when placed in a washroom or beside a bed. The litter box can be built for under 20 dollars using primary tools found in every workshop.
Cat litter Box Air Filter DIY from an Air purifier
Do you hate cleaning up litter that has been scattered on floors? Instead, use an air purifier. Make an air filter by turning a squirrel-cage fan into a cat litter box. This homemade device makes cleaning easy and cheap by reducing the dust and litter a cat scatters daily. The best way to eliminate this issue is to seal the cat litter box completely. If a complete seal isn't possible, duct tape or clear packing tape can help reduce the dust that gets back into the air.
DIY Smart Litter Box Sensor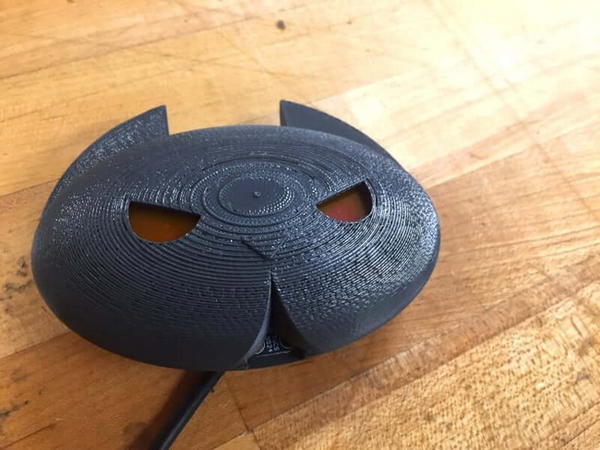 DIY Smart Litter Box Sensor provides wireless monitoring of your cat's behavior. It features a magnetic reed switch activated when the top is opened, a temperature sensor that detects the temperature and sends data via Bluetooth to your phone (or other devices), and an LED array with hundreds of colors to provide mood lighting inside the litter box. High sensitive motion detection circuit, Make the robot smartly detect cats and the motion timely clean up dirty.
Cat Litter Sifter Box DIY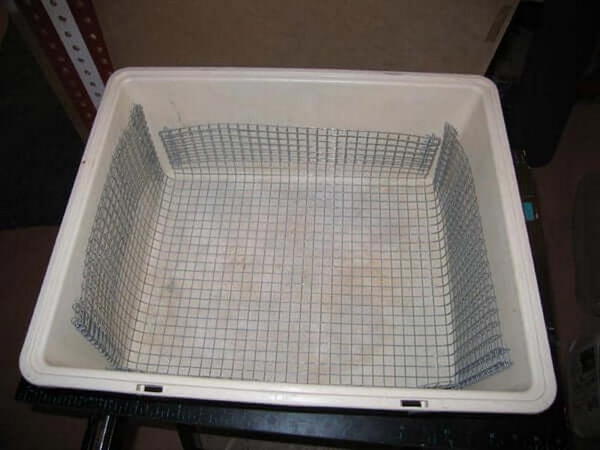 For fun, make a customized litter box for your favorite cat. The homemade sifter makes cleanup a breeze. First, measure the inside bottom of the box and cut the mesh to fit. Shape the corners. Bend surrounding mesh-up and over so they conform to the box's walls, then use tape to secure. Fill with your cat's favorite litter and watch as the kitty explores his new digs! The idea of the project is to build a slim cat litter box with a tapered opening that can fit in a space between two door jambs.
Cat Litter Box Cleaning Indicator DIY
Cat Litter Box Cleaning Indicator DIY The litter box often washes dirty, and your pets make the bedraggled space, which is disagreeable. The proposal is that when pet cats use a filthy space, the Arduino system will start up and shine different light colors as a signal. You may not see it at first glance, but it uses the high-tech RGB LED that outputs an array of colors to show your pet's privacy. This litter box automatically indicates when there is poop in the litter; for most cat lovers is likely not such a big thing, but for someone who doesn't have time to clean the kitty box regularly, this is one of the biggest issues, as you know your cat excretes waste every day. With our amazing Cat Litter Box Cleaning Indicator DIY, let's not be lazy anymore.
DIY Cat litter Box with Vent Fan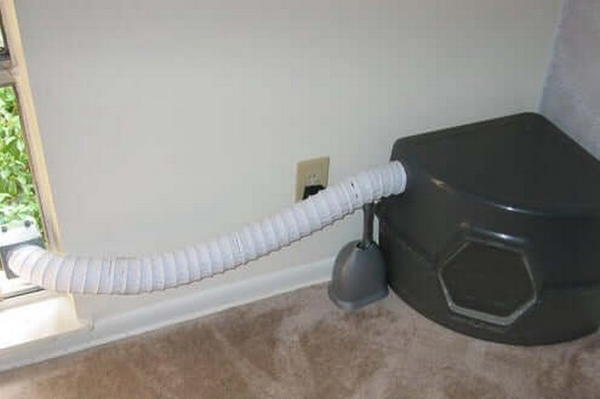 Do yourself cat litter box vent fan can help dispense the unwanted odor coming from your litter box. The best part is it's cheap and easy to make. You need a pc fan, plastic hose, an old litter box, glue, and screws. First of all, you need to construct the box for your fan. Then cut out a hole for the fan. Attach the window for your box and attach a hole to that window for your plastic tube. Lastly, attach the plastic pipe from your litter box vent to your fan box. Here, I'll show you how to build a super awesome DIY cat litter box with a vent fan in less than 10 minutes.
Cat Litter Box Dust Reducer DIY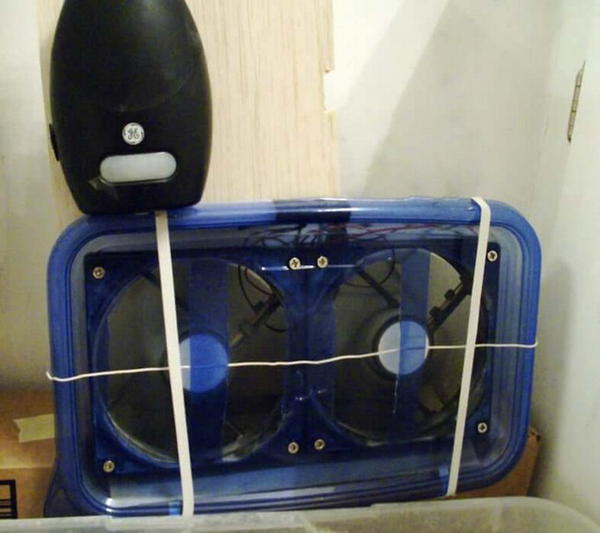 Most cat owners are too familiar with the constant battle of litter box dust. But if you add a fan to a cat litter box, you have an easy way to control it. You can set up the fans to turn on when your cat enters and turn off when she leaves. Or, if you've got more than one cat, they can each use their box and turn on their fans as they enter and leave. Either way, the result is fewer particles floating through your home. The advantages of this device are that it keeps your house clean, and you do not have to touch the cat litter.
Cat Litter Box with Litter Scatter Stopper DIY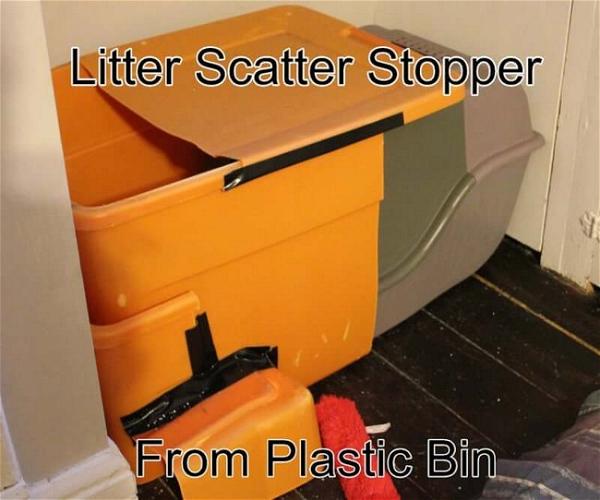 You are designed to keep your cat litter and strands in the box, free from mess. Its high walls and extra-large capacity allow for good waste absorption and will not leak. The low wall design allows pets to easily step into the bin from the litter pan, reducing effort and mess when cleaning up after your pet. This method is easy to put together with duct tape, a plastic bin wide enough to fit onto the sides of your box with low walls. The solution is as simple as it is aesthetically pleasing! All you need is a durable plastic bin and duct tape to get rid of that litter box mess.
Travelling, Foldable and Disposable Cat Litter Box DIY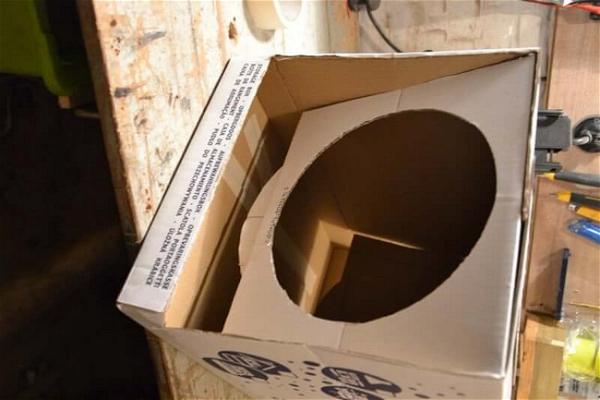 This DIY design provides a practical solution to a common issue – traveling with your cat. Using the cardboard from a shipping box, you can create a portable litter tray for your cat that is small enough to fit in your luggage (if you're flying) and large enough for your cat to use without problems. This foldable design will allow easy storage as it can be used as a supply box when not in use and is disposable, so buying new boxes shouldn't become an expensive habit.
See More DIY Projects For Animals:
DIY Snake Hide Ideas: Explore unique DIY snake hide ideas to offer optimal comfort to your slithering pets! Craft the perfect hideaway that is as fascinating as your pet.
DIY Bird Bath Ideas: Invite beautiful birds to your garden with our DIY bird bath ideas! Enjoy a serene and lovely oasis that is easy to construct and a joy to watch.
DIY Cat Shelves Ideas: Unlock your feline's inner explorer with DIY cat-shelf ideas! Design engaging, space-saving vertical playgrounds to enhance your kitty's happiness.