Are you obsessed with cats? Don't we all. You love your cat, and you want him to feel like he's part of the family. Here are some DIY Cat Shelves Ideas that you can build in your home for him. If you have a minimalistic home, you can choose an upper shelf. If you want to overdo it, you may want to create an entire room devoted just to your cat!
Whether it's a lion-head figurine, a full-body cat ornament, or even a simple string of jingle bells, while some people love to do this, others prefer to show their love in action rather than keep it hidden away inside their homes. In the article below, we decided to share some clever DIY cat shelves that you can make yourself with your favorite pet in mind. We will explore many different styles of DIY Cat Shelves Ideas that you can make for a cat. There are also pictures within this article. Furthermore, we have made sure to choose the best specifications based on what size your cat is. By following our tips and tricks, you have everything you need to build cheap and attractive DIY Cat Shelves Ideas for your feline friend.
DIY Cat Shelves Ideas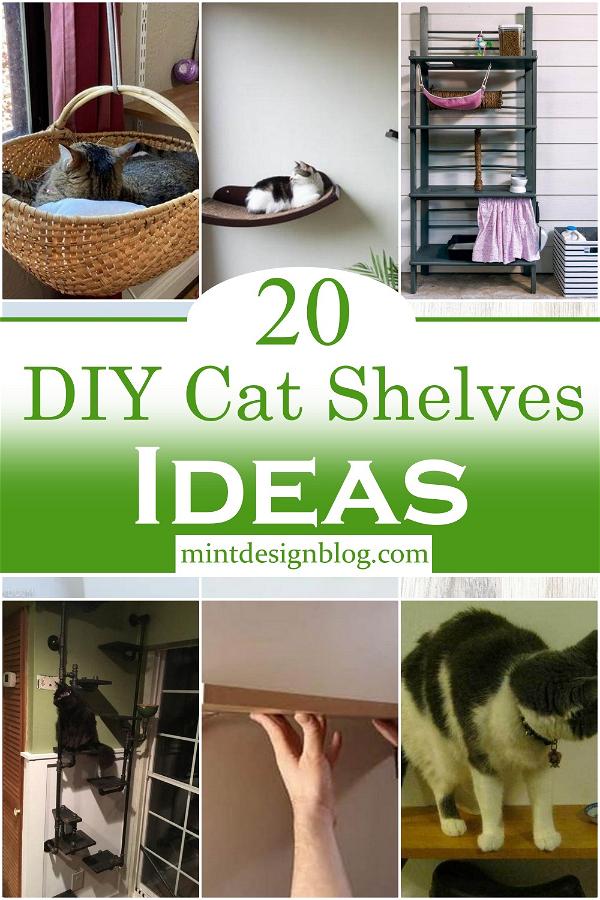 Are you trying to find the right place to put your cat's food and water bowls on? Well, you don't have to look further than yourself. A great way to decorate your home and at the same time give your kitty the right space to eat and drink is by building some simple yet beautiful cat shelves of your own. Our expert featured article will give you step-by-step picture instructions on how you can build some attractive cat shelves with ease. The Indoor Cat Shelves will help you organize your cat's favorite spot in the house.
Make your favorite feline's home even more beautiful by incorporating one of these projects into their habitat. This article will share several DIY cat shelves ideas that are quick and easy to do with you. DIY cat shelves ideas are a fun way to add novelties and personality to the home and make it a more attractive place for felines.
Floating Cat Shelves DIY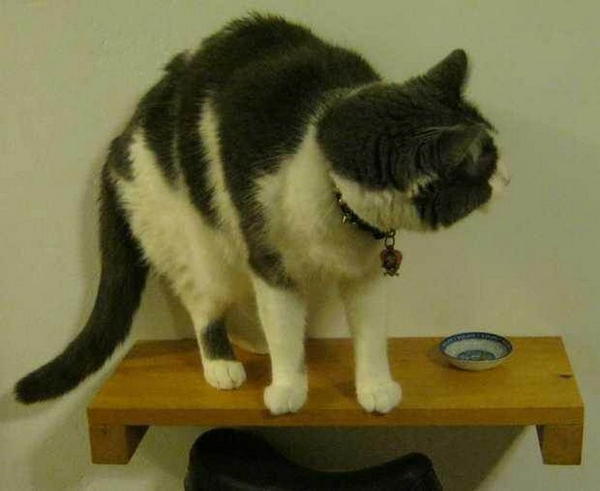 A floating cat shelf is an ultimate solution for cats who want a high place to sleep but don't want to stray too far from their families. This DIY floating cat shelf tutorial will show you how to build a shelf with straight metal brackets, stud plywood, and softwood, so your furry friend can stay safe and have plenty of room to relax. The great news is that this being a do-it-yourself project, you can build these shelves to fit any space in your home or apartment. These floating shelves will also add a nice touch of style to whatever room they go into.
DIY Cat Wall
DIY Cat Wall Balcony – very useful and practical because it expands the house's silhouette, attracts the attention of passers-by, and amazes your guests. Save the cost of the cat tree and build it yourself. It is easy, and cheap, and you can find almost everything you need in your local hardware store. The first step is to assemble the frame from pipes, bolts, connectors, and washers. Then, you have to cut the fabric for the weaving. The fabric doesn't need any sewing – just put it over the frame and start tying it to the pipes randomly.
How To Make DIY Cat Shelves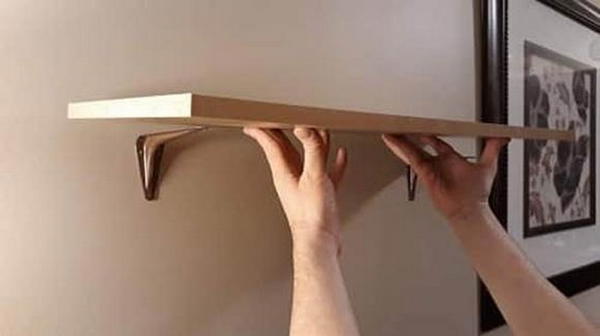 It's time to make DIY cat shelves for your curious feline friend. You can also take this opportunity to save a little money because you will be creating this yourself. It's always a good idea to create DIY projects that involve our pets because it shows them that we are their forever homes. The creator designed this project to be easy for anyone who has ever assembled a child's building block set.
How To Set Up Cat Shelves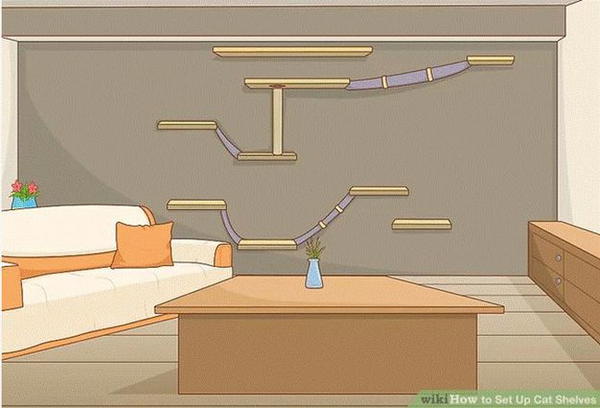 You have a cat, and you want to set up interesting shelves above its bed so it can see outside, play with other cats and look at birds without walking down or leaving the house? Cats are beloved companions, and they swell our inner beings with their enchanted kitty-cat magic. If you have a cat, you will have probably seen them stretch out their paws and land on their two back feet as often as possible to look hip, cool, and collected. In this case, you might want to celebrate your cat's pedigree by staging the shelves of your home to receive them in the best way possible.
How To Build Cat Shelves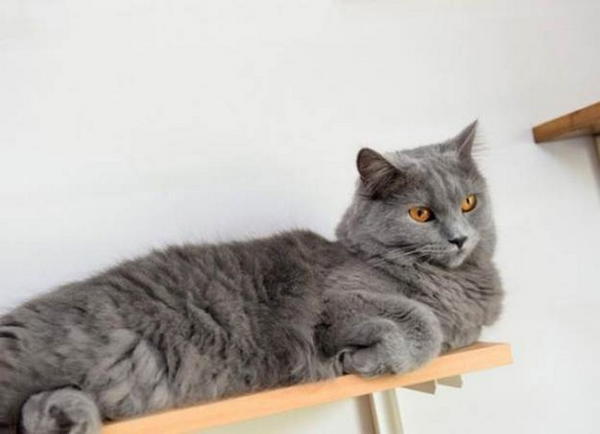 Cat shelves can become vital pieces of furniture in your house - they allow you to keep your kitty's food and other things up high, out of reach from the dog. They are also great for cats that like to nap or snuggle in small closed-off areas. This tutorial will show you how to build one with very little woodworking skills or experience. If you do it correctly, the shelf should be sturdy, and your cat will feel safe curled up on it. This shelf can hold multiple cat toys and supplies, keeping them off the floor and away from dogs.
DIY Cat Shelf
This tutorial will help you make a DIY Cat Shelf or Wall Perch for your kitten, kitty, or cat, and you can customize the dimensions according to your wants and needs. You can use Sisal Rope or something else for the base material of the perch. This project will show you how to make your own using PVC pipes and caps. This can be made out of any length of PVC pipe, but the measurements will be shown in the video.
How To Make A Cat Shelf
Cats are very active creatures, and they love a good view. If you live in a high-rise building, this makes a great option! Various DIY stapling options, such as Pinterest or Instructables, have some amazing tips you can use on this project. It's a fun and easy project to make your cat shelf, no matter the size or length of your cat. With all of the instructions, you'll be done in no time and have your one-of-a-kind cat shelf that all of your friends will love. This is an awesome gift idea for your favorite kitty lovers!
DIY Wall Mounted Cat Shelves
Build rustic bookshelves for your kitty! Learn how to make these handy cat shelves in a simple DIY project using inexpensive wood and carpet. This design is easily adaptable to any size bookshelf you may require, making them easy to build and personal. The shelves are great for storing any item you wish, so long as it will fit. These Shelves are extremely easy to put up, and for a relatively big project, this one is going to do the trick.
Making Cat Shelves
This project is really easy, making it great for beginner DIYers. It only requires basic tools and materials. The only thing that may be difficult is cutting the wood because you've got to cut at a 45-degree angle and make sure it's straight. You might want to make sure you have the help of an extra person or family member with this project because if your shelf falls off your cat, that might cause some problems when it comes to napping time. This unique design allows you to keep the shelf hidden from view and still provide your cat with a fun place to sit and play.
DIY Cat Tree
Building a car shelf can make a great difference in the life of your pet if you have one. Visiting places becomes easy for you and your cat. Furthermore, when you have to travel for work or other reasons, your cat will go with you without any stress. If you look around a little, you will find hundreds of tutorials on making a car shelf so that your cat is safe while traveling with you. This cat tower will be an exquisite way to use your extra space and repurpose a bookshelf. The tutorial clearly illustrates every aspect, from basic shopping to the final installation.
DIY Cat Shelves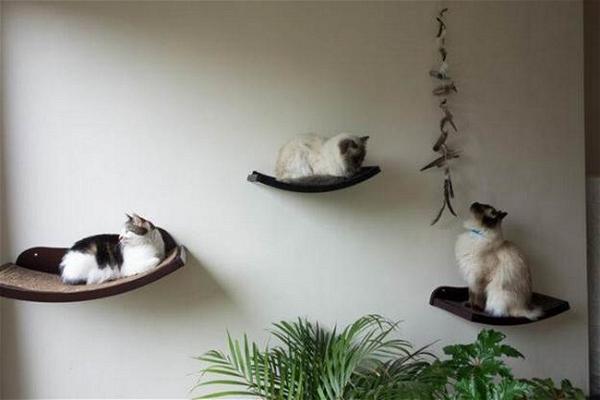 A shelving unit for cats is any furniture accessible to the cat to give him easy access to toys, food, or water. Shelves are also important to a cat's overall health as they help cats with their physical activity by allowing them to jump. Shelves can be made with common items such as crates, dressers, and cabinets. To make this shelf, you need to disassemble your old shelves. It must be good enough to disassemble it, so unscrew it with your hands. Check whether the components are strong enough while doing it and do not break the shelves. Make sure that the screws do not damage the car. After removing the top shelf, remove all of the materials that make up your bottom shelf.
How To Make A Floating Cat Shelf
To make a floating cat shelf, you will need to apply time, patience, and hard work. First off, to make the structure of the floating shelf, you will need 2x4s and other materials such as pine boards, plywood, and sandpaper. These things are particularly important because they will be used to help keep the floating cat shelf structurally strong. It does an awesome project to do with your kids, a fun date project with another creative partner, and fits any style of home. The supplies needed are few, requiring only some plywood, lumber two-by-four pieces, a feather board, clamps, and drill bits.
DIY Low Budget Cat Shelves
Your feline companion needs a place to hang out, and you can build a DIY cat shelf on a low budget. This tutorial will show you how to build an intensively designed cat shelf. First, cut the cardboard pieces into large squares. Then, use some wood strips for the floor and the top shelf. Glue small sticks made of straw and staple them all over the floor and sides, then cover it with carpet. Use screws to connect the shelves, then cut the rope into the required size and ensure that all the ends are even. Use super glue to stick both ends of one rope into a cardboard sheet and form a curve. You can pull it up or down depending on your cat's height.
DIY Cat Tree
If you need a large cat shelf, you've come looking in the right place. This video tutorial will show you how to build big cat shelves with plywood. We'll walk you through every step - from cutting out the pieces to assembling them and installing them with proper brackets. Once completed, they can then be mounted on a wall or attached to a structure like a piece of furniture. Your cat will have plenty of room to play and rest - making it perfect for larger cats. They are also great for small dogs!
DIY Wall Shelves For Cats
Having a cat can be amazing; having several cats can be a handful. It is not easy to make room for them in your home once they've grown. There are too many litter boxes, food, and water bowls, making it even more difficult to find places for them to lounge out of the way. DIY Wall Shelves for Cats is a functional and cat-friendly wall planter that offers your cat a safe place to jump off from and rest on and a private place to hide and sleep. The shelves are created from several pieces of wood, brackets, ropes, and screws. Feel free to share this video with your friends if your cat enjoys the shelf.
DIY Cat Shelf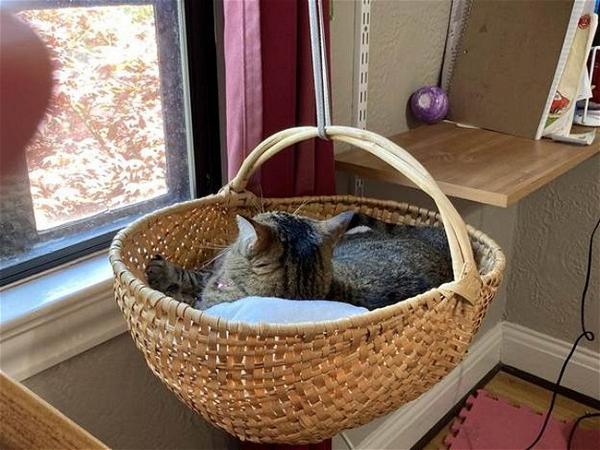 Making this DIY Cat Shelf is easy; you need to have some tools capable of cutting the sheets for you to their required sizes, a saw that can make measurements, a screwdriver, and a drill with certain drills. This might be the easiest project ever because cats can do anything for their owners and will pay you back with a smile on their faces. It's a great place to put your cat's belongings, such as toys and food. Everything needed for this project is listed below, so follow the instructions below.
Floating Cat Shelves DIY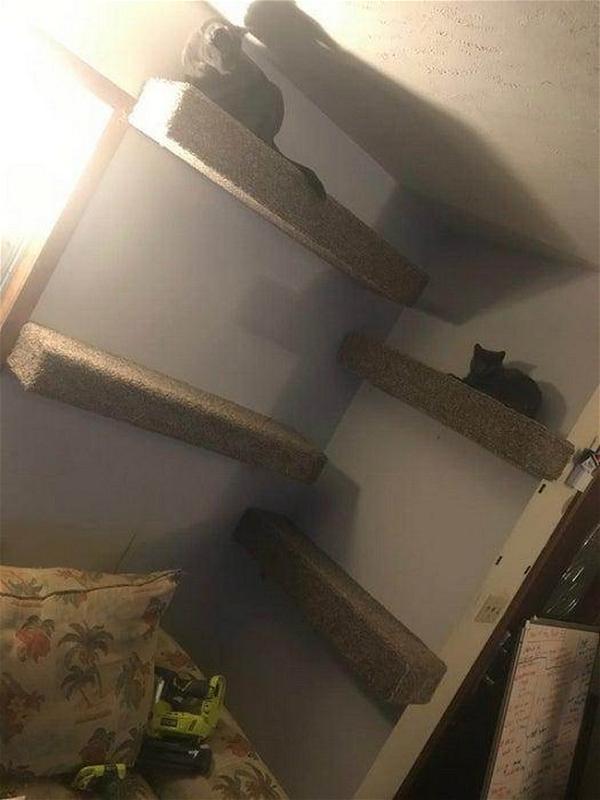 Here we come with an easy-to-follow guide on building a cat shelf that your cat can't help but love. This step-by-step guide provides easy-to-follow images and dimensions to make your cat shelf specifically sized for your cats. The floating shelf design is innovative and spaces saving as well. The steps will teach you how to drill, cut, and attach the wood so that you can build this yourself! The best thing about the cat shelves is hanging them on any door. They are also easy to make. Just follow these easy steps, have some carpentry skills, and you'll get your cat the shelf that they deserve.
DIY Cat Adventure And Escape Wall
In this article, we will be building a DIY cat jungle gym and climbing trees. The entire project can be done for about $100 in materials. Cats love to climb, and any vertical space dedicated specifically to them is an instant hit. Cats will spend time playing, sleeping, and exercising in their new jungle gym every day. This cat climbing tree is a great interactive toy for your pet cats to keep them entertained when you are away from home. This project may seem daunting, but following the step-by-step guide carefully, anyone with basic DIY skills and tools can build this cat jungle gym in just a few hours.
DIY Cat Shelf
The DIY Cat Shelf is a fun, easy, and inexpensive project that gives the cats a place to hang out that is their own. This cat shelf sits in front of the sofa and angles halfway around the room. And might I add that it was incredibly simple to build. With only one tool required, a jigsaw – this whole project can be built in a weekend. The cat shelf goes around the back of my couch, and the half-circle shape style makes it easy for my cats to walk on. The shelf portion is four feet wide and is made up of five sections that are attached using a bridal. Each section is cut made from ⅝" plywood, which is thicker plywood that makes it stronger.
See More DIY Projects For Animals:
DIY Dog Harness Projects: Create your dog harness with a DIY project to ensure a perfect fit for your furry friend. This personalized solution will provide comfort and control during walks while being affordable.
DIY Snuffle Mat Ideas: Explore various DIY Snuffle Mat Ideas that captivate your furry friend's senses, trigger their natural foraging instincts, and provide endless fun without breaking the bank.
DIY Dog Crate Cover Ideas: Discover budget-friendly DIY ideas for covering your dog's crate to create a cozy, inviting space that combines comfort and style. Transform your pet's crate into a den they'll love to call home.