DIY cat wheel plans are an excellent way for your cat to exercise; These wheels are great if you have a cat who needs to get some activity but does not want to take them outside. Here are 17 different DIY cat wheel plans that you can choose from. Some cat wheel plans are free, and others will cost a little money. But with all of these options available, you should be able to find something that works for your budget and needs.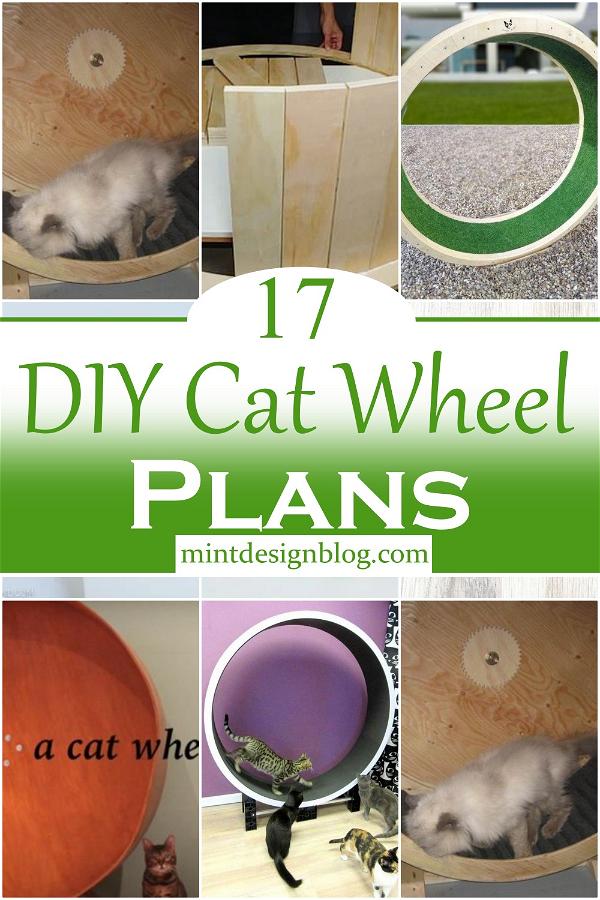 The wheel is a great way to keep your cat fit and healthy; It provides exercise, cardio workouts, and muscle strengthening. Cats are very active animals, and they love to play; They have their own ways of playing, which may not be the same as humans. So, giving them a wheel allows them to exercise in their own way. So Building a cat wheel is an easy task if you know the right directions. You can quickly get all the materials you need at home or near your house. You need a few plywood boards, screws and nails, hinges, wheels, and a drill machine. The building process is also so simple that you can do it yourself or ask someone who has experience in such projects to help you out.
Here are 17 fantastic cat wheel plans and ideas that give you step-by-step instructions to create your own large cat wheel for your furry friends.
You Can See:
How To Build A Cat Wheel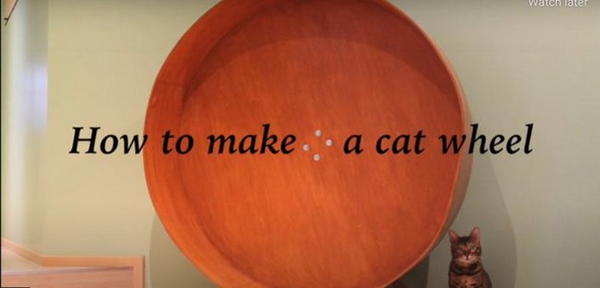 If you want to keep your cat happy and healthy, you'll need to provide them with plenty of exercise and stimulation. While most cats enjoy being outside, it's not always possible to let them out, especially if they risk getting lost or injured. This DIY cat wheel provides an excellent solution for these types of problems. A cat wheel is a great way to provide your cat with hours of fun and exercise. These detailed instructions walk you through the process of building a sturdy yet precise plywood good locking-shaped cat wheel.
DIY Cat Wheel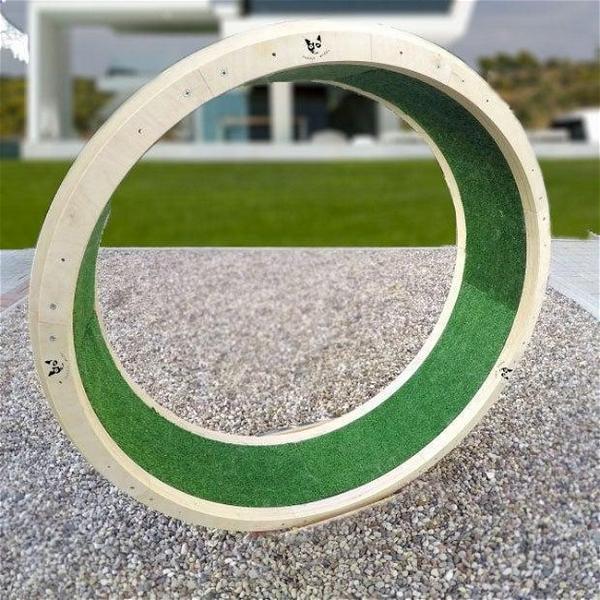 This DIY cat wheel is a great project for anyone wanting to have a little fun and is also a great way to keep your cats happy and entertained. Use the CNC machine to cut out the wheel, or try other methods like jigsawing or even drilling holes in the wood if you don't have access to CNC. If you're feeling ambitious and have access to a CNC machine, this guide show you how to use it to cut out the wheel for your DIY Cat Wheel. Use this guide that shows you how to assemble it all.
DIY Cat Wheel
Make your own DIY cat wheel for your feline friend to exercise and play with. Wood is better for cats than plastic, and it doesn't take a lot of time or money to make this wheel. Get out the plywood and the glue gun, then put the entire thing together! It's a fun DIY project, and when you're done, watch your cats go wild for their new toy. Watch this video tutorial to learn how it is made.
How To Build A Cat Build Wheel
The cat wheel is a project that anyone can build; It's not too difficult to make, and it will provide your cat with hours of entertainment. The process is easy and very doable. You will need a router (Or a small drill), ocular circle cutting jig, plywood sheet, and screwdriver. This video will demonstrate how to build a cat wheel. This project is designed for those who want to make something for their cats in the home.
How To Make A Cat Exercise Wheel
Making a cat exercise wheel is an excellent way to get your cat to exercise and have fun at the same time. Remember that you will need a lot of space for it to work when making this. This device may sound complicated, but it is easy to make. Using standard carpentry tools like a saw and a drill, you can build this cat exercise wheel. This step-by-step tutorial will cover everything you need to know to create it, including the materials, tools, and costs required so that you can create your own.
DIY Cat Exercise Wheel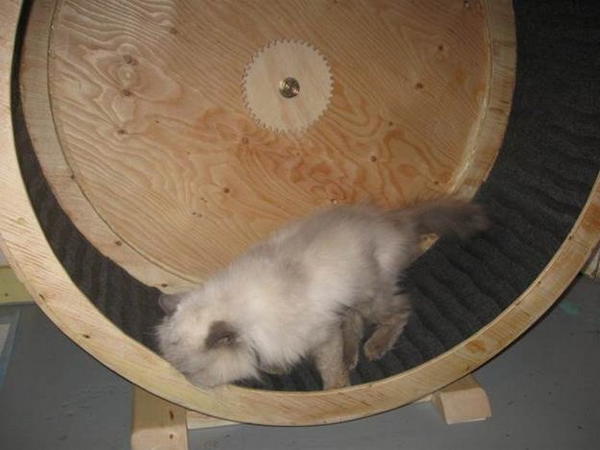 There are many fun activities to do with your cat, but one of the best ways to exercise an indoor cat is playing. If you don't have time to take your cats out for a walk or even time for play, then an exercise wheel is a good choice. This DIY cat wheel might be easy to make, but that does not mean you can make it cheap. Go through this guide that will teach you the complete process.
Low Budget Cat Running Wheel
The Cat Running Wheel is a low-budget wheel that can be made with items found at a local hardware store. It consists of five sheets marked on the top, middle, and bottom for proper alignment. The side edges are also made from a form board. This wheel can easily be assembled by two people in less than an hour and will cost you less than $40! This video will show you the whole process from start to finish.
How To Make A Cat Exercise Wheel
A cat exercise wheel is an excellent way to give your cat some much-needed exercise while also helping them shed those extra pounds. The best part about this homemade cat wheel? It's easy to make, only takes a few bucks to put together, and can be completed in just a few steps! This exercise wheel will also help your cat stay fit and healthy while exercising. This is a simple project that you can make with things you probably already have around your house, and best of all, it's free!
DIY Cat Wheel From Cardboard
Look no further if you're looking for a fun, cheap, and easy way to make a cat wheel. This DIY cardboard cat wheel will be the best thing ever made for your fur baby. Best of all, it's made from cheap materials, which means your wallet will stay fat as well! With this easy-to-follow instruction in this video, you can make your own cat wheel that keeps your pet safely active while at the same time keeping your home looking fabulous. Follow the illustrated steps, and let your pet enjoy a personalized ride!
Homemade Cat Wheel
A homemade cat wheel is an excellent addition to your home! It can provide endless entertainment for both you and your cat. This homemade cat wheel is assembled using wood, and it has wheels at the bottom, making it a lot more exciting and fun to play on. This homemade cat wheel is terrific and compelling. It can be made by yourself with some simple tools. It is made from wood, two pieces of MDF, a curve jig, and a router. Your cat will enjoy it so much each time they use it.
DIY Cat Exercise Wheel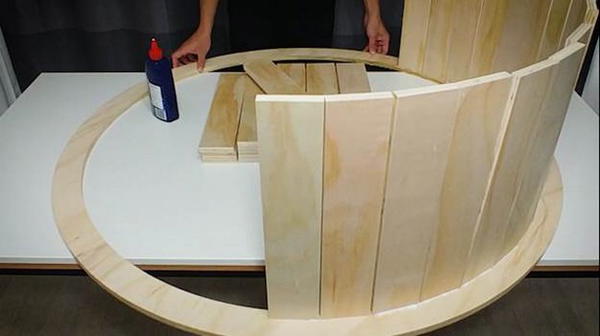 This DIY cat wheel is made from wood, a screw, and a glue gun. It is a beautiful project and a less costly wheel for your cat to work out. With this design, you can save money, have fun and watch your cat reduce weight while doing its best to be healthy. This DIY Cat Exercise Wheel can help encourage your cat to use their energy and give them some much-needed workouts. This easy project has a beautiful design that looks great in any home.
How To Build A Cat Wheel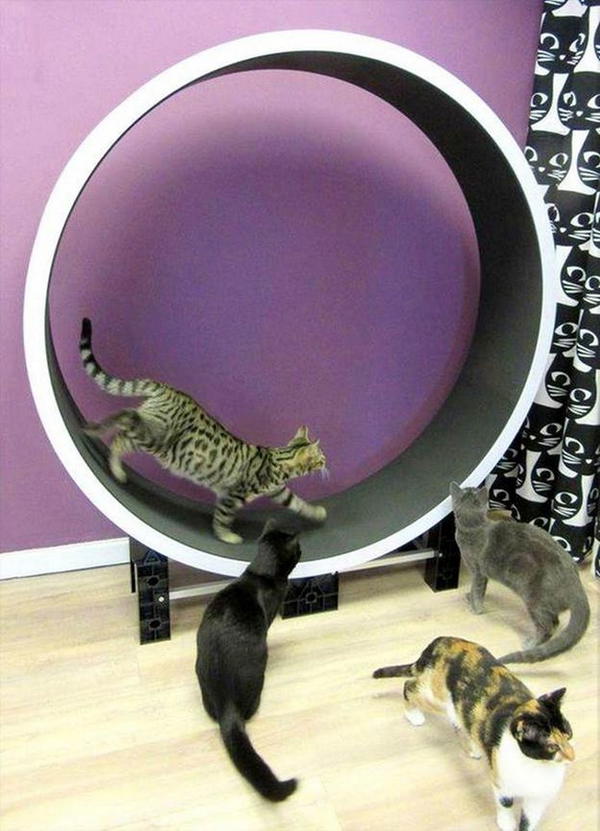 This DIY cat wheel is an easy project that can be completed on weekends. It's a great item to add to your cat's play area and give them lots of exercise. This project is effortless to make and is fun and cost-effective. The best thing about this project is that you can customize the size of your cat, so no two cats will be forced to run on the same cat wheel. Go through this guide to learn more!
Inexpensive Cat Wheel DIY
Need an inexpensive cat wheel to keep your kitty in shape? This DIY project comes with easy instructions for making one yourself out of materials you probably already have around the house. This Cat wheel is affordable and easy to make. It only has a few parts; most of them are just screws and bar clamps. The spindle is connected to the wheel to make it spin freely. This spinning wheel is fun for cats and helps keep your cat fit.
DIY Cat Wheel On A Budget
This DIY cat wheel is perfect for high cats and kittens. It keeps them entertained while stimulating their mental and physical exercise. The wheel is designed so cats can easily access it even if they are disabled. This wheel will allow your kitty to work out in the privacy of their own home. This is a cost-effective way to make a safe, fun, modern cat activity system for your feline friend.
How To Make A Hamster Wheel For Cats
Making your own hamster wheel for cats is a great project to share with your kids and can be done in just a few hours. You can make a cat-sized hamster wheel that runs on table tennis balls using simple materials. This video tutorial will teach you how to build your own running track that uses dowel rods as the axle, plus other design tips. Follow the instructions in this tutorial to help your cat have lots of fun!
You can also see: DIY Hamster Hide out Ideas
How to make a Cat wheel
A DIY cat wheel is not just a great way to give your cat some exercise and entertainment but also helps deter him from scratching your furniture and climbing on counters. Building a wheel can be difficult and time-consuming, but the finished product is satisfying to create and offers endless fun for your pet. This video will show you how to make a basic cat wheel out of PVC pipe and carpet that you can use indoors or out. This step-by-step tutorial will also show you how to train your cats to use their new toys.
Cat Wheel Assembly
The Cat Wheel Assembly is the perfect accessory for your furry feline's exercise needs. Organized Organisedof assembly, this kit includes two 16" diameter wheels, two supports, and eight rubber pads. This cat wheel design easily disassembles for convenient storage when not in use (e.g., during cat naps). This video tutorial will walk through your complete step-by-step instructions and follow-up steps.