If you love spending time with your dogs, then it is the right thing for you to help them maintain their health as you do for yourself. This is why it is good to install a dog ramp for the bed to assist in that. This way, you will be able to maintain the good health of your dogs and enjoy more time with them. They will be able to live more with you without getting hurt or experiencing any bad effects. These DIY dog ramps for beds are built to offer your pets a safe and convenient way to get in or out of vehicles or beds.
If you're tired of seeing your dogs jump out of their kennels, jumping from a height that may be dangerous and painful, then it's time to try dog ramps. There are many pet supplies available in the market but these are highly expensive. The cost-effective solutions come down to these dog ramps plans. With these, you can save a lot instead of wasting money on buying the already made ones. These plans will help you build steps for almost anything related to dogs, such
How to build a dog ramp for bed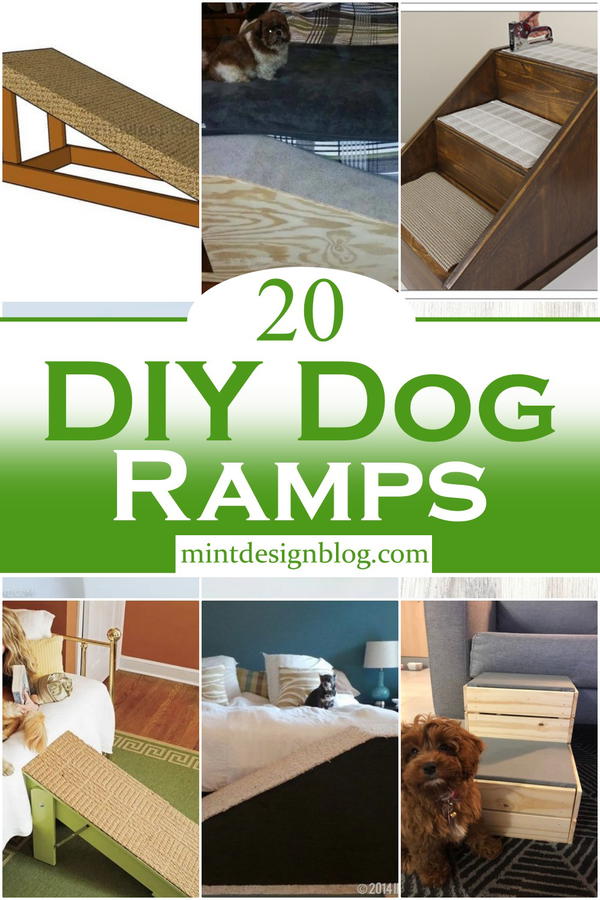 Building a dog ramp for a bed is a great way to make your pet feel useful and needed in the house. As you are about to find out, there is nothing difficult about building a dog ramp! By focusing on some basic tools and techniques, you can build a relatively safe, durable, and portable dog ramp for bed within a few hours - if not faster!
Easy IKEA Ramp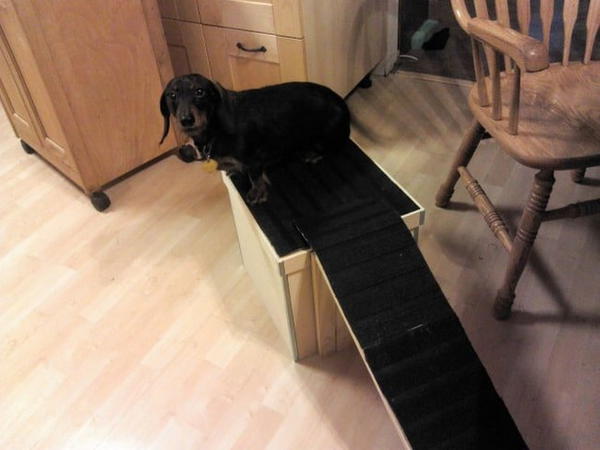 One of the easiest ways to help a small dog get on and off the bed or couch is to use an IKEA ramp. Even though this might not be the most beautiful piece in the room, it's functional and gets the job done. When a small dog has a hard time climbing up onto a couch or bed, an IKEA ramp can be a perfect solution. It's not the prettiest thing in the room, but it does the job.
Dog ramps are a practical solution for small dogs to get on and off beds, couches, and cars. Sometimes all it takes is an innovative design like an IKEA bookshelf to make it work. Even if your dog is short, there are plenty of ways to let him or her feel as comfortable as possible. A bed ramp is not only functional and inexpensive, but it's also easy to put together.
2. Beautiful Pet Steps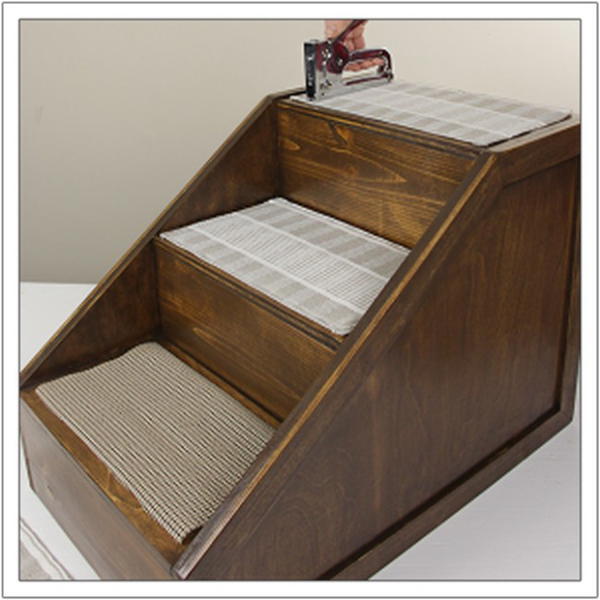 Build these pet steps for the special animal in your life and make it safer for them to climb up onto furniture, or into a bed. This charming pet staircase is sturdy, cute and a great addition to any home. It's very helpful when you want your pets to be more active, follow grooming instructions, or just want them to sleep on your bed. Do you need a safe and easy way for your dog to get up onto your bed or sofa? Why not build this Pet Steps Bookcase that easily attaches to any staircase.
3. Doggie Bed Ramp With Smart Storage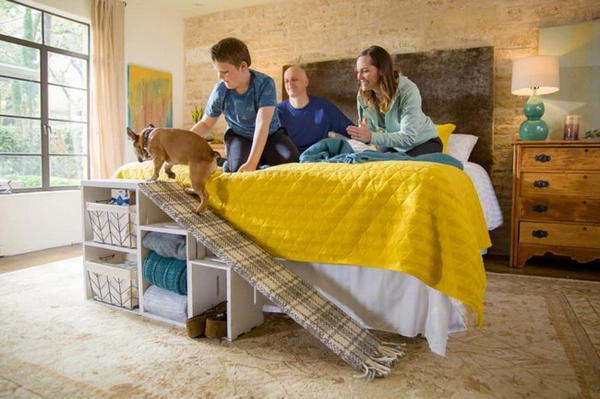 If your dog is arthritic, has joint pain from recent surgery, or is just a little old dog that doesn't want to jump anymore, this ramp will make his or her life so much easier. Beyond that, this ramp also makes for a great gear shed, or just a place to put shoes and other gear out of the way in the garage. Those of you with large dogs will think it's pretty cool that you can store 30-40 pounds of dog food up on those top two shelves!
A Doggie Bed Ramp With Smart Storage is the fastest, easiest, and most practical way to help your pet gain access to a bed or sofa without assistance. A Doggie Bed Ramp With Smart Storage is the elegant, simple way to help your pet get on and off the bed.
4. Collapsible Dog Ramp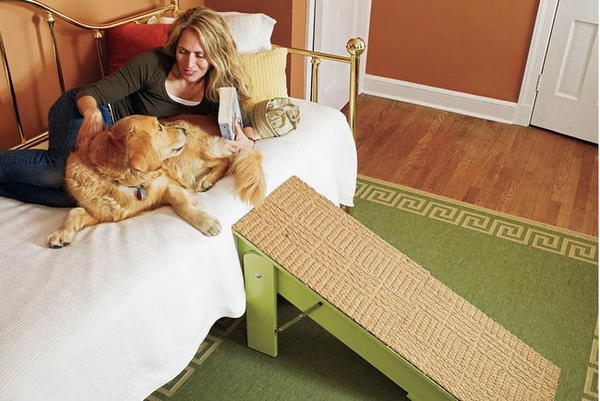 This dog ramp is designed to be lightweight and to collapse down quickly and easily. Once built, the ramp will be a static structure that can easily be transferred from bed to couch for your pet. In addition to saving space in a home with multiple pets, one may also choose to fold up the ramp when cleaning underneath the bed. Carpet or linoleum makes this simple as long as loose carpets are removed. The materials used in this project are already readily available from hardware stores, which will reduce the cost of construction and provide additional parts for someone who wishes to build additional units.
Check out the full instructions here.
5. Making A Wiener Ramp
A self-contained weenie ramp for dumber dogs, the massive steps, and heavy-duty construction keep even the most determined dog from taking your bed. As an added bonus, you can roll it out to the sides allowing you to have access on both sides of your bed. This works great with a queen-sized bed.
Today's project was a giant bolster-style doggie ramp. It is a great project for both beginner builders and those with a little more experience. The finished product is well made, sturdy, and is sure to please your pups.
6. Super DIY Dog Ramp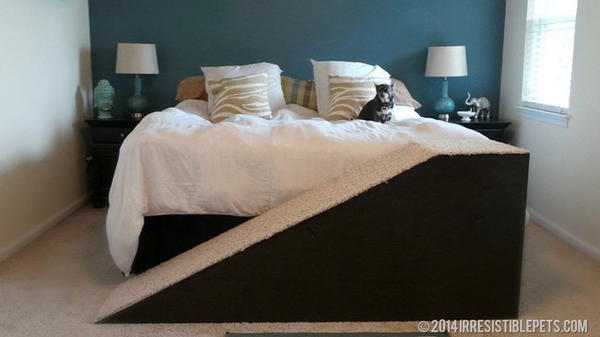 Here's the easiest, cheapest, most versatile dog ramp you will ever find. This DIY dog ramp has three times as much support at one-third the cost of some ramps available online – and takes only an afternoon to build. It has the added benefit of raising the dog up high enough to get into higher vehicles or onto higher furniture or beds. And it folds up for easy storage!
If you have a dog, this versatile ramp will save you a ton of time and money. Our dog is big, so I thought it would be hard to find a ramp. But this one can adjust to many different sizes depending on the height of your bed and the size of your dog. It is super easy to build too!
Irresistible Pets Ramp Instructions
7. 3D Instructions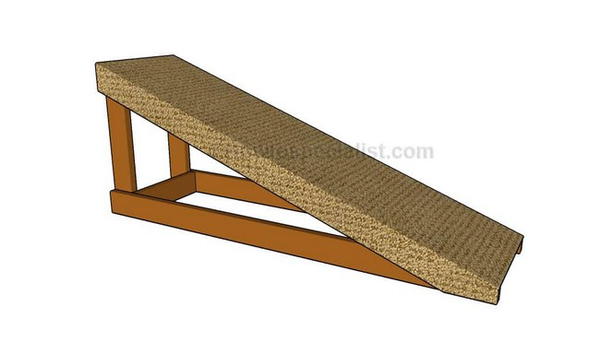 This 3D instruction sheet is given out to our customers that want to build the ramp themselves. It shows a picture of the top and bottom of the ramp and where you need to drill. We do offer this as a kit, but this way our customer has flexibility with their ramp design and can more confidently build it on their own.
This is a full set of instructions for creating a model of a small ramp. This will be for kids to use so you need to make it simple. The children need to think about the instructions carefully and construct the model correctly.
8. Basic Ramp By Instructables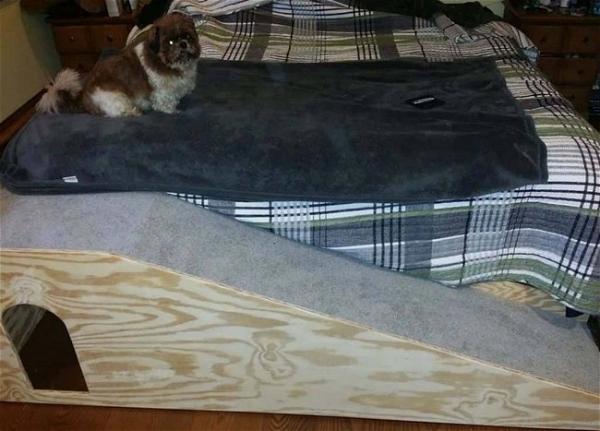 This is a basic ramp. Its main focus is allowing you to get up and over curbs. It has a lot of room for error since it's made out of wood, so if you drive the ramp into a curb while turning you can slam on your breaks and won't flip. It works perfectly with cars, trucks, scooters, anything with wheels that mount sideways.
This ramp will get your go-kart up to speed. This ramp was made so the axle of your go-kart would be at a 90-degree angle to the ground. If you cut it at an angle, the wheels will not be parallel which will cause problems. You can build it as long or as short as you need.
Indestructible Basic Dog Ramp Instructions
9. Epic Collapsible Pet Ramp
Perfect for use on stairs, entryways, furniture, or anywhere else your pet needs a little help, the Epic Pet Ramp combines the durability and versatility of wood with the ease of use and transportability of collapsible aluminum. The slatted design helps prevent slipping and adds traction to the surface. Just step on the inclined plate at the top of the ramp to release the top section.
If you have a pet, and you have carpeted stairs this is a must-have! Also great for use as an emergency pet ramp. There is no rusting, warping, or maintenance of the surface required. Powder-coated frames and hardware mean it will hold up to more than just your average pet.
10. Ikea Crates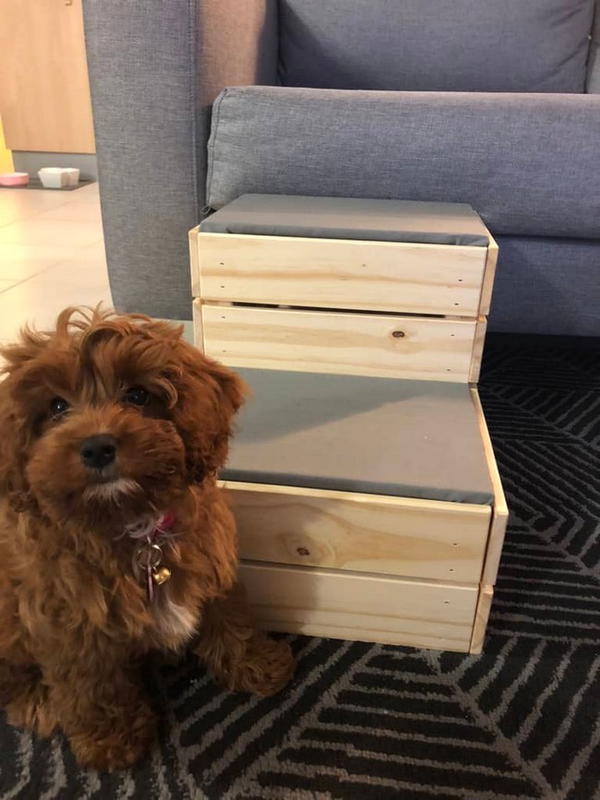 A quick trip to IKEA can result in you leaving with a lot more than you went for. This is especially true if you're planning on building yourself a crate for your pup. It's not very difficult at all, but it does take some time. The end result is worth it though, and your dog will be thrilled that he or she has their very own cozy den to sleep off their bad dreams in. The dog crate is a staple in the IKEA product lineup, and one of the first accessories everyone goes for when setting up an addition to their home. Why not use them.
11. Outdoor / Patio Ramp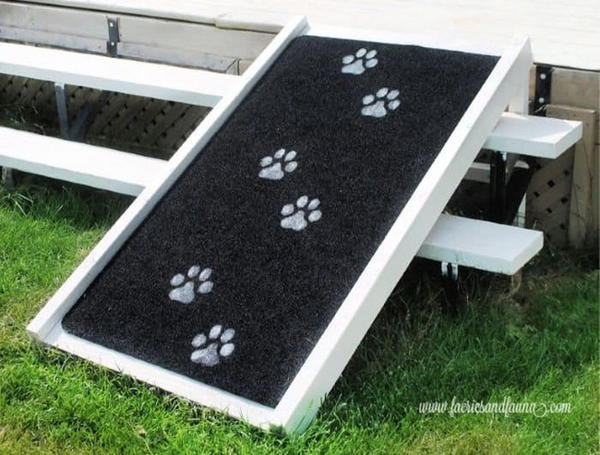 The Outdoor Ramp is a low-cost, multi-use ramp for dogs. It works at the bottom of outdoor stairs to help aging or arthritic dogs gain access, or can be used in the yard to help your pup get out of the water.  The black and white design is reminiscent of the picket fences of home while the stair-step surface makes it easy for your furry friend to navigate. Shoot us an email with pictures once you've finished your project so we can share them in our newsletter!
12. Beautiful Custom Ramp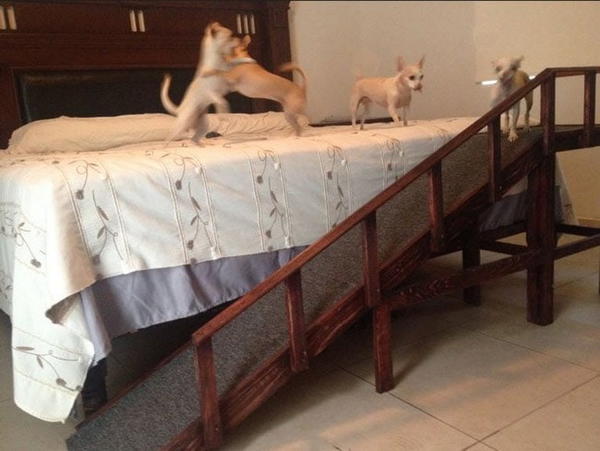 Beautiful Custom-Made Urban Mobility Ramp The Urban Mobility Accessibility Ramp is a great invention. It gives dignity and autonomy to those whose mobility is significantly limited due to age, injury, or health problems. Minimally invasive/modular: It is assembled by simple connections, without screws or tools. It is easily transportable because it folds up like an umbrella and the joints are protected. It can be dismantled in less than 30 seconds by removing its connections. Can be used on the street, in parks, bars, at home, and in stores to avoid high obstacles on sidewalks. Assembled for use in a person with one hand
Custom ramp instructions (Spanish)
Custom ramp instructions (Google Translated to English)
13. Long Outdoor Ramp
Long Outdoor Ramp is a wooden wheelchair ramp that folds in half or one-piece which dramatically reduces storage space and can be used as a single ramp or as two different length paths to the same destination. It breaks down into 2 long half-sized pieces when not in use and normal-sized boards when folded in half. This ramp is wide using standard lumber. The two-piece design makes it easy to install into almost any home or building and can be assembled within minutes for outside use.
14. Carpeted Outdoor Ramp For Big Dogs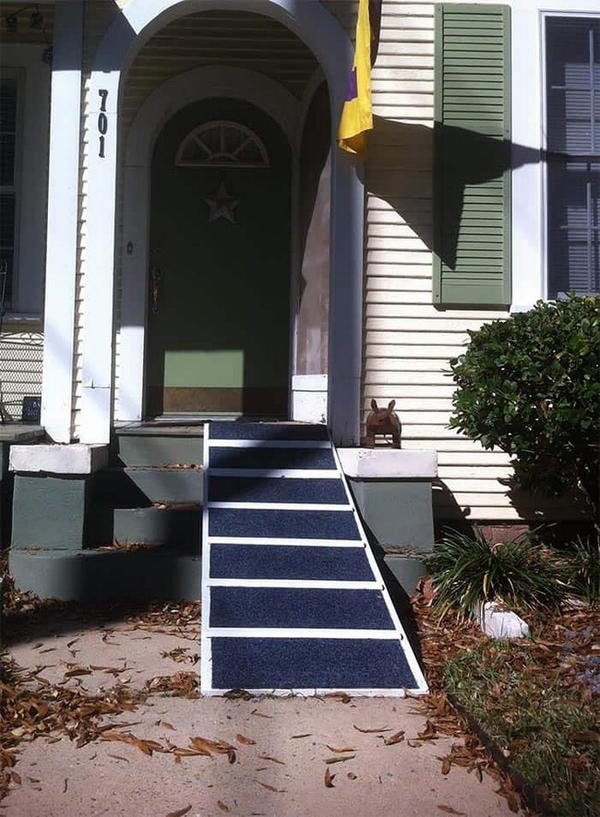 When you have a dog that's older, injured, or just has trouble with stairs this great-looking ramp is the perfect solution. This carpeted pet ramp is the perfect way to help your aging or injured pet remain active while maintaining its quality of life.
Your dog is a part of the family. Keep them happy and healthy with this durable, lightweight pet ramp. It's the perfect solution to keeping your aging or injured pet as active as they want to be while helping them maintain their quality of life.
15. Adjustable Angle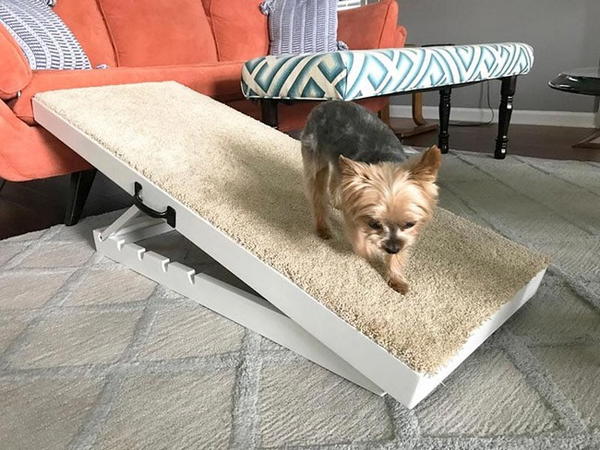 You can never have too much wood in your life, and with the Repurposed Ramp From Old Cabinet Door, you'll have yet another excuse to buy some. This mini ramp may look simple, and it is, but it's a lot of fun. This tutorial also makes you feel good because you're reusing an old piece of wood (that would otherwise be tossed into a landfill). And no need to rush this project, take your time and build it right!
You can never have too much free fun in your life. And with this mini skate ramp, you'll have yet another excuse to get out and try something new. This mini ramp is simple, but it's a lot of fun to build. And the best part about it is that you're reusing an old piece of wood that would otherwise be tossed into the garbage (so this is an eco-friendly project too!). So what are you waiting for?
Instructions on how to make the adjustable ramp
16. Repurposed Ramp From Old Cabinet Door
You can never have too much wood in your life, and with the Repurposed Ramp From Old Cabinet Door, you'll have yet another excuse to buy some. This mini ramp may look simple, and it is, but it's a lot of fun. It'll also make you feel good because you're reusing an old piece of wood (that would otherwise be tossed into a landfill). And no need to rush this project, take your time and build it right!
Just make sure you have something sturdy and stable to re-purpose – perhaps an old desk or even some bathroom cabinets being thrown away. You can start small. If you're handy with wood, retrofitting a desk or some cabinets can be a fun weekend project.
Full written instructions here
17. Window Perch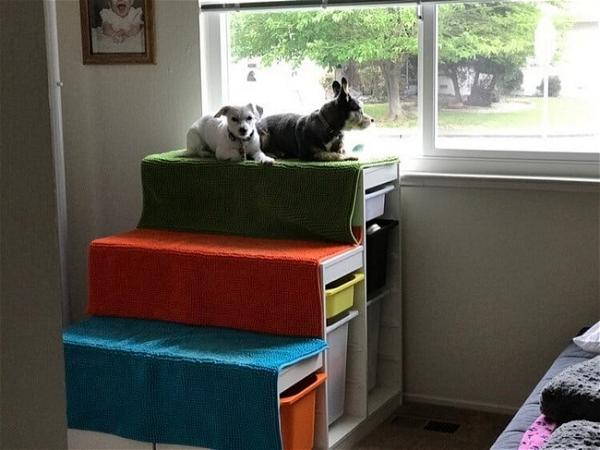 A window perch is a must-have for every pet. Not only does it allow them to get a nice view from the window, but it also protects the furniture from unwanted chewing and clawing. Pet window perches help prevent your pet from damaging your furniture and provide a great view for them.
A Perch gives your pet the best of both worlds. It allows them to be close to you while allowing them the opportunity to look out the window and enjoy their surroundings. As the cold winter months approach, it's important to protect your furniture from destructive chewing and clawing.
Full IKEA hack build instructions

18. Window Perch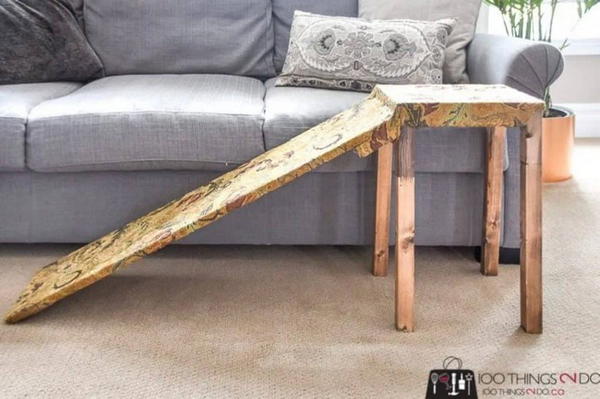 Many people with large windows in their homes want to use them for watching the birds and critters that live around them. They want to do this from the safety of their home, however it's difficult for a cat or small dog to safely access a window high off the ground. This ramp allows you to give your cat or small dog access to that window seat where they can watch all the action. The ramp consists of two pieces that fit together to form an "L" shape, one-piece is made entirely of plywood, while the other uses pine lumber on top..
19. Collapsible DIY Ramp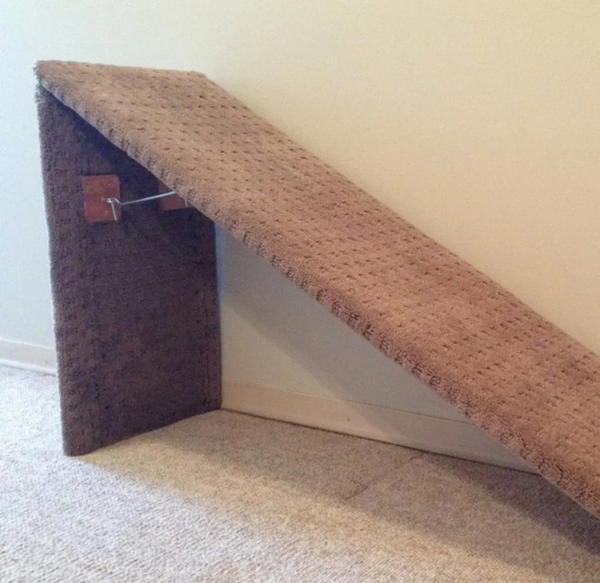 This DIY ramp is a great way to get your pup out of the house and explore the world. It's stable enough to handle most small to medium-sized dogs and folds away for easy storage when it isn't needed.
Do you have any pets? If so, you may find the DIY Dog Car Ramp instructable to be of value. The co-authors share precise instructions on how to build a sturdy dog ramp that can support your pet's weight. It folds down for easy storage and can be placed in virtually any vehicle since it isn't permanently mounted.
How to build the collapsible dog ramp

20. Collapsible DIY Ramp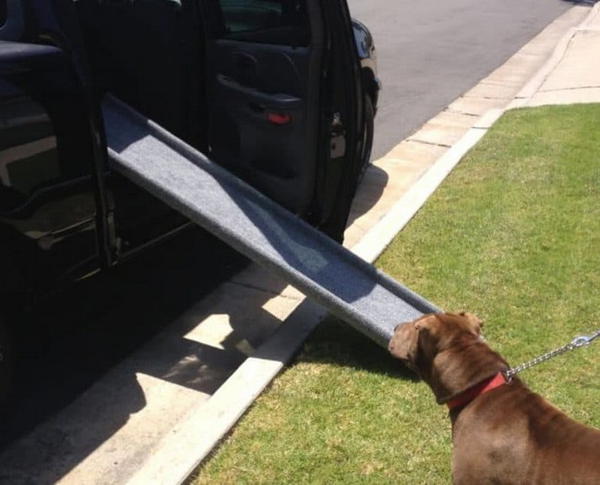 This project is fairly simple. You'll need a shelf rack from Home Depot and some carpet. These are typical materials for this kind of project. There are more elaborate ramps made out of wood and even metal, but this is simple and gets the job done. Obviously, you may want a taller ramp depending on your needs. The key is to measure the rough distance you want to cover.
Building a dog ramp is not all that difficult if you have the right tools and materials. The key is to measure the space you will be covering and choose some portable ramp sections. Now you have learned how to build a ramp for your pet. Keeping your pet close to you and allowing them to roam freely and safely is important.
How to make this super inexpensive ramp.
See More DIY Projects For Animals:
DIY Duck Pond Ideas: Explore delightful DIY ideas to build a beautiful duck pond for your feathered companions. Follow simple projects and create a lively home for them.
DIY Cat Fountain Plans: Bring fresh hydration to your feline friend with DIY Cat Fountain plans – explore simple, cost-effective ideas to improve your cat's well-being.
DIY Cat Hammock Ideas: Looking to create a cozy relaxation spot for your furry friend? Try out these simple DIY cat hammock ideas for the ultimate kitty comfort zone at home.