Ducks are a great addition to any garden. They're fun to watch, they eat bugs and weed seeds, and they can be great pets for children. If you have ducks or are thinking of getting some, you probably know they like water. But did you know that ducks need a place to splash around? This is why we're looking at 20 DIY duck pond ideas today! Duck ponds are great for your backyard or farm. They can also be used in commercial businesses such as hotels or restaurants.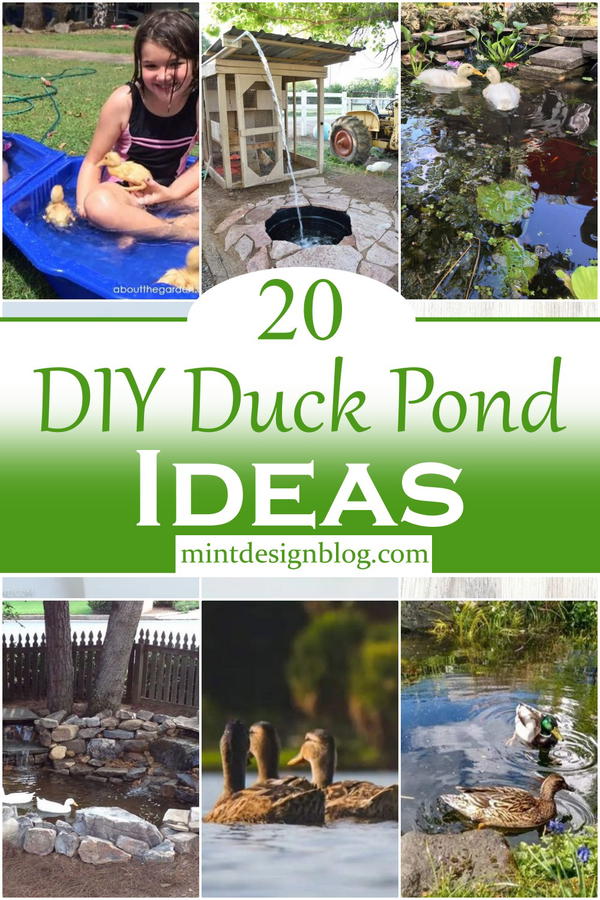 When planning your duck pond, you need to know what kind of ducks you have. There are many different ducks, so make sure you know which type you have before buying anything. For example, some duck breeds can swim in both freshwater and saltwater without problems, while others cannot. You'll also want to keep in mind that isn't any standing water around your yard or house because this can cause mosquitoes to breed in it, which will bother both humans and animals in your area. If standing water is nearby, drain it and refill it with fresh water so the mosquitoes don't get into your yard or house!
These 20 DIY duck pond ideas will add a touch of nature to your yard, giving you and your feathered friends a fun place to spend time together.
You Can See: 10 DIY Above Ground Pool Deck Plans For Sunny Day
The advantages of DIY Duck Pond Ideas
It's an excellent project for kids. They'll love to be involved in helping you create the duck pond, and it will give them a sense of pride when it's finished. Plus, it's fun for them to have their own pet ducks!

It's cheaper than buying one already made. You can build your own duck pond for less than $100 if you do all the work yourself, which means you'll have some extra cash left over for landscaping or fixing up your house.

It gives you complete control over how big or small it is, what kind of materials are used (concrete vs. wood), and how much maintenance work needs to be done each year.
How To Build A Cheap Duck Pond
You can build a simple and easy-to-build pond for a small group of ducks. This is a great way to provide a home for your feathered friends, but it's pretty significant and takes up quite a bit of space, so make sure you have enough before building this duck pond. It can be cheap and easy, depending on what materials you already have lying around your house, and you don't need any special tools or skills to make it. If you can hammer some nails into some wood, you'll be able to build this duck house without any problems.
How To Build A Backyard Pond With DIY Bio-Filter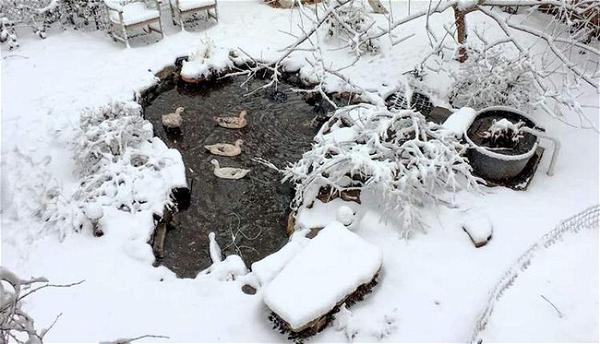 This guide will show you how to build a small pond for your backyard, even if you live in a snow area. It includes several building plans and videos to be sure that you are doing it right. It also provides info on how to build a DIY bio-filter to maintain the cleanliness of the water, which means no more chemicals! Having this backyard pond can be wonderful. With a small pond, there is less cost involved when maintaining it. It will also keep your kids entertained for hours. Fishing, swimming, and spending time outside are beautiful things about having a small backyard pond.
How To Build A Duck Pond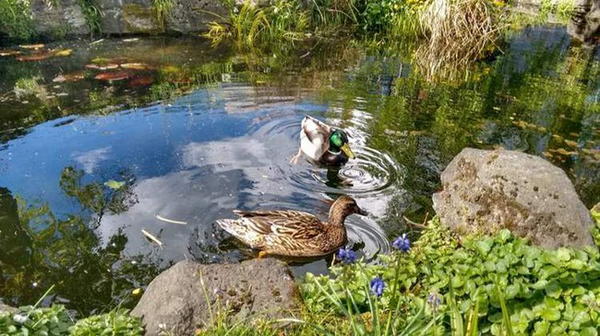 A duck pond is an excellent addition to any home with space available. Ducks can provide their owners with hours of enjoyment, especially when kept in a pond for swimming and entertainment. Most people choose to have the pond built by professional companies. However, you can create your own at home. The most beautiful ducks and the best duck houses are made from natural materials, such as clay or wood. This is where the fun begins as a new hobby can be found in building your own backyard duck pond.
How To Build A Duck Pond - Steps For Beginners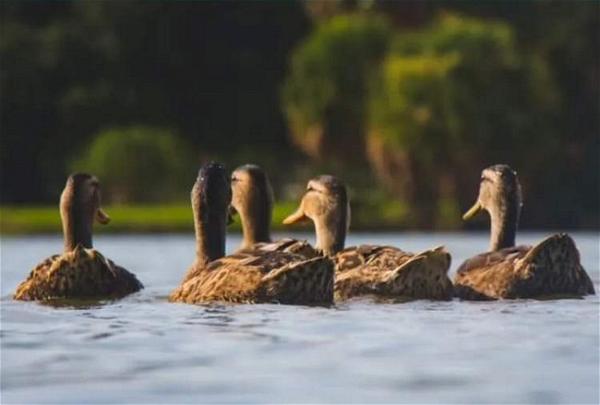 This guide will help you build a duck pond for your backyard, whether you're a beginner or an experienced landscaper. The instructions are easy to follow, and if you have any problems, the author is very responsive to questions. Not only will you learn how to build a duck pond, but you'll also get ideas on how to build smaller water garden projects. There is nothing like taking a stroll through a peaceful and tranquil pond. This guide will help you make your very own beautiful duck pond that will provide hours of enjoyment for the whole family.
DIY Duck Pond Using Recycled Materials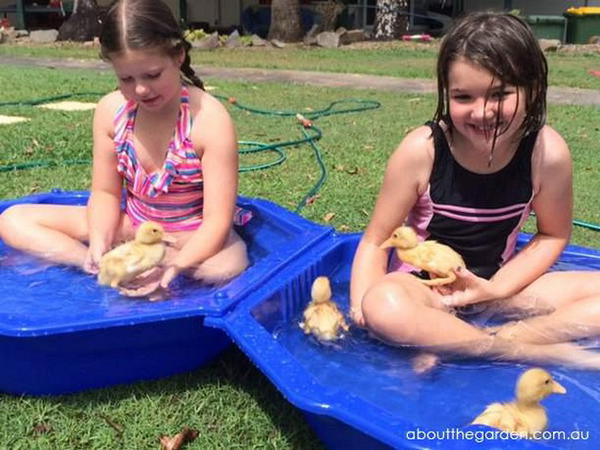 Great DIY project for building a duck pond using recycled materials. This is an excellent project for people who don't have much money to create one. Also, you can make this duck pond look like a real natural pond by getting the suitable materials and doing it with care. This DIY duck pond made of recycled materials is an excellent choice for you if you're on a budget. The pond only cost $25 to make, and it looks terrific. It's also relatively easy to do this project, but you need some knowledge about plumbing, concrete mixing, and water hoses.
DIY Self Cleaning Duck Pond
The best way to keep a duck pond clean is by building it so that it can be cleaned on its own. Though it seems like a difficult task, you'll be surprised at how simple this DIY project can be with the right tools. One of the most enjoyable and relaxing things you can do is look at a duck pond. There's something about it that makes you forget about your worries and enjoy what nature has to offer. You may want to build your own duck pond to enjoy this feeling all the time, or if you already have one, you might want to know how to clean it on your own.
Reusable Duck Pool DIY
Have a large land area but don't know what to do with it? Build a duck pool. With this DIY guide, you'll learn to make your duck pond from an old pond kit. It's easy! You have to dig and create a hole for the pond to fit in. Next, mount the pool kit and seal it. You can even add vegetables or flowers to help bring life back to your new pond!
Build this reusable duck pond yourself and watch the ducks enjoy swimming in it. This DIY kit gives you everything you need to create a pond in your backyard, including the system to filter, pump and circulate water. The pond liner is made from recycled materials and is durable enough to last for years while being environmentally friendly.
DIY Pool For Ducks
This DIY pool for ducks is elementary to make and easy to do so in just a few minutes. All you'll need are some basic supplies such as a large type of plastic bag, bricks or rocks, and some hose. These are the same things that we used in this video. The materials used here can easily be replaced by other things but should work well enough to give you a good idea of how to make your own pool. If you want to keep your pets happy and cool in the summer, this DIY pool for ducks is a great idea. The cool water will be so refreshing. And if you have children at home, it is something that they can enjoy too!
DIY Duck Lake
This is a DIY video for anyone who wants to build the perfect Duck Lake! This simple but effective and easy-to-build duck feeder is great for bird lovers and anyone who loves nature. It's also an excellent project for kids of all ages, as no complicated tool is required. The video guides you through the entire process from start to finish and provides you with everything you need to know so that you, too, can make your own Duck Lake! This DIY Duck Lake is a simple project. You will only need some essential tools to complete this project, and no construction skills are required. It's a great way of improving your backyard or as an addition to your garden.
Easy Drain Duck Pond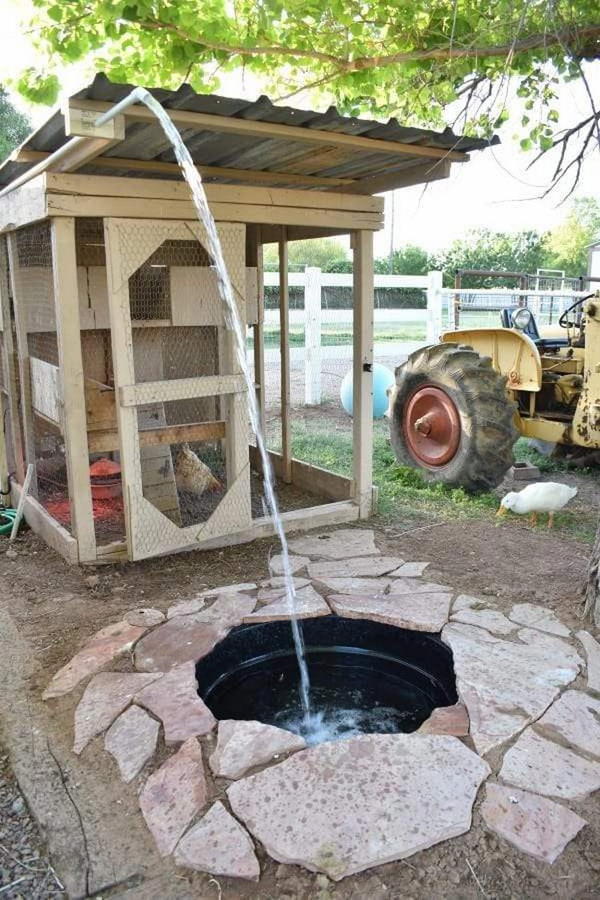 This DIY Easy Drain Duck Pond could be the right one if you're looking for a small duck pond that is easy to drain out. If you don't want to use water-filled with waste, this mini pond can be completely drained and refilled again with clean water. This easy drain system will benefit your health and keep your ducks safe by removing bacteria from their food source, but it also saves time as you won't have to faff around using buckets or other containers to get rid of dirty water.
$100 Duck Pond DIY
Is your front yard missing something? Maybe a waterfall or a pond? Perhaps you want to add some life to your lifeless lawn! A $100 Duck Pond DIY is your answer. With a quick and easy assembly and ultra low-maintenance feature, this duck pond will bring enjoyment to anyone who lays eyes on it! This duck pond is the perfect addition to your backyard, whether you're looking for some extra fun or just a new decorative piece. It's ultra low-maintenance and great for beginners.
How To Build A Cheap And Easy Duck Pond
You can quickly build your own beautiful and easy-to-maintain duck pond. Whether you like to fish or want to enjoy the beautiful birds and wildlife it will attract, be prepared for a lot of compliments from friends, neighbours, and family. This video will help you build a cheap and easy duck pond. You could put it in your backyard or near the house to enjoy watching the ducks swim around. It's a fantastic project that you can do with your children, and they'll love it. It's so simple to build, and you won't believe how well it works right away.
You Can See: 16 DIY Wood Duck Box Plans For Duckies Lovers
DIY Duck Pond
This DIY Duck Pond is a creative and unique way to keep your ducks together, making them look more elegant. This is an excellent idea for people who love gardening and want to make their backyard a living space where they can enjoy spending time with their family and friends. This DIY Duck Pond was designed to be a place for ducks to swim and rest, but it's also a great spot to relax on a bench and enjoy the scenery. While other duck ponds are made in-ground, this one was made with wood boards and a few pond kits. This project took some hard work and planning, but it paid off. The pond is big enough to carry about 3 or 4 ducks at once!
How To Build A Backyard Pond For Ducks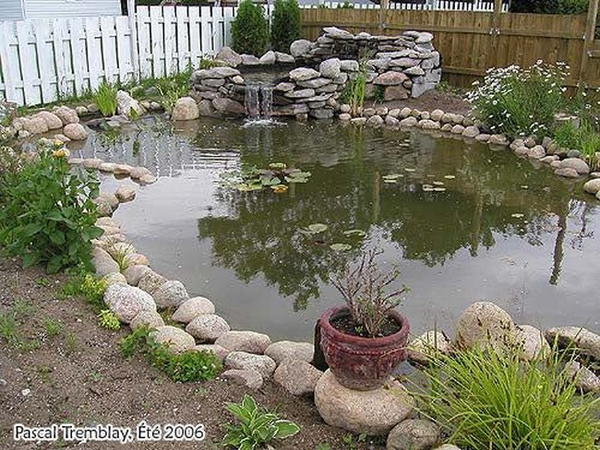 You can build this beautiful yet straightforward duck pond for your backyard. This guide will show you how to make it with any extra materials around the house. It's an easy way to spend time with your family and watch your new ducks swim around in their new home! Building a backyard pond for ducks can be both fun and exciting. Imagine how happy your ducks will be when they see their new home! Before you begin the construction of your own pond, you need to first think about where it will go. If you want it on your property, make sure that there is enough space and that it fits nicely with the rest of your landscaping.
Duck Pond DIY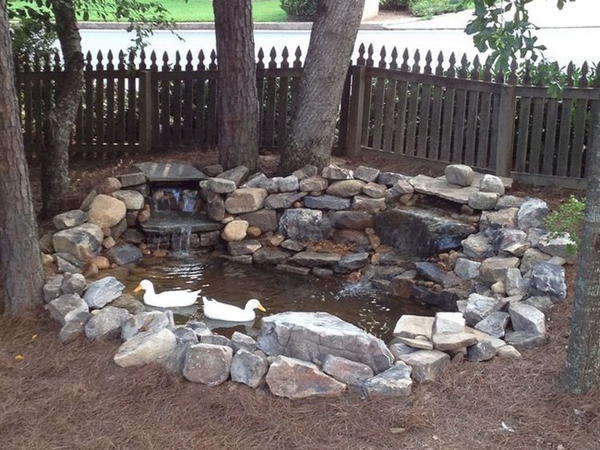 So you want a pond that's easy to create, cheap, and looks great. You don't want to spend your weekends building something that will only fall apart soon after when the weather changes. Well, look no further: here's your solution! The duck pond DIY guide will explain in clear and simple terms how to create your own duck pond at home without any previous experience required! You can create a DIY duck pond in your backyard without spending a lot of money. This pond is an effortless yet effective way to create a pond that your ducks will enjoy.
DIY Natural Pond Idea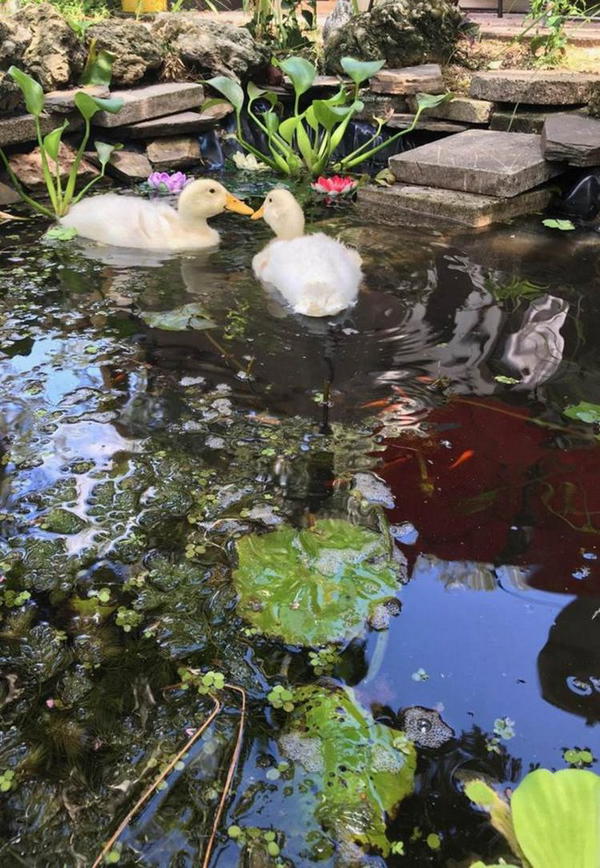 Would you like to have the comfort of your own pond and lake at home but don't want to spend a lot of money? Try this DIY Natural Pond Idea. It's an excellent way for you to have your own water feature without breaking the bank! This pond is easy to make, and you don't need a lot of time, just 5 minutes to build it. You can start with making the frame first, then adding soil and rock to create the bottom part of the pond. After that, fill up water and add in plants as finishing touches for your project!
How To Make Pond For Ducks
Here's a simple, easy-to-follow tutorial on building your own pond for ducks. This duck pond is not an expensive project and requires no special tools or skills. You can be drinking beers around the pond in just a few hours. This is a great way to give your Ducks a place to swim and chill out. It's straightforward, costs very little, and will last for years. You are making a pond for ducks isn't hard. It would be best to have some concrete and a few other materials to create your own duck pond. It will be an excellent way for the ducks to have fresh water instead of drinking from your swimming pool or pond.
How To Build A Garden Pond For Ducks
Creating a garden pond for ducks is excellent if you have some extra space in your yard and want to bring some wildlife into it. Building a garden pond for ducks can be challenging, and it takes some time to do correctly. You will learn how to install a garden pond effortlessly, and here is how you can go about it yourself. You'll need to find an ideal spot for the pond and dig it out before you can install anything, but once everything is done, you'll have your own natural little retreat for your feathered friends.
Mud Duck House With Pond DIY
Building a Mud Duck House with Pond DIY will give you an excellent place for your duck to have a home. You can create this and other designs yourself or have friends help you out by watching them do it. This is a mud duck house with a pond. It's a mud duck house with a pond, so you can have your ducks in the pond and then come out of where they live whenever you want them to. It's not a big thing, and it's straightforward to do. You'll be able to watch as they frolic, sleep and eat with ease.
Beautiful Duck Pond DIY
Build your very own beautiful duck pond on the weekend. This is a simple, inexpensive DIY project that you can do with your family. It takes simple tools and materials like large rocks, small stones, and a concrete pond. This straightforward guide will show you how to build a natural-looking pond for your backyard that will be enjoyed by humans and wildlife alike. The best thing about this DIY is that you don't have to spend so much on the materials. You can use large rocks and stones as the base of your pond, then fill up the pond with some water. This is a cheap way to make your own pet duck pond.