Dogs are man's best friends, but dog doors, let them be your friend too! That is because a doggie door puts the freedom of both indoors and out into your pup's paws. Here you will learn some simple doggy door projects that you can build with supplies from your local home center. In this tutorial, you will find tips and advice for dog patio doors and complete instructions to create 20 DIY Dog Door Projects - including a swinging flap, hinged flaps, retractable pet doors for big dogs and small, not to mention a wide variety of pet access for houses, sheds, and garages! These pet doors will fit into the doorway of your home to give your dog easier access inside.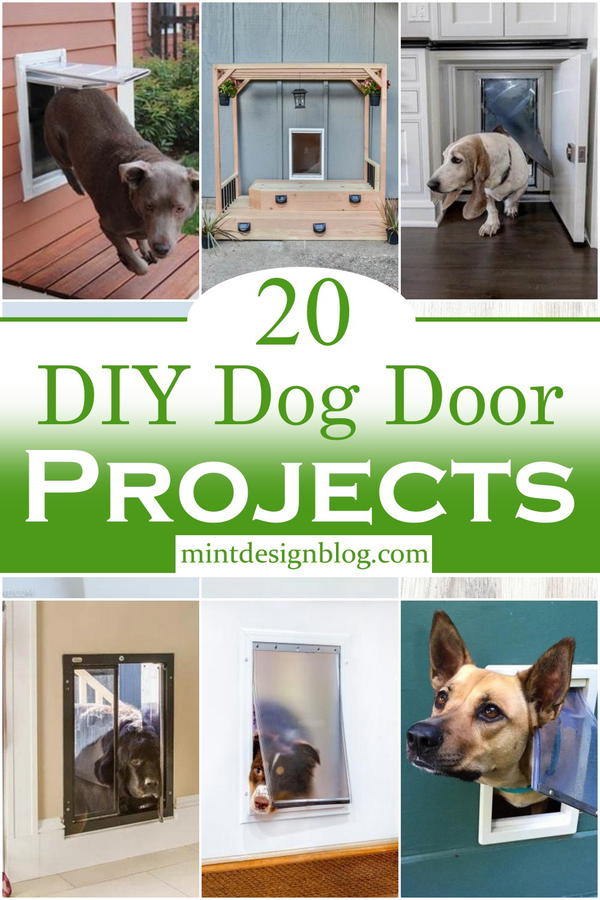 Having a dog door is a delight to pet owners, especially if they are busy with their daily lifestyles. However, to allow dogs freedom or access in and out of the house, this dog door must be secured enough so that the pet cannot come and go as it wishes. A dog door can make life easier for any pet owner, but only if it is made with suitable materials and is well-made. Here are 20 DIY Dog Door Projects to make for you and your pets. This door will be much cheaper than the usual commercial pet door installations. Design your custom doggie door to fit your home and your style, or expand on the projects found here.
If you have an awesome dog that you love to take outside on adventures but would like some privacy in your own home, these easy 20 DIY dog door projects are perfect for you!
See More: 26 DIY Dog Collar Projects
Tools and Materials:
Cardboard Box
A rectangular piece of wood
A round piece of wood
Carpenter's glue
Paintbrush
White paint
Utility knife
Hammer or mallet (optional)
Drill with assorted bits
Jigsaw
Nail set
Hammer or rubber mallet
Scissors
Screwdriver or power screwdriver
How To Install A Dog Door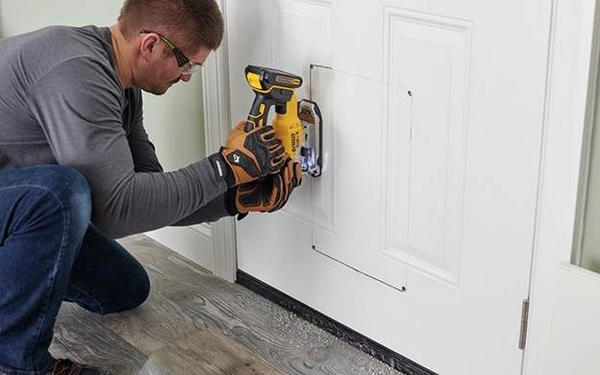 If you have a small dog, you might have a doggy door. But, if you have a huge dog, you must make the doggy door big enough for your dog to pass through. A dog door offers convenience and allows your dog to come and go as your dog pleases. Installing a dog door is an easy DIY project that anyone can do; if you have the proper knowledge and tools. You need to ensure that your materials are top quality and get a door that fits your dog's size – any cheap, third-party lock could open up a world of suffering for your precious pup!
Skill Level: Intermediate
How To Make A Dog Door In A Wall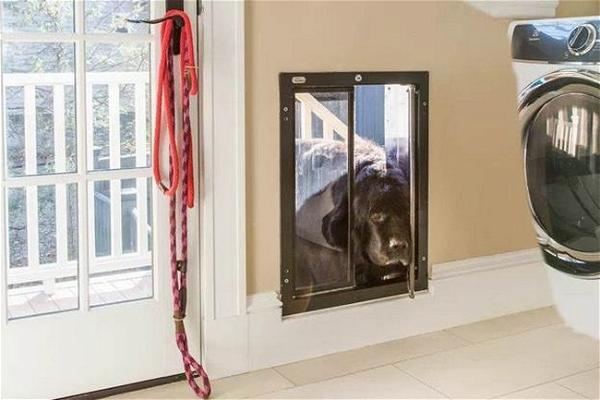 If you want to build a dog door in the wall, the way is to carve a hole through the wall and let it open outside. The biggest challenge you will face is making the hole exactly the right size so that your pet can get in and out of it, but you won't have any other problems. This project can be done by any person with some experience but will probably not be enjoyable for someone new to carpentry, especially since it takes about two days to complete. Here's a step-by-step guide on making a dog door in a wall, with some helpful tips and tricks to make the job even more accessible.
Skill Level: Experienced
DIY Temporary Dog Door
Creating a DIY quick dog door is easy and budget-friendly if you're looking for a temporary dog door. You can attach a wood frame to your door to create an edge where there is space for your dog to pass through. You can take the stand down at night and put it back up in the morning. It is excellent for families that are constantly on the go or for landlords with renters who have pets because it only requires minimal construction and doesn't alter the style of your house! To not change the type of your house with a permanent hole or space, you can make a temporary dog door. Your puppy will be thankful for such attention and look like a VIP. This video will teach how to make a DIY quick temporary dog door.
Skill Level: Experienced
DIY Window Pane Dog Door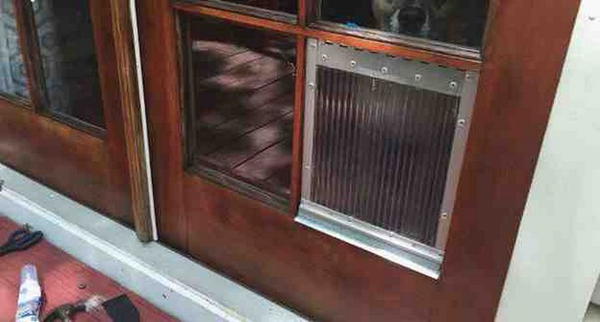 Dog doors are generally more straightforward than installing a full-frame pet door as a windowpane dog door. However, there are several things you should look out for since wooden windowpanes have their edges hidden. It is excellent, especially for decorative purposes, but it will work against you if you plan to install a dog flap that can be pushed open through the window pane. It's only a piece of wood that You can easily carve to fit around the window pane using any available handsaw. Plan the curtains in your window opening, and you will come up with a nice-looking DIY window-panned dog door. A brilliant idea called DIY windowpane dog door only costs about $80. Follow the plan, and don't forget to install a keyhole for you to secure your house.
Skill Level: Intermediate
How to Make a Doggie Door Burglar Proof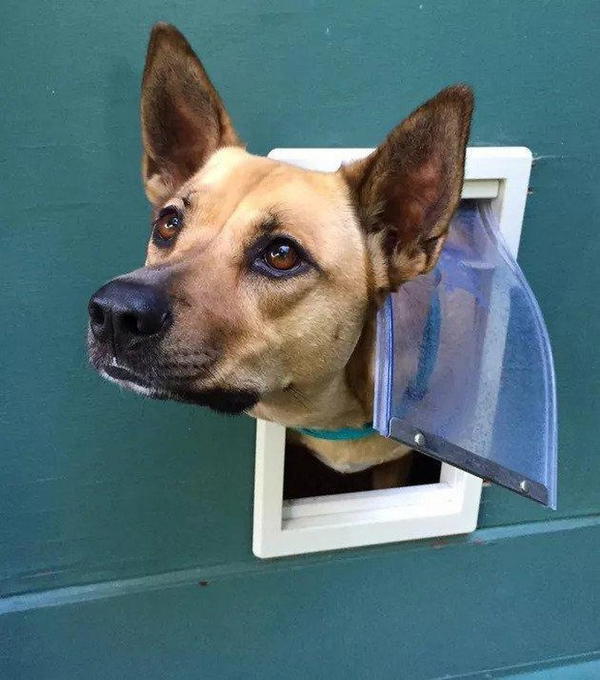 You are keen on keeping the bad guys out of your home, but you don't fancy an electronic dog door and an additional dog collar. You can do several things. If a burglar is determined to enter your home, he will find a way. If not by any of the other methods for which there are recommendations, he may try to kick down the front door. An enormous dog door will mean nothing if it can be torn from its hinges by a burglar with half an hour to spare. Therefore a doggie door needs to allow the owner to restrict its size and, at the same time, allow access for your puppy.
Skill Level: Experienced
How To Build A Large Dog Door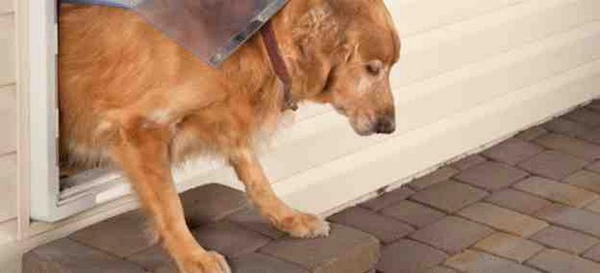 You may have noticed that large breed dogs such as Labrador and Staffordshire bull terriers are much more active than others. You may be surprised by how much energy they can expend in a day, and it is only natural that you will want to let them out for walks. These dogs are used to the great outdoors and shouldn't be deprived of the feel at all times. There is, however, one major problem – the size of their bodies. They cannot fit into a typical doggie door and can make any attempts to get through a comical sight. If this is happening at your home, then don't worry. You can easily make an adjustable dog door yourself with a few tools, plywood sheeting, and vigilance.
Skill Level: Beginners
How To Install A Pet Door In Glass
If you love your pets, you have to make a lot of sacrifices. It's no different when installing a glass pet door in your house window. The main thing about the glass pet door is that you should choose one that perfectly matches the glass's acoustic properties and is strong enough to support the glass plate properly. Another important thing you should take care of is that the door cannot be easily removed by more giant animals trying to run out because they can cause havoc on the street. It's easier than you would think to install a pet door in glass. There are so many tips and tricks to make this much easier for you that you may need the support of a pet door installation video.
Skill Level: Experienced
How To Build A Hidden Cabinet Doggy Door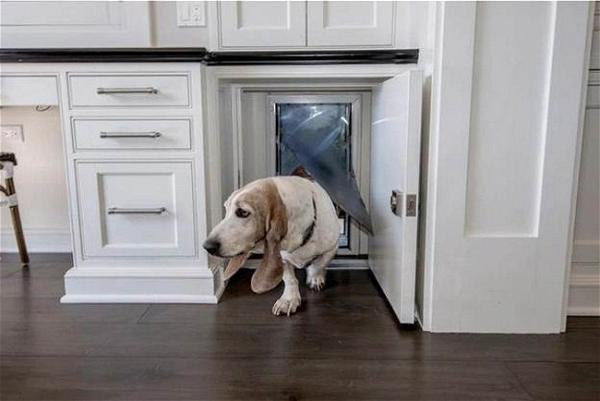 Building a hidden dog door is a great way to prevent damage to your home or hide the fact that you have pets. It is beneficial if you've added to your house and don't want to show where the door is. By creating a secret pet door underneath a cabinet, you can easily conceal your pet's entrance and exit. This tutorial is on how to make a dog door into a wardrobe. This project is great for hiding the gate, especially in the winter when you need a heated dog house and garage to keep your pet warm. One problem with this design is the size of the doggy door. Pet doors for larger dogs may not fit through smaller openings. Regardless, this project is perfect for hiding an area or ensuring your pet has extra space to sleep.
Skill Level: Experienced
DIY Magnetic Dog Door Flap
This magnetic door flap is made of rigid baseboard, a carpet protector, and a flexible magnetic strip. It attaches to the door and fits the baseboard. So you need to get the correct dimensions for everything. With this magnetic door flap, you will be able to create a dog door for your puppy without the need to drill holes in your favorite entry. It's an excellent project for those new to carpentry who don't have any tools yet. It's easy to do with just a few basic materials, and the required skills are minimal. The details of this magnetic pet door will come clear in the video tutorial.
Skill Level: Intermediate
DIY Doggy Door
Your pet needs a secure way of coming and going without damaging your front door or screen while providing your dog with the safe feeling of a doggy door. This tutorial will guide you through creating a DIY Doggy Door using readily available materials and easy to work. If you have no carpentry skills, this guide will walk you through each step of the process to give your pet an easy way to come and go as they please. This DIY Doggy Door is quick and straightforward to make. The best thing is that it can fit any standard-sized door, so whether you have a large or small dog, you will be able to utilize this handy doggy door!
Skill Level: Experienced
How To MakeA Screen Dog Door
It will surprise you how it is easy to make your dog door into a screen door and even easier if you buy a new screen door with the opening already cut out. No matter which way you decide to go about it, creating a space for your pet is not that difficult. Just try to be creative and see just how easy it can be. The following instructions will show you how to make a DIY dog door for a screen door. It is also possible to remove the old screen and replace it with a new one with a dog door opening. Make your job easier by using the first option!
Skill Level: Beginners
How To Install A Dog Door In A Metal Door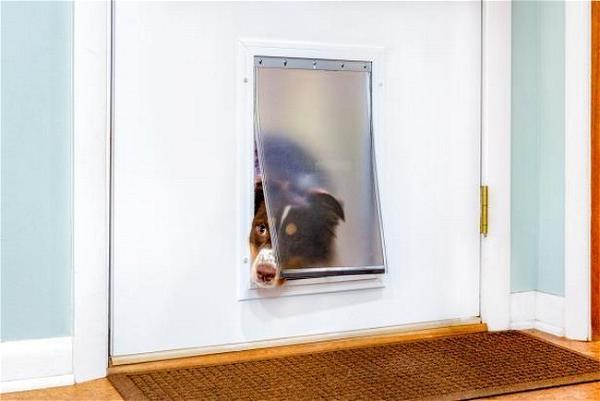 A dog door is a great pet accessory to an ordinary door. Dogs will be able to let themselves in and out of the house without waiting for someone else to do it. That's why installing a dog door is a straightforward project you can do on your own to save more time for you both. But before anything else, you must have the right tools, materials, and knowledge to install a dog door in a metal door. There are instructions listed in such a manner that you can easily understand them no matter your background. Follow the steps as directed to install a doggie door with ease.
Skill Level: Experienced
DIY Dog Door Installation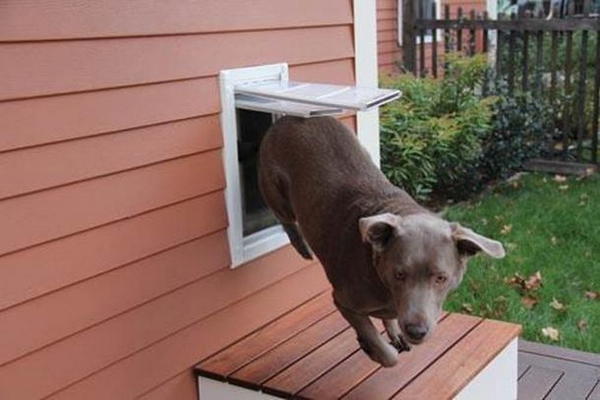 Don't spend money to get a prefabricated dog door; make yourself one for free. All you need is some woodwork skills and the right tools, and make sure that you have a tape measure and pencil on hand. It should be the first step before you begin cutting any space on the door or roof. Picking the right location for your dog's door is one of the most critical decisions. If you've determined that installing a dog door to your wall or sliding glass door is the best option and you're ready to install, then this video will guide you step by step. Your dog will never go in and out of the front door again once they discover the freedom they can have with a dog door installation under your supervision.
Skill Level: Intermediate
DIY Doggie Door Deck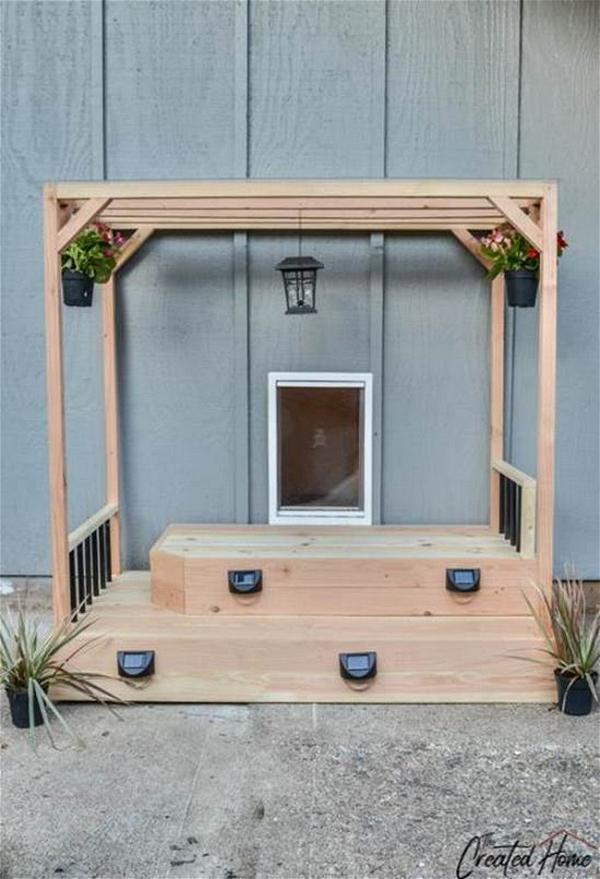 A dog door deck can be a great addition to your home if you have a dog but will not always suit your dog's needs. Choose a pet door made of high-quality material that is the correct size for your pet. Size should be considered concerning both height and weight so that safety is maximized regardless of whether the dog is fully grown or still at an awkward stage between puppyhood and adulthood. The DIY Doggie Door Deck is easy to install. However, you need to use your skills to put the dog door and deck together. Don't worry since we will show you how to do it yourself if you have never done this before.
Skill Level: Experienced
How To Design A Doggie Door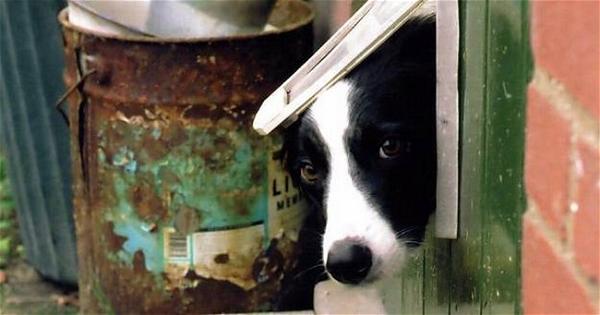 It's never a good thing to keep your dog locked up. Many dog owners consider installing a doggie door that lets their pets come and go as they please. The design of a doggy door is quite simple and easy. In this tutorial, you will learn how to build the right size of a doggy door for your pet and create a hole in the right spot on the door frame. This project can be done in an hour or less and make life easier for you. It is fun to design a doggie door because you can use your imagination and build things that can last for a long time. Some people are experts in home improvement, but you should learn the basics first.
Skill Level: Experienced
DIY Heavy Duty Doggie Door
DIY Heavy Duty Doggie Door is made of steel and aluminum. It is cut to size to go through a pre-existing hole in a concrete slab house. There is an activation strip on the other side that leads outside. It would be best if you framed this opening with steel to stop your dog from being able to pinch its paw or skin. It is also advisable to use a heavy-duty dog door if your house is concrete. A wooden doggie door should do the trick if it's made of wood. This heavy-duty door will give your furry friend the independence they deserve while letting you sleep at night knowing that they're safe.
Skill Level: Beginners
Homemade Doggy Door
The doggy door is not steel, iron, or more complex material. It is just slightly padded to make the dog feel comfortable going through the opening. The door can be cut from a doormat with precision and care from the backing. You can change its look anytime, and you don't have to go to a do-it-yourself store so often to buy all sorts of materials. If you want to install a doggy door in your house but don't want people to know about it, this simple doormat idea is perfect for you. You can easily make it at home and never pay for an expensive dog door again.
Skill Level: Experienced
DIY Dog Door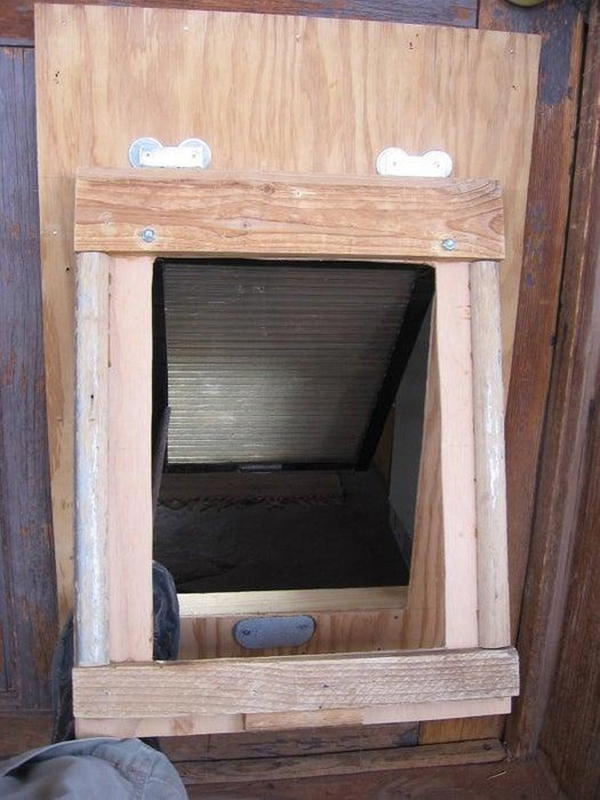 Make your dog happy while saving you all time and effort daily by installing a doggy door in their future home. This dog door guide will teach you how to build one of the perfect sizes so they can come and go as they please but can't run away with it. No matter what-sized dog, a pet door is a handy thing to have. This tutorial explains how to build your pet door and easily adjust the size to suit your needs and preferences. The following steps will show you how to plan the placement of your pet door, construct and mount it, use the frame to make a rigid outside edge, and secure the wooden frame with silicone.
Skill Level: Experienced
DIY Dog Door Flap
Ready to make your dog flap? Once you get started, it is a very straightforward process, and it's worth saving that money! Just get the tools you need, and start building your dog's flapping door—it will be super easy. The information you need to make a dog door flap has been compiled and laid out. These instructions will help guide you step by step to create an attractive and functional flap for your pet's door. It includes how to measure the opening of your doggie door and how to cut out the mat. The tutorial also explains making a flap for the doggie door out of plexiglass and mats.
Skill Level: Beginners
DIY Dog Door For Sliding Glass Door
Dogs are wonderful. They are loyal, protect your home, and love you no matter what. If you have a dog, you should have a dog door for the sliding glass door. You'll be able to let your dog in and out of the house, so keep things cleaner inside. And you'll be safer, too, with the help of a sturdy doggy door. This step-by-step tutorial is on building a dog door with instructions and plans for doggy doors that work well with sliding glass doors. This DIY dog door for sliding glass doors will be easy to install if you follow this easy guide. Whether you're a beginner or an expert, we can help you build this puppy door in no time. You'll have your pet buddy walking through the door in no time!
Skill Level: Beginners
See More DIY Projects For Animals:
17 DIY Dog Crate Cover Ideas: Discover DIY dog crate cover ideas to conceal your pup's crate stylishly, turning it into a functional and attractive piece of furniture.
20 DIY Dog Ramps: Explore 20 DIY dog ramp projects offering easy access for your pup to beds, cars, and more. Simple, affordable solutions for your pet's needs.
DIY Dog Wheelchair Plans: Create a custom DIY dog wheelchair for your pet's mobility needs - an affordable, loving solution to enhance their quality of life.
Conclusion:
A dog door is a simple do-it-yourself project that every pet owner should consider. A dog door on your wall or a pet gate in your doorway will have your pets roaming free and enjoying the outdoors (or keeping them indoors) while you're out. From a passive flap to a full-size pet door, any one of these ideas will allow your best friend access to the rest of your house. Create your unique dog door or modify any 20 designs to suit your needs. Whether you're looking to make an attractive upgrade to your home or want a fun weekend carpentry project, there's a plan for every skill level and taste.