Rabbits are wonderful pets and can be a great addition to your family. They have a reputation as being low maintenance, but this is not always the case. Rabbits can be destructive if they are not adequately cared for, and they need proper housing to live a healthy life. If you are thinking about owning rabbits, it is time to begin planning their hutch. Many different hutch plans are available online, but you may want something that matches your style and décor. The following 25 DIY rabbit hutch plans will give you some ideas to create a unique space for your furry friend.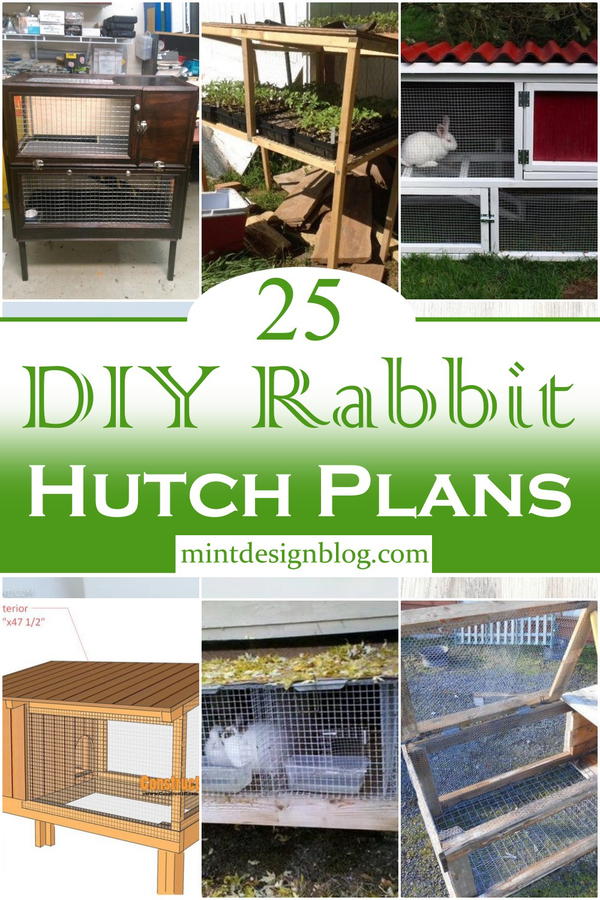 Rabbits are social creatures and love to be around people. They also need lots of attention and care to keep them healthy and happy. If you have a rabbit that needs to be held outside, then you need to build them a buffet. A hutch is like a small house for your rabbit that will keep them safe and warm in the winter months. The best thing about building your own hutch is that it will save you money purchasing one from the store. What's more, if you make it yourself, you can customize it to fit your needs exactly. These 25 DIY Rabbit Hutch Plans will take you to develop your very own Rabbit Hutch from start to finish. 
Building a rabbit hutch can be fun and rewarding; these 25 DIY rabbit hutch plans will help you get started.
Why Build Your Own Rabbit Hutch?
People build their own rabbit hutches for lots of reasons. The most common reason is that they want their rabbits to be able to roam freely in their backyard without the risk of being attacked by predators such as dogs or cats. Another reason is that some people want their rabbits to have more space than what is provided by a standard cage or pen.
How To Build Your Own Rabbit Hutch:
The first step to building a rabbit hutch is deciding on a location. Rabbits are not outdoor animals and need to be kept in an enclosed area protected from the elements. The hutch should be situated in a sunny spot so that your rabbit can enjoy the sun's warmth.
The next step is to gather all the necessary tools and materials for building your rabbit hutch. You will need:
Hammer

Nails (1 ½ or 2 inches)

Screwdriver or drill

Wood screws (⅜ inch)

Carpenter's glue

String, chalk, or paint
Importance Of DIY Rabbit Hutch
The importance of a DIY rabbit hutch is that it allows you to create a custom rabbit cage that fits all your needs, including:
Your space requirements -

 You can make a DIY rabbit hutch as big or as small as possible.

Your budget -

 A DIY rabbit hutch is usually cheaper than buying one from a pet store.

The look of your home -

 A DIY rabbit hutch can be built to match the theme of your house or backyard.
How To Build A Bunny Hutch
Sometimes rabbits can get a little too playful and exhibit behavior that's often not tolerated in your home, but they will likely be outside a lot more. Having your bunny hutch outdoors allows you to open space where your rabbit can roam around and play. It is ideal for outdoor use and easy to build. If you have bunnies or plan on buying them this summer, you might consider making a rabbit hutch for them, as it would help keep them safe and provide them with a cozy place to sleep.
How To Build A Rabbit Hutch
Rabbits are great pets, but they need room to bounce around if you have more than one. This DIY rabbit hutch takes just a weekend to build, and with the ability to expand even further, your bunnies will thank you for it. Building a rabbit hutch is a big project that will take time, but you can do it. It's well worth the effort because your rabbits need a place to call their own. A homemade rabbit hutch can also make an excellent gift for someone who loves rabbits. Whether you have a newborn bunny or an adult bunny, you must consider offering space and comfort when building your home.
Rabbit Hutch DIY
This rabbit hutch is the ideal thing to keep your furry friend out of trouble, where they can relax and be happy while you tend to your daily chores. It is pretty easy to build a rabbit hutch, especially if you have some basic skills and tools. Rabbit hutch DIY is nothing but creating a structure to keep your bunnies at ease and safe. A rabbit hutch is mainly made of wire and wood. The wire used to build the enclosure is commonly found in hardware stores; the wood can be chosen from the lumberyard, or you can use different types of wooden boards such as plywood or scrap pieces of hardwood.
DIY PVC Rabbit Hutch
PVC (polyvinyl chloride) is a versatile material used in many products you see every day. PVC has a good heat resistance and can be moulded easily into different forms, which means it's perfect for building a rabbit habitat. This easy-to-follow guide will help you make your own PVC hutch for your rabbits. A DIY project to create a PVC rabbit hutch is not very hard. You can do it even if you're just a beginner, as long as you have an idea about the requirements for building one and know how to use the tools. The best thing about this project is that it's cheap and easy to make yet functional enough.
How To Build A Simple Rabbit Hutch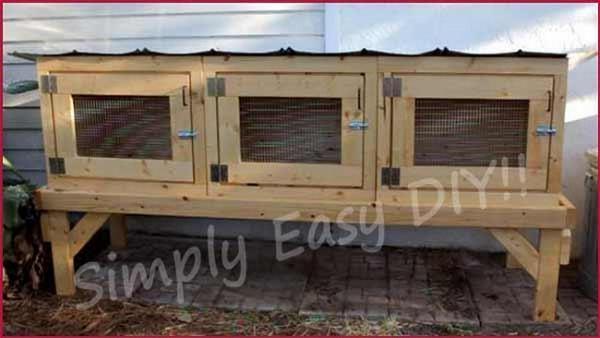 So many rabbit hutches are expensive to build. This one is simple and inexpensive. Cut the pieces, assemble them, and have a solid cage for your bunny for years. This Rabbit Hutch is made from standard construction lumber that can be purchased at any major home improvement store. The same lumber is used for building a deck or privacy fence at your home. Keep in mind that the final dimensions of the hutch you're making depend on the size of lumber you purchase.
DIY Handmade Rabbit Hutch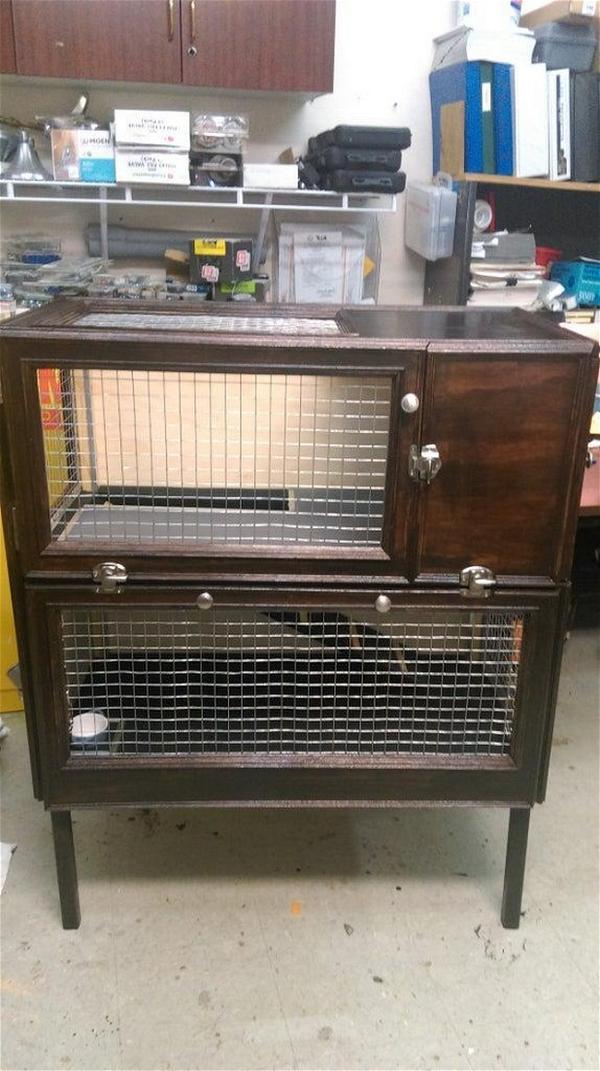 Have you ever thought about the fun of making handmade stuff? Now, you have an opportunity to do that with our DIY Handmade Rabbit Hutch. Your pet will love it, and it will also protect them from any predator. Give a chance to your kid to learn some valuable lessons while being engaged in this project. They will enjoy the time spent and love their new homemade hutch or cage. This Handmade Rabbit Hutch can be easily made out of essential tools and materials available in your hardware store. It is specially designed for your pet rabbit to live happily.
How To Build A Small Rabbit Hutch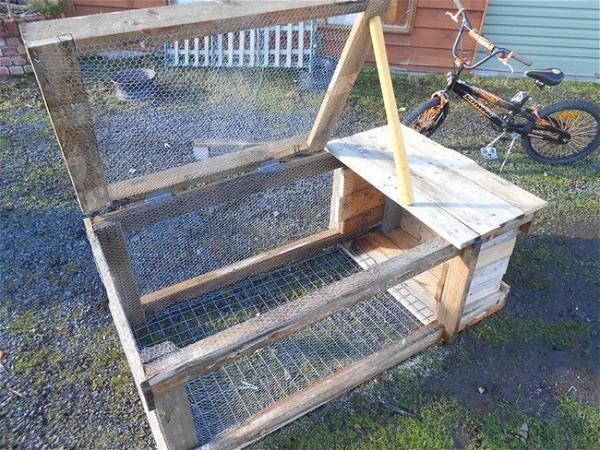 Are you looking to give your rabbit a place of its own? This small wooden rabbit hutch will provide the structure they need. It's a relatively easy project that can be completed in a day if you have all of the parts ready and cut. The result is a much more secure and comfy living space for your pet. This is a small rabbit hutch built and constructed out of wood; this enables you to have a simple yet effective enclosure for your rabbits. It is a great way to give your bunny a safe place to live and exercise. The materials required for this build should not be hard to find, so go on out and build it.
DIY Rabbit Hutch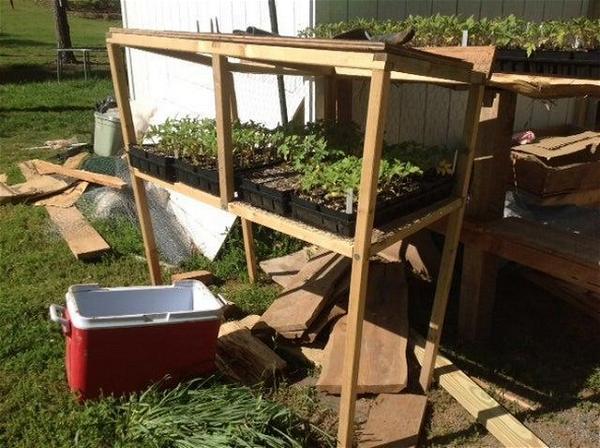 This DIY woodworking project aims to help you build an elevated rabbit hutch for your precious little pet. It may be used as a vermicomposter or as a stand-alone hutch. This design has eight parts; four legs, two crossbeams, and two adjustable roof pieces to fit your space and needs. The most important thing is to contain your bunnies while allowing them to circulate safely so they don't get too hot in the summer sun or too cold during winter. This DIY rabbit hutch is easy to build and a great way to keep your pet happy. The design will keep your animal safe from predators, and the raised floor will give it an adequate amount of space to hop around.
Indoor/Outdoor Rabbit Hutch
This rabbit hutch is perfect if you have a run and are raising rabbits or want a place for them to hang out. You'll love the convenience of this rabbit hutch. With a built-in garage on one side and plenty of room for your furry friends to play on the other, it's perfect for rabbits of all shapes and sizes. Add two levels with easy-to-assemble panels, or attach a separate cage for your most mischievous bunnies! It is ideal for outdoor conditions but also works well indoors if you have enough room and are willing to bring your rabbits inside when it gets too cold outside.
How To Build A Rabbit Hutch
Here's a fantastic DIY rabbit hutch that you can make for your rabbits. This DIY rabbit hutch is perfect if you have a little space to put up a small garden home. It has an adjustable plastic bottom and various doors on the front, giving your furball all the freedom he needs to roam around the vicinity. You can build it on your own, and it doesn't require any special tools either. All you need to have is a bit of time and patience. This cabinet can quickly be built in one day. The materials required are also available at your local home improvement store. You will have all the necessary equipment to develop this great-looking bunny shelter with the proper hardware.
Free Rabbit Hutch Plans
These free rabbit hutch plans will help you build an accessible, sturdy, and attractive rabbit hutch. Building a rabbit hutch is easier than you think, and you can use the plans as a guide to complete your project faster and with less hassle. This is a good project for people who want to build a cabinet for their beloved pet rabbits. It's a nice and cozy home for your rabbit with a good-sized run. Be sure that your pet will get the best from this great project.
DIY 4 Bay Rabbit Hutch
This is a tutorial video on how to build a four-bay rabbit hutch. It will help you create this structure in only a few hours so that you can start to enjoy your rabbits in the comfort of their own home. The plans are detailed and easy to understand, and the materials needed should be easy enough to find at a home center or in line. In no time, you can have your rabbit hutch! With the right plans and materials, this project can be completed efficiently by just about anyone. Your new rabbit hutch will give your rabbits plenty of room to play and sleep when you are finished.
Easy 6 Bay Rabbit Hutch
This rabbit hutch gives you plenty of room for multiple rabbits. It's in the form of a two-story, with a ground level and a second story. This 6-bay rabbit hutch will be perfect if you have more than one or two rabbits. The house features six individual buffets, which are in the form of a two-story. And each cabinet has a landing area beside it so that your bunny can move around. This rabbit hutch is ideal for raising rabbits in a large area and at the same time keeping them safe. It is made of durable solid pine that keeps it in shape and serves as good protection against chewing by rabbits. It is also easy to clean so that you can maintain it easily.
How To Build A Rabbit Hutch For Indoor And Outdoor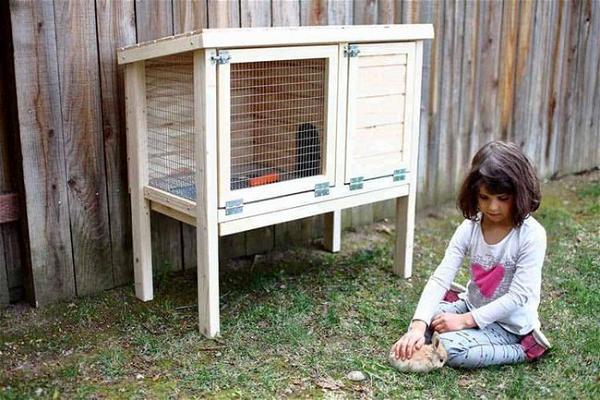 If you are looking for a sturdy rabbit hutch plan that is easy to build and not complicated, this DIY rabbit hutch tutorial is excellent. If you want to keep your rabbit safe and sound, it's essential to build a cabinet that can be used indoors or outdoors. The plans will help you create a hutch with a litter pan underneath, so cleaning is easy. This hutch can easily be moved around wherever you want and still give your pet enough room to roam. It has an open-back design, and the floor to easily be cleaned with a vacuum cleaner. The only thing needed is a few tools like a circular saw, drill, and gloves. This may be a simple rabbit hutch, but it has all the features you would want in a rabbit hutch.
DIY Rabbit Hutch Plans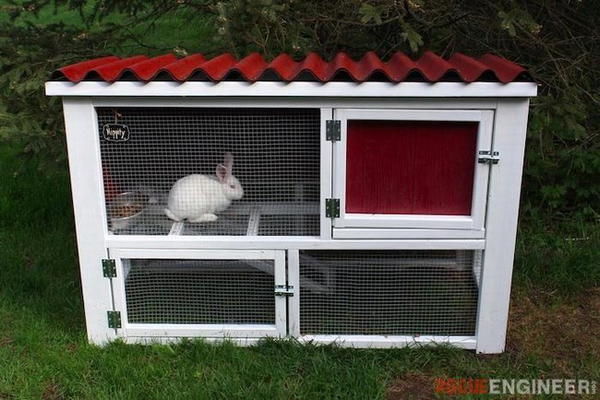 The Complete Rabbit Hutch Plans for you to build yourself! Here's a cute and simple way to add a rabbit hutch to your backyard or patio at an affordable price. The plans include building a single or double cabinet with step-by-step instructions and detailed illustrations. The Easy DIY Rabbit Hutch Plans will help you create a custom hutch design that will fit any space, be sturdy and attractive, and have all the features that rabbits need to be happy. There's no carpentry experience required; gather your materials and tools, follow the directions, and soon, you'll enjoy bunny rabbits' company in your backyard.
Free Outdoor Rabbit Hutch Plans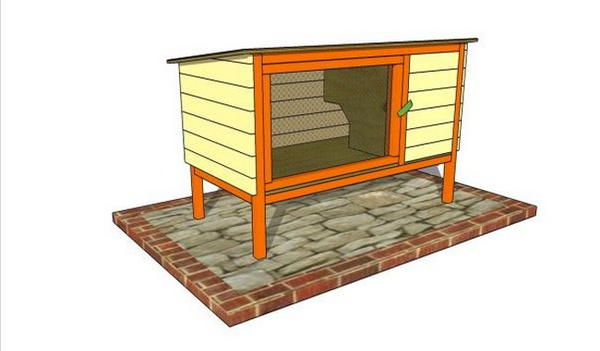 While you can purchase ready-made rabbit hutches, you may prefer to construct your own and customize them according to your needs. This free outdoor rabbit hutch plan provides a framework for building an outdoor cabinet to protect your pets from bad weather while still allowing them to interact with their surroundings. Creating your rabbit hutch is not as hard as it seems. It's best to buy wood that hasn't been pressure treated, but if you can't find untreated wood, you can use a safe sealant for pets.
DIY Rabbit Hutch Plans
Rabbits are great pets that you can quickly raise at home. The housing for the rabbits will protect them from the weather and keep predators away. Rabbits need a place for resting, feeding, and breeding. Therefore, you should consider building a buffet for your pet rabbit. DIY Rabbit Hutch Plans will help you create your rabbit hutch for your small pets. This is one of the easiest projects, and it requires very inexpensive material that anyone can do. This DIY Rabbit Hutch plan is beneficial in providing you with the information you need to build your rabbit hutch. This article will give you an in-depth overview of making a rabbit hutch plan. Featuring Various materials you may need for this project, some tools may be at your disposal, or you can consider borrowing some means to save cost.
Homemade Rabbit Cage
Suppose you want something simple and cute. A homemade rabbit cage is your answer. If you plan on making a homemade rabbit cage, it may be a good idea to draw measurements of the rabbit before purchasing materials. The do-it-yourself idea for this project will cost between $50-$60 depending on what materials are used and the required tools needed. This is an easy way to make a simple home for your rabbit. This project can be done in less than an hour using the following materials. Hinges, net, wood, and staple gun should be no problem to find; a wood cutting machine and a lock are optional.
DIY Rabbit Hutch Under $200
Do you have a timid bunny? The best way to introduce them to your family is by giving them their own space and home. Get your DIY rabbit hutch today, and you will see how much your pet loves it. This is a spacious but straightforward homemade for your rabbit to live comfortably while they bond with you. It's also cheaper when you buy from the store. This DIY Rabbit Hutch is easy to build, spacious, and cozy makes it easier for your rabbit(s) to bond with you, and gives them enough room to run around, play, climb and sleep comfortably. You can create this project for under $200!
How To Build A Rabbit Hutch
Learn how to build a cheap rabbit hutch using recycled materials. This will save you a lot of money and help you to avoid chemicals. The best part is that this project can be completed on the weekend by anyone with basic carpentry skills or no experience. If you want to build a cheap rabbit hutch, consider using simple and inexpensive materials such as wooden planks or pallets, which can be recycled. You can choose to use wood or galvanized steel, but don't forget to add a nest box so the rabbits will have enough room to nest and sleep. Don't forget to place it in a warm area sheltered from the elements, such as wind and rain.
How To Build A Cheap Rabbit Hutch
A rabbit hutch is a small cage you build in your backyard to house your pet rabbit. It keeps your rabbit safe and out of reach from predators while allowing them to exercise and explore their surroundings. This rabbit hutch is cheap to build and easy to make. The materials used are easy to find at most hardware stores, lumber yards, and home centers. The frame for this two-foot-high rabbit hutch is made with two by 4s, three by six boards on the top and bottom of the sides, corner post (3), and 16 gauge wire (1' by 2' wire mesh), and other supplies.
IBC Container Rabbit Hutch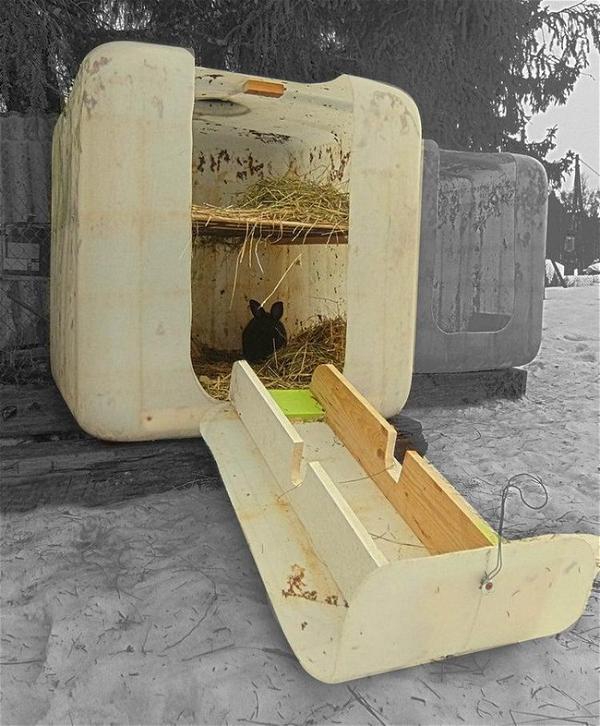 If you have rabbits as pets and want to give them a place to be in your garden or yard, this is perfect for them because it gives them enough room to move around and play with their toys. It also has a window that provides the necessary space for viewing. This is a simple and effective way to keep your rabbits safe from predators. It is also quick and easy to make, so you can easily create a second one. This house can last for years because of the creator's robust construction and durable materials. Clean, attractive, and easy to clean, this hutch is an excellent addition to your backyard.
DIY A-Frame Rabbit Hutch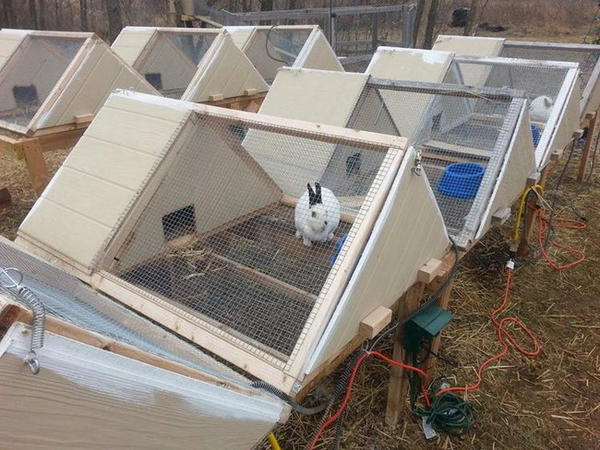 The DIY A-Frame Rabbit Hutch is a fun and simple project that will create a safe, sturdy, attractive, and predator-proof home for your rabbits. This cabinet comes completely assembled and can be moved around quite easily if you so choose. The hutch has a sloping roof that makes it sturdier than a traditional hut and prevents predators from reaching your pets. Made from sustainable wood and recycled materials, this hutch can easily be assembled on the weekend (and without any power tools!). The buffet can be made in minutes with the help of standard power tools and materials that you probably already have lying around your garage or basement.
Convert End Table To Rabbit Hutch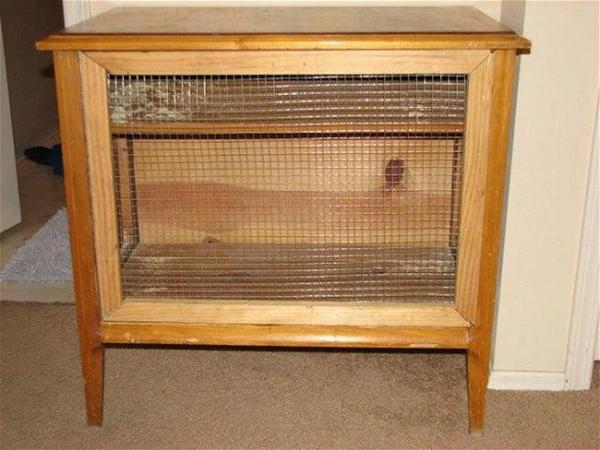 This project is simple, and it won't cost you much. It would help if you had an old end table, some wood boards and wall panels, a screwdriver and electric saw, a glue gun and nails, blue painter's tape, and paint. First, you'll need to remove all the drawers from an old end table and clean it up. The next step involves converting it into a rabbit hutch using a few basic steps like cutting some holes in the sides of an end table for ventilation and creating a roof for the hutch. Then tape plastic sheets onto the inside of the end table, so it looks nice enough for your little friend to live in. To make it look even better, spray paint the outside to make it more modern.
DIY Two Story Indoor Rabbit Hutch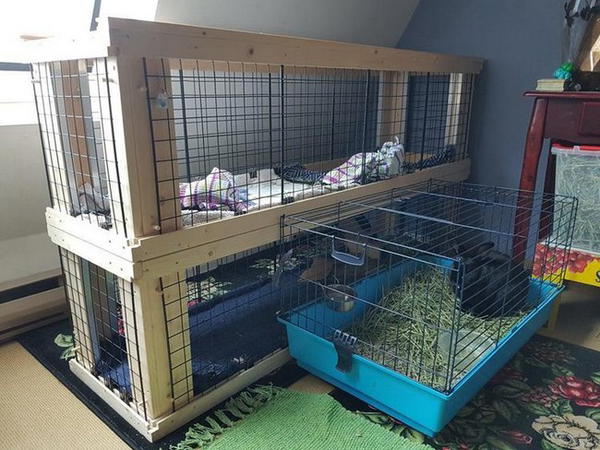 This DIY rabbit hutch is a fun project to make for your bunny. It has a two-story design with a ramp for your bunny to go up and down. Some grates are easily removable, so you can access your rabbit easily or even take him outside on lovely days. It's made of wood and easy to build yourself using simple hand tools. This design makes the most of your space, providing plenty of room for your rabbit or other small animals to lounge in comfort and enjoy the indoors. Your pet will enjoy hopping between the ground floor and second story, where your furry friend can relax in comfort thanks to the built-in ramp.
See More DIY Projects For Animals:
DIY Goat Hay Feeder Plans: Explore low-cost and efficient do-it-yourself blueprints for goat hay feeders, ranging from basic constructions to more complex models that enhance feeding.
DIY Cat Scratching Post Ideas: Explore a range of enjoyable and imaginative DIY concepts for cat scratching posts intended to captivate, amuse, and fulfill your cat's natural desires.
DIY Cat Wheel Plans: Find detailed and easy-to-follow DIY plans for creating engaging cat wheels that offer your pet a healthy, entertaining exercise option.