A bookstand is a great way to keep your favorite books at the ready on your desk or nightstand! It will allow you to save room by keeping all of your favorite books in one spot, but a homemade bookstand can be a wonderful conversation starter as well. These DIY Book Stands are simple and cheap to make, and all of them are extremely useful! You'll love how easy it is to make these stands and how gorgeous each one is. There are so many different designs, styles, and patterns that there is bound to be one that you like. Bookstands are also great gifts for friends, family members, and teachers! They're versatile enough to blend in with any decorating style, and everyone could use an extra book stand around the house. Keep reading for 28 DIY Book Stand Ideas that you can make at home.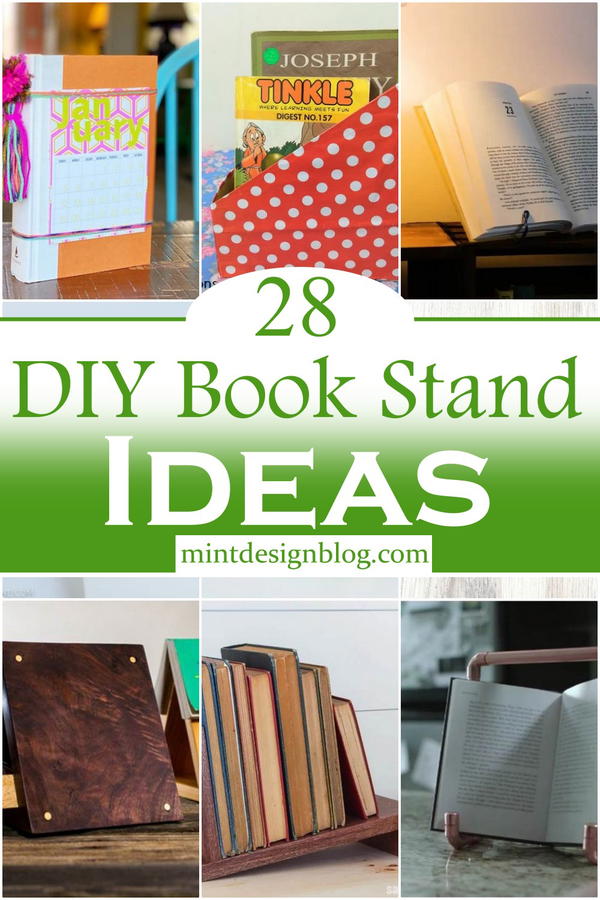 If you are a book lover, surely you need some kind of book stand for your reading needs. But it is not always easy to find one that perfectly serves your purpose. You can easily make one by yourself at home with some DIY ideas. You can read books or cookbooks while keeping your hands free with them. It is also possible to make a bookstand that can be placed on the road while traveling, and you will be able to enjoy the reading on the way.
These DIY bookstand ideas are effective and interesting. The following 28 DIY Book Stand Ideas will show you how easy it is to make a bookstand that fits your needs and style. Looking for a way to keep all of your books organized and accessible? Check out these 28 DIY Book Stand Ideas that are fun and easy to build.
Materials Needed For DIY Book Stand Ideas
Don't let your DIY book stand limit you. You can use any of the following materials to create a unique and stylish book stand for your home:
Wood (can be painted)
Plastic (can be painted)
Cardboard (can be painted)
Bamboo (can be painted)
Clay (can be painted or glazed)
If you're going to paint your book stand, make sure you use high gloss paint!
Multitask Book Stand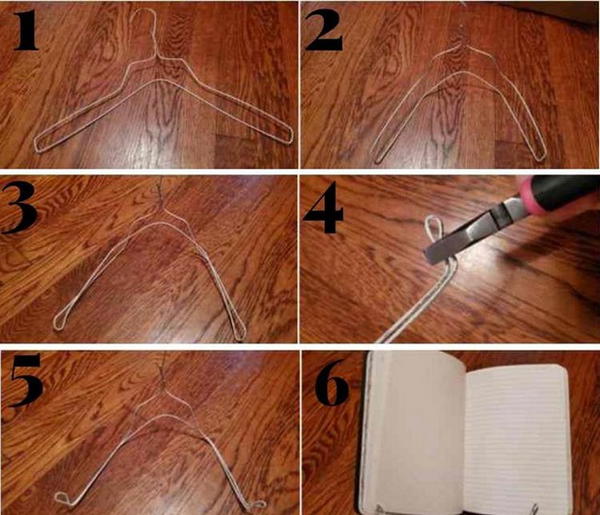 Do you want to know how to make a book stand? If yes, then you are reading the right page. A book or music stand is meant to hold a book so that you can read it with ease. There are various kinds of stands available in the market. However, the simplest way is a DIY stand. You just need some tools and basic knowledge, and then you can make a cheap but effective book stand in no time. Read on and learn how to make an adjustable bookstand with your own hands.
SKILL LEVEL: EASY
Calendar Book Stand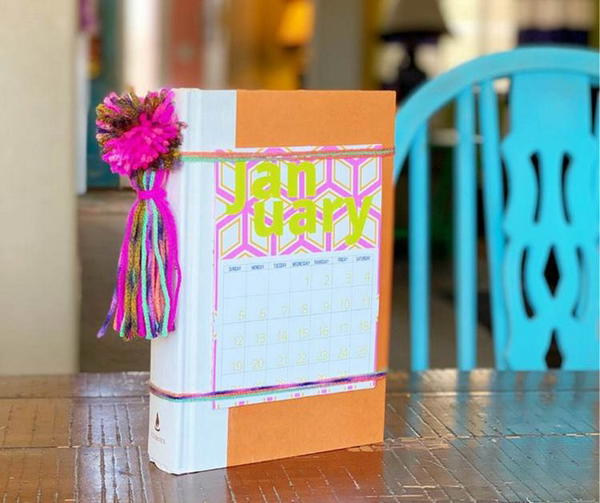 An eye-catching and suitable book stand for your desk, the Calendar Book Stand provides two pockets for storing notes, business cards, etc. The new calendar design is still one of the most important things for a new year. In terms of this, you don't want to endure the hassles of the old printable calendar scanning process anymore. Instead, you can use Calendar Book Stand to replace the dusting display frame. It works perfectly as long as your book is thick enough to hold the calendar page.
SKILL LEVEL: EASY
Ice Cream Stick Bookstand
This book stand is a great way to use those ice cream sticks for something fun! The project seems pretty simple: It's made up of popsicle sticks attached with glue, and it's small enough to make a great addition to your desk. Upcycling at its finest, this ice cream stick book stand is a beautiful and useful addition to your host of thrifty home décor. Simply glue popsicle sticks together according to the design shown in the video and let them dry for a few days before using. Sturdy and simple, this is truly a DIY project anyone can make!
SKILL LEVEL: EASY
Tabletop Book Rack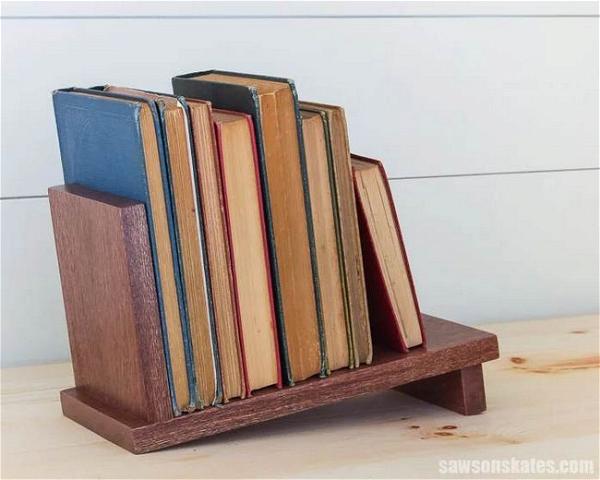 If you have a book lover in the family and have many books lying around on the table, maybe it's time to get a proper book rack. This is a simple project made entirely out of wood, so you don't need any special expertise or tools to build it. Tired of books lying in a messy pile anywhere around your house? With this little tabletop book rack, you can organize them in style, right on the tabletop, without wasting precious space. The simple wooden structure requires no special skills or tools to assemble, and it is strong enough to store your heavy books safely.
SKILL LEVEL: EASY
Simple Pipe Book Stand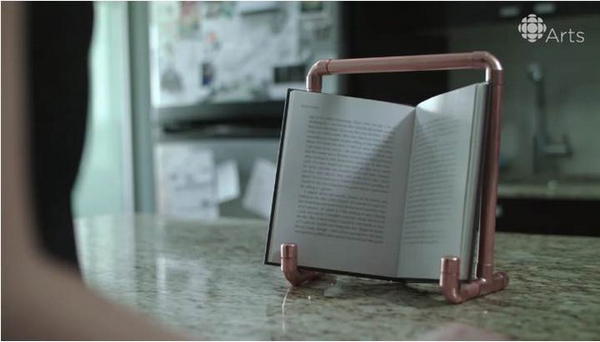 Bookworms, this one for you. If you have several books that you're reading right now or are simply doing some of your book-reading time on the couch, you need to check out this Simple Pipe Book Stand by Triple Max Tons! It uses a clever combination of pipes, clamps, and bolts to create a cool piece of art that will look great in your house and make reading some quality material easier.
SKILL LEVEL: ADVANCED
Layered Bookstand Rack
While your child is having a good time playing with their books, it's also a great opportunity to teach them how to be organized and keep their room tidy. In the Children's Layered Book Rack, your child can lay down their books orderly. This wooden bookrack featuring multiple layers is ideal for your kids, who can easily store their reading material to access and use quickly. Thanks to this unique attachment, the kids can also learn about the importance of meticulous storage. This is an organized attachment where you don't need to rely on loose glued connectivity.
SKILL LEVEL: ADVANCED
Bedside Book Holder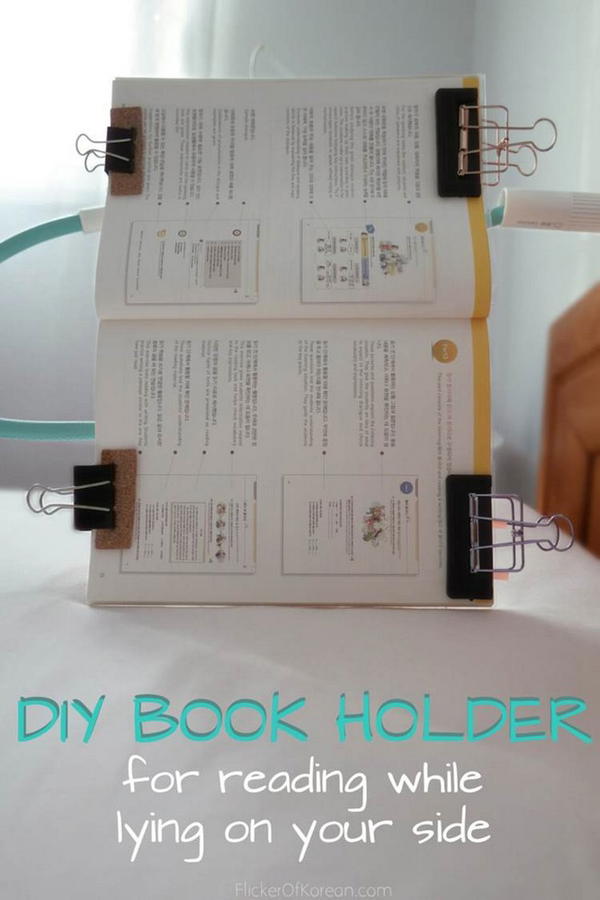 If you have to read lying down and don't wish to keep moving your head, you could find great comfort in this piece. Rest assured, though – it will hold your book firmly at a selected height and angle. This real wood stand lets you read while lying down. It's great for anyone with a problem holding a book or tablet while in bed. This book stand is easily adjustable for anyone who loves to read!
SKILL LEVEL: EASY
Cheap Book Stand
Craft a versatile bookstand out of cheap yet useful timber. If you want to level up your handyman skills, this tutorial is challenging yet rewarding. It's important to read the directions carefully before you start since there are several design variations. Remember to check safety regulations and guidelines closely before you start working with wood and tools to prevent accidents. Take your time to craft a versatile bookstand out of cheap yet useful timber. And the detailed video guidelines continue with commentary for a complete explanation.
SKILL LEVEL: ADVANCED
Homemade Book Stand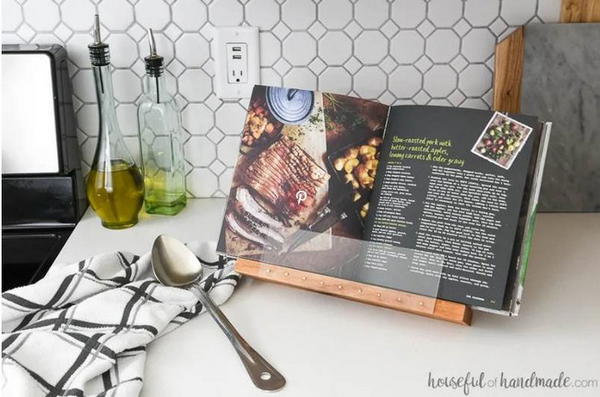 Cooking is an enjoyable experience if you have easy access to the recipes. A cookbook stand will help keep your cookbook ready for use, and it's quite simple to make one at home with some useful guidelines. Keep your favorite cookbook on display with this handsome wooden book stand. Designed to rest on your countertop or tabletop, the finished project will hold the book of your choice open at the desired page while working in the kitchen. You can make a cookbook stand as a gift for a person with a passion for cooking.
SKILL LEVEL: ADVANCED
Free Hanger Bookstand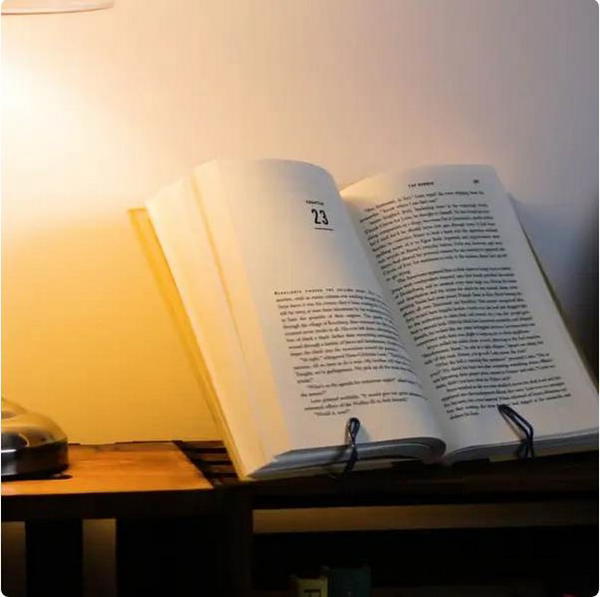 This Bookrack Holder is handcrafted from a single wire coat hanger. Its sturdy design and minimalistic style make it great for reading, cookbooks, and displaying decorative items. Thanks to its ease of use and multiple practicalities, the open hanger bookstand is a must in every home. You can make it yourself or ask some local artisan to create it. It is a simple wire coat hanger formed into the shape of a fully functional stand for your digital devices.
SKILL LEVEL: EASY
Cereal Box Organizer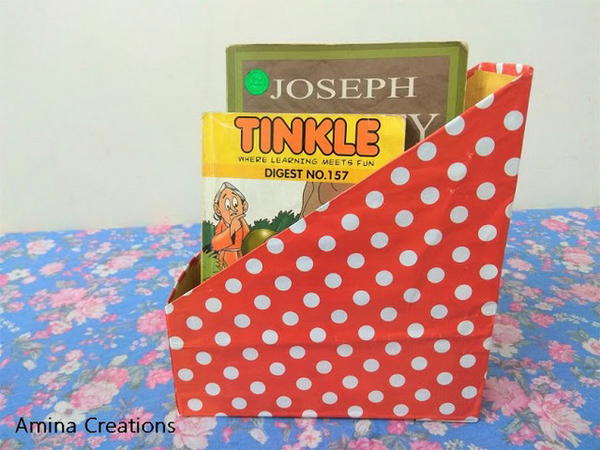 Stacking many books on top of each other is a great way to store them, but even better is converting the cereal boxes we all eat into book towers. Don't waste those cardboard pieces that hold your food -- reuse them as functional art! With just one box, wrapping paper, an A4 sheet, and some glue, your place can be perfect! Move through the slideshow to begin. It's a fun craft project that kids will love to create and use in their rooms. The finished product is quite attractive so consider making it for someone special you know who enjoys the best of everything.
SKILL LEVEL: EASY
Low-Profile Holding Platform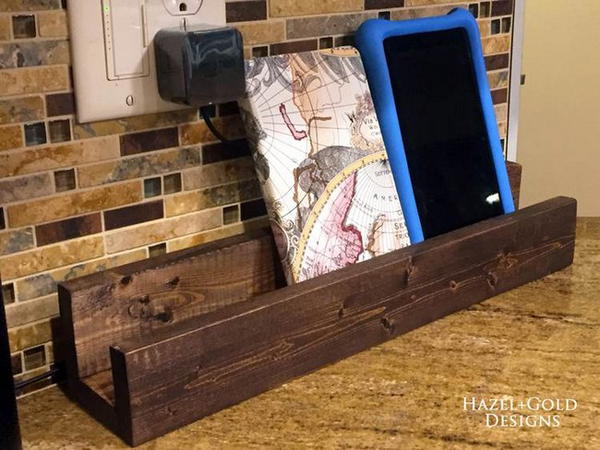 Easily make a bookstand at home by cutting off a few pinewood pieces. Individual components include dowel bars and slots in the others. The model allows easy attachment during bottling. You can start crafting a deliberate bookstand like a pro using this project. The design utilizes dowel bars to apprehend individual units in one assembly. Dowel holes have been drilled into the base & sided rails. A concealed passage runs through the whole unit, accommodating storage space for newspapers for the readers.
SKILL LEVEL: ADVANCED
Wooden Cookbook Stand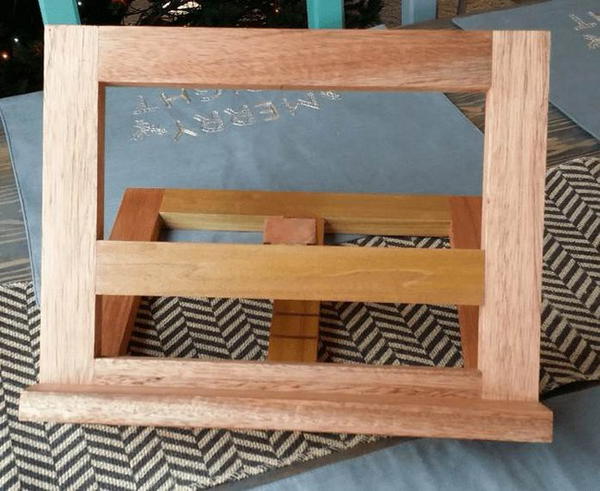 This cookbook stand is a popular project of the Crafty Irishman's Woodshop. The book's design allows using a built-in support leg while standing freely on the table or counter surface. Plus, it can display both right-handed and left-handed users! Use glue and clamps to assemble the walnut hardwood frame, joinery that will not fail. The original colored version has sold out, but don't fret! You can build it in any wood you choose and stain or finish it to your liking.
SKILL LEVEL: ADVANCED
Geometric Book Stand
A beautiful way to hold and display your favorite, hard-to-find, or a simply enjoyable cookbook! This modern style stand provides an excellent reading angle in the kitchen or wherever you need it. This geometric book stand is a smart and functional design that holds your books and magazines in place on your desk or table. Handcrafted from simple wire, it's sturdy and light enough to carry to the kitchen or office. Perfect for loving readers and foodies alike, this unique and beautiful bookstand is a stylish gift for any occasion.
SKILL LEVEL: ADVANCED
Book Holding Plate Stand
The Book Holding Plate Stand adds an elegant touch to your home and is a great way to support any cookbook, art book, novel, or magazine. The stand securely holds up books with its solid base without tip-overs or slides. This decorative plate stand is easy to assemble and requires no building tools. The plate display stand is perfect for displaying your favorite decorative plates, plaques, etc. Enjoy your favorite cookbooks and food magazines right at your counter. This charming bookstand features an adjustable frame and a modern matte black finish to hold the books in place.
SKILL LEVEL: EASY
Waste Cardboard Stand
Cheer up your mood and reduce wastage simultaneously. Made from waste cardboards, this tabletop stand is a perfect utility and an artistic piece for varied purposes—craft waste cardboard scraps into a simple tabletop organization and decor. There is nothing better than creating something useful out of wastage. Grab your scissors, glue stick, and some glue dots to build this multi-functional station that can be used as a pencil holder, paper holder, and more.
SKILL LEVEL: EASY
Cardboard/Buchständer Stand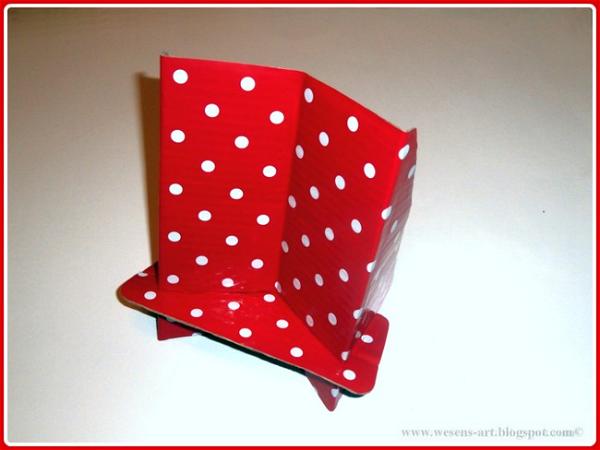 What will happen if your favorite book is not around? Or do you run out of bookmarks? Well, worry no more! The Cardboard/Buchständer Stand spreads a smile in keeping your favorite books aside when you are busy. This is a cardboard stand for books that can keep your favorite books in the perfect position. It is printed with an attractive print, once again showing its magic. Moreover, it is made of cardboard. So leave your worries to the DIY Book Holder and see a creative world at a glance!
SKILL LEVEL: EASY
Dad Day Bookstand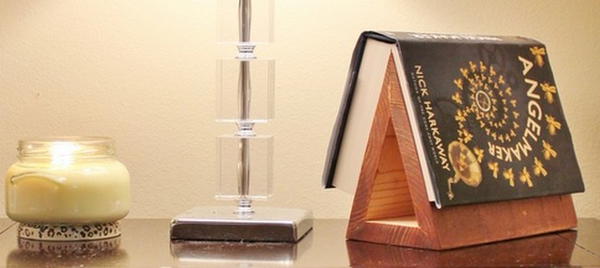 Dad Day bookstand is a smart companion for your reading habit, the way it works is straightforward and simple. After attaching the three pieces, a triangular formation will be created from stable and trusted wood to keep the pages open safely. Provide a clean and handy solution for readers to enjoy their habits without unnecessary worries about the book pages! It is simple and easy to assemble; all you have to do is attach three pieces of wood.
SKILL LEVEL: ADVANCED
Dual-Side Bookstand
With two tiers to hold large books and a notebook, the Dual-Side Bookstand can handle all your reading material, no matter how you like to read. Its fascinating design will help you eliminate the rampant headache of flipping pages and tired back & neck from leaning over. It is the perfect stand to hold books, even big and heavy books, easily. It is particularly suitable for those who want to read comfortably and without constraints for long periods. This Dual Side Stand will make a great present, suitable for all ages! Whether reading in the library, at home or outdoors, you'll be grateful for this sturdy and well-designed product.
SKILL LEVEL: ADVANCED
Triangular Holding Stand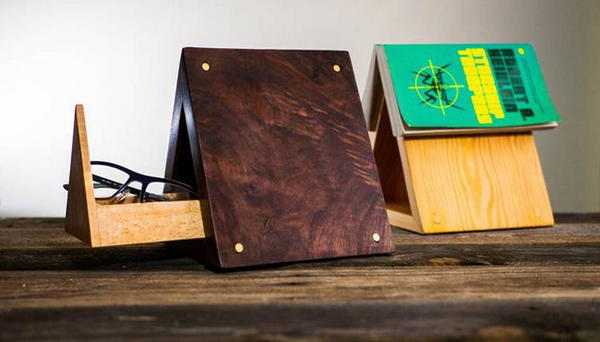 A beautiful way to prop up your tablet or book, this handsome stand is made from three different types of wood. Reap the benefits of a clear work area with this Triangular Holding Stand. The solid, ash-constructed frame holds tablets, books, or other work items at an easily accessed angle. The A-frame shape occupies minimal counter space while offering maximum utility. A hand-activated lever on the side allows you to adjust its height. This stand allows you to always have your favorite book at hand. It is easy to make, so why not make a special gift for someone you love?
SKILL LEVEL: ADVANCED
Complete Bookstand Frame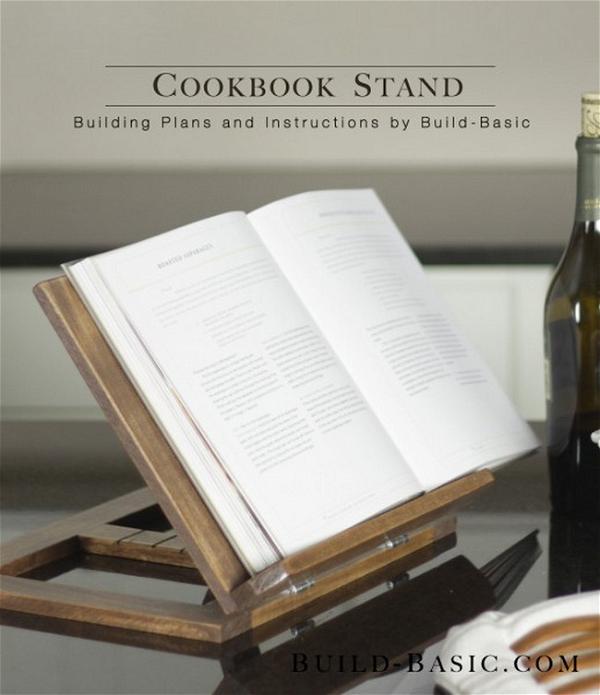 The Complete Bookstand Frame brings some urban design to your kitchen tabletop. This cookbook stand will keep your favorite culinary masterpieces front and center as you work, ensuring easy access and less clutter in the kitchen. Accessorize it with your favorite prints to give it your personal touch, but we're certain this frame will be a great complement to any decor.
This beautifully simple bookstand frame will bring order to your prized cookbooks or hold a collection of your favorite novels at the ready in any room of your home. Made with sturdy maple wood, this bookstand includes cutouts along the top edge to keep pages in place, making it a practical and decorative accessory you'll treasure for years.
SKILL LEVEL: ADVANCED
Waste Paper Bookstand
Brilliant idea to repurpose the waste papers, and the best part is that it's a minute book stand. Follow the steps in this video and make a low-cost book holder yourself. You only need a fewer scrap of paper, the "Waste Paper Bookstand," and some creativity to create a bookstand. You can also use your old newspapers to build this beautiful DIY stuff. This amazing bookstand will also let you keep your brain function at the best level and without any hassles.
SKILL LEVEL: EASY
Foldable Book Stand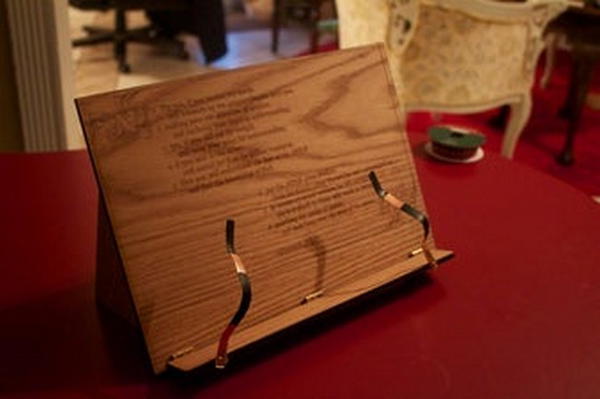 A foldable wooden book stand should be in every home. This one is for book lovers with a perfectly crafted, eye-catching, and useful structure that will last for years to come. Imagine reading your favorite book on this beautiful bookstand after a long day of work! A creative gift for anyone who enjoys reading, eating, or working, this Foldable Book Stand will keep paperwork, tablets, and recipes in one place. The folding design is lightweight and easy to store, made from anodized aluminum and featuring an anti-slip silicone plane.
SKILL LEVEL: ADVANCED
Adjustable Tabletop Rack
Make reading easier and more entertaining with this Adjustable Tabletop Book Rack. The simple and compact design makes it perfect for setting on any flat surface, whether a table or desk. The rest allows the display of perfect books by holding them at the best effective viewing angle. This tabletop book rack is perfect for displaying books on a desk or table. The printed cover offers a sophisticated look; Easy assembly with no tools required.
SKILL LEVEL: ADVANCED
Thomas Jefferson Bookstand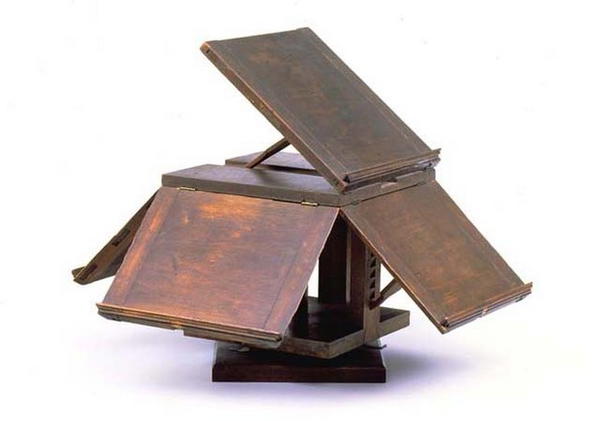 Thanks to its design, the Thomas Jefferson bookstand matches a simple bookshelf with its elegant style and functionality. This antique stand features a wide platform for multiple book types and enough space for storing reading materials. The vintage-style holder offers high portability due to its lightweight construction. It's foldable and easy to assemble, with a neat design making it ideal for any library or room. It is a classic and elegant style of book stand and is a perfect gift for any occasion. The bookstand takes less than an hour to construct with no tools required.
SKILL LEVEL: ADVANCED
How To Make A Bookshelf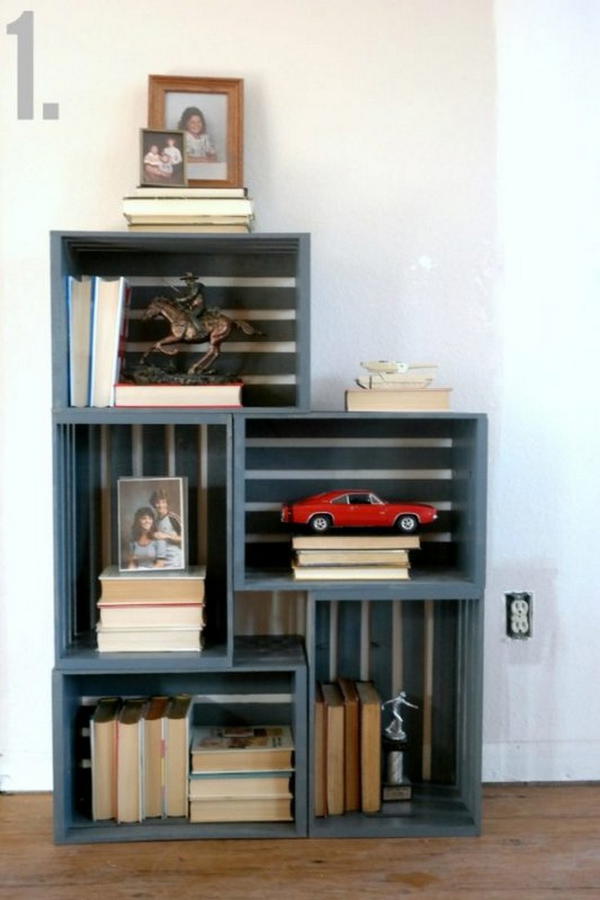 It's a Bookcase! It's an Art Piece! What will you make it? The innovative design of this bookshelf allows the user to create the shelf configuration that suits their needs, whether simple or elaborate. The custom-made Bookshelf Kit is an easy and fun project for all ages. Each kit comes with a pre-cut wooden frame, sandpaper, pre-cut shelves, glue, a hammer, nails, and comprehensive instructions." Make A Bookshelf Kit with everything you need to stack and display your books. Designed for family-friendly fun, this project is great for those looking to explore their creative side. Easy to assemble with ordinary household tools, no professional installation required.
SKILL LEVEL: ADVANCED
creatingreallyawesomefunthings
Pipe & Plank Bookshelf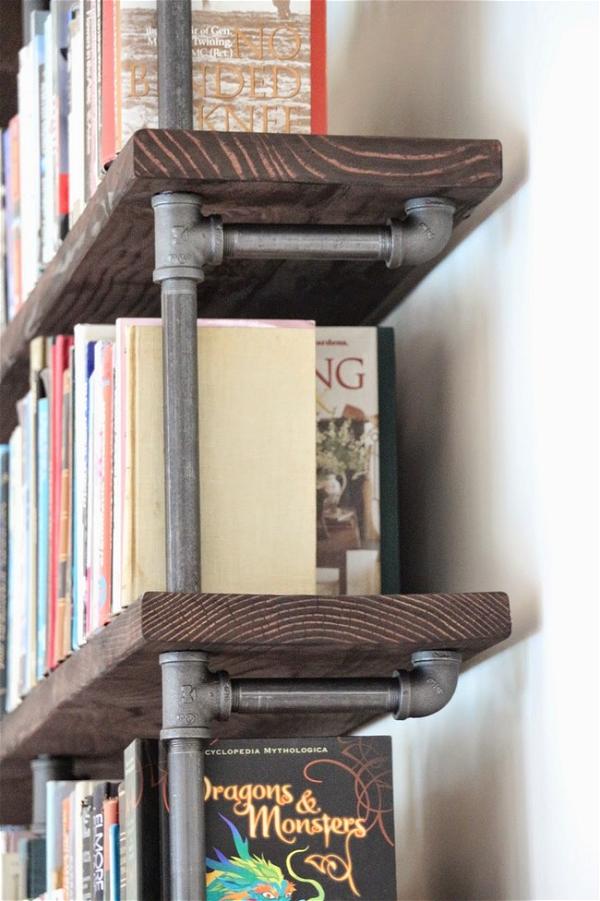 Want to add some storage and display space for your kids' crafts, books, and other special items. Handsome and versatile, this industrial-chic shelf gives you plenty of storage options for books, décor, and other essentials. Crafted from vintage pine wood planks and iron pipe with a natural finish. This bookshelf took a lot of work, and it cut the wood to length, sanded, drilled holes for the pipes, stained, and put it all together to create this large piece of wall-mounted handiwork.
SKILL LEVEL: ADVANCED
Baby Book Nook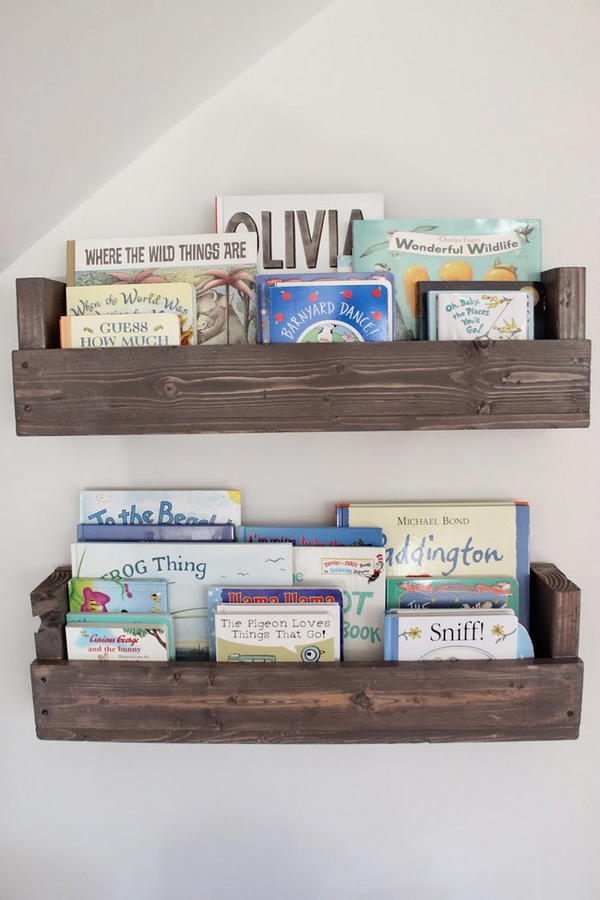 The Nook's unique shape and customizable book display keep books front and center, connecting readers' online and real-world communities. A modern twist on the classic book nook. It's an easy way to give your little one the appearance of an oversized book and works two ways: standing upright to look like a book on the shelf or lying down to create a cozy reading nook. Simply push the life-size book cover against a wall and create a fun, personal space for storytime!
SKILL LEVEL: ADVANCED
CONCLUSION
Bookcases come in all shapes and sizes—but sometimes you want a book holder that fits just one. A DIY book stand can be the perfect solution for all your reading material, whether cookbooks in your kitchen or favorite novels on your nightstand. These DIY books stand ideas are easy to build and made out of repurposed or upcycled items. Curating them together here, we hope it's useful for you when creating a child-friendly space and needing to corral books somewhere that's both functional yet pleasing to the eye.
See Other Projects