No more front-page problems with these DIY Bookmark ideas. I've collected some creative and easy ways to remind you where to continue the book. Follow some genius ideas, including a genuine bookworm bookmark, knitted monster bookmark, and no-sew fabric roller. All the ideas are very simple and quick to make, and anyone can be a creator. Pick your favorite idea and start making bookmarks right now!
While it's great to have a book-loving friend or family member, the one common problem they all seem to have is where to stop reading and mark the place in the book so that they can easily continue when they pick it up again. There are many solutions to this problem, but here is one not all have thought of - a bookmark made with things you may already have at home. And we came up with a series of DIY bookmark ideas to give you endless options to select the best one up to your desire. It's easy, inexpensive, and more personal than any store-bought bookmark.
Homemade DIY Bookmark Ideas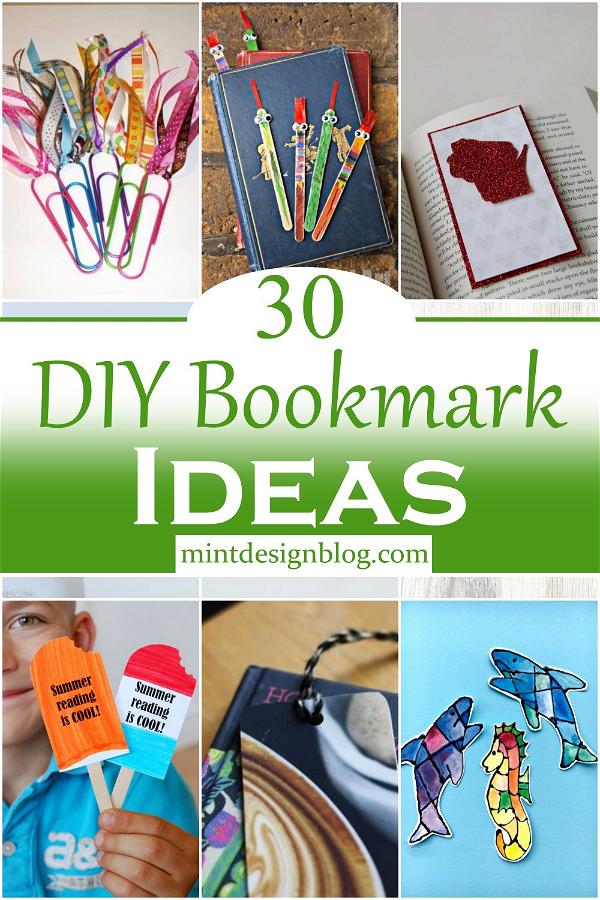 Getting bored with your usual bookmark? Well, it's time to change it. The important thing is that most of them can be made from whatever you have at home and the process is so easy and funny. You will want to make more than one item. With the help of your imagination, you can make bookmarks from plastic bottles, old CDs or credit cards, or from maps and even paper clips. It is also possible to create cloth bookmarks with buttons, beads, and other decorations. All listed DIY Bookmark ideas are very simple, and budget-friendly follow them to end up something impressive.
DIY Ice-cream Bookmark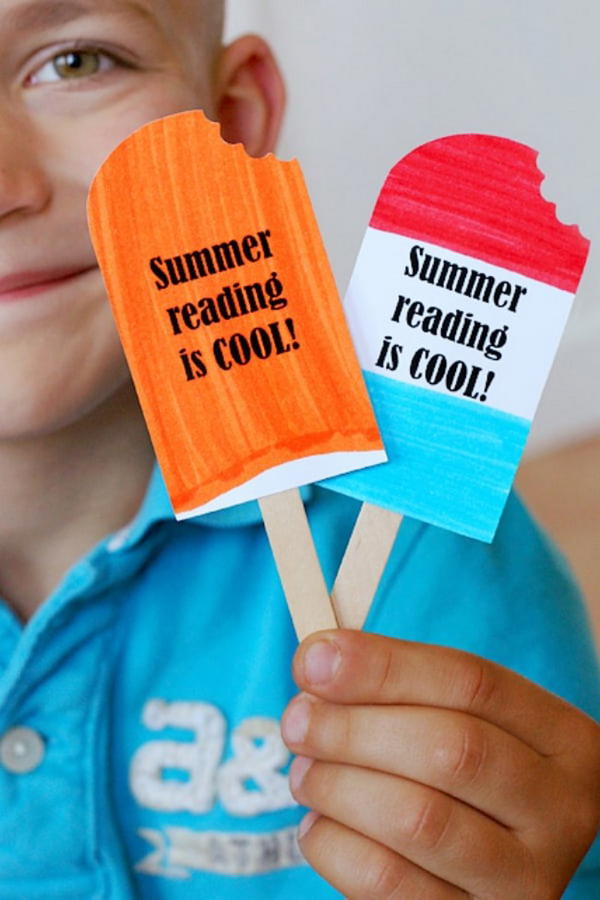 Are you looking for a way to make books more attractive for your kids? Look no further. A DIY Ice-cream bookmark is the perfect opportunity to use your creativity and create something special for your little ones. Use cardstock paper, a popsicle stick, a pair of scissors, and glue to organize a perfect atmosphere for your child with this easy step-by-step guide. Make a bright picture of ice cream to color the house's walls with joy. The book will keep your child's attention for a long time.
Diy Letter bookmark
Heart-shaped bookmarks are very popular among readers. This shape is really cute and looks like a heart, so your gift will be original. They can be made of different materials, and you will choose the one based on your budget. Wood and cardboard are the cheapest but still good materials for this project. This handmade bookmark makes the perfect gift for anyone who loves to read. This is a great booklet for men, women, kids, and adults of all ages. Use it to decorate your journal or planner as well.
DIY Patriotic Bookmark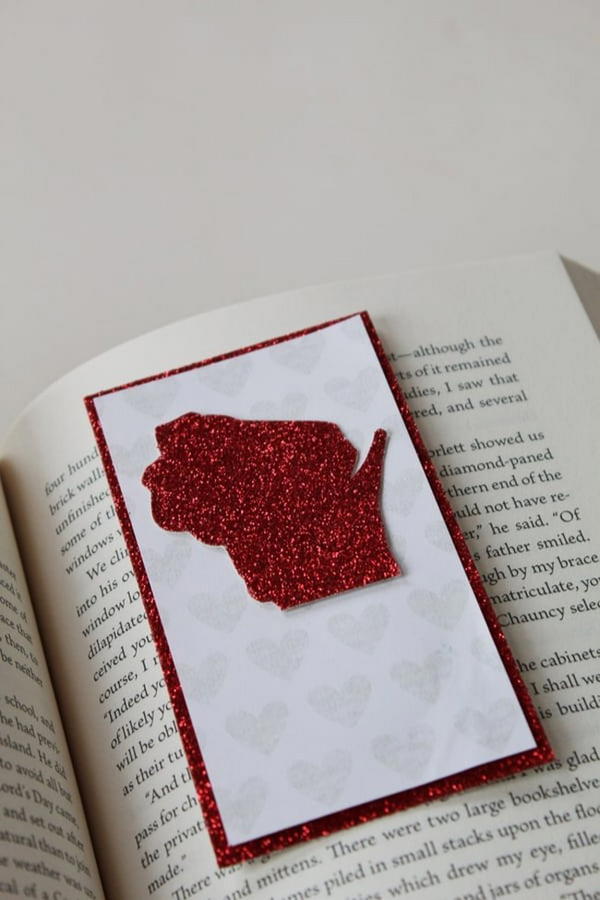 When we travel to a foreign country and start to feel homesick, we often think about our home. We remember landmarks and familiar places associated with our hometown. This handmade keepsake will help you in difficult times you miss your land. The newsprint-inspired DIY Patriotic Bookmark is the perfect project for a summer camp art class or to pass the time on a rainy day. Use our templates or your designs to cut out an outline of your state, country, or hometown and create fun bookmarks that will inspire national pride.
DIY Printable Bookmark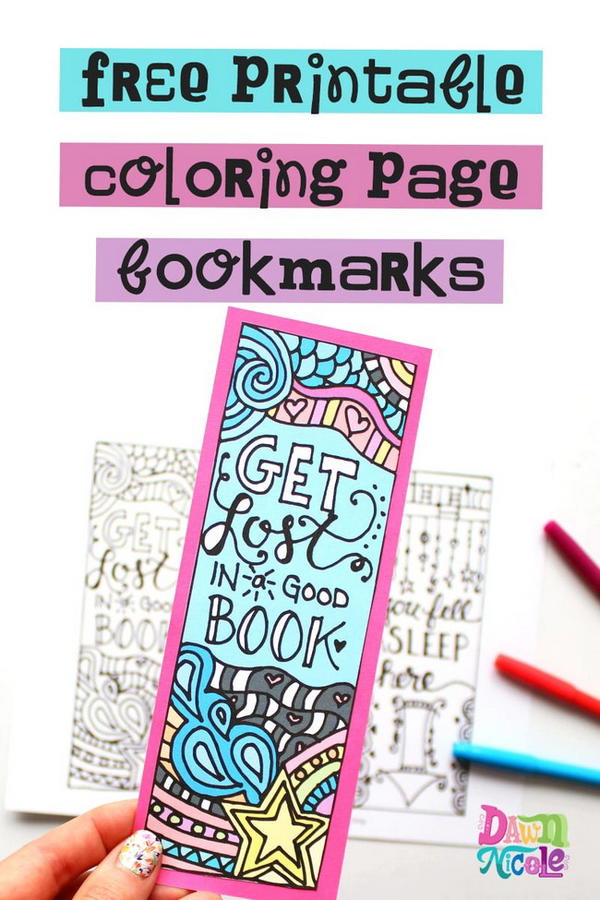 Let your kid show their creative side with the help of this set of DIY Printable Bookmarks. This set comes with a free printable version, which you can easily paint with your kid's favorite images, captions and quotes together because there is nothing more fun than painting something together! This is a very easy craft you can do with us. All you need to do is follow our instructions, and that's it. You can download as many bookmarks as you like since we always have new images available.
Diy Quoted bookmark
These are the most common reasons you should consider those charming pieces of art that I keep referring to as a bookmark. You can create one for yourself and surprise your bookworm friend with it on their birthday. Just pick out your favorite quotes from anywhere, cut them out in a rectangle, attach them to the cardboard, and make a beautiful bookmark. If you are looking for something more eye-catching, personalize the bookmark by adding a small design or photograph of your favorite book writer in one corner of it.
Diy Pompom bookmark
A pompom bookmark serves as a colorful mark to keep your place when reading. It is indeed not hard to make your pompom from yarn. To do this, wrap the yarn around three fingers about 300 times. Next, cut a piece of yarn about 20 inches long and tie that around the middle of the bunch of wrapped yarn. Cut all loops on each side of the tied area and trim the ends at the same length. Use your favorite yarn and create a small piece of art that will make your book look beautiful. This DIY craft is not time-consuming, but you will enjoy it for months and years when finished.
DIY Knitted Bookmark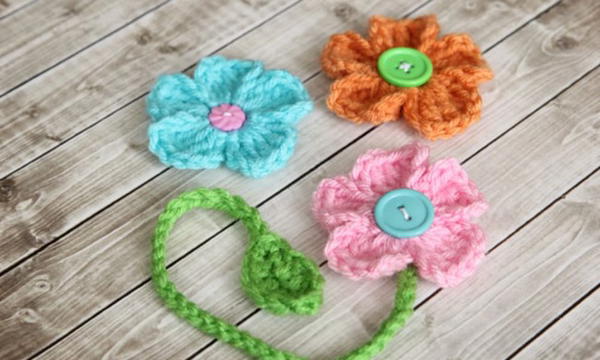 Knitted bookmarks are great gifts for friends and family who love to read. The craftsmen take care of every little detail on the bookmark so that the bookmarks are durable and look very charming. Made of jute rope and crochet material, it is more durable and sturdy. You can tie up your bookmark with a nylon thread. Your notebook will be easier to find out. We designed this DIY Knitted Bookmark to be ideal for a range of tapestry crochet projects. Whether you're crocheting daises and butterflies or curlicues and cables, our bookmark will hold your place until you're ready to pick up your hook again.
DIY Heart-shaped Paper Clip Bookmark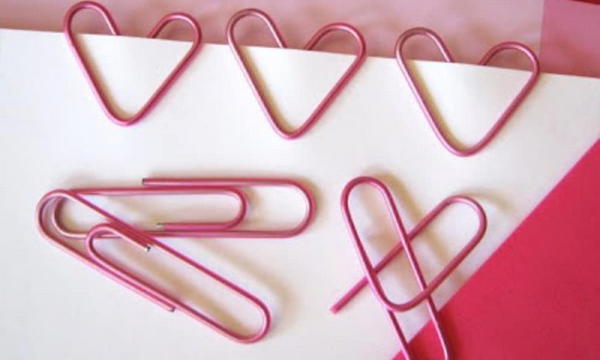 These heart-shaped paper clip bookmarks look fantastic. They are perfect if you are not skilled with handiwork or looking for something simple to make in bulk. Everything you need is to purchase a few paper clips wrapped in red or pink plastic. Gently reshape the wire into a tiny little heart and clip it onto the pages of your book. It is that easy. With a few red or pink paper clips and a few minutes at your desk, you can whip up a whole pile of sweet little bookmarks as gifts.
DIY Paperclip Bookmark With Ribbons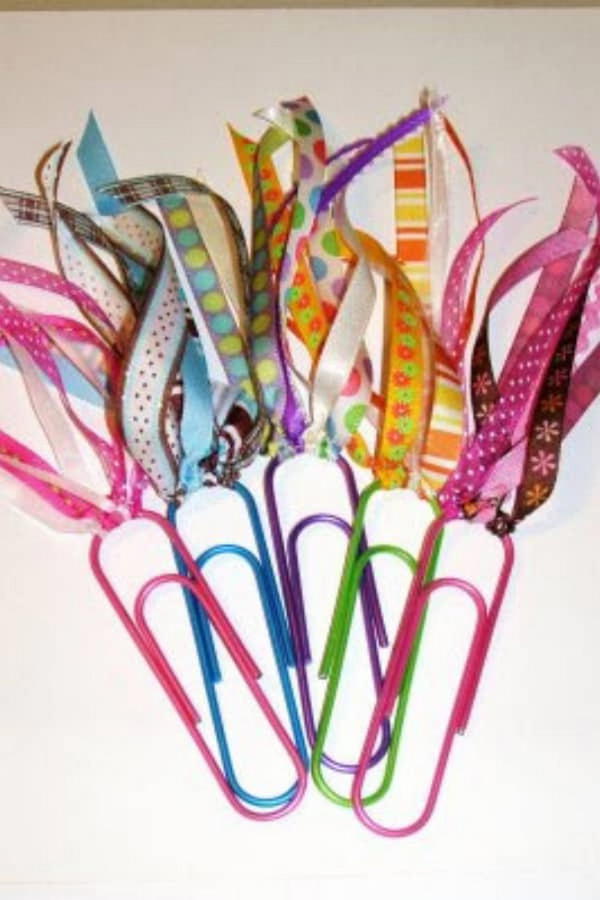 Paper clips are not just for keeping paper together. You can use them for all sorts of clever things. Choose ribbons of varying lengths and tie them to a paperclip. Repeat this, so one end of the paperclips has several lengths of ribbon. Alternatively, use the same ribbon, fold it over several times, then tie it to the paperclip. Place them in your books for decoration or give them to friends as gifts. We recommend making several bookmarks - of different lengths and colors - to insert into books you read the most often.
Diy Mustache bookmark
This bookmark is awesome, and it will help you stay classy. You can make this in minutes with square paper by folding it into a triangular shape. This will sit perfectly in the corner of the book and let your book hold its page while you are away. You can draw a mustache by hand or use a pattern to get a unique and professional-looking object on the outside of this bookmark. It's made of quality materials and features a mustache design that holds your place in your book. This bookmark is an ideal gift for anyone who loves books.
Diy Old jewelry bookmark
Using old or unused jewelry and turning it into a bookmark is both eco-friendly and a great way to make the most of your precious items that may no longer be in use. It's really simple to do, and you can use things such as old earrings, pendants, pieces of bracelets, etc. Attach a ribbon, and you have your elegant bookmark. You can now turn it into something useful, put it in your book. If you don't have any sheer ribbon at home, you can also use any ribbon that will suit your needs.
DIY Fabric Flower Bookmark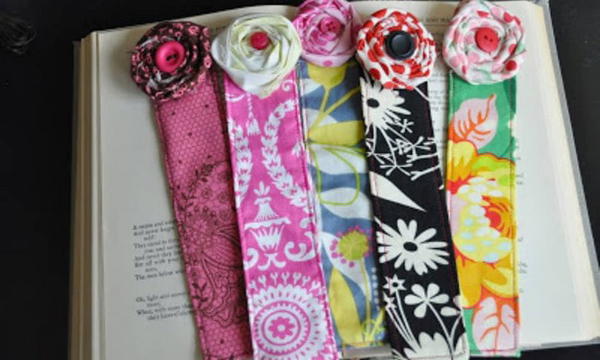 This DIY fabric flower bookmark is a perfect sewing project for beginner sewists. You will need little time and only several simple materials: embroidery floss, fabric scraps in bright colors, and a used book. This handmade accessory will bring joy to your life. Sew as many bookmarks as you like and give them away to friends and family, or keep them all for yourself! Made from simple materials and with a bit of practice, you can sew this bookmark in 3 minutes for a special gift-giving touch.
DIY Craft Sticks Bookmark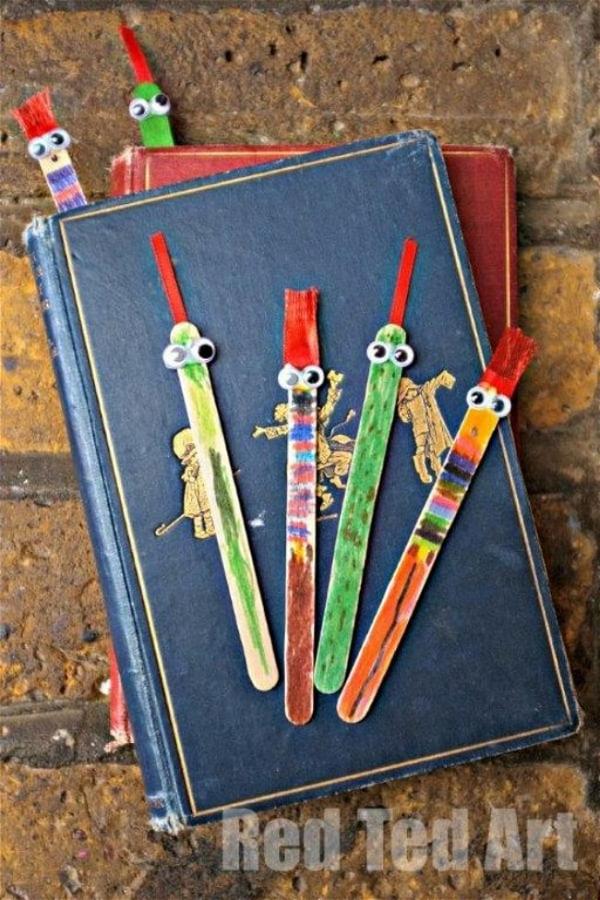 Help kids create DIY bookmarks with our exciting Craft Stick Sets. Use these sets to explore your creativity and produce unique bookmarks to challenge the dull days. Bring color to life by painting, wrapping up, and decorating crafts with pieces of printed fabric or add a touch of glabrous sequins and ribbons to make a real statement. Our nostalgic craft sticks serve as a wonderful creative outlet for kids, bringing them endless joy and possibilities! Unfinished wood allows you to paint or decorate your projects, however. They are perfect for school, home, and camp arts and crafts projects!
Diy Dress bookmark
This DIY Dress Bookmark is different from regular bookmarks so it would be a great gift for real fashionistas. The best thing about it is that you can make it yourself. All you need is to choose the fabric and pattern, cut and sew the bookmark, then stick the elastic band around your book to secure it. Make a bookmark out of the fabric you like. You can use this type of easy DIY project to add some personality to your bookmarks and make them different from the standard type of bookmarks.
DIY Re-purposed Calendar Bookmark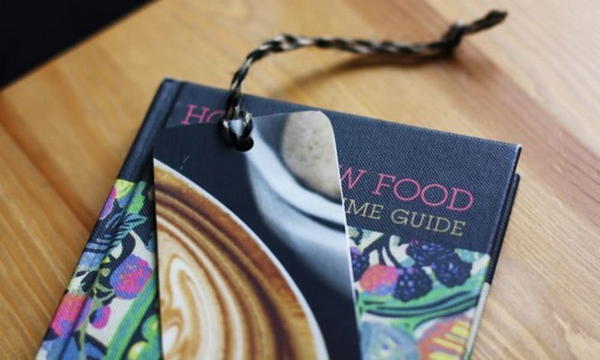 New Year's Eve has already been celebrated, and the previous year's calendars are already useless. If you want to make new bookmarks, cut the months into adequate shapes and tie them with a string or ribbon. These bookmarks are very elegant and not ordinary. You can use them to mark your favorite pages in a book, or maybe you can gift them to your friends who love books just like you. Not only that, but you can also give it as a gift to your friends and family. If you're looking for something trendy, original, and eco-friendly, this is the perfect project!
DIY Watercolor Bookmark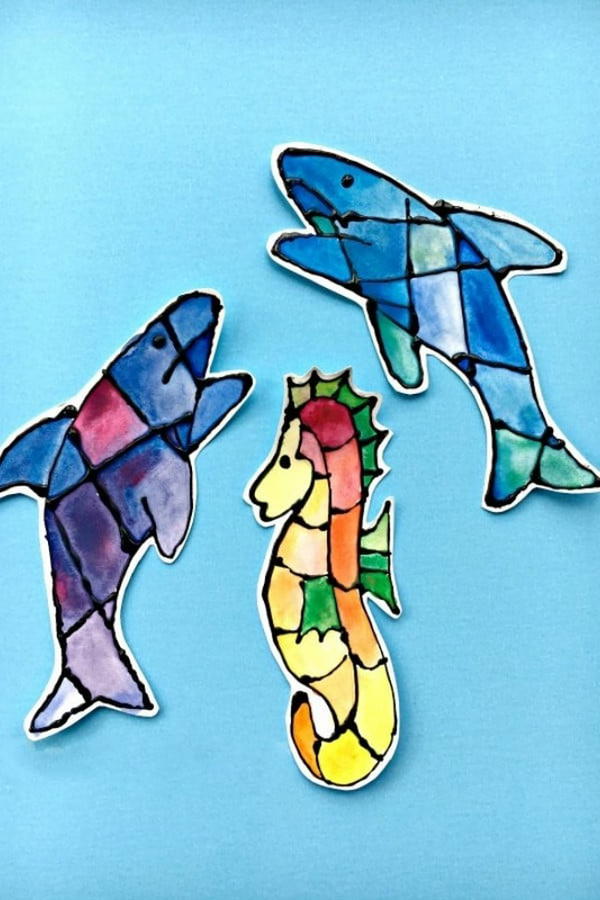 Looking to spice up your reading life? Check out this fun DIY watercolor bookmark! If you adore watercolors and use every opportunity to make something by using this fantastic and highly inspiring technique, it will hit the spot. No more lost pages ripped bookmarks or scrambling through your bookmarks at the library. You can make a beautiful collection of your favorite books that are part of your life forever by making your bookmarks!
DIY Monster Bookmark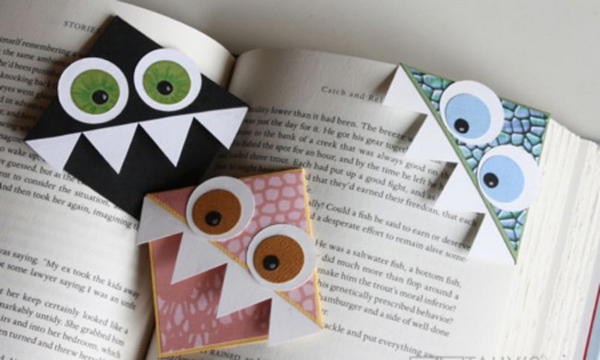 Looking for a wonderful accessory for your kid which will help them start reading books more and more? DIY Monster Bookmark is a perfect solution for your problem. With bright and fun colors, you can even make a child amusement from the process itself. Your child will be fascinated by such exotic and unusual bookmarks; certainly, they will hurry up to try it in his favorite book. You may use this bookmark as a great surprise for your little reader.
Diy Owl bookmark
Owls are now popular among children and adults alike. This bookmark will be a perfect gift for any reader from 8 to 10. Just print it out according to the instructions, cut out the parts, and glue them together. Find an interesting project for your children, or add a touch of cuteness to your collection of bookmarks yourself! This DIY pattern can be used at a children's or adult party. With this DIY pattern, you will create a funny device to mark the place in the book(s) where you can leave off reading.
DIY Cat Or Dog Bookmark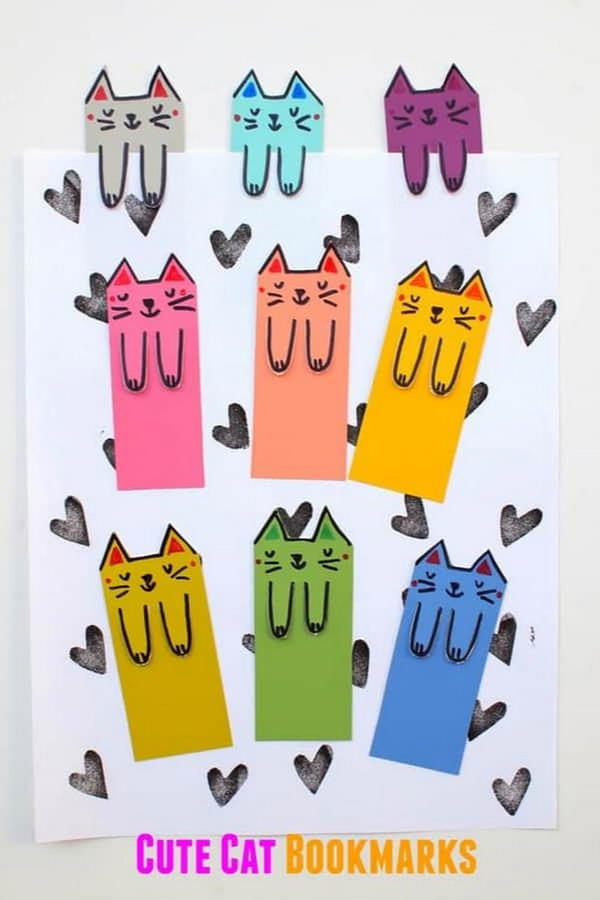 If you love to read books, this is the perfect project. Instead of buying bookmarks, make one yourself! You can do it easily and quickly with your kids. One idea is to use a standard bookmark shape, or you can be creative and come up with different shapes, like a cat or dog. Feeling sorry for the unused sheet music, colored papers, or magazines? Don't be sad! To make a unique bookmark, you can use some of those unused materials lying around your home. Let's start making a wonderful bookmark!
DIY Mermaid Bookmark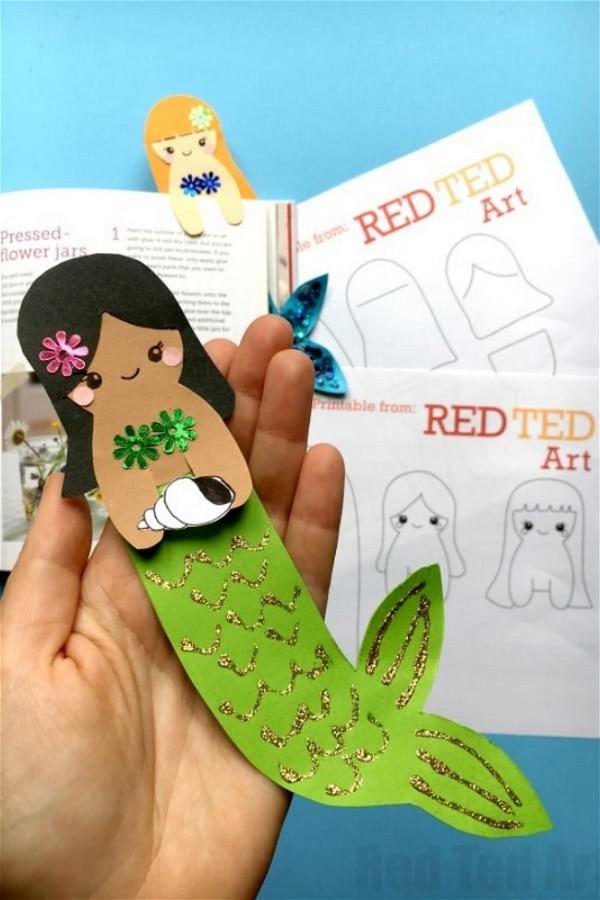 Your book-loving kids will love to keep their place in their favorite stories with this easy-to-make DIY mermaid bookmark. Cut out a mermaid shape using a piece of cardboard, and then embellish with your child's favorite colors, decorate with strips of colored paper, sequins, and glitter. This mermaid bookmark is so simple and fun to make! It will be greatly appreciated by the young readers and creative minds in your life.
Diy Origami bookmark
Origami is the art of folding paper, and it is truly wonderful! We all like books, don't we? But, there are times when they close and appear a little unloved. You can revive that love simply by tucking in an origami bookmark. You could make a bookmark that suits the book with a little care. The shape of your bookmark is the best way to personalize it. Choose something that will make you smile whenever you turn to the page of your book to continue reading.
Diy Duct tape bookmark
DIY Duct Tape Bookmark is one of the best ways for your kids to make them learn about writing. This product comes in a set of 2 and can help add fun to your book reading time. It is made from the finest quality materials, and hence, the duct tape won't be easily broken. It comes in various colors and weighs only 4 ounces, thus ensuring portability. Give some gifts to your friends, family, and kids that are useful and decorative by making this DIY duct tape bookmark. You can use any color of duct tape, but since I am giving it to my kids, bright colors are best.
DIY Book Spine Bookmark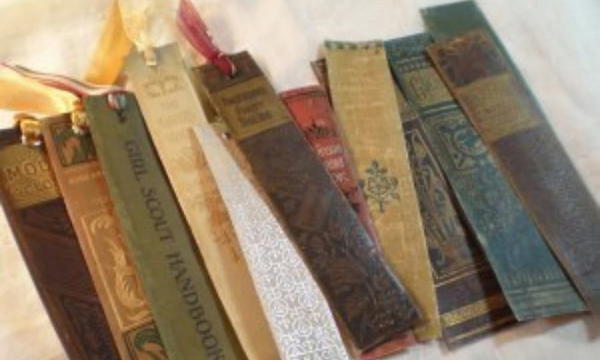 Take the opportunity to craft your bookmark from the spine of an old, damaged encyclopedia or cookbook. This may seem like an unusual project, but trust us when we say this item will make your bookmarks sparkle and appear more stylish and elegant than all of your friends. An artistic approach to an old book that seemed to be unusable. In this simple step-by-step DIY, we will demonstrate how to make a book spine bookmark from the spine of an old and badly damaged book. So let's start!
Diy Bowtie bookmark
If you love reading and decorating your home, why not combine both interests? It is quite easy to find beautiful bookmarks in the marketplace, but if you want something unique, you should think about making one yourself. There are lots of creative ways to do it. Bowtie is a popular accessory all over the world. It brings an extra charm to every outfit and provides you with a look of elegance and sophistication. The bowtie is versatile and needs no additional decorating in order not to disturb its design.
DIY Heart-shaped Bookmark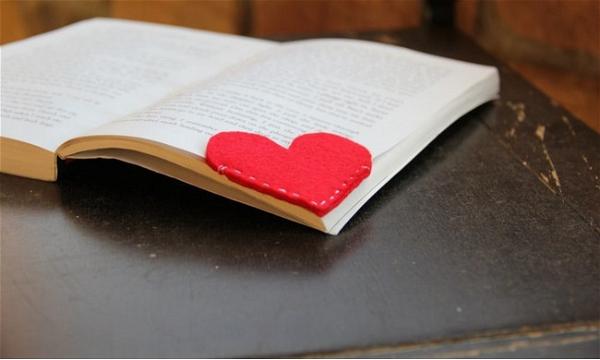 A simple DIY heart-shaped bookmark can easily add a unique shine to a store-bought book by taking it from plain and boring to completely outstanding, without too much effort. You need just red or pink paper to create two hearts big enough to use them as a corner bookmark after gluing to keep them together. And boom: your daughter will love it! A handmade, heart-shaped bookmark is an excellent gift for your daughter, and it's simple to make. Fold a piece of red or pink paper in half and then in half again and cut the shape of a heart. Glue the two hearts together at one end to form the bookmark.