A table can be the centerpiece of your living room. It's a place where you can set down your drink, place your laptop, and even put up your feet after a long day. So investing in a quality table that fits your space and style is a smart move. End tables are a necessity. They can add so much to the room, whether in an entryway, living room, or bedroom. And they don't have to be expensive! These 25 DIY End Table Ideas are great for putting by your favorite reading chair or bedside table so you can put your drink down when you need it.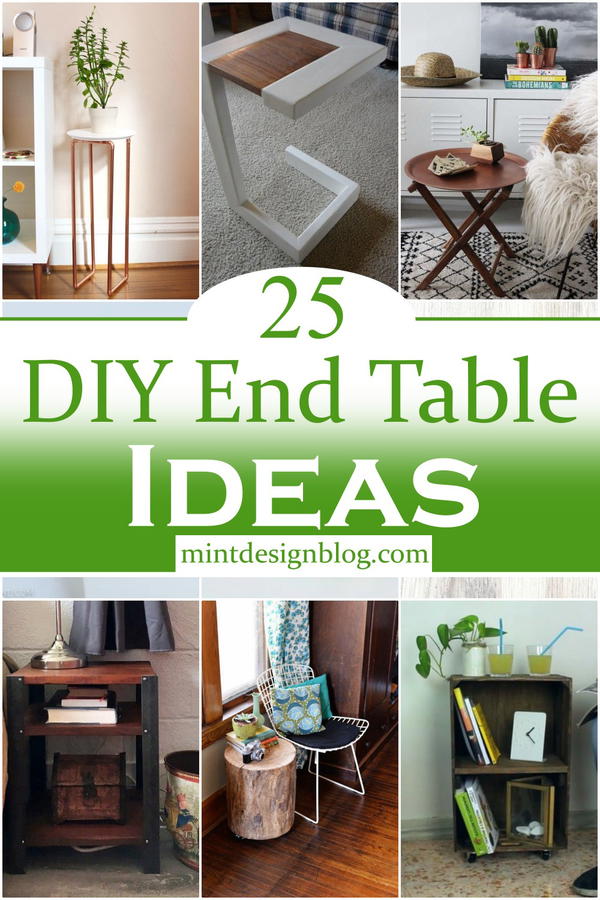 End tables are a great way to add an extra bit of style to any room. You can choose to make a simple wood table or create something more elaborate with your favorite colors and designs. If you love DIY projects, these 25 DIY End Table Ideas will be right up your alley. From simple plywood tables to wood pallet tables, you have a variety of designs that you can try out for yourself. But when you're on a budget, buying an end table can seem like a luxury that's just too expensive. From using an old cabinet door to repurposing an old kitchen table, so here are DIY End Table Ideas to get you started on making something unique for your home:
The following 25 DIY End Table Ideas will inspire you to transform your old pieces into charming new furniture that will add character to your home.
Materials and Tools:
Wooden tabletop
Screws
Drill
Wooden leg
drill bits
1. Tree Stump Tables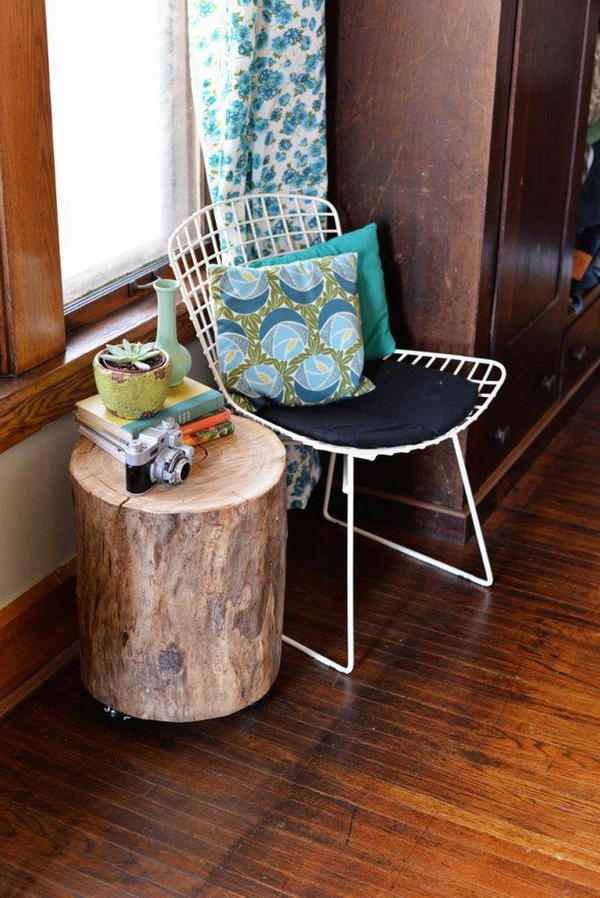 This DIY table is excellent to use in your home. It is a tree stump made into an end table on wheels. The wheels attached to it make it easy to move around. Made from wood, you can use this project for various things like a side table or under a lamp. With this DIY tree stump table, you can turn an otherwise useless tree stump into a functional end table in your home. Add a touch of outdoors to your home with this easy and fun DIY end table. It is made from a tree stump on wheels, and rolling it around will make your house look more like a cottage. It's pretty easy to make too. Just follow step-by-step instructions on how to make your tree stump table!
Skill level: Expert
2. DIY 2X4 End Table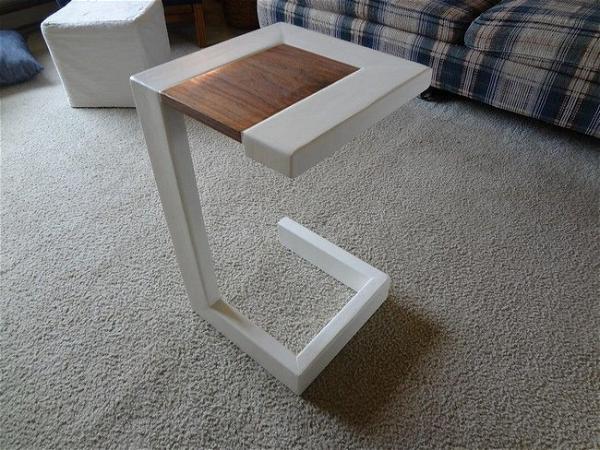 Create this essential yet elegant end table in no time for your home. This easy-to-make furniture piece requires just a few steps to finish it off and have it ready to serve your intended purpose. The simple design makes it suitable for almost any room in the house, whether its living area or bedroom - adjust accordingly. Suppose you want an end table that's easy to make but looks complicated. Then look no further than this DIY 2×4 End Table. It uses essential tools and materials, plus it works well in any room in your home. You can also paint or stain the wood to match your decor.
Skill level: Intermediate
3. DIY Wooden Crate End Table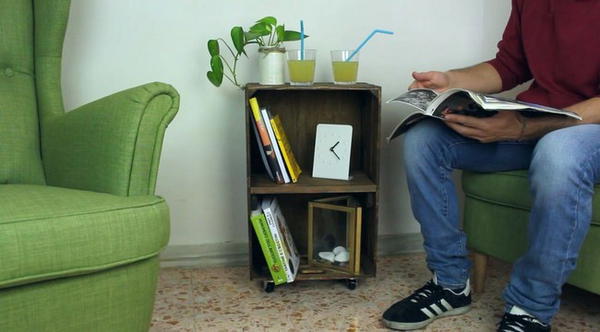 This wooden crate end table can be a fabulous conversation starter in your living room. It is easy to make, and the steps are straightforward. The end table has two compartments that can help you organize things better. A unique and fantastic addition to any home décor is sure to appreciate by everyone in the family. It's easy to make a simple wooden crate into a great end table. It's perfect for extra storage in small living spaces or offices. Make your end table with this easy DIY tutorial. You'll love this rustic alternative to storing books, magazines, and other items on a side table in your living room. The crate design will make it feel like you've built this piece of furniture from scratch.
Skill level: Expert
4. DIY Scrap Wood End Table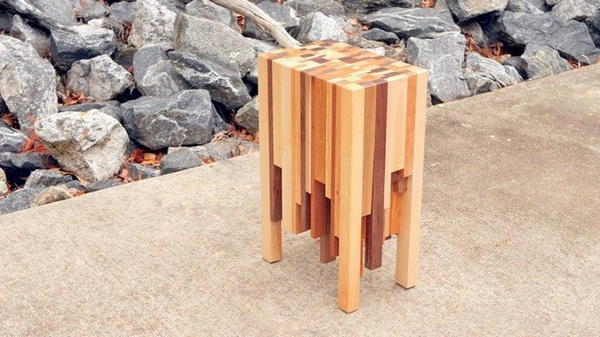 This end table is most suitable for parlors. The color combination makes it attractive, while the size makes it perfect to fit tight spaces. It only requires using some great tools and a little bit of knowledge on drilling. This tabletop has had a remarkable transformation since you can find it lying around in the garage and decided to turn it into something useful. The scrap wood end table is a beautiful and classy piece of furniture. It has a mixture of different colors, and when it is put in your parlor, it can make the whole place look perfect. This table will stand out from the rest because no one else will have a like it in their home. You should make one for yourself if you haven't already done so.
Skill level: Intermediate
5. DIY Industrial End Tables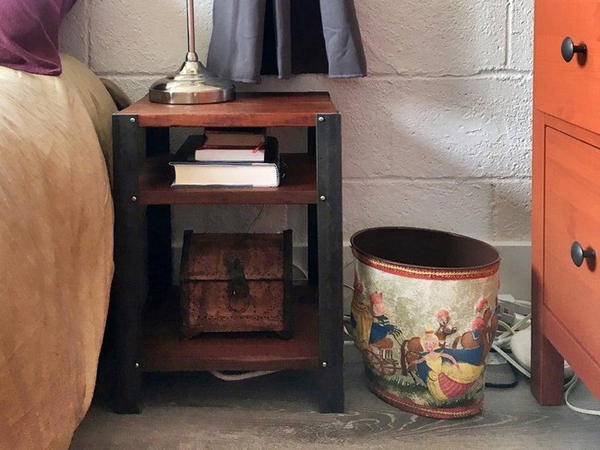 Your home improvement guide for this DIY industrial end table is straightforward to follow and is fun to make. You will be surprised at how much you will enjoy your new piece of furniture. You'll want to make more because they are fantastic to have around the house. The best thing about the process is that it's affordable! These DIY industrial end tables are a great place to put a lamp or book. They also look lovely next to a couch or bed. The rustic look makes this DIY project perfect for anyone into the industrial look. These tables require measuring, cutting, and assembling experience. It is an excellent project for those who love woodworking and are looking for something unique that no one else has!
Skill level: Expert
6. DIY Pixelated End Table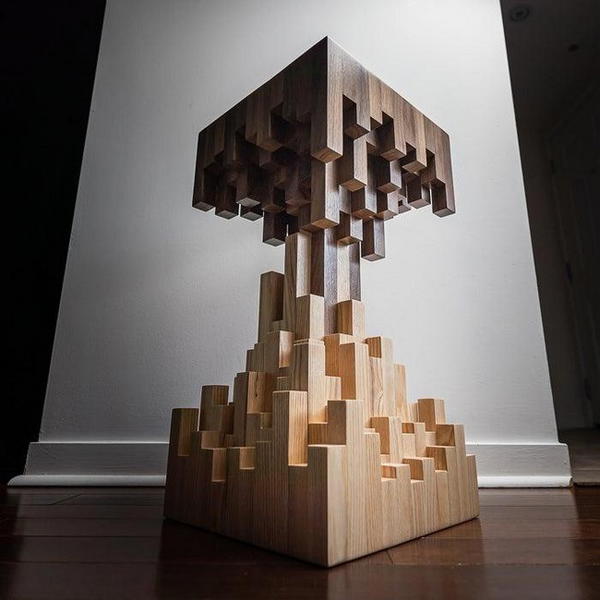 Making this DIY Pixelated End Table would be a fun project, and you'll learn some new skills, too. The end table has a modern look and is perfect for displaying items. It will surely leave your friends in awe of the design and quality. Make a couple and strategically place them around your living room or office! It's time to rock these tables. You can easily create one with a wooden plank and table legs. Once you're done with these simple steps, you can be proud of yourself because this pixelated end table is a masterpiece. This DIY project is great for anyone looking to add a little something extra to their house. Since this takes time, it would be best to make a few of these tables in one sitting rather than making each one separately.
Skill level: Intermediate
7. Copper Pipe End Table DIY
The Copper Pipe DIY End Table is a beautiful addition to any of your home decor. If you have been searching for an end table, here's one that can be made using copper pipes. The making process does not require the use of colossal woodworking equipment. It is also an excellent gift for your friends, family, and loved ones. This end table supports a large solid wooden slab that helps prevent the pipe from bending or wobbling. This end table is a great way to repurpose old copper pipes into a fantastic display piece. After a few coats of paint and adding the glass top, you enjoy your new creation without spending tons of money.
Skill level: Expert
8. DIY Copper End Table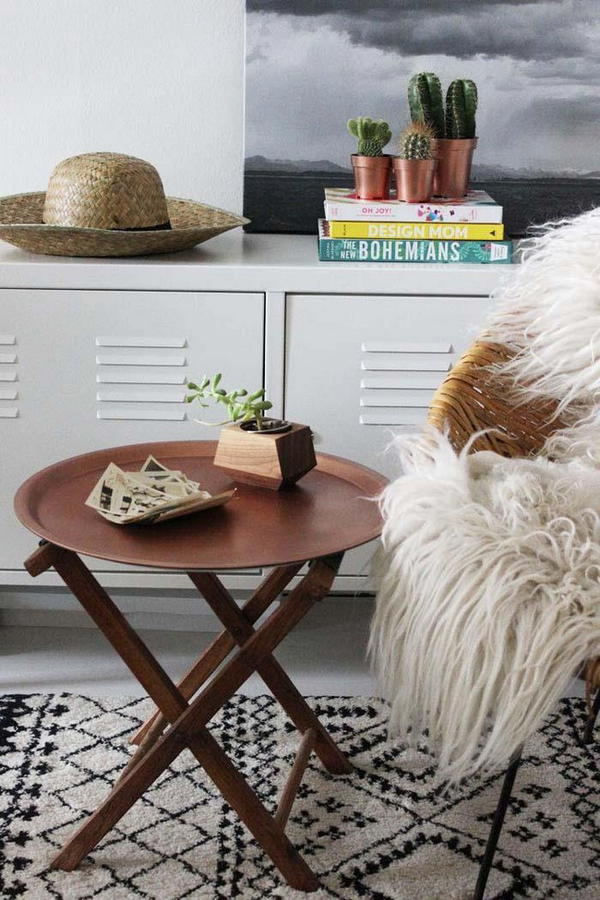 This DIY is all about the round melamine tray and the spray paint. Using the spray, the creator converted a round melamine tray into an amazingly outstanding copper end table. This idea is fantastic because you can use this DIY project as your inspiration to create something new out of it. The article will show you how to make a copper end table using a round melamine tray. The result is a fantastic table, which isn't foldable but great. The idea behind this project is simply amazing, and you probably can't find anything like it anywhere else. This copper end table makes a stunning addition to any room or space.
Skill level: Intermediate
9. Scrap End Table DIY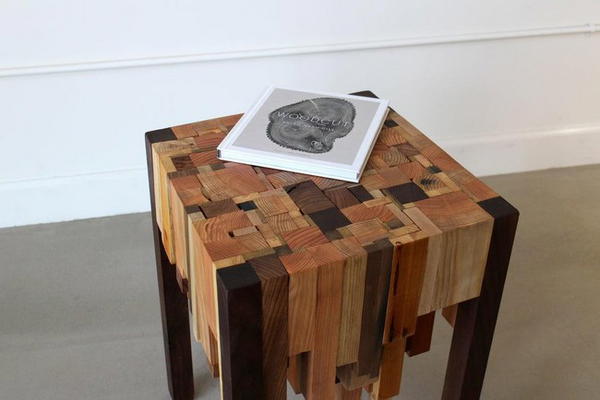 Making this scrap end table requires a lot of hard work; you will also need woodworking equipment. Scrap wood is used in making this end table. It has a smooth surface, making it very attractive and easy to clean. The overall shape of the table is square with curved corners. Three sides have quarter-round edges; the fourth side has an arched top that is slightly smaller than the other three sides. This cool DIY project is for you if you have wooden scraps in your workshop. The scrap end table requires hard work and some woodworking equipment. It's sure to be an instant conversation piece in your home.
Skill level: Expert
10. Dog Kennel End Table DIY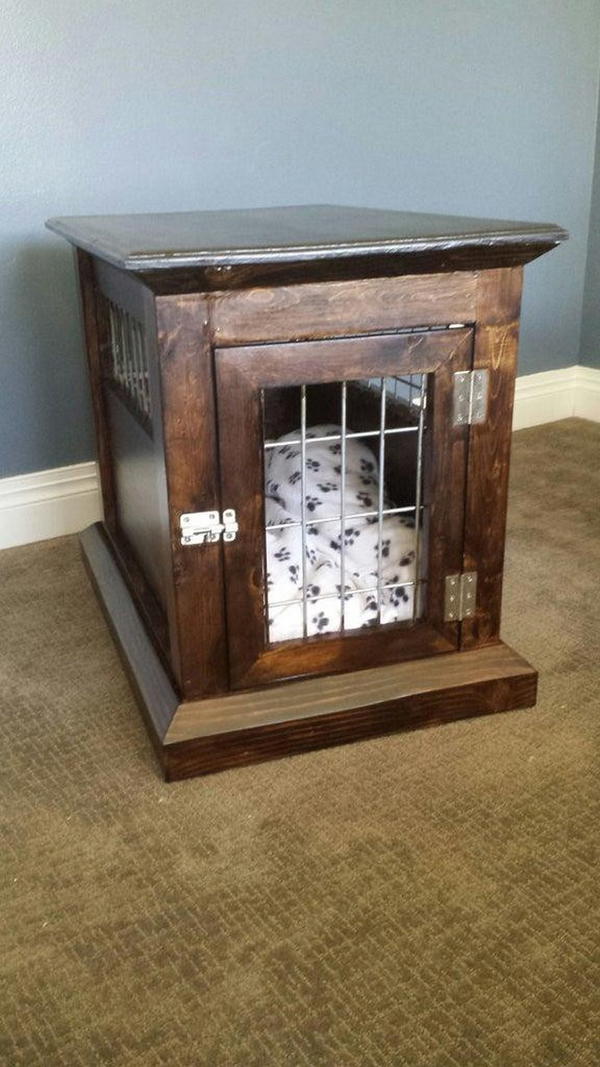 If you have a dog and love him like a family member, this end-table idea is really for your need. This furniture piece has a dog kennel attached to it, which allows the dog to feel comfortable inside it. The steps to make it are pretty easy to follow; therefore, anyone can do it without any difficulty or help from anyone else. This end table allows you to have a kennel for your dog on your furniture. This idea is great for small dogs climbing into it and sleeping on the top. You could also place toys or treats inside the kennel, which will keep them busy while you are eating or working. The end table is pretty simple to make if you follow the steps described in this article.
Skill level: Intermediate
11. DIY Rustic End Table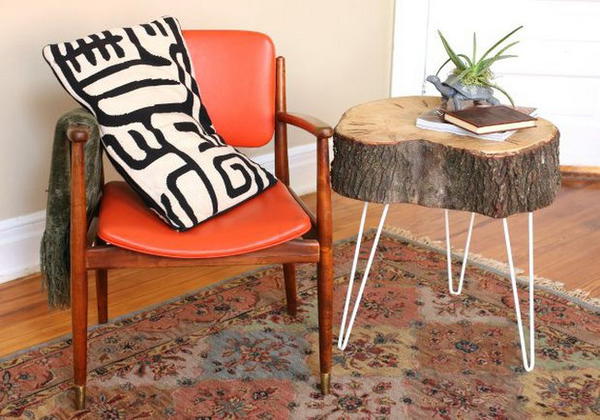 This DIY Rustic End Table is a great little accent table for your living room or bedroom. It's finished in a clear lacquer to protect it from water, dirt, and wear. This table is ideal for serving snacks or meals at your rustic kitchen or dining room table. You can also use it outdoors on your deck or patio to hold drinks and appetizers while entertaining guests! This End Table has a robust construction, with large hairpin legs and a top made of solid wood. If you are looking for an easy and simple DIY project to give you a lot of joy, this rustic table is what you need. It is easy to make, inexpensive, and brings a beautiful warmth and old-fashioned charm to any home decor.
Skill level: Expert
12. DIY Twisted Stool End Table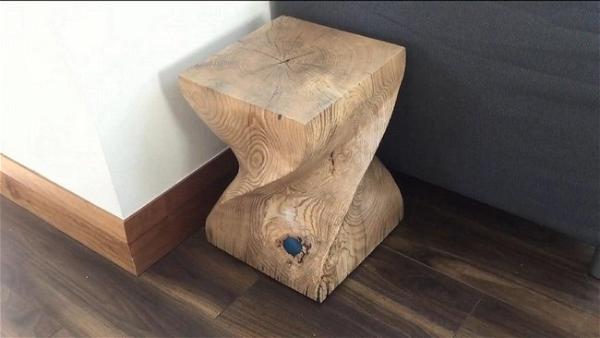 Pull up a seat for this DIY Twisted Stool End Table. This table doesn't just look great, it will also add that extra bit of personality to your home that you have been missing. It is the kind of piece that will be the center of attention no matter where it is placed. This End Table is a stunning piece that will stand out in any corner of your home. It features a beautiful and intricate twisting design in other end tables that you can't find. The project is not something an amateur can easily accomplish, but the result is well worth the effort. The twisted design also makes it easier to balance while still sitting firmly on top of your flooring or floor covering.
Skill level: Intermediate
13. DIY 3-Leg End Table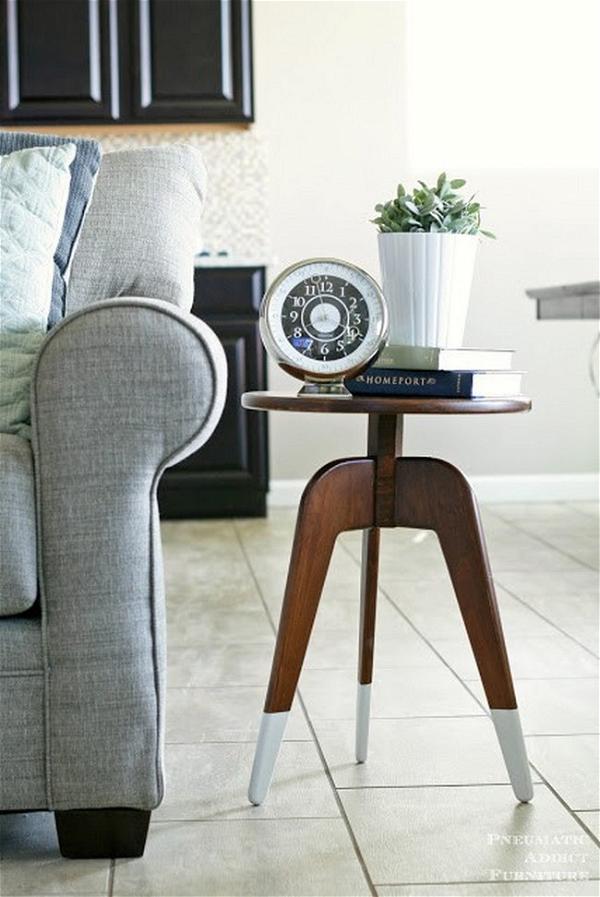 You can add a touch of modern elegance to your parlor room with this DIY 3-leg end table. It is easy to make and looks great, and it is a practical addition to any space. Creativity is needed to make this DIY 3-leg End Table. It is not difficult but can be a little challenging, and you will have to spend some time making it. However, in the end, you will see your efforts pay off when you look at the table in your living room or wherever you are planning to place it. This table will suit small spaces, and the three legs give it a nice classic look. You can use the tabletop to place books, magazines, and decorative items. This piece of furniture will be able to hold a lot of weight without compromising on its durability and strength.
Skill level: Expert
14. Wooden Crate To End Table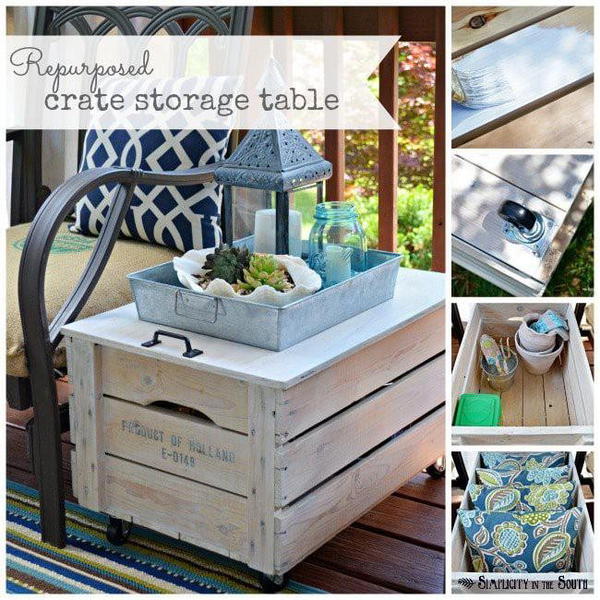 This wooden crate end table was initially used as a storage crate. However, after repurposing it, it turned out to be one of the most excellent storage tables. Due to its traits, such as the wheels and storage compartment, this end table is perfect for those who want a multipurpose storage piece that is great for displaying stuff. The end table has wheels that make it easy to move and a compartment large enough to hold your books or magazines. This end table is made of wood; this end table will add an extra sense of style to your living room. Built with clean lines and an understated style, it features four wheels that allow it to be easily moved around your home.
Skill level: Intermediate
15. Modern House End Table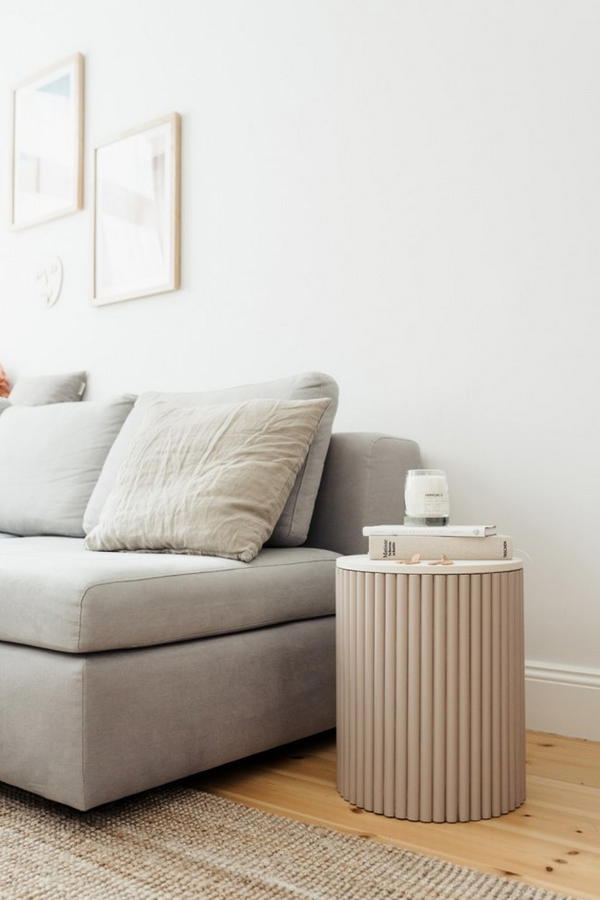 The Modern House End Table is the perfect table to complete your living room or bedroom. Its simple yet elegant design will bring a modern look to any décor. This piece of furniture is easy to construct because it consists of only straight cuts and right angles. You can make this end table entirely out of pine wood or any other type of wood you prefer. This modern house end table is unique and looks great in any room. It is a great way to add style to your house and will have everyone asking where you got such an elegant table from. These instructions are straightforward enough for anyone with basic woodworking skills.
Skill level: Expert
16. Dog Bedside End Table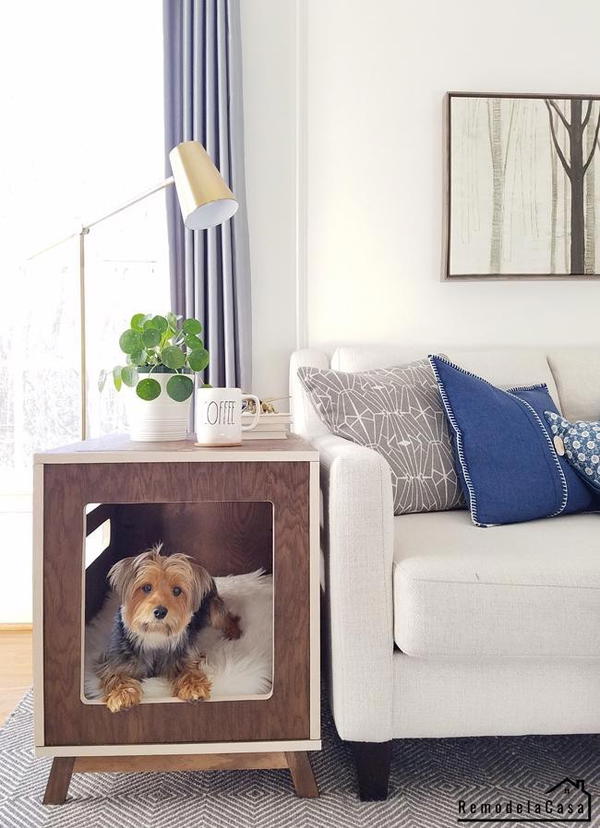 Have you ever had a hard time keeping your dog from barking when friends or guests come over? Well, this dog bedside end table might be able to help. Place some treats or remote control on top to keep them in place. They won't be able to move an inch! This dog bedside end table is an excellent accessory for your home. You can place your favorite books and magazines on top of it or use it to relax with your pet on the side. The bed also features locking legs that keep it steady and firm even in your children's room.
Skill level: Intermediate
17. Secret Drawer End Table DIY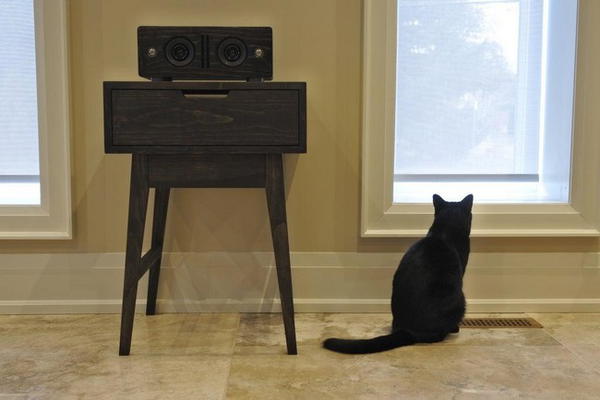 This end table has a secret drawer. This table can store jewelry, cash, and other small items. The black color of the table makes it stand out but not be an eyesore. There is plenty of space for other things on this stylish piece. The result is a unique furniture piece with a secret drawer for hiding your valuables. This unique end table is not your typical boring drawer. It has two drawers; one is easily accessible while the other is hidden behind the front face of the table. You can also use it as an additional storage space for small items.
Skill level: Expert
18. Concrete End Table DIY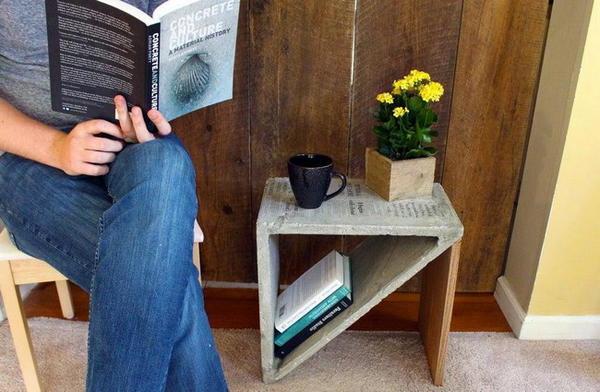 If you are a lover of concrete and want to incorporate it into your home, this DIY concrete end table is for you. It requires a little more work than those made of wood, but the final product will last for years before getting nasty. This concrete end table is quite durable, so it's not something that will start crumbling after its first few uses. Working with concrete is not just limited to the floors, walls, and the backyard. You can also make a concrete end table that you can use inside your home. It is a worthwhile project that will add character to your home. The method used here is pretty straightforward.
Skill level: Intermediate
19. Minimalist End Table DIY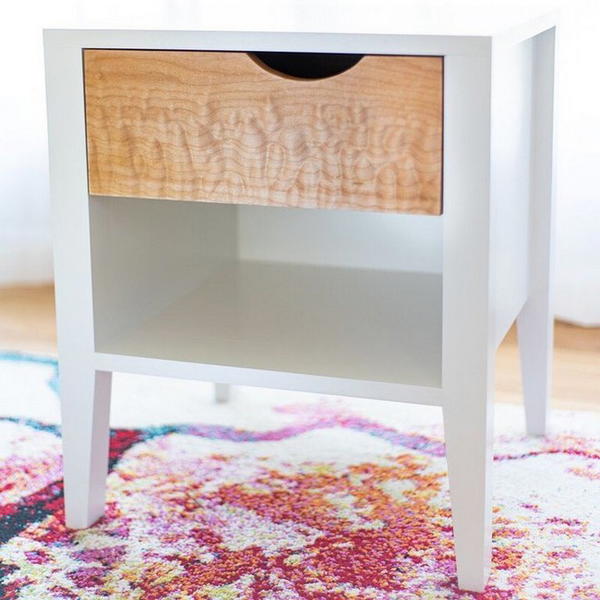 This DIY minimalist end table is perfect for someone looking to add a simple piece to their living space. It comes with two storage compartments, a pull-out drawer, and a bottom shelf. You can choose to paint or stain this piece of furniture to match your home's interior or make it stand out by using different colors. This simple-looking yet functional piece of furniture can bring a lot of style and comfort to your living room, bedroom, or kitchen. This beautiful and simple DIY table is an impressive touch to any room in your house. The design is somewhat tiny, but the storage space will surprise you.
Skill level: Expert
20. End Table With Built-in Fridge DIY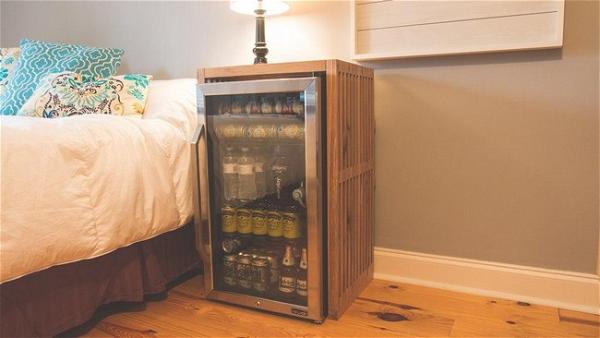 Making this end table with a built-in fridge is one of the most ambitious and challenging DIY projects. However, it will be worth all the time, money, and effort you spend on it. It is perfect for your bedside. Building this end table with a fridge is a fascinating project, and it will teach you how to build one from scratch. You can use this project to make super modern furniture for your home. The design is rustic and handmade to look great in any room. This DIY will make sanding, drilling, and sawing, but it'll be worth the effort later on. You can use this build as a plan for other projects.
Skill level: Intermediate
21. End Tables From Fencing Boards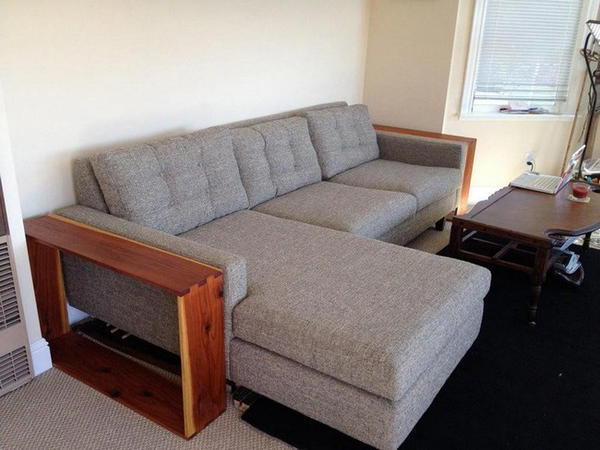 Have you ever thought of making your end table? If not, then this article will help big time. The end table attached to the couch is something you should look at for inspiration. It's a straightforward design, but it works well in making a pleasant ambiance in your living room. This end table is the perfect addition to your living room. This table is made from used fencing boards, and this table accentuates the industrial feel of your home while retaining its rustic character. Although it has already been painted, you can repaint them. It is valuable and functional, providing a place to put drinks and room for glasses or tea lights.
Skill level: Expert
22. C-Shape End Table
The C-shape end table is perfect for couches. Its unique design makes it an excellent fit for your living room or home office, especially if you want to save more space. It is also easy to make and doesn't require any special equipment, which is perfect for DIY enthusiasts. A c-shape end table is the ultimate solution to your living room needs. This end table can be easily nested under the couch, so it doesn't take too much space in your apartment or house. This modern and stylish end table is perfect for all types of sofas. Its narrow profile and C-shaped design make it an excellent fit for couches.
Skill level: Intermediate
23. DIY Side Table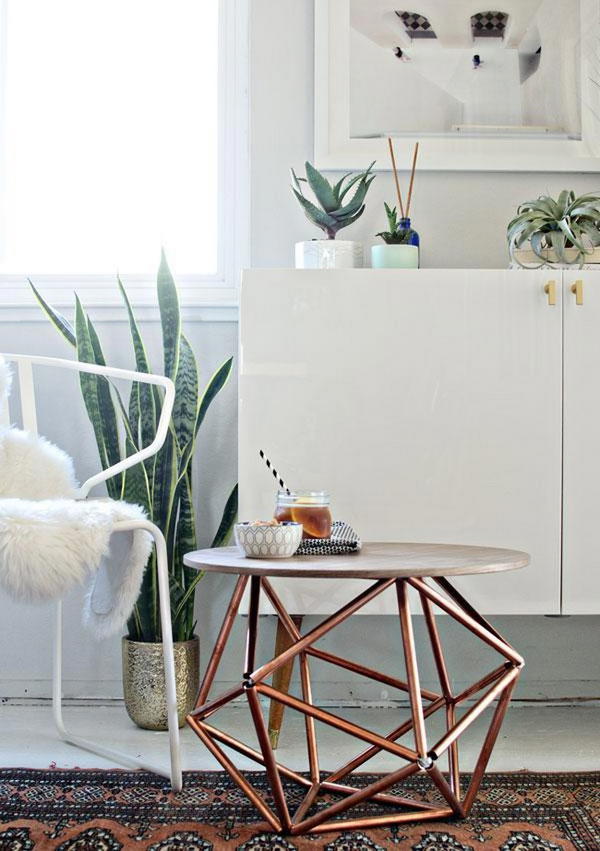 This DIY end table is the perfect addition to any home. Its traditional design is versatile enough to fit in with almost any decor style. The finishing on this piece makes it easy to match with existing furniture, or it can be used as a standalone piece. This sturdy wood end table will last for years of enjoyment. It is easy to complete, and your friends will surely be amazed by the beautiful result. The cool thing about this DIY Side table is that you can use it as a media stand in the living room or as an end table next to your bed to hold your alarm clock. This furniture piece looks great and adds a touch of sophistication to any room.
Skill level: Expert
24. Outdoor End Table DIY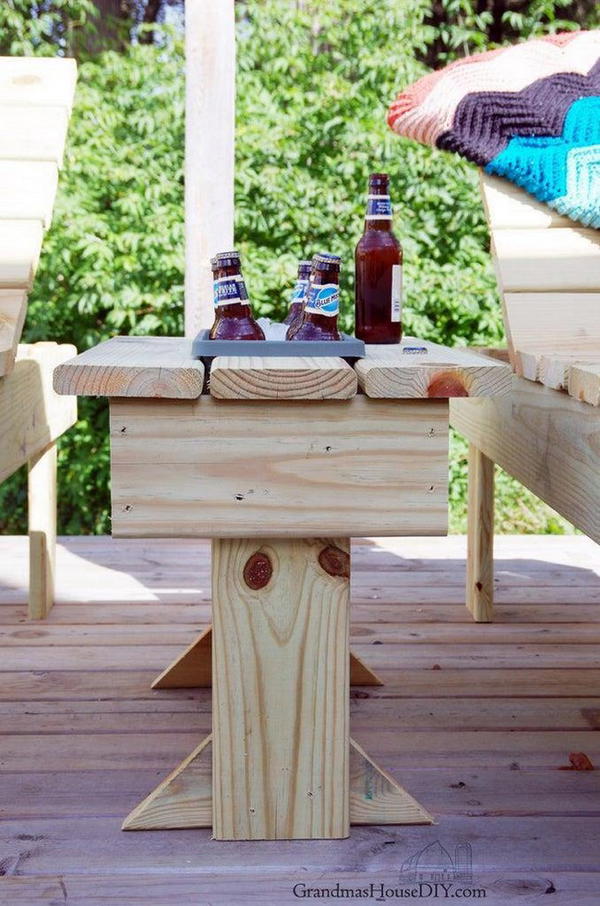 If you're looking to stretch your dollar, this Outdoor End Table is the perfect solution. It has a compartment at the top that you can use as a cooler or flower storage. This end table isn't just for indoors. It can be used outdoors as a stylish place to sit or beside the pool to hold drinks and snacks. The making process is easy to follow, and all you need are a few simple tools and materials. This DIY Outdoor End Table is a great way to get organized in the yard. It features a convenient storage compartment for snacks, drinks, and more.
Skill level: Intermediate
25. DIY Crate Side Table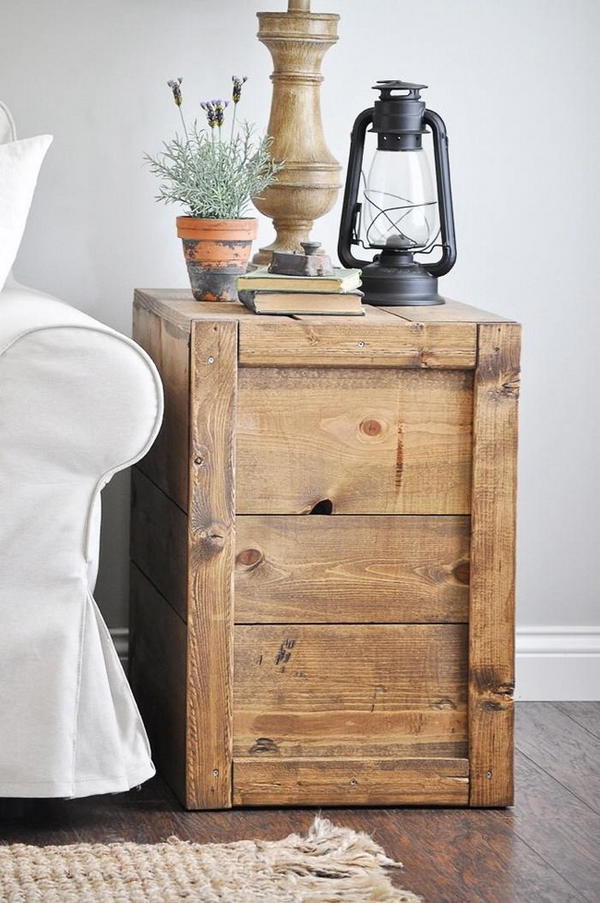 This DIY Crate Side Table is a great end table for your living room. It looks like a wooden crate, but it is easy to make with the right tools and skill. You can create an end table that gives the classic look of a vintage container while still fitting in with your modern décor. It is a modern take on a rustic piece, making it easier to clean up after messy kids. This DIY Crate Side Table is a great way to add a modern touch to your living room and give your house some rustic charm. The crate side table has a metal frame that allows you to support it on either side and fold it down when not in use.
Skill level: Expert
Conclusion:
Table space is valuable and quite limited, especially when you want to use it for many different things - eating, watching TV, working on a laptop, or just putting your feet up. End tables are incredibly versatile and practical furnishings that do the hard work of adding extra space to any room without the expense of building a whole new extension to your home. Here are 25 DIY end table ideas that can solve all your needs without adding clutter, from small spaces like bedrooms, living rooms, and offices to big spaces like porches, halls, and conservatories.
See Other Projects