DIY Entryway Bench Plans will help you to create an area with a place to sit and room for guests to store their coats and shoes. There are many uses for an entryway bench. It can be a space for guests to leave shoes or jackets when they enter your home. It is also a convenient place for you to rest when you come in with shopping bags and no one is there to help you with them. One of the most important things that an entryway bench has going for it is its aesthetic value. It can add a lot of charm to any home just by its presence.
DIY Entryway Bench Plans

When building an entry bench, the first thing to consider is how large it needs to be. If you have a large family or many guests over at one time, then you will want to make a larger entryway bench. You will also need to consider what type of storage you want with your entryway bench. Some people prefer simple coat hooks, while others want cubbies or drawers for storage.
Your entryway is the first thing people see when they come to your home. Having an entryway bench gives you a place to sit and put on your shoes and a place for guests to sit while removing their shoes or waiting for you. Once you have decided on the size and material that you will use, you can choose from one of these 15 DIY entryway bench plans to help you build the perfect piece that will fit your needs.
You Can See: 10 DIY Foldable Picnic Table Bench Plans
Bench With Shoe Storage
This cubbie bench gives you a place to put shoes as well as sit and put them on. It's perfectly sized for both adults and kids, with a comfortable cushioned top that flips up so you can easily retrieve items from inside. Kick-off your shoes and keep them out of the way in the large shoe storage compartment at the base of this bench. With a comfortably padded seat and four cubbies, it has plenty of room for you to get ready in style while helping you stay organized. A stylish and handy addition to any entryway, this bench provides seating for people taking off or putting on shoes and lots of closed storage for shoes. It is a simple and clean design featuring an upholstered top over a closed shoes storage area; the shoe bench is a versatile seating solution for your hallway or bedroom.
materials used:
Molding & Trim Nails (size 8D, whatever that means) that are 2″ long
Wood glue
Sandpaper
Tools used:
carpenter square
tape measure
circular saw
jigsaw
pocket hole jig
clamps
power sander
hammer
power drill
Shanty Hall Tree Bench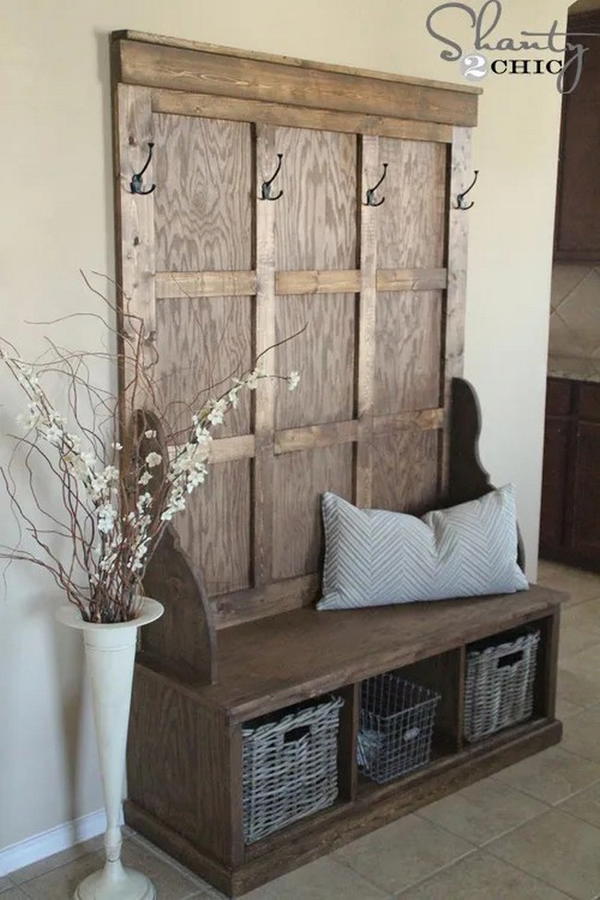 The Shanty Hall Tree Bench will help you organize your entryway and welcome guests with country-chic style. Use the cosy bench seat to slip on your shoes and hang your coat, hats, and sweaters on the sturdy hooks. The 3 lower cubbies give you additional room for storage or display. Organize your entryway with the handy Shanty Hall Tree Bench. This stylish bench has cubbies for storing shoes and other items, hooks for hanging coats and accessories, and an open shelf for storing hats and bags. The simple yet chic design will complement any decor. This versatile piece provides form, function, and fashion! Constructed in a convenient size for easy placement in small areas such as entryways, bedrooms, foyers, and more, this versatile piece will fit perfectly into your lifestyle needs.
Materials:
(1) 2×12 @ 8ft
2 ½″ Kreg screws
Paint or Stain
Tools:
Miter saw or Circular Saw
Kreg Jig
Drill
Kreg right angle clamp
Tape Measure
Crate Bench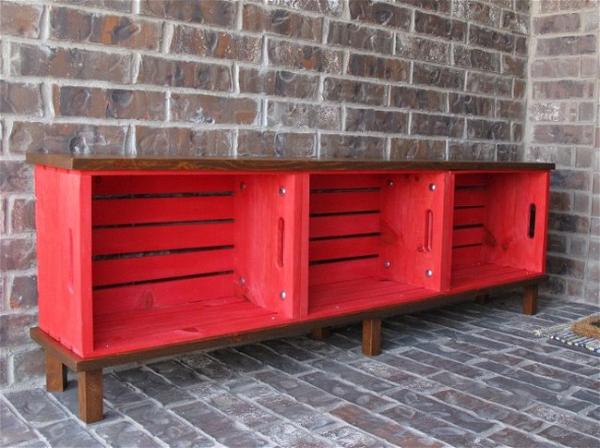 Your favorite furniture piece should be useful and beautiful. The Crate Bench fits the bill. It's a comfortable spot to store books and blankets or pull off your shoes at the end of the day. Perfect for a mudroom, entryway or even at the foot of your bed, it adds a touch of rustic charm to your home. The Crate Bench brings a bit of rustic charm to any home. It's the perfect spot to pull off boots and store books and blankets, but it's also beautiful enough to admire simply. Sturdy wood and metal construction ensure this bench is made to last. Your favorite furniture piece should be useful and beautiful. Perfect for a mudroom, entryway, or even at the foot of your bed, it adds a touch of rustic charm to your home.
Materials
 3 crates from Michael's
1″ x 12″ x 12′ whitewood board (cut down to (2) 1″ x 10 ¼″ x 55″)
Bolts, nuts, and washers to bolt the crates together
 Wood screws
Stain/paint
Wood legs
Dresser To Mudroom Bench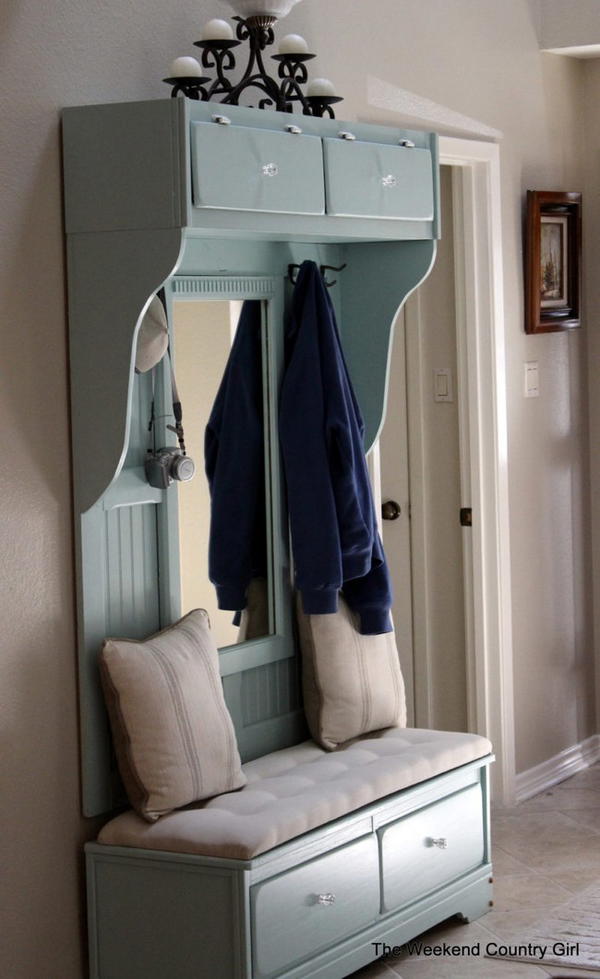 Transform an old dresser into the perfect mudroom bench, complete with storage space for all of your entryway essentials. You can turn an ordinary dresser into an extraordinary storage station with a little hard work, some elbow grease, and a few hours of time. You will transform your old dresser into a beautiful mudroom bench with simple steps and clever storage. Store shoes in the spacious drawers and hang coats on knobs or hooks. Create the perfect spot to store shoes, backpacks, and anything else that piles up by your door. Bring this mudroom bench to life with Chalky Finish paint and tailor the inside storage to suit your family's needs.
Materials:
(1) 2×12 @ 8ft
2 ½″ Kreg screws
Paint or Stain
Tools:
Miter saw or Circular Saw
Kreg Jig
Drill
Kreg right angle clamp
Tape Measure
Easy Wood Entryway Bench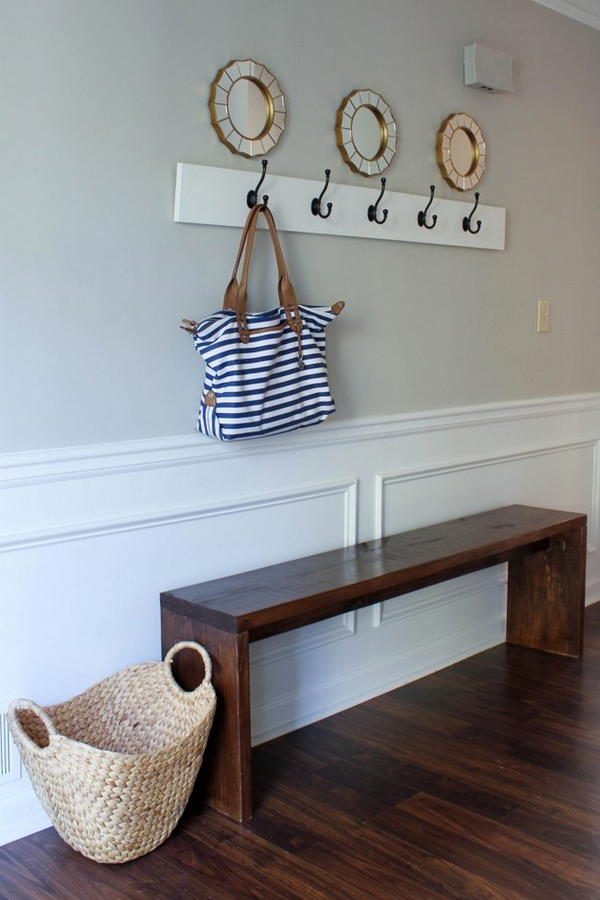 Add some extra sitting space to your living room or entryway with this easy-to-make, farmhouse-style storage bench. A simple and sturdy option for your hallway. This bench helps you organize all that stuff that comes with you as you step out the door. The Easy Wood Entryway Bench is versatile seating that's perfect for your entryway or outdoor patio. This bench comes in a rustic, farmhouse style and offers a padded seat for comfort. Pair this bench with the rest of your Easy Wood collection to create an inviting and homey environment. Your entryway is the first thing visitors see when they enter your home, and this bench is the perfect way to welcome them. You can store outerwear, shoes, and umbrellas on the cubbies underneath, then top it off with a cushion and throw a blanket in your favorite color to make it cosy.
SUPPLY LIST:
1 – 2×12 at 8 ft. long – cut into 3 segments: (1) at 5 feet long; (2) at 18 inches long
1 – 1×4 cut to fit (approximately 57″ long)
Kreg Jig or Kreg Jig Jr.
Kreg Clamp
 Compound Miter Saw or circular saw
1″ Pocket screws
2″ Pocket Screws
Cordless Drill
Sander
Wood Glue
 Minwax Pre-Stain Wood Conditioner
Topcoat
DIY Farmhouse Bench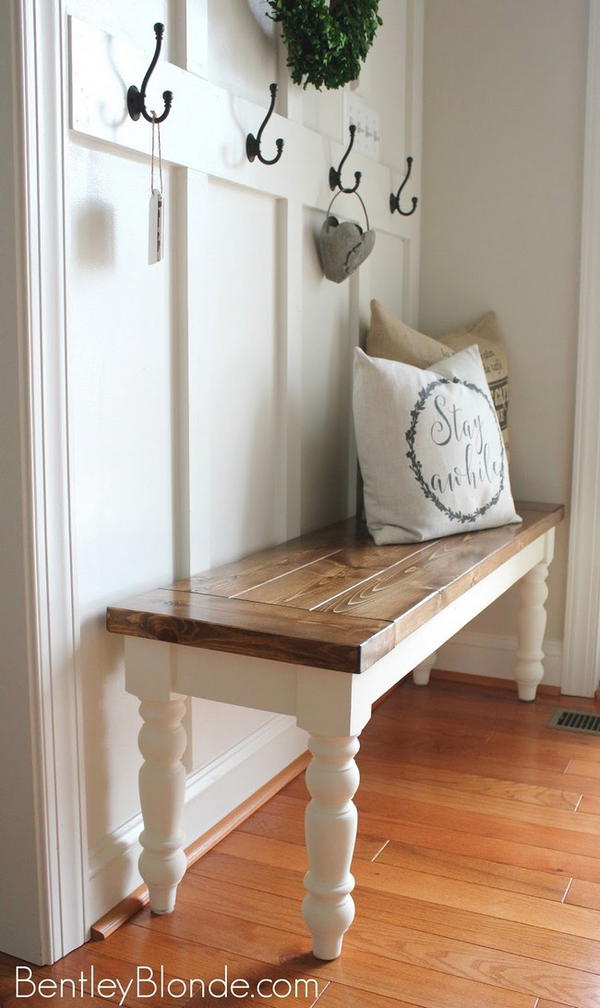 Ready to start your woodworking project? This beginner-friendly DIY bench can be made in just a few hours and features farmhouse charm. Farmhouse benches are sturdy, easy to build, and stylish, with rustic bracing and notched corners. Being able to find inexpensive pine boards is key to the design. This farmhouse bench is easy to build and is rustic and substantial. It's the perfect spot for taking off your shoes or sitting with family at mealtime. This DIY bench is easy to build with basic tools. The materials are simple and inexpensive, making it a great woodworking project for beginners.
Materials Needed:
(2) 2x4x8 (apron)
(2) 2x6x8 (top)
(4) Osborne Wood Country Bench Legs (hard maple)
Wood Glue
DeWalt Plate Joining No. 10 Biscuits
(1) box Fine Thread Drywall Screws (6 x 1-⅝″)
(4) 6 inch lag screws & washers (optional)


Tools Required:

Table Saw
Biscuit Jointer
Clamps
Screwdriver
Drill Motor
Sander
Build Your Own Entryway Bench And Shelf
Add a custom touch to your entryway, hallway, or mudroom. This entryway bench and shelf are easy to customize and make yourself. It's perfect for virtually any space with simple lines and a modular shape. Transform your hallway into a highly functional space that looks great, too, with our Build Your Own Entryway Bench & Shelf. This clever design packs a place to sit and a convenient coat rack into one compact unit. A-shaped legs on both sides add depth and stability to the piece, while a wide top surface provides ample space for books, baskets, and more. A welcoming bench invites your family to stop and take their shoes off before coming inside, and a shelf above creates additional storage for whatever you need within reach.
Materials:
(1) 2×12 @ 8ft
2 ½″ Kreg screws
Paint or Stain
Tools:
Miter saw or Circular Saw
Kreg Jig
Drill
Kreg right angle clamp
Tape Measure
 DIY Floating Bench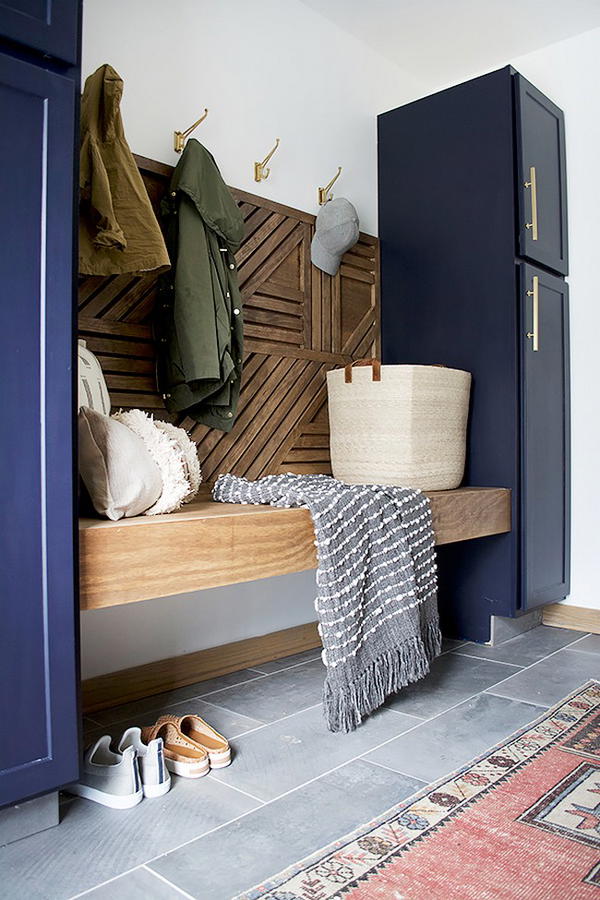 Add extra seating and organization to your mudroom with a DIY floating bench. Follow along with this step-by-step guide on how to build it. You'll gain additional storage space to keep the area clean and tidy while giving visitors a place to sit while they put on their shoes or boots. This DIY floating bench is easy to build. You'll just need a few pine boards and a little time. With no legs or back to get in the way, this simple DIY bench is easy to build, from stock lumber and basic tools. You'll enjoy it for years to come. This beautiful, versatile design features square legs and our DIY Sink Console Hardware Kit that is attached to the vanity cabinet with no visible support. This will create a floating appearance while providing additional storage space.
SUPPLIES FOR FLOATING BENCH
¾″ plywood
The stain used Special Walnut and Golden Oak
Poly
2x4s
Brackets
Measuring Tape
Level
Black Foam Brushes
DIY Mudroom Bench
Work on your hobby and keep all your creative tools organized in one spot by building a DIY Mudroom Bench. This unbeatable organization hack will have you going from working to relaxing. Get organized with this DIY Mudroom Bench! This step-by-step guide will help you build a bench that allows you to organize all the shoes, jackets, hats, and whatever else you need by your front door! Not only is this DIY mudroom bench storage-savvy, but it also offers a comfortable spot to sit while you put on your shoes! With plenty of seat space, a convenient storage shoe rack, and an organizer on top, this mudroom bench is perfect for any busy entryway.
SUPPLY LIST
2 4×8′ sheets of ¾″ MDF
4 Pine Corbels 9.5×9.5″
4 8′ Select Pine 1×2's
1 8′ Lattice
1 8′ Crown Molding (MDF)
2 Pine 1×10's
1 5′ quarter round
Kreg 1-¼-Inch Pocket Screws
White paint Make sure it's a satin finish
Rust-Oleum Zinsser Bulls Eye 1-2-3 White Water-Based Primer
Sanding bar
Caulking
Wood glue
Screws for Corbels at least 1 ¼″ length
Screws to screw the unit to studs at least 2″ long
Nail filler
Painter's tape
5 hooks with screws
Tools:
4 Saws:  Large miter saw, circular saw with Kreg Rip-Cut
(I highly recommend one of these!), Dremel, and Jigsaw
1 Nailgun (Ryobi Brad Nailer
with 1 ¼″ nail)
Mallet
Kreg Jig
Drill & Driver
Razorblade
Paint roller
See More: 24 DIY Storage Bench Plans
Amazingly Simple DIY Bench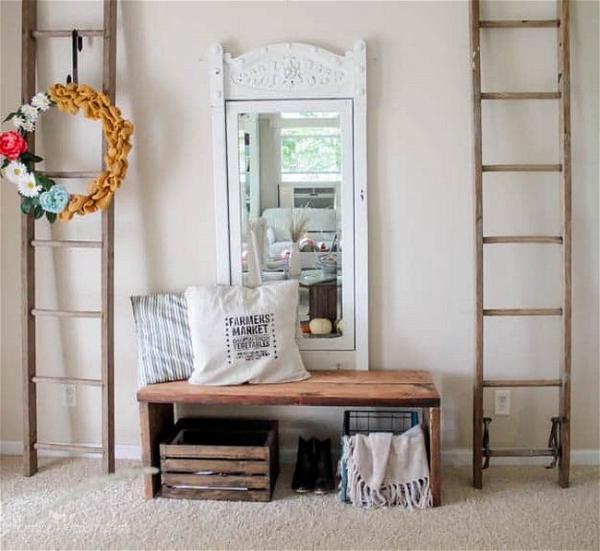 Simple but bold. The Amazingly Simple DIY Bench is a simple plywood bench that is easy to build and looks great in any space. Create a stylish and functional seating area in your home with the DIY Bench, made from sustainably harvested wood. This versatile piece of furniture can be used for years to come, indoors or out, and you'll find endless uses for it: extra seating for the holidays, a comfy bench for your porch, or add two together for a coffee table. Build it yourself and proudly display your handiwork! This is a great project for woodworkers of all skill levels and can be performed in under two hours. Enjoy years of relaxation and enjoyment as you explore and develop your woodworking skills.
TOOLS AND SUPPLIES:
One 8 foot 2×8
One 6 foot 2×8
2" Kreg Screws
Kreg Jig
Circular Saw
Power Drill
Random Orbital Sander
The stain of your choice
Easy DIY Entryway Bench for $10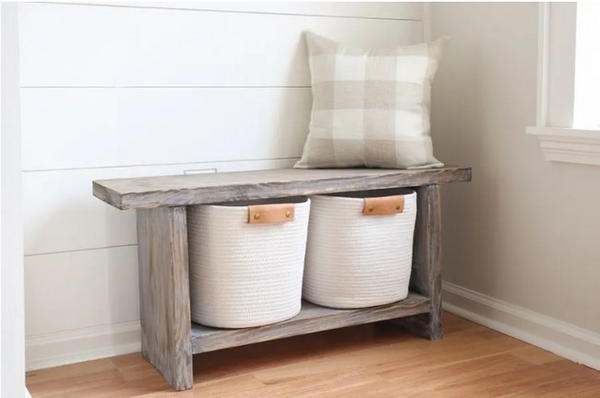 Love a versatile piece of furniture? Meet our easy DIY entryway bench, the ultimate multipurpose design. Sitting down and tying your shoes in the morning isn't always the most comfortable, especially if there's nowhere to sit. This simple, versatile bench solves that problem by adding somewhere to sit to help you get ready for the day.
Plus it gives you a place to store those extra pairs of shoes (and keeps them out of the main walkway through your front door!) You can make this easy DIY Entryway bench for under $10! As a bench, it creates a comfy place to tie your shoes and put on or take off your coat. Plus, you can stash bags, baskets, and books underneath with its ample room. And with a bottom shelf and wall hooks, it's the perfect entryway organizer for all the odds and ends that always seem to pile up in hallways.
Materials:
(1) 2×12 @ 8ft
2 ½″ Kreg screws
Paint or Stain
Tools:
Miter saw or Circular Saw
Kreg Jig
Drill
Kreg right angle clamp
Tape Measure
DIY Headboard To Bench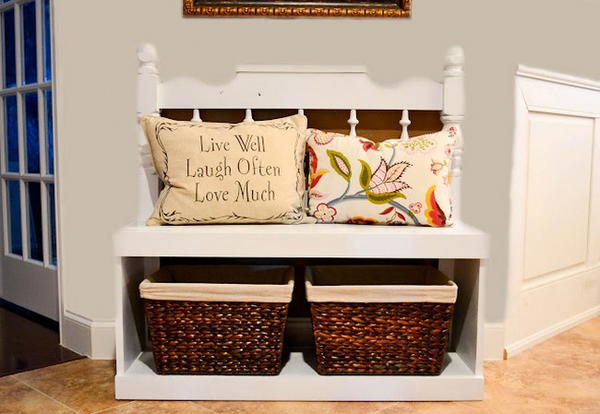 Do It yourself, headboard to the bench. This is a great way to turn an old headboard into something adorable for any room. Transform an old headboard and footboard into a bench. If you are looking for a project that requires few materials and little time, this is the perfect DIY project for you. Weave ribbon across the back of both the headboard and footboard to give the bench additional flair and support. You can bring some life back to your bedroom by repurposing the headboard and footboard from your old bed into a new bench that you will love! This simple tutorial explains how to turn a headboard into a bench - perfect for the foot of the bed or even as an entryway bench!
Materials:
(1) 2×12 @ 8ft
2 ½″ Kreg screws
Paint or Stain
Tools:
Miter saw or Circular Saw
Kreg Jig
Drill
Kreg right angle clamp
Tape Measure
DIY Entryway Bench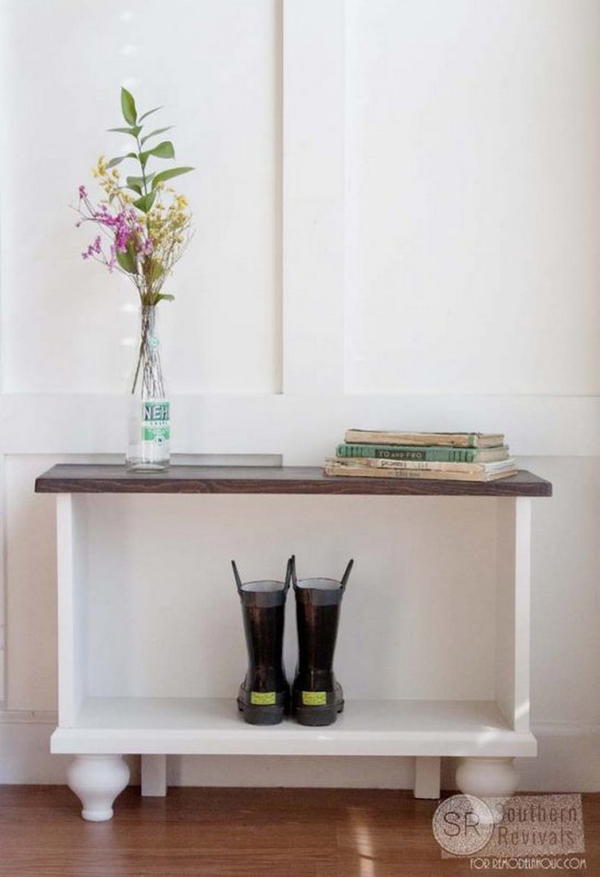 If you're looking to create a more organized living space, opting for a DIY entryway bench is a perfect way to do so. With all the safety issues today, you want to be sure that your family is safe and secure, and there is no better way to do that than with a DIY entryway bench. Your family will feel safe knowing that they have something to protect them, and your home will look more attractive and inviting. This DIY Entryway Bench is a project for average woodworkers and added storage for your entryway. These benches are incredibly popular, and they can add valuable organization, style, and function to any area of your home.
Supplies:
1- 1x8x8
6′ stick of pine trim molding
1 – 4×8 sheet Tempered Hardboard
2  – Tulip style bun feet (for front legs)
2 – Bracket plates (for attaching bun feet to your piece)
Wood scraps for back legs
Table Saw/Skill Saw
Miter Saw (for mitering molding)
Steel square
Measuring tape
Drill
Countersink bit
Staple/nail gun
Wood screws
Paintable & Stainable Wood Filler
Wood glue
Paint
Stain
 Router
DIY Entryway Mudroom Reveal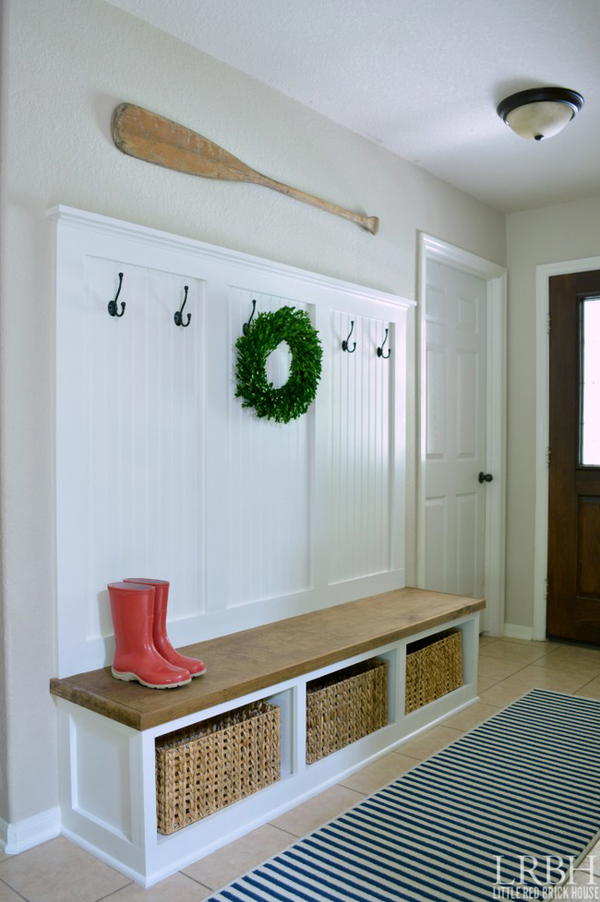 The trick to getting a beautiful entryway mudroom is organization. Adding wicker baskets, hooks, and other storage components is an easy way to keep everything neatly organized in a small space while still staying true to the decor style of your home. Creating a DIY entryway mudroom is the perfect solution for any family to create and organize their space! This entryway mudroom is a great solution for any family looking to create some mudroom ideas in a smaller space.
Materials:
(1) 2×12 @ 8ft
2 ½″ Kreg screws
Paint or Stain
Tools:
Miter saw or Circular Saw
Kreg Jig
Drill
Kreg right angle clamp
Tape Measure
DIY Shoe Storage Bench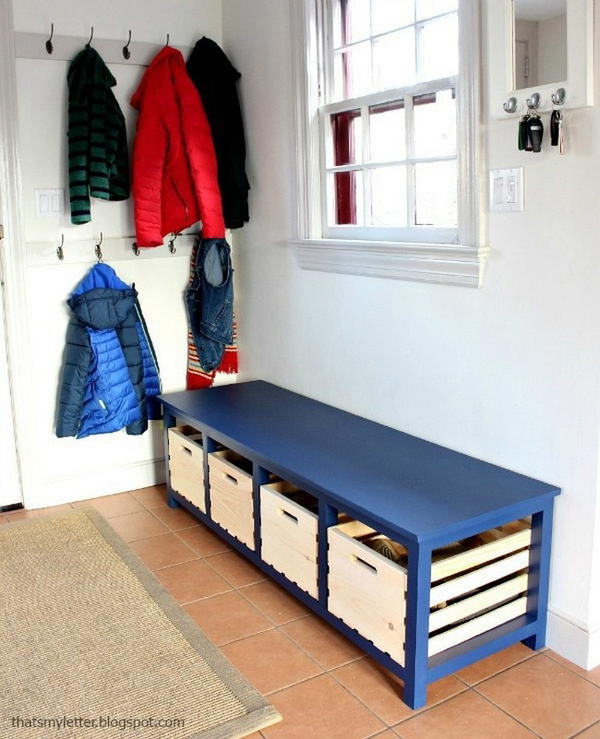 Looking for a sturdy bench to fit your shoe collection into? This DIY Shoe Storage Bench includes step-by-step instructions that you can use to build it yourself. Stop tripping over loose shoes in your entryway and keep them organized and out of the way with this DIY Shoe Storage Bench. It's easy to build, even for a beginner, is that the closet space in your home is wasted space. This chic, yet practical shoe storage solution will help you stay organized, save time getting ready for work and school, and increase valuable storage space in your closets for other items. It features three shelves for maximum storage, and the shelves are adjustable.
SUPPLIES:
4 – large Crates & Pallet wood crates
1 sheet – ¾" birch plywood
5 – 2x2x8 boards
2 ½" & 1 ¼" pocket hole screws
2" wood screws
wood glue
CONCLUSION
Scroll down these 15 Bench Plans to find the perfect one for your entryway! All of them are really great. They give you a place to sit and help keep shoes, boots, coats, and bags off of the floor. These DIY entryway bench projects will help you with storage, extra seating, and so much more. So get that entryway organized and ready with a beautiful bench. Don't forget to pin your favorites!
See Other Projects