One of the easiest ways to get that rustic farmhouse look is using wood slats for your fence. But since most modern homes use chain link fencing, you need to find a way to mimic the look of wood slats to get the same aesthetic. To do this, you can use cable railing systems. They're available at home improvement stores, but they're also quite easy to install yourself—all you need is a screw gun and some screws. Plus, there's no need to paint them after installation, so they'll blend right in with any house or yard! Below are 10 DIY cable railing projects that will please any homeowner who wants a rustic-looking fence without the hassle of hiring a contractor or paying for store-bought materials.
DIY Cable Railing Projects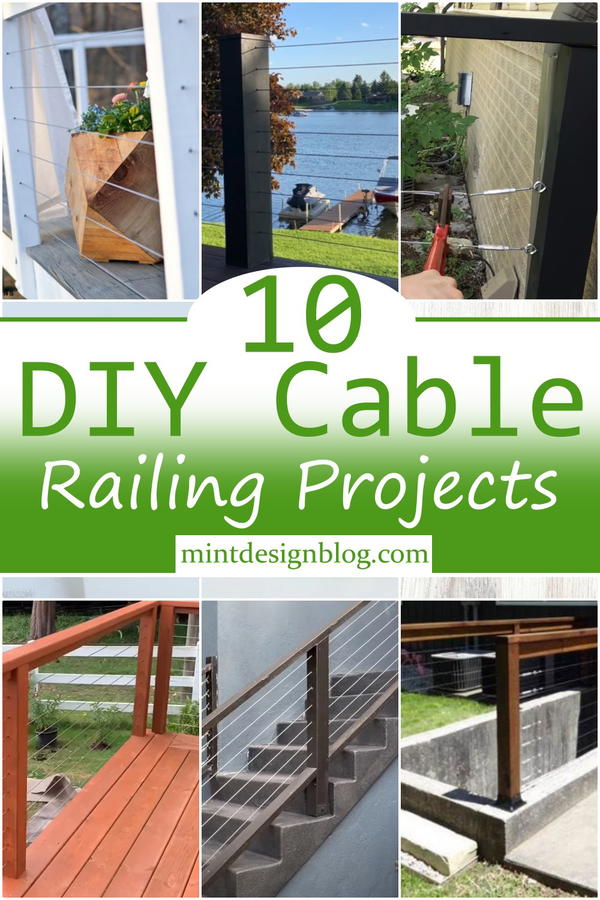 Cable railing projects can be used as edging in the garden, on a deck or patio, or as a decorative railing that runs around a balcony or porch. You don't have to be a professional contractor to install cable railing. The process is straightforward, and DIY cable railing projects usually don't require permits or licenses. You can create beautiful changes in the appearance of your home with a little time, effort, and patience. Cable railing systems allow you to create a beautiful, custom railing that perfectly fits your home and design. They are durable and easy to install, making them a great choice if you're on a budget.
Uses Of DIY Cable Railing Projects
The railing is a vital part of any home or office building. It provides protection and security to the people who visit it. Railing projects are easy to install and maintain and can be done by anyone with basic carpentry skills, tools, and materials.
Cable railing projects are popular because they offer a modern look, with various design options that can be customized according to your needs. They are also easy to install, require no maintenance and have a long lifespan. Here are some common uses of DIY cable railing projects:
Decorative Railing: Cable railing is commonly used as decorative railing for decks, patios, balconies, or other outdoor areas where you want to add style without having to invest in expensive materials or labor.
Security Railing: A cable railing makes an excellent barrier against intruders such as burglars or people trying to trespass on your property. It also keeps pets from jumping over the fence into another person's yard or garden so that they will be no damage caused by running around freely without supervision.
You can create a cable railing by applying the following steps:
Use a square to mark off the areas where you need to cut.
Measure down from the top of each post and ensure your measurement is accurate. If not, adjust it until you have the right size.
Cut through the post with a circular saw or reciprocating saw. You can also use an electric jigsaw if you prefer or have limited access to power tools.
Place one side of your cable railing on top of the post and trace around it with a pencil or marker. Then repeat this step on the other side of the post to ensure that your measurements are accurate for both sides.
If necessary, adjust your measurements to equal both sides, ensuring that your cable railing is straight and level when finished.
Use a hammer drill with a masonry bit to drill holes in each spot where you plan on attaching lag screws into your posts. Make sure that these holes are deep enough for lag screws to go through them without using excessive force or risk cracking them during installation!
How To DIY Cable Railing
Already have a wooden stair railing? Then this may not be the guide for you. Although we show how to remove a wooden fence and install a new one with cables, this will focus on establishing a cable railing by itself. If there's no railing on your stairs or it's made of wood, this is the guide for you! It will show you how easy it is to install a cable railing, remove your old wooden one if necessary, and install a new one without hiring an expensive handyperson.
Cheap DIY Cable Railing
Want to build a cable railing yourself? Check out this cheap and easy DIY cable railing building guide and start planning the project today. This is a great project for the DIY experts looking to beautify their homes and those who have never tried building anything before, but it seems like it would be quite easy! It's relatively inexpensive for such an amazing result. The best part about this cable railing tutorial is that it doesn't take much time to build. This project will cost around $47, depending on the length of your deck or balcony railing that you are making.
DIY Cable Railing For Deck
This cable deck railing project is a classic DIY, and if you're looking to save money, it can be done for less than $60. This is thanks to the innovative use of steel cables which are strong enough for the job but inexpensive and already come in lengths that fit most home installations. You'll need nuts and bolts, a drill, screws, a leveler, and scissors. The job requires no electricity or special tools beyond what you probably already have around the house. They're also more durable than other alternatives like wood and metal, so if you're looking for something that can withstand the elements, this is a great way to go.
DIY Cable Railing Metal Posts
This DIY cable railing with metal posts project is well suited for beginners. The kit has the materials and tools necessary to create a sturdy, attractive design. You can use it to complete several projects around your home, from garden railings to staircase rails. Create an elegant, contemporary look for your deck with our sturdy railing kits. You can get a railing kit with both posts and rails, or just the posts. The cable-style design is made of sturdy galvanized steel to last for years. Mounting hardware is included with every kit, but check the post spacing as there are four options.
DIY Cable Railing Installation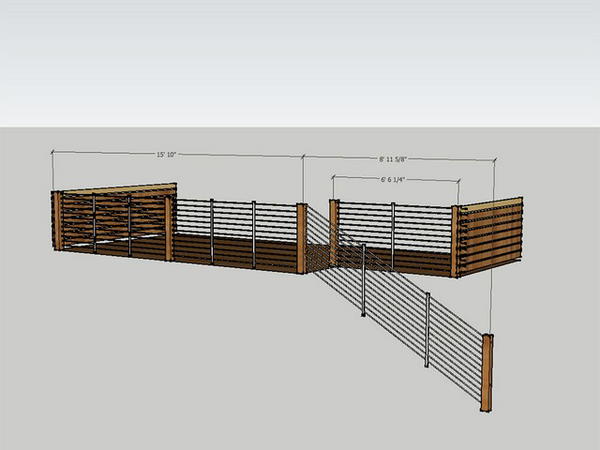 If you want to install cable railing on your own, this guide will help you do it. A cable rail is a wonderful option when putting in a new bar next to your stairs and the front of your home. It can be an affordable, nice-looking option that adds more safety and style to whichever porch or deck you want to add it to. Installing a cable railing is quite an easy experience. But, you must consider the location and measurements before drilling holes into concrete posts or stairs. Once done, it would be better to test your cable railing on a small scale first, then move on to doing it on a larger scale once you are confident.
DIY Deck Cable Railing
DIY deck cable railing is easy to make; you first need to cut the cable in half. Then it would help if you had a swaged end and slotted guard that slides over the line. You will also need a Tensor crimper and an angle template to bend your cable. Cut the stainless steel cable down with a hacksaw so you have a flat end, then insert its piece into the swaged end until it's flush against the corner. With this part of your DIY deck cable railing complete, fit it, so it is steady and ready for installation. You can save money by buying the materials in bulk and doing the job yourself, instead of hiring it out or paying more through another source."
DIY Cable Railing Indoor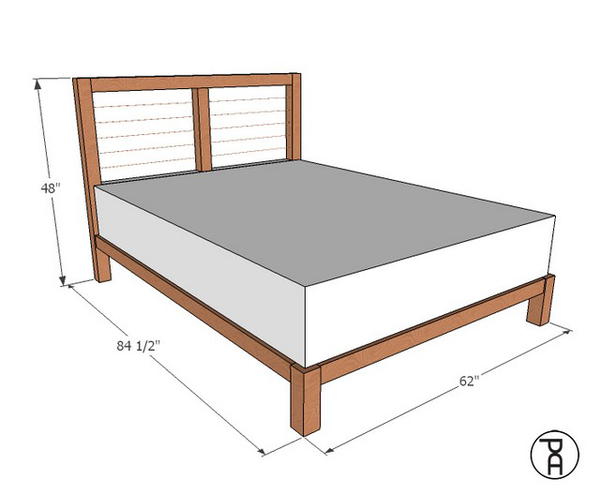 You can use cable railing to change the look and feel of your bed frame. It's simple and feels stylish. The materials are wood posts, wood board, and a plywood sheet. This DIY cable railing bed is one of the best-looking and simplest ways to fix an Ikea bed frame. This design has many benefits over other types of cable rails, and it can cost you less than $60, making it an excellent choice as either a standalone or an upgrade. With its beautiful design, this bed can make any bedroom look more sophisticated and elegant.
You can also see: DIY Deck Bench Plans
Wire Cable Railing Idea For Deck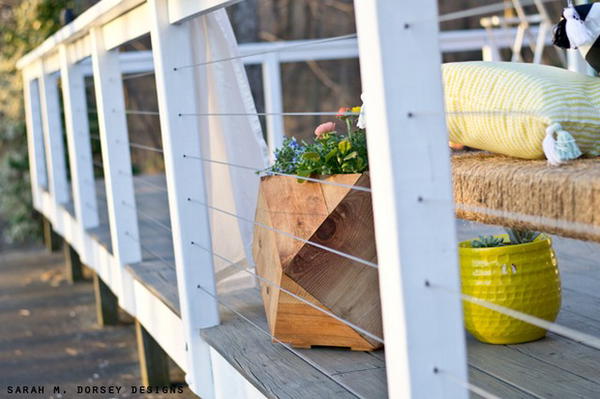 Get creative with this DIY Wire Railing guide. This project is easy and inexpensive to create and will help give your home a modern twist. A cable railing is a discreet and contemporary look. The guide is simple and can be completed within a few hours. All you need is some stainless cables, bolts, washers, and nuts. The drill press, wrench, driver or socket, angle grinder, and cable cutter will be used to complete the task. The cost of materials is around $130, but if you have everything else at home, it shouldn't be too much of a problem.
Easy Cable Railing Idea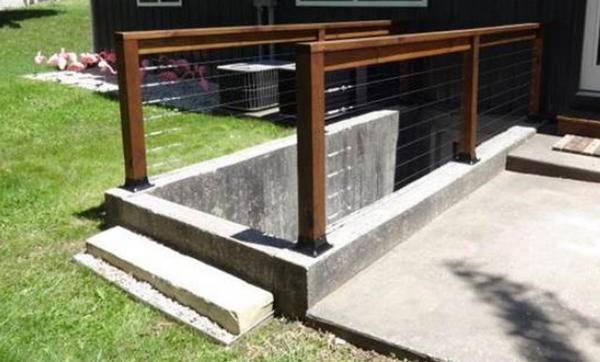 This project is for you if you want a durable cable railing that's not only durable but also gorgeous and simple to install. With the right tools and materials, a well-planned safety deck railing can greatly increase the value of your home and create a beautiful backsplash for your home. This DIY cable railing project is another one you can use in your backyard to add beauty to your home and make it more accessible to everyone. This can be a great budget cable railing project for you. You can do it in less than 24 hours and save money for more important needs.
How To Install Cable Railing For Deck
If you've ever thought of installing a cable railing on your deck, you do not have to worry about the cost. You can buy it pre-made; you only need to drill holes in every post and run the cable through them. Installing a cable railing on your deck is easy. If you already have seats installed, you need the wires. You can buy them online or in most home improvement stores. Make sure you get the right length, depending on how long you want it to be. Pull out your drill and start drilling holes between each post. Then run the cable through them and attach them to secure it in place with an anchor bolt or adhesive concrete.
See Other Projects