DIY playpen projects can create your unique baby cribs, which offer infants a secure and safe environment. The DIY baby cribs are made from different materials, but you can use any material of your choice to make them. You can always find a simple design that should be enough to make one of these playpens. Inside these secure playpens, kids will have plenty of room to move around, play, and sleep while soothing music or white noise plays in the background. Playpen projects can be as simple or complex as you choose to make them. These playpens take advantage of vertical space, especially if the kids are still small enough to use them.
DIY Playpen Projects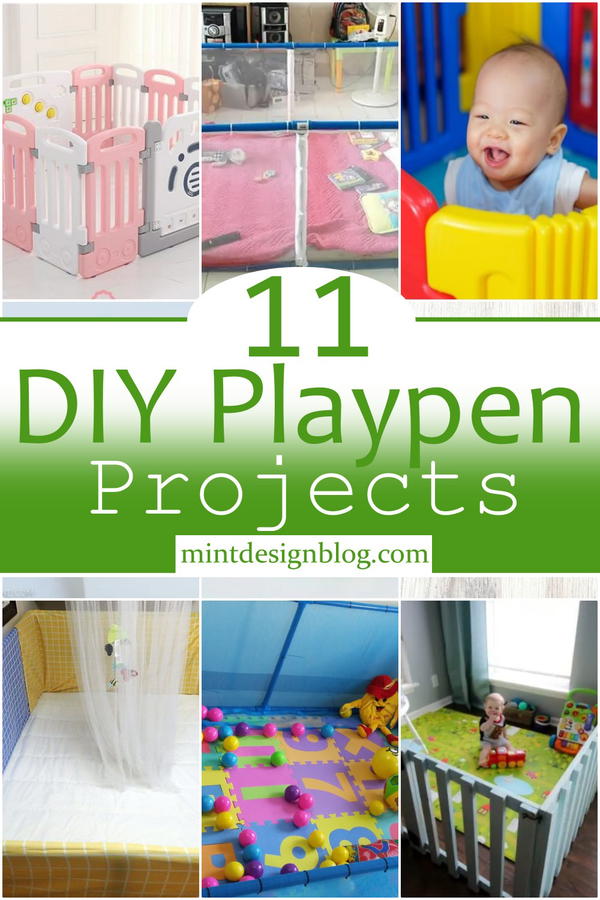 A playpen is more than just a place to keep your baby safe while you're attending to other things – it's also a place for him to play and explore. Whether you're looking for somewhere to keep your toddler contained, or you want him to have his own space in the house with toys and books that are his own, there are plenty of DIY options that will be fun for both of you. Here are 13 projects to make your own little play space. From DIY playpens to adorable DIY baby gate alternatives, these DIY projects feature unlimited possibilities to make your own play space for your little one.
Why You Should DIY Your Playpen
Playpens are a staple of the baby world. They provide a safe, enclosed space for your child to play and explore. They can be used indoors or outdoors, and most come with a carrying bag for easy transport. However, there's no need to buy one from the store! You can make your own playpen using materials you already have around the house in just a few minutes.
Here are four reasons why you should DIY your playpen:
It's cheaper than buying one already made!
You Can Customize It To Your Child's Needs
You Can Make It As Large Or Small As You Need It To Be
It's A Great Project For The Whole Family
DIY Playpen For Baby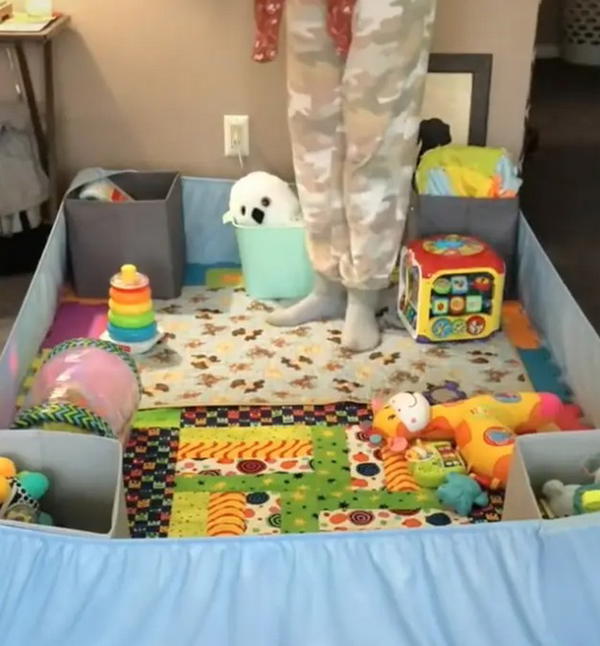 Playpen for your baby, this playpen is super simple and affordable. It's a jungle out there; make your baby's bedroom feel like one with our incredible DIY baby playpen. Featuring classic jungle animal prints and whimsical design elements you won't find anywhere else, this is art and craftsmanship at its best. It's designed for indoor/outdoor use, easily set up, easy to move around, and easy to store. This DIY project will protect your kids from falls and accidents at home.
How To DIY Playpen  Baby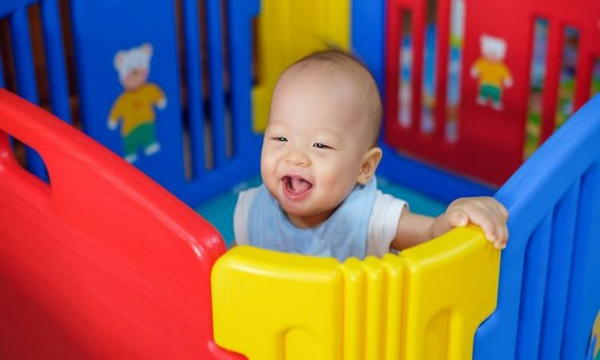 This amazing and easy DIY playpen is designed to make a perfect place for your baby to play. Completely safe and functional, this adorable playpen will keep your child in one place so you can finally get things done! This tent playpen is a great way to create a safe and comfortable space for your little ones. It's very easy to set up; it has a mosquito net so your baby can sleep without worrying about insects getting in the way. It's also very light and easy to carry around wherever you want.
DIY Play Area For Babies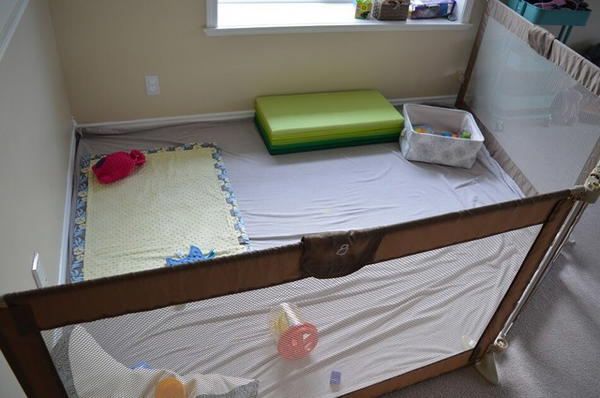 A play area keeps your baby happy and entertained and provides an important physical activity space for them to develop. Make your child's indoor play area a fun, safe and comfortable place for them to blow off steam during the long, cold winter months. Create a cozy play area for your baby with the DIY Play Tunnel. This colorful fabric tunnel features soft, machine-washable material and an easy-to-hang design that attaches easily to any door frame. Easy assembly is required. This easy DIY project will help your little one stay active and engaged while saving you some energy and a few bucks.
Make A Baby Playpen In Octagon Shape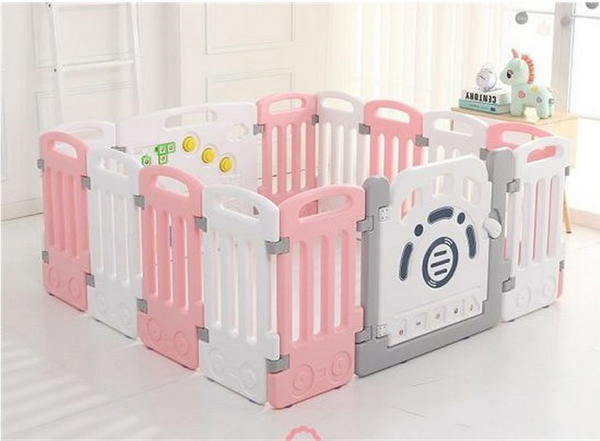 A modern take on a classic playpen, this octagon-shaped toy enclosure is designed to keep your child safe and engaged while they play. Easy to assemble and stylish enough to be used long after the kids are gone, this is sure to be the most popular gift at any baby shower. Make your own octagon-shaped playpen with this DIY playpen kit. Made of sturdy wood, it's perfect for keeping your little ones safe and sound while they play nearby. This DIY Octagon-Shaped Playpen has an octagon shape for little ones to play, jump and crawl around. This playpen can be folded into 8 little segments, and the lightweight makes it portable to bring wherever you want.
DIY Playpen PVC Pipe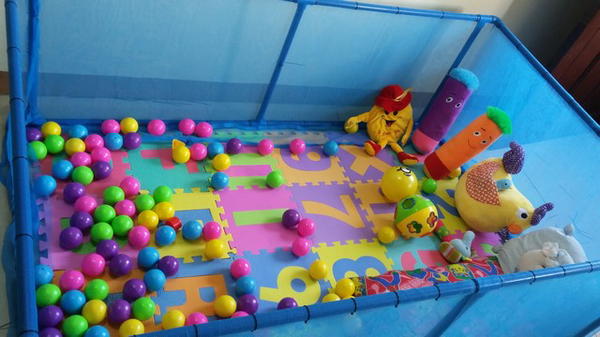 Enjoy a safe environment for your children with this PVC Playpen. This large playpen features a quick and easy set-up with no required tools and can be used indoors or outdoors. Create a safe and fun play area for your child with the DIY PVC Playpen. This great project is easy, secure, and economical; you can find the PVC pipe and connectors at your local hardware store. Give your little ones a sense of adventure with this homemade play area that will keep them occupied for hours!
Cheap DIY Playpen For Toddlers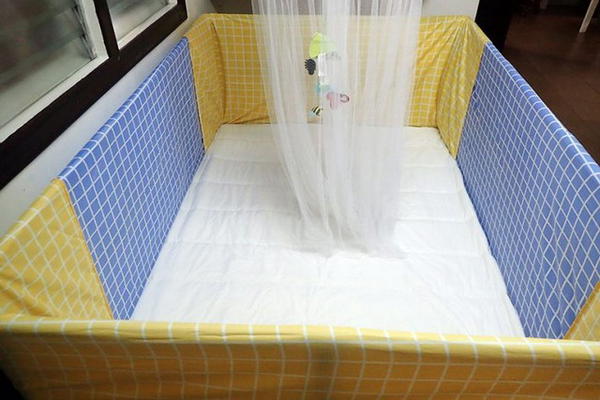 This is a great solution for fussy babies or toddlers that won't stay in one spot or quiet. They will have their own space to play and keep busy with everything that it comes with, including toys and a sleeping bag. This gives you time to breathe as well! It is the perfect play area for your child. It is built with security, stability, and durability in mind but doesn't compromise comfort for you or your child. Materials are simple to assemble, making this a money-saving DIY project you can complete independently.
DIY Playpen For Kids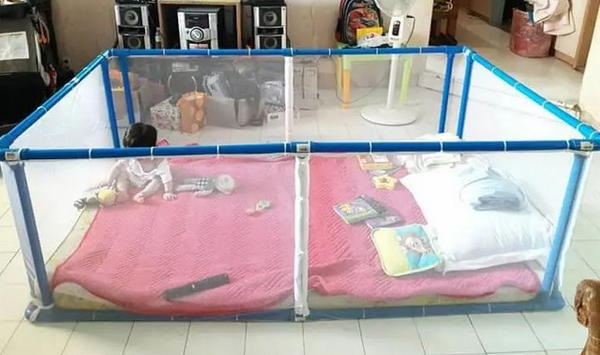 This DIY playpen allows you to create your own playpen, complete with a safety net and a soft mat. All you need to do is connect the PVC pipes, sew the edges of the net and then place it inside. This is safe for your child and easy to put together, making it a great option if you want something that looks good and can be easily maintained. This playpen is perfect for your little one to explore and play with. The space allows parents to play with their children in case they need some help calming them down. It has enough room for two adults at once, so the whole family can enjoy the fun.
Baby Playpen Wooden Idea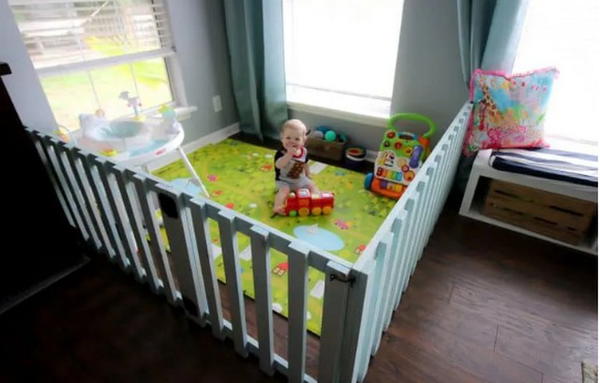 Playtime is a great way to keep your little one entertained and happy. I designed this playpen to be perfect for your child's needs. Whether they are crawling or learning to walk, this playpen will have them stay in a safe environment while they learn something new every day. The design incorporates PVC pipes to create a stable and sturdy environment that will help your kid develop their motor skills as they grow up. While many wooden playpens sit on the floor, you can easily elevate your child's play space with this DIY project. The result is a safe and stylish place for babies to crawl, roll, and learn their way around.
Pallet Puppy Playpen Idea
Here's a handy DIY project to make your dog's play area more comfortable. This pallet pup pen offers a great alternative to expensive kennels and is made from only repurposed materials—you can find a wooden pallet for free at most hardware stores, then cut it up yourself or have the store cut it for you. The sides are longboards with one side at an angle so your dog can't slip past but is still visible to you while they play. This design will provide you with the perfect puppy partition. The assembled pallet puppy playpen is a great way to set up areas and train your dog how to use them. This pallet puppy playpen is made of all-natural reclaimed wooden planks of different sizes and shapes that are then secured together using screws and glue.
How To Make Playpen For Rabbits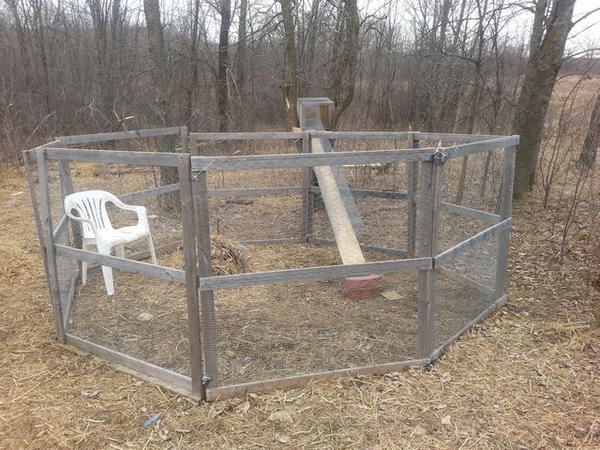 Looking for a fun way to contain your rabbit? This DIY Rabbit Playpen is easy and inexpensive to make and keeps your rabbits safe from harm - without the hassle of a cage! Build an affordable, portable rabbit playpen for your bunny to enjoy safe fun with this easy-to-make DIY project. The playpen is built from wood and features a door for easy access and space for hay that's just the right size for your furry friend. It is a fun, easy project that allows your bunny to stay healthy and happy while you're away. With just a few supplies, you can rest assured that your furry friend won't get bored or lose his way while you're at work or out of town.
Make Playpen For Small Pets
Give your small animal companion a place of their own! This DIY playpen is perfect for rats, hamsters, guinea pigs, and other small furry friends. Keep your small pets safe and contained inside the DIY playpen they'll love. This DIY playpen is perfect for small pets like hamsters or guinea pigs! It's so easy to make, and you can customize it to match any theme you have going on in your home. It's perfect for letting them get some much-needed exercise and freedom without worrying about accidents in the house. And best of all? It requires just a few affordable supplies and very little time!