Not only do we love the look of a champagne wall, but it also helps us keep our glassware and tables clean. The bottles add sophistication and class to any room, making your event all the more special. But building a champagne wall or tower can be quite an undertaking, especially if you are not experienced in carpentry. If you love champagne and love making your home look awesome, then this is something you need to add to your DIY projects list! Check out the following DIY Champagne Wall Ideas and learn how to easily make a champagne wall at home. These walls are usually made of wood and painted to give them an elegant and sophisticated look that will fit perfectly into any room. Now you can enjoy the benefits of champagne without having to drink it by building yourself a DIY Champagne Wall!
Easy To Build DIY Projects:
Making a DIY champagne wall is a fun and easy project to do. It will make your home festive, elegant, and romantic. Making one also allows you to show off your beautiful collection of champagne bottles while keeping them out of the way in storage! You can create a DIY champagne wall in multiple ways depending on your room and how much money you want to spend. Some people stack the bottles directly against the wall, while others create an entire tower or table to hold them all in place. The below-listed DIY Champagne Wall Ideas are easy to build with a few items found around the house, so you don't need any construction experience for these projects!
Things To Be Considered:
Selecting a Champagne Wall Ideas deciding on how to make a DIY champagne wall is one of the first things you'll need to do. The main thing to consider when selecting the design of your champagne wall is the amount of space available. Several methods can be used to build a small DIY champagne wall if you have a limited area. On the other hand, if you have a larger space where you want to create a more substantial DIY Champagne Wall, there are many different ways this can be done.
DIY A Champagne Wall Under $100
This champagne wall is perfect for an outdoor wedding reception or backyard party. It is a fun, budget-friendly DIY project. The champagne wall will bring beauty to any room and make guests feel at home. The champagne wall comes in different sizes and can be done in any color you'd like for the base, top, and sides. The great NEWS is that you can make one easily, under $100, and it will be stunning.
How To Make A Champagne Wall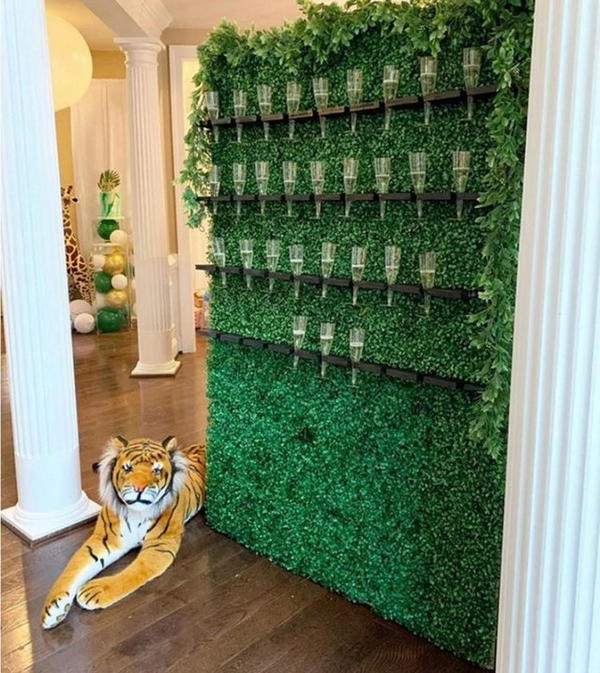 If you're ready to add some elegance to your home, then this DIY project will do just that! We are going to show you how to make a champagne wall. This is a great way for you to celebrate a special moment in your life. It also makes your friends feel comfortable when they arrive. This project doesn't have to be expensive because all you need is something like cardboard or wood board, string, tape, and plenty of artificial grasses. Don't forget about the paint either; there is no limit to creativity here!
Easy To Make Champagne Wall
The DIY champagne wall is an excellent idea for a small event or party in your house. It comes in handy when making a toast, as it gives you somewhere to place the bottle and glasses. This unique wine rack is made out of plywood sheets and pieces of 2×4s, then covered with glass panels. The Champagne Wall can be installed vertically or horizontally. It is a great idea if you want to make a toast at small events or even at your house.
Champagne Wall Tutorial
If you are looking for an elegant but not expensive wall decor that will make your party look more expensive, this champagne wall is a great option. The best thing about it is that it requires some basic carpentry skills and cheap supplies, so you don't have to hire expensive artists to do the work for you. The DIY champagne wall displayed in this video is a perfect addition to any party and sets the tone for an unforgettable evening. Knowing how to use a drill and a circular saw is enough!
Bubble Bar Champagne Wall Tutorial
This bubble bar is the perfect addition to any party. We do the hard work and make it so easy for you that even your guests can get in on the bubbles. Simply buy a bottle of champagne and add our bubble bar to a carton of warm water. Let it inflate, then throw it away. Just like that, you have your own bubble bar with unlimited refills. It's the perfect way to showcase your bubbly and elegant way to keep your favorite champagne bottles out of the reach of children
How To Make A Champagne Wall
If you love champagne, this is for you! This champagne wall shows all the bottles and beauty of your favorite drink. You can even use it as alternative storage for your liquor collection. For a finishing touch, paint the 2×4 frames to match the pegboard color so that no wood shows through, and pierce holes at the top of each frame so you can hang glasses or cups from them. This project will only take a few hours or days to complete if you use it only a couple of times per week, and it will be such a great addition to any room.
DIY Prosecco Champagne Wall
A Prosecco wall is an independent solution for your home to arrange the bottles of prosecco. The hanging bottles are a great way to store your favorite drinks, especially when you plan a party or a get-together with friends. Aside from its unique appearance, this hanging display also comes in handy to organize your kitchen cabinets. Follow our step-by-step guide to make your own Prosecco wall and impress your guests as they arrive at your next party, wedding, or get-together!
Champagne BookShelf Idea
When you have a small space, sometimes all you need is a clean and organized display of your belongings. This bookshelf is perfect for small spaces but gives off an elegant and luxurious feel with its champagne-colored walls. One of the best ways to add personality and beauty to your home is to create a bookshelf that can be displayed anywhere. This versatile arrangement can sit flush against a wall, stand independently on its own legs, or be placed on your console table, among other decorative items. Add in some champagne bottles and get yourself a classy way of displaying the things you love!
How To Make A Champagne Wall
If you want to add a touch of style and glamor to your house, you need the champagne wall. The best part about the champagne wall is that it can be created using pre-made individual sections or by building each piece from scratch. In either case, there are certain basic steps to follow so that your vision comes to life. The first step involves measuring your space and designating the preferred locations for your wall sections. When purchasing supplies, it is better to cut them into smaller pieces instead of large boards, as this would save time and money.
Champagne Wall Box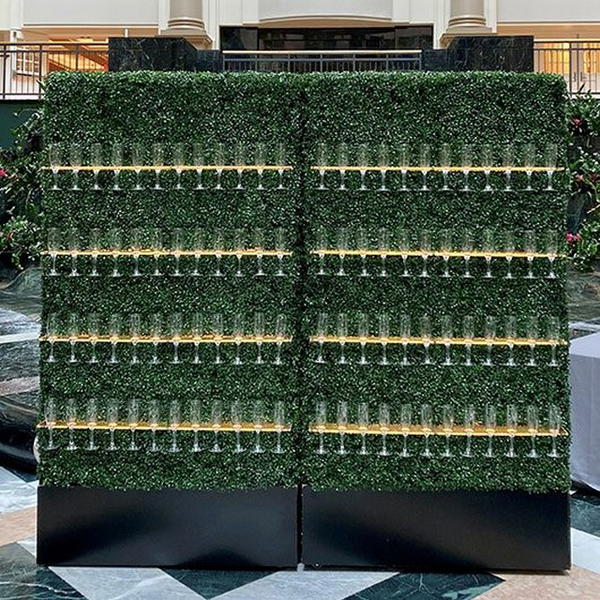 The Champagne Wall Box Wood is an extraordinary display that can be used in almost any area. With a dimension of 88" tall × 48" wide × 16" deep, it's best to ensure you have enough room before deciding to purchase. It also has wheels, making it mobile and capable of moving around anytime. Perfect for a wedding reception or to serve drinks at an outdoor summer party, this walk keeps your bottle of bubbly chilled while its fine design makes it a beautiful centerpiece on any floor.
Champagne Wall Decor For Party
Champagne Walls are considered the best to decorate a party. They make the party rock by motivating guests to drink, have fun and act as if they have come to a party. A champagne wall creates the perfect ambiance with crystal glasses filled with bright shiny Champagne. And if you really want to make your party look attractive and beautiful, don't miss setting up this unique idea. Follow the instructions and create a beautiful champagne wall to enjoy and share with friends.
Tabletop Acrylic Champagne Wall Idea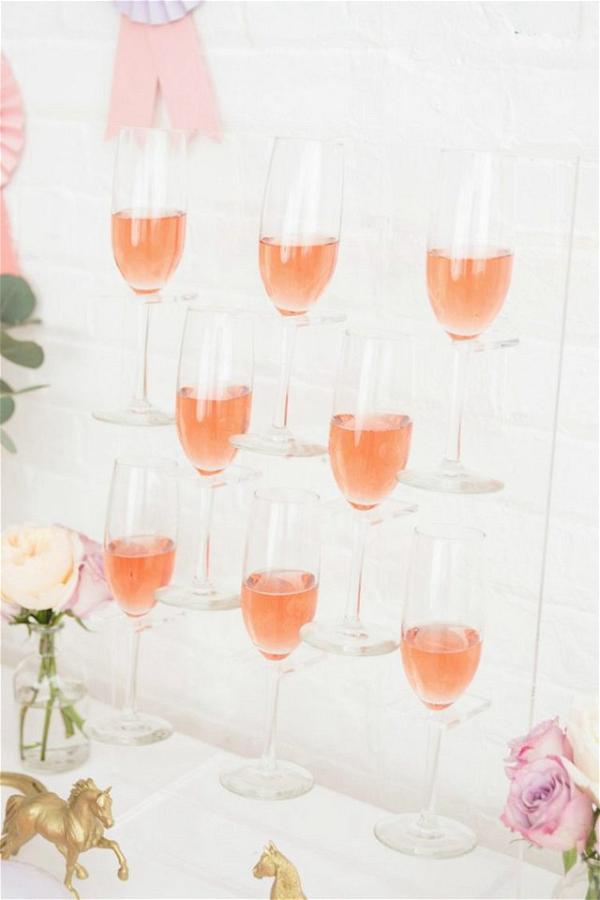 Make your wall more stylish with a champagne wall that fits your taste. This tabletop acrylic champagne wall has 8 laser-cut champagne holders on display vertically across the wall. Made from high-end crystal clear crystal, you can make it for your guests or simply use it as decorative items in your home. This tabletop champagne wall is a great gift for any occasion and will stand out at any party. This champagne table features eight laser-cut champagne holders on display vertically across the wall and is made from high-end crystal clear crystal. The simple yet elegant design makes this a great addition to any home bar.
Champagne Wall For Tabletop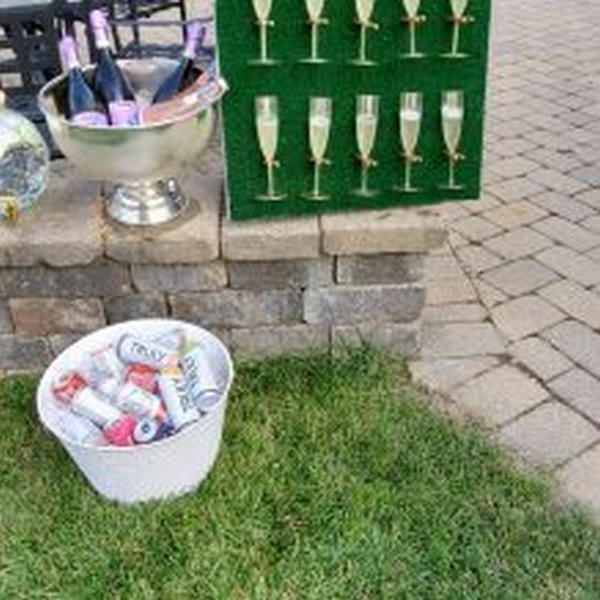 To build your Champagne Wall, you must use plywood, carpet cutters, and a hot glue gun. Start by cutting the plywood into the desired size of your wall. Now measure the length that you would want your wall to be. Once you are done with this step, get ready to hook up a long wooden dowel through it onto your wall. Attach AstroTurf on top of the plywood and tap it down gently with a rubber mallet. To add a finishing touch to the hot glue gun, use it at different places on the plywood. Ensure all parts are covered with super glue and insulation foam padding.
Champagne Button Wall Decor
Press for champagne! Enjoying your favorite bubbly beverage with friends can be a fun and exciting experience. Your wall decorations should reflect this idea: a wedding, engagement, or birthday party. Add a festive touch without breaking the bank by making your doorbell wall decor with the DIY Champagne Button Wall Decor guide. This wonderful guide comes with everything you need to create a button doorbell on any wall surface in your home, school, or office. Make it even more special by including a customized message printed on the button. Your guests will smile glee when they press the button, only to be rewarded with free booze! Perfect for adults and youth alike, this unique piece of wall decor makes an excellent gift for all occasions!
Champagne Balloon Wall Decor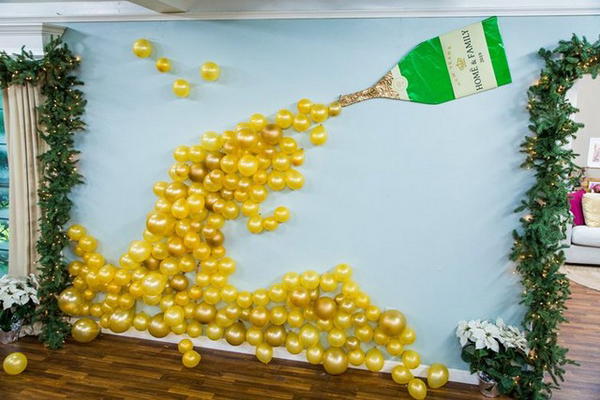 Add a touch of elegance to your party with this champagne balloon wall decor. The design of these Champagne Bottle Balloons is inspired by the bubbles gushing out of the bottle as if it just popped open. All you need to do is make one's Champagne balloon foil and different balloons, using them as the main ingredient of making this champagne balloon wall. Then add a piece of fabric for the backdrop and another item to hang the balloons on the wall with some colors matching your room color.
How To Make A Champagne Balloon Garland
This is a super easy project, but it's sure to be a crowd pleaser for many occasions. All you need are champagne balloons and some glue dots to stick them to the ceiling. Many people like regular balloons and a party supply store, but why not go all out with this? Add some champagne, and you will have a gorgeous garland that everyone will adore. This is perfect for parties and other special occasions, as well as decorating your home all year round!
How To Make A Prosecco Wall
Are you looking for the perfect way to make your party stand out? Why not consider a Prosecco Wall if you shop for the latest trends? This is a pretty cool idea that can turn any occasion into an amazing event. You can go out and purchase one of these or even rent it if you want to, but we'll show you how easy it is to DIY. You will only need a few materials, including a store-bought frame, small nails, cup hooks, and chains. Wine bottle openers are also available in any local hardware store or online. Make sure you have enough prosecco handy as well!
See Other Projects