Balloon garlands are one of the most accessible and affordable ways to decorate for any party. They can be made in any color, size, or shape, depending on what you need. You can also use balloons to make other decorations like centerpieces or table decorations. Balloon garlands are a great way to spruce up your parties and make them more fun! We have gathered together some different DIY Balloon garland ideas that will help you start making yours today!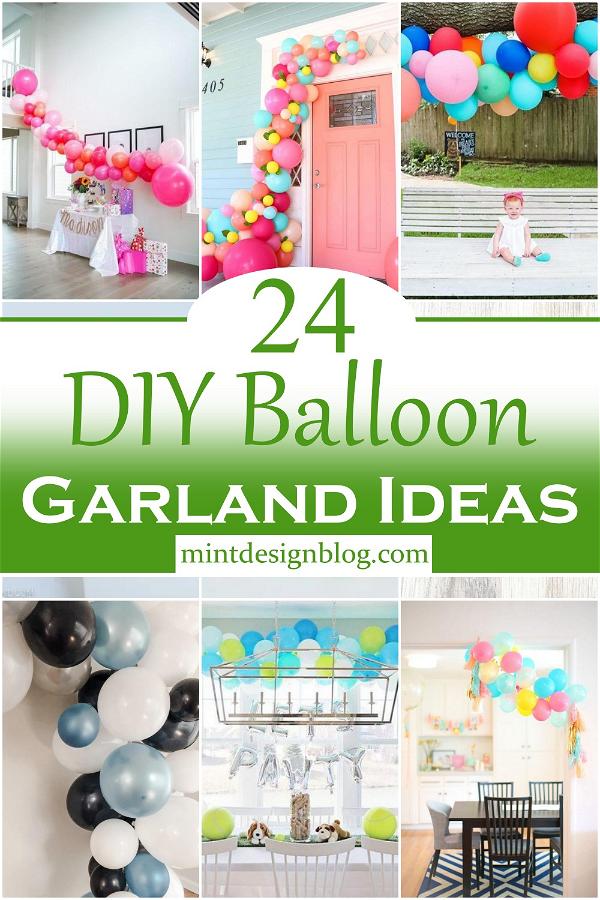 Balloon garlands are one of those things that make any event look more magical and festive. If you want to add some pizzazz to your party and make it stand out, you should consider getting yourself a balloon garland. These are easy to make and cost-efficient, making them the perfect DIY project for all you budgeters out there. Balloons are not just for kids; they can also make a great addition to any adult party as well. And what better way to make an impression than by making your own DIY balloon garland?
Here are 24 DIY balloon garland ideas; with this, you can create the most colorful party decorations for your summer and winter celebration.
How To Make A Balloon Garland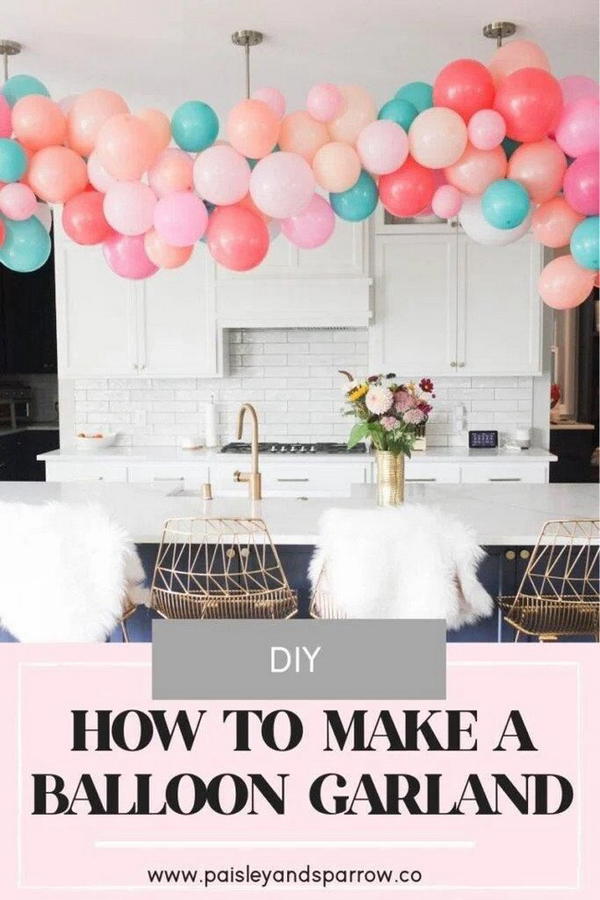 A balloon Garland is a unique decoration that can be hung on the wall, doors, or windows to add extra life to the party. The garland can be used as a room divider or an additional element for your party decorations. Making a balloon garland sounds like a job for professionals, but even if you're not artistic, you can create one with the right amount of time and patience. The first step is to inflate your balloons using the proper balloon pump and needle. Tying them with string or ribbon once the balloons are blown up to create an airtight seal at the knot. Attach them as you want them to be. Your garland is ready!
How To Make A Balloon Garland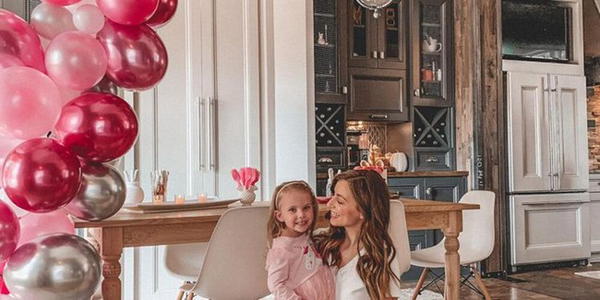 This balloon garland is stunning. It is an excellent DIY project, great for getting the kids involved, and can be used indoors or outdoors. The metallic balloons give it a little something extra special. It makes a fabulous decoration for weddings or parties (especially girly ones!) or to hang in the house on a sunny day when you want to brighten things up! It is also one of the cheapest ways to decorate for an event.
How To Make A Balloon Garland In One Hour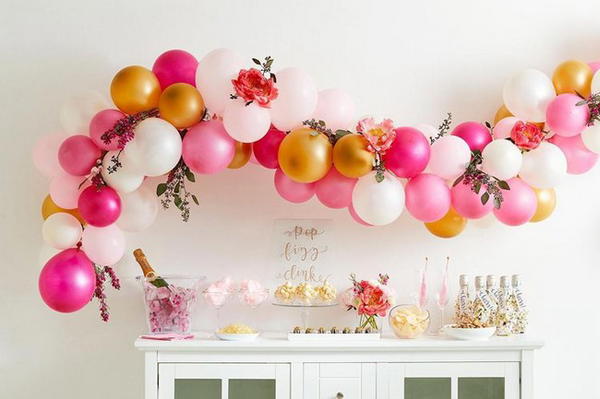 When it comes to parties and home decor, balloons have always been present. Balloons are very versatile and can be colored and inflated in different sizes. You can make balloon garlands by tying multiple balloons together with a piece of tape in between them to get a fantastic look. With this guide, you will learn to make a balloon garland in one hour using only balloons and some tape. This garland can be used to decorate parties, birthdays, and other important events with your family, friends, or at your kids' birthday party.
DIY Balloon Garland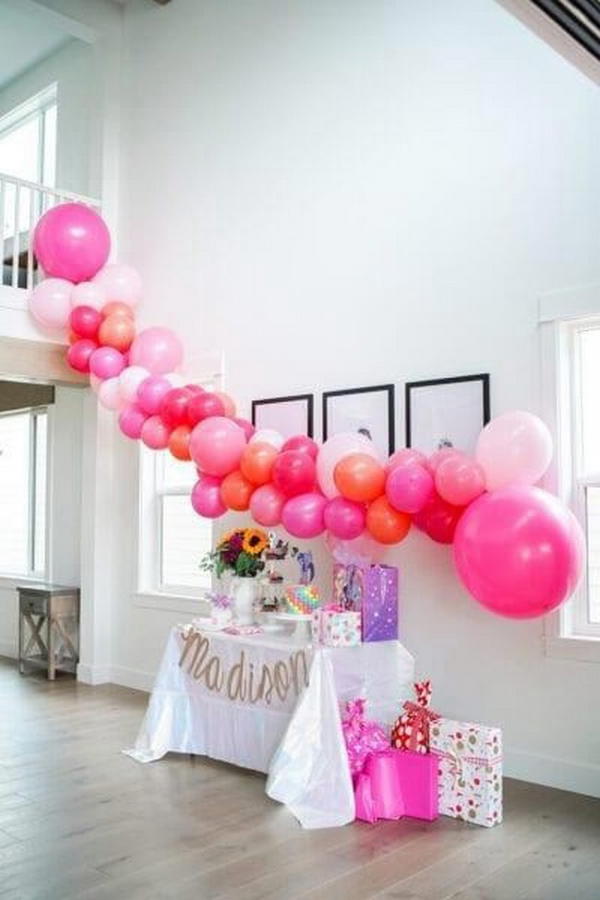 Making your own balloon garland is exciting and fun, and creative. Creating one is simple, but it depends on how you want to make it look. For example, you can use different colors to create a more colorful effect or add more decorations such as flowers and ribbons. This guide provides instructions on making basic balloon garlands, but you can adjust them easily. This garland looks pretty, but it also gives off a festive feeling that brightens up the entire room.
DIY Balloon Garland With Circular Backdrop
If you are looking for a creative way to decorate your home, this Balloon Garland with a circular backdrop is the perfect project for you. It will make the place look beautiful, especially if you have decorated the room in advance. With the help of an electric air pump, you can create this stunning cluster of balloons in minutes. The tutorial offers easy-to-follow instructions with precautions that will guide you through each process step.
Easy Balloon Garland DIY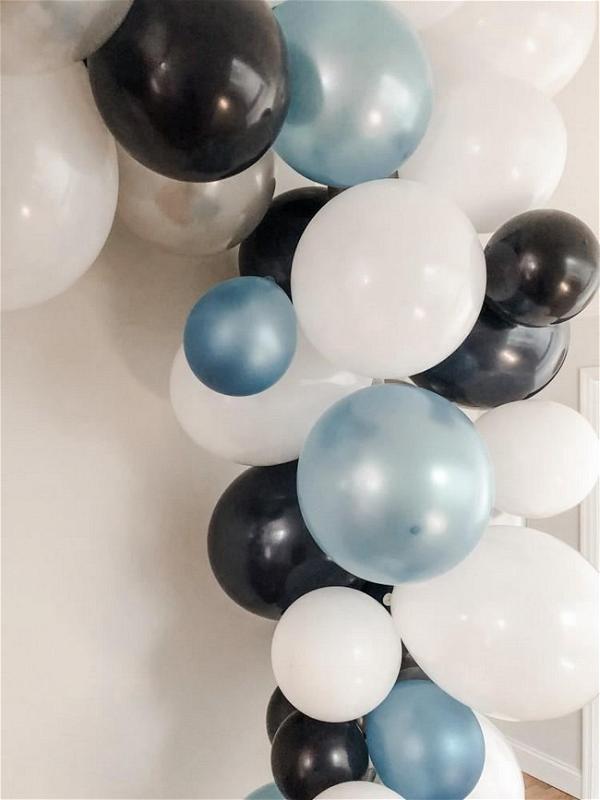 Go for a DIY balloon garland and make your home look excellent. Here are some simple steps to make this pretty garland; Firstly, choose your favorite color of latex balloons and inflate them using an inflator. Then cut the balloon tape into equal pieces attached to the wall. Use command hooks to connect these pieces to the wall at different levels. It won't take much of your time and effort to create a garland for an upcoming party or add some fun décor to the home!
How To Make A Balloon Garland Without Any Kit
How cute is this balloon garland? It's made of blue balloons, perfect for birthday parties or even baby showers. The garland is made from two different shades of blue, so it looks super cool hanging in a room. This garland is the most fun and colorful way to decorate your party. Moreover, they are not too difficult to make. This idea is straightforward and quick, and you don't need any kit or too many balloons at all!
Balloon Garland Tutorial
A balloon garland can complement any party or festival, such as a birthday, wedding, or other celebration. This tutorial will be perfect if you have ever wanted to make your own balloon garland but didn't know where to start. Inflate two balloons simultaneously using an electric pump, then deflates them again. Inflate the balloon again, press them against a flat and smooth surface, and then reduce them to give them a round shape. After that, tie them together so they will stay together while hanging from your ceiling or door frame.
DIY Balloon Garland Tutorial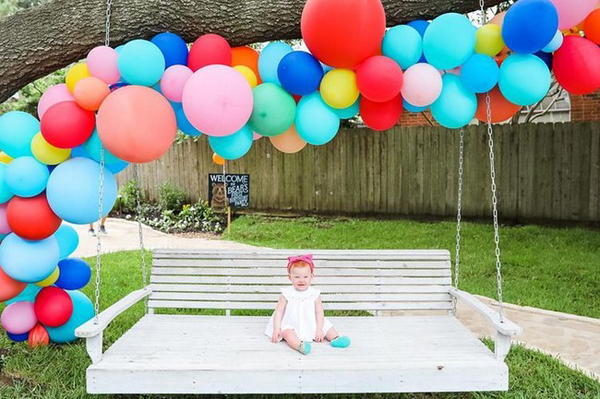 If you have been to any other parties and have seen a balloon garland, you will not just want to but must make one for your own party. A balloon garland is made from various colorful balloons, which makes it look exceptional and beautiful. You can make your balloon garland as bright as you like. All you need is some tape, simple and basic materials like scissors and glue to get started. Use this tutorial to create your own balloon garland, and enjoy!
DIY Balloon Garland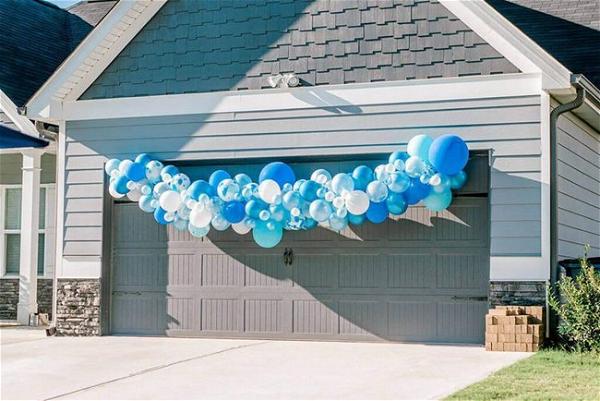 Making a balloon garland is pretty simple; you can use a balloon in any size and shape. Putting the balloons together needs some work and techniques. You first need to put the balloons into position so how you want them, then tie up each end of the garland with string/ribbon or tape. When you're done with one balloon, attach it to another one's back, like how you would if you were making a balloon chain. Make sure that there is enough space between two or three balloons to make them stand out.
DIY Balloon Garland For Your Front Door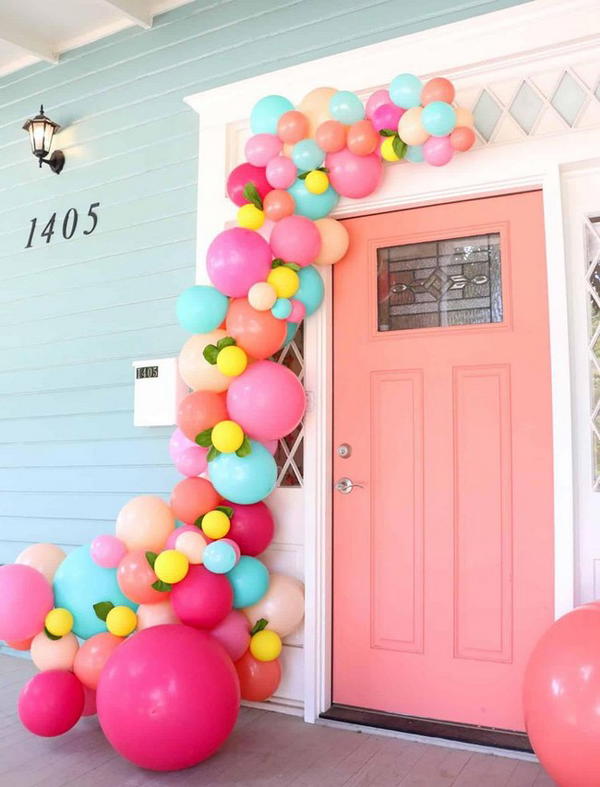 DIY Balloon Garland for your front door is a fun and easy project to do. It would be a great decoration idea for parties and get-togethers. This DIY balloon garland tutorial will show you how to make it step by step. One of the easiest ways to decorate for the holidays or any party or get together is with balloons. Balloons are inexpensive, easy to find, and can be used in many different ways. You will need a couple of good-quality balloons, ribbon, sharp scissors, and tape to start.
DIY Balloon Garlands
To make this DIY balloon garland, you need a balloon pump, small and giant balloons, and strings. The first step is to blow the two balloons by carefully putting the pump into the mouth of the balloon and holding it down with your hand; use the second hand to press the pump. After blowing all of them up, tie them together using string or ribbon so that you can hang them on your wall or door. It is perfect for decorating a party or making your home look festive. You can even use a garland to adorn any room in your house!
Large Balloon Garland Tutorial
If you are looking for a giant balloon garland to create the perfect backdrop for your party, this tutorial is for you. The instructor explains each step as she practices it to help you learn how to make one for yourself. Create a balloon garland that will make a statement in any room. The larger the garland, the more balloons that will be needed. In this project, balloons are sewn together using fishing wire to create a unique and colorful decoration.
DIY Balloon Garland
There are many ways to make a balloon garland decorative for your home, but doing this yourself makes it fun and easy. The materials needed for the project include white balloons, Marcano pink balloons, and silver-grey balloons; a string will be used to tie them together, and BOBO clear balloons could be used to create a stimulating effect on your wall. These supplies are inexpensive and easy to find at most party supply stores and craft stores.
Easy DIY Balloon Garland
Don't spend much on decorations when you can easily make balloon garlands for your home. This affordable and accessible DIY project will add elegance and style to any party, especially for birthdays or weddings. The best thing about it is that it doesn't need a string or a command hook. You need to tie the balloon together by its neck, then tie the other end of the balloon around the curtain rod or ceiling fan.
DIY Butterfly Balloon Garland
This DIY butterfly balloon garland is easy to make and only requires a few supplies. The whole project can be done in just a few hours and will turn out amazing. The string light and shower curtain rings add a unique touch to this decoration, but you can also use regular helium balloons to achieve the same result. In addition, you can use fake flowers for more color or even real ones depending on your taste and budget.
How To Make DIY Balloon Garland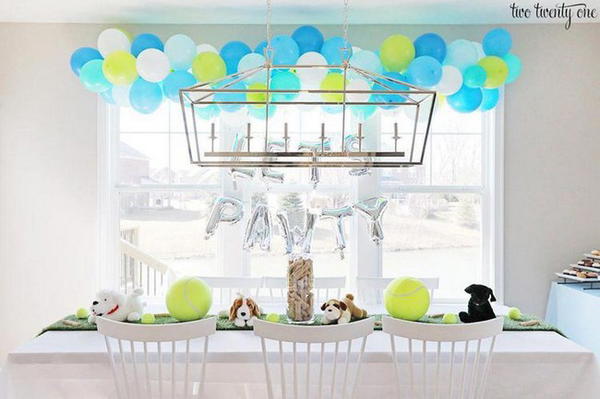 This balloon garland is super simple and fun to make. All you need for this balloon garland are latex balloons, an electric pump, a fishing line, and balloon tape. Once you get all the materials listed above, the next step is to start blowing up your balloons. This is done by inflating them with an electric pump, ideally in a large room with lots of open space to work with. Once the balloons are blown up, they need to be tied together on one end with the fishing line, which can be attached to a unique hook if required.
Making A Balloon Garland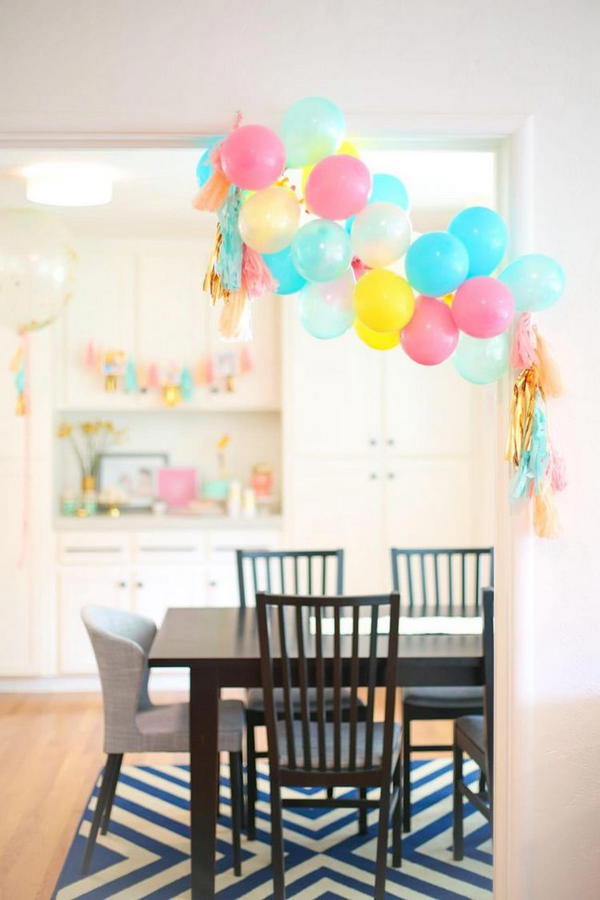 A balloon garland is a fun and easy way to decorate for a birthday party or special occasion. Blow up balloons in the desired colors and tie them with the fishing line. You can make different shapes of balloon garlands, such as a big bow on the wall or above your table for extra festivity. A few hours of your time and this fantastic DIY centerpiece can be yours; no artistic skills are required!
DIY Balloon Garland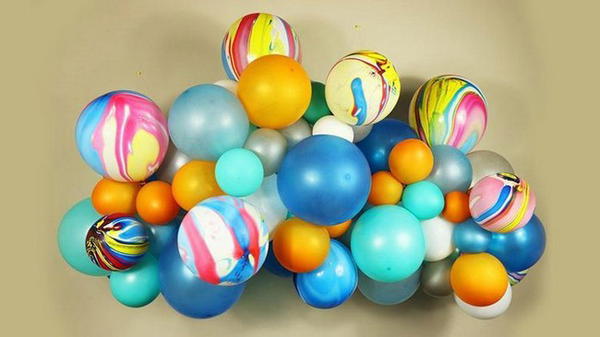 Who knew making a balloon garland could be this simple? All you need to make these gorgeous balloon clusters are a few different colors of balloons, fishing lines, ribbons, and scissors. Blow up balloons of varying sizes and tie each one together with a bit of fishing line. Now you have made a quad! Attach the quads end to end using the ribbon to decorate or wrap gifts. Just add some helium and get ready for some fun!
Balloon Garland Tutorial
A balloon garland is the easiest thing to create and can be used in various ways. You will love how it decorates a plain wall and adds a pop of color. The great thing about this balloon garland is that the balloons are different sizes, so there isn't just one specific way you have to do it. Just remember that when filling up each balloon, don't over-inflate it, or else it will take up an oval shape instead of the round, which you need for your garland.
Balloon Garland DIY
It is good to put up some decorations on your party space or venue to make it look more festive and attractive. The balloon garland is one of the most popular party décor ideas, which can add color and life to the event. It is easy to make and doesn't require any skill or special knowledge. The materials needed for this project include some balloons, curling ribbons in different colors and lengths, scissors, and string.
The Easiest Balloon Garland Method
If you are looking for a simple and easy way to make balloon garlands, this is the best method. It might not be unique, but it's efficient. This project requires very little time, effort, and money as well. This garland is a fun way to add color to any party. It's easy to make but does require an electric pump and some command hooks. Follow the steps to create this garland within minutes.
$1000 Balloon Garland Tutorial
Making a balloon garland is easy as it sounds. This idea will do the trick if you want to decorate your party or make it more colorful. This tutorial will show you how to make a balloon garland using balloons in any color, with some ribbon and glue. You can create one for a birthday party or any other occasion. A garland made with hundreds of balloons is not only fun but also very expensive.
How To Make A Balloon Garland The Easy Way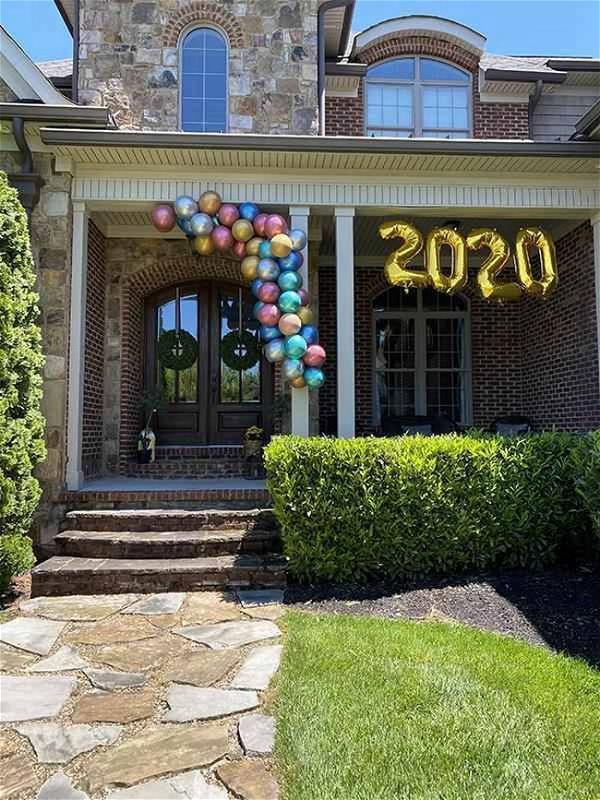 A garland is a great decoration on the wall or at the front door of your house. The great thing about this idea is that it doesn't take much to make. You need to gather up some balloons in different colors and sizes. Then you can decorate like you would in any other garland idea with other items such as feathers, flowers, and more. This gives you a look at your own design, so why not try something new and different?