With the events, celebrations, and seasonal changes going on, we all are in love with floral decoration. The DIY flower walls are a great way to add an appealing touch to your home as well as any event or celebration occasion. So, here we have brought these 25 DIY flower walls projects for you that will make you fall in love with them and bring a smile to your face when you will get surrounded by the beautiful flowers. Indeed, the DIY flower walls with their natural charm and elegance can be created for any season of the year like spring, summer, or even winter. You can also make these DIY flower walls for your wedding events, parties, and bridal showers. So, start scrolling down and get inspired by these fantastic ideas for making DIY flower walls:
A flower wall is the most famous and elegant piece of decor for any occasion. It will not just make your room look colorful, but it also adds that attractive touch to it. Pretty much every girl has her dreams of getting married with a flower wall as the backdrop. The best thing about this DIY project is that you can make it yourself without spending a lot of money to set it all up. You can use a variety of flowers like roses and tulips and put them on a wooden board or fabric to create an amazing flower wall. The best thing about this DIY project is that you can make it yourself without spending a lot of money to set it all up.
Get inspired by these 25 amazing  DIY Flower Wall Ideas and great tips on what will work best to recreate them in your own home.
DIY Flower Wall Ideas
Decorating your home can be a lot of fun, and one trend that's been gaining popularity in recent years is flower walls. These beautiful displays can make any room in your home look more inviting, but buying pre-made flower walls can be expensive. That's why we've put together this guide for making your own flower wall at home.
What You Need To Get Started
You need to make a DIY flower wall first is the flowers themselves. Depending on how long you want your wall to last, you can either buy fake flowers or use real flowers. If you have a green thumb then real flowers might be the best way to go since they will smell good as well as look nice! But if you prefer artificial ones they may last longer and require less maintenance over time than fresh cut flowers would require (which could become wilted after just a few days).
How To Make A Flower Wall
Before starting the project, make sure all of your materials are gathered and arranged neatly so there is plenty of space for working on each piece individually without getting in anyone's way while you work. The next step is to prep the structure where it will be hung from by using wire mesh or wood paneling with glue.
Basic Materials Needed For DIY Flower Wall Ideas
Add a pop of color to your room—without having to do much of anything—with a flower wall. You can make it yourself with just a few simple materials and some creativity.
To get started, you'll need:
Wood planks (at least 6)
A power drill
Nails
A hammer
Paint or wallpaper for the background of your wall (optional)
Fabric flowers (craft stores carry packages of these, or you can make your own out of fabric)
Location For DIY Flower Wall
Living Room
If you want to make your living room more lively and beautiful, a DIY flower wall can be the best choice! It can help to create a homely, cozy environment that is comfortable. You can use real flowers, fake flowers, or even a combination of both.
 Bathroom
There are so many ways that you could use a DIY flower wall in your bathroom. You could use it as an accent piece on the side of your sink for example. Or maybe at the bottom of your mirror. This would be great for adding some color and vibrancy to an otherwise dull-looking space!
Bedroom
You may think that this is not possible because bedrooms tend not to be very big but there are still ways around it – such as using small potted plants instead of large ones so they won't take up too much room!
Kitchen
A DIY flower wall in the kitchen will add color and life to this space. It will brighten up any drab area with its vibrant colors and give it some personality!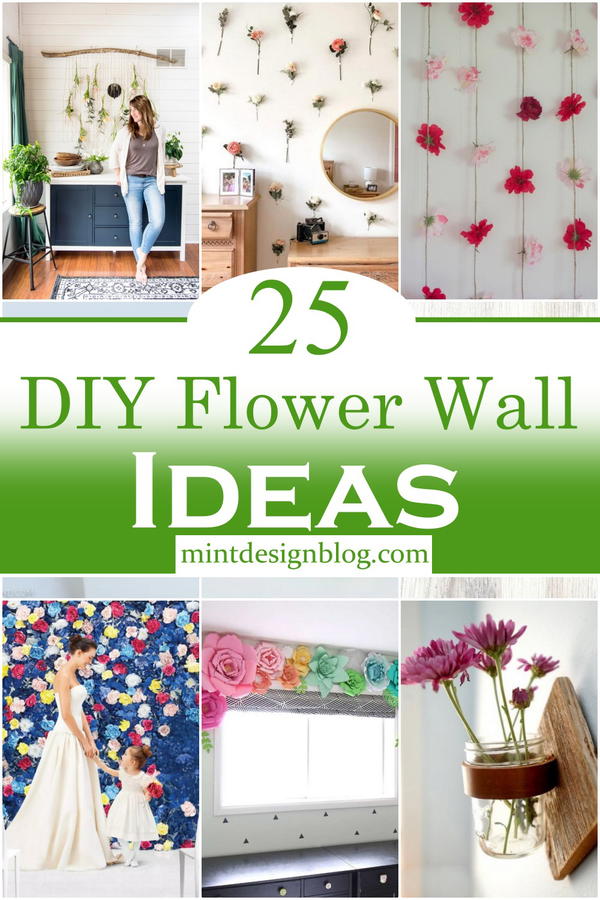 Hanging Flower Wall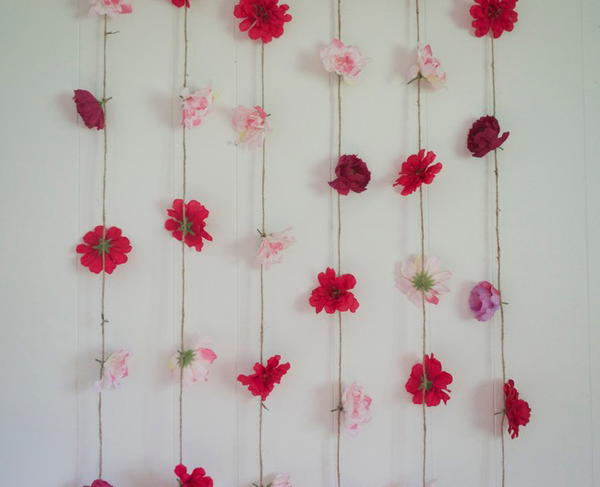 Imagine some beautiful colored flowers that adorn a wall on every corner of your house. It could also give you some inspiration as to how and where you place them. The proper choice of flowers, the arrangement, and the decorative recipe are the main keys to an eye-catching decoration. Decorate empty spaces, and add more color and warmth to the atmosphere of your home. You can build this hanging flower wall yourself, but the difficult part is to cut the wire and make the bunch as you wish. If you like more complicated stuff, you can easily design artificial flower parts to make them look more attractive.
DIY Flower Wall Décor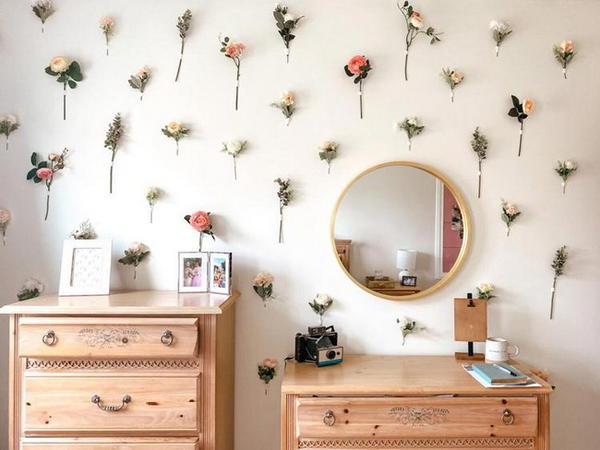 Ever wanted to add a splash of floral accents at home, but couldn't find the right design? In need of a creative way to add depth and dimension to your home's walls? Why not try out this DIY flower wall décor project! It features hanging flowers, plants, and vines on a wall for an affordable alternative. Plus, it will add some natural beauty to any room's décor. This DIY wall project is perfect for brides who want to create their own unique decor at home or for anyone that loves flowers and wants a beautiful accent wall in their house.
Hanging Flower Frame
Hanging Flower Frame is a technique that utilizes your paper scraps to create a beautiful accessory. Learn how to create simple flowers with decorative frames, and decorate your home with pieces of art you've made yourself. Experiment with different colors and patterns to find the look you love, then hang it on your wall for a splash of color. Create beautiful flowers from paper perfect for home decor, wedding decor, and even for your scrapbook. Use up all of those papers and turn them into one-of-a-kind works of art.
30-Min Flower Wall Art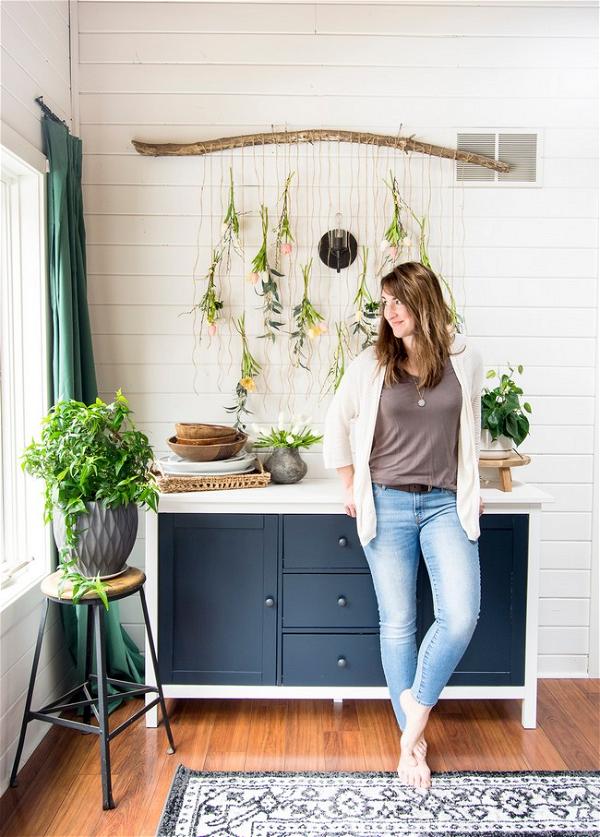 Personalize your living spaces with a centerpiece that is alive and throbbing with nature. This DIY project is simple but exceptionally beautiful. It is created through the process of lacing interlinked faux flowers. Aside from being lightweight and easy to set up and maintain, the collection of faux materials for the wall art was designed for those who want to make some DIY project in just 30 minutes. Like other decors, it contributes to effectively injecting the presence of life, creating serenity and a pleasant atmosphere.
Flower Panel on Wall
Whether you're a professional or a beginner, you're going to love how easy it is to create this beautiful flower panel art on your wall with the right tools. You'll be inspired by the step-by-step video teaching you everything you need to know. It doesn't matter if you have basic knowledge or experience using power tools. Follow along as we make one of the most popular and requested styles for decorating. This Flower Panel On Wall tutorial will walk you through each step of the way!
Paper Flower Décor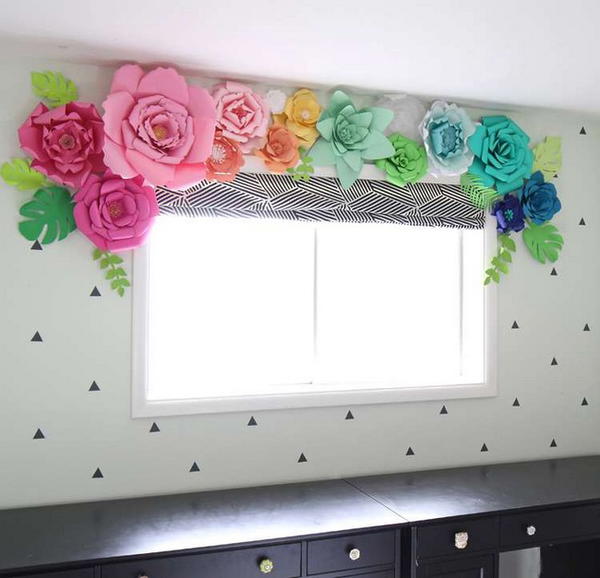 There are plenty of beautiful flowers around us. Paper flower décor is an attempt to capture the beauty of nature and express it in a more permanent form. If you are looking for ways to craft paper flowers, you are in the right place. Crafting paper flowers is an enjoyable and entertaining pastime, one that can be fun and rewarding. Tools, such as the paper flower kit, will make it easier for you to craft colors and the number of paper flowers according to your need. It would be worth investing.
Pool Noodle Flower Wall
Summer is the ideal time to hang out with the ones you love. This project works on adding some fun and color to indoor or outdoor gatherings, even if the day consists of a common barbecue. Using pool noodles for the base frame and foam boards for added support and shape, it is easy to create this colorful flower wall that will impress your friend in a second. The pool noodles provide the adequate structure for all your favorite flowers. This structure is easy to build, yet extremely stable. A doting display of lovely flowers rests on the foam boards like a mini garden. Enjoy floral art!
Crepe Paper Flower Wall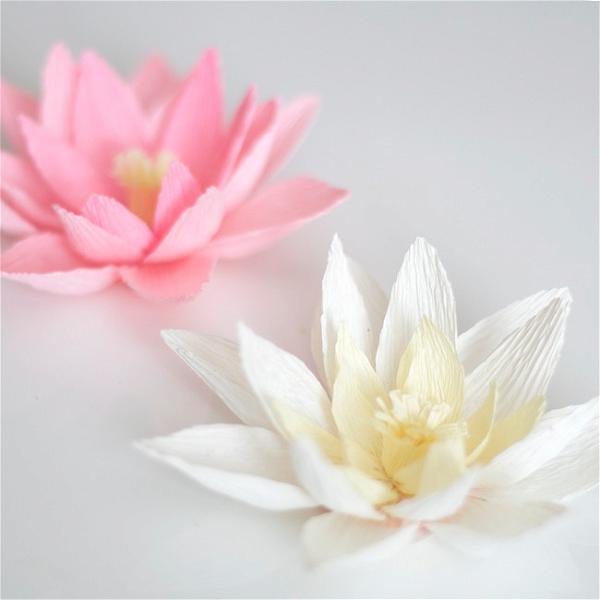 Crepe paper flowers are a great decoration for parties, weddings, or just for fun! Let's make an origami Lotus Flower wall decoration. A lotus flower is made from colored crepe paper (purchased at any craft store for less than a dollar), and it makes for gorgeous wall decoration. They're so easy to make and look fabulous. Crepe paper flowers are the perfect addition to any room, whether in your house or even if you're having an event.
Mason Jar Sconce
You can keep the look of a kitchen in a country style. You'll be able to give it an even lovelier look if you apply Mason jar sconces on one of your kitchen walls. Such scones will create an illusion of a windowsill. It will frame the light from the outdoor environment. And it will bring the fresh air inside. It will make your kitchen feel warm and inviting at all times, even on sunny days. One of the simplest yet very effective ways to decorate your walls is creating a Mason Jar Sconce.
10. Paper Flower Wall Hanging
This Flower Wall Hanging is such pretty décor when done with a bit of imagination. Paper Flowers make a gorgeous addition to your décor ensemble. You can color them in any way you like because the choice of colorful paper is open. For this DIY tutorial, personable shape forms from different colored paper are then attached to each other accordingly to form a flower. The adorable flower wall hanging creates a disarming effect, making the room look more beautiful. This wall hanging is crafted with paper and will be as beautiful as real flowers showcasing different shades and patterns.
Nursery Flower Wall Pic
Changing the look of a nursery is way simpler than you might have thought. You can boost the charm of this room with a bunch of colors and flowers. All you need to create a stunning flower wall in your child's nursery is a board, some real and some fake flowers, a hot glue gun, and a few nails. The size of the wall and the amount of flowers used depends on the room. This type of wall looks great when it's completed. The flower wall is an easy and inventive method of adding a splash of color to your child's room by using only a few items.
Wedding Faux Flower Wall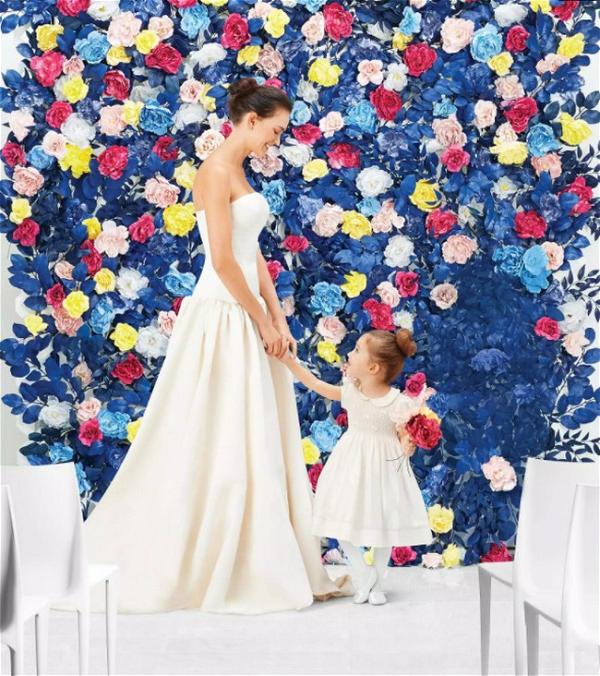 If you are going for a special theme, do not be shy to use nature-inspired materials. The truth is that floral decoration can easily be transformed into an awesome backdrop with the help of a handy tree branch and lots of foliage. The perfect flower wall in beautiful bridal or wedding halls is special for decorating the background. This wedding faux flower wall is the perfect backdrop for bridal photo shoots. Winning a crowd of hearts, it's nice to cover this up with a wonderful ceremony, which is what everyone looks to do after walking down the aisle. You can save these faux flowers for future use when you want to make new decorations on special occasions.
Enormous Flower Wall
Craft an enormous dollar tree with your favorite flowers of certain appeal! A giant flower wall that you can build from all kinds of toys and materials in a certain way. Then you can fill it with flowers and decorate it any way you want. It's a real enigma! This is the perfect project for summertime, springtime, or fall. This Enormous Flower Wall will be a lovely addition to your home or garden. You can also use it as a backdrop for any occasion and even learn how to make it on your own!
Flower Wall Backdrop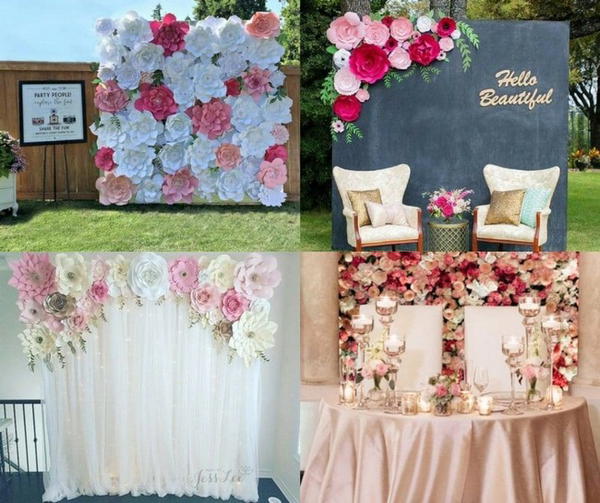 This Flower Wall Backdrop is the perfect photo booth or backdrop choice for parties, corporate events, weddings, and more. It's easy to build and organize with all of the detailed instructions, video tutorials, and many ideas for customization. The decorative flowers are removable and reusable so you can change them out whenever you need to match the theme or feel of the event. This Flower wall requires only basic design skills, some cutting of PVC pipe and plastic sheets, and then it's up to you to decide what kind of flowers you want to create.
3D Flower Wall Décor
The exquisite appearance of the 3D flower wall décor makes it a stunning gift to family, friends, and girlfriends. The 3D art creation is simple, decorative, and attractive for your lovely room. The placed inappropriate place will bring happiness to you. And you can DIY the flower painting with your children and your love. Perfect for a wedding celebration, living room, bedroom and kitchen, bathroom, or any other room where you like to put some color and 3D effect. Now everyone will become to focus on the flower wall décor painting, how would you like that?
Celebrity Flower Wall
The concept of Celebrity Flower Wall is pretty simple. With a few tools and some experience, you can make this backdrop for your own wedding or host a big party. It comes with a basic frame and movable flowers so you can be creative when decorating this garland and place it on the wall, floor or table. It uses an innovative assembly system and inexpensive flowers, giving you the freedom to create your own design. It's pretty simple to put together too!
Headboard Flower Wall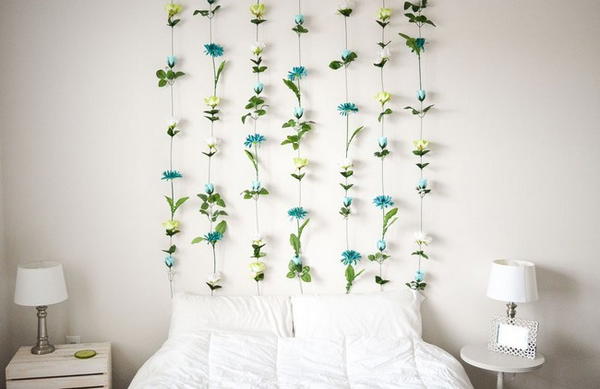 Mix and merge attractive colors on your bedroom walls. Start separating flowers for a chain using a flower bouquet. The idea is to create a realistic flower wall on a headboard. In the trendy era, with the wall paint you wish and the aid of bouquets filled with colorful flowers, it is possible to compose an interesting decoration on your bed. Maybe work with something that attracts attention and puts a smile on everyone's face. Use petals in different hues for this job; build a chain out of these to attain a romantic appearance. The walls will look like artwork in the end. It's an easy solution that can turn your wall into a flower bouquet without you leaving out the passion in your color-picking projects.
Flower Wall Tutorial
Have you ever dreamed of living in such a fairy-tale-like room? Now is the time to make this dream come true even if you are not particularly handy. Unfolding the before-the-deserted panel and laying the sheets with artificial flowers on them is a trivial task, while it will take quite a lot of effort to restore the original appearance if something goes wrong. Follow our tutorial to learn everything about this task. The flower tutorial will help you to place flowers creatively in the hollow panel efficiently.
Faux Flower Wall Feature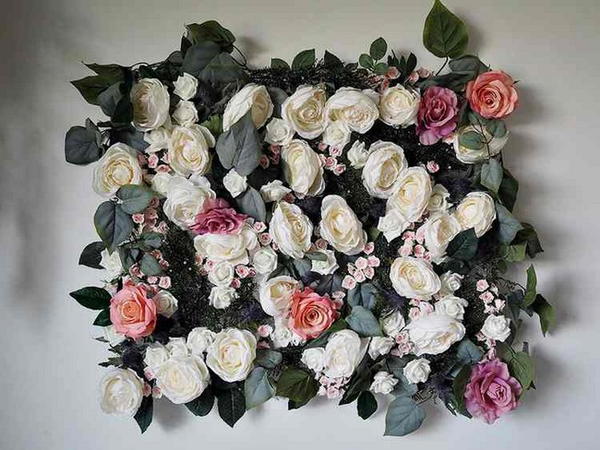 There is no room and time to plant trees with poverty flaring up and environmental protection left in the backseat. But you can still leave your mark and cheer things up around you. This unique look appeals to the senses and certainly puts a smile on your face. Though only partially decorative, the arrangement does draw attention and portrays an impression of a beautiful garden in full bloom. It is easy to implement, feasible in all spaces of your home and office alike, brightens up the place, and brings out some positivity in your soul, making it a perfect solution for every penny spent.
Reusable Backdrop Wall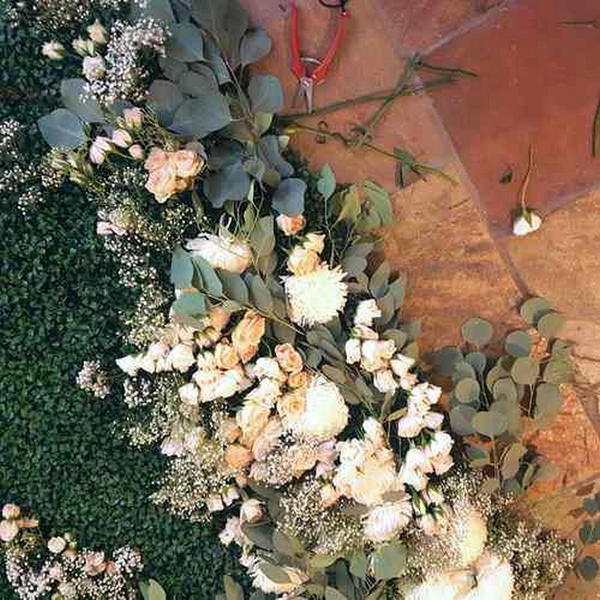 How to make a fabulous decorative wall of reusable plastic-backed paper. It's quick, easy, cost-effective, and has no impact on the environment! If you have started a floral career then you probably know how essential a creative backdrop is to your business. One of the biggest complaints from florists in the industry is not being able to find effective and affordable ways to show their flower arrangements creatively. This scene changes today! Now there is an easy way for anyone with a computer, a printer, and scissors to shape their very own unique, reusable floral display board.
Beautiful Flower Wall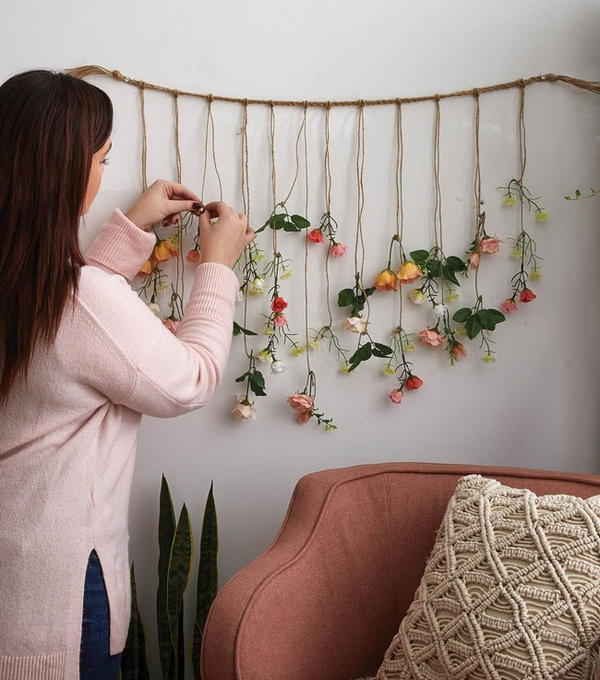 The flower wall is the perfect wall decoration for anyone who wants to bring the beauty and serenity of nature into their home. The flowers can help you make your home warmer and more comforting, and feel much better about yourself. These flower wall decor ideas are sure to add color, warmth, and comfort and help you feel closer to nature without spending too much money. One of the best things about them is that it's super easy to do!
DIY Flower Wall Hanging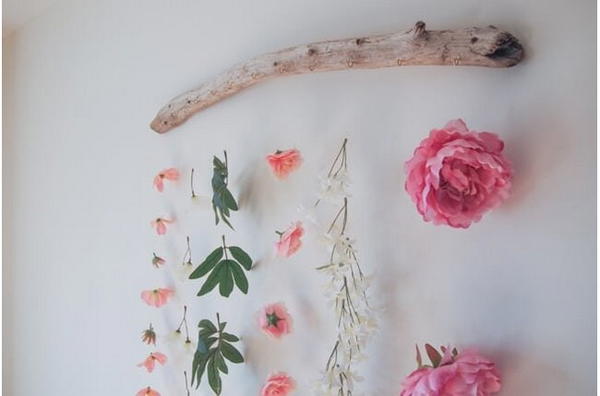 These little DIY Flower Wall Hangings will add a touch of vintage and elegance to any room! A quick and simple project that is great for beginners. You can choose to use faux flowers or real flowers. The perfect decoration for your home this time of year, these DIY flower wall hanging are simple, modern, and cost next to nothing! Choose your favorite flowers, or if you have an abundance of a single type growing in your yard, use them all!
DIY Floral Wall Hanging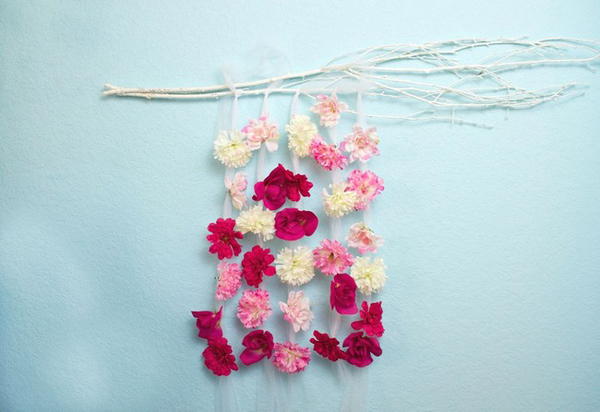 Whether it be for the spring season or simply a change in color, a floral wall hanging is the perfect decor piece to have. This project is very easy to make and if made out of wool is a great addition to any home during these winter months. Turn your favorite time of year into shabby chic wall art for your home with this DIY floral wall art piece. This project is very popular at craft shows and is incredibly easy to make. All you need are a few simple supplies, a pre-made floral form, plus pegs or nails to hold the finished piece on the wall. This DIY Floral Wall Hanging will brighten any room and give it a fresh look!
DIY Tissue Paper Flower Backdrop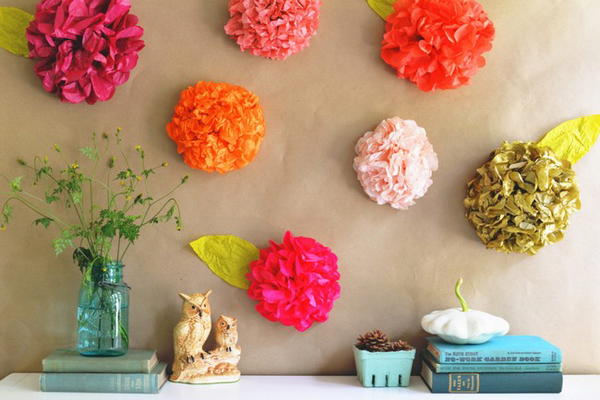 These tissue paper flowers are the perfect backdrop to your harvest party, or they can be used as decorations on a birthday cake, or in a large vase by themselves. These tissue paper flowers take almost no time at all to create and cost very little to make. This stunning backdrop was created with a simple floral arrangement and some lovely autumn colors. The colors chosen will really make your venue stand out from the usual party decor. This gorgeous DIY is an easy project that anyone can make but is still elegant enough to wow your guests.
DIY Flower Wall Hanging For The Bedroom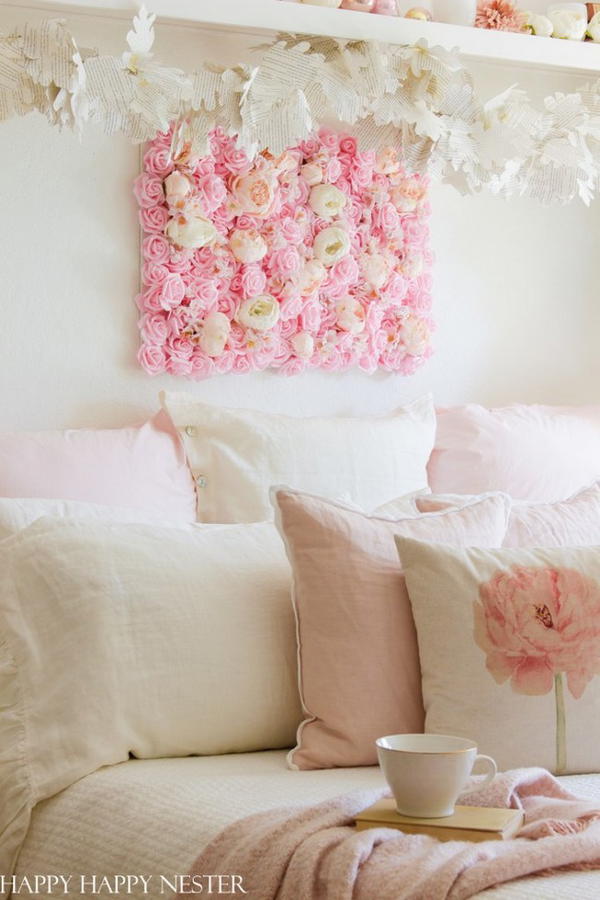 Add a little color to your walls with this DIY Flower Wall Hanging for the bedroom. You'll be surprised how easy it is to make with just a few simple materials. With Valentine's Day just days away, you can craft this super simple flower wall hanging with faux flowers. Hang them on your wall for the perfect finishing touch. Dress your bed and decorate your room with these lovely red and white flowers. Diy and Crafts have many other fun and easy DIY projects to try!