There are multiple reasons why we put together this superb series of DIY Tissue Paper Flower ideas; let's discuss them one by one. Everyone has their beloved flowers, and they put them anywhere they want to. Fresh flowers have a blooming period, but artificial flowers can live longer than fresh ones; that's why here we present these superb tissue flowers in front of you. These impressive Tissue paper flowers can be made easily from tissue paper, and with your sense of creativity, you can modify them quickly up to your own choice. Make a bunch of homemade flowers and arrange them on the dining table or make them as gifts for your near and dear ones.
DIY Tissue Flower Ideas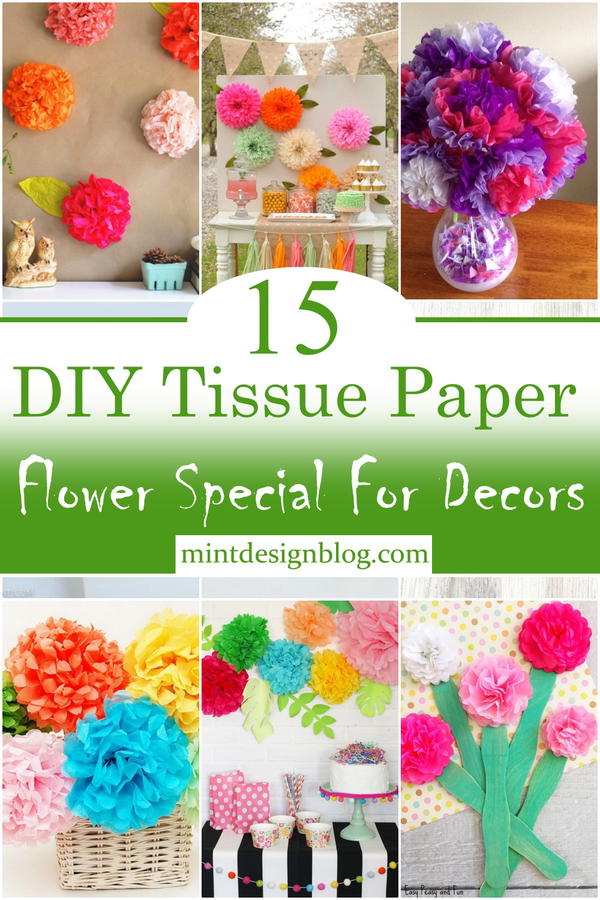 Working with tissue paper is a fun and straightforward way to make your natural-looking flowers for home and party decorations. Follow the ten steps, and you will be amazed to see how beautiful these paper flowers can be! The best part is that they are easy to make in various shapes and sizes, and you have the liberty to dazzle them up with greater creativity. You probably have tried some DIY flower ideas at home; you may have crafted roses and other flowers, but tissue paper flowers are slightly different from them. The ideas we presented here are unique, and here we are going to help you get started with them in easy steps. Follow some impressive DIY tissue paper flower ideas that are easy and can be done with little time and money for your home decor and gift-giving.
Tissue Paper Flowers: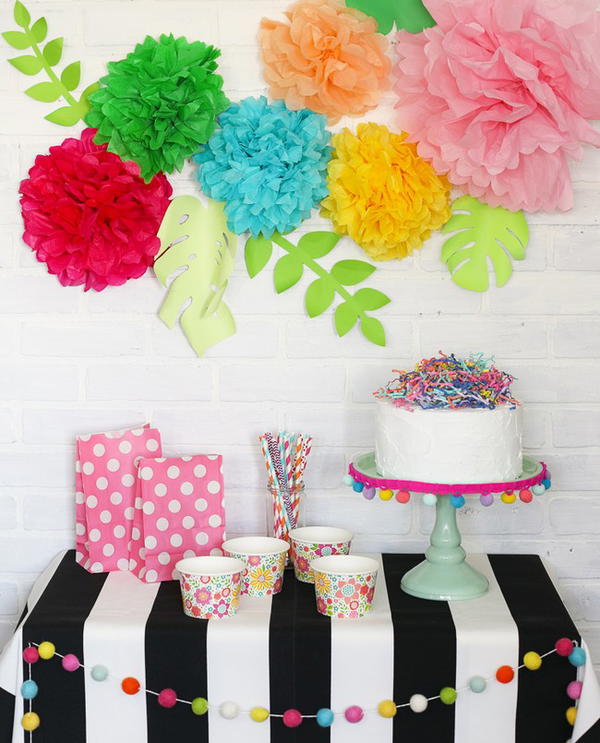 DIY Tissue Paper Flowers idea will be the ultimate guide for making, hanging, and decorating with tissue paper flowers! This step-by-step instructional photo and video tutorial teach you how to create a variety of flowers for every occasion -- from romantic wedding bouquets to whimsical birthday centerpieces. We've created a step-by-step picture tutorial that shows you exactly how easy it is to make these DIY flowers at home. Whether you're looking for wedding ideas or just want to brighten up your room, this idea is full of everything you need to know.
Oversized Tissue Paper Flowers: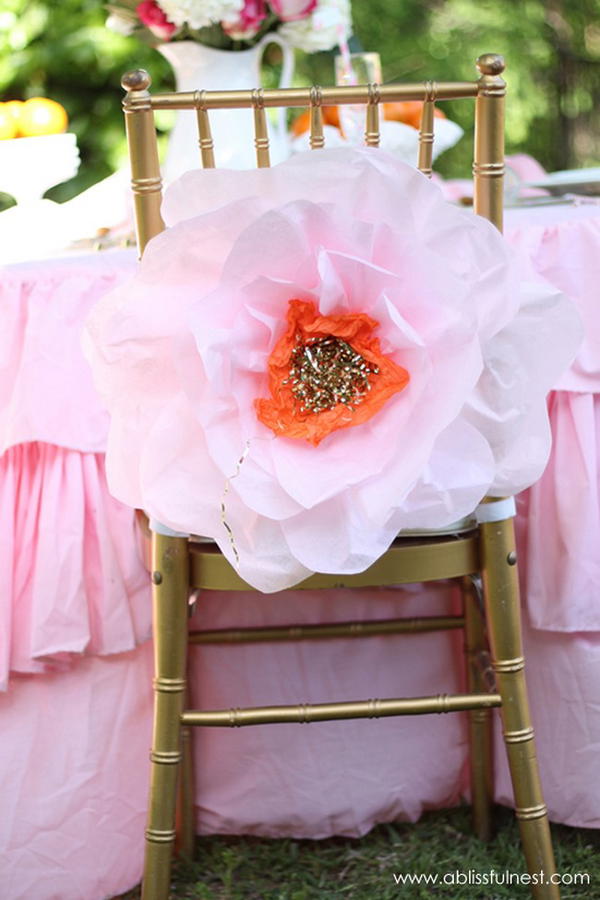 Oversized flowers are a hot trend in the party world right now. While they can be quite expensive to purchase and time-consuming to make, it is far easier than you may have imagined! Read on and discover how you can easily create these flowers yourself at home. You will be amazed at how fun and easy it is to make these stunning oversized tissue paper flowers. Using only a few inexpensive materials and some basic hand sewing techniques, these make a perfect alternative to expensive store-bought versions. Anyone can create these, so let your imagination run wild and make up some color combinations to match your favorite colors!
Easy Tissue Paper Flowers: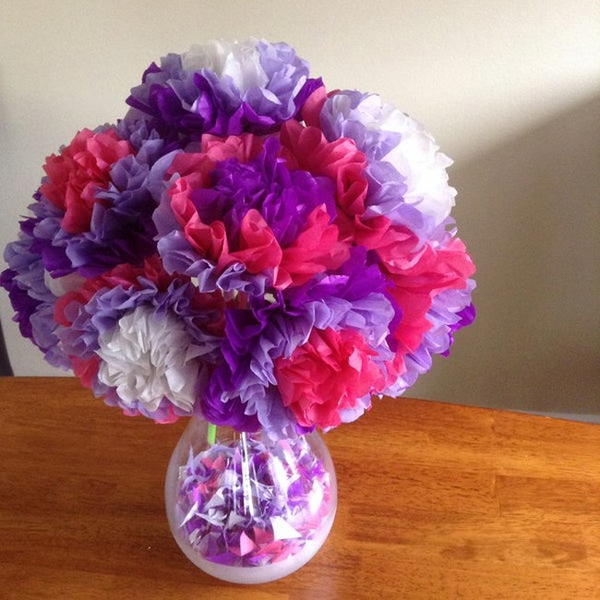 These flowers are so quick and easy to make, it's hard to believe it costs only about 50 cents to make each one. Plus, you'll use every last bit of colored tissue paper that you have in your stash. The finished product is a beautiful, lightweight decoration that looks hand-crafted. I am flooded with memories of my mom decorating the house for all holidays and events with these simple yet elegant tissue paper beauties. It's a wonderful tradition to continue, and best of all makes a great gift.
How To Make Tissue Paper Flowers Four Ways:
Tissue paper flowers create gorgeous, colorful decor for weddings, baby showers, bridal showers, and more. Learn how to make tissue paper flowers in four different styles:
The petals are all folded the same way (perfect for beginners!).

Petals are folded individually for a simple shape.

Petals are layered for depth and texture.

The Petals are cut around the edges for a delicate finish.
These Tissue paper flowers are a fun and inexpensive way to make your event decorations stand out. Make them in four different styles to add dimension to your next bash.
Tissue Paper Flower Craft: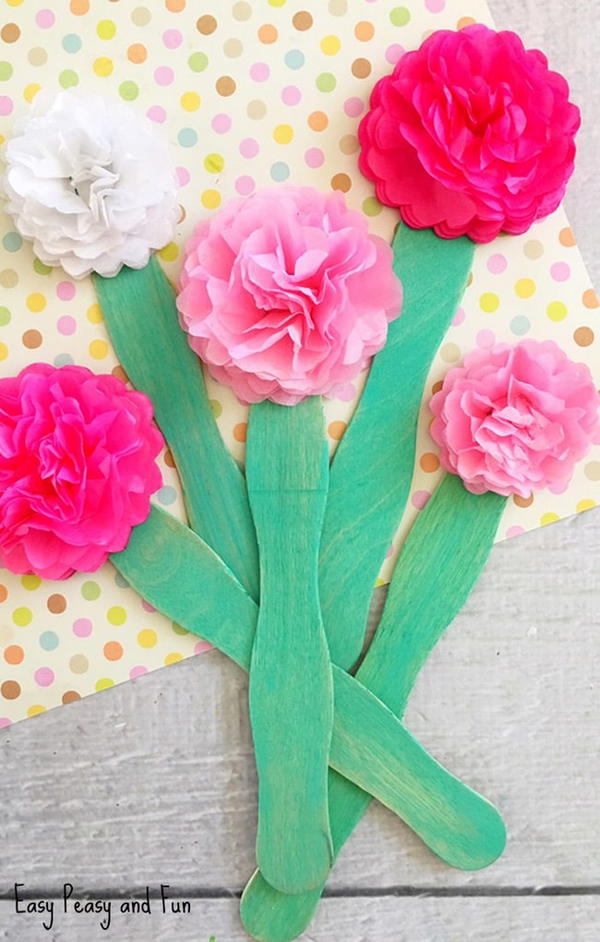 You can make a wonderful flower bouquet by making this tissue paper flower craft. We do love our pink tones, but there are no limits. The best part about this craft is that it doesn't take that much to create something beautiful and charming. The best part about this project is that it's easy to make and costs only a few dollars. You could use any shade of pink; those shown here are simply some of our favorites. You can make one for a special occasion such as Valentine's Day or simply for decoration.
Tissue Paper Pom-pom Flowers: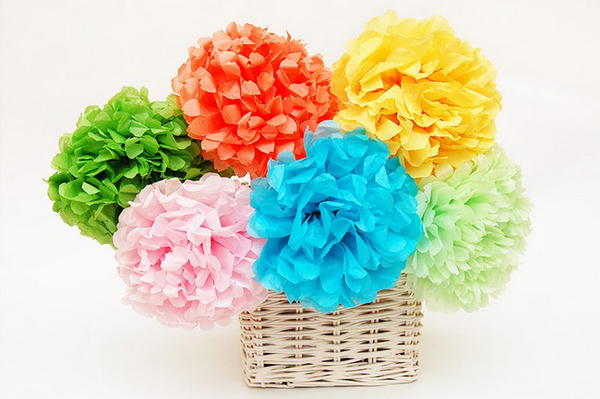 Easy, fast, and fun. These tissue paper flowers are great as room decor—gather a bunch of stemmed pompom flowers and put them in a vase or hang them from the ceiling to liven up an event or party. Place a bunch in your child's room to brighten their day. They work well to decorate gift packages, gift baskets, and more. These pompoms can also be used as party table decorations, and they add a burst of color anytime they are in a room. This is a fun way also to fill jars as a wedding or party decor.
DIY Tissue Paper Flowers: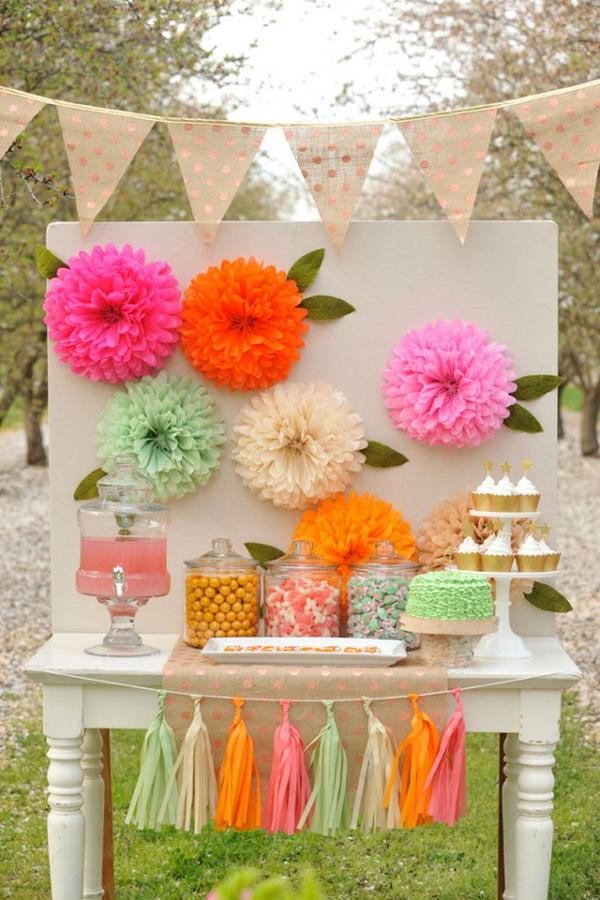 Made from just a few simple supplies, this DIY tissue paper flower project is a cinch to complete and makes for a pretty bloom that can be added to any party decor. These flowers have endless decorating possibilities and can be used in bouquets, on party cupcakes, or even added to gifts! Your handmade blooms can be used as fun decorations for your next party, included in your springtime-themed gift bags or bouquets, and they even make a sweet card decoration.
Tissue Paper Flower Backdrop:
We created this harvest backdrop with large tissue paper flowers for a fun autumn party. We love the look of these flowers and think they would fit perfectly into any autumn-themed room. The supplies for each flower are minimal, and these flowers can be put together very quickly! You can transform this immediately into a stunning gathering board by adding a tray, mixing glass, and a bottle of wine. Whether hosting a dinner party or creating the perfect seasonal wall décor, the tissue paper flowers in this tutorial will create a gorgeous design on any wall.
Tissue Flower Bracelet Craft For Kids:
These tissue Paper Flower Bracelets are a cute, inexpensive way to make a flower statement. Using supplies, you can find in your recycle bin and workroom, you can easily make these beautiful flowers that look pretty around your wrist, neck, and lap. Versatile and economical craft projects don't have to be expensive or time-consuming to be amazing. These tissue paper flower bracelets are a fun classroom activity for kids on Mother's Day, Valentine's Day, and Cinco de Mayo. If you are looking for cheap, easy gift ideas, try this craft out!
Jumbo Paper Flowers: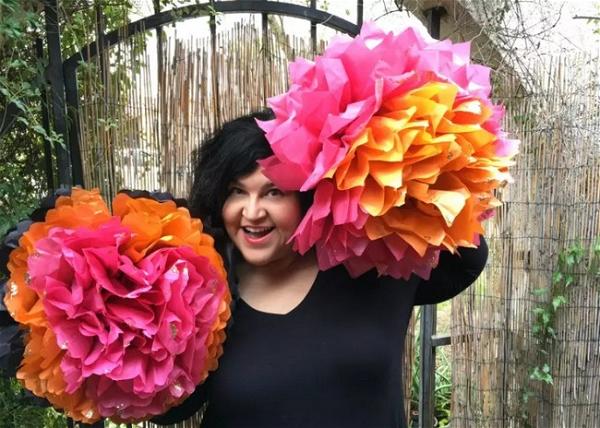 Made from simple tissue paper and mod podge, these jumbo flowers are crazy easy to make. Let your inner flower child out as you add glittering jewels or paint with bold colors to give your flowers a one-of-a-kind look. Whether you're celebrating the new bride, throwing a baby shower, or simply livening up a boring space in your home – these flowers will create a focal point and send your spirits soaring! Mix and match your colors or use graduated colors for these tissue flowers. Add glitter to take them to the next level! You'll be making flowers all season long, they're just that easy to make.
Giant Paper Flowers: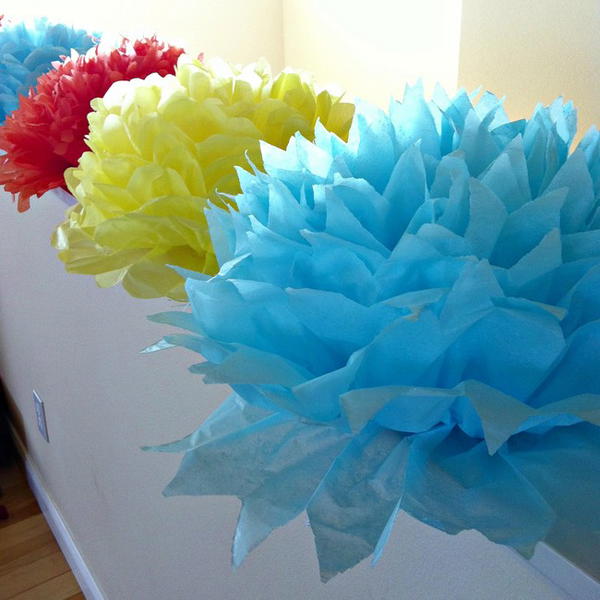 DIY Giant Tissue Paper Flowers for the home. I have wanted to make a tissue paper flower for our table since we moved into this house. They add a nice extra touch of handmade that is so hard to achieve no matter how hard you try. So I decided to make two of them and use them as decor on our light fixture above the dining room table. These tissue paper flowers are inexpensive, simple to make, and beautiful. If you want more details on making these giant tissue paper flowers for a party, you can follow this idea for regular size tissue paper flowers.
Tissue Paper Flower Bouquet: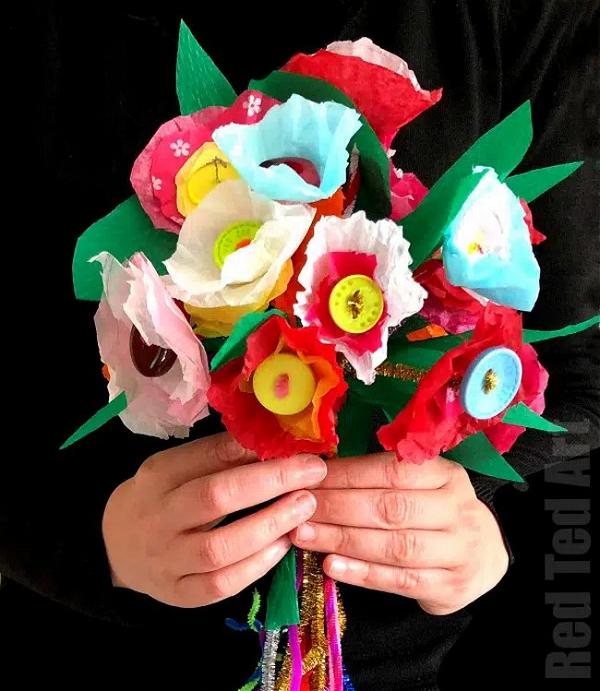 DIY Tissue Paper Flower Bouquet is the easiest way to give friends and family something they'll treasure, and the best part is it's really easy to do! Choose any number of our colorful tissue papers, select a button and a pipe cleaner, then follow our step-by-step instructions. The finished bouquet will look amazing. Use these tissue paper flowers in your home decor, thread a piece of ribbon through a hole in the bottom of the flower using the pipe cleaner as a wire. Then tie the ribbon in a knot onto itself.
Easy Tissue Paper Rose Craft For Kids: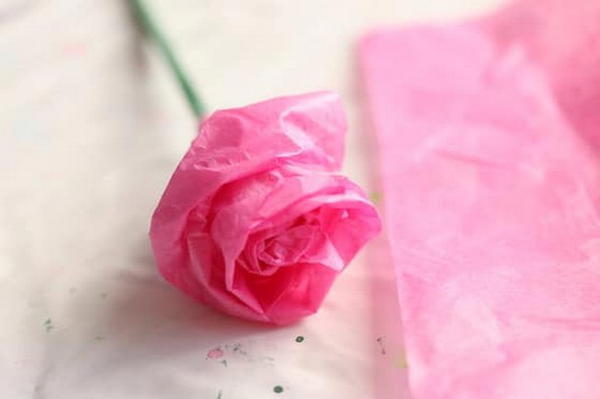 These Tissue Paper Roses might be easily the most popular craft found online. If you're new to crafts, this one is really easy, and if you're experienced and have been through a lot of tutorials, this one is probably still easy for you to make. Make one rose, or make a dozen. I show you how in the video tutorial and with step-by-step instructions below. This is great for kids who are just getting interested in crafts, but grown-ups might have fun making it too! Kids will love crafting these flowers to wear as jewelry or a home decoration project since they are perfect for making wreaths and garlands – kids can even make them as gifts for friends and relatives.
Giant Tissue Paper Flowers: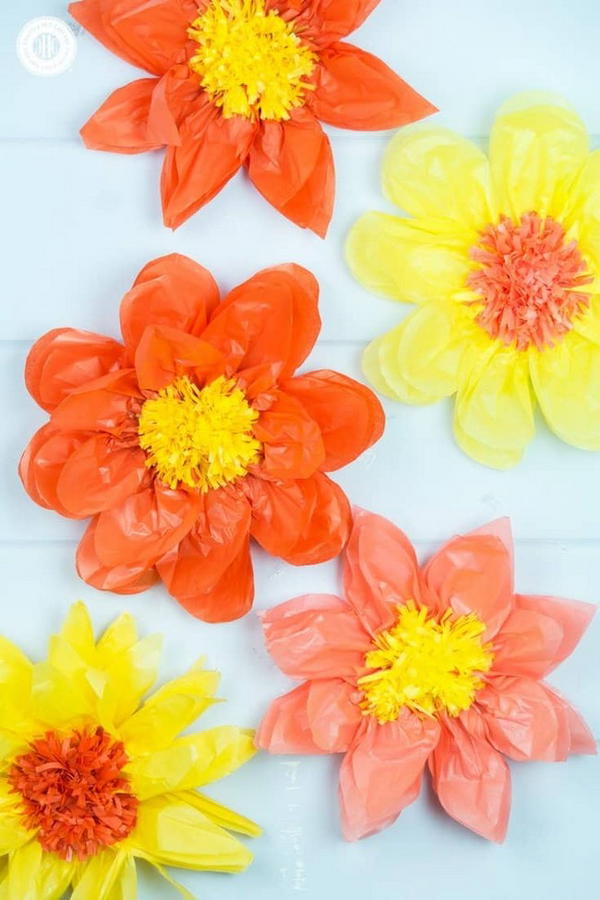 Making roses out of tissue paper is an easy craft that's good for kids and fun to make with them. It's also a great activity to do when you want to make your house look like it's been visited by fairies or if you love the look of colorful flowers on a bare branch. Making the rose petals for this rose craft is easily done with patterned or solid-color tissue paper. In minutes, with just a little glue and practice, you can recreate the look of real roses with these easy, tissue paper roses. The rose craft for kids is a cute Valentine's Day idea that the whole family can enjoy as a simple project to get ready for the day of love!
Tissue Paper Flower: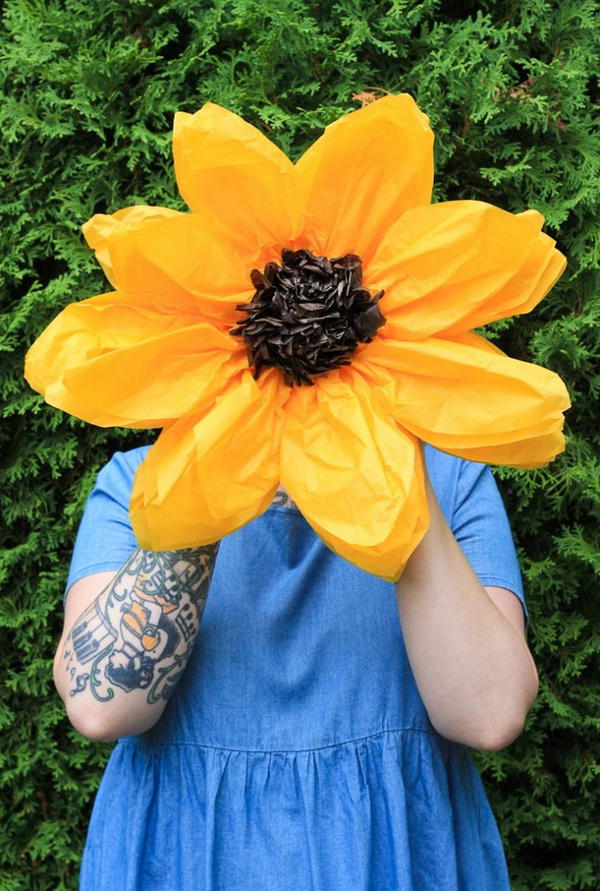 DIY tissue paper flowers are certainly no easy feat. With a combination of eight layers and delicate petals, this flower requires a near-perfect execution of folding. Practice patience and persistence as you learn step-by-step; how to make a beautiful tissue paper flower that's sure to impress at the next wedding, party or shower. We've got an easy and simple technique to help you create beautifully textured tissue paper flowers that are show-stopping. Although not difficult, you should be a confident crafter for this project.