Are you tired of throwing away old toilet paper rolls? Try these easy-to-make Toilet Paper Roll Crafts that are great for gifts, decorations, or stocking stuffers. These adorable and fun decorating projects will have kids and their parents singing praises of this green idea. You can make anything from an elegant family portrait to clever party decorations with a few scraps and waste materials. From amusing accessories to clever (and extremely functional) household items, this collection shows how modern crafters can use an old standby--the toilet paper roll--in dozens of unexpected ways. Are you looking for a fun activity to do with the kids? Here's a large collection of toilet paper roll crafts as learning activities or fun games!
Toilet Paper Roll Crafts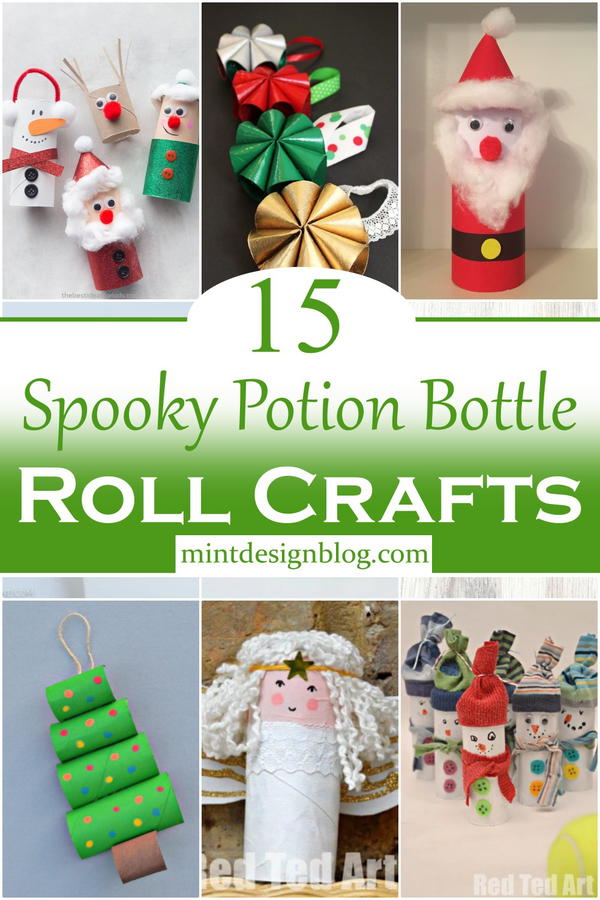 Be inspired, and take a break from the same old paper plate crafts! Look no further than a toilet paper roll when you're ready to get crafty! With a small amount of creativity, toilet paper rolls can be dressed up to make DIY crafts for every season and holiday! DIY crafts using toilet paper rolls are easy to make, and cheap too. From toys and games to party décor, try these creative toilet paper roll crafts for tons of crafts for all ages. The best part of these activities is that they would also make awesome birthday party crafts and gifts! If you know a crafter who needs some inspiration, we've got you covered here. Keep reading for 15 toilet paper roll crafts kids will love!
DIY Christmas Tree Toilet Paper Roll Craft For Kids: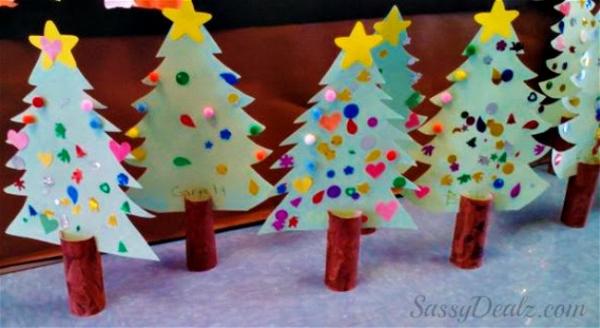 So many recycled toilet paper roll crafts for kids involve creating a character with the empty tube. But since this Christmas tree toilet paper roll craft is so easy to recreate, you can have your kids make them for their friends as inexpensive Christmas gifts. It's also a great way to use up some of those empty toilet paper rolls you have lying around your house. Best of all, you'll have a lot of fun creating a winter wonderland at home with these toilet paper roll crafts for kids.
Toilet Roll Snowman: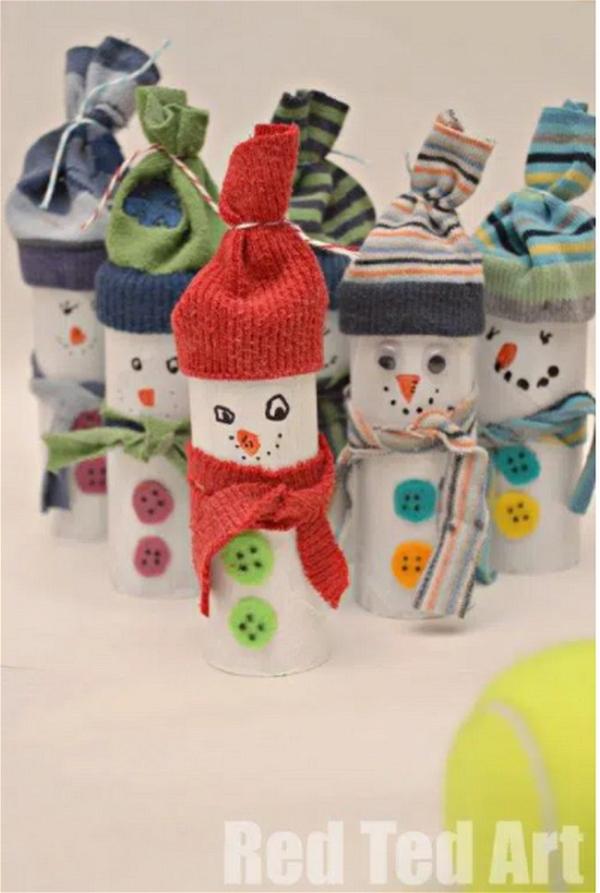 Fun-themed Christmas toilet roll paper snowman decorations are ideal for Christmas, Easter, or year-round. These fun paper snowmen are decorated with holly antlers and red decorative hats that kids will lovemaking. Great for filling stockings, decorating the table at parties, goodie bag fillers, classroom presents, or just to have some fun playing with these toilet role characters. They're quick and easy to make from the softest tissue paper you can find, then stick them onto your Christmas tree or use them as a fun decoration on a table.
Toilet Paper Roll Angel Craft For Kids: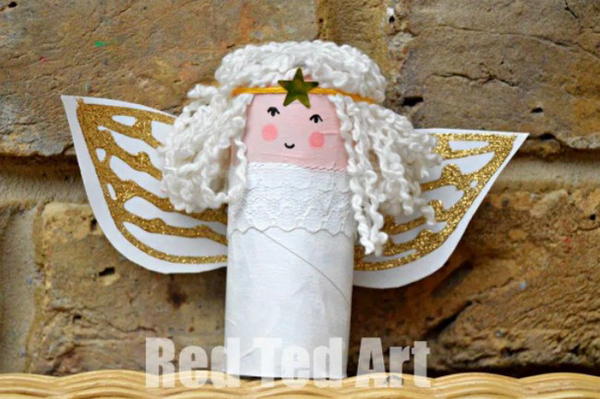 If you love angel crafts and toilet paper roll crafts, you will wholeheartedly adore this toilet roll angel craft for kids. Not only is it super simple to make, but we guarantee they'll love this fun Christmas toilet paper roll craft! This is such a great beginner's craft for kids because there's just something really exciting about crafting with everyday materials that we all use in our homes. It will be an absolute delight to see your little angels' faces when they see just how lovely their toilet roll angel turns out to be!
Toilet Paper Roll Christmas Tree Napkin Rings & Ornaments: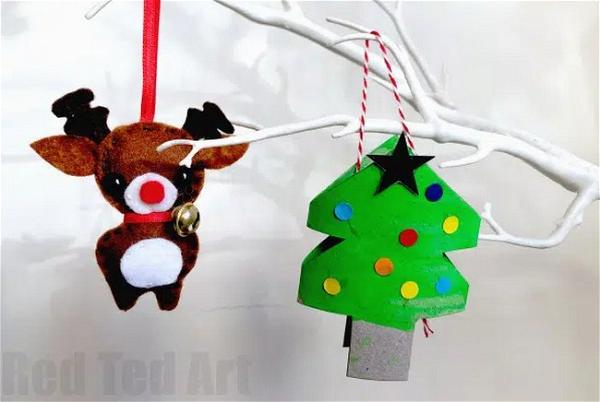 This Toilet Paper Roll Craft for Christmas is very quick and easy and will make a bunch of darling little Christmas ornaments for your tree or Napkin Holders to add some festive flavor to your Dining Table. These toilet paper roll Christmas trees are adorable. Made out of toilet paper rolls, they come together in about 5 min, using only scissors and glue or a glue gun. And once you make them, you can use them for many different things! They make great window decorations (all year round, but especially during the holidays).
Toilet Paper Roll Christmas Tree Craft: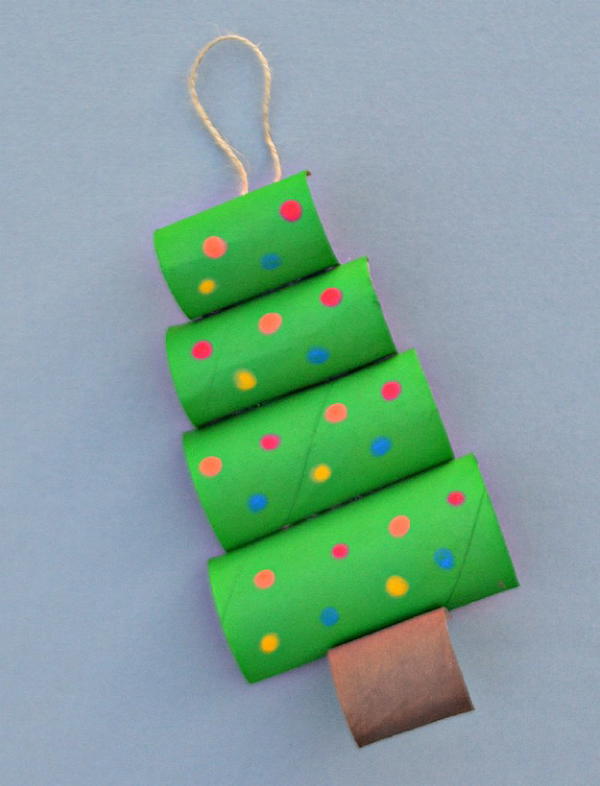 This Christmas Tree Craft is a great and easy Christmas craft for kids, but we generally love TP Roll Crafts! So far, we've made a toilet paper roll reindeer and a Halloween Bat. You can make so many things out of recycled TP rolls, such as flowers and holiday ornaments. We have used them as Christmas Trees before by cutting out the shape of a Christmas Tree with some green paper, taping it together, and placing it on top of our toilet paper roll trees. It's also one of the easiest Christmas crafts for kids to make.
Christmas Toilet Paper Roll Crafts:
These easy and fun toilet paper roll crafts for kids will help your child enjoy the Christmas season and make your home look festive and well decorated. As you'll see – it's so easy to create a snowman, Santa Claus, an elf, or a reindeer with a sheet of tissue paper and a couple of toilet paper rolls. This toilet paper roll craft will be a fun activity for kids of all ages. It will be a superb inexpensive option to make fun pieces, and you can make them in lots of different ways.
Santa Toilet Paper Roll Craft: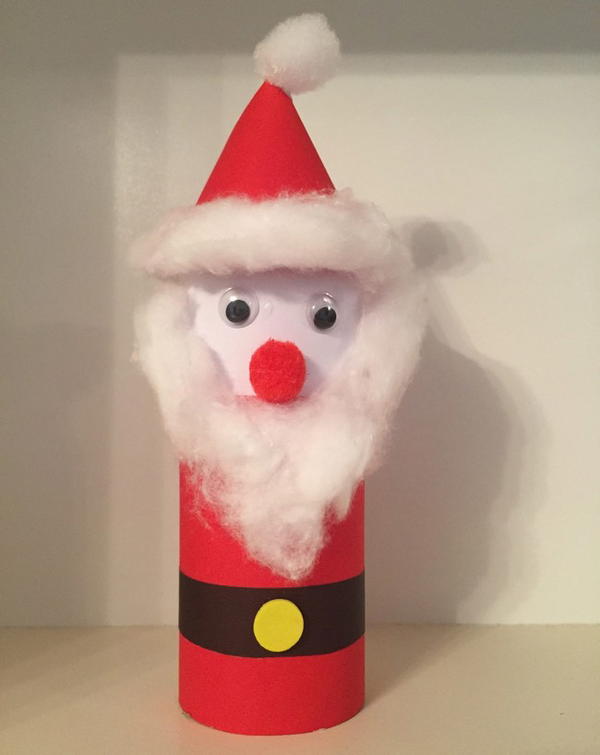 Creating Christmas crafts is one of our favorite holiday traditions. But what is Christmas without Santa? It's his birthday, after all! So we decided to make a fun toilet paper roll craft to remind us of this most important holiday. Put together this Santa toilet paper roll craft with your kids for an adorable holiday decoration. Use red, green, and white for a traditional Santa, or be more creative with fall or winter colors. Whatever color scheme you choose, this will make a great addition to your holiday decorations. We hope your kids like these Santa toilet paper roll crafts as much as we did. Happy Holidays!
Toilet Paper Roll Advent Calendar: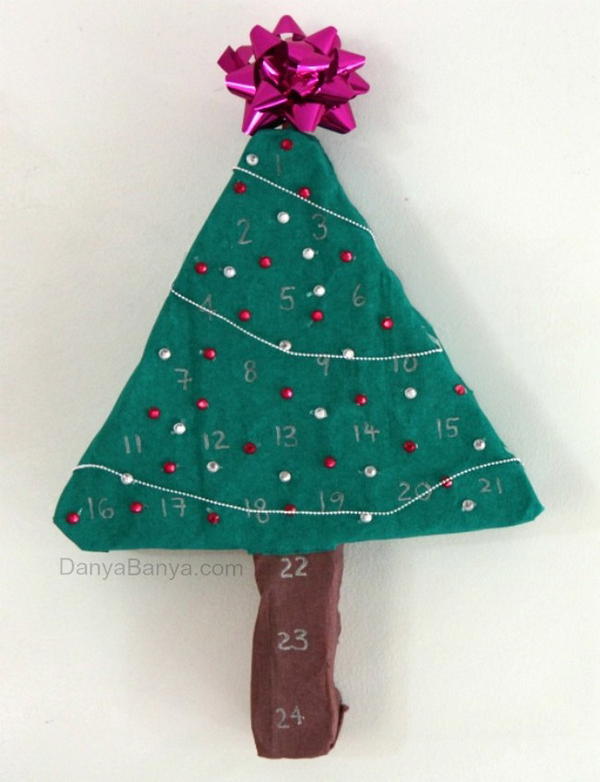 This is a super easy advent calendar that you can make from things that you probably have lying around the house. It uses toilet paper rolls which you will need 24 of, one of which will be for December 1st, and 23, which will be used to countdown to Christmas day. Once each day has been taken out, the roll is replaced with a small present of some kind. It works well as an advent calendar because, unlike chocolate or other small rewards, small presents will still be a surprise on Christmas Day!
Mid Century Inspired Mini Wreath Christmas Ornaments: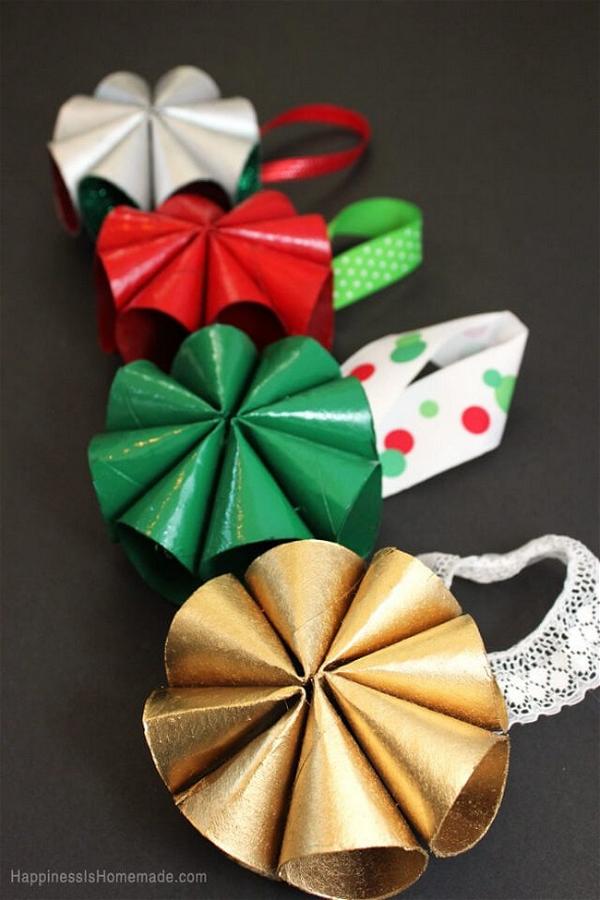 The Mid Century Inspired Mini Wreath Christmas Ornaments are inexpensive and easy to make yet look great on your Christmas tree, wrapped up as gift filler or simply as a fun gift topper for friends, family, or co-workers. They're super easy to make, grab some empty TP rolls, paint them in bright colors, then slip in a cheerful little bird for an instant holiday ornament that will bring a smile every time you glance at your Christmas tree! This quick and easy craft project is fun for the whole family!
Emo Santa Doll With Changeable Facial Expression: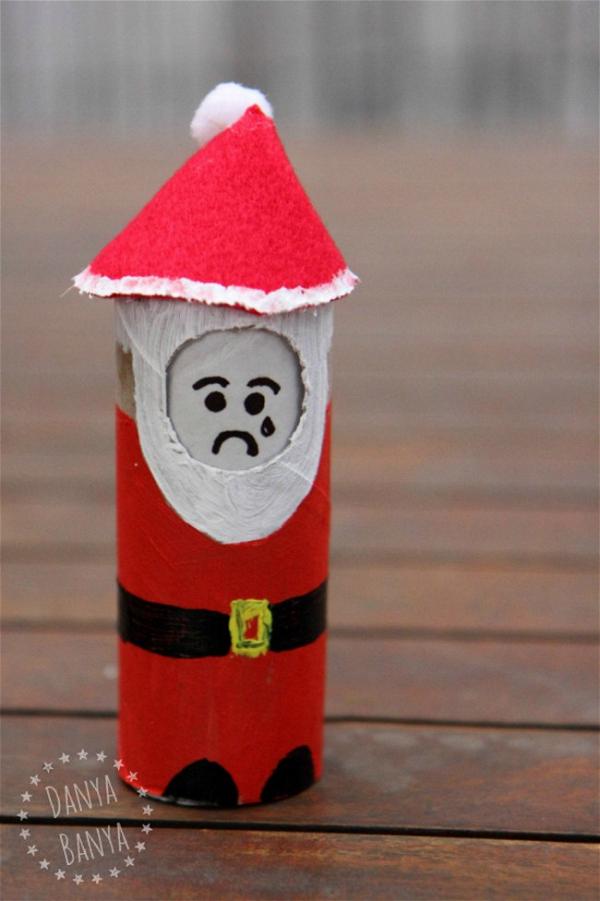 The Emo Santa Doll is a fun craft activity. The purpose is to improve concentration and focus so you can sculpt an Emo doll in the form of Santa Claus. You can dress him up in an awesome black outfit with the included shirt, pants, belt, and necklace. Measuring 6 inches tall, this doll will instantly become part of your family or will make a great stocking stuffer for just about any occasion! It will be a superb creative option to make admirable beautifying pieces for your home decor, and you'll heartedly admire it.
Star Christmas Tree Topper: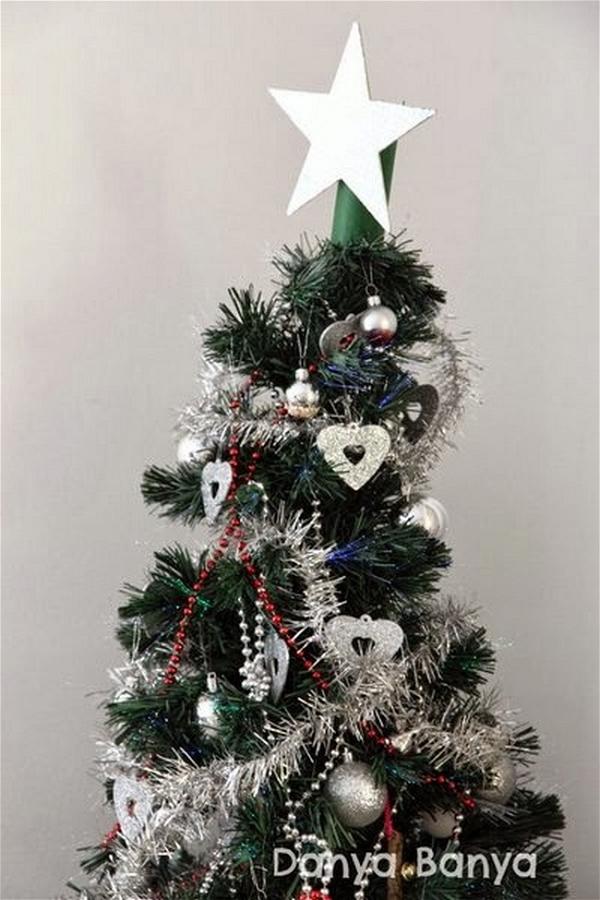 Just pop the top arm into the sturdy central pole, and you have a star that will shine brightly from any corner of your room. Designed to fit all standard fiber-optic Christmas trees, it's a beautiful way to help celebrate the festive season or any special event. It's an ornament stand that combines the star and bi-plane motifs and may even give us a place to put this year's Christmas present. This at-a-glance countdown to the holidays is a source of holiday cheer in itself and a testament to your light-up aspirations. With a bit of patience and a steady hand, you can make a perfectly twinkling tribute to holiday season traditions.
Santa Going Down A Toilet Paper Roll Chimney: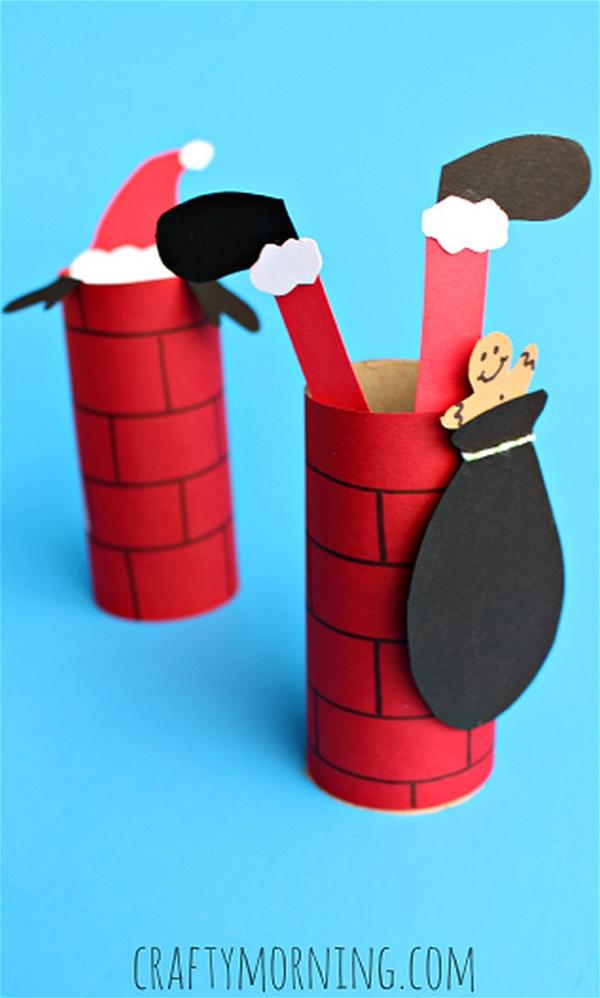 Our Santa Going Down a Toilet Paper Roll Chimney is a perfect addition to a child's bedroom or a fun addition to a Christmas-themed classroom. Inspired by the Grinch from Dr. Suess' How the Grinch Stole Christmas!, you can display this cardboard cut-out in any room in your home or your classroom. This Santa Going Down a Toilet Paper Roll Chimney craft would be a fun project for you and your little ones to make to get in the holiday spirit finally! Let's get started!
Cardboard Tube Gnomes For Christmas: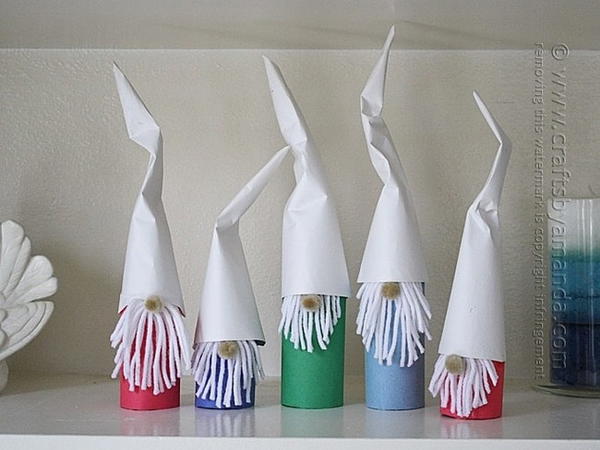 If you are looking for some gnomes for your garden, the cardboard tube gnomes for Christmas are exactly what you are looking for! Everyone loves nativity scenes for Christmas. These gnome lawn ornaments are the perfect addition to your nativity scene. Each of these charming cardboard tube Gnomes measures 19 inches tall, 11 inches wide, and 2 ½ inches deep. A whimsical cardboard tube house caps them off. Unique in size and presentation, he might even be the best-watched gnome in the world.
Toilet Roll Reindeer Ornament For Kids To Make: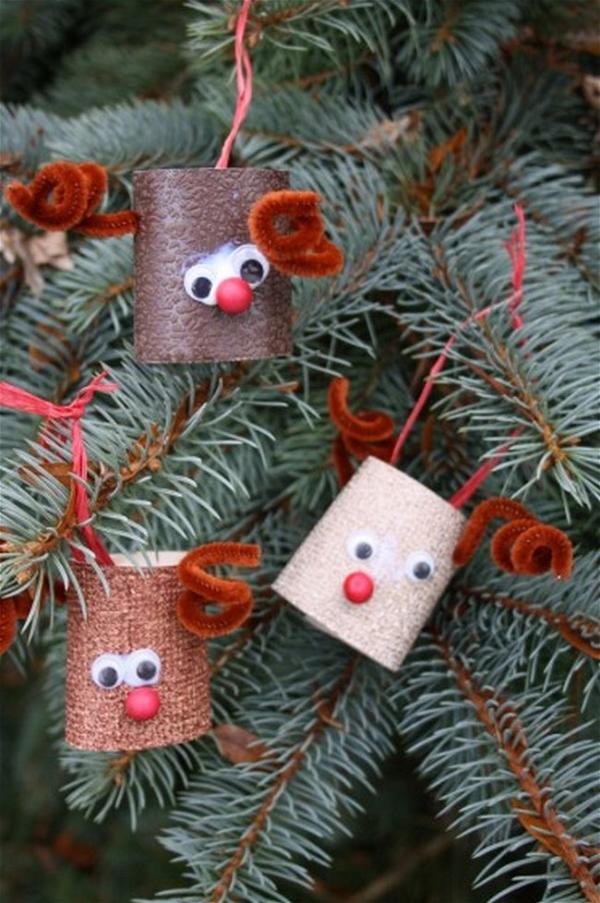 Grab a few empty cardboard toilet rolls and have kids craft some adorable reindeer ornaments to hang on the Christmas tree. These reindeer crafts are quick, easy, and, most importantly, cute! Your Christmas tree is cute, but it could be even cuter with Toilet Roll Reindeer ornaments adorning its branches. These adorable little Reindeer are made from empty toilet paper rolls (and glitter if you choose)! Best of all, they're very easy to make, fun and enjoyable.
Toilet Paper Roll Christmas Trees: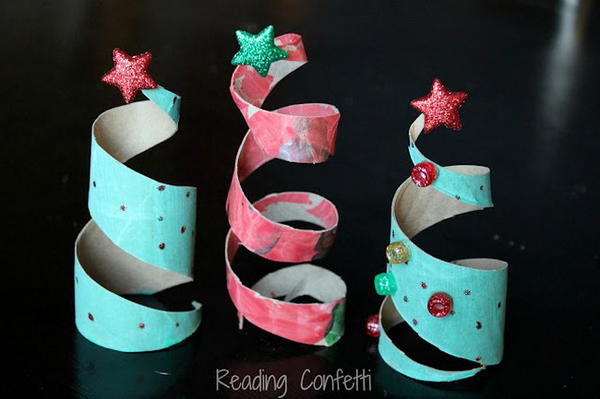 These cute trees are the perfect addition to the mantel. The toilet paper roll creates a unique tree and makes it easy to create delicate, spiky branches. Our simple instructions show you how to transform a single cardboard roll into an almost-ready-to-decorate home decor item. Christmas trees made from recycled toilet paper rolls make the perfect stocking stuffer. Cleverly crafted from cardboard, they're as lightweight as delicate--yet they boast a warm glow that lasts through Christmas celebrations and beyond, plus you'll surely admire it.