Lighting can make or break a room's overall look. Harsh lighting and too little lighting can ruin the ambience of your home or office. To avoid this, consider wall sconces for your home's lighting needs. Wall sconces are a great way to add warmth and ambient lighting to any room in your home. They can be used as primary light sources, as well as to enhance other light sources such as chandeliers, pendant lights, and ceiling lights. These Wall sconces come in different finishes and styles to match with the décor of your home. These DIY Wall sconces ideas are available in a wide range of materials such as metal, glass, crystal, and wood.
DIY Wall Sconce Ideas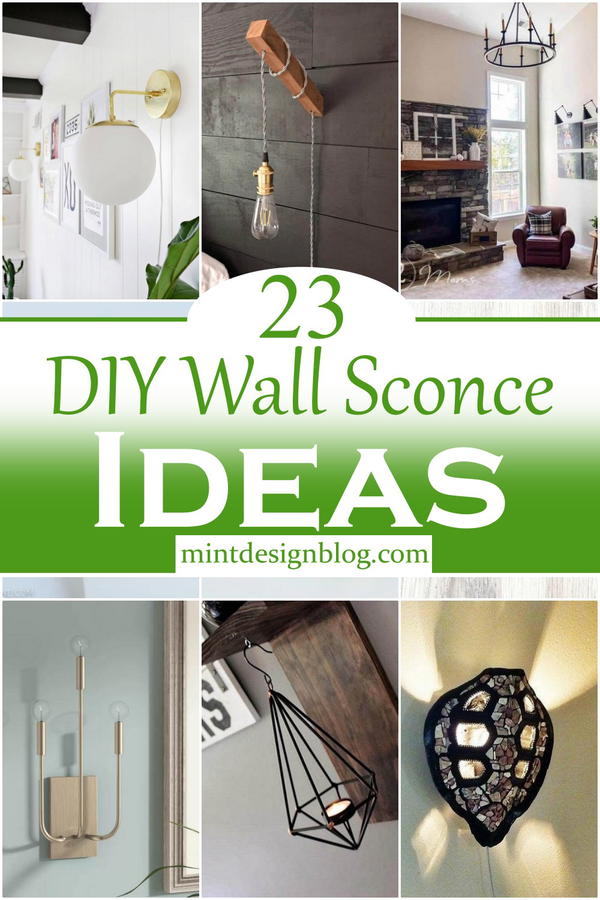 With these easy and inexpensive DIY wall sconce ideas, you can beautify your home on a low budget and enjoy a great customized piece of art. As you will realize, the designs are simple and could be handled by beginners or those set on a low budget but they look just great. Transform your home lighting with these DIY wall sconce ideas. Whether you're looking for beautiful, functional, or both, these ideas are perfect for adding a little extra light to any space in your home. From simple and elegant to unique and colourful, there are so many ways to DIY wall sconce lighting. Here are DIY wall sconce ideas that you can make yourself at home, check them out and get inspired for your next DIY project.
Wall sconces are such a smart way to increase the amount of lighting in any space, and also a great way to bring in more style, these 23 DIY wall sconce ideas will show you how to make them yourself.
Materials Needed To DIY Wall Sconce
You're ready to make your own sconce, but first, you need to make sure you have all the materials needed. It doesn't take a lot of materials to make your own wall sconce, and chances are, you probably have most of these things lying around your house.
Materials Needed:
Glass jar with a metal screw-top lid
Hot glue gun
Hot glue sticks
Paint
Paintbrush
A small LED light strand or battery operated tea lights
How To Install Wireless Wall Sconces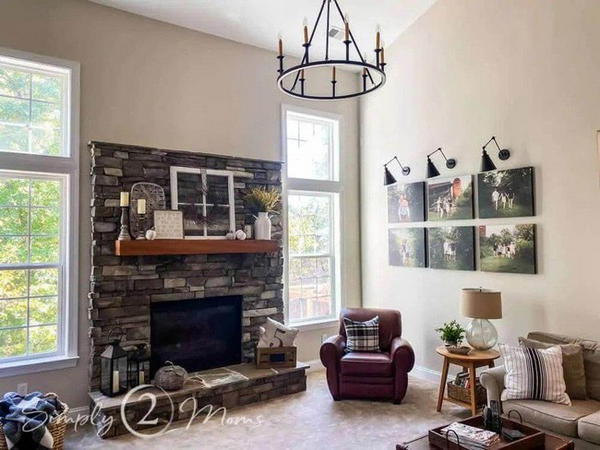 Tired of strings of lights that tangle and look messy? Create your own whimsical, beautiful light without the messy wires with this all-new wireless wall sconce. Inspired by traditional stained glass lamps but made from acrylic, it features an LED puck light inside. This DIY installation guide shows you how to install these Wireless Wall Sconces. With only a screwdriver, the lights come with the batteries and all of the hardware you need to get them working. Just screw them in like you would a light bulb and watch as your walls come alive!
SKILL LEVEL: ADVANCED
DIY Pendant Lights With Rustic Wall Sconce
The design of this mini wall light is a simple pendant light with a modern twist. These fancy handcrafted DIY pendant lights bring a great sense of rustic charm to any room. It comes with brackets to mount on your wall with an Edison bulb to give it that retro look. It is sure to bring a welcoming vibe to any home or establishment. Simple to assemble and easy to mount, this rustic wall sconce is made from the highest quality authentic pine wood and metal accents giving the fixture a rugged yet refined look. Vintage-inspired, this industrial sconce will add modern elegance to your home, restaurant, or office.
SKILL LEVEL: EASY
DIY Faux Sconce Light
You can make your own sconce light in just a few simple steps. First, pick up the necessary supplies from a hardware store, such as a wired sconce, lampshade, and puck light. Next, remove the wiring from the sconce and glue the lampshade to the sconce. Then, affix the puck light inside the seated shade and let it dry overnight. Finally, use screws to mount it on the wall and enjoy your new lighting fixture. It has a modern and sophisticated appearance. It is simple, smooth, and soft to the touch, while the lampshade light is stable, durable and to be seen as an important part of your home decoration.
SKILL LEVEL: EASY
DIY Wall Sconce Dollar Tree
Craft a piece for your home that adds a modern and rustic touch! This DIY Wall Sconce is easy to make and uses Dollar Tree products. A sconce is not just meant for lighting up dark corners around the house but also makes a great wall decor. Its functionality can extend up to mood settings. Bring this Dollar Tree Lamp Sconce DIY Project that will add a luxe touch to your bedroom or living room wall. " You can hang it as a sconce or let it sit on a tabletop. The best part is that you get to incorporate your own style!"
SKILL LEVEL: EASY
DIY Dimmable Sconce With PVC
This DIY sconce is stylish and contemporary. Choose a color, size, and shape of plaque that suits your style, and paint a PVC coupling to match. Use velcro to attach two small lights, one on top and one below the coupling. The result is a gorgeous fixture that can be easily installed in any room of your home. Create your own light with this DIY project. If you love to try your hand at crafts then you'll be delighted with our new range of do-it-yourself lanterns that allow you to create really unique lights for your home. These lanterns are easy to make and fun to customize with whatever decorative style you choose.
How To Make A Frugal Industrial Ish Wall Sconce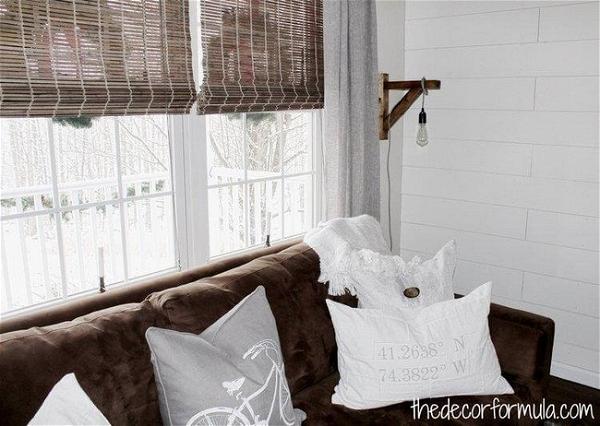 Make an industrial-style Inspired Wall Sconce with a thin metal pipe, wood, and some fabric cord. This tutorial walks you through all the steps to building your own sconce and installing it. Start by making a wooden frame for the wall sconce. Cut two pieces of wood to form a triangle and glue them together. Form three holes in the wood for the electrical cord to pass through. Paint or stain the sconce and mount it on the wall, then screw in a lightbulb and plug it in. You will have to have some basic woodworking skills to make this project, but it's not difficult at all.
SKILL LEVEL: EASY
DIY Brass Globe Sconce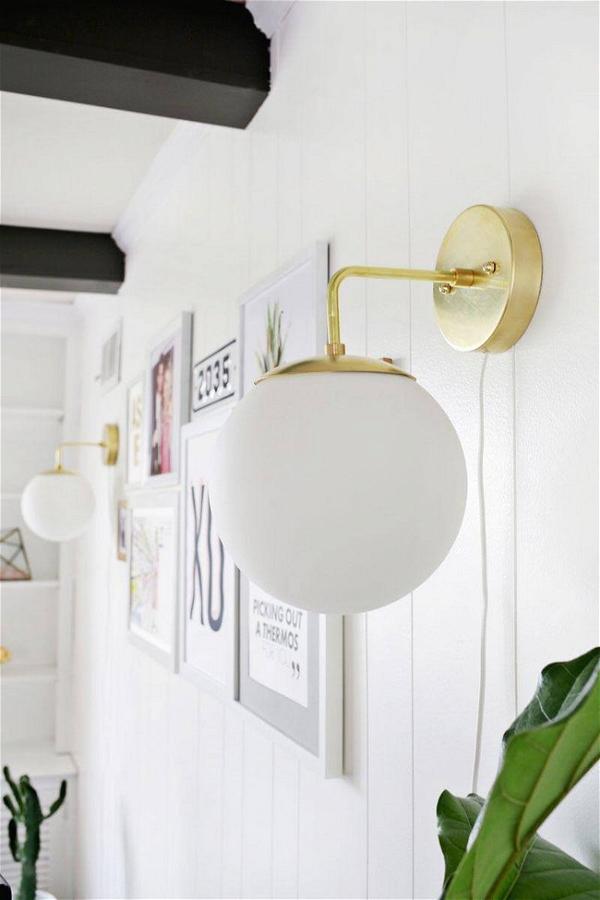 Create a custom wall light with this brass arm sconce kit. Simply attach the arm and socket to the wall and add your bulb of choice. Finished in ozone-resistant plating, this durable fixture is designed for indoor use only but can be used under covered outdoor surfaces such as porches or pergolas. This globe sconce is a decorative accent that adds sophisticated style to any room. Creamy white enamel highlights the warm finish of the brass dome, while the clear glass globe softens the light from your LED bulb. Full instructions are included with every kit.
SKILL LEVEL: ADVANCED
Boho DIY Wall Sconce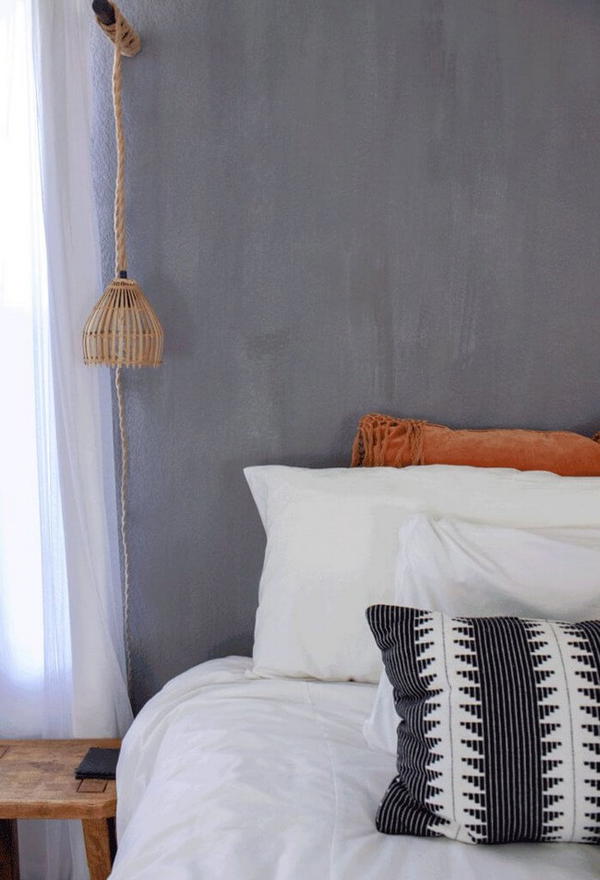 This is another easy DIY wall sconce idea. All you need for this one is a dowel rod, stain, screws, and a lamp kit. Cut the rod to size, sand it and stain it, let it dry. Drill a hole into the wall and in the centre of your dowel rod, drive in the screws to the wall, and secure with drywall anchors. Connect the hardware to your lightbulb or bulb socket (depending on which kit you used) stringing shade around it. At this point, you can hang your lamp cord over the wood rod and screw in your light switch. But first, we have to wrap your rope cord around the dowel and let it hang in the position you want it to be before using the light switch!
SKILL LEVEL: EASY
DIY Wall Sconce
Embellish this sconce with your favourite decorative touches, then hang easily on any wall with command strips. Bend a cooling rack in half and glue reflective paper to the inner surface of each side. Glue flower mesh with wire and gems on the rack. Add chandelier drops so that they hang down, dress up the back of the piece, and add a light fixture. Use command strips to hang the sconce on your wall. Imagine how lovely your decor will look, with homemade DIY projects throughout! The perfect addition to any home, it will make a bright accent light for your entryway, hallway, or living room.
SKILL LEVEL: ADVANCED
DIY Modern Wall Sconce
Give your space some glamour with this modern shade craft project. Made from a mix of wood, metal, and fabric, this sconce adds fun and style to any room. Find a spot above the headboard or your dressing table for that extra dazzle. Decorate your home with these wall sconces. They are versatile, beautiful and can be used throughout your home as a decorative accent or to brighten up a small space. You can then showcase your beautiful wall sconces in any room of the house from the bathroom to the hallway.
SKILL LEVEL: ADVANCED
DIY Dollar Tree Glam Wall Light
Decorate your room and add some warmth to your home with this DIY Dollar Tree Glam Wall Light! A fast and easy DIY project that adds luxury to your shelves and walls. Once you finish this do-it-yourself project, you will have a handmade decorative piece that looks as if you spent a fortune on it. In less than an hour, you can make this inexpensive wall sconce that will change the look of your shelf, vanity, or desk. It will add a touch of glitz and glam to any home decor. This also functions as a beautiful wall light. It also makes a great gift idea for someone's birthday or housewarming gift.
SKILL LEVEL: ADVANCED
How To Make A Wall Sconce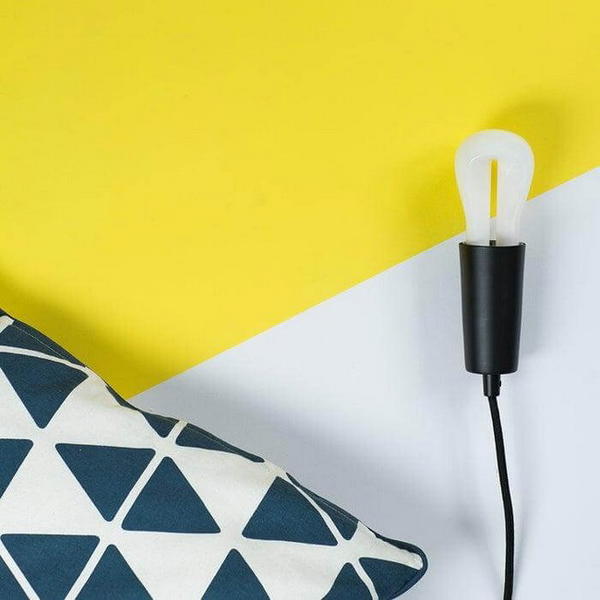 Admire your work as a craftsman on your very own wall sconce. This project is an easy solution for an old and boring wall. You can change the design, color, and shape of the sugru drop to make it suit any type of space, not just your home. A subtle wall light can make all the difference to a room: softening, brightening, and adding that real homely coziness. Just think how nice it would feel if you didn't have to get out of bed to turn the bedroom light off! But good wall lights are hard to come by... and expensive. You don't need good eyesight or detailed drawing plans to design your own unique wall light – just a bit of imagination and some leftover sugru.
SKILL LEVEL: ADVANCED
DIY Turtle Shell Mosaic Sconce
Add some coastal interest to your home with this unique DIY wall sconce. Spruce up your wall with a really cool lighting installation and get a mosaic turtle shell sconce to add an oceanic and exotic look to your home or office. Made from real turtle shells and seashells, it's sure to create a conversation piece. You can experiment with different color combinations or designs until you find the look that's right for you. You'll only need a few supplies and half a day. Add an inexpensive lighting fixture and you have created a really unique wall art light that can be made in any color to match your décor.
SKILL LEVEL: ADVANCED
DIY Custom Wall Sconce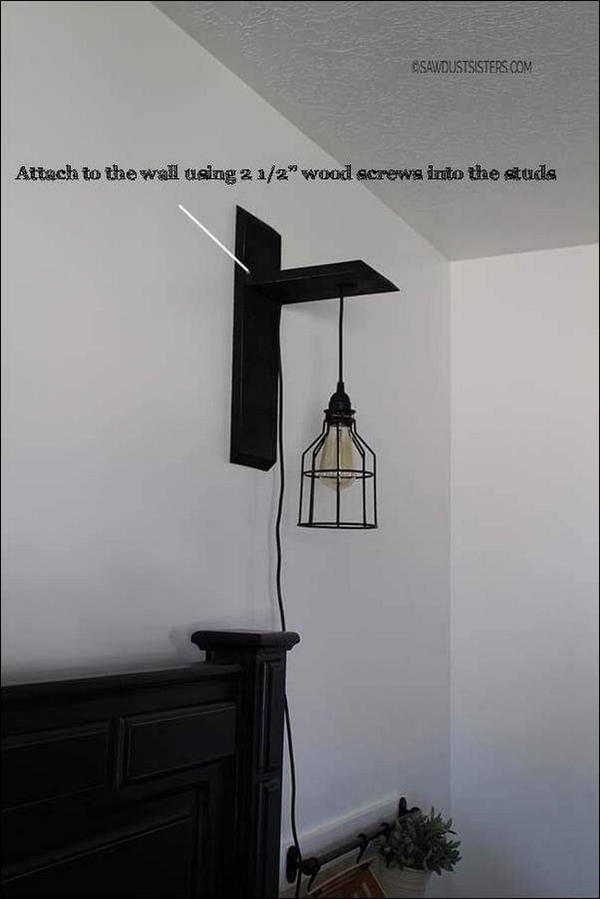 These simple and inexpensive wall sconces are a simple solution to provide ambient light in any room. Crafted using solid pine wood and industrial galvanized pipe, these fixtures can be mounted at any height along your blank wall, and the extendable arm allows you to adjust the location of the shade. Perfect for a bedroom or living room. This is an easy project that you can complete in an afternoon. The best part is you can custom-made it and enjoy a beautiful new sconce on your wall.
SKILL LEVEL: EASY
DIY Wall Sconce
Love being crafty? Want to brighten up your home with one-of-a-kind lighting? Try our DIY Wall Sconce. This fit-anywhere sconce looks great in your bedroom, living room, or office, and its fully customizable design ensures it'll fit your style perfectly. Connect the Edison bulb and bulb cage to the wall sconce by screwing them together. Make sure your socket is a tight fit for your bulb and works with all of the light bulbs in your place. Install the sconce on your wall—either use a stud finder to locate where you can mount it directly into the wall or if you're unable to do that due to the location of studs or whatever, use a wall anchor instead.
SKILL LEVEL: EASY
How To Make A Wall Sconce
A wall sconce is a stylish and practical lighting fixture to add to any room in your home. Don't worry, you can make this DIY project in no time! A wall sconce can dress up any boring space, and it'd be perfect for hanging in your home or office. You'll need a few tools and supplies to get this done. You will also want to measure your light before you begin so you know how much room you have to work with. Get creative and customize this project with your favourite paint or stain color, spray paint color, or pattern. Get started now!
SKILL LEVEL: ADVANCED
DIY Glam Wall Sconces
Create a beautiful DIY wall sconce using our DIY Glam Sconce Kit. One of the easiest and cutest ways to add some glam to your home is with wall sconces and they're not just for candles. Made from real glass, it's the perfect statement piece for a bedroom or living space. These DIY glam wall sconces are perfect for a bedroom, living room or even a craft room and will make any room feel fancier. It is really easy, and a great way to add some glamor to your home. You can make these with any color combination, and you can even use inexpensive picture frames along with other materials.
SKILL LEVEL: ADVANCED
Mirrored Wall Sconce DIY
Try out this simple craft to add some life to your wall and home interior. You can give a unique finishing by adding crushed glass & silver glitter. Make this DIY sconce for you, a friend, or a family member with the help of this step-by-step guide. A round mirror and a decorative shelf joined together in one beautiful sconce. A mirrored wall sconce is an attractive addition to your home. It can be made with minimal materials in a very short time. The completed project will be something to be proud of, add it to the bedroom or bathroom for a touch of glamour.
SKILL LEVEL: ADVANCED
DIY Simple Wooden Wall Light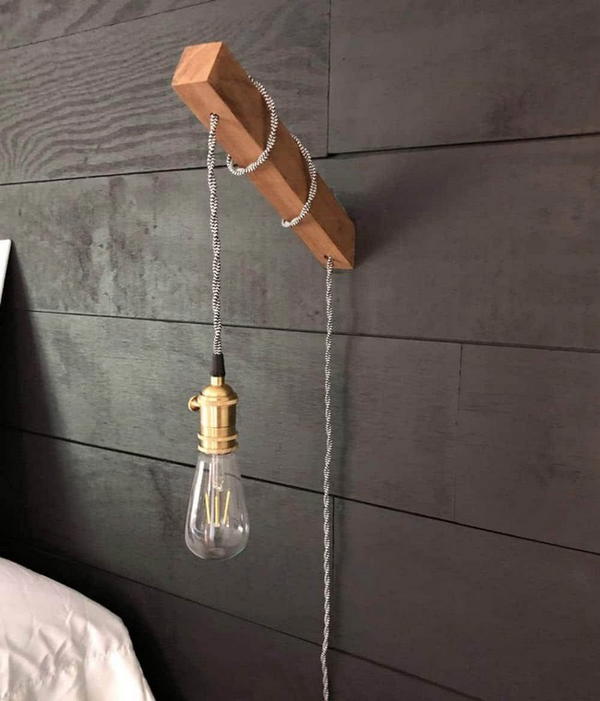 This is a great DIY project for beginners. The lamps are modern and stylish. Made with solid woods, apple ply, and quality hardware. It's super easy to assemble and can be customized with the paint or stain of your choice.DIY projects made easy with a Retro-inspired Light.:This light is for the handyman who enjoys the challenge of combining woodworking and electrical wiring. This light does require the use of a drill, a hammer, and a screwdriver. Before you begin, make sure that when you mount the light to a wall, you have access to an electrical outlet.
SKILL LEVEL: EASY
DIY Wall Sconce Shades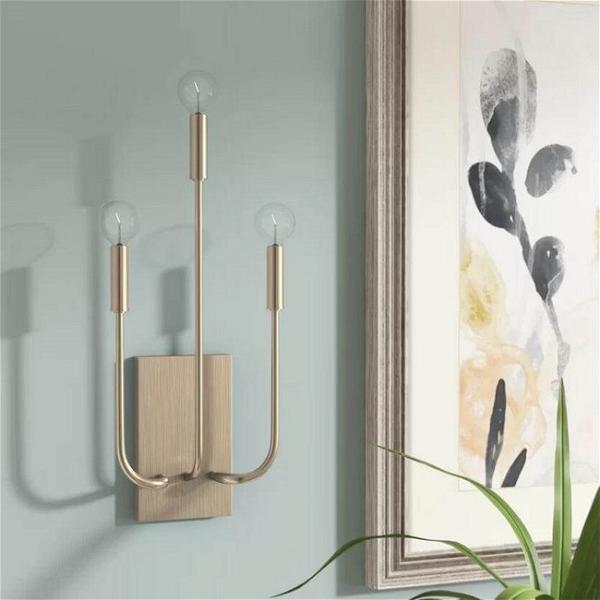 Here's a fun and creative project that we're in love with. This chic DIY is the perfect way to add some style to your home space. Make wall sconces with rolled cardboard tubes and then shade them with linen-like canvas. Gold leaf on the inside surfaces adds a glam effect too. If the walls of your home could talk, what story would they tell? This best style advice, how-to projects, expert guides, and insider tips—are delivered straight to your inbox each month. Paint and decorate using craft supplies like scraps of cloth, twine, beads, glue, and tape.
SKILL LEVEL: EASY
DIY Wood Wall Sconces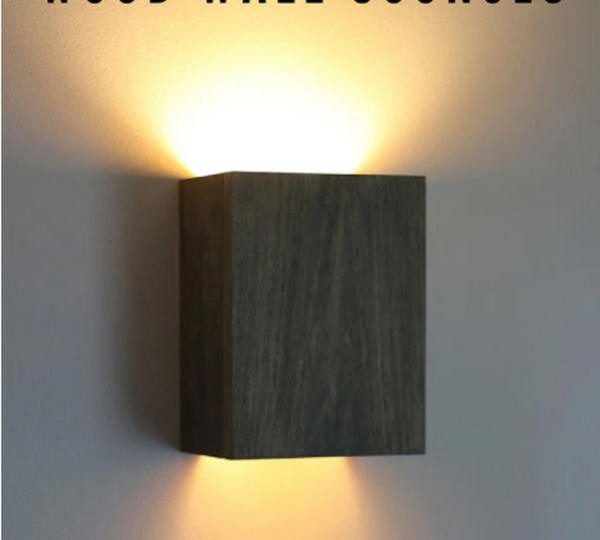 Add a modern touch to your wall with the Aleutian DIY Wall Sconces. The unique sconces provide upwards, ambient light, and are easy to install. Add style to your space in just a few minutes, with all of the pieces included in this kit. The all-included kit includes leather straps, brass screws, and wood pieces allowing you to hang the sconce any way you'd like. Look up, down, and all around because these sconces can be hung in any direction!
SKILL LEVEL: ADVANCED
DIY Copper Pipe Wall Sconce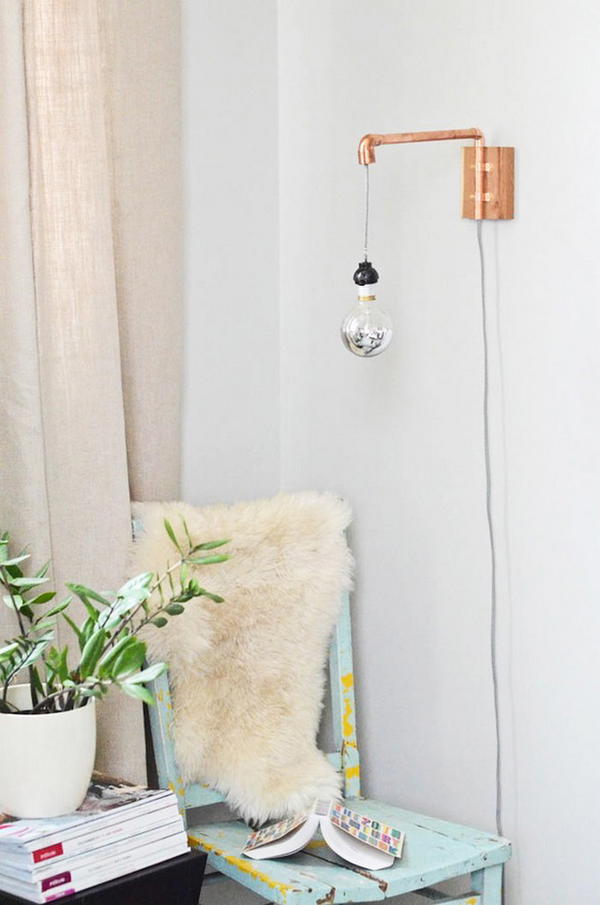 Add some industrial warmth to your bedroom, living room, or kitchen with a DIY Sconce. Bring industrial design to walls with a copper pipe wall sconce. It'll add another layer of style and warmth to your decor scheme. Choose a unique, one-of-a-kind light fixture for your home. This DIY Copper Pipe Wall Sconce features a vintage-style Edison bulb that emits warm, ambient lighting. This easy to assemble kit includes everything you will need to quickly mount and light your new wall sconce.
SKILL LEVEL: ADVANCED
DIY Wall Sconce Task Lights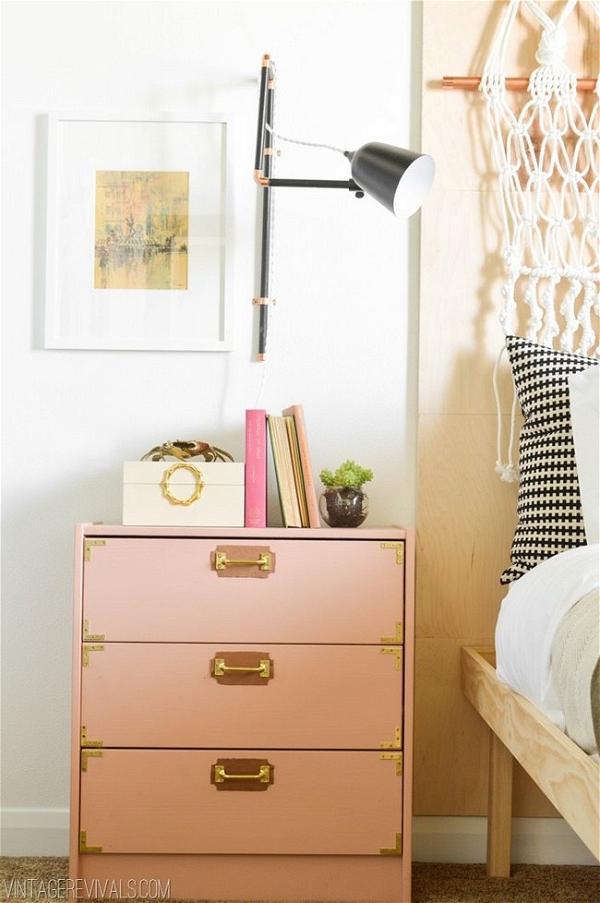 Add comfort and ambience to your home with this wall-mounted, adjustable task lighting. Light up a dark desk or hall with a barn-style light while adding the perfect modern touch to any room. Be the envy of all your friends when you show off your DIY skills and create a one-of-a-kind focal point that lights up your space and makes you smile! This modern sconce will make a bold statement in your favourite reading nook or beside your bed. Simple to assemble and available in a variety of finishes, you can personalize your sconce to suit your home décor style. Constructed of steel, these versatile task lights are built to last and will stand up to everyday use.
SKILL LEVEL: ADVANCED
CONCLUSION
We all love to decorate our homes and make them look aesthetically pleasing with the use of different accessories like wall sconces, table lamps, and other lighting options. Sconces are great if you wish to fill the empty space on a wall, or brighten up a particular area in your home. The best thing about DIY wall sconces is that they can be put together easily and some of the sconces mentioned in this list are extremely budget-friendly. Hope you like these 23 DIY Wall Sconce Ideas