A shower curtain is an important part of your bathroom. It protects you from water splashes caused by the shower, gives you privacy while taking a bath, and also gives your bathroom a nice and neat look. Most shower curtains are very plain, boring, and expensive to replace when they get old. This makes it a good idea to DIY a new curtain for your bathroom. The good thing is that there are many easy ways to do this and all you need is some basic sewing skills, inexpensive fabric, and an hour or two.
DIY Shower Curtain Ideas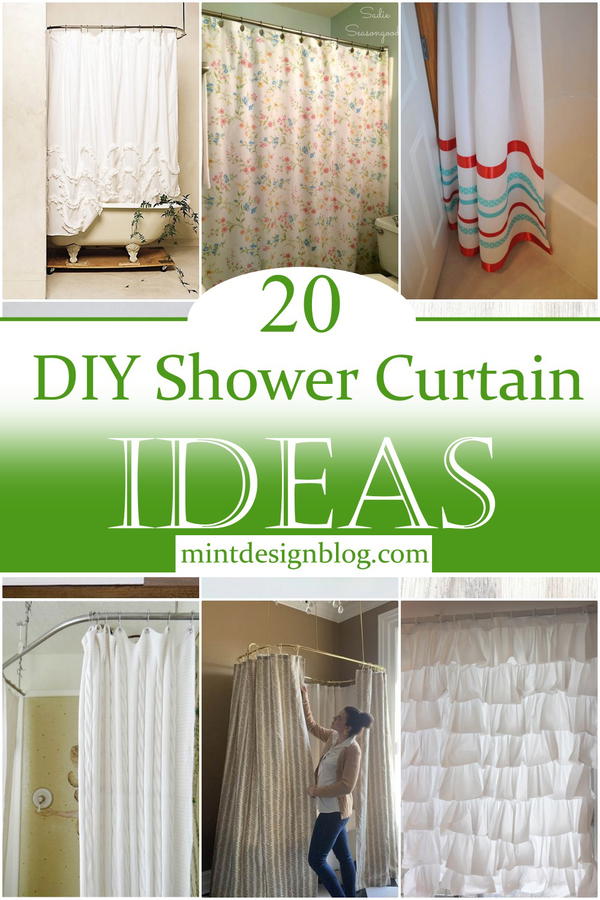 Everyone wants to have a perfect bathroom. There are tons of things to think about when decorating the bathroom. The shower curtain is something that you rarely think about and most people just get the one that comes with the bathroom set. Towels, soap dispensers, toothbrush holders, and other bathroom accessories are also important because if your bathroom lacks these things it will make your whole place look cheap. If you want to make your bathroom look great and you want it to look like something from a magazine, then take a look at these 20 DIY shower curtain ideas that were made by professionals and you can replicate them too.
Here are 20 DIY shower curtain ideas you can make at home, and they're not only easy to make, but they're also easy on your wallet!
How To Make A Shower Curtain With Vintage Linens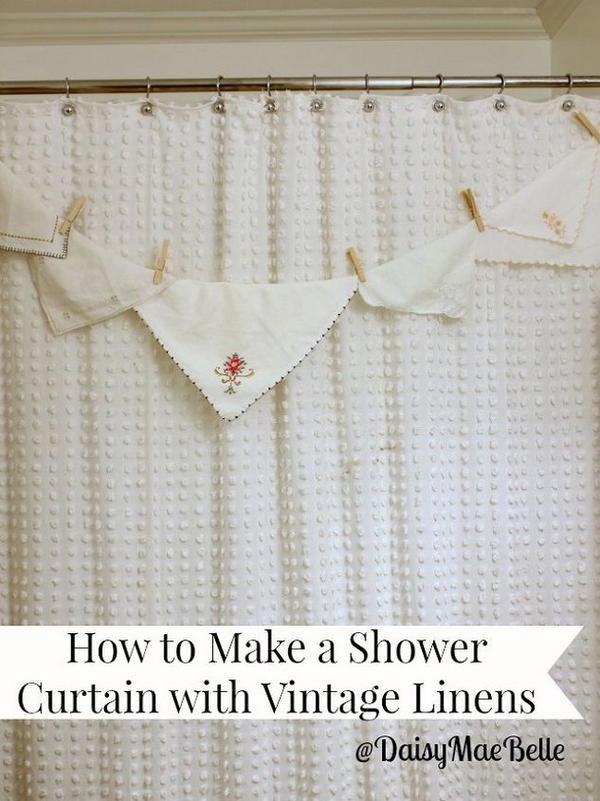 Are you looking for the perfect shower curtain? This gorgeous shower curtain is made out of vintage linens to add a touch of elegance to any bathroom. It provides an opaque finish that comes in handy if your bathroom has less lighting. With a working zipper, this lace shower curtain is easy to take out and machine wash. Vintage linens are new to the blog this summer and with good reason. They bring a bit of elegance to any space. These vintage shower curtains are perfect for a romantic bathroom setting. The floral design and prints are gorgeous, making them a perfect alternative to the modern designs of shower curtains in supermarkets.
Dyed Homemade Shower Curtain DIY
Tie-dyeing is a great pastime. It's super fun. There are many things you can actually tie-dye, from bedsheets to t-shirts and even curtains. Of course, it's pretty difficult to tie-dye a shower curtain by yourself, but not impossible if you know what you're doing. This tutorial will show you how to dye your shower curtain for a pop of color in your bathroom. Make sure to take a look around the project, through all the stages of it and the result after everything is done. The decoration is fabulous and would make the place look more beautiful than ever before. This is a great project for anyone with kids and pets. The project is quite simple and DIY-friendly. If you're a crafty person, then this DIY is for you!
Wavy Ruffle DIY Shower Curtain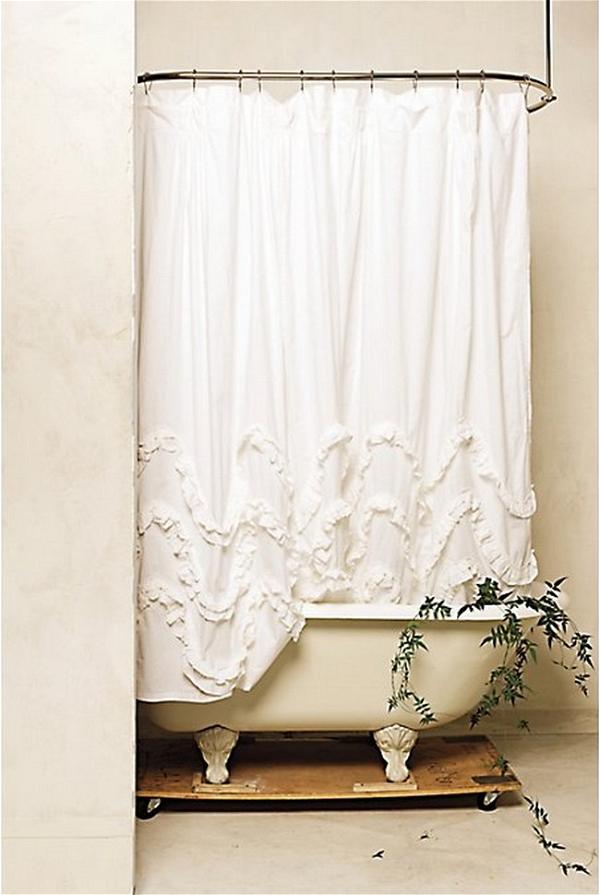 This DIY shower curtain is decorated with a frilly-style ruffle and pretty detail. It's easy to make, and you can personalize it depending on your liking. No matter the color or fabric you choose, it will surely look fantastic in your bathroom. This is an easy DIY without any sewing experience needed. this is a wavy ruffle shower curtain. Create an elegant look in your bathroom with this wavy ruffle shower curtain. The process of folding the fabric into the necessary folds is not hard to do if you are adept at using a sewing machine. Just remember to press your seams properly and you can. The sewing machine is used to make the ruffles. This little bit of sewing will make a huge impact on your bathroom style and make everything come together. This shower curtain is suitable for any bathroom and looks great with a modern design.
Ribbon Shower Curtain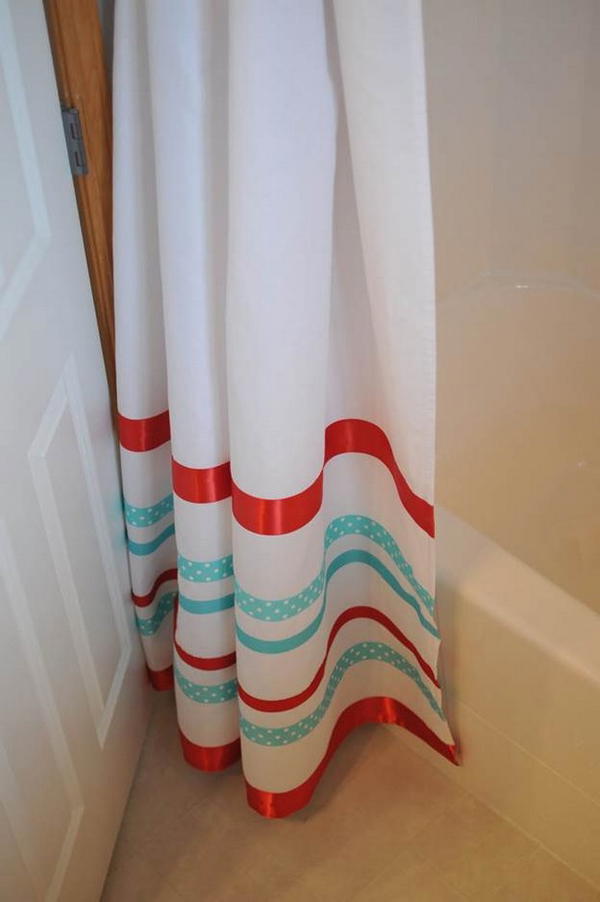 Go beyond the common shower curtain with your next project. Make a beautiful shower curtain in under 30 minutes. This is the perfect way to give your bathroom a quick refresh without breaking the bank. Not only is it simple and straightforward, but this is also an inexpensive decorating project. It will also make your house smell really good! Enjoy my makeover of this IKEA shower curtain with ribbons! This DIY ribbon shower curtain is quick and easy to make, and so fun, unique, and pretty! Perfect for anyone who wants to add a special touch to their bath, this project is quite simple and straightforward.
Anthro Inspired Ruffle Shower Curtain DIY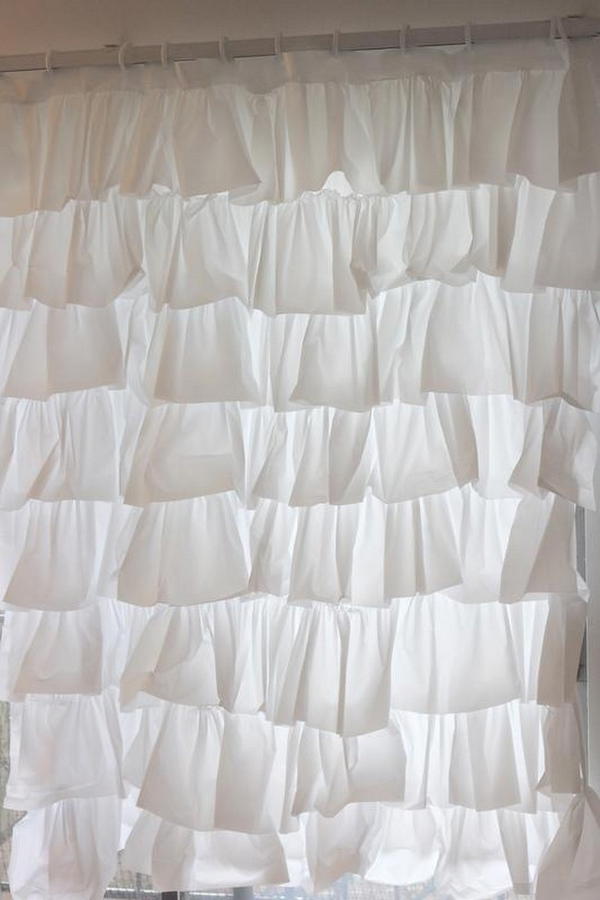 Do you want to make the shower curtain of your dreams? Well, here's just the thing for you. Use a sewing machine, buy some fabric, and find a place to start your project. You can use a home decorating magazine or simply design it yourself. It's great to add a touch of femininity to your bathroom. This ruffled shower curtain is something you can make using some basic sewing skills. This shower curtain makes a perfect addition to your modern bathroom! Perfect for all guest rooms, this shower curtain can be easily hung on a pole or rod. If you're looking for something extra, try making this ruffle shower curtain! This shower curtain features a clean and classic design, perfect for any household. Mix and match with nursery decor or modern bathroom essentials. Get started with this and see the outcome you can get in no time.
Vintage Bedsheet DIY Shower Curtain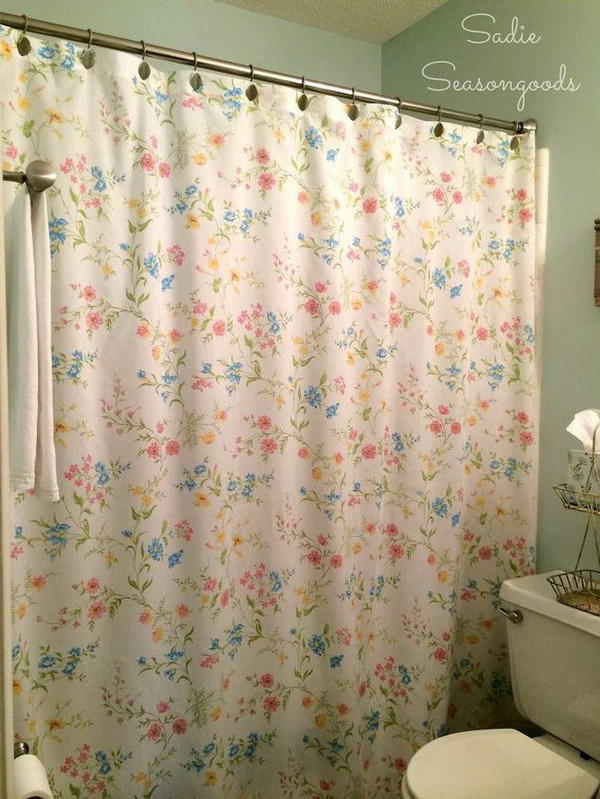 Got a vintage bedsheet? Then you're good to go! With this easy-to-make project, you will be getting your own unique-looking shower curtain. You'll love how the vintage bedsheet shower curtain brightens up your bathroom. This easy-to-make project is great for any kind of vintage bedsheet and only takes an afternoon to complete. This little DIY project is super easy to follow; all you need is this guide and your creative energies. With the right tools, you are sure to get a vintage bedsheet shower curtain that is classic and practical. This vintage bedsheet shower curtain is an easy-to-make project. It is perfect for any vintage or contemporary bathroom. Get the vintage look in your bathroom with this DIY shower curtain project.
Custom Shower Curtain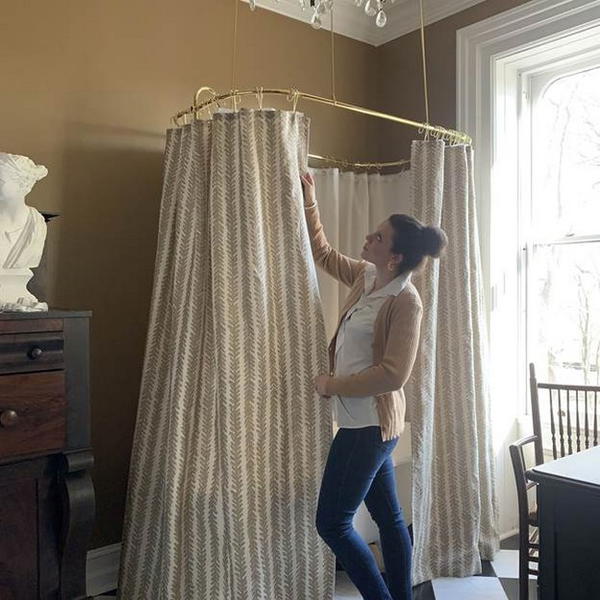 If you are looking at having a full-length custom shower curtain, you will need to consider a lot of things. The most basic thing is what you want the curtain to say about you. While looking for curtains with interesting quotes may be an option, honestly, it is not the most cost-friendly option. The solution is that you can make your own custom shower curtain and save money. A custom shower curtain will add a unique style and personality to your bathroom. Not only it is economical, but it also holds an artistic value that cannot be compared with ready-made models. Typically, it is not difficult to construct a custom shower curtain as long as you focus on basing it on your specific measurements, color, and quality.
DIY Shower Curtain Made From Blanket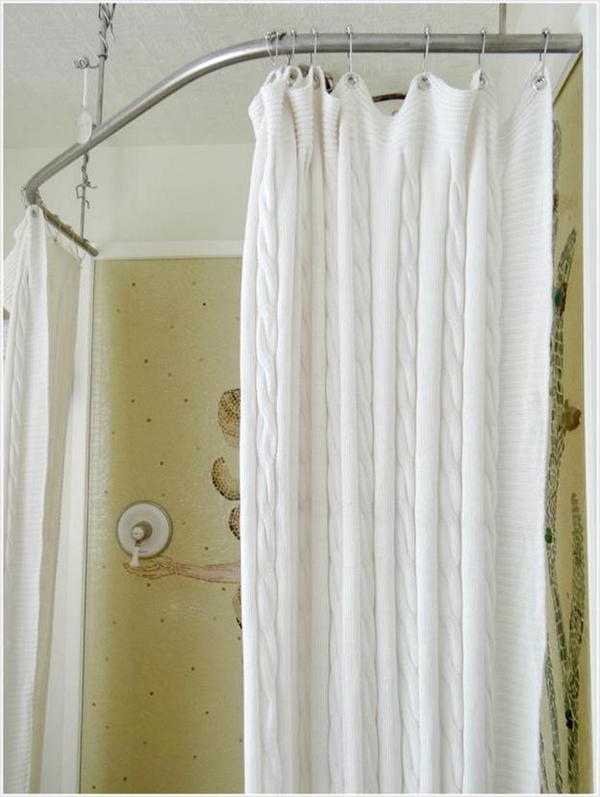 Are you in the mood of having something new and unique in your bathroom? If yes, you don't need to pay for a new one, instead, you can make your own DIY shower curtain from a blanket. This DIY Shower Curtain Made From Blanket project will show you how to convert an old or new blanket into a great-looking shower curtain. This shower curtain will cover your entire bathroom and provide years of protection. You can make your own shower curtain using a blanket. A DIY shower curtain is a great and affordable alternative to the expensive ones found in stores.
How To Make A Grommet Topped Shower Curtain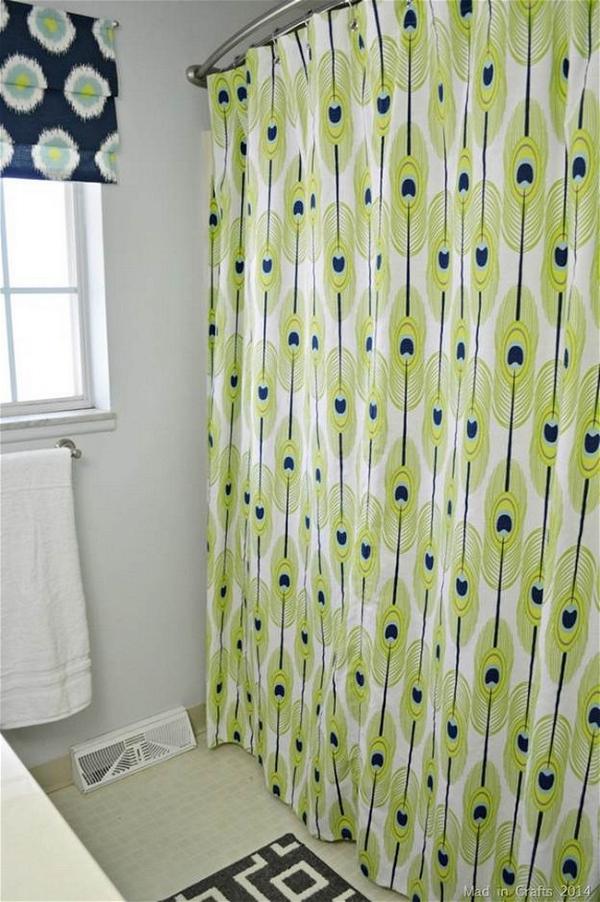 Grommets are often used to improve the appearance or functionality of a fabric-based product. One such instance is when they are used in shower curtains. Making a grommet topped shower curtain is not hard, but it does take a very little bit of time to do one. It also requires you to have the know-how for prepping your shower curtain for grommets and then getting them made at the store. This plan will be looking at what you need to know about grommet tops, how to sew them into your shower curtain and how to mount them for maximum effect. To get started, you need materials like grommets, rods, hooks, and shower curtains. With these materials and your home sewing machine, you can make this fantastic shower curtain.
Statement Shower Curtain DIY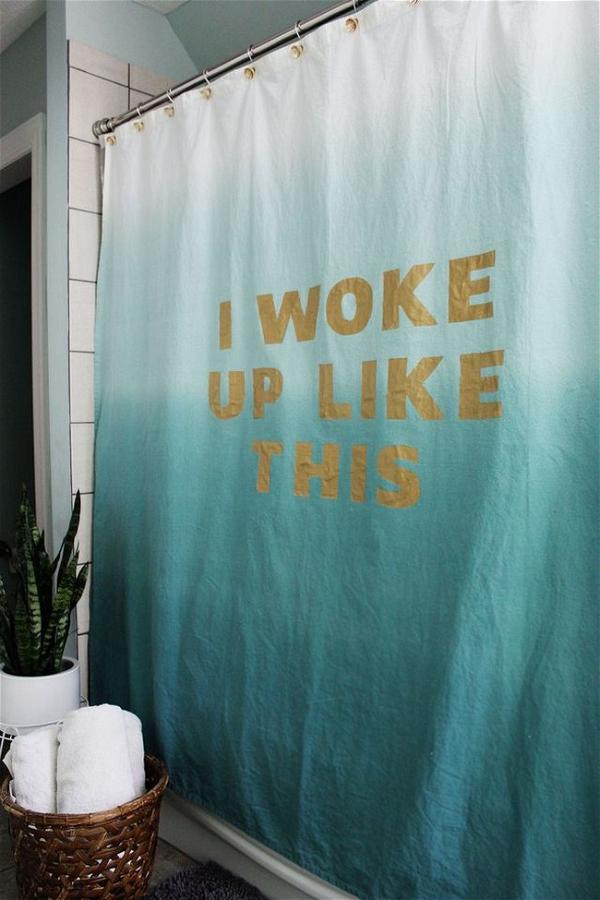 That's one cool shower curtain. With a statement shower curtain, you can write your favorite quote or just about anything. This is a DIY project, so you need plain fabric to start with and the process of making this type of shower curtain is also easy to follow. A statement shower curtain can help make your bathroom more personalized and unique. This tutorial will help you to create one following an easy pattern. With this, you can express yourself by writing anything you want in your own handwriting. This DIY statement shower curtain is a simple way to add some flair to your bath. The project requires using special fabric, sewing it into the shape of a heart, and adding two strings in order to hang it. You can write anything you'd like on this stunning piece of statement shower curtains.
DIY Shower Curtain With Prints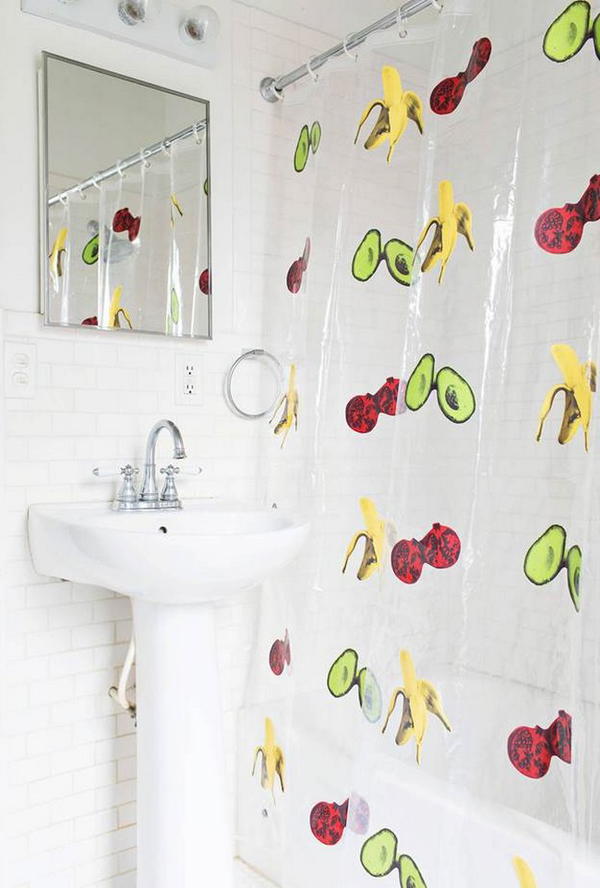 This DIY shower curtain is great for those who want to make their own unique items with ease. It's actually a cushion cover. At first glance, you may think that the printing was done using a computer printer. This is not actually so. The images are actually printed on a waterproof transparency sheet which is then pasted onto the fabric using an iron. This one uses aqua and white prints that make it stylish yet so simple. This may be your next bathroom project. What's great about the idea is that you're not required to use a sewing machine to put it together. In just a few easy steps, you'll have an amazing curtain for your bathroom.
No-Sew Striped Shower Curtain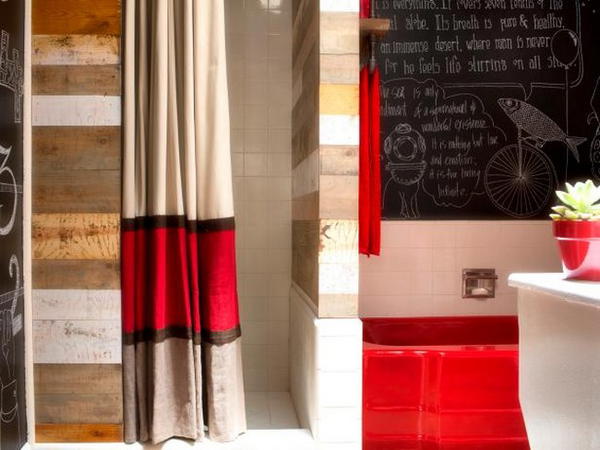 Have you ever seen a rainbow shower curtain? This no-sew project is one of the most creative ideas for bathroom décor. It is not only adorable but also easy to make. Actually, no sewing or materials are needed except for a few fabrics and basic household items. It is very easy to do and very fun. You can make any size shower curtain for any size bathroom in just a couple of hours. Add some nice hooks and a rod and you'll have the perfect space for being clean and squeaky clean. Add this creative shower curtain to your bathroom today. Using nothing but some glue and a few lengths of ribbon, you can easily create a look that all of your friends will envy!
Colorful Shower Curtain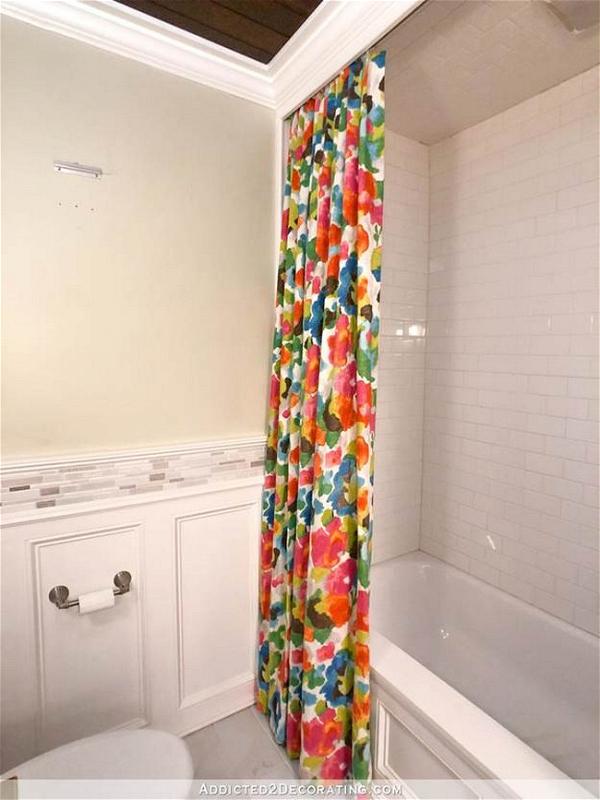 Here's an easy way to make her bathroom a colorful place. It is a cute, simple, and affordable shower curtain that can be completed in just a couple of hours. Add a splash of color to your bathroom with this great project. When you want a shower curtain that is cheerful and will make you smile every time you walk into your bathroom, this DIY colorful shower curtain with polka dots is just perfect! With this easy-to-follow no-sew project, you can create your own colorful shower curtain with polka dots for a fun and personal touch in your bathroom. This is one of the easiest and most colorful shower curtains that you can make in your bathroom. For this no-sew project, all you need are a shower curtain and fabric markers.
How To Make A Shower Curtain From A Flat Sheet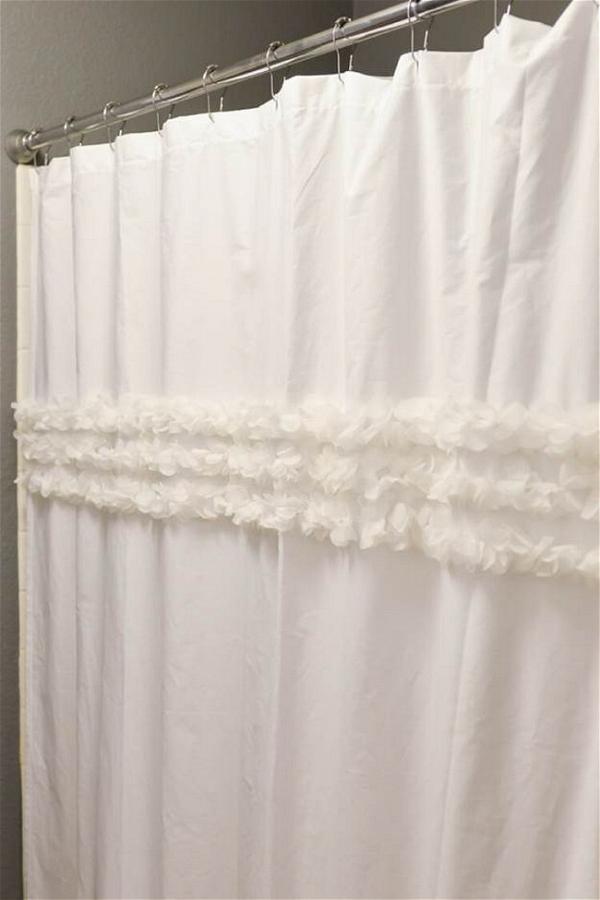 Don't be intimidated by the idea of sewing with fabric panels. Do you have a flat sheet that you no longer need? Transform it into a unique DIY shower curtain! And if you don't, then this project is especially for you. It's very easy and straightforward. You will also learn some new tricks and techniques about sewing a straight line, baste stitch and how to make the shower curtain grommet holes This shower curtain is made from a flat cotton sheet and lined with a coordinating fabric. You don't need to know how to sew a straight line; all you need is a sewing machine, some thread, scissors, and some time.
Shower Curtain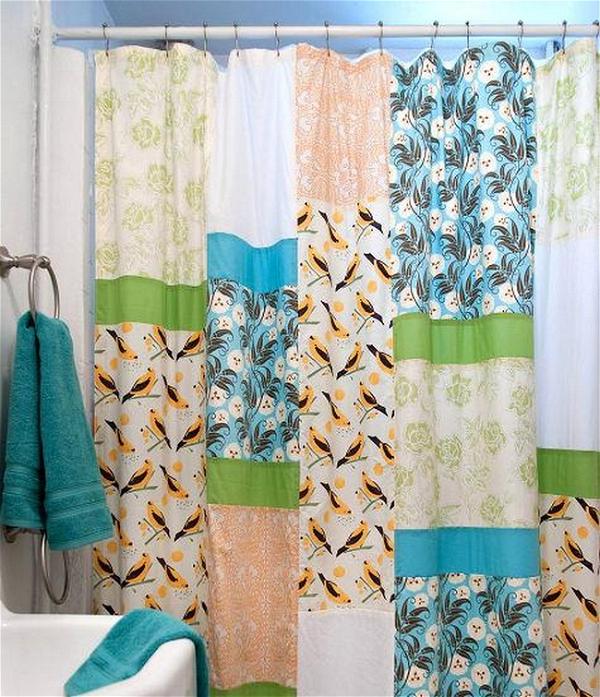 Whether you're looking for a fun weekend project or just want to revamp your bathroom, consider making your own shower curtain. Making one doesn't have to be hard; it can be made of many different fabrics. Do-it-yourself shower curtain projects are now even easier to make than ever before. All you need is a sewing machine, sewing material, and the pattern you will use to sew your own shower curtain. This shower curtain makes a stunning shower wall mural by sewing together up to seven different fabrics. It's great for a small bathroom or as part of a bathroom remodel. The process is fairly simple and easy if you have all the basic supplies you need.
How To Design A Blank Shower Curtain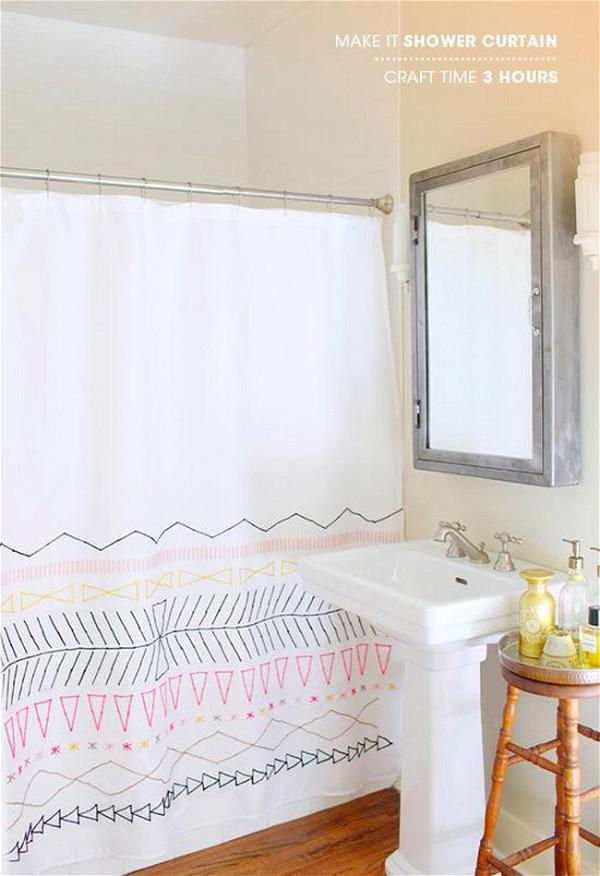 Have you ever seen beautiful shower curtains and wanted to get one for your bathroom? If yes, then you have come to the right place. Making a beautiful shower curtain is simpler than you may think. Nowadays there are many different designs of shower curtains that can be ordered online. But it is also possible to make a custom design out of a blank white shower curtain. In order for you to understand how to design a shower curtain pretty and artistic, you need to know that first of all, there are many ways to do it. Adding some lines, stitching, or just coloring your shower curtain will help you make it look good and live your own style. Decorate your blank shower curtain with a needle and thread.
Long Shower Curtain With Macrame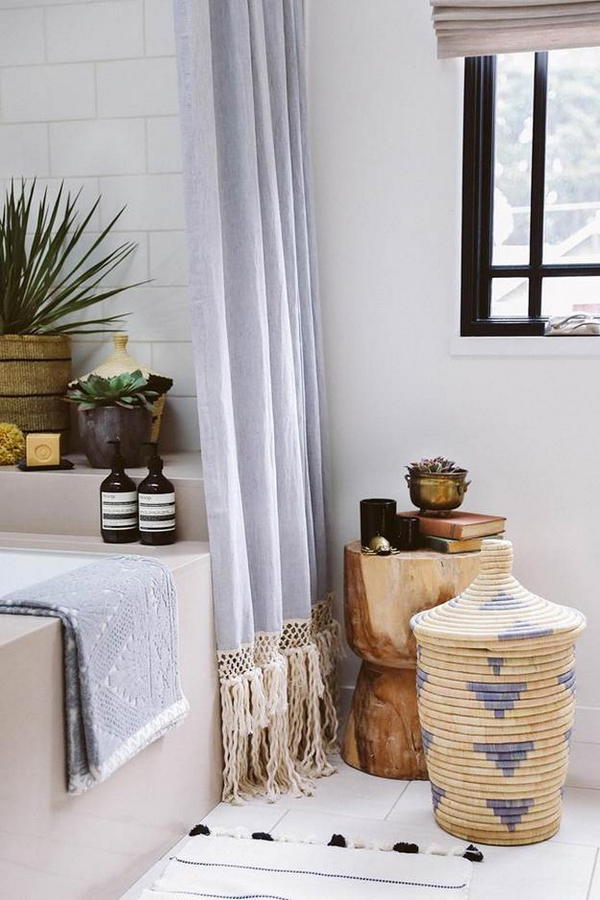 This DIY shower curtain idea is designed for longer shower curtains. If you have a shower in your bathroom, this will be some useful ideas for you. Shower curtains are always hung in bathrooms, making them easy to be used as a great decorating piece as well. If you're not happy with the length of your shower curtain, you can use rope and macrame DIY ideas to make it longer. It does not only have a decorative function, it can also offer convenience in your daily life. Moreover, it is easy to make one. You just need to spend a little time and effort to get the amazing look of the curtain. When you finish making it, you will love the result.
DIY Ruffled Shower Curtain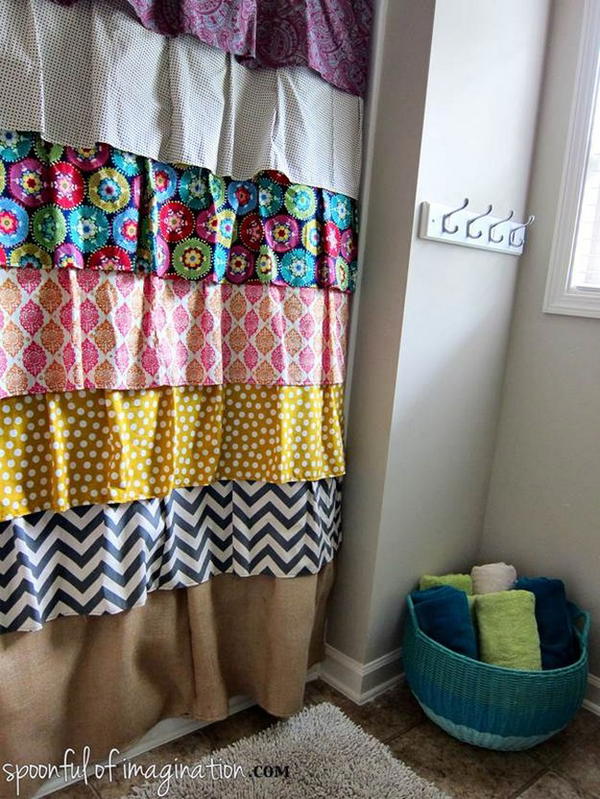 Create something unique and creative with this tutorial describing how to make a ruffled shower curtain. This project is easy to do, and even easier to fall in love with. This DIY ruffled shower curtain is the perfect way to glamorize any bathroom. It is perfect for bathrooms that don't have curtains in the right size. It is a simple project to do and does not require many tools. The fabric you choose will depend on your bathroom decor, and will make all the difference! This DIY ruffled shower curtain is a hit among shower curtains. It ended up being cheaper than buying one and it was fun to make.
DIY Black And White Shower Curtain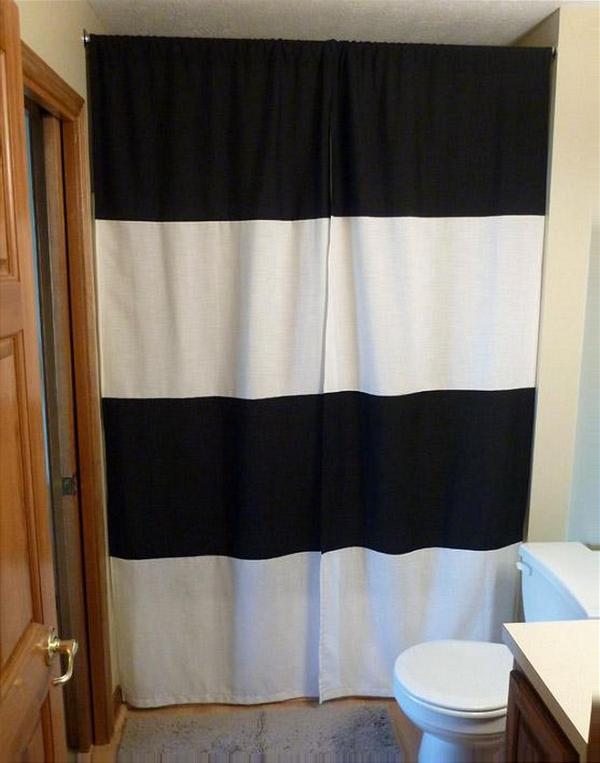 Make a DIY black and white shower curtain and update your bathroom in less than an hour. This easy-to-follow DIY project is a quick and fun way to add some black and white style to your bathroom. The making process is quite doable even for beginners who have never tried sewing before. This black and white shower curtain will add an unconventional appeal to your bathroom decor. The making process is easy, so you can craft it yourself at home. Whether you decorate your house in black and white or just need an easy-to-make DIY shower curtain for any room, this awesome project will look so chic in your bathroom.
DIY Shower Curtain And Cornice Board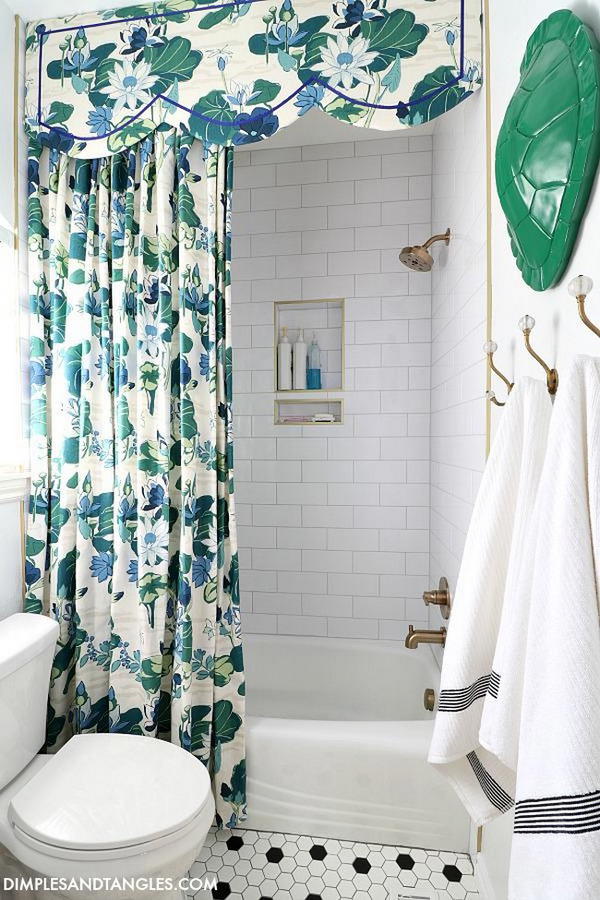 Looking for a cheap way to make your shower curtain look great, and add some wood decor to your bathroom? In this article, we are going to show you how to make your shower curtain, as well as its cornice board, from start to finish. By adding a cornice board to this shower curtain, you will transform it into a beautiful focal point of your bathroom. This includes all the materials and steps needed to install the cornice boards in your bathroom!
What a fantastic way to transform the look of your bathroom! This fun, handmade shower curtain and cornice board set is easy to make and looks great. Grab some wood, fabric, and some paint to get started. Anyone can do it.