We all want to present the best sound quality in music. We have our own style and want the sound to be based on that. An audio rack is a great place to start when it comes to setting up your home theater. There are different types of audio racks that you can build for your music or audio equipment. Some people make them for their homes, while others create one for their offices. If you have been looking to do your own DIY audio rack project, this article thoroughly covers each aspect of making such a project. These DIY Audio Rack Projects not only create a stunning visual impact but also provide you with the ability to have full control over your music playback system.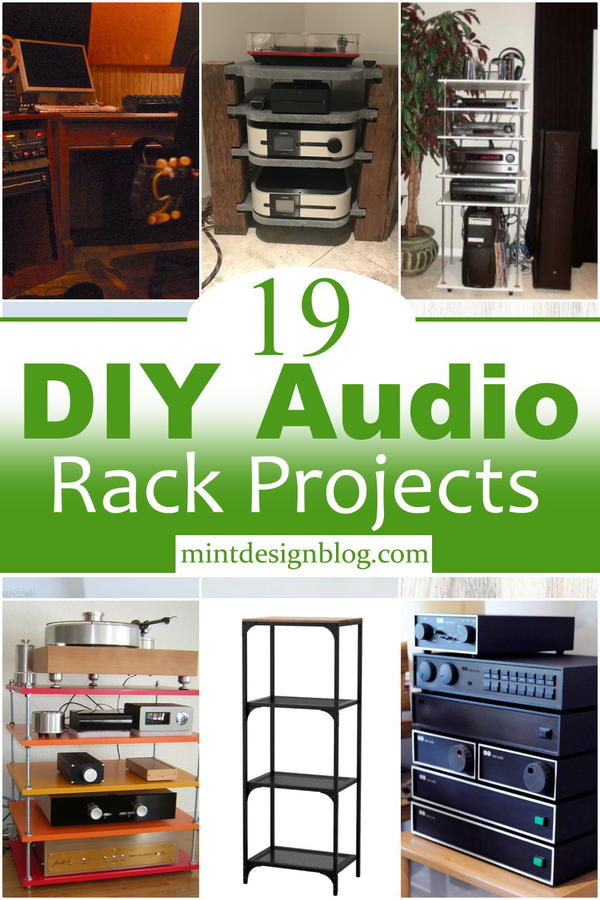 Thus, these are some of the DIY Audio Rack Plans that will help you understand how an audio rack actually works and why it is so important for your home. Whether it is inspired by a picture or something entirely your own idea, you will find the inspiration right here with this list of DIY audio rack ideas. This article has everything you need, from inspiration; to actual DIY audio rack projects with step-by-step instructions. So let's get started!
You Can See: 20 DIY Studio Desk Plans You Can Build Today
Easy To Build Projects:
DIY Audio Rack Projects are so easy that you can make them on the weekend. They will look amazing and feel just as great. Many of us have all the equipment to make a DIY audio rack project, such as power tooling, sheets of plywood or MDF, and finishing materials. But if you don't have them handy at home, you could build a simple shelving unit by attaching wooden boards to metal brackets. Add hinges or other hardware to keep it open or closed when not in use. With a little bit of time, effort, and creativity, you can create your own audio rack to suit your room decor.
Uses And Benefits:
You and your audio equipment deserve a more purposeful home. A nicely designed rack that can be easily placed in any room of your house will add aesthetic value to your living areas. Using these DIY Audio Rack Projects, you can organize your entire setup in a manner that makes sense for you. In addition to organization, these DIY audio rack plans allow you to easily display your favorite or most used items on top of these pieces!
The 22 DIY Audio Rack Projects is a compilation of different projects that would help you learn how to make an amazing audio rack for your home or commercial buildup!
How To Make A Custom Audio Rack
This project is a prime example of making your studio look like the perfect home for music production. The finished product is aesthetically pleasing, durable, and sturdy enough to protect your precious gear. Follow our step-by-step instructions, and you will have a custom audio rack that would make any drummer proud. The materials needed are MDF boards, plywood, cutting guards, screwdriver set, power drills, screws, sandpaper, and molding strips. A simple step-by-step guide is provided below to help you easily make this audio rack.
DIY Audio Rack Cabinet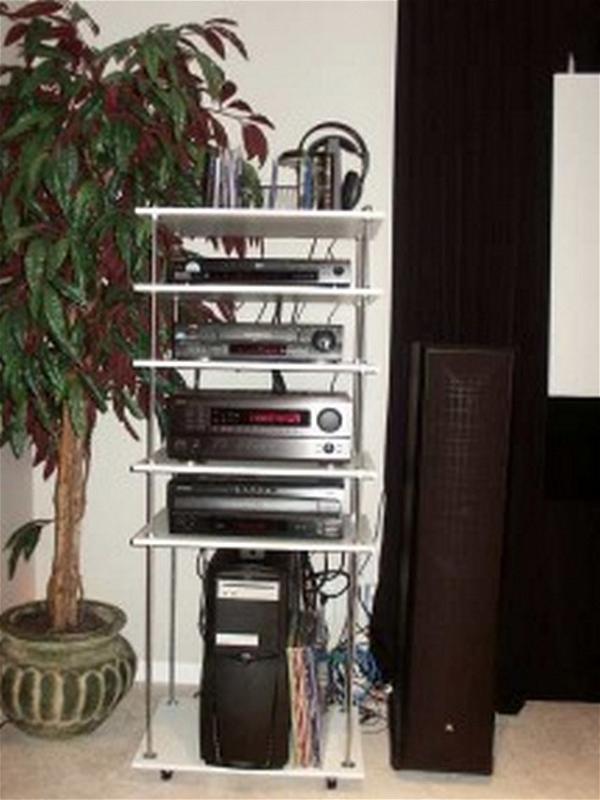 This DIY audio rack is very practical. It includes many shelves, making it possible to have a lot of audio equipment on the rack. It is also perfect for people who want to save some money and learn how to make their own audio equipment stands. The only downside of this guide is that it is not described in detail. However, if you are a professional handyman, then there isn't anything wrong with following this guide because it shows that it is possible to DIY something like this.
Music Equipment Rack Idea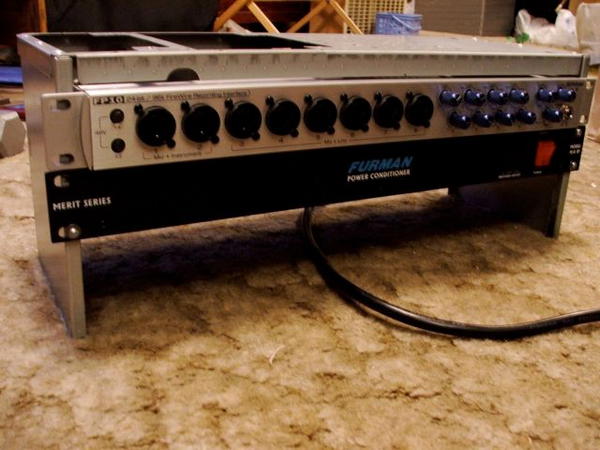 This audio rack was made with an old PC case. It has additional compartments for your chargers and other wires. You can organize your electronic equipment for efficiency and safety. This project is easy to follow because it's step-by-step, but you will need a lot of tools such as pliers, saws, axes, screws, and more cutting tools. Take advantage of your space and create a unique storage system for all your audio gear.
Audio Rack DIY For Equipment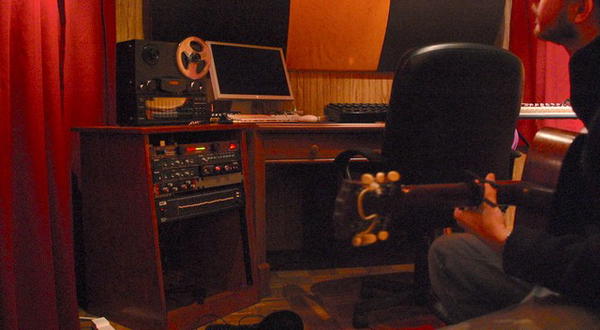 This rack is made from all wood, with no plastic involved. You will need a table saw, jointer, router, and drill. The building process is pretty straightforward; the only thing that might be tricky is building an accurate square frame to mount the sides, but this can be done by measuring accurately and finding how wide your wood pieces are. You can also use this rack to store and display other equipment items that you want to keep safe from dust and accidental damage.
DIY Studio Equipment Rack
The rack is made with high-quality wood, and you can tell by its unique design. The wooden parts are sanded, cleaned, and then painted after they are cut to size. All the pieces are assembled together with nails that have been measured beforehand, so everything fits just right. After the assembling process, the studio equipment is placed on top, and voila! You get the best audio rack ever. If you are interested, check out the video and get inspired today!
How To Build A Double 16u Studio Rack
Build an industrial-style studio rack like this with just a little woodworking know-how and creativity. This is a great way to keep all your equipment neatly organized in a room that's not big enough for a full professional rack. The construction methods in this video guide are quick, age-old, and easy to follow; no special tools are required. Everything from the correct measurements and cut lengths to component placement is covered so you can build your own studio rack as detailed here.
Wooden Audio Rack Plan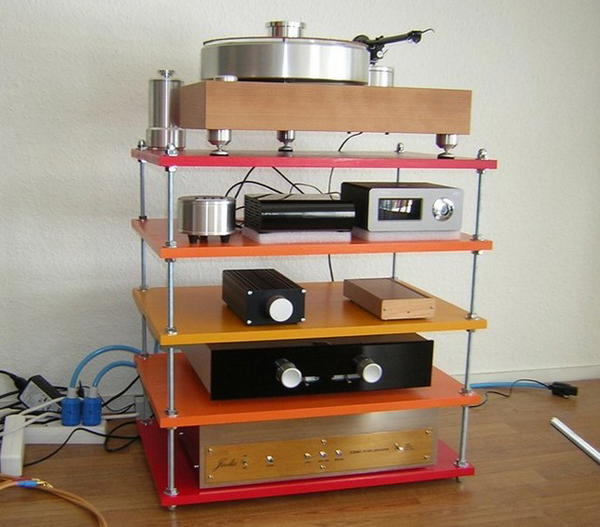 Although this is a guide on how to make an audio rack, it's filled with useful information about designing a plan for the project. This guide will teach you about wood and the tools needed to build an audio rack from start to finish. You won't find any images in this guide because they wouldn't help explain all the steps involved in making this kind of furniture. Use it to store your television, game consoles, home theater gear, or any other electronic device you desire.
How To Build A Studio Equipment Rack
A rack is a great way to store and organize your studio equipment. It will help save space, allow you to easily access each piece of equipment, and reduce clutter. You can use it to store your equipment, including the computer, compressors, microphones, and music gear. When you build one yourself, you can ensure they fit perfectly. This guide will show you how to make an equipment rack with readily available parts at hardware stores, so you don't have to spend hundreds of dollars on custom equipment racks.
Schiit Audio Mini Rack
The Schiit Mini Rack is a unique audio component rack that adds style and exceptional functionality to your listening room. Its size makes it perfect for smaller systems and bookshelves, yet it's just as at home in a larger system. The two rows of slots allow you to mount your gear in any order you like, while the wooden faceplate allows clean cable management, so everything is easy to find and reach. With woodworking skills and tools, you can easily make a similar unit for yourself.
Audio Rack Shelves Industrial Plan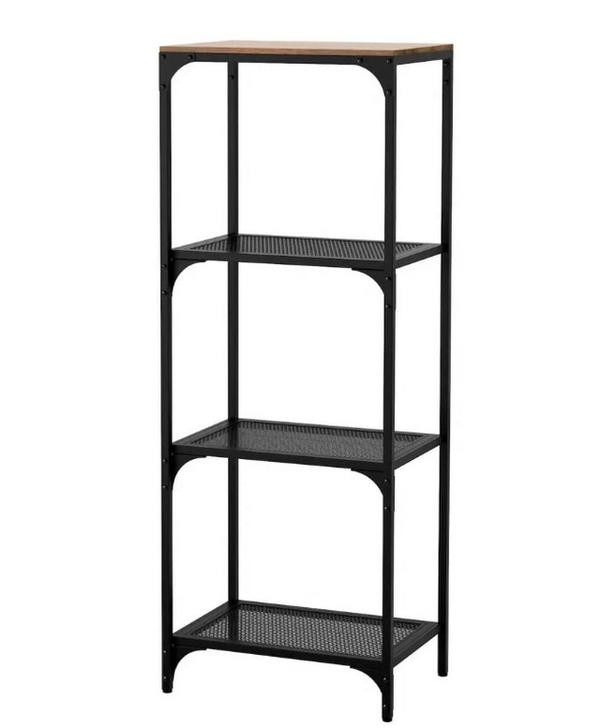 This project includes transforming a simple, inexpensive shelf into a highly functional audio rack and speaker stand. The project features detailed step-by-step photos and glossary terms for each stage, as well as tips on how to customize the look of your new audio storage system to suit your room decor or taste. It's a small, intimate space that would make an elegant addition to the living room. With this tutorial, you can learn how to transform an industrial shelf into an amazing audio rack.
DIY Audio Rack Build
This might be a good option if you want a project to build. It's easy enough for beginners and has some nice features. The creator begins with a description of the tools used in the build. Then he takes you step by step through the process of creating the rack from scratch. The video is longer than most on Instructables but worth watching if this is your first time building with wood. All you need is the right toolset, some plywood, and sawhorses.
Modern DIY Racks For Audio System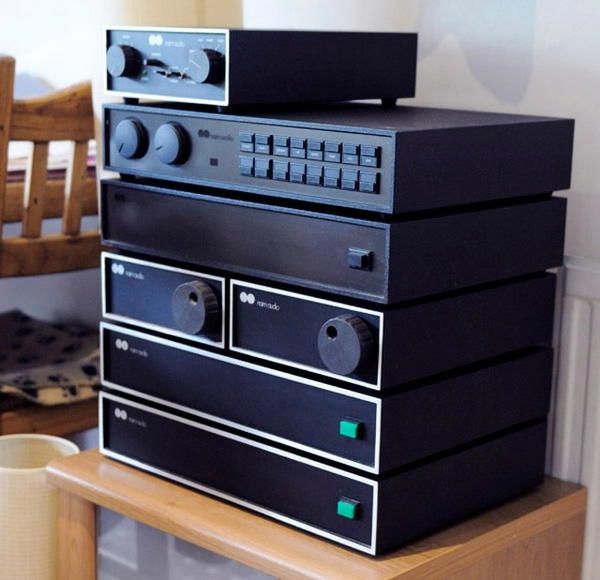 Do you think your woodworking expertise can handle this project? If so, you will be pleasantly surprised with the ability to build this audio rack. This is a great way to display your music collection and impress anyone who enters your room. Building one of these would give you a different look at a custom piece of furniture because it's not common. This audio rack will be able to hold your books and CDs. You can hang the music on the side for easy access or put it in the middle for better arrangements.
How To Build A 19-inch Audio Rack For $10
A $10 DIY audio rack project will help you organize your home stereo. This is a simple yet brilliant design for an inexpensive way to mount your equipment and keep it out of sight when not in use. If you want a more permanent solution than cardboard, this build combines drywall screws and studs to create a rock-solid rack that can be made large enough to hold your whole music system. The simplicity of the design allows you to paint it any color you please or even stain it if you wish to give it a more traditional look.
Make Audio Rack Using Wood And Aluminum
The best thing about the build is the versatility and how easily accessible the parts are. The audio rack was made of two sheets of aluminum and a couple of threaded rods that were cut to length to place in between them. Doing this will prevent any vibrating and shaking while in use. If you want to add more shelves, you can always purchase another aluminum sheet; just be as creative as possible so you don't break your bank!
Easy Build Audio Rack
The Easy Build Audio Rack allows you to create your perfect audio system. Select your components and put them together to create an audio stand or wall mount that fits your style and needs. With its rich walnut finish, this easy-build audio rack makes a great addition to any home. Its beautiful design and modern look will surely fit into any decor style while protecting your prized possessions. If you're looking for a way to organize your audio equipment in one spot, this is it!
Wood Audio Rack to DIY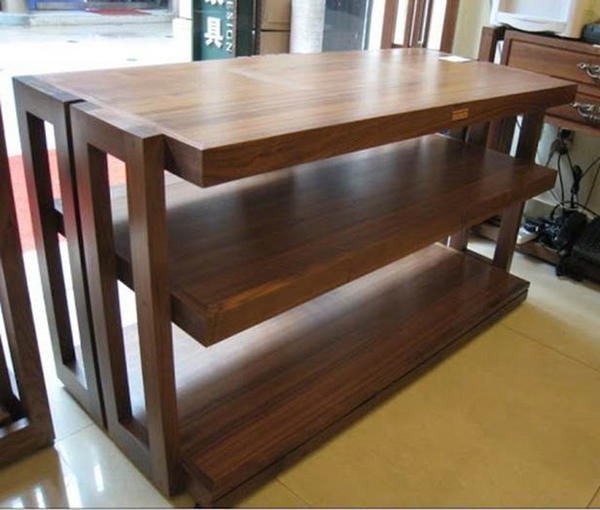 This wooden audio rack is a great way to provide your music gear with its own special place in the house. It features three compartments to hold as many audio devices as you want. The top compartment gives you plenty of space for a receiver or turntable, while lower compartments can store other stereo components like an amplifier or preamp. This rack is made from laser-cut birch plywood and MDF, assembled with glue and screws. The whole set-up will look great on your shelf when completed and will also be a functional piece!
Fancy Audio Rack Design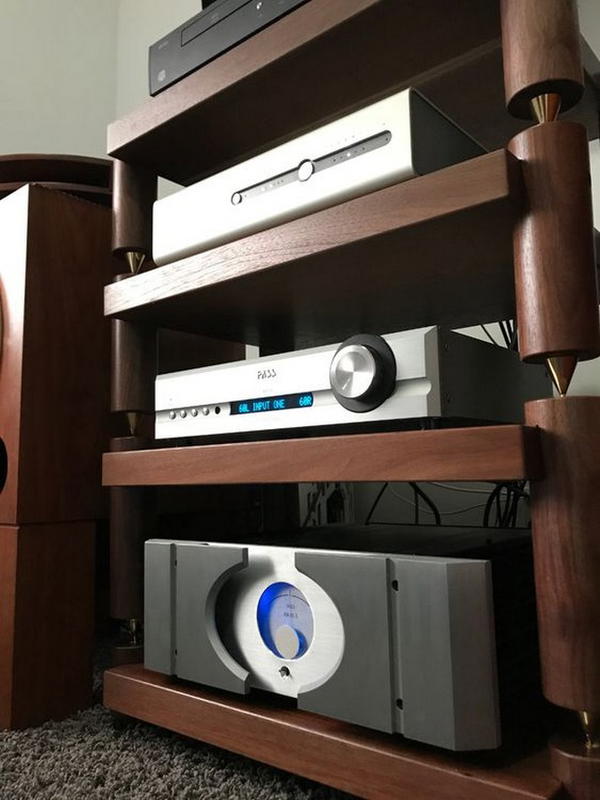 This design might be a good choice if you want a unique and stylish audio rack. This audio rack was made with pine timber, which looks elegant. The rack has three shelves that can be used to place your audio equipment. The base is an octagon shape with flat edge supports that hold the shelves securely in place. The shelves are long enough for putting a few large speakers, or you can use them for your small tabletop speakers. This is ideal for homes or offices.
Audio Rack In Rustic Design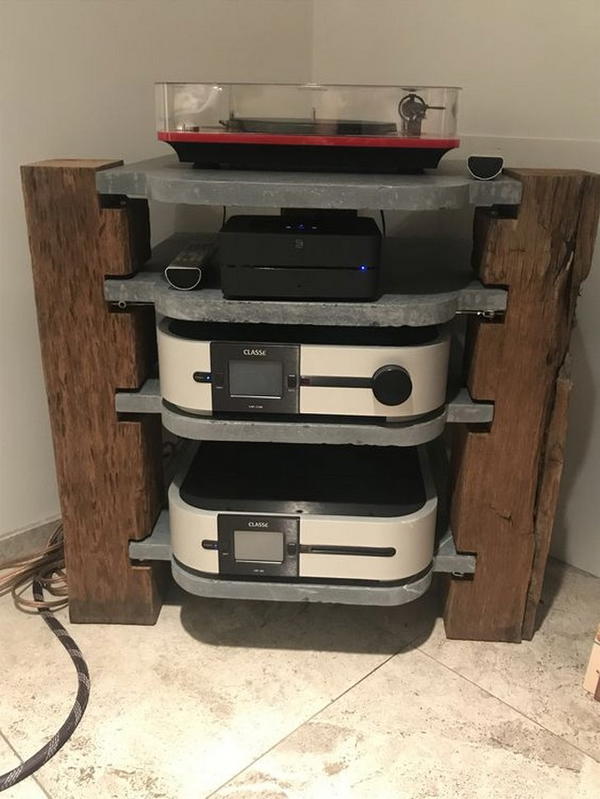 If you are a fan of rustic-themed homes and love to add that look to your home, then this audio rack would be ideal for you. The woodwork on this piece of furniture is amazing! If you like woodworking projects or want to learn how to make one, then this project is for you. It will definitely look good in your rustic-themed home. It will look great in your home and allow you to show off all of your favorite CDs, DVDs, and games.
DIY Glass Audio Rack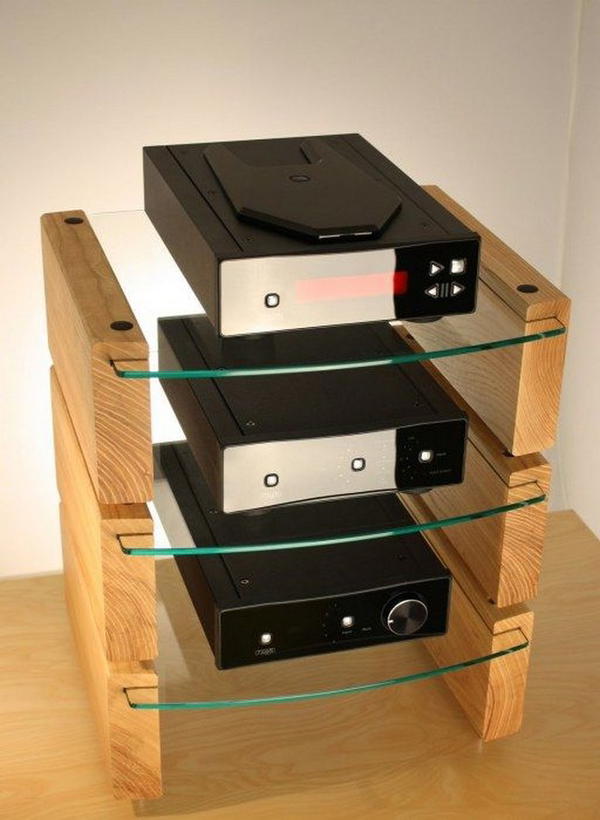 A clever solution for storing and displaying your favorite glassware, the Glass Audio Rack takes advantage of its unusual design to provide an attractive way to showcase your favorite souvenirs, vases, and more. Crafted from natural wood, this striking piece features three adjustable shelves—each made from tempered glass—connected by an interlocking frame that lets you customize the unit's configuration any way you like. It is perfect for storing and displaying your Hi-Fi components and other personal belongings.