A DIY puzzle board is a unique and fun way to decorate your home. Making a puzzle board uses different materials, patterns, and colors for the look and can vary depending on the style you wish to achieve. These DIY puzzle board ideas add a touch of extra elegance to your room. It'll create a lovely focal point in any room and make a charming way to display beloved photographs or objects. These puzzles are so much fun because they can be customized to fit your style and personality. You will only need some basic materials and tools, plus a few hours of your time—and soon, you'll have an amazing place for displaying treasured memories.
DIY Puzzle Board Ideas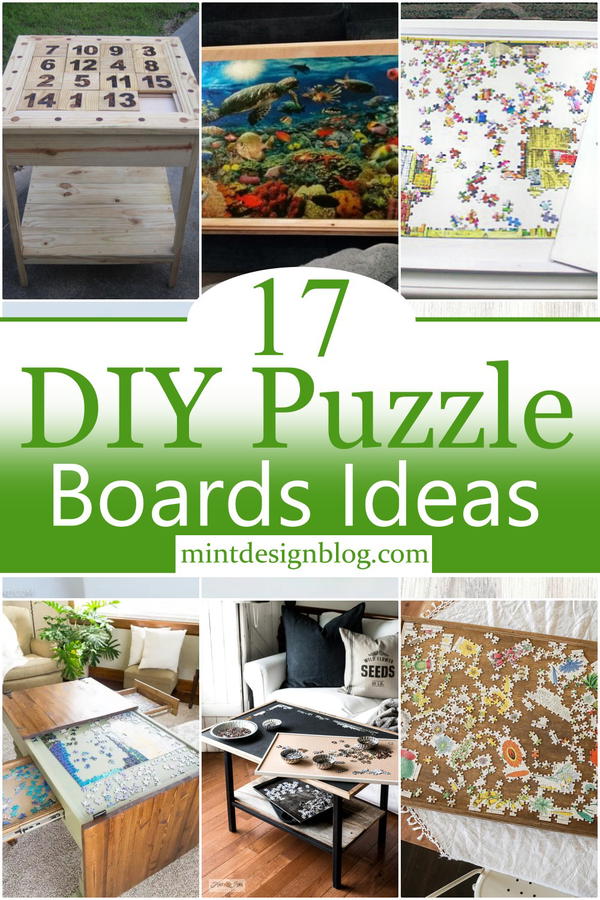 There are various materials you can use to create your own puzzle board and many ways you can build one. Tiles, wood, and foam are popular choices, each with pros and cons. Some people may be more comfortable cutting foam than sawing wood. You should decide what type of material best suits your budget, the maintenance needs of your flooring, and your level of skill with carpentry tools before deciding upon a design or buying any materials. Add a splash of color to your child's room with these DIY Project Puzzle Boards. Choose your favorite colors and create something unique that kids can play with and parents can appreciate.
You Can See: 17 DIY Wooden Toy Plans For Kiddos
Uses Of DIY Puzzle Boards
DIY puzzle boards are great for several reasons. They can be used in various ways, from playing games to displaying artwork. Here are just a few of the many uses for DIY puzzle boards:
Puzzles: The most obvious use is to create your own puzzles! You can use them as coasters or wall decor or even make them into shadow boxes.
Display Boards: If you have something special that you want to show off but don't have the budget for an expensive frame, using your DIY puzzle board could be the perfect solution.
Games: Not only do they make great game boards, but they can also be used in other ways, such as creating a game board out of words and letters or as a fun way to play Risk!
If you're looking for something fun and interactive for kids to do at parties, DIY puzzles are perfect! They'll be engaged and having fun without getting bored or needing much supervision from you.
Puzzle Board Table Idea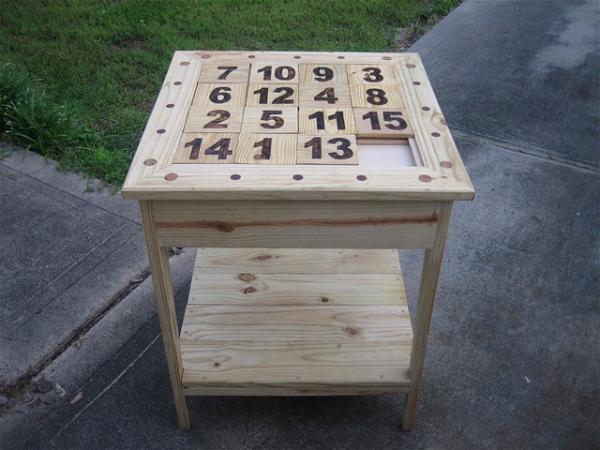 This puzzle table is a unique way to enjoy a puzzle. Set up the board, mount it on top of the table, or even build a matching table around it. It's sturdy wood and can be customized to fit your home's style. It comes with a storage drawer, so you won't have to worry about losing the pieces of your puzzle again. This puzzle table is easy to build and an excellent way to combine a piece of furniture with a challenging puzzle. The unique design makes it easy to reach the parts you are looking for while playing and will challenge you whenever you want to attempt it.
DIY Puzzle Board With Storage
This Puzzle Board With Storage is a DIY kit that you can easily assemble yourself and turn into a functional puzzle board. This easy-to-make puzzle board has the double benefit of being a great DIY project and a useful tool for storing small items. The storage space in the base of this unique piece is perfect for trinkets and other knickknacks. It has small pockets inside for holding your puzzles and accessories, making it easy to carry around and store in any room of the house. This puzzle board comes with a sturdy box frame that's made to last.
DIY Puzzle Board With Drawers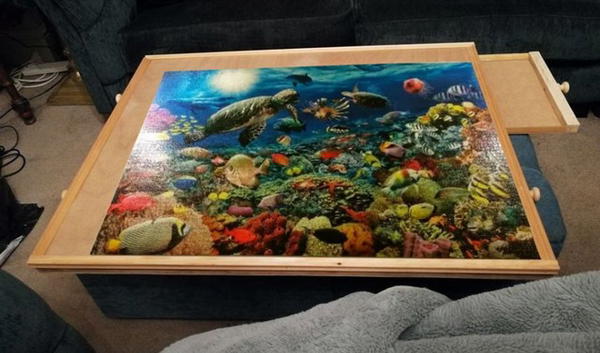 This project is so easy to make that even a child can do it. Each piece of the puzzle board can be put together in minutes! The nice thing about a puzzle board is that it doubles as an actual puzzle. You can make a detailed or simple picture, but if you want something special for your house or office, this idea is worth considering. This can be done easily and affordably with some simple tools and materials that you have at home. Building it yourself will allow you to customize the size of your board to match your space perfectly, something that is not always possible when you buy pre-made versions from stores.
How To Make A Puzzle Board
A fun way to spend time with family and friends, this DIY puzzle board makes a great gift for the person who has everything. This time-lapse video guide shows you how to turn your puzzle pieces into a puzzle board. This is a great project for creating a custom piece of art or helping organize your space at home by creating easy wall decorations. The puzzle board is a new innovative way to connect with your beloved, relax and enjoy some time together. Made with durable, premium hardwood materials and 100% custom-designed pieces, the Puzzle Board will last you a lifetime. This DIY puzzle board is a great weekend project and is perfect for your next holiday party.
Quick Jigsaw Puzzle Board Idea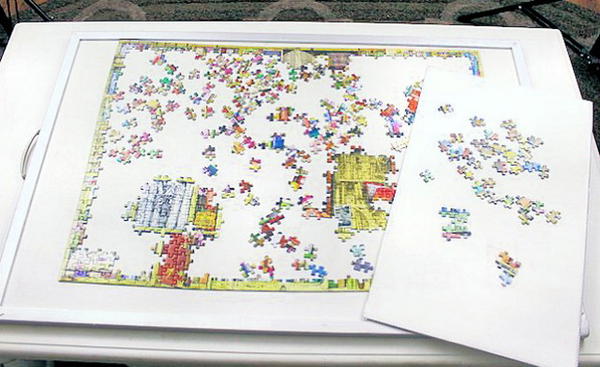 Transform your room into a colorful jigsaw puzzle with this DIY Jigsaw Puzzle Board. Follow these simple instructions, and you'll have a one-of-a-kind work of art that the whole family can enjoy. Show off your love of puzzles with this DIY jigsaw puzzle board. The DIY Jigsaw Puzzle Board is designed for professional and novice puzzle makers. It comes unassembled, so you can paint it any color or pattern using our easy-to-use templates. It's the perfect combination of art, design, and fun! You will be amazed at how easy it's to complete even the most complex puzzles!
How To Make A Puzzle Tray
This DIY project shows you how to create a puzzle tray with storage. This game is a creative game that will involve the whole family. The wood is easily available at any home improvement store. Make sure to have fun while you build your own puzzle tray because it's going to be very simple and easy! It has a built-in storage area that can hold a lot of gears, screws, and other small parts. This puzzle tray is a great addition to the family room. It has a large storage space while keeping small hands out of the way. With this puzzle tray, kids can have all their favorite books, puzzles, and toys in one spot. It's perfect for any home.
Easy Puzzle Board Idea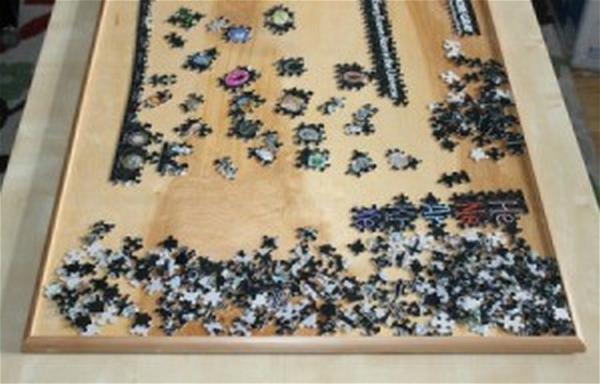 Puzzle boards are great for kids and adults alike. Sharpening your mind while improving hand-eye coordination are just some of the benefits of a puzzle board, but there are others. Puzzle boards are also a creative way to de-stress and calm down after a long day. This DIY puzzle board project provides a fun way to display, store and play with your favorite toys. If you're looking for an easy-to-make project that will add some pizzazz to your home decor, then the Puzzle Board is it! With an all-white base and beveled edges, this piece of furniture has a clean look that isn't too busy while still offering plenty of storage space.
Easy Puzzle Board With Drawers
Do-it-yourself is a great way to save time and money and keep your furniture unique. This homemade DIY puzzle board with drawers is a simple project that only takes a few hours. The woodworking plan focuses on building the case from scratch, cutting precise grooves for the drawer sections, and assembling it together in record time. This DIY puzzle board is a great project to keep your children busy and challenged. The puzzle board with drawers can be made by yourself, but if you don't have the right tools or materials, this project will take time to complete.
Portable Jigsaw Puzzle Board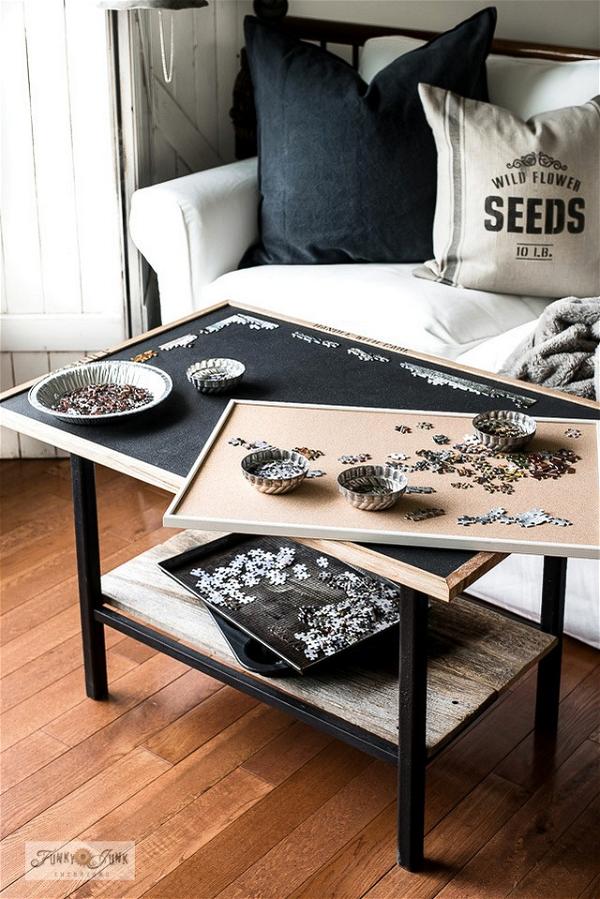 Showcase your favorite pictures and art by making this DIY Puzzle Board. It's a great centerpiece for any room and will get many compliments. The pre-made bulletin board, wooden closet dowels, and a few stencils are all you need to create this lovely display. With the DIY Puzzle Board, you can create unique designs and display them in your home. The process involves applying stencils to a pre-made bulletin board and reassembling the puzzle. It's long and complex but simple enough for anyone to understand. This project is perfect for elementary school students to work on as part of a class or with friends. It also adds greatly to any living room, office, or family room!
Puzzle Board Games Table Idea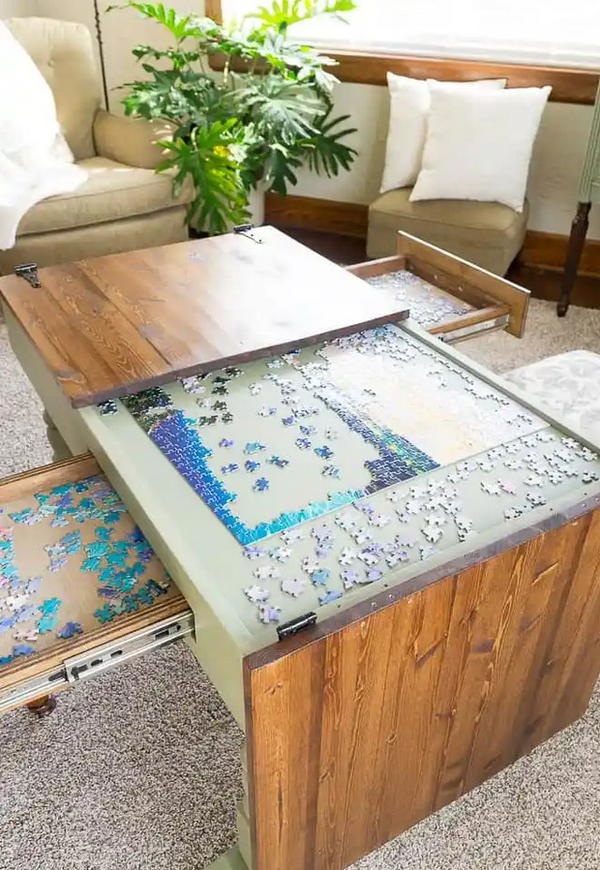 Looking for a great DIY puzzle table, your family can use as a game table? If you're an expert woodworker, this is just the worktable you want. With this guide, you'll also know how to build it. Make this DIY puzzle table for your kids. The best part about this is that you can make it with a few materials and not spend too much on it. You can use various tools to ensure everything fits just right and sits nicely on the table. This DIY Puzzle Game Table is great for any game room, whether in your basement or family. It includes a large surface area and clever puzzle-like design, providing limitless entertainment for all ages.
How To Make A 1000 Piece Puzzle Board
Create a 1000-piece puzzle board that's super-sized and ultra durable. The wooden frame molds to the shape of your puzzle, so it sits flush with the image on all sides, even when small pieces are missing. Glue your fabric over the frame, then turn it upside down to uncover a padded surface that will protect your puzzle. This is a perfect DIY project to make in your free time. You could maybe even learn something new about the world around you. Yep, you read that right! Make sure you have enough time and make this awesome board today!
Jigsaw Puzzle Table Plan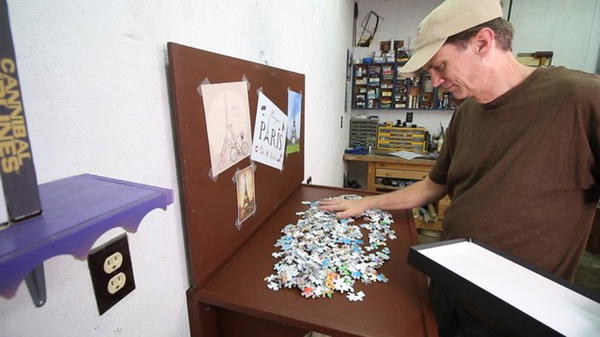 The DIY Jigsaw Puzzle Table is a drop-down puzzle table built from the most fun and comfortable materials - it's not just a jigsaw puzzle table; it's a cool desk for puzzles! It is made to fit any space thanks to its unique hinge system. The inspiration was to create an elegant design with style and comfort. This puzzle table fits perfectly in any room of your home or office. The puzzle table uses easy-to-clean materials that won't leave stains on your clothes. Enjoy every moment of your life with this creative and stylish puzzle table by simply dropping one end down and having access to everything at once!
DIY Puzzle Table Tutorial
Make something unique and useful for your home. Build this DIY wooden puzzle table, providing hours of fun for the whole family. This is an easy-to-build project that can be built with basic tools and a little bit of woodworking expertise. This DIY Puzzle table is a great project for you to do on your own and can be made in just a few hours. This table will provide hours of fun for kids and adults alike. Made from cardboard and drawer slides, it's cheap to build and sturdy. It's easy to put together and super fun to put puzzles on top of or use as an end table.
How To Make A Puzzle Tray At Home
This wooden puzzle tray is a cool project for kids and adults to try as a fun weekend project. The making process is quick and easy, with no complex design. A simple yet unique design makes this wood puzzle tray serve as more than just a piece of home decor; it also serves as a fun challenge to keep those minds stimulated. This puzzle tray is not only an excellent project to try when you are out of ideas, but it can also be a great decoration in your home. The materials and tools needed for this project are easy to find at local hardware stores, so you won't need to order anything online; just get started on making this DIY puzzle board!
DIY A Puzzle Board From Cardboard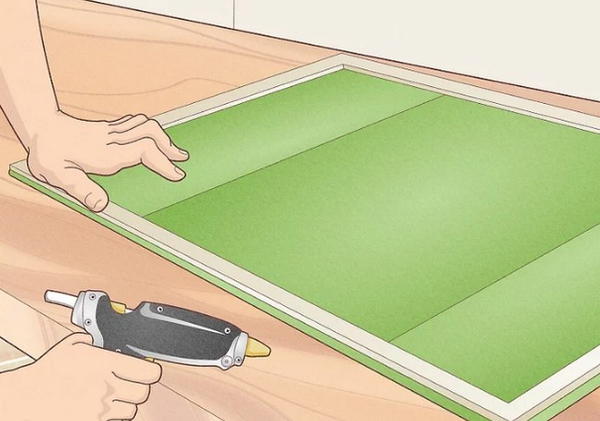 Do you want to get your family involved in a fun-filled project that's challenging yet simple enough for them to take on? This DIY Puzzle Board is the perfect way to do just that! Transform an old board into a DIY Puzzle Board with various puzzles. This crafty DIY project is great to do with the kids, but it's also an entertaining way for adults to pass the time. Creative challenges are never out of reach with this DIY puzzle board. Whether you're hanging it up in your office or the playroom, kids will love assembling the colorful wooden shapes into their personalized puzzles.
Simple Puzzle Board Tutorial
The DIY Simple Puzzle Board is a simple but fun project. It's easy to build, doesn't require many materials, and is cheap! This guide shows you how to make this fun cardboard game board in 3 simple steps. Start with a large cardboard box and PVC pipe, then cut and glue the parts together to make this an easy DIY puzzle board. You can complete this great and easy DIY project with minimal investment and effort. You'll impress your friends and family, and it's a great one to do with kids.
Best Puzzle Board To Make At Home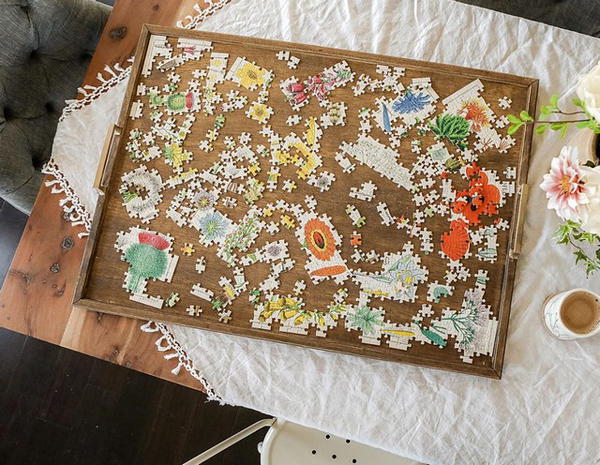 Learn how to make a DIY puzzle board that can be used as a game or decor. This DIY puzzle is easily customizable, making it easy to apply your favorite images, text, and more onto the wood boards. You can use this DIY project for holidays, creative activities, a child's room, or any room in your home. This DIY Puzzle Board is a perfect way to keep the kids entertained but can also be used as a unique coffee table and office accessory. The finished product is modern and would make a fantastic gift idea.