Do you have extra empty spaces in your room? Are you looking for some creative ideas to fill them up? If yes, then you've come to the right place! We will share 18 DIY Mirror Stand Ideas that are easy to make and useful for storing little things. The most beautiful element in your home is the mirror. The mirror can make your room look bigger than it is and brighter and cleaner. You can place the mirrors on your wall or above the dressing table. Mirrors are available in different shapes, sizes, and types. We have some exciting DIY mirror stand ideas if you want to give an original touch to your home décor.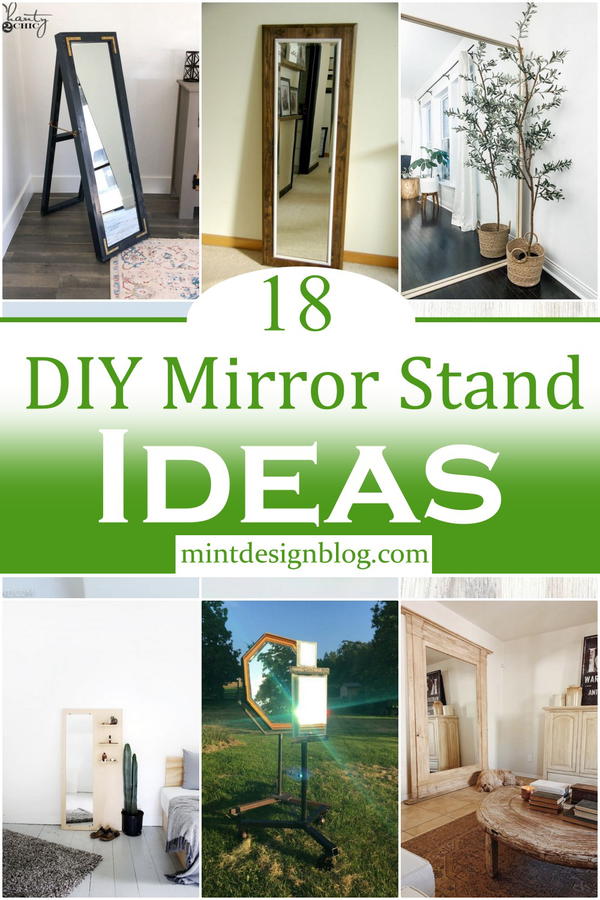 The mirror is one of the essential things in our daily life. Without the mirror, we will feel awkward and uncomfortable. The mirror is used for our makeup, dressing up, and other purposes like decoration and utility. If you want to make your room look more beautiful, you should choose a good mirror quality. However, if you have a big mirror, you must find an excellent way to store it in your bedroom or other rooms. Fortunately, many different DIY mirrors stand ideas that can help you keep your large mirror easily. Here are some examples of DIY mirror stands ideas.
Here are 18 DIY mirror stands ideas that will help you transform your simple mirror into an eye-catching decor piece.
How To Build A Free Standing Mirror
This video tutorial will show you how to build a free-standing mirror. The good thing about this project is that all you need are basic woodworking skills and tools. You can be sure that your unique DIY crafts look fabulous at home. For the frame to be free-standing, you need four essential parts: two vertical leg pieces for standing, two horizontal pieces, four pieces for the mirror frame, and one back piece. This easel mirror is a beautiful imaginary plan that comes out unique.
DIY Easel Mirror
Making your own DIY Easel Mirror is a creative, fun, and easy project that will save you hundreds of dollars on store-bought mirrors. The easy-to-follow illustrated instructions show you how to make a beautiful standing mirror using materials found around the house or purchased at a hardware store. Plus, it allows you to customize your design to reflect your own unique interests, style, and personality. You will be able to enjoy this valuable piece of art in your bathroom or bedroom.
DIY Mirror Stand
This full-length modern mirror is perfect for any room in your house. This do-it-yourself piece will give you a more polished look with its clean lines and simple design. It is easy to assemble, and the materials can be found at any home store or Home Depot. The wood pieces are cut to size, glued together, and sanded smooth. Then the frame is covered with primer and paint. The PVC pipe leg supports are secured to the underside of the frame, which gives it an industrial look.
Pallet Wood Mirror Stand
Want a mirror stand that fits your style and décor? Cut out the middle man and build your own! This DIY pallet wood mirror stand is the way to go if you have some pallet wood in your garage. After sawing it into pieces, you'll need to sand down the rough spots and glue them together. Once the glue dries, use wood screws to join everything together tightly. This can be an easy weekend project to give your home more style.
DIY Wooden Floor Mirror Stand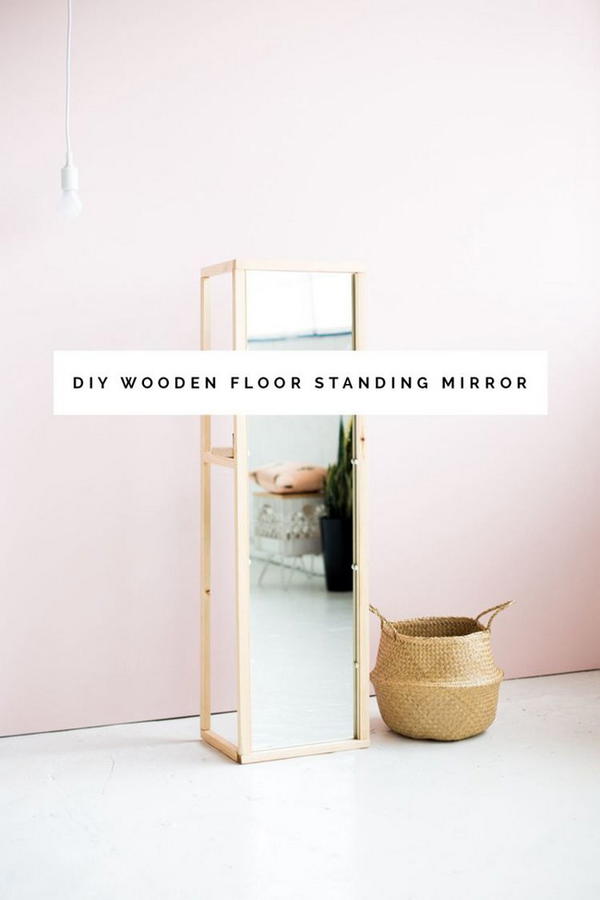 This great standing wooden floor mirror is the perfect piece of art to keep your mind calm and relaxed. It features a long shelf covered with framed mirror in front that can be dissected into many segments and used as storage space. Place it strategically in your room or studio to enjoy this eye-pleasing view. It is a stylish, sturdy, and unique piece of furniture that adds to the beauty of a room. This DIY project can be done quickly by any beginner or professional woodworker.
DIY Standing Mirror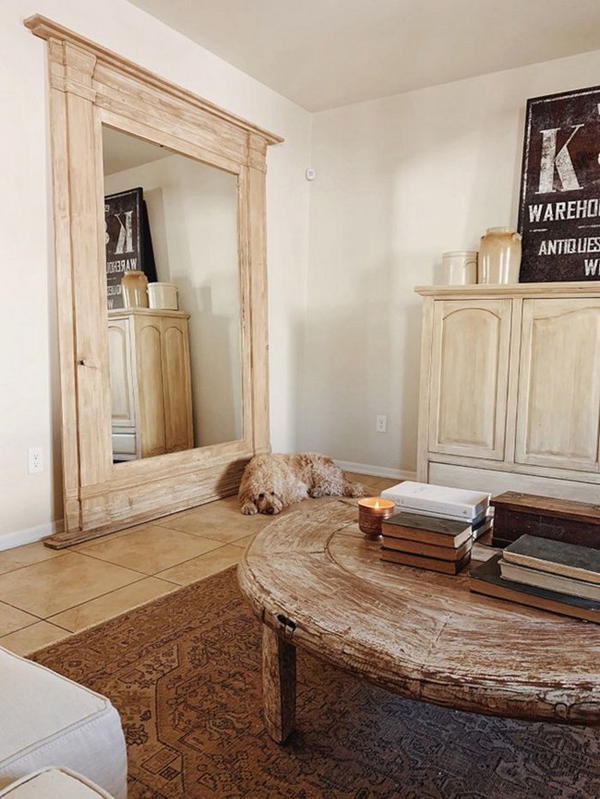 A mirror is much more than just a simple reflection; It's a focal point, an essential part of your bedroom and other rooms in your home. This easy-to join woodwork design is the main attraction since it uses pocket hole joinery. The technique will leave a sleek finish and can accommodate different types of joinery techniques in the woodwork design. It is a sturdy piece of furniture that adds to the beauty of a room in your house.
DIY Easel Mirror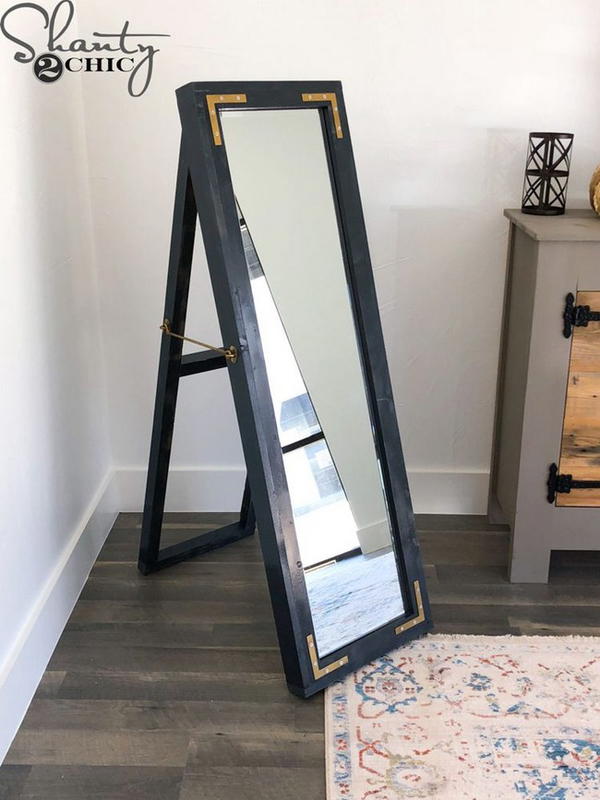 Create a modern DIY Easel Mirror with this free-standing, easy, and inexpensive mirror frame! The back piece serves as the leg attached to the top of the mirror frame with a metal bracket. The mirror frame is decorated with beautiful hardware painted in gold, while the mirror frame and its stand were painted in navy blue. The piece is simple yet stylish so that it will blend in easily with any existing furnishings or decorations. Don't let the small price tag fool you: this piece has the visual impact of something much more expensive! Use this guide to learn more.
DIY Floor Mirror Frame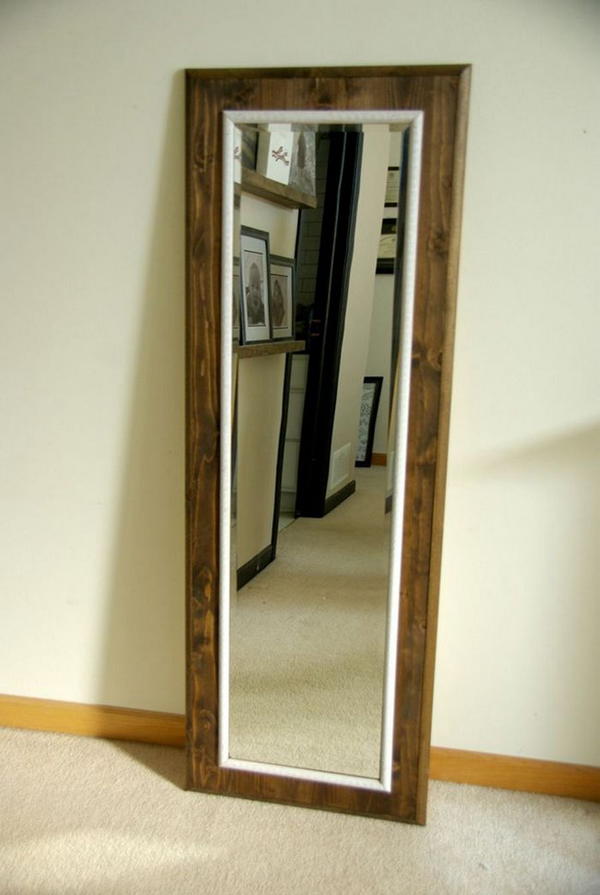 This DIY floor mirror frame is an excellent choice for your room if you're searching for ways to add charm to your walls. A simple framework made of pinewood provides the base for this project. Staining the wood gives it a rustic look that blends well with most. No need to worry about hammering nails into the wall since it's not attached; make sure it's stable and stand in front of it. You can give your room a nice makeover with this floor mirror frame that will surely attract other people's attention.
How To Make A DIY Mirror Stand
Do you want to make your own mirror stand? With this simple DIY mirror stand tutorial, you can save money on expensive floor mirror stands. All you need to make this DIY mirror stand is wood pieces, screws, a tape measure, wood glue, and sandpaper. Also, you can paint this mirror stand any color as long as it meets your needs. The tutorial will take you to step by step so you can get out together once you understand the concept.
How To Build A Floor Standing Mirror
This guide is about building a floor-standing mirror; Here, you will learn how to take the design of the stand and make it into a sturdy piece that can be used as a cloth hanger. You will also learn how to use the creation of this stand for other things, such as crucial hooks or coat hangers. Follow along with this instructor's easy steps and tips, and you'll have your own unique piece of home décor in no time!
Standing Mirror Console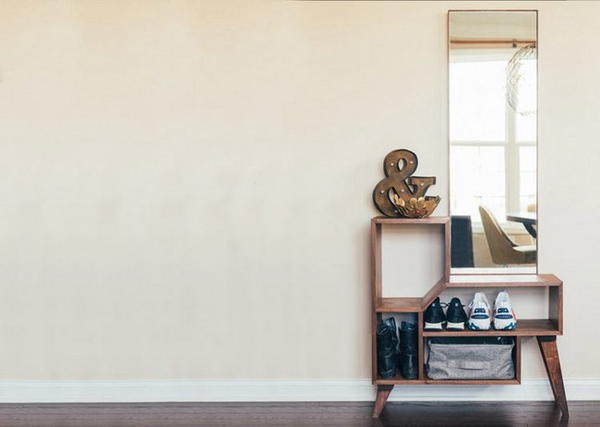 Have you ever wanted to have a standing mirror console in your living room? This is the right place where you can find the design of such a piece of furniture. This standing mirror console is functional and beautiful and made of walnut hardwood and walnut plywood. The shelves on it can be used to store some things like shoes, boots, small bags, and others. You can use this console as a guide to building one for yourself by following the instructions provided by the article.
How To Weld A Mirror Stand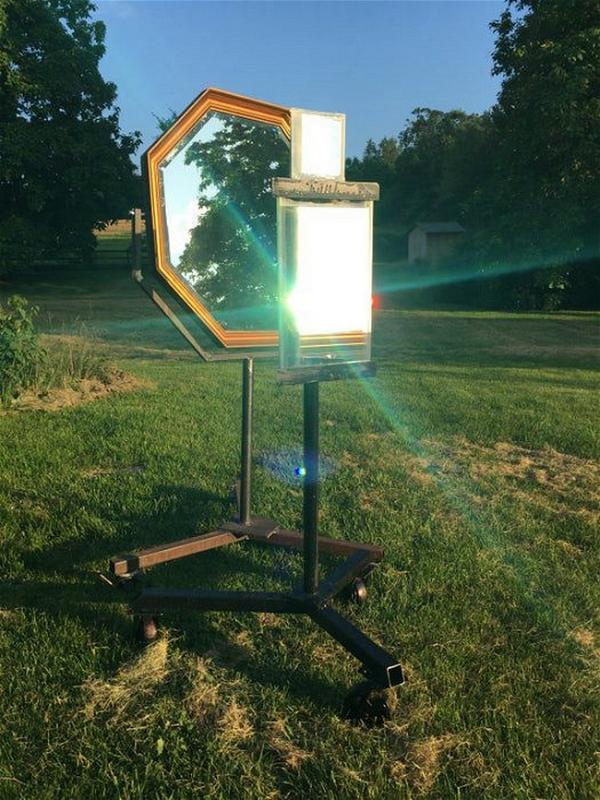 This guide teaches you how to make a solar mirror stand with just a few commonly used materials. It is simple and easy to make! This guide covers some safety precautions and gives tips on where to find the materials. Then it shows you step by step how easy it is to make one yourself! This can be used as a gift or part of your decorating scheme. A solar mirror stand is excellent for small mirrors like ones found in bathrooms and bedrooms, so they don't take up room on counters or tables.
DIY Mirror Stand With Cardboard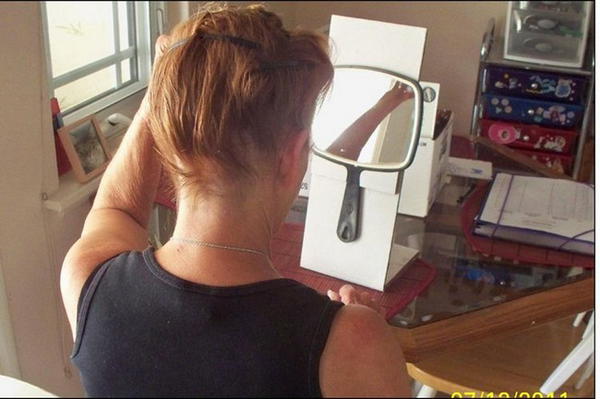 Making a mirror stand from cardboard is an excellent option for those who want to save the cost. Cardboard is a cheap material, and you can find it anywhere. Putting the cardboard box together is as simple as it seems. You will need to cut some cardboard pieces for the following parts; the stand support, the base for the stand, and the mirror holder. This sturdy mirror stand is made from cardboard, but don't let that fool you. It's very durable and has a clean, modern look, perfect for your bedroom or bathroom. The best part? It's easy to make and costs less than $15!
DIY Modern Floor Mirror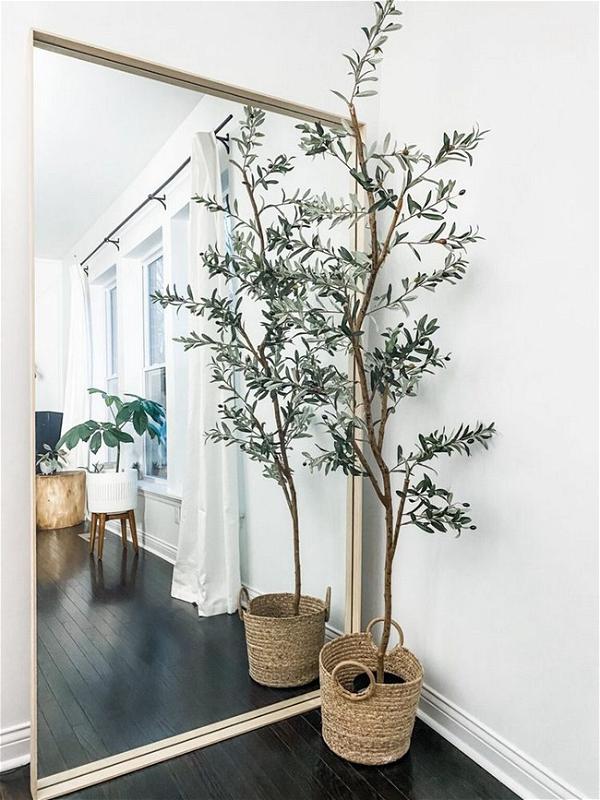 You can use a floor mirror to give any room in your house a modern appearance. The DIY Modern Floor Mirror is the perfect way to add light and dimension to your space with minimal effort. The bright white color makes it easy to match any decor and provides the elegant look you want from a classic piece of furniture. And since it's made by hand, no two mirrors are exactly alike - giving your décor an authentic feel.
DIY Mirror Frame
This DIY mirror frame is a great way to save some money on home décor. You can use mirrors of different sizes and combine them with different types of wood. Stain adds warmth, so choose your favorite shade and apply that to the wood pieces. This DIY mirror frame is a budget-friendly project that you can do yourself with minimal tools and materials. You can make the frame in any size by adding or subtracting the lumbering pieces. Apply stains and finish to suit your taste and room décor.
DIY Crystal Mirror
You are about to create a DIY Crystal Mirror. DIY is not just fun and creative, but it can be easy. The first thing we need to do is first to prepare the mirror back piece and attach it to the wooden stand. Then, glue the mirror to the back piece and decorate it with silver spray paint. After drying our artwork, apply small mirror tiles onto the frame's surface before attaching this beautiful ornament! This extraordinary project is perfect for decorating your stand and adding a warm glow to any space. It's even perfect as a gift idea!
Building A Mirror Stand
Are you looking for a way to display your good-looking mirror? The tutorial will teach you to make a simple DIY stand using a few wood pieces. The DIY mirror stand is part of a collection of projects that shows you how to build your own furniture. The project uses essential wood pieces found at any retail or online store and requires only crucial tools. This mirror stand can hold the weight of a heavy mirror and display it in your home for everyone to enjoy.
DIY Plywood Floor Mirror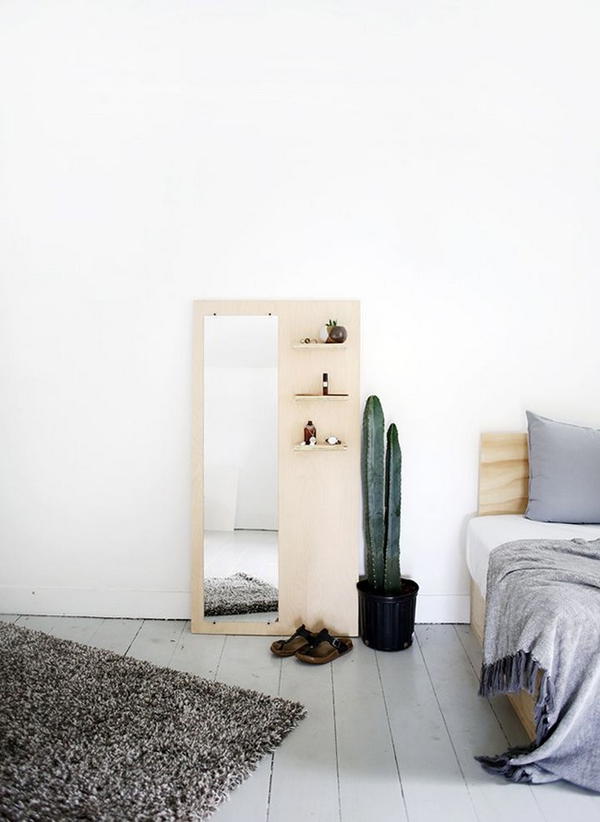 This mirror adds storage and style to your room, made from plywood and small wooden boards. The extended length by the sides serves as a shelf for keeping your accessories. Add some paint or stain to add more elegance and style to this DIY project! A plywood floor mirror is a great way to add storage space to your room. Attach some small wooden boards to the extended length of the wall-mounted mirror, and you have a shelf for keeping all your fashion accessories! It would be best to have some basic carpentry skills and tools, such as a saw and a drill.
See Other Projects