Wooden shelves are the best storage options; They come in different designs and styles, from which you can choose one or more that will fit your decor. Wooden shelves can be painted or stained, making them even more beautiful. There is almost an uncountable number of shelving options available online and offline. Still, we have collected the most trending and unique 25 DIY wooden shelves ideas for you in this article. Some of them are simple enough to make at home using standard tools and materials, and some projects require a bit of ex[erties. These ideas will help you create your own unique DIY wooden shelf projects with lesser effort, and these ideas are easy to follow and do not require much time or effort.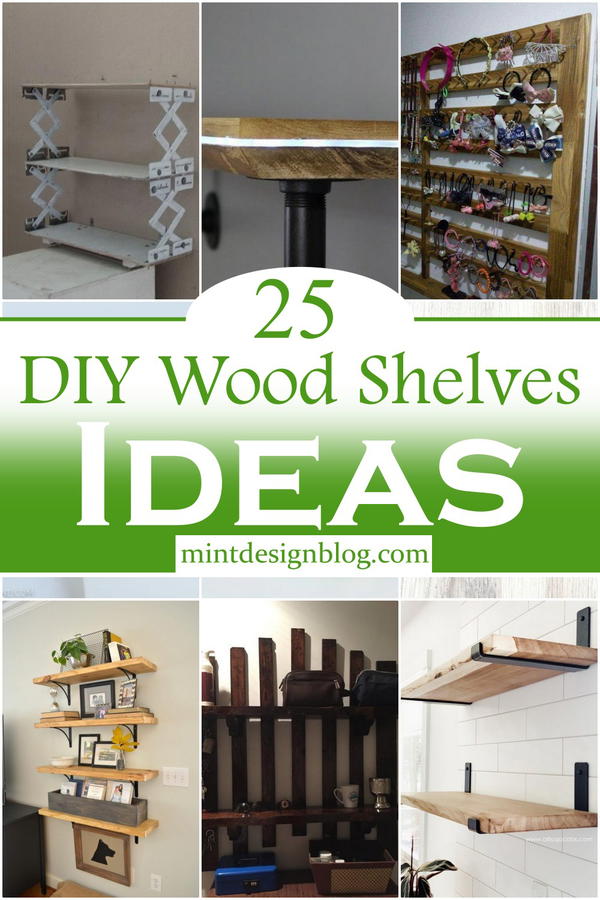 Our given wood shelves are the most beautiful and elegant shelving units; they come in different designs and shapes and can be used in any homeroom. You can use these wooden shelves to display items like books, plants, and photos. They also have a rustic vibe that makes them perfect for your kitchen or bathroom cabinets. The best thing about wooden shelves is that you can easily customize them according to your needs. You can paint, stain, or even leave them as natural; The possibilities are endless!
Here are 25 amazing DIY wood shelves that you can make yourself at home; most are very cheap and do not require any special skills! DIY wood shelves are useful and great and give any room a unique touch by displaying the useful items Impressively.
DIY Shed Shelves
Build DIY Shed Shelves to organize and store your garden tools and other items in the shed. This is a great project even if your friend or family member helps you make this; along with some additional shelving or racks, you will turn your shed into a place you want to work out instead of just keeping your lawn equipment. Watch this video tutorial to learn how to build simple wooden shelves for your shed so you can keep things organized and out of the dirt.
DIY Easy Floating Shelves
This project is for you if you're looking for easy-to-build floating shelves. These DIY floating shelves are an easy project that can be completed at the weekend. They can also be used or installed anywhere in a house, office, or business area. These DIY floating shelves are quick, easy, and cheap. The frames are built without using any brackets at all! They're just floating! Check more on this video guide to get the plans for free.
DIY Garage Shelves
A DIY garage shelf can be a great solution when you need to store something; This solution can work great for you if you have an overhead garage door. This homemade garage shelving unit can be built at the weekend and offers excellent storage space at an affordable price. Assembling this whole project only takes a couple of hours, so if you need some extra storage space, follow the video and free building plan to assist you if you intend on working with this guide.
Easy Floating Shelves DIY
Building a floating shelf is a great way to use unused space in your house while also having a stylish and elegant look that can work with any décor. This floating shelf is excellent for building something that doesn't take up too much space and looks fantastic in any room. It is a super easy woodworking project that you can complete quickly. The tools needed are simple, and the materials are easy to find. Follow the steps in this video to build your own Floating Shelves DIY.
DIY Wood Shelf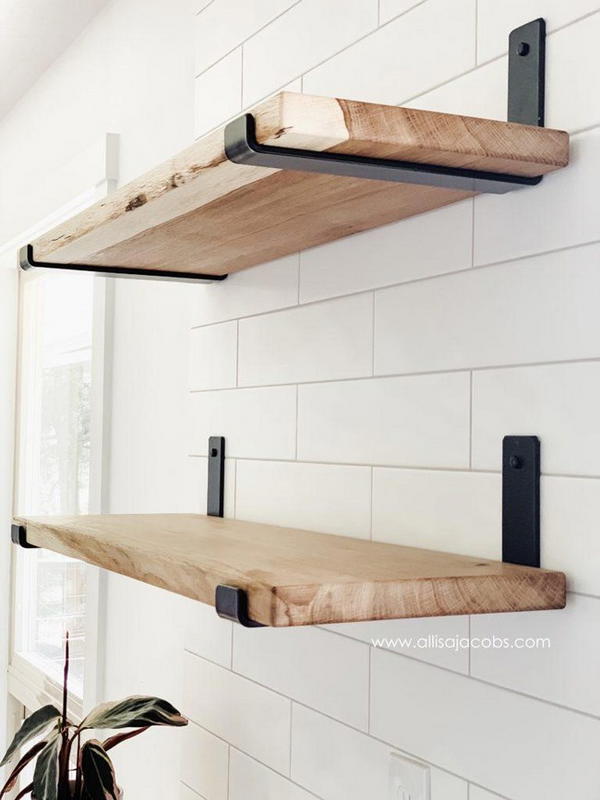 This DIY wood shelf is perfect for your kitchen or other small spaces. You can easily see the wood grain and the metal hardware used to mount the brackets. This DIY wood shelf is also a great idea to decorate your room and make it look perfect. This simple design can place some books or small accessories and even as a photo frame stand. This gives an entirely different look to your old boring wall. This super easy to mount project is affordable and durable and will make you happy every time you walk by!
DIY Rustic Wood Shelves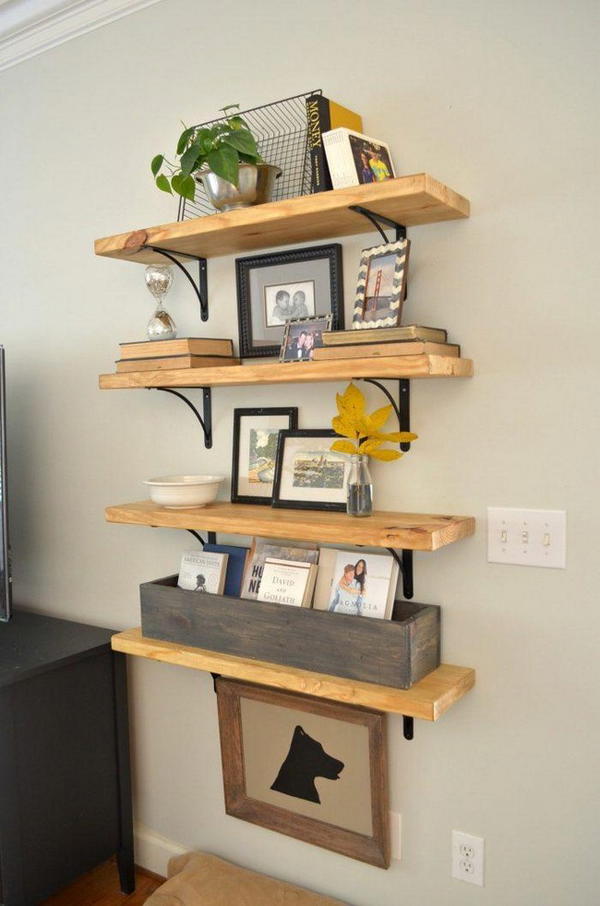 If you like to read and love to decorate simultaneously, build your own DIY rustic wood shelves. These are very simple to make with just a few items that you probably already have around the house, like pinewood boards, three metal brackets, and some antiquing wax. Follow the steps carefully in this guide to create one unique rustic bookcase that would fit well in any room of your house.
DIY Wooden Shelf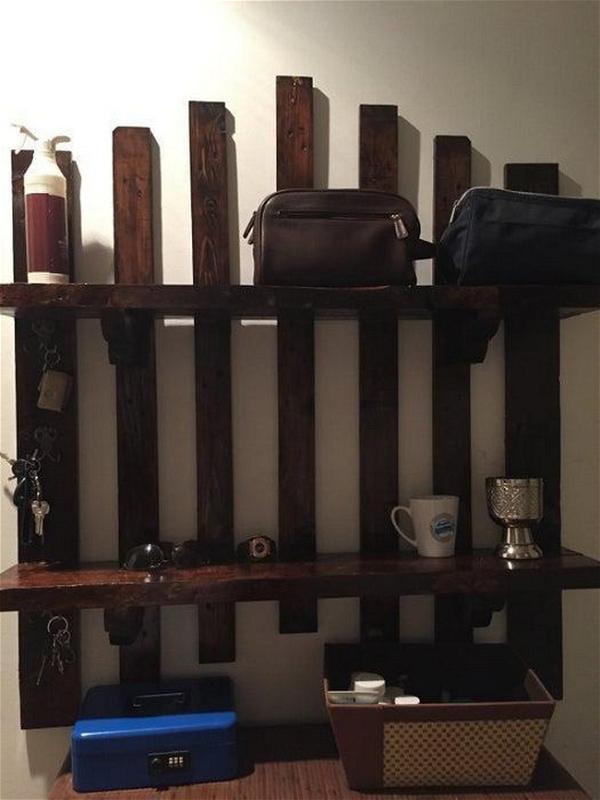 DIY Wooden Shelf is a fun project that can be done quickly. All you need is to assemble the pieces of wood, stain or paint them; then, you'll have yourself a lovely and helpful shelf. This wood shelf is super easy to make, and you can use it as a decorative piece in your kitchen or living room; it's also very cost-effective, with little to no cost required to buy anything other than the wood pieces. This guide shows you the complete instructions.
DIY Color Changing Wood Shelf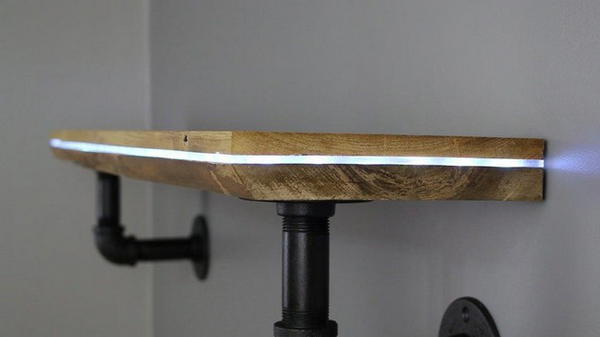 Make your beautiful DIY Color Changing Wood Shelf; this gorgeous wood shelf with a color-changing light inside the wood will bring a unique touch to your home. Assemble it as a nightlight or accent lighting for your room or office desk. The woodwork is easy and fun! This DIY project will also impress your friends and house guests. The light inside the wood changes color, creating a glowing effect that is guaranteed to enliven your interior space. It provides a fantastic atmosphere and can be controlled manually or remotely with a small infrared LED strip.
DIY Wooden Organizer
This DIY Wooden Organizer is a great way to store your stuff; Its shelves are made of wood, some metal brackets, and a steel pipe. This shelf comes with a door on the front, hiding what you don't want prying eyes to see. You can do this DIY project in a few hours, and it will come out looking pretty awesome. It uses some basic materials and tools, but the result is worth the effort. Watch this video to learn more!
DIY Wooden Pantry Shelving
Building a DIY Pantry Shelf is fun and easy; it's great for any home and the perfect way to increase your storage space while adding style to your kitchen or pantry area. This is helpful if you have a lot of things to keep and organize in your pantry, but it is tough to find them when they are all mixed up. By watching this video tutorial, you can create the best shelf that allows you to keep and organize everything properly.
DIY Wooden Farmhouse Shelves
If you love the look of farmhouse shelves but aren't willing to pay a ton of money for something similar, this tutorial is perfect. You can make your own DIY wooden farmhouse shelves of any size. This particular type of DIY project is called a pinewood shelf because they are made out of 1x8x6 pine boards. This step-by-step video tutorial will help you learn how to make a beautiful shelf that can be used anywhere in the house or outside.
DIY Floating Shelves With Wood
This DIY floating shelf is easy to make and a great way to add extra storage space to your home. You can store books and other smaller items on this shelf because its front is clear. Floating shelves made of wood are great ways to organize your stuff and make your room aesthetically pleasing. These shelves are solid and durable, so that they can hold quite a lot of weight. The best part is that you don't need to use any tools or glue to put these together.
DIY Easy Wood Shelf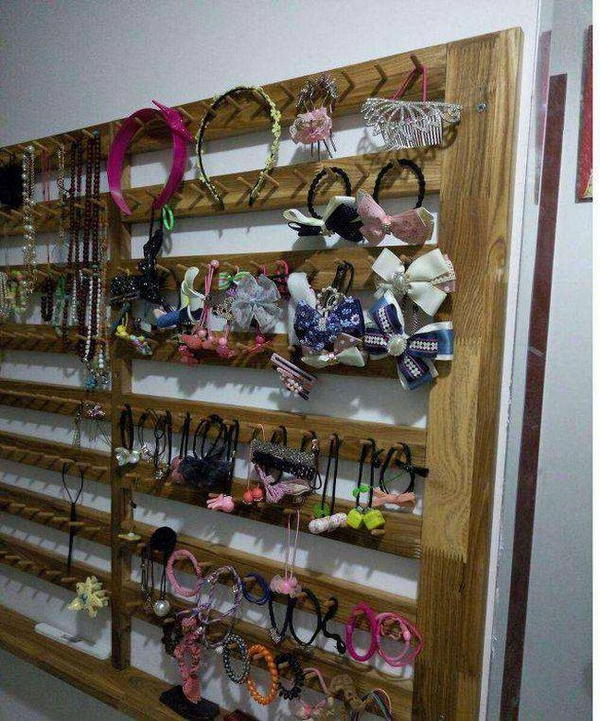 This DIY Easy Wood Shelf is perfect for any room in the house, It's not so big, but it's spacious enough to store some items you need every day. If you are looking for storage space and an attractive piece of home decor, this is a great option! This guide will help you build one in no time. It will save space, and it's simple to make. The only challenge is to spend the time making it happen.
DIY Whiskey Wooden Shelf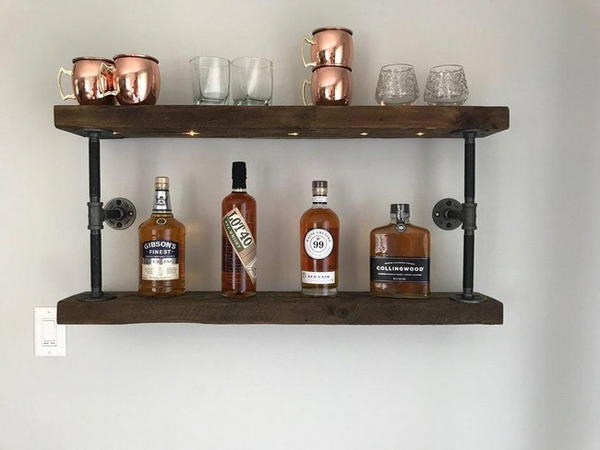 This whiskey shelf is quite creative, and it's super easy to build. You don't need any fancy tools, just 15 minutes and a few household items. With the sleek wooden design, it'll be a fabulous addition to your home bar. The challenging part of this DIY project is getting the wood pieces cut to size, which you have to concentrate on. Then it's just 15 steps, and you're finished! This guide includes step-by-step instructions and complete procedures; go through this to learn more.
DIY Scrap Wood Shelf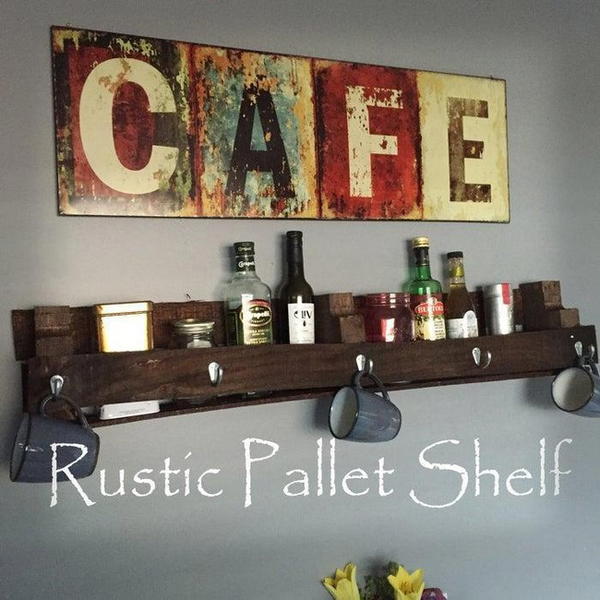 DIY your first perfect rustic pallet shelf; this simple project requires only a few items, which most of you probably have lying around the house. With just some simple steps, you'll have a place to put your books and knick-knacks as charming as it is functional. This pallet wood shelf is perfect for any rustic décor. Plus, it's easy enough even your kids could make it! You have required some essential tools and a few supplies, and this project could be completed without a trip to the store.
DIY Collapsible Wooden Shelf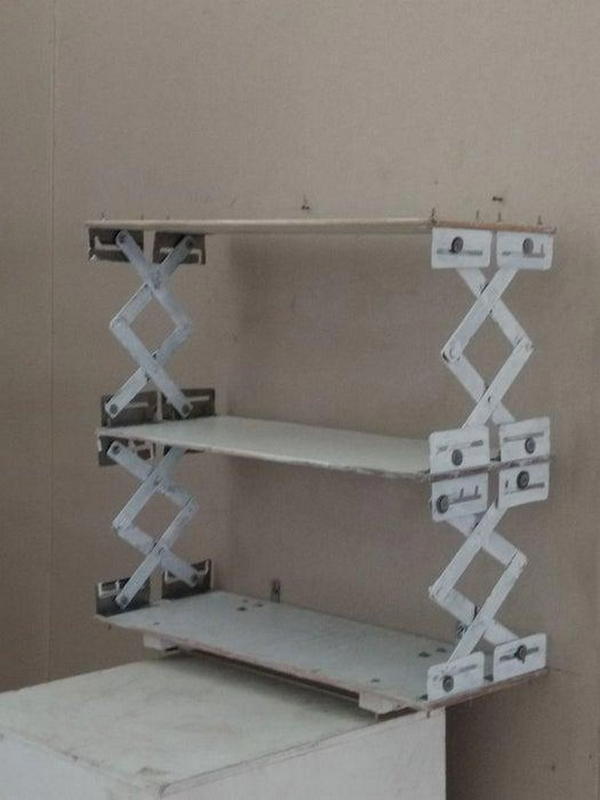 Are you on the hunt for a fancy-looking yet very functional shelf? If so, this is the perfect project to try. The design looks great, and it can be built from old scraps of wood that you don't mind cutting up. With a little bit of patience and challenging coursework, you'll have a great-looking sturdy shelf for your home. Here is a sweet guide that will help you achieve that dream. The design looks great, and the woodwork doesn't look finished. If you're an expert woodworker, you can develop something better.
DIY Shelving Unit From Wood
This DIY wooden shelving unit can be constructed from wood, and it is simple and easy to build. You can build it in a garage, office, and wherever you want. This video guide has building plans that you can use to make one easily. You will only require hands, so you don't need to spend money on anything else; it's an interesting DIY project that everyone should know how to do.
DIY Plywood Shelves
Plywood Shelves are easy to build and can be used as stylish home accent pieces, media holders, or shoe storage systems. Design your shelf, remember the plans, and start! Anybody can build these tremendous DIY plywood shelves. It uses only a hardwood board and some screws to hang it together. They're effortless to make, and they stand 5 feet high! This video tutorial teaches you how to build a creative shelf, and it's easy to follow step-by-step instructions.
How To Build Garage Shelving With Wood
Building a wooden garage shelf is a good idea and a valuable and excellent project for beginner-level woodworkers. This video takes you step-by-step through building this shelving system, from wood selection to construction. With this video guide, you'll be able to make your wooden garage shelf in no time. The things you need are some creativity and the right tools.
DIY Wall Shelves With Wood
DIY Wall Shelves With Wood idea can come in handy when you have ample wall space and have no idea what to do with it. The concept is super easy; it's pretty cheap and can be built at an affordable price. All you need are the following: a wooden shelf, screws, and so on. This video teaches you how to install wood wall shelves quickly and cheaply. You can do this by yourself in just a couple of hours, even if you're not very handy around the house. This video shows step-by-step how to get professional results with a minimum of effort.
DIY Simple Wood Shelves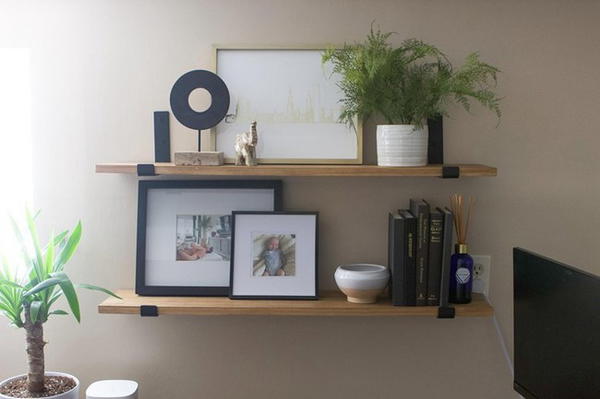 Making a wooden shelf is a great way to store your stuff and show off your skills with carpentry. It's also something you can quickly build in one afternoon with a few simple tools and some scrap wood lying around. You'll also be able to customize the size of this shelf, so it will fit perfectly on your wall and store everything you need it to hold. Go through this guide from which you will learn how to make it easy even at home.
DIY Wood Shelving Wall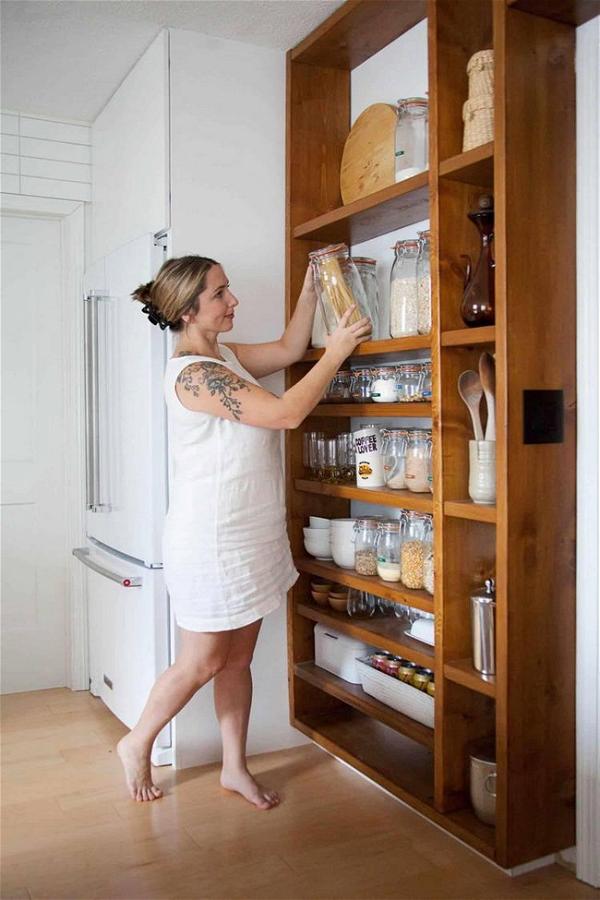 DIY Wood Shelving Wall is a super easy to construct, durable, and sturdy thing that you can either put in the house or the office. It's super tall and quite wide enough to occupy your room space. Build yourself a sturdy DIY wood shelving wall to organize your stuff and tie the room together. This tall wooden shelf holds plenty of things and is simple enough for anyone to build. The frame stands on another base, so it's strong enough to keep a lot of weight.
DIY Wood Shelves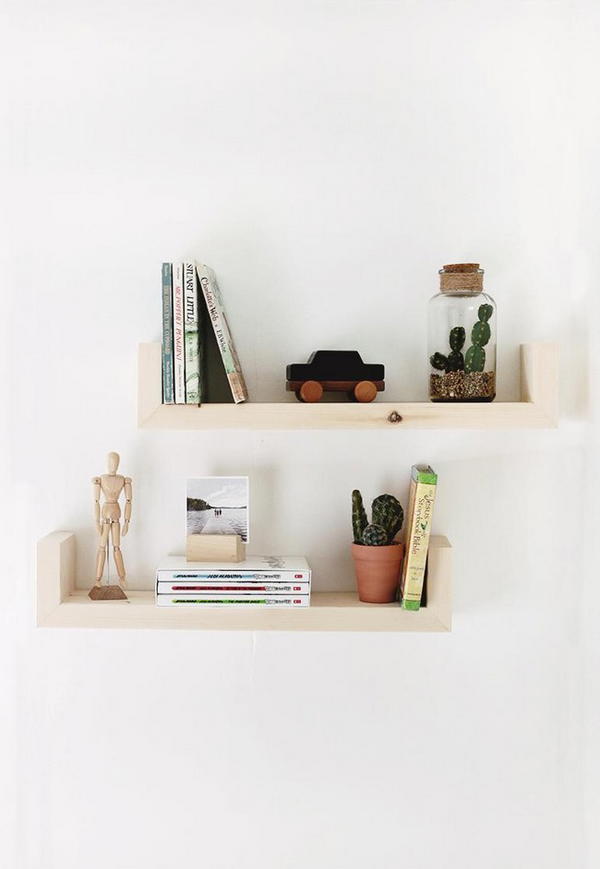 This DIY wood shelf is the most stylish because its attractive color matches the wall, making it a camouflage wooden shelf. This hanging shelf can be kept in any room and contain many things like books, vases, and other decorative things. This is an easy project that you can make with your own hands and items you have at home. It takes you a few minutes to make, and it's a great way to recycle old pieces of wood.
How to Create DIY Wood and Leather-Strap Shelving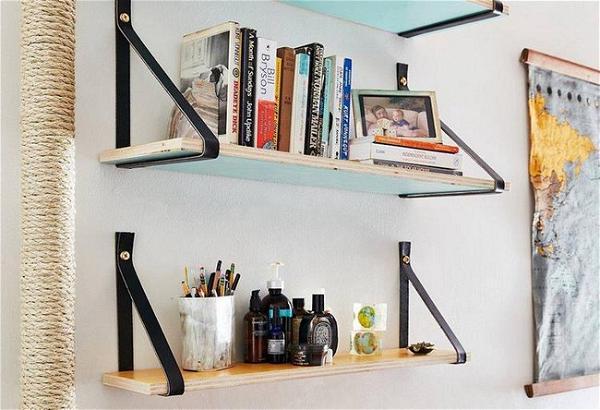 This is an easy DIY product for the home; You will undoubtedly love it when you have the shelves on your wall. You have to take your time to plan and make sure that everything is ready before you start to work on the project. This DIY project also helps you save space and be decorative at the same time. The simple design of this wall shelf will fit in almost any interior. This guide shows you the complete procedure.
DIY Triangle Shelves
The triangle shelf is an excellent design and super easy to make. It's a hanging shelf, which makes it even better, with a new and improved modern look, perfect for a small living room space, and it won't cost you much more than buying a premade one. The result will be worth it, though! with this easy tutorial, you can make a wood shelf with a triangle shape in one day. If your bookshelf is too tiny for your stuff or you don't have enough space, this DIY triangle shelf could be a fabulous solution to your problem.