Building a ladder shelf is a great way to maximize the storage space in your home, apartment, or dorm room. Not only does it take up less physical space than pretty much any other shelf design, but it also offers much more room for anything you want to put on it. Here are some detailed and easy-to-follow DIY ladder shelf plans for you to create a stylish and sturdy storage shelf for your home, garage, or workspace. Building a ladder shelf can be a great DIY project and the results are always stunning. Plus, with the right plans and a few hours of work, you can put together a stylish handy set of shelves that can be used in any room of your home or garden. But what really sets these shelves apart is their ability to store items vertically.
DIY Ladder Shelf Plans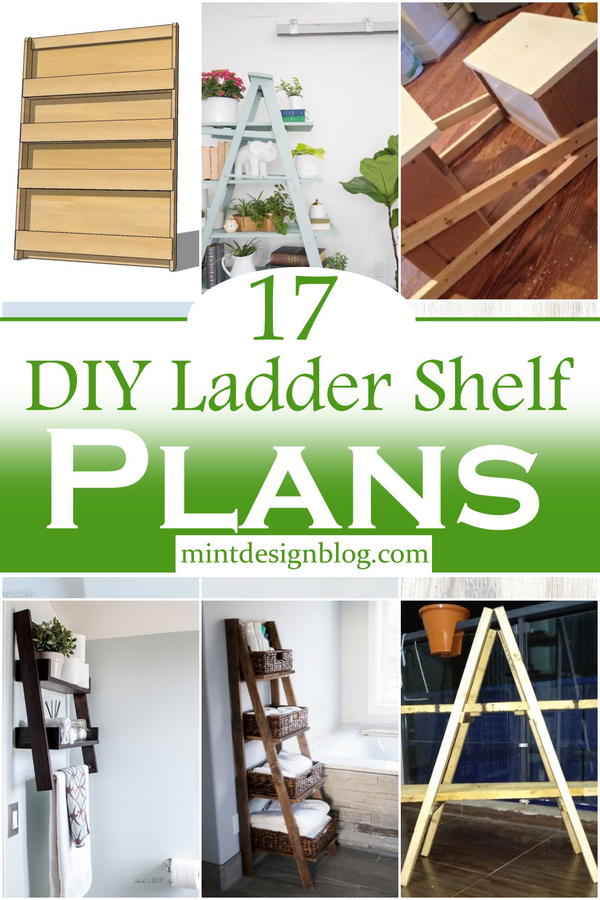 Most shelves you buy or build will store your items horizontally, spilling out into the floor space that could otherwise be used for something else. But ladder shelves turn this on its head by making it easy to store items on the wall itself. This makes it much easier to get rid of clutter and maximize storage space. We're going to take a look at some of the best free plans for DIY ladder shelf projects you can build today. All you need are some basic tools and supplies, plus a little time and patience, then you'll be able to build your own customized ladder shelf system in no time at all!
Looking for instructions on how to build a ladder shelf? Browse through 25 different DIY ladder shelf plans with storage underneath, including picture ledges and armoires that convert into shelves.
Ladder Shelves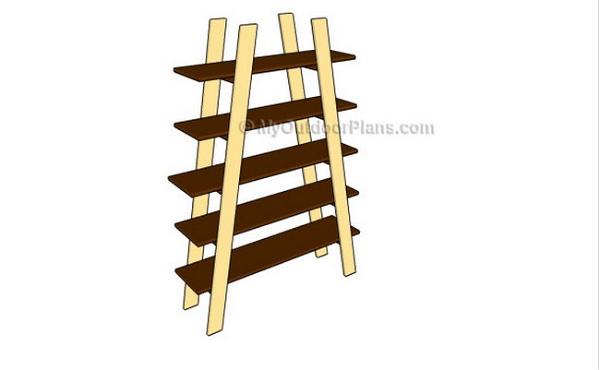 Looking to add more storage space to your basement or cellar? Want a shelf you don't have to screw into the wall? Try these ladder shelves! They work great in laundry rooms, entryways—basically any place that allows space to store longer lengths. Ladder shelves are a versatile and space-efficient take on home storage. We decided to turn this conception on its head, building two equally tall ladders (instead of one ladder attached to the wall and the other propped on top) and arranging the shelves in between. Once the ladder shelves are complete, you'll be able to use them for storing many different items. You can get creative with paint and stain, or even add baskets for some added style.
Skill Level: Easy
Materials: Boards, screws
Tools Needed: Saw, screwdriver
Wooden Ladder Shelf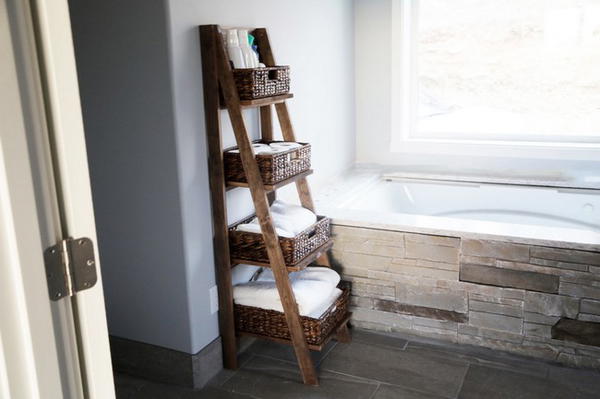 These plans are for a basic single ladder shelf that can go just about anywhere. This plan will give you a modern and stylish shelf that brings attention to your fireplace or mantel. It will fit almost any decor and is easy to build. The shelf will also come in handy well beyond the holiday season, helping you to stay organized with books, knick-knacks, and other items. These wooden ladder bookshelf plans come with clear instructions and detailed illustrations.   The design that these plans offer allows for a variety of shelves, and the simple construction is perfect for beginners who want to get their feet wet in carpentry. They're well-detailed plans with precise angles and measurements. It would make for a great beginner project!
Skill Level: Easy
Materials: Boards, pocket hole screws, brad nails, or staples
Tools Needed: Saw, screwdriver, jigsaw
Floating Bathroom Ladder Shelf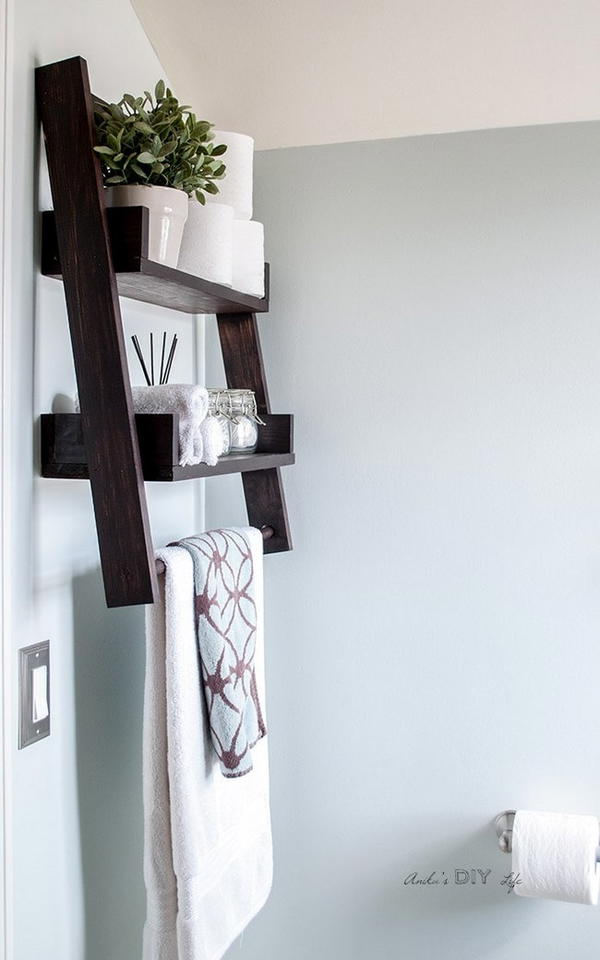 Your bathroom is missing something. The floating ladder shelf adds a new element of style while still retaining its practical use. Adding a vintage feel, the shelf can be hung from a beam in an exposed space. This floating bathroom shelf is a great way to store and display your personal items in the bathroom without taking up too much space. The ladder design creates a new, high-class look and it's easy to build. Constructed from old wood and salvaged lumber, this shelf can store quite a bit. Plus, the shelves add space for towels and linens. The shelf keeps items off the floor, out of the way, and within reach. It's the perfect solution for organizing a small space that needs even more storage.
Skill Level: hard
Materials:
Lumber
wood glue
 finish nails
Paint or Wood stain
Tools Needed:
Miter saw
Orbital sander
brad nailer
Saw,
screwdriver
Mini DIY Ladder Shelf from Pallet Plank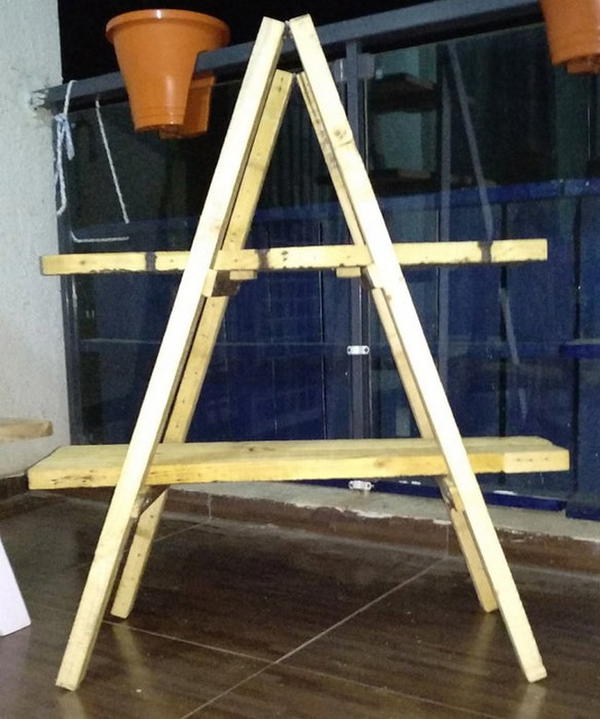 Are you looking for a DIY ladder shelf? Have an old pallet that you want to repurpose into an outdoor shelf? This small DIY ladder shelf is perfect for outdoor plans. It will complement your garden, window seat, or deck without taking over any of the space. The smaller size also makes it easy to carry around if you want to move it out of the way. Another great thing about this small shelf is you can use leftover pallet planks and create something absolutely extraordinary. Attach it to a wall, a fence, or even the side of your house for storage. It's a great way to add some charm and character to your garden landscape.
Skill Level: Easy
Materials: planks for making shelves.hinges as per the legs widthSpare wood or planks
Tools Needed:  Screws, screwdriver, Drill, Sander, paint
mini ladder shelf from Instructables
Ladder Bookshelf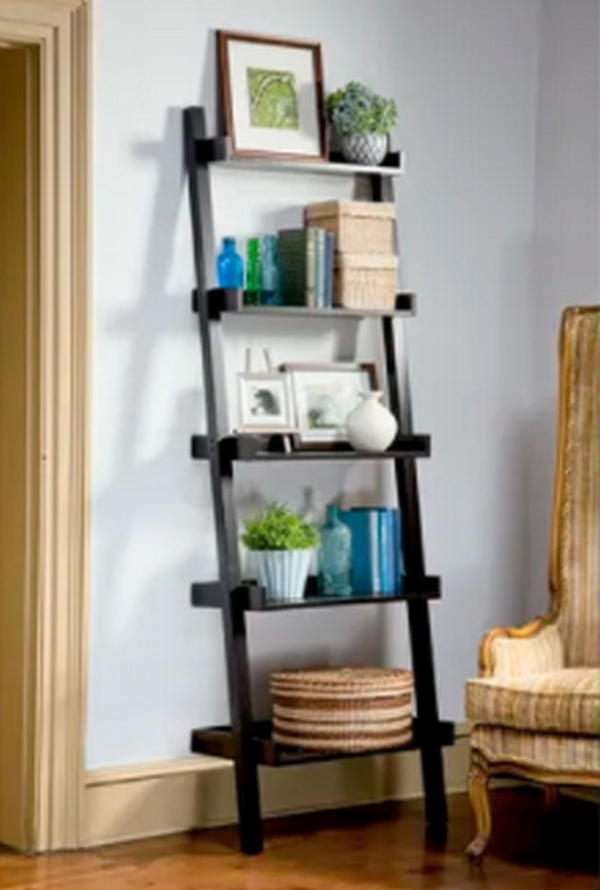 You will love the rustic appeal of this Old House Ladder Bookshelf. With shelves and straightforward joinery, this piece makes a great addition to any traditional space. It is a solid and attractive addition to any room in your house. The ladder shelf is a work of art. It's simple, sturdy, and elegant, and useful. This maximizes its stability while minimizing the amount of space it takes up.
Ladder bookshelf is perfect for any wall, big or small. The ladder shelf is made out of walnut, with a dark finish, and is adjustable to any height. It comes with complete instructions and hardware and only takes a few hours to build it. A beautiful addition to a walk-in closet or entryway, the Old House Ladder provides easily accessible storage for any decor piece or any accessory. Miter cuts are the most intimidating part of any project, especially when piecing together a complex shape like this one
Skill Level: Easy
Materials: Boards, screws
Tools Needed: Saw, screwdriver
DIY Ladder Shelf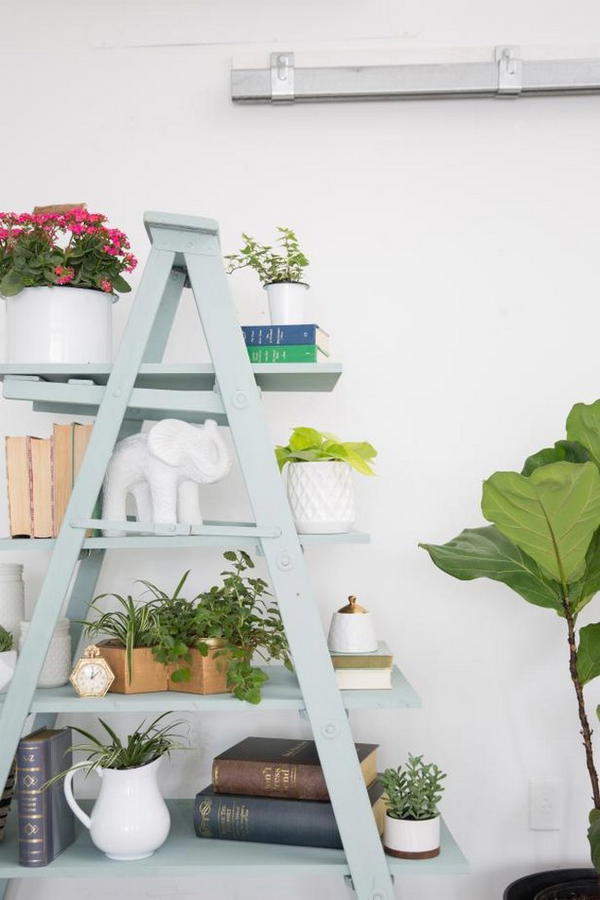 This ladder shelf is the perfect storage solution – whether inside or out. Repurpose an old wooden ladder by adding a few shelves and you can create extra storage space anywhere you need it. This ladder shelf is such a great example of using something you already have, and not letting it go to waste. This is a project that can be done in an afternoon with just a few materials, so don't let that old wooden ladder you have lying around tumble into the trash. Use it to create a unique ladder shelf that brings a functional addition to your home décor. Most of the materials are pretty easy to find and most importantly you can customize the look that works for you!
Skill Level: Easy
Materials: Boards, screws
Tools Needed: Saw, screwdriver, paint spray
DIY Ladder Shelf with Drawers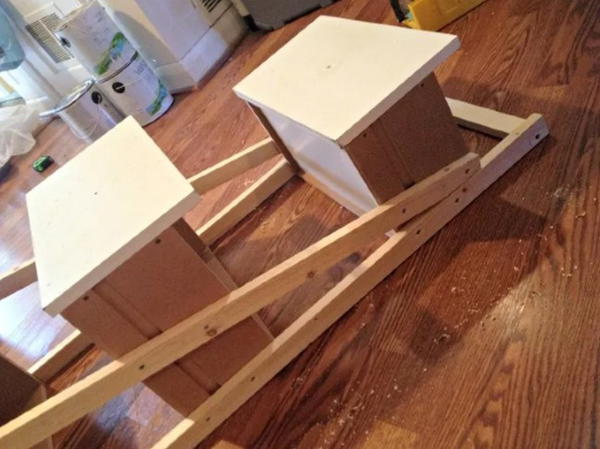 Recycle unwanted or unused drawers and create a ladder shelf with drawers. As most of us have drawers that have one or two pairs of jeans that just won't fit or won't fit right, instead of letting them sit in a drawer where they can't be seen and forgotten, find a way to make use of the extra space. This DIY furniture project is one that is completely customizable. You're free to build it in any shape, size, or height you choose. With a few tools and supplies, you can even build a laundry basket for the bottom of your ladder shelf. Assemble this reproduction dresser shelf and add it to your home today!
Skill Level: Easy
Materials: Boards, screws
Tools Needed: Saw, screwdriver, drill
8. Ladder Bookshelf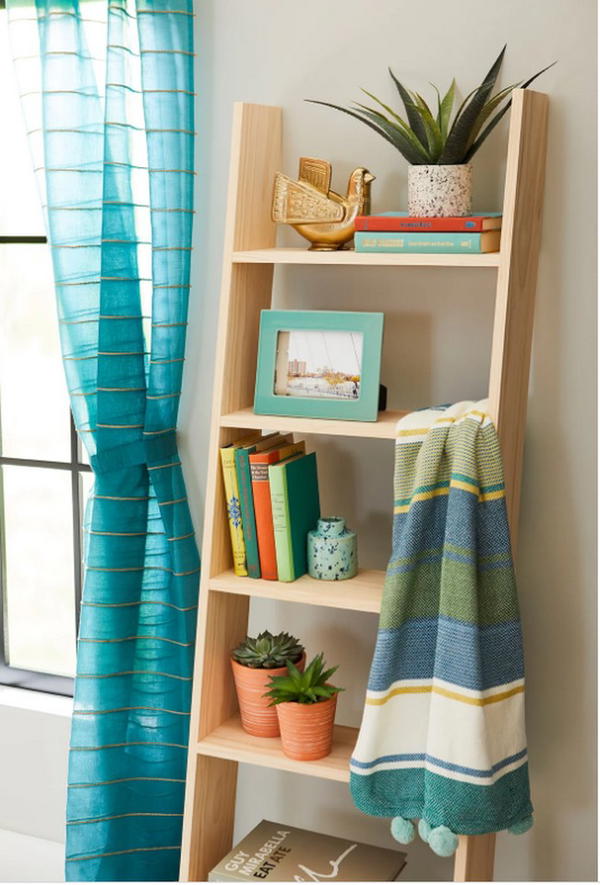 Have you ever wished that your bookshelf could be a little higher? And have you ever wanted to combine your bookshelf with a ladder? This secret ladder bookshelf is the perfect solution! Get rid of that old lamp or bookcase and make some room on the walls with this ingenious shelf ladder, By building the bookshelf out of plywood, this ladder looks like it's always been there. This bookshelf has a simple, modern, and stylish look that will look good almost anywhere in your home. It will also add an unexpected level of custom decorating to otherwise boring areas of your house. If you have the tools, time, and patience, you can build this amazing bookshelf today! It's made from kitschy old wooden ladders that would normally end up in a dumpster!
Skill Level: Easy
Materials:
Tools Needed:
ladder bookshelf from Better Homes and Gardens
Book or Magazine Ladder Shelf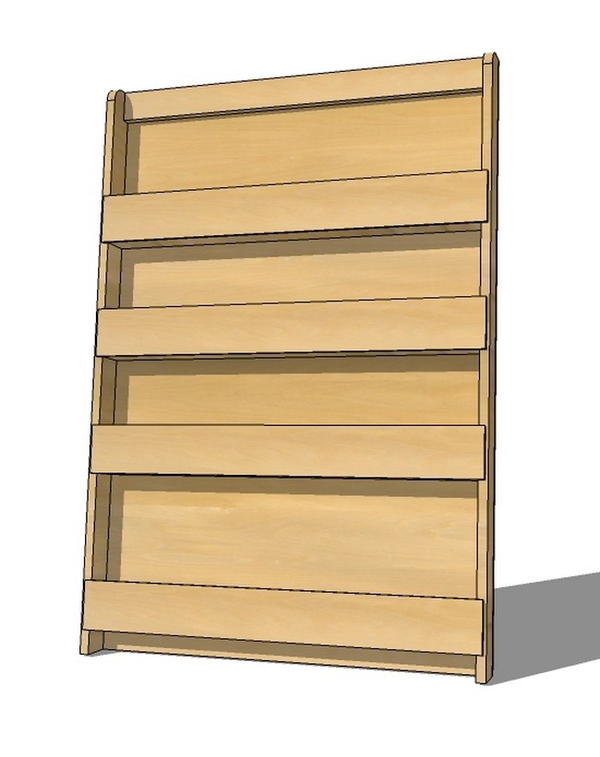 This bookshelf is a thoughtful addition to your library. Its five shelves are perfect for holding books of varying thicknesses, or for storing magazines. The particular design presented here is borrowed from libraries and works well to hold volumes of most shapes and sizes. Get your hands on the plans for this handsome shelf, and start organizing! It's based on the display shelves you often see in the library stacks, with a little more style to make them fit into most decorating schemes. This magazine ladder shelf is easy to build with a few manufactured pieces pre-cut to size. Build your own library ladder shelf to hold books and magazines. Ideal for offbeat decorating ideas in small spaces, this book/magazine storage shelf not only saves you space but also keeps them in place.
Skill Level: Easy
Materials:

 screws

finish nails

finish nails

Pocket Hole Screws

Elmer's Wood Glue

Elmer's Wood Filler

sandpaper

Plywood or Hardboard,

Tools Needed:
magazine ladder shelf from Ana White.
10. Towel Ladder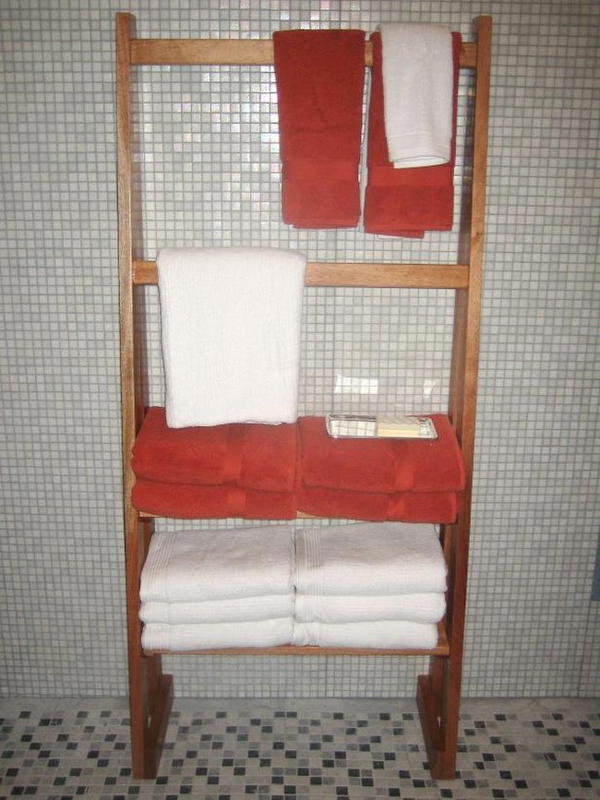 This trusty towel ladder provides a convenient and beautiful way to store and display your towels. Using the included towel bar, it hangs near the hooks on your bathroom wall. This handy storage ladder presents a beautiful way to store and hang your towels and other things you wish to display. It requires no tools to install. The padded step can be removed and is also great for extra seating. Its small size fits in any bathroom, providing an alternative to bulky furniture, while still providing the same amount of storage. Made of solid rubberwood, this handsome accessory blends in with all decorating styles so you can bring style to your bathroom without adding any clutter!
Skill Level: Easy
Materials:
 plywood to make a template
mahogany
mahogany plywood
pin nailer and pin nails
wood glue
screw gun, pocket screws
Tools Needed:
sander and sandpaper
screw gun and a pocket jig
wood putty
polyurethane, paintbrushes, and rags
table saw, miter saw, and a router
speed square and measuring tape
guided circular saw
drill bit
clamps
DIY Ladder Shelf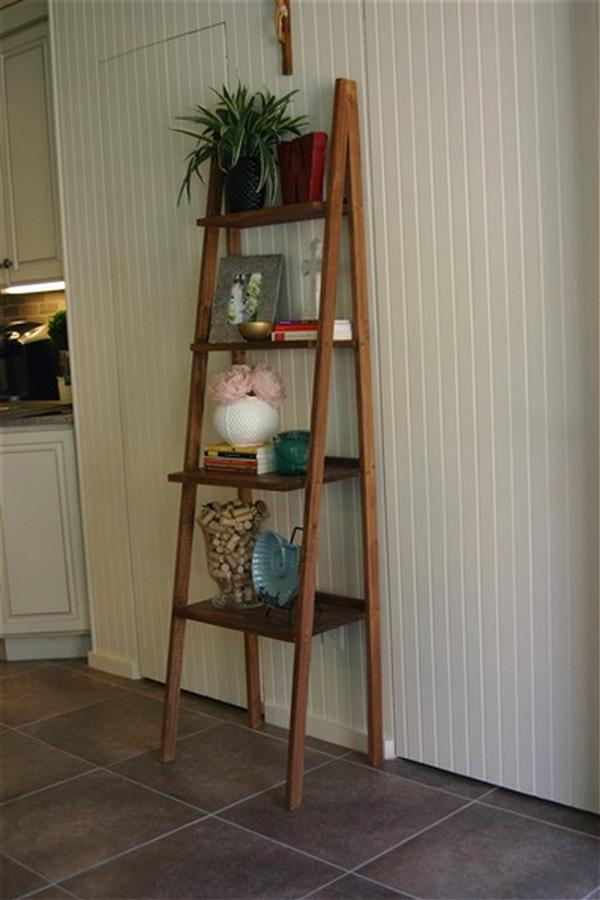 Want to make some ladder shelves, but don't know where to start? No worries! This plan has everything you need with clear instructions and multiple pictures at each step along the way. This would also be a great project for any beginner DIYer looking to learn more about carpentry. This project is for both brand new DIYers as well as for more experienced folks who want to develop a set of ladders into some great storage space at an affordable cost. A DIY Ladder Shelf can be made from an unused ladder and is perfect to store paper goods, books, or collectibles. By using reclaimed wood the project is eco-friendly and cost-efficient.
Skill Level: Easy
Materials: Boards, screws
Tools Needed:
12. Ladder Shelves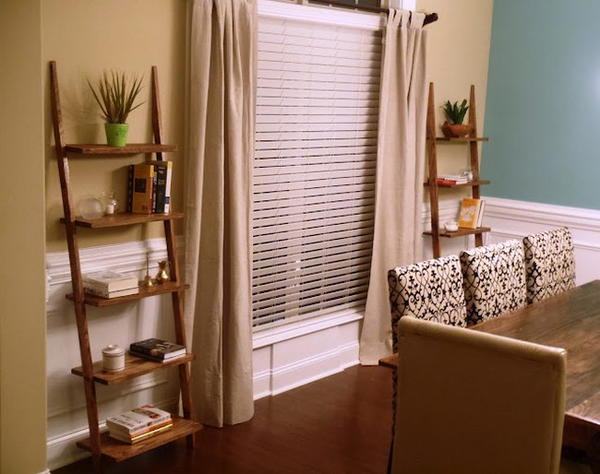 Ladder shelves are a fun way to make your space neater and more inviting. These Ladder Shelves are a great way to store, display and organize your items all at the same time. With five tiers of storage, you can utilize this storage in your closet or use it in any room of your home. The smooth chrome finish on the metal is corrosion-resistant, yet it keeps a modern aesthetic that lends itself to many design styles. This multi-tier ladder shelf is the perfect item for a wide variety of spaces. Perfect for garden sheds, guest rooms, living rooms, and more. These shelves are extremely versatile, they can be mounted freestanding or connected to other units for a larger configuration.
Skill Level: Easy
Materials:
pin nailer and pin nails
wood glue
screw gun, pocket screws
Tools Needed:
sander and sandpaper
screw gun and a pocket jig
wood putty
polyurethane, paintbrushes, and rags
table saw, miter saw, and a router
speed square and measuring tape
guided circular saw
drill bit
clamps
ladder shelves by Lazy Liz on Less
DIY Leaning Ladder Shelf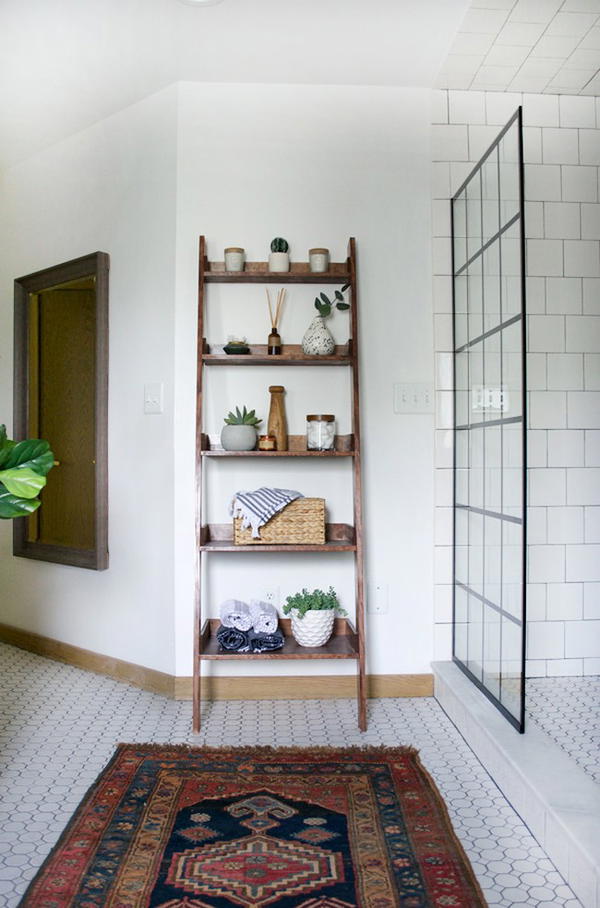 It's stylish! It's unique! And it's totally adjustable! Making it extremely versatile to fill your needs. This DIY leaning ladder shelf is made of metal repurposed wood and finished with a rich black laminate finish with decorative cutouts to show off the wood. The shelf unit is made from a repurposed wooden ladder that's been transformed into a stylish wall shelf. It also offers good space-saving potential as it can be leaned against the wall instead of anchored to the wall. Easily mount it to the wall to create an instant impact in your bedroom, living room. Turn an old, unused wooden ladder into a chic leaning shelf for your books, artwork, and everyday items. This project is the perfect way to make use of an unused ladder or display your decor in a way that stands out from the crowd.
Skill Level: Easy
Materials: wood Boards, screws
Tools Needed: Saw, screwdriver
Leaning Crate Ladder Bookshelf And Desk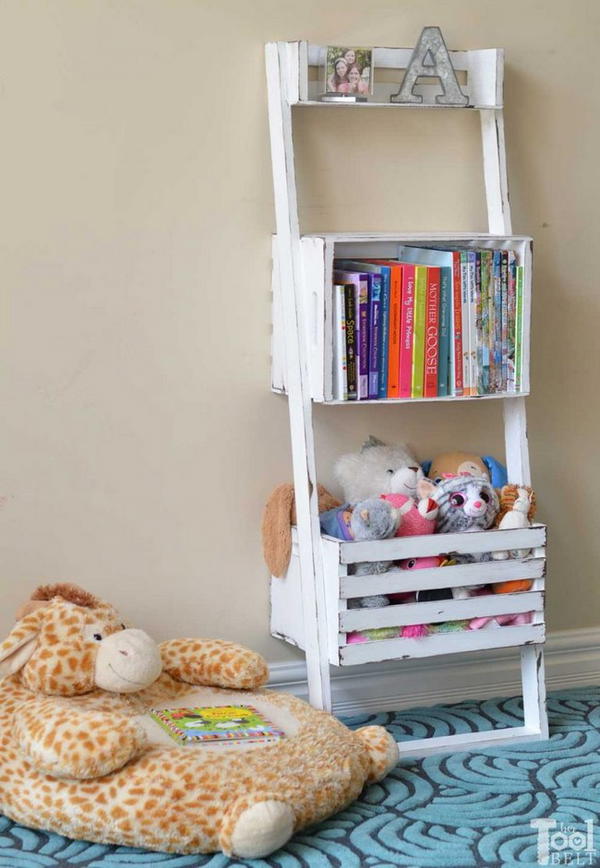 Do you have lots of stuff and nowhere to put it? Get the rustic look of reclaimed wood in the utility of a modern bookshelf. Using reclaimed wood, the Ladder is sturdy and beautiful, supporting your heaviest books and displaying them with pride. This Leaning Crate Ladder Desk helps you hodge-podge your belongings into one spot. The construction is solid, built of sturdy particleboard covered with a high-quality finish. The ultimate solution for small spaces. The ladder on the right side of the bookcase provides a convenient, flexible way to reach books on the top shelf. With a bonus bookshelf, it adds function to any dorm room or home office. Its stylish design adds a modern touch to your decor!
Skill Level: Easy
Materials: crates, white paint,  screws
Tools Needed: Saw, screwdriver, paint spray
Pallet Wood Painter's Ladder Shelf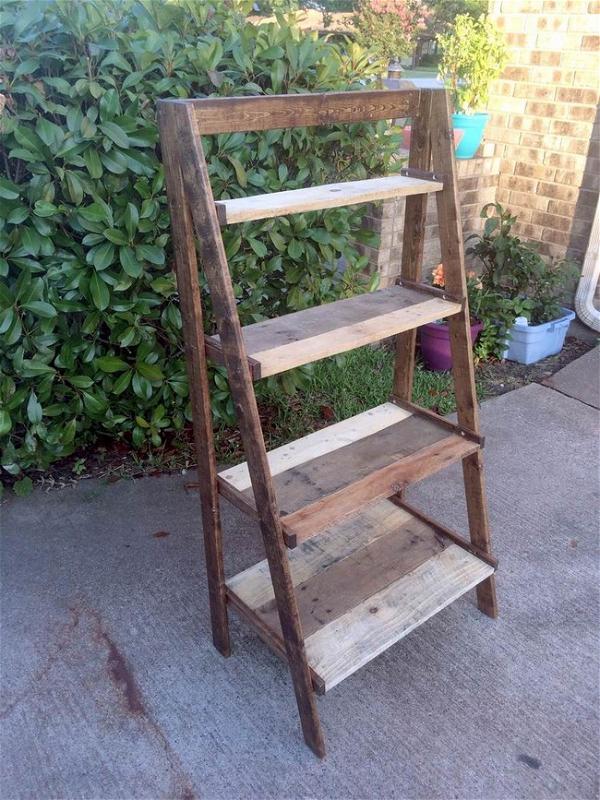 Pallet Wood Painter's Ladder Shelf is the perfect addition to any Pallet-Lovers Collection. This beauty was made using reclaimed wood pallets and pure craftsmanship for a rustic look. This super sturdy shelf is great for decorating your home or ideal for storage. Not only is this shelf functional and practical, but it's beautiful to look at too! A very rustic look using hand-crafted pallet wood and stair treads. This ladder shelf is sure to be a hit with weekend crafters and farmers market vendors, not to mention any other wood lover who needs to store some of their favorite things up high.
Skill Level: Easy
Materials: pallet wood, screws, chestnut Minwax stain
Tools Needed: Saw, screwdriver, drill
DIY Sawhorse Bookcase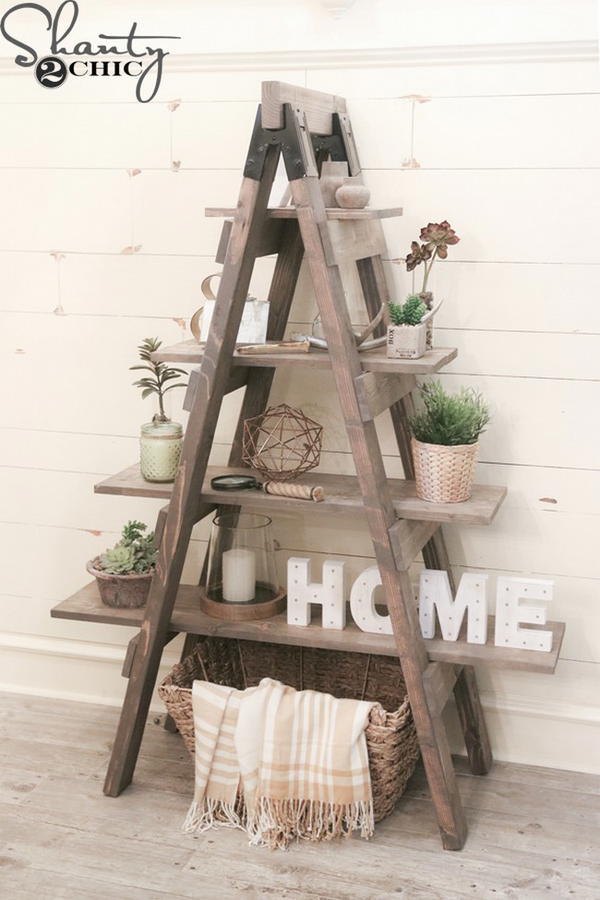 These durable, lightweight and affordable bookcases with a nostalgic sawhorse aesthetic can be used indoors or outdoors. Made of weather-resistant pine, they're strong enough to hold heavy loads but light enough to move around easily. The three open rows of the bookshelf are ideal for displaying books or knickknacks, and a large basket in the middle provides extra storage space. This bookcase is built to last, even as it gets tossed around, stacked with books, and pulled apart again and again. Store them in your garage, bring them inside during the winter, or use them on your patio—the possibilities are endless!
Skill Level: medium
Materials: Boards, screws
Tools Needed: Volt Miter Saw, Volt Brad Nailer, Volt Drill
Wide Painter's Ladder Shelf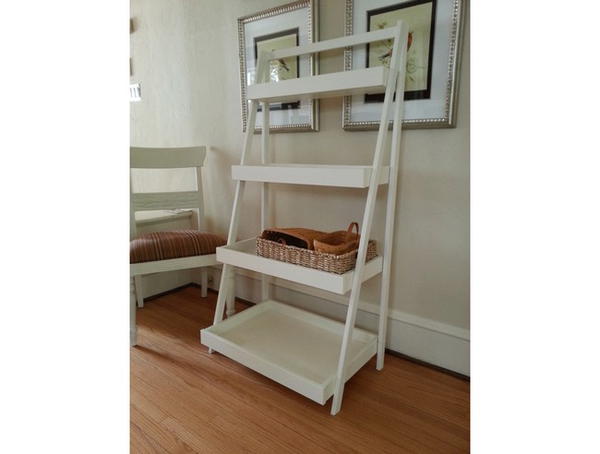 Place this shelf on the wall or use it as a painter's ladder. Wide, stable wings offer plenty of space for supplies, tools, and paint. The Wide Painter's Ladder Shelf gives you a place to store all your brushes and paints so they're out of the way until you need them. This unique and versatile painter's ladder shelf is an easy way to add storage space in your garage or workshop. The wide side of this paint shelf makes it easy to store large tools, while brackets on either side of the shelf help you mount a paint scraper and other accessories. This shelf is designed with a distressed metal finish, which pairs easily with most decor.
Skill Level: Easy
Materials: hardwood, plywood, brad nails, screws,
Tools Needed: Saw, screwdriver, drill
Conclusion
We hope this list has provided you with some great ideas or inspiration for your next shelving project. Ladder shelves are a great addition to any home, apartment, or office providing extra storage space that looks great and is functional. DIY ladder shelf plans are very easy to create, adding storage space that is both affordable and unique. Ladder shelves are in full view of your guests or clients, so you can customize them with colors and patterns making them the perfect place to display family treasures or create an accent wall. With a little design creativity, you will be able to put on display all of your favorite items while keeping things out of sight at the same time by adding storage space to unused areas or filling small areas with character.
See Other Projects