Are you looking for a free crochet wrap pattern this fall? You will find different styles of free crochet wrap patterns here. What is a wrap? A wrap is a long rectangle of fabric, usually with holes or open spaces to allow the body to breathe. This type of clothing is great because it can be worn in so many different ways and has the added extra of being able to tie into a variety of different styles. Wraps can be worn as shawls, scarves, stoles, and blankets. The options are endless for these types of garments; you can also go with our series of Crochet mermaid tail patterns to fill up your crochet urges.
Crochet Wrap Patterns: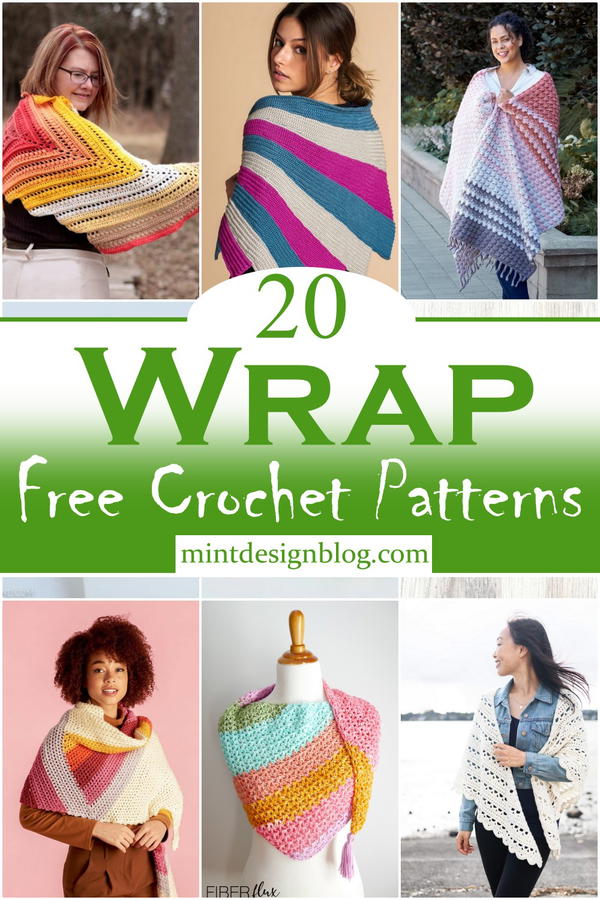 Wrap crochet patterns are among the most popular types of crochet patterns because they offer such great versatility and creativity when it comes to wearing them. If you are looking to make something unique and different, this may be the right thing to try out. These crochet wrap patterns are also great for creating your shawl or scarf and giving as gifts. They can be made in any color or size that you desire and can be customized however you like. They are also very easy to change colors in, so if you prefer something that doesn't have as high yarn usage.
Softly Striped Crochet Wrap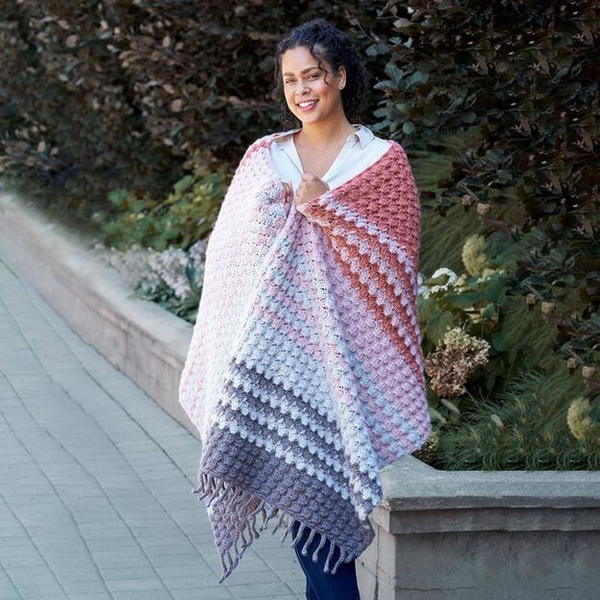 This little soft crochet wrap goes by names like baby yarn. No matter what you call it, stay warm and cozy with a gift-wrapping idea that gets something done! This wrap is adorable in hand. It's knitted in two colors which are then interwoven together. The pastel colors are delightful to work with, making this a quick knitting project that's fun to make and even more fun to wear. And soft as you can imagine, this scarf wraps around your neck incredibly invitingly. As you know, Crochet is a skill that takes time to learn and practice, but once you've got the hang of it (or left it behind), you'll be armed with your own set of crochet knowledge to make your projects look their best.
Big Zig Crochet Wrap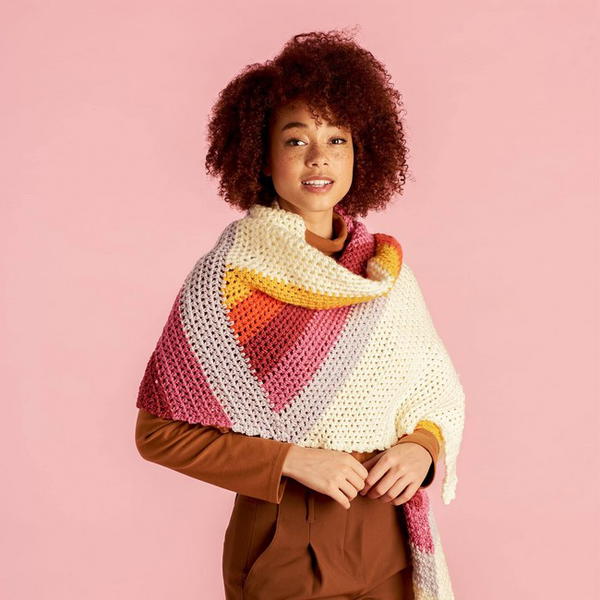 Wrap yourself in this cozy crochet wrap that just can't be skipped. Pattern includes the log cabin technique and half-double crochet to create bold triangles. You can replicate the designer's project or start from scratch with your color scheme preferences. You can also customize this pattern to match any special recipient. A single skein in various shades will give these squares a fun pop of color; for more subdued shades, try a gradient set like the one used by the designer.
Dewdrop Wrap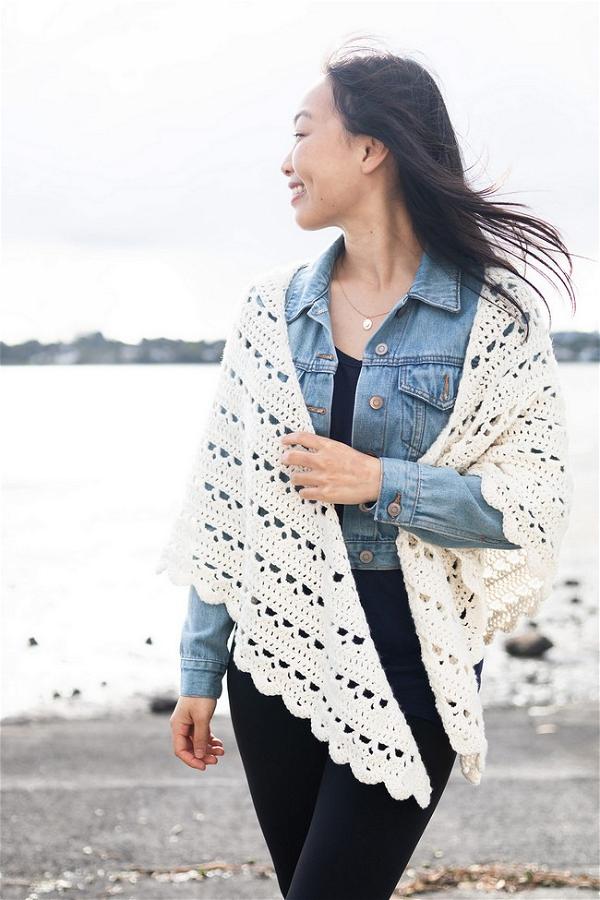 The Dewdrop Wrap is a lightweight lace and mesh top-down garment that can be worn in any season. Inspired by the light, delicate look of water droplets, the Dewdrop Wrap has an open construction with sheer arches of mesh at the bottom. These arches are worked into the design to add an elegant touch of airiness to the piece while still keeping it wrap-like (if that makes sense?)
The Dewdrop Wrap is a lovely lace wrap that you'll surely enjoy making. Inspired by the delicate beauty of lacy dewdrops on a plant, this delicate lace pattern is as lovely in spring throughout the fall and winter seasons. The super-simple stitch pattern makes this project a great introduction to new crocheters looking for a project that is easy but elegant.
Comforts of Home Wrap
This very easy and gorgeous little project is an asymmetrical wrap that can be worn in lots of different ways and is a one-cake project! This is designed to be a 100% stress-free, feel-good crochet project. This is a great last-minute gift to whip up if you are in need of a cute little crochet project for someone special. It is a simple yet intricate and beautiful necklace worn all year round.
Whimsy Head Wrap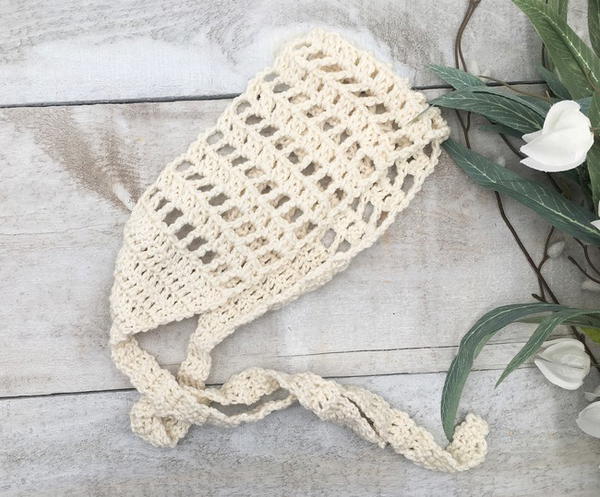 Whimsy Head Wrap Pattern This is the perfect pattern for anyone who wants to create a beautiful head wrap with just scraps of fabric. It's simply a triangle folded in half, and the straps are then created from the excess fabric. The pattern shows you how to create a beautiful head wrap with just scraps of fabric. It doesn't matter if you're a beginner or a sewing expert; this wrap is simple to make and will give you stunning results. You'll learn to create the perfect head wrap to match your outfit using a simple fold.
Lichen Lace Wrap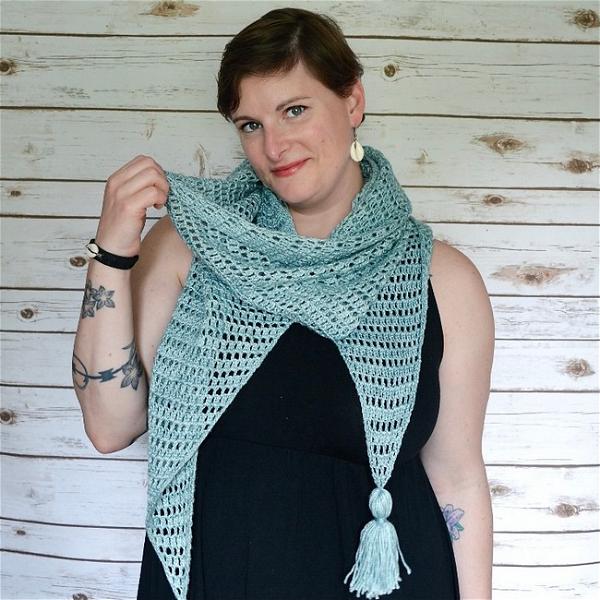 This light, airy wrap is the perfect summer accessory. Open lace makes it a little fancy and fun to wrap around your shoulders as you dash out into the hot afternoon sun. It's great for wrapping around your shoulders in a cold office or at that outdoor wedding reception as the sun goes down. Style it as a scarf around your neck, or drape it over your arms for a dramatic fashion statement in the evenings or at the beach…you have lots of options! The open, airy lace pattern will keep you casual and chic - it's the perfect piece to add to your summer wardrobe. Wear it as a scarf around your neck, or drape it over your arms for a stunning fashion statement!
Wrap it Up Tunisian Shawl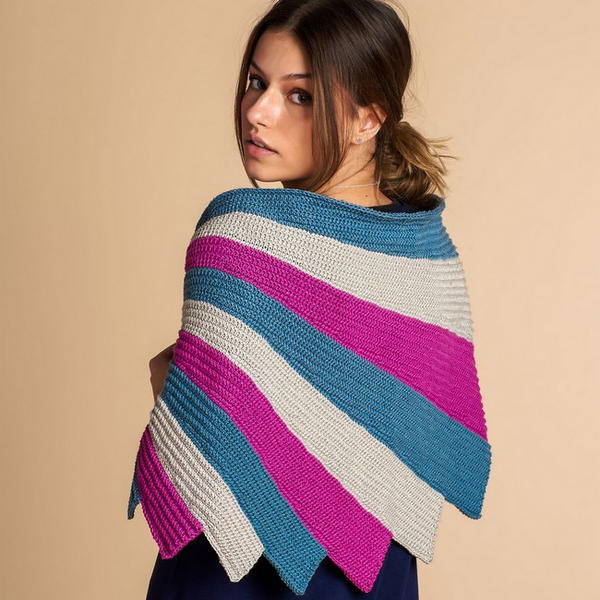 The popularity of Tunisian crochet is growing rapidly. This technique combines special crochet and knitting techniques to create a wide variety of interesting pieces of wearable items, which, thanks to these characteristics, seem easy even for beginners. But not all Tunisian shawls are at the same height. You can find them in different colors and of various sizes on the market. Tunisian crochet can be used to create a wide variety of interesting pieces that are wearable, thanks to the excellent texture created by the single crochet and the looped stitches.
Omar Wrap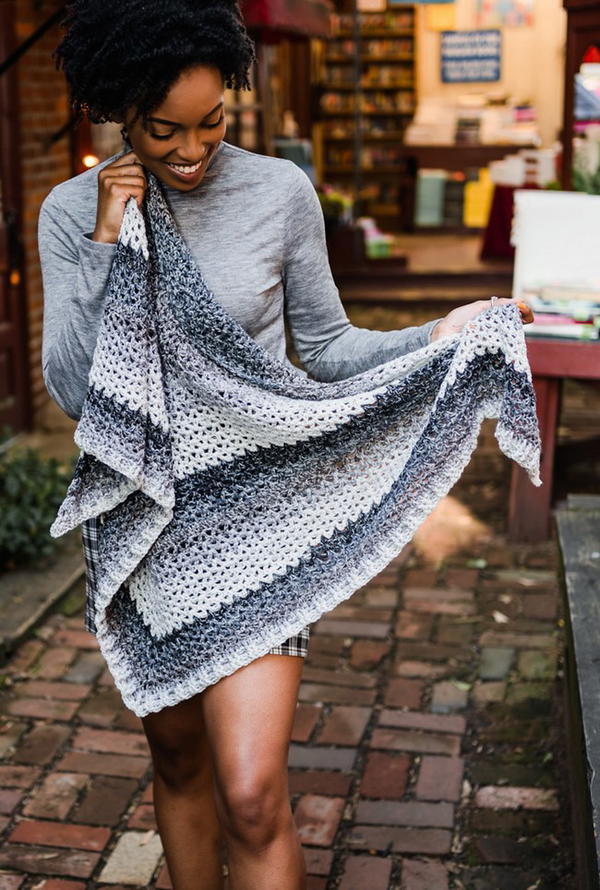 The Omar Wrap is a triangular, asymmetrical shawl pattern written for two different yarns but the exact, finished size. It can be worked from any experience level and with any yarn. There are only basic stitches that are repeated to make this shawl. The texture comes from the combination of stitches used rather than special stitch patterns.
There is nothing better than a light shawl to take the edge off in hot and humid weather. It keeps you from feeling weighed down, even when it's humid. A crocheted shawl is perfect for such a climate because it doesn't overheat you as a knit can sometimes do. But what if you live in a colder climate? You want something that pairs well with sweaters or coats but is still lightweight enough to work well as a layering piece. The Omar Wrap pattern can also be used as a lacy scarf. It's lovely as a wrapped scarf and looks great, either tied or knotted.
Friendship Pocket Wrap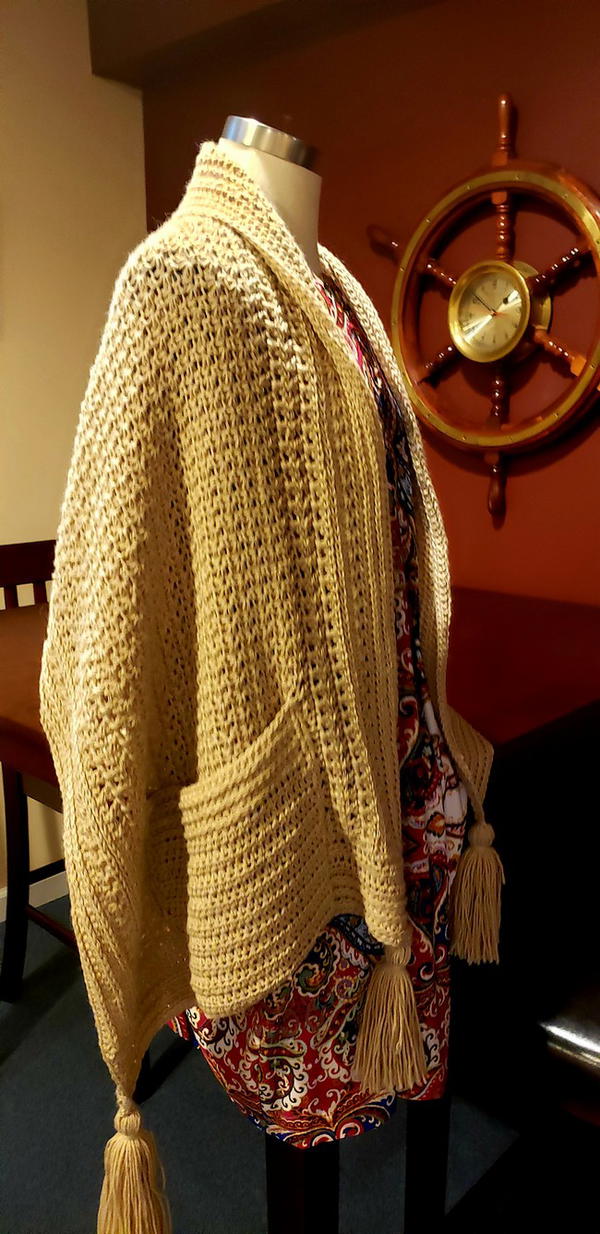 If you're looking for a cozy crochet pattern for sitting around the house, this very easy pocket wrap-free pattern is perfect! Friendship Pocket Wrap makes a comfortable wrap for watching TV, reading a book, or as you sit at your desk. With the pockets, it allows you to warm your hands. This shawl is perfect for making for yourself or as a gift.
If you are a fan of crochet patterns that you can make quickly, using inexpensive yarn and simple stitches, you will love this pocket wrap. This pattern is so easy that even the most novice crocheter can make it easier. I made one for a friend as she is moving to a new home and loves it. She uses it a lot on chilly nights, and as she says, "It could not have been more perfect for me!"
Limitless Sky Wrap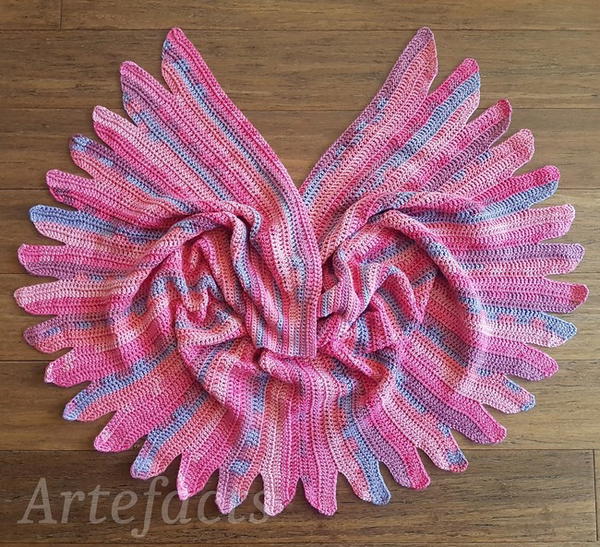 Do you feel like you need a pair of wings? Make yourself a set! This whimsical wrap is worked sideways to make the feather tips individually without cutting and re-joining the yarn. This technique works well with a self-striping yarn, or you could work each feather in a different color for a very different look. The feather tips are produced using Brioche Stitch, explained in full in the pattern notes. The wrap is finished with a regular garter stitch border to keep the edge from curling.
You'll love the feeling of this airy, dangling wrap cascading down your shoulders and back. It's worked sideways so that the feathers are all made individually without having to cut and re-join yarn. Don't worry, and it fits any size neck as you choose how long you want it to be. Wrap yourself in this beautiful feathery shawl, and you'll feel like you have wings!
Wrap Me in Sunshine Shawl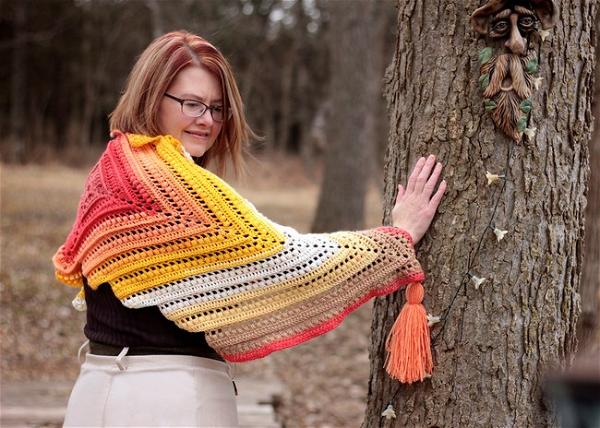 The Wrap Me In Sunshine shawl is a unique and fun knit that will be sure to inspire happiness every time you gaze upon it. The beautiful texture will delight you, especially as you develop creative ways of styling it. This textured shawl has a fun and easy stitch pattern that allows beginners to complete. It's the perfect way to show off your love for color and inject a bit of fun into your wardrobe. The wrap is soft, warm, and lovely and makes a great gift or just something special for yourself. Daring and playful, this chunky shawl will make you want to wear it all the time.
Catalina Wrap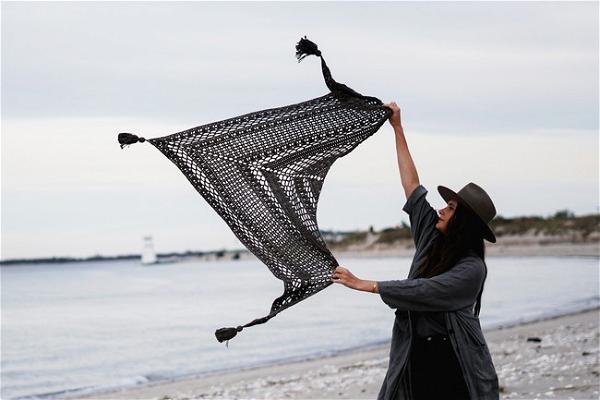 The Catalina Wrap is a great accessory that you can show off all year long. Keep your shoulders warm in the fall, wear it as a shawl in the summer, or wrap it over your shoulders for a more elegant look. These striking lace rows and eye-catching bobbles create an easy but stunning design.
The Catalina Wrap is a lace design that you will want to recreate repeatedly. Consider it your handsome go-to accessory for showing off your unique style.  Add delicate lace and beautiful texture to your wardrobe with Catalina Wrap. This classic shawl fits any occasion and can be worn in countless ways. It's no wonder that Crocheters love it!
Arrow Wrap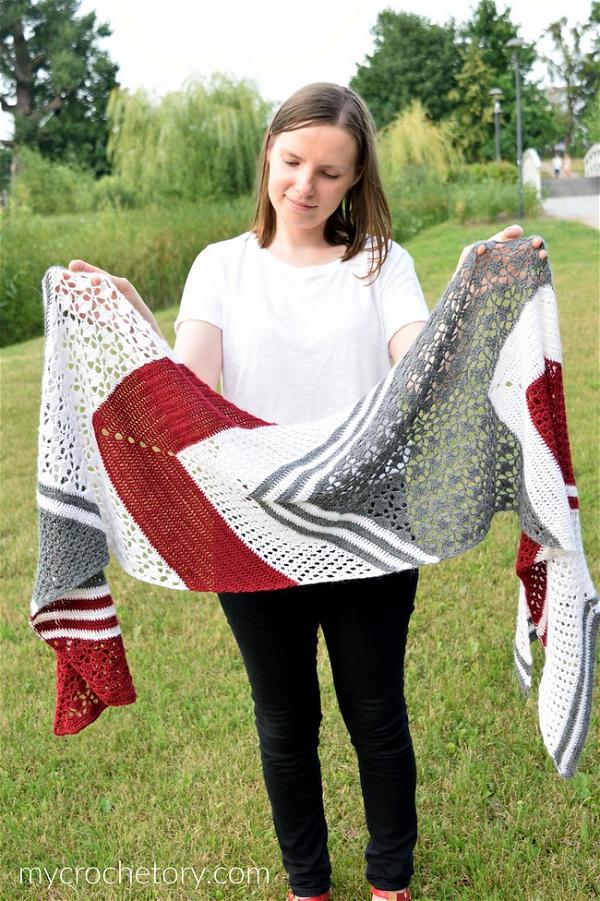 This pattern is a long, slim, arrow-shaped shawl that can be worn in various ways and is the perfect piece for your wardrobe. It features two different lace patterns, creating nice texture and eye-catching lace pattern designs. The whole wrap is perfectly reversible. It can be simple and elegant, modern and chic, or casual and cozy. The wearer of this wrap can be just as versatile.
Crochet shawls are the latest trend, and there's a reason for their popularity. They are light yet warm. This crochet wrap is worked from end to end, pointy at one end and v-shaped at the other end. The latest in fashion, crochet shawls, are the hottest trend this year. Don't let the chilly seasons catch you unprepared.
Hayden Wrap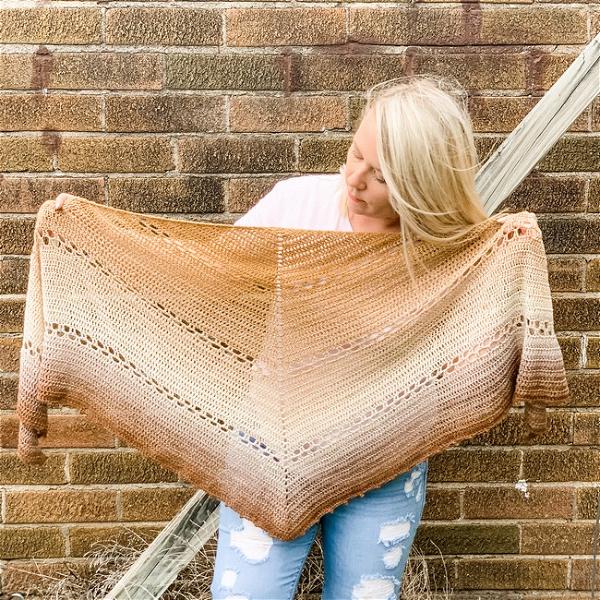 The Hayden Wrap is a luxurious shawl that can be worn in many different ways! It was designed to show off the gradual and beautiful gradients of the Scheepjes Whirl. This shawl requires only the most simple stitches - chains, single crochet, and double crochet. This pattern was specifically designed to be beginner-friendly. Plus, it's large enough to keep you warm on a cold evening!
This is the only shawl pattern you will ever need! Adorning this beautiful wrap is a collection of simple chained stitches featuring Scheepjes Whirl Gradient. With only the most basic stitches to work, this shawl pattern is easy to follow and perfect for anyone practicing a new stitch or wanting a completed project to start and finish in one evening.
Happy Birthday Wrap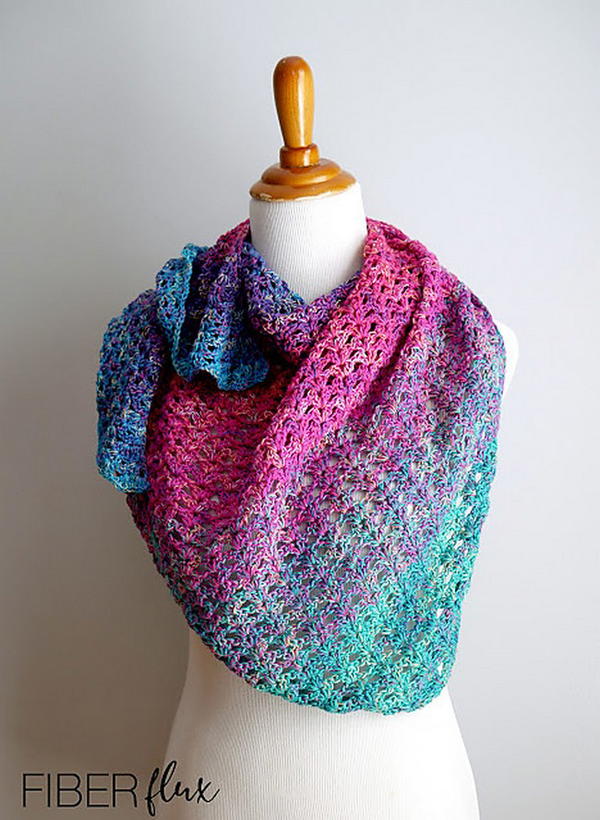 It is introducing the Fiber Flux. Happy Birthday, Wrap! A gorgeous little wrap that has the most fabulous drape ever. Crocheted in a crazy easy lace stitch, the colorful speckled gradient represents festive confetti, and this wrap uses just ONE cake of yarn. No need to change colors or yarn balls; the cake does all of the fantastic color changes all by itself!
Use the gradient confetti cake of GnomeAcres Fiber Flux to create a gorgeous wrap that drapes very softly in a crazy easy lace stitch! And with just one cake of yarn, you can spread this magical confetti all over your arms and around your shoulders, showing off your beautiful work on a cold winter day.
Summer Roses Wrap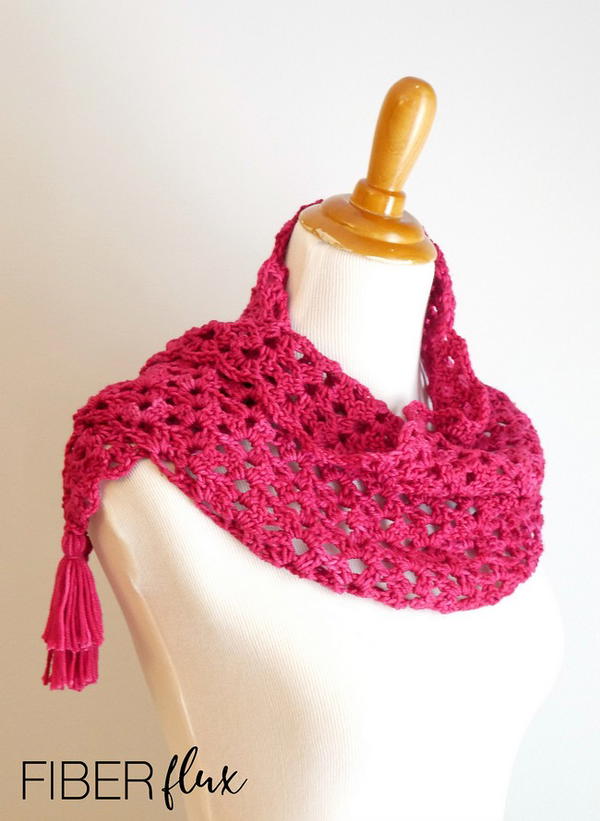 This beautiful lace wrap features a lacy floral pattern with a beautiful airy feel and tassels on edge styled off of the vintage Grecian temple robes. Wear it draped around your shoulders or tied in the front for a different look. The Summer Roses Wrap is wonderfully decorative and versatile!
This lovely wrap features Summer Roses lace that is easy to learn. Enjoy the beauty of the Summer Roses lace as you knit. This wrap is perfect for warmer weather and can be worn casually or dressed up; and has a lovely lace border that flows down the front and is finished off with an elegant tassel. The Summer Roses Wrap is classy enough to wear to your next event!
The Gotto Godda Wrap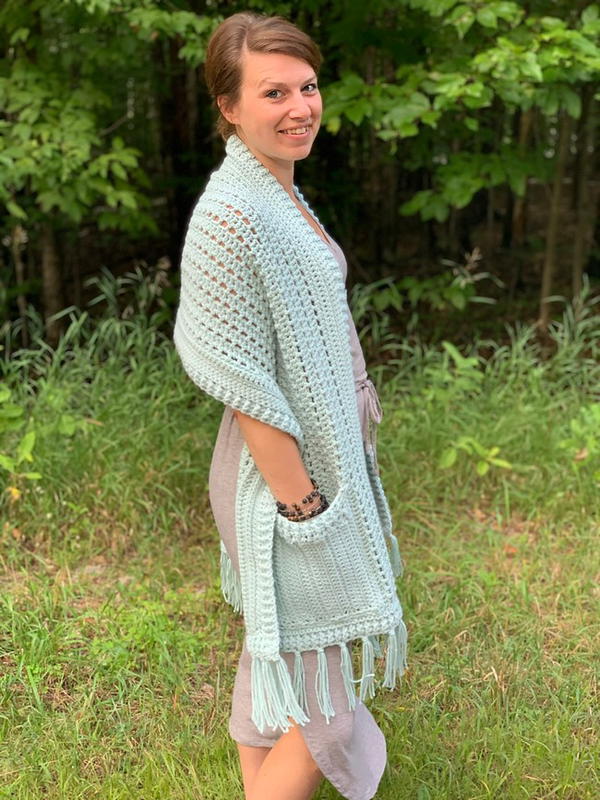 The Gotto Godda Wrap is not a traditional scarf and does not have traditional uses or looks. Yes, it wraps, and yes, you can wear it as a scarf, but it is so much more than that. It has two pockets on each end to carry the necessary items you need close safely. The scarf part is silky, soft, and comfortable in any weather, condition, or season. This wrap keeps you warm without being bulky; it's lightweight, airy, and perfect for layering over just about anything.
The Gotto Godda Wrap is not a traditional scarf and does not have traditional uses or looks. Yes, it wraps, and yes, you can wear it as a scarf, but it is so much more than that. It has two pockets on each end to carry the necessary items you need close safely. The scarf part is silky, soft, and comfortable in any weather, condition, or season. This wrap keeps you warm without being bulky; it's lightweight, airy, and perfect for layering over just about anything.
Stormborn Wrap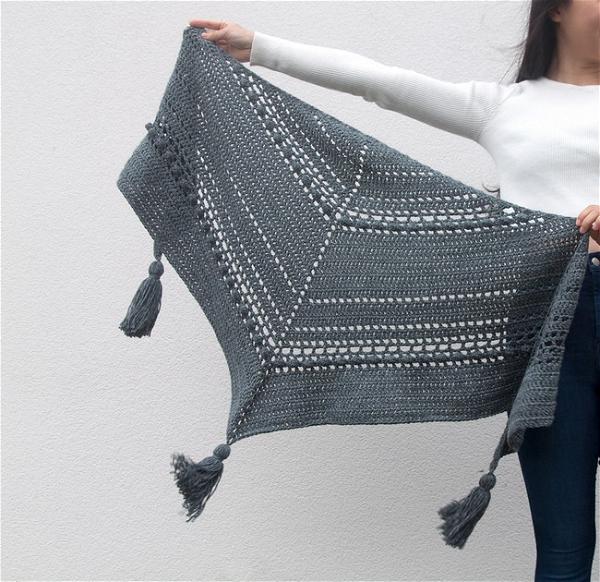 Stormborn is a large, modern triangle shawl, worked from the center out. With bobbles and mesh stitches for texture and two drapey finishes to choose from, this pattern will keep you interested throughout! The design will top with chunky tassels for a touch of whimsy. Stormborn features an easy-to-work stitch that shows off your color-work skills. Create your Stormborn Wrap with this fun, chunky pattern. The oversized triangle scarf is worked from the center and features simple stitch patterns to keep you engaged. Finished with large tassels for a touch of whimsy, this scarf will keep you warm on windy days.
Brushland Wrap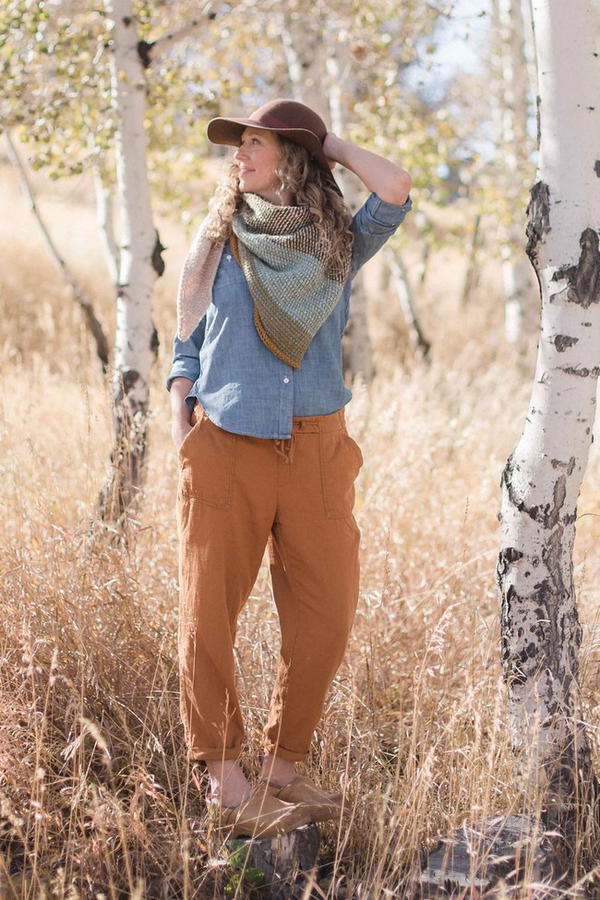 Tunisian crochet is a fun and meditative technique but can intimidate beginners. With this reversible triangle wrap, you'll learn the basic Tunisian Simple Stitch and have a snuggly scarf to show for it! The Brushland Wrap uses simple stitches with only three basic rows, so it's a quick pattern that can work up in one weekend (and is great for those chilly spring and fall evenings).
The Brushland Wrap is a reversible triangle scarf with a yarn and garter stitch. It uses the basic Tunisian Simple Stitch to create texture, warmth, and a light appearance. This item is shown here in Clara Yarn's new Nordique yarn, and this item would make a great gift or wearable blanket that can be used year-round!
Racer Wrap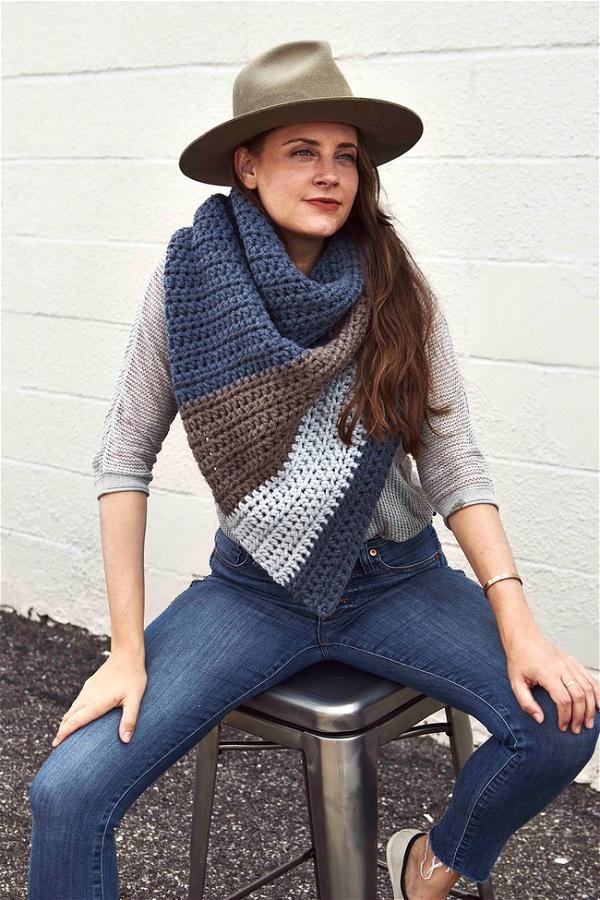 This easy beginner's knitting pattern makes a cozy wrap you can wear daily. WIt worked in stockinette stitch; it's faster than a scarf and just as warm. The long length covers your backside, but you don't have to concentrate because it works in a pattern! A modern racing stripe pattern keeps things interesting. It's large enough to wrap around yourself twice!
This wrap is warm and durable, but the stockinette stitch makes it an excellent beginner-level knitting project. Worked in the round; it's faster to make than a scarf. The modern racing stripe pattern is fun and easy to remember while still interesting enough to look at.