This article on crochet patterns is filled with everything you need for your mermaid tail crochet projects. You'll find different shapes and styles of tails to use or be inspired by in creating your own mermaid tail fit for your princess. Crochet Mermaid tail patterns are interesting patterns that will help you make a mermaid's amazing look. Such crochet tails are popular among children because they want to create a fantastic dream world. Try one of the crochet mermaid tail patterns to make your child's dream come true. All patterns included are adorable and will impress any child or young woman who wears them.
Crochet Mermaid Tail Patterns: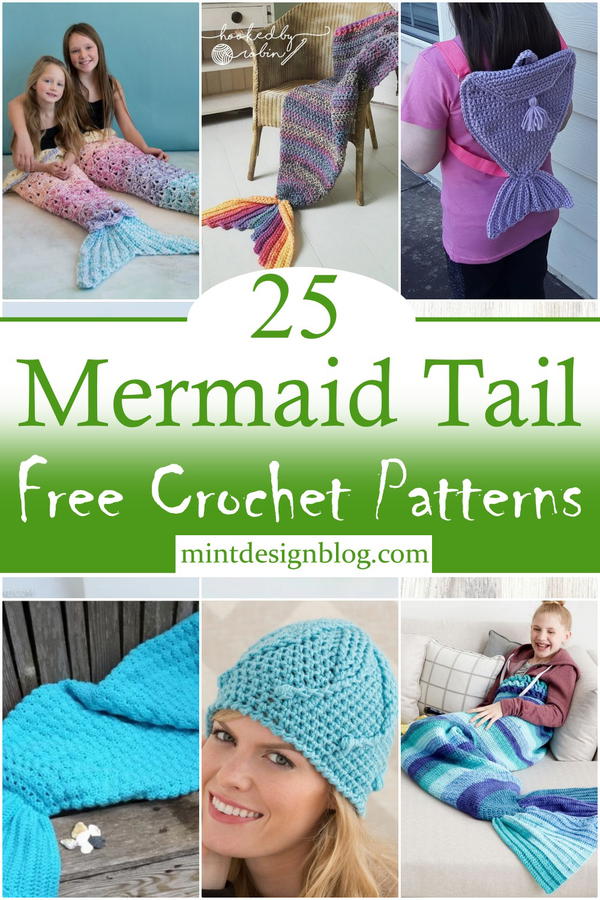 Crocheting is the right hobby and art form that allows you to create beautiful and unique things with your hands. And when you have a crochet pattern to work upon, getting inspiration becomes easier. If you are looking for some interesting patterns, Crochet Mermaid Tail Patterns will not be a bad idea as it has diverse and different patterns that could be worked on according to your own taste. The book comes with 25 different patterns that you can choose from if you want something unique and different.
Crochet Mermaid Tail patterns can be made in different colors and sizes. You need to look at the given crochet pattern, get the required items, and then start working on it. These patterns are quite easy to understand and work upon. So, if you want to try your hands on something unique, you should go for these patterns as they are different from other designs available nowadays. You can even use them as a throw or blanket when you have guests at home.
Sunflower Mermaid Tail Blanket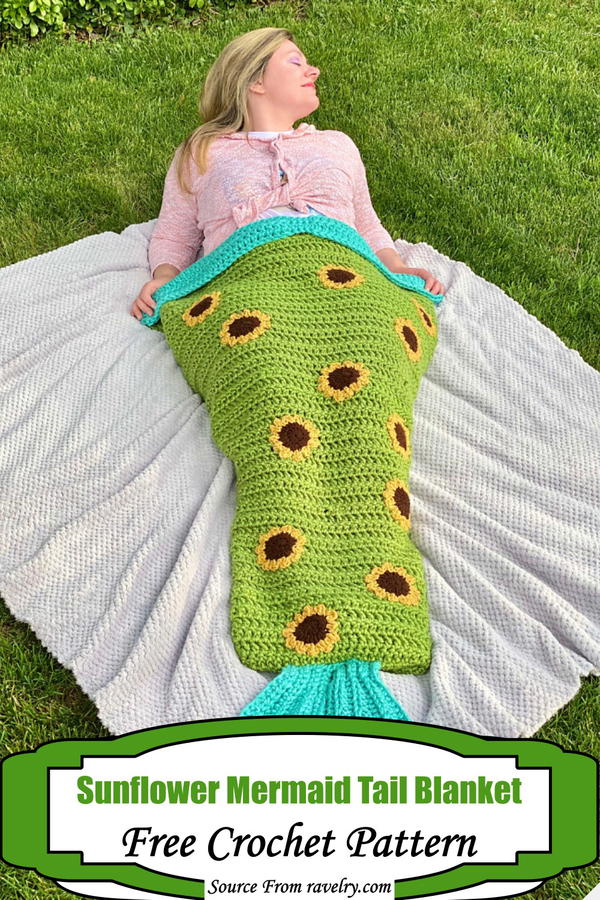 This crochet pattern includes instructions for creating an adorable mermaid tail blanket that you can use in your home. Accessories such as the Sunflower Mermaid Tail Blanket Pattern shell hair clips and mermaid tail blanket pot holder are included. This will be the cutest crochet pattern to add to your collection. If you've always wanted to learn how to crochet, this DIY is a great place to start. It uses basic crochet stitches, perfect for crocheters of any skill level. You can choose different sizes and unique color combinations. The blanket pattern is worked in soft and colorful cotton yarn.
Mermaid Tail Blanket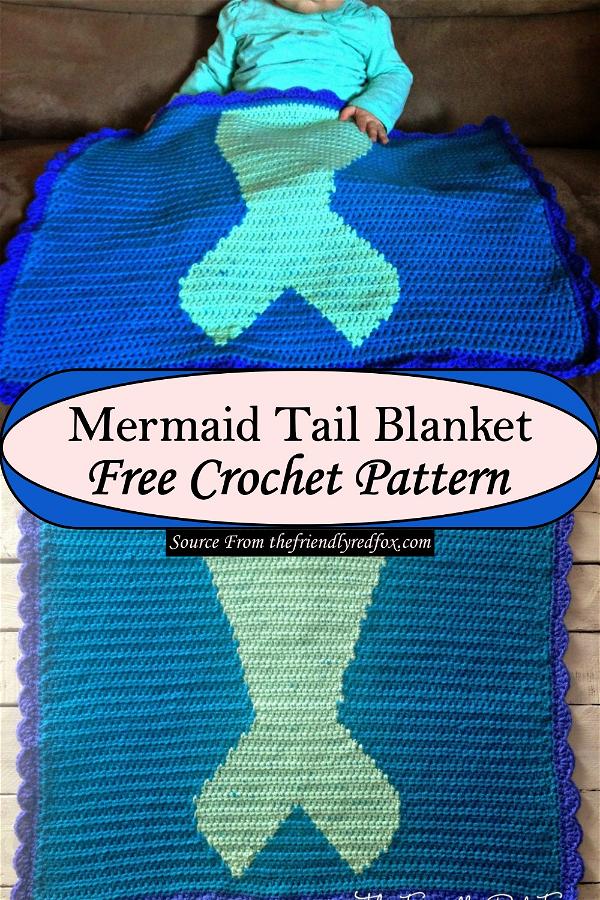 This Crochet mermaid tail blanket is perfect for your child's early years. The bright colors will draw attention from everyone and hopefully encourage your child to use them. The ideal summer throw. This is a blanket, pillow, and toy all in one. Use it as a super cozy beach blanket or pool float, or when you want to snuggle with your little sea siren—featuring an original baby mermaid tail pattern that resembles the scales of a mermaid. Gorgeous baby blues and deep-sea greens pop against a neutral background. Cotton yarn is sturdy yet soft, making this a long-lasting heirloom piece!
Mermaid Tail Crochet Pattern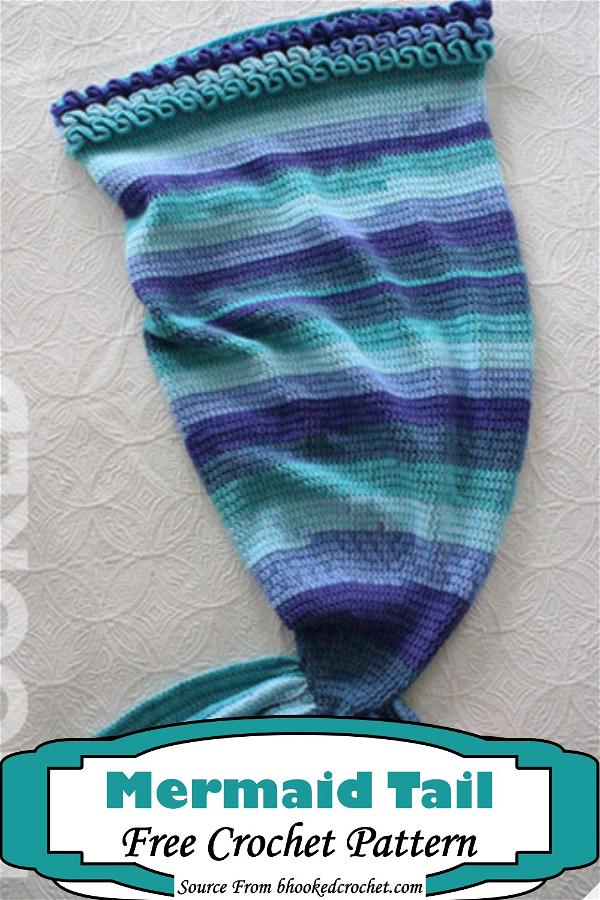 Whether you're looking for a comfortable blanket, you can stitch over the winter, or you want to do a fun project with the kids. This Mermaid Tail Crochet Pattern might be right up your alley. This is a fun pattern that will turn heads wherever it goes. This crochet mermaid tail pattern is so much more than just a blanket. With various sizes, this pattern can be used by anyone and everyone! This easy pattern can also be customized in a hundred different ways (literally). Crochet this tail for yourself, as decor for your room, or even as a gift for your little mermaid lover.
Tunisian Mermaid Tail Pattern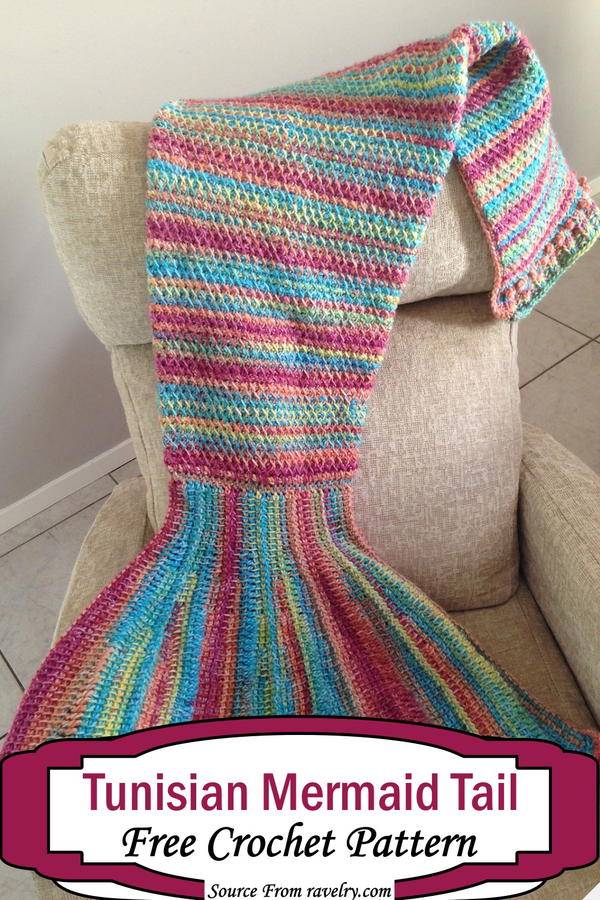 A very simple pattern for a Tunisian crochet mermaid blanket, the type of blanket that wraps around you and keeps you nice and warm. This blanket has a double-layered fin which is sturdy and holds its shape much better than a single layer; it also creates extra space inside the fin where the feet can go in, creating quite a life like a mermaid tail if the person using it wiggles their feet inside. This blanket was large enough for an adult or teenager but easily adjustable in size for a minor child by working fewer rows on the Main Body section.
One Evening Mermaid Tail Blanket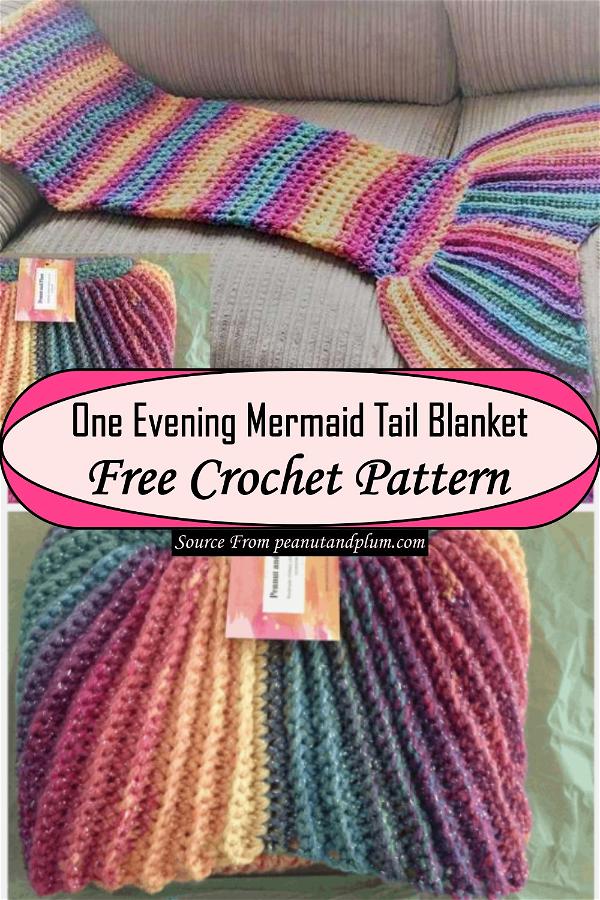 One Evening Mermaid Tail Blanket is an excellent project for any crocheter of any skill level who has taken on a challenge before. It will take some time to complete and is a decor masterpiece that will spend most of its time on the wall. The crochet pattern is rated as an intermediate skill level project, but you can split up the work with another friend or family member who also wants to crochet this blanket. This blanket was designed to be a combination of fashionable, beautiful and practical, and soft and comfortable! It would be a perfect addition to your daughter's bedroom or any room of yours at home. You can change its color by choosing different colors for the yarn. Mermaid Tail Blanket has row counts, counted stitches, and crochet abbreviations.
Crochet Mermaid Tail
Wrap up your little one in this cozy crochet mermaid tail blanket. The crochet pattern is like a bag construction, featuring a shell stitch to resemble fish scales throughout the body. This intermediate-level pattern is perfect for the intermediate crocheter who wants to make a unique gift for someone. These are original amigurumi designs and patterns made with soft acrylic yarn. You're going to love this crochet mermaid tail blanket. This pattern is written in standard US crochet terms and includes detailed step-by-step instructions and close-up photos to assist you in completing each section.
Rainbow Sparkle Mermaid Blanket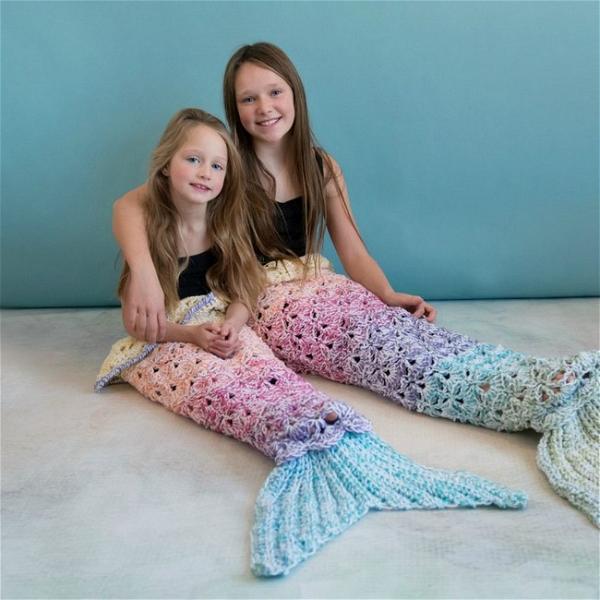 Rainbow Sparkle Mermaid Blanket is a quick design easy to work up and great for beginners. This crochet blanket uses basic stitches and can be stitched up in any color combination you wish. It can be made with just one ball of yarn and will make a great addition to any bed or couch. This pattern is perfect for the mom wanting to bond with her daughter or anyone looking to have a little fun. Play around with colors or allow the colors to speak for themselves depending on your tastes and personality.
Mermaid Tail Crochet Pattern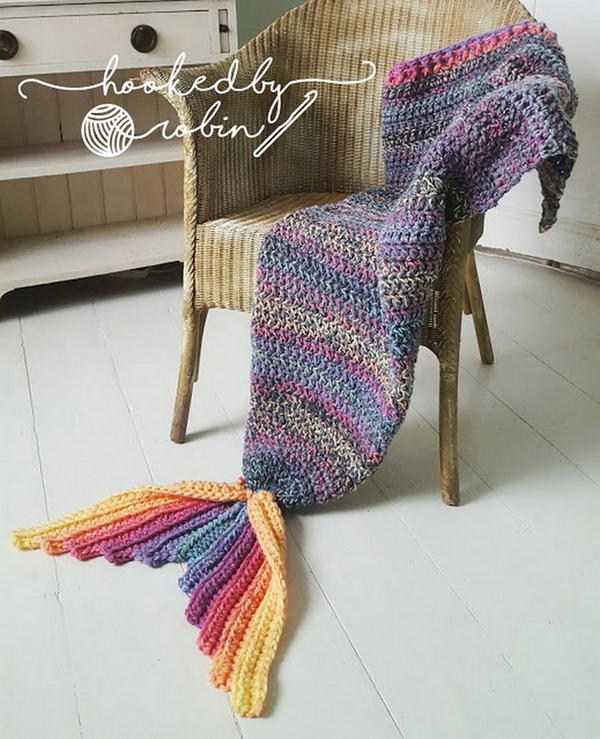 You'll be blowing bubbles and bringing waves to a standstill when you have this mermaid tail pattern. This lovely crochet pattern gives you a beautiful look and years of fun storing it away to bring out during the chilly months of winter. Surround yourself with the beauty of mermaids and the joy of cozy blankets with this. Inspired by the underwater beauty of mermaids, this versatile crochet mermaid tail pattern offers an easy way to stay comfortable during the winter months. Use it as a scarf, shawl, or even a costume for fins or flippers! If you're not a fan of water, you could always wear it at home to get a taste of feeling like a classic mermaid.
Little Mermaid Amigurumi Pattern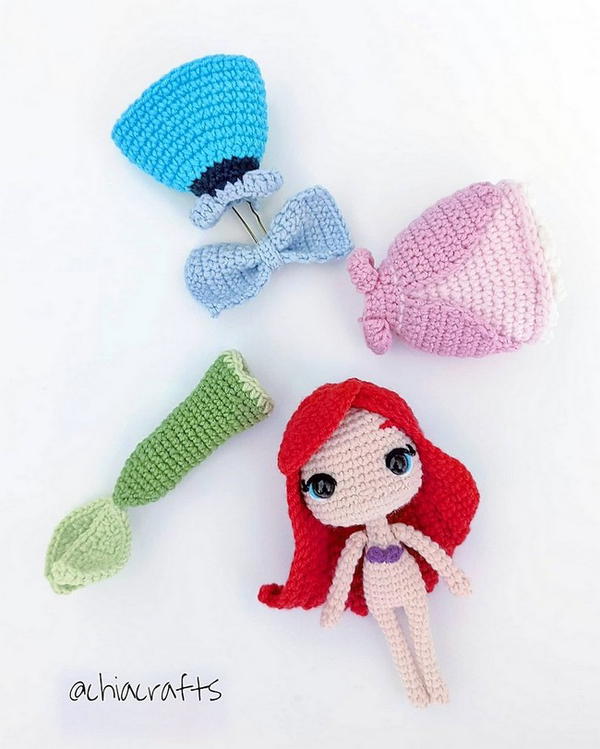 This crochet pattern book on little mermaid amigurumi will show you how to create a cute little mermaid sitting by the sea with a beautiful voice. You will quickly master the skill and make your gifted ones smile widely with happiness with photo tutorials. This lovely crochet accessory can be a great beautifying addition to your home decor, marking your love for the Goddess of the Sea and showing your fantastic skill in crocheting. The beautiful baby mermaid is irresistible: its cute face, attractive shapes, and excellent color will add splashes of fun to your life. Make these mini-mermaids as gifts to your children or family members, or decorate your home with them.
Crochet A Wearable Afghan Mermaid Tail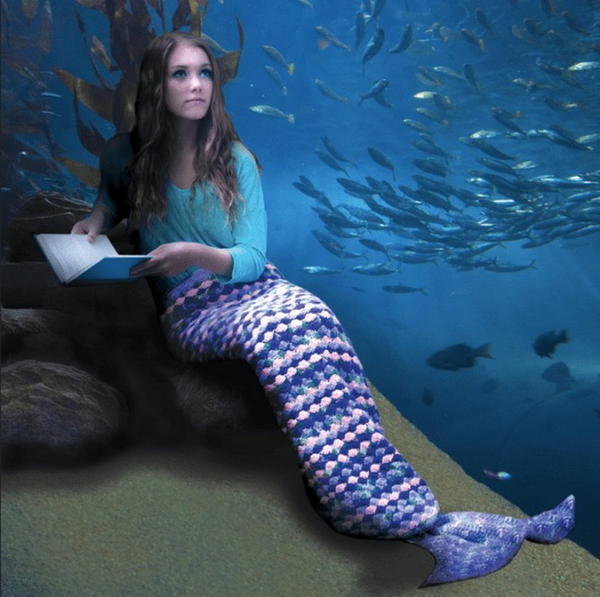 Give your living room some aquatic flair with this crocheted mermaid blanket/cocoon. Warmer than a real mermaid's tail, it will still make you feel like one. The magic afghan mermaid tail is crocheted in one piece and can be worn as a full outfit or only around your lower half. A small slit on its top is for the neck and head to poke through (let the magic begin!). This project would look great as a sofa throw, too. It's large enough to cover you right down to your ankles. The fun part is that you can wear it as a round cocoon while reading a good book in the dark.
Mermaid Tails Hat Pattern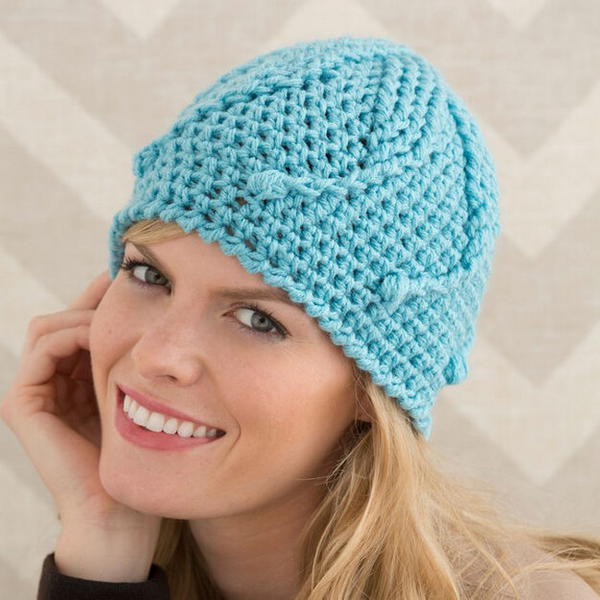 This cute mermaid tail hat pattern provides a fantastic option for those who want to keep the stylized texture style within their closet or wardrobe. The soft and comfy design is ideal for those who are planning on making gift-giving items as well. This tail hat pattern has been designed to provide you with a more beautiful and softer pattern. Crocheting a hat would be wonderful and beneficial because you can use this as an effective pattern for making hats, especially the stylish mermaid tail hat. You'll surely love this crochet mermaid tail hat pattern with a standard and simple gauge.
Mermaid Tail Snuggle Sack Pattern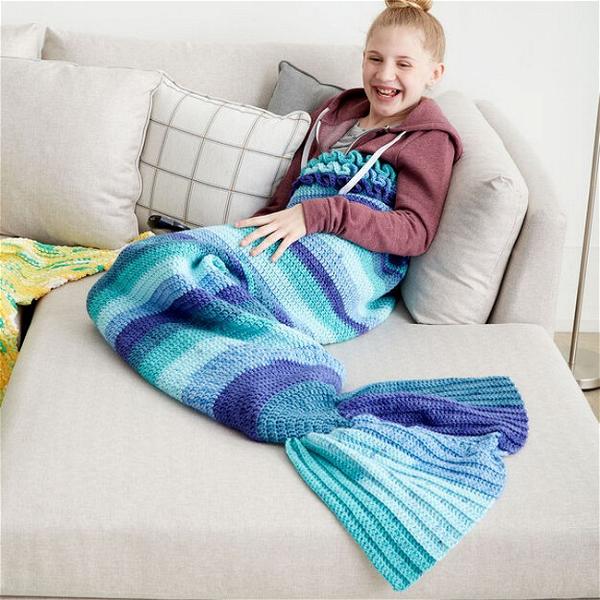 A Mermaid tail is a type of breathtaking slip that women can wear. It offers people an opportunity to expose their legs and to feel the soft touch of these stunning scarves around their legs. Making this piece of clothing was never an easy task, but today, people have the privilege to use high-quality materials that are meant to make these slip patterns more powerful. These slips are available in an incredible range of shades, and therefore, you can use one that matches your daily outfit. The materials used in making this pattern include yarn and crochet hooks. The former offers people an opportunity to love the beauty of natural materials without being afraid of color blending issues.
Mermaid Tail Backpack Pattern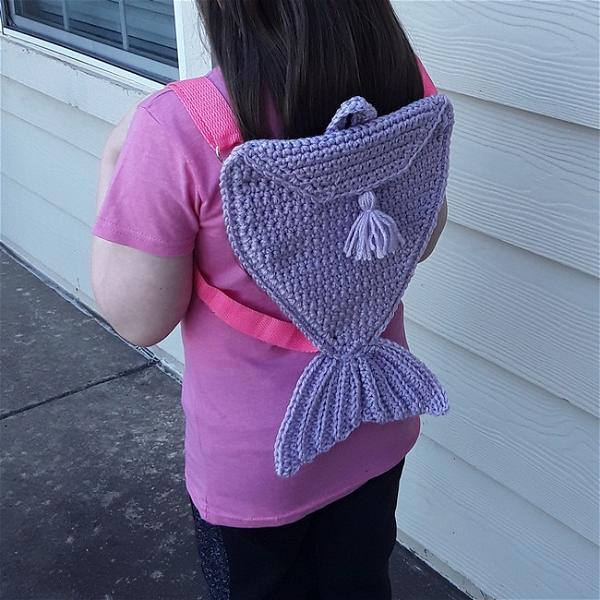 Making this crochet mermaid tail backpack will be a fun and easy process. You need to start with the basic skills of single crochet and increase/decrease stitches. The tail will be assembled with a little bit of sewing, and you'll also need a pretty big needle for the same. So, if you're ready to face all these challenges, follow the pattern to see the result and give new colors to your dreams. There are many reasons why people crochet, for some, crocheting becomes a passion that only grows stronger with time, and the projects continue to multiply until there is no more space in their homes. This can be why many turn to try different types of crafts
Mermaid Tail Hat Pattern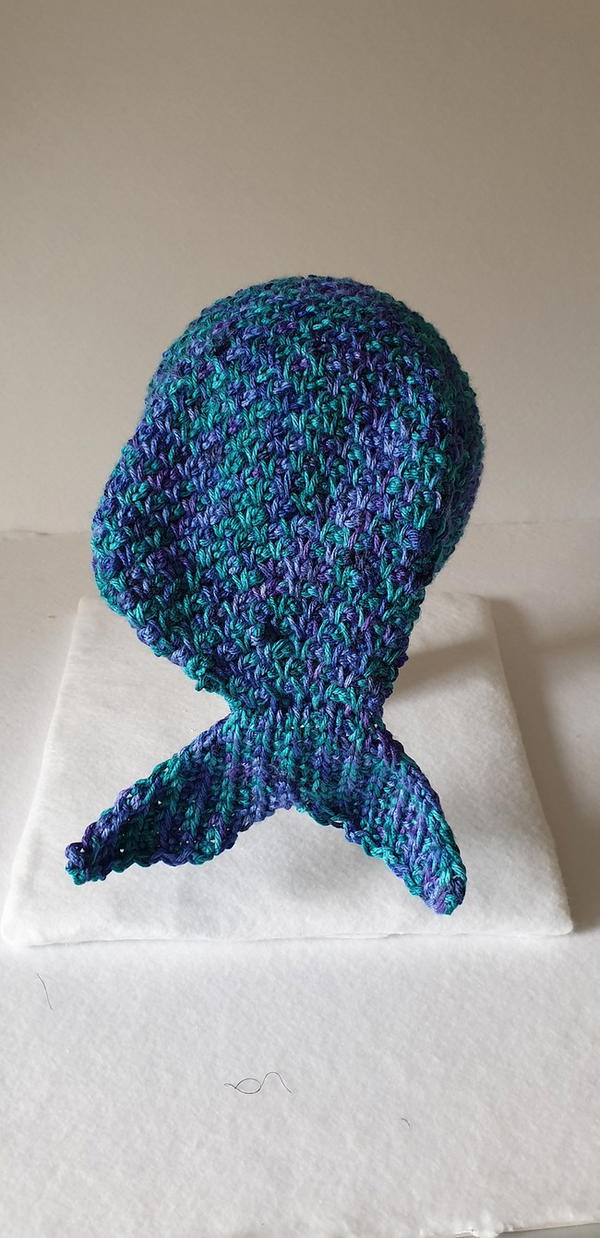 This crochet mermaid tail hat pattern is designed to help you make an incredible masterpiece. By using the most appropriate crochet hook, coming up with scalloped edgings, and utilizing the yarn properly, this free crochet pattern can be an ideal addition to your wardrobe; you'll surely love this hat pattern. The soft texture and the beautiful sea blue color mix are to die for. It would be a great addition to your wardrobe.
This tutorial will help you get this lovely mermaid tail hat that is amazing to wear in winter. You can even show off your whole fabulous look as the designer suggested that you can wrap arouse and your neck or as a headband and wear it anywhere you want
Free Crochet Mermaid Tail Stocking Pattern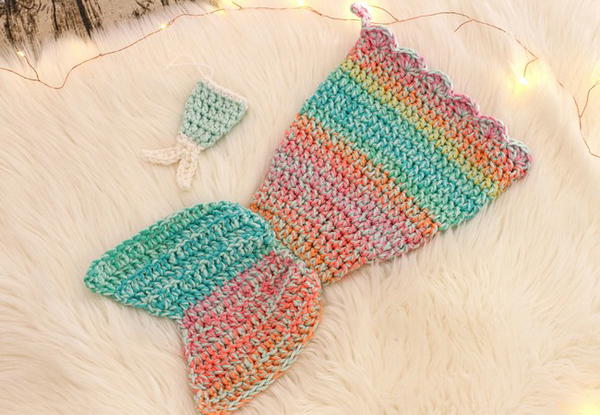 Are you looking for an attractive, colorful, embellishing addition to your occasional home decorations? These mermaid tail ornaments are the perfect crochet work for you. You can make them in several color combinations or crochet the same one in different colored yarns. It will be a lovely, artful item adorned with a sparkling gem and the perfect home decor addition to your marine-themed summer decorations. The crochet mermaid stockings can be used to beautify all parts of your home, especially during the festive season. The tail makes a good decoration piece in the house. The crochet pattern will show you how to create a mermaid tail that can be worked into any design of your room or at the corners of your living room or patio.
Free Crochet Mermaid Tail Pencil Pouch Pattern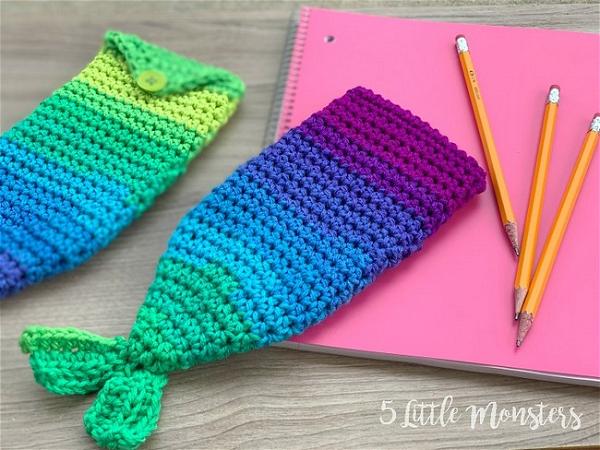 Crochet Mermaid Tail Pencil pouch will make the perfect craft supply organizer. It has a bottom tail feature and colorful buttons at the top; this is a cute, fun, and practical pattern that is fast to work up. This can be added as an accessory to your home decor. A big mermaid tail-shaped pencil pouch will be the ultimate tip of your child's school accessories, and believe it or not that they'll be much delighted getting such an excellent treat to get their pencils sorted.
This pattern contains stitched instructions on making a mermaid tail pencil pouch with a simple yet appealing design. This adorable mermaid tail pencil pouch is easy to finish; it will amaze you with its brilliantly elegant tail section that your daughter adores.
Mermaid Tail Pattern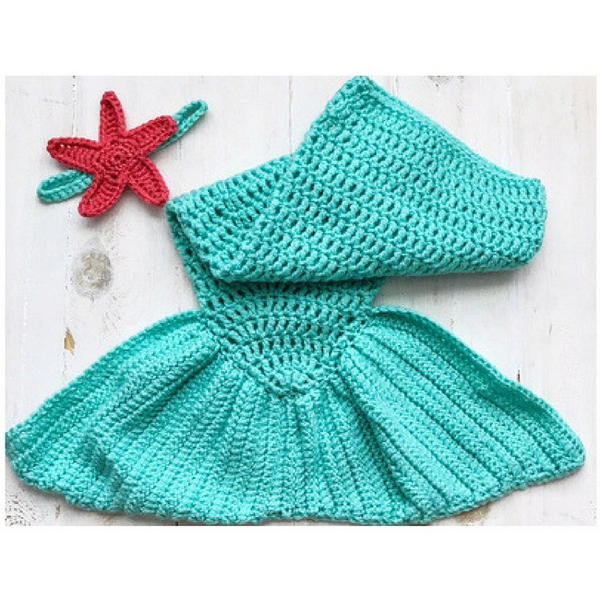 The free crochet mermaid tail pattern is an ideal pattern for your first design. We have also made this in a smaller size so that you can make it a simple yet lovely item for your newborn. This pattern is truly a work of art. Every single stitch, crochet hook, and color all played a vital role in the completion of it. Enjoy this fun crochet pattern so that you can create your mermaid costume once the colder seasons hit in your area. This remarkable mermaid tail pattern is surely the greatest one for you.
Functioning as perfect outerwear, or it can be wrapped as a warm blanket, it is an excellent choice to keep your baby from the colder days in winter. More than that, you can also use it by crocheting this pattern in a smaller size.
Free Crochet Mermaid Tail Cozy Bundle Pattern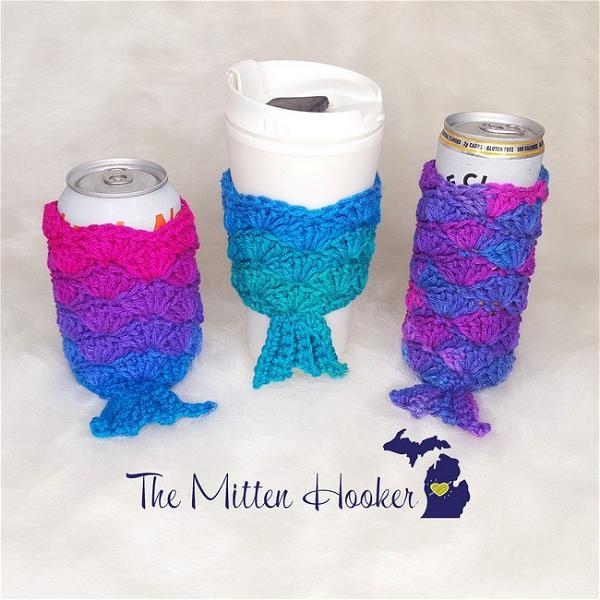 Crochet many mermaid tail cozies using this more easy mermaid tail pattern. It's a gorgeous design and will come up in your coffee mugs. This easy memory tail cozy is prettier in blue color or bright color. These charming accessories will be a fun effort, and the completed mermaid tail cozies will look very nice on the top of any mug or cup.
Crochet these in worsted weight yarn, and you can use them during winter to keep the hands warm or on warmer days when you'd like to keep your beverages colder. This is fun to work with the worsted weight of the yarn. It works up quickly, and you can make several copies in different color blends to create a unique masterpiece.
Mermaid Tail Purse Pattern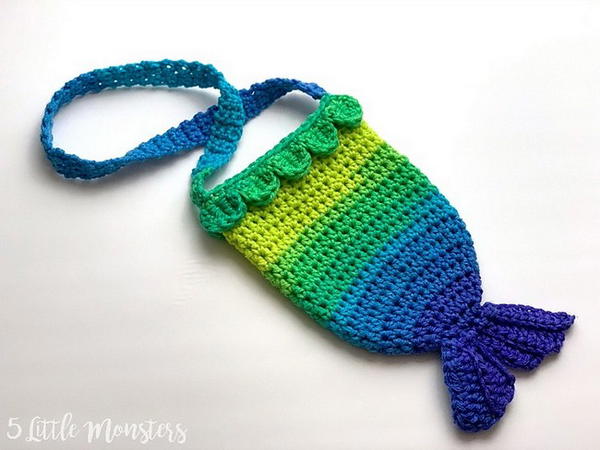 Drop by and see the adorable crochet mermaid tail purse that you can use in order to feel special and beautiful at the same time. To make this unique purse, you will have to crochet some exclusive crocheted fabrics in adorable color blends of Aran weight yarn that are best suited to add crafty vibes and charm each time. This mermaid purse is made by crocheting with three fancy stitches. It is such an easy and quick project that can be completed in one to two evenings. Wear it over your shoulders for a day at the beach or to go shopping or use it as a handbag for a night out. It is such an easy and quick project that can be completed in one to two evenings.
Barbie Cobble Stitch Mermaid Tail Pattern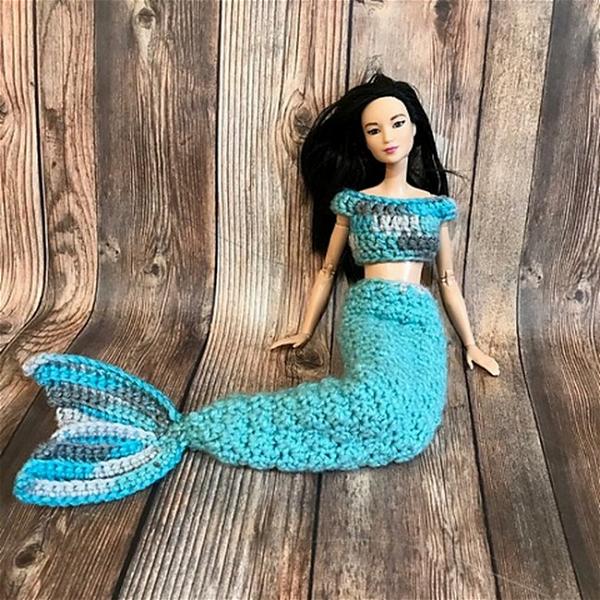 This crochet pattern is an excellent project for beginners and advanced crocheters. The pattern is worked in the round, so minimal sewing skills are needed. The Free Crochet Barbie Cobble Stitch Mermaid Tail Pattern is the pattern you need to make adorable additions to your wardrobe. You'll love this mermaid tail because of its unique texture and stylish design. The texture will be a great option for making an elegant addition to your wardrobe. This free crochet barbie cobble-stitch mermaid tail pattern is an excellent option for making admirable wardrobe changes. You'll love this mermaid tail pattern because of the softer texture and unique stylized design. The cozier texture will make this pattern excellent for adding sophisticated additions to your wardrobe.
Mermaid Pencil Topper Crochet Pattern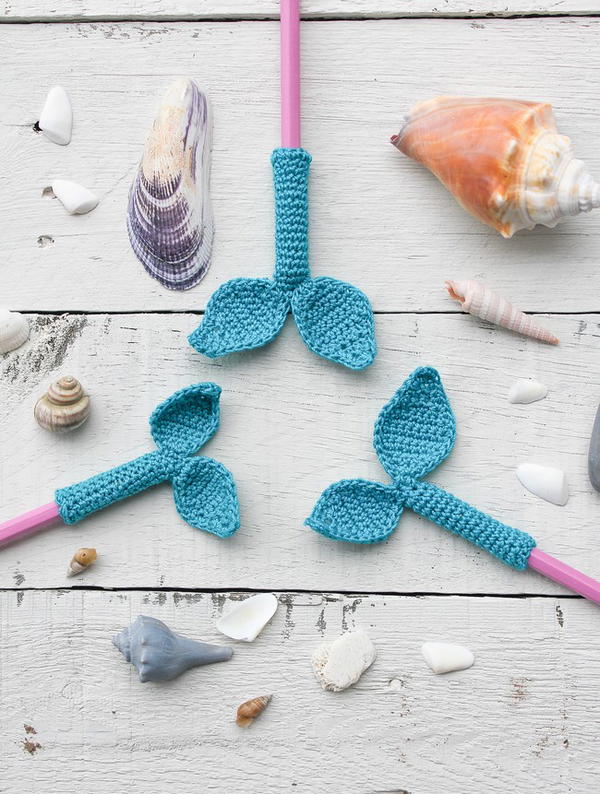 Need an amazing homemade crochet pattern? You are in the right place. Try this mermaid pencil topper pattern now. This lovely homemade pencil top is super easy to make, and it can be for baby gifts, valentine's parties, Christmas gifts, and birthdays. Use this handmade crochet pattern as office decorations. Anyone would admire these handmade pencil tops, and so will you. With these crocheted pencil toppers, you can decorate your school pencils for the holidays or for special occasions like graduations and retirements. Children usually wear the mermaid pencil topper crochet pattern as toys because they love to play with it.
Mermaid Tail Purse Crochet Pattern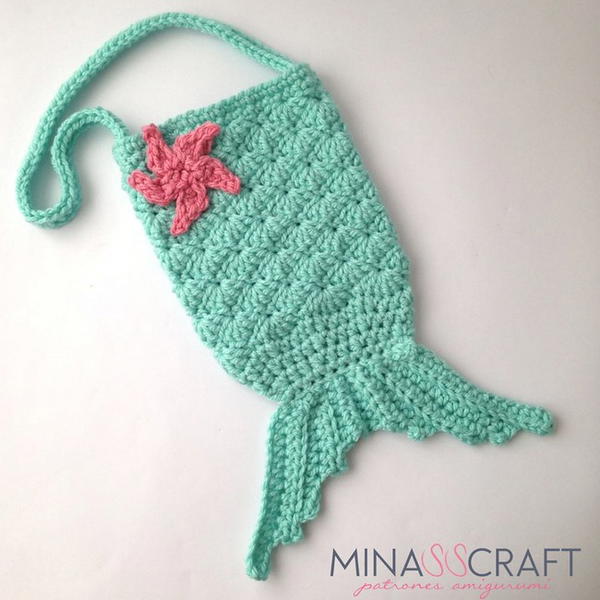 Are you searching for a cozy, refined purse that looks excellent and is a class apart? Here's an exquisite crochet purse pattern of the mermaid tail. The shape of its cutting edge makes it appear like an artificial fishtail, which draws other people's attention. You can also make this purse in several hues to match different garments. You will require your favorite wool blanket weight solids and a J-size crochet hook! The mermaid tail purse is the right thing for girls to keep in mind when they are tired of the regular bags at the store. As long as they have this pattern, they can make sure they have something unique. The edges of the purse will give it a real fishy look too, so it is cute to carry around.
Mermaid Tail Bag Crochet Pattern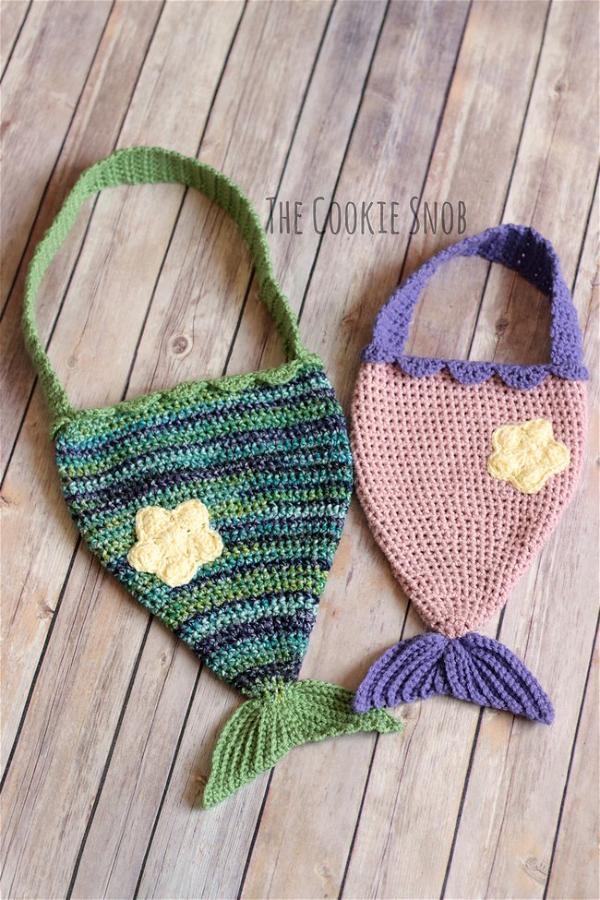 This crochet pattern for a small mermaid tail is a great project for crocheters of all skill levels. You will learn how to use the Berry Stitch and work in rounds, increase and decrease stitches and sew pieces together. You do not need to be an expert to make this bag, but you will enjoy learning new techniques. The bag is crocheted in the round using simple stitches. It is a fairly quick project, taking about 2-4 hours, depending on experience. The bag is perfect for carrying an iPad, a beach book, sunglasses, sunscreen, and other goodies for the beach or pool.
Mermaid Snuggle Sack Crochet Pattern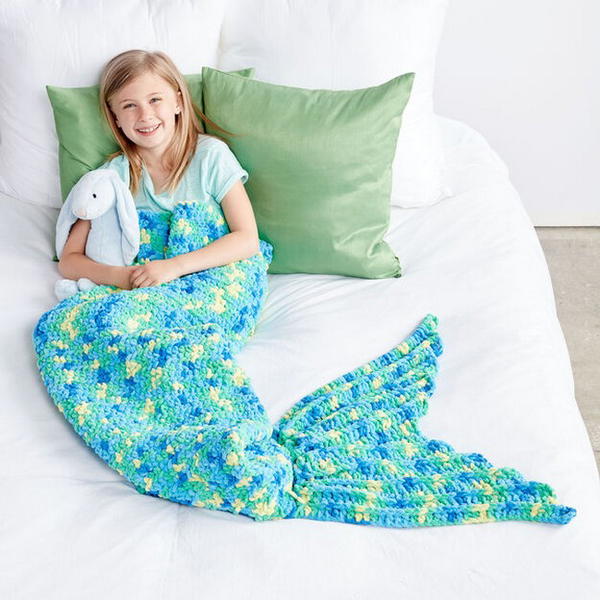 This crochet pattern is one of the most unique and gorgeous blankets you'll ever find. A design that resembles fish wings. Due to the closure bottom of the blanket, it covers both feet. You can make it quite easily in different sizes with deficient expenditure. This mermaid tail blanket can be a fun project to crochet for kids or adults. This pattern contains detailed instructions with many photos. It will make a perfect gift for the special person in your life. It is easy to follow and beginner-friendly.
There is no doubt in the fact that people, especially kids are fond of mermaids. In fact, they want full mermaid costumes to wear like a real one. That's why you should know that there is a way to make them happy as they will be able to snuggle into this mermaid tail blanket as they dream about seeing a real mermaid. It is made with just some ordinary stitches and threading, which makes it possible for beginners too.
How To Crochet A Mermaid Tail Blanket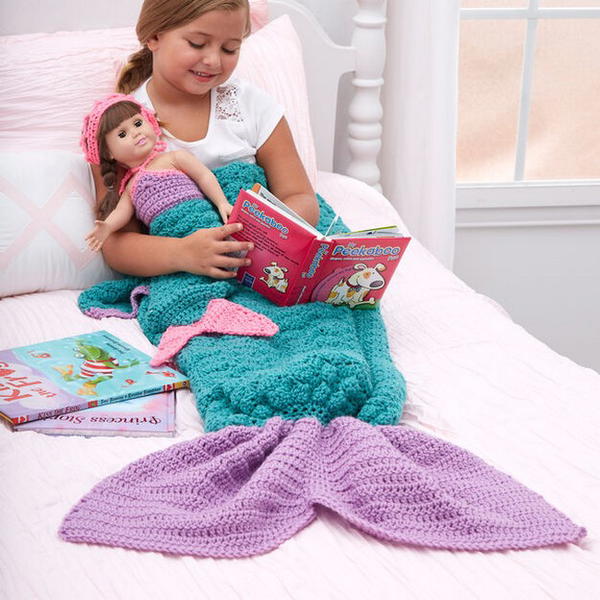 A winter season is about to come, and every person would like to spend a cozy season by wearing their favorite winter clothing with a Mermaid Tail Blanket. It might take some time and hard work, but this crochet pattern is the best and helps you create your theme. Making Mermaid Tail Blanket is not at all difficult. Here are the step-by-step instructions that you can follow easily. If you want to make a crochet blanket for yourself or gift it to your loved ones, it will benefit you.