If you love foxes and are always looking for a new way to incorporate fox-themed goodies into your lives, these 20 Crochet Fox Patterns are for you! You can make these free crochet fox patterns that range from cuddly to ferocious. This list has something for everyone, whether you are an amateur crocheter or a seasoned one. Making a crocheted fox for your sweet ones can be a great idea. It will make them feel so much loved and you'll definitely get to see that sweet smile on their face. They are the cutest little things on earth and the best gift to anyone you want to give something cute! Crochet the cute little fox amigurumi for your kids' room, or maybe even a fun little toy for them.

With various colors available in yarns and threads, you can pick the one that matches your home decor and make gorgeous items for yourself. With so many options available, you would never run out of choices! Whether you want to gift these cute little things to someone special or use them as home decor items, these free 20 fox crochet patterns are totally worth trying.
These free crochet fox patterns are a wonderful collection of cute toys, warm hats, and cozy scarves. With each featuring their own personality, these two-legged foxes are sure to become one of your favorite animal's amigurumi.
Uses of Crochet Fox Patterns
Crochet fox patterns have a variety of uses. They can be used as
Decoration in your room.
Make gifts and baby shower.
Weddings.
A source of joy and creativity.
You can use a crochet fox pattern as a decoration, an accessory, or a toy.
The crocheted fox also makes a great pet!
Explore this wide variety of uses for your friends.
Crochet fox patterns are a great way to add cuteness to your home decoration.
-They make beautiful gifts for friends and family.
Interesting facts about Crochet Fox Patterns
If you are fond of crochet, here is a brand new opportunity to try your hand at creating something beautiful with that craft!
Crochet Fox Patterns have become very popular in the last few years—more and more people have started to learn this great craft. It's not surprising, as this type of pattern is really colorful, cute, and easy to make.
There are even specialized crochet magazines that feature Crochet Fox Patterns. If you are interested in such projects, you can find here many of them. We offer various free crochet fox patterns that can be downloaded and then followed by anyone who is interested in learning how to create such items.
Examples of these patterns can be seen here. They can be used for decoration purposes and also as toys for children. Some people create these patterns during their free time because they enjoy doing it, others sell their works for a living.
Franklin The Foxy Fox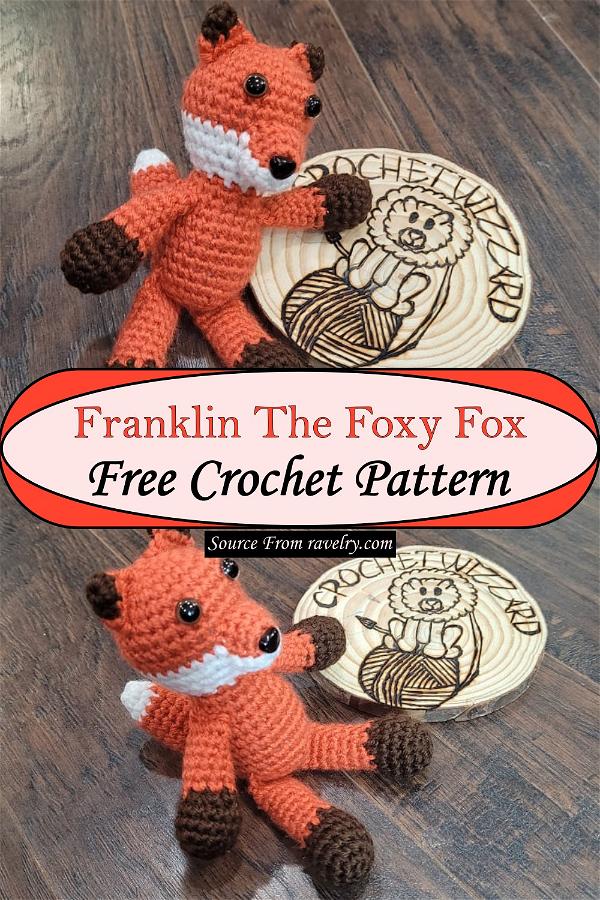 Meet Franklin, the most adorable fox! He's perfect for cuddling, a great travel buddy, or even a charming decor dash in any room. His vibrant coloring and dependable nature bring him to life. Handmade Crochet fox toy named Franklin. Easy make for anyone wanting a cute snuggler friend. Franklin is a cute little Fox boy that wants to party! He fits in your hand and is always ready for a good time. His perfect size makes him great to bring along on adventures, stow him in your backpack and be ready to have the most fun at any party.
Fox Applique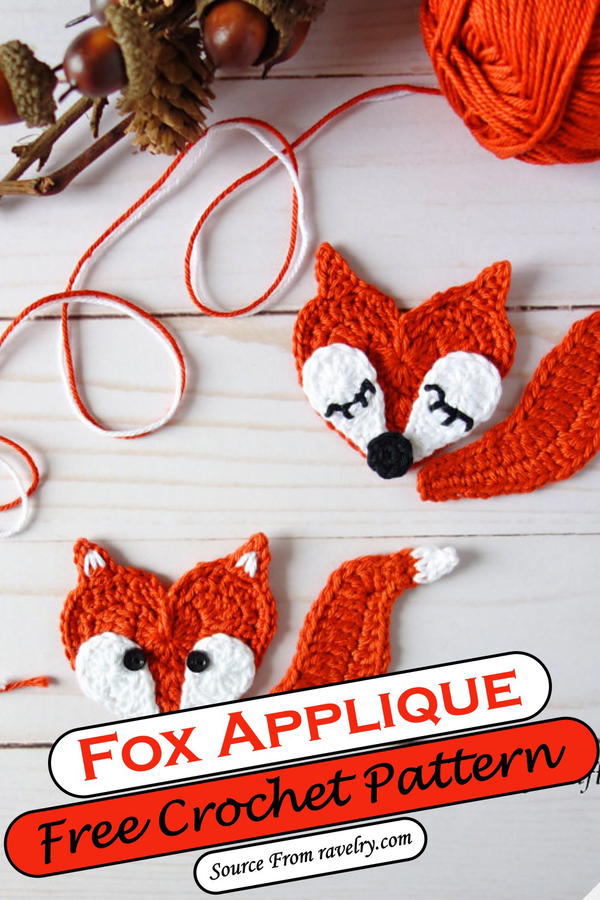 This is a pattern for crochet fox applique in the shape of a heart. This pattern is for creating this unique and beautiful crocheted fox. They are great for decorating your home, or as a gift. You can make them for any occasion, weddings, and birthdays to name a few. Crochet Fox Applique can be used to adorn any item you can think of, from hats and scarves to sweaters and blankets. Use it as an applique on a bag or pouch, or fasten it to your keys.
Funny Fox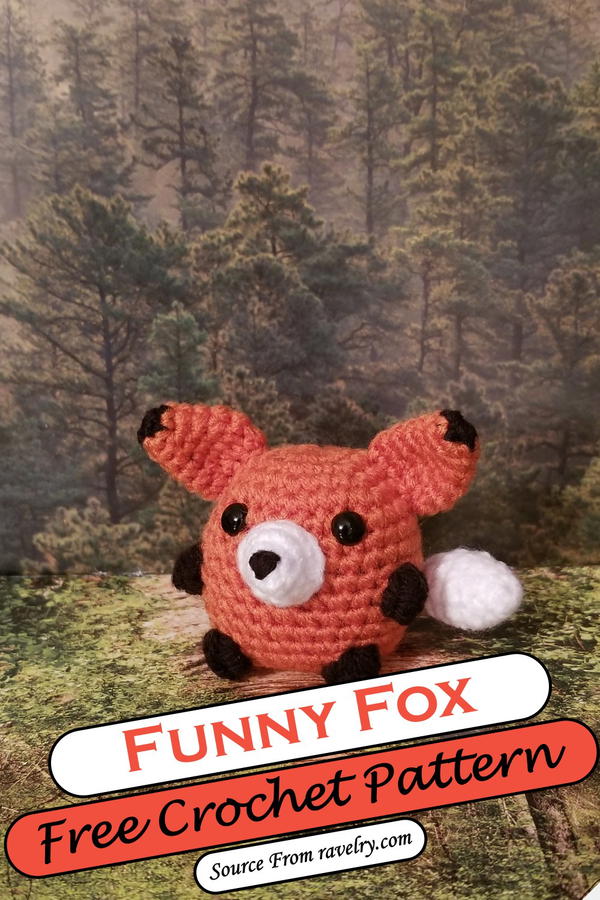 The Perfect Fox for Beginners as well as more experienced crocheters. With the clear step-by-step instructions, you will create your very own little fox and amaze your family and friends! Add these two little Cuties to your collection of softie friends or give them as a gift. They are stuffed with polyester stuffing, making them child-friendly and cute. Your kids will love the way they look, and they help to teach hand-eye coordination in a fun way!
Fox Pumpkin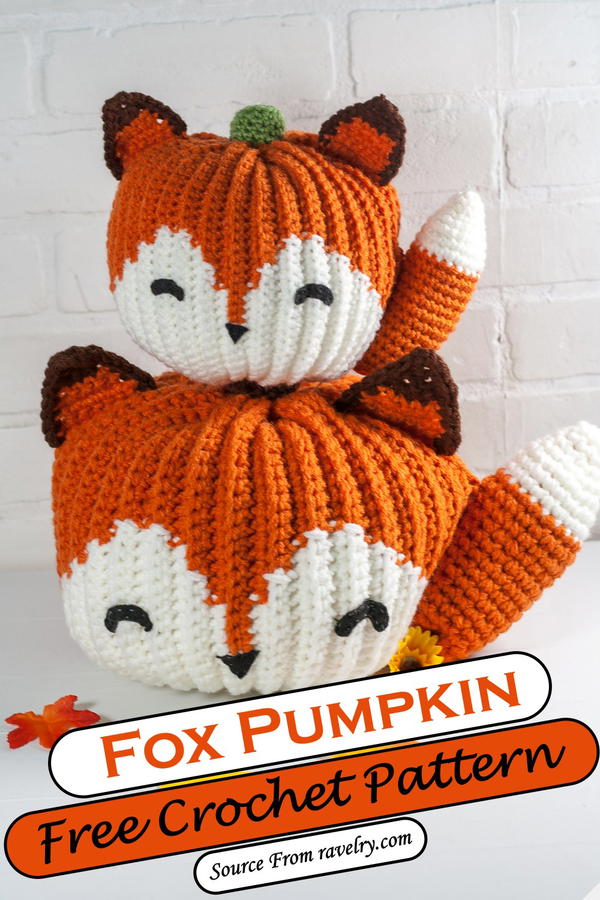 One of the most fun things about fall is that it's time for pumpkins and gourds. And not just for eating, but for decorating! Pumpkins are classic for fall decorating, but why not try something different? This fox pumpkin is a creative take on the traditional orange pumpkin. This pattern is great for adventurous beginners but is also a quick project for more experienced crocheters too. This foxy little guy will be a welcome addition to your Halloween decorations this year.
Clark The Fox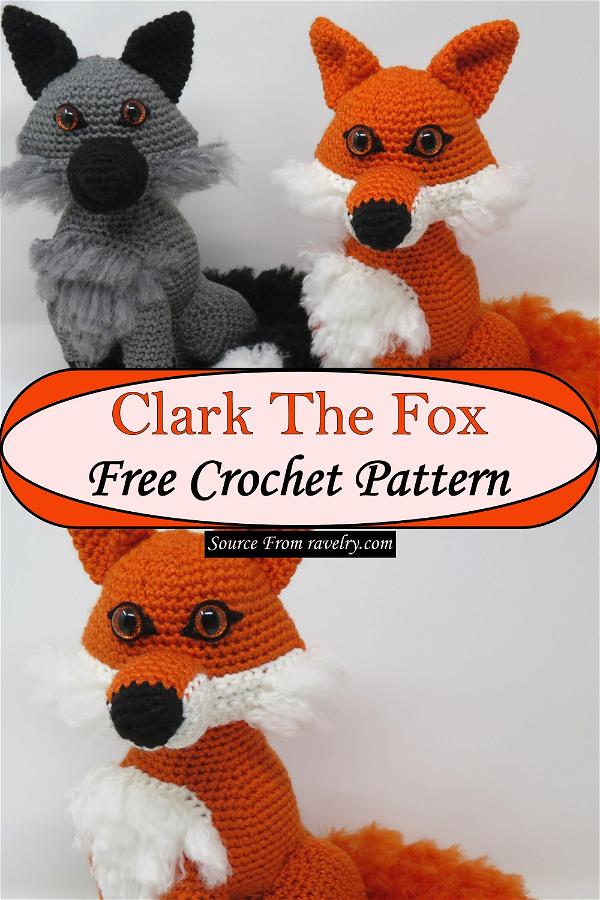 Doesn't your heartburn to see these eyes peering out from this wild and wonderful pattern? Find Clark, the fox, hidden in the grass. With his glitter eyes and his bushy tail, he's sure to be found quickly. Clark is ready to teach you the new techniques necessary to create this bold plushy. His unique, realistic shaping and fluffy tail are sure to turn heads wherever he goes. Find his face hidden in the brush of his tail and see if he'll be your next project! He might even be your next crochet project! Clark makes a wonderful gift for any occasion including birthdays and Christmas.
Ferdi The Fox & Walt The Wolf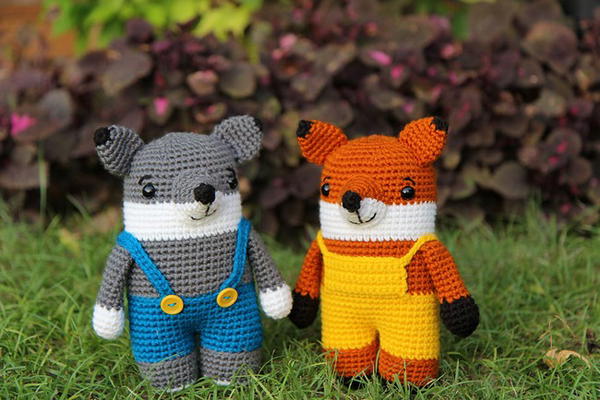 Meet Ferdi and Walt, two of the most adorable woodland animals you will ever see! Crochet Ferdi the fox and Walt the wolf love playing hide and seek in Your garden. Soft and cuddly, these crochet friends are just waiting to come and play at your house. See if you can find their secret hiding place. You might even hear them say hello if you look carefully enough… The simple yet clever construction of these amigurumi delights ensures that all curious children will have a ball. Even beginners should be able to complete Ferdi and Walt's adventures with a bit of crochet experience. These two cuties are just so huggable!
Tiny Fox Renard Mini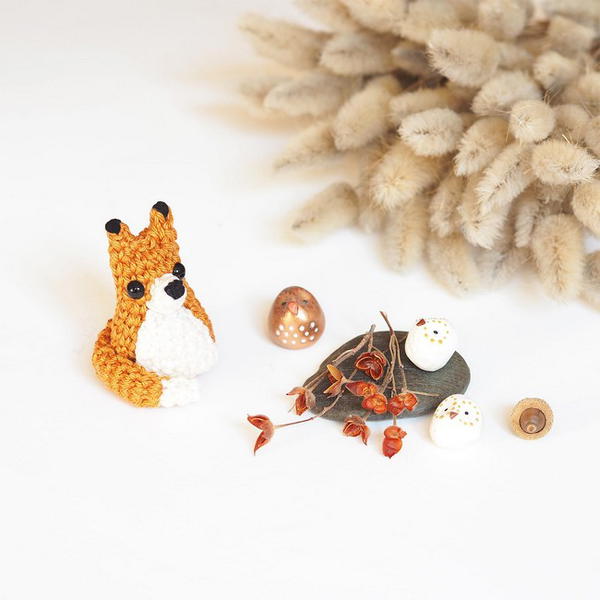 Crochet Tiny Fox Renard Mini with its soft floppy ears, hand-sewn button eyes, and felt nose makes this fox perfect for any fox lover's collection. Cute tiny fox with a small fluffy tail and miniature nose! It can be used as an additional baby toy in the crib or as a decoration for home. The fox looks like a mini soft toy - a crochet, knitting doll, which will be a charming addition to the interior of your home. It is a lovely companion for any child - it's not very big, so it is a safe toy for small kids. It's also a really good choice for a keychain.
Renato Bipedal Fox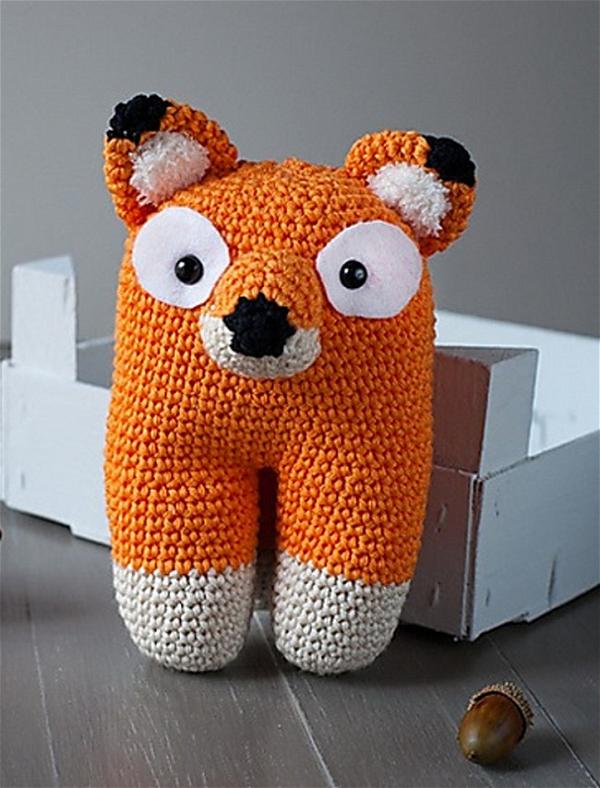 He is a little fox with lots of love for you? Do you want him to be your best friend? Renato is an adorable fox with a very foxy sense of humor who will make an excellent addition to any knitted woodland creature collection. Renato is the perfect size for snuggling and can be made to sit or stand as you like. Hand crocheted Renato, the red fox is soft and cuddly, perfect for anyone from baby to adult. With booties, a scarf, and a hand-knitted beanie, he is ready to do some winter exploring!
Fredric The Fox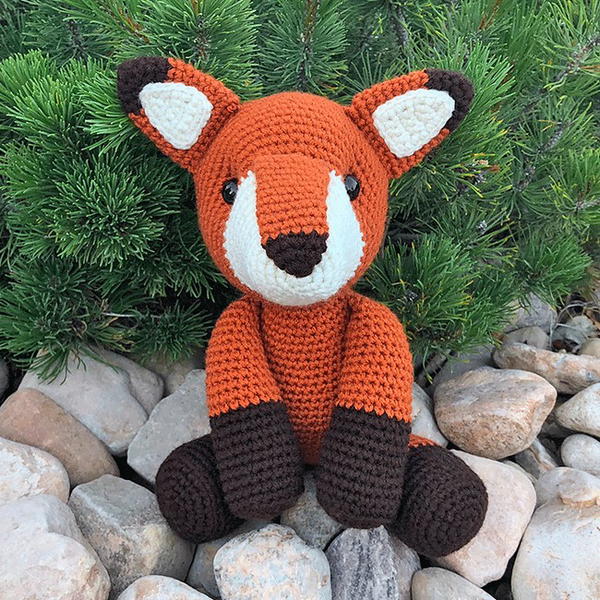 Fredric the Fox is an adorable way to entertain your toddler or bring delight to any woodland creature enthusiast in your life. Crochet your very own crotchety critter. He's so charming and witty, you might want to keep him far away from your hen house. Fredric has a sweet, smiling face and his expression is never anything less than enthusiastic. He's even good with kids! He'll become your best friend no matter where the adventure takes you.
Francis Fox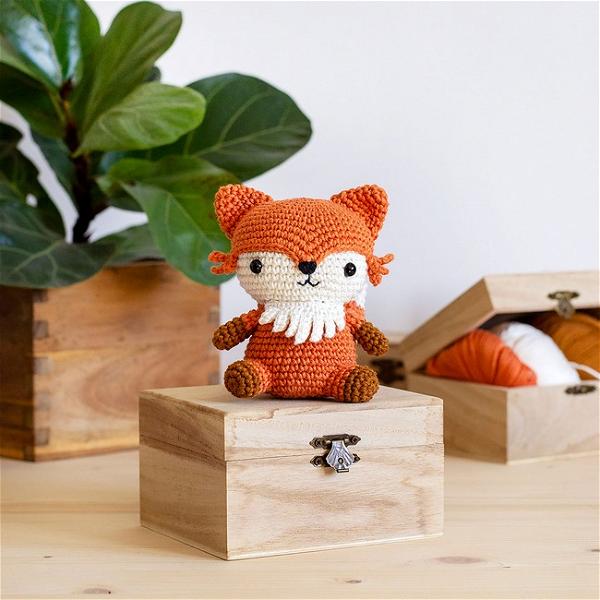 This latest toy creation is the most intelligent creature to ever roam your living room. Crochet Francis Fox's nose twitches and ears move in the wind. He loves to sit next to you and enjoys a good sweater, even better if it's yours. Lovable Francis makes a great gift and unique addition to any room. This Francis Fox brings comfort to your child's play with his sweet demeanor and weighted body. Francis will be your child's constant companion through imaginative journeys and afternoon naps.
Ferdi The Fox & Walt The Wolf Rattle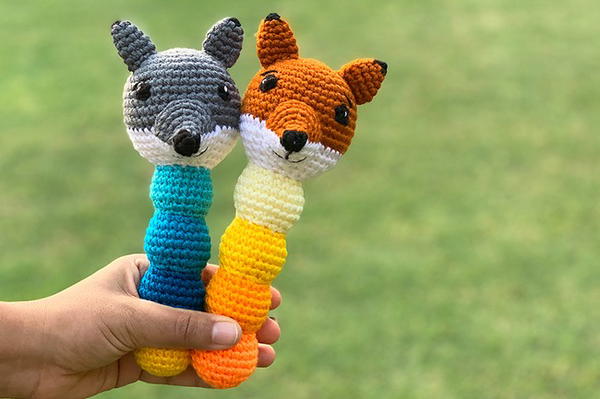 These crochet Ferdi the Fox/Walt the Wolf amigurumi rattle are super cute and fun for babies! This crochet rattle works up really quickly and is so cute. You can pair it with the Ferdi the Fox and Walt the Wolf amigurumi toy for a special baby gift. It would make a wonderful crochet gift for any baby shower. You can pair it with this Ferdi the Fox and Walt the Wolf amigurumi toy for a special baby gift.
Kitsune Fox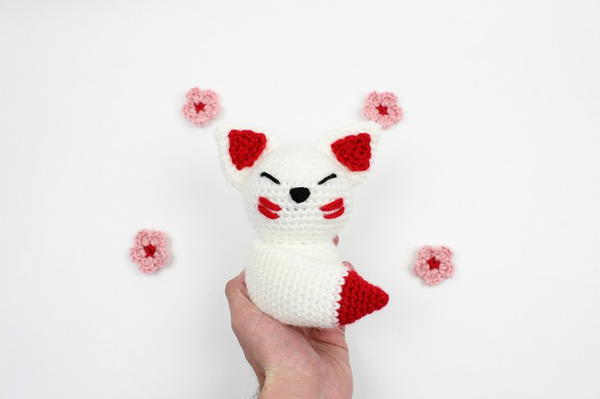 Looking for something unique? How about learning how to create an amigurumi fox with a kitsune spirit. Let the power of kitsune be with you with this kit for an amigurumi fox! Create your very own fox spirit to bring some magic into your home. This beginner-friendly amigurumi comes step by step instructions that teach you through photos, illustrations, and written patterns. Kitsune folklore is amazing, and any fox lover will be happy with such a great craft project.
Fox lovey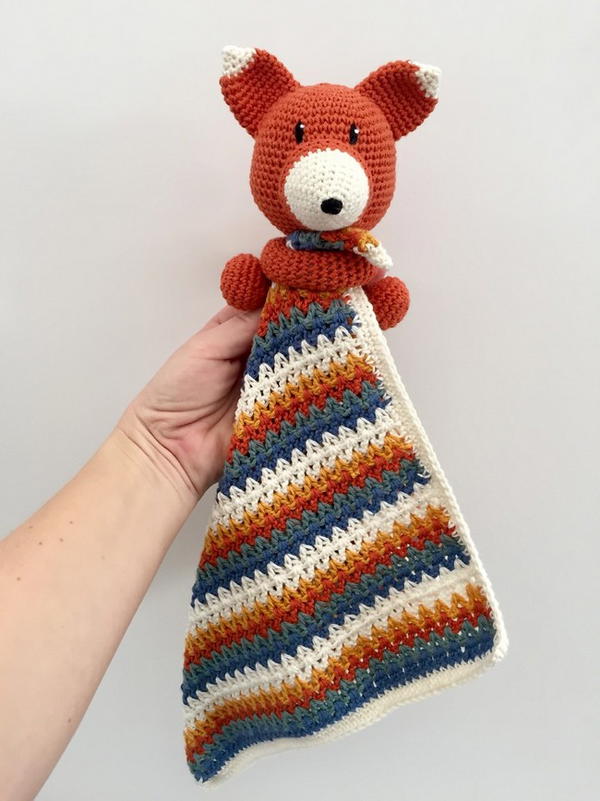 A cute little Amigurumi Fox sitting on top of a cozy crochet basketweave blanket. Your baby will love to snuggle, play, and fall asleep with this adorable friend. The perfect gift to crochet for a new baby or little one. Although this looks like a blanket, it is also lovey! It has a beautiful striped border with a cute little fox in the center. Add a little cuteness and whimsy to their playtime with this super soft plush blanket toy. The blanket is crocheted with the V-stitch technique to form those nice stripes.
Wizard The Little Sleeping Fox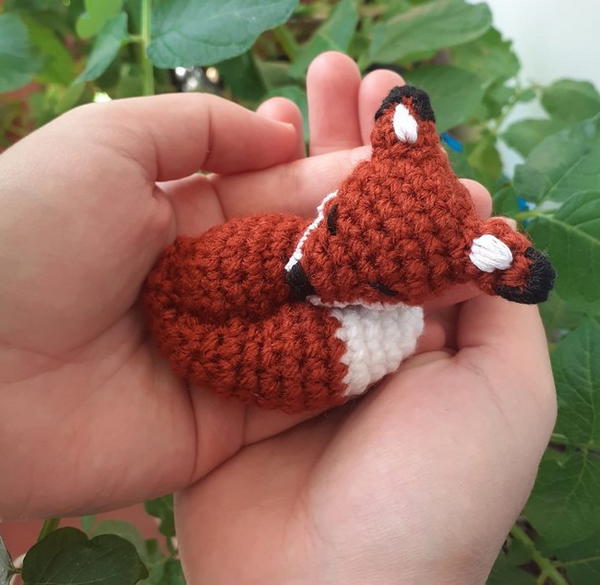 A sweet little fox in a tiny size makes a perfect little gift for anyone. Snuggle him onto your favorite tote bag, and your keys, or just let him nap in any cozy corner of your home. This is the perfect amigurumi toy for anyone who loves foxes! The Little Sleeping Fox will capture your heart with his sweet face and little sleepy pose. He's the perfect soft toy to snuggle up with. Made using DK-weight yarn and following basic crochet techniques, this is an excellent pattern for beginner crocheters or anyone who wants to make a fast but adorable little toy.
Cube Foxy Fox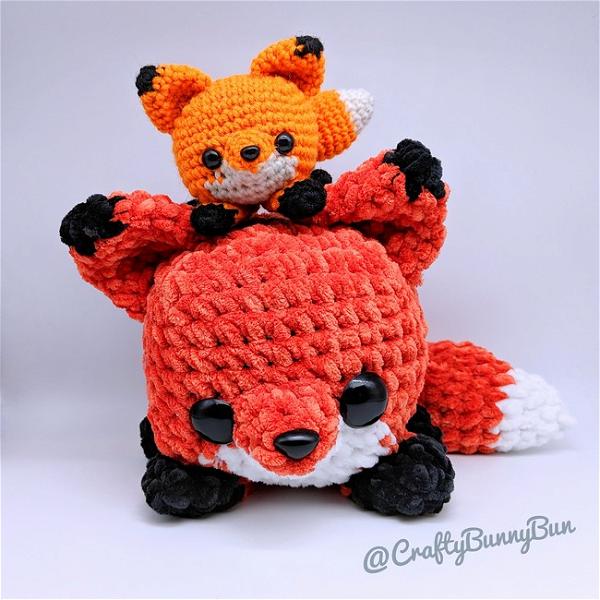 Crochet Cube foxy fox is the perfect companion for your little one and makes a great gift! Cuddly and squeezable, it's handmade with love. This adorable fox is a great friend and faithful companion. Its soft cotton fur is so tactile, and its cheerful face will warm your heart. Crafty foxes are the most comical new home decor trend! Cute and chunky, this adorable little fox is fantastic for rustic home decor or a plush toy for someone special. The cute crochet cube comes with yarn, stuffing and a plastic needle - everything you need to make your own crochet cozy creature!
Fox Lip Balm Keychain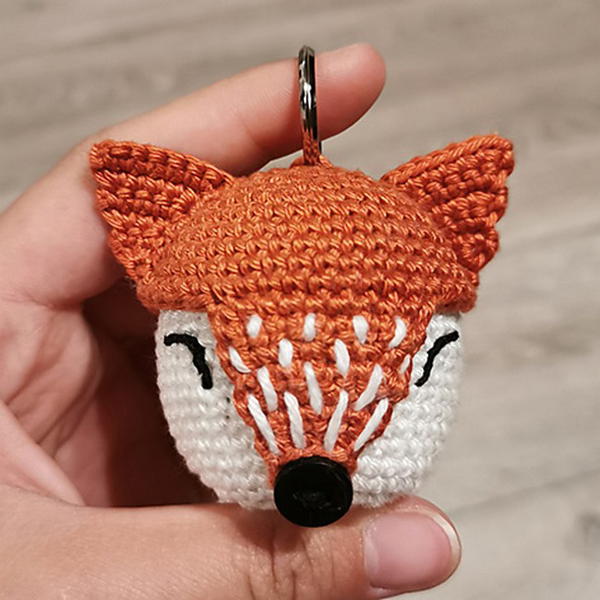 Are you constantly misplacing your lip balm? Do or Need a cute way to carry your lip balm? Then this cute crochet fox case will be perfect for you! She also comes with a keychain so you can easily attach her to your keys and have them with you wherever you are. These adorable little cases will keep your lips protected and moisturized no matter where you are. Fun and cute, this fox crochet keychain is a fashionable way to keep your lip balm close by. Goodbye digging in your purse for it. Now lip balm is always there for you; stay hydrated and moisturize your lips with a continuous twist mechanism.
Fox amigurumi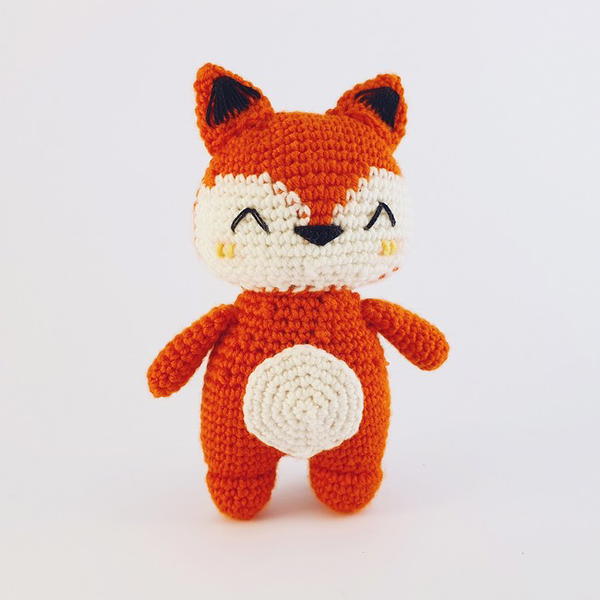 A colorful fox is ready to keep your child company on a long journey and will not let him be bored. Moreover, such toys are very educational, help to calmly react to the outside world and develop fine motor skills of hands. Crochet fox with a happy smile. The amigurumi is made of high-quality yarn and stuffed with hypoallergenic hollofayber. Crochet Fox Amigurumi is the perfect gift for a child or as an additional decor element in the nursery. The toy can be done in any color you want, change it to suit your nursery theme! If you want to please a child and bring joy, Crochet Fox Amigurumi is for you.
Fox Rattle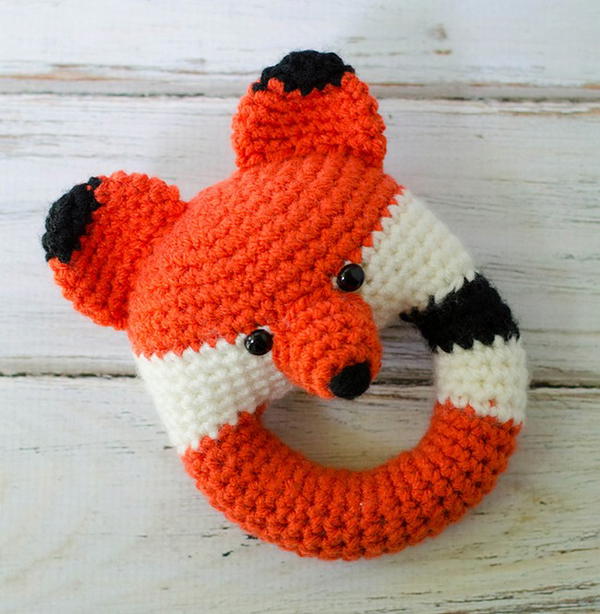 Soft and cuddly, the perfect gift for a new baby. The natural cotton yarn is soft on a baby's skin and the wooden ring makes for easy grasping by little hands. This makes a perfect little shower or newborn gift! This woodland wonder is the perfect playmate for your little one. Designed to grow with your child, this fox rattle can be used as a teether and a handheld rattle. Features include Teether, Rattle, Great for sensory stimulation and hand-eye coordination.
Fox Ear Saver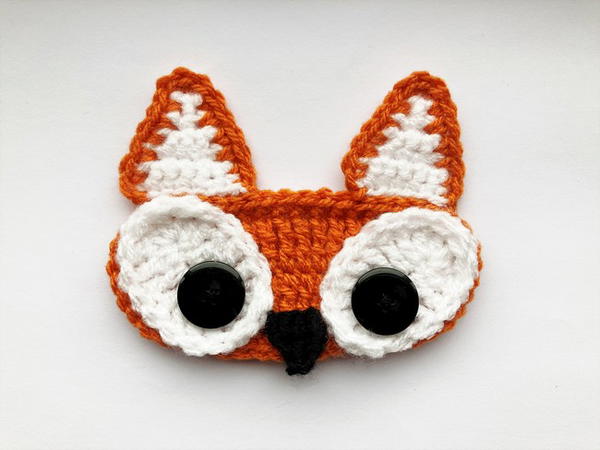 This foxy face is going to be your new favorite crochet face mask ear saver. A crochet ear saver that has the shape of a fox, with buttons on its ears to hook the loops of your mask. Quick and easy to make, you have yourself in no time a lovely accessory to hook your face mask. Make your own in about 30 minutes with this easy-to-make crochet pattern. Three colors of DK yarn and a size 4mm hook make this an easy project for all skill levels. This super quick and easy ear saver is the perfect stash-busting accessory.
Fox Amigurumi Mr Furu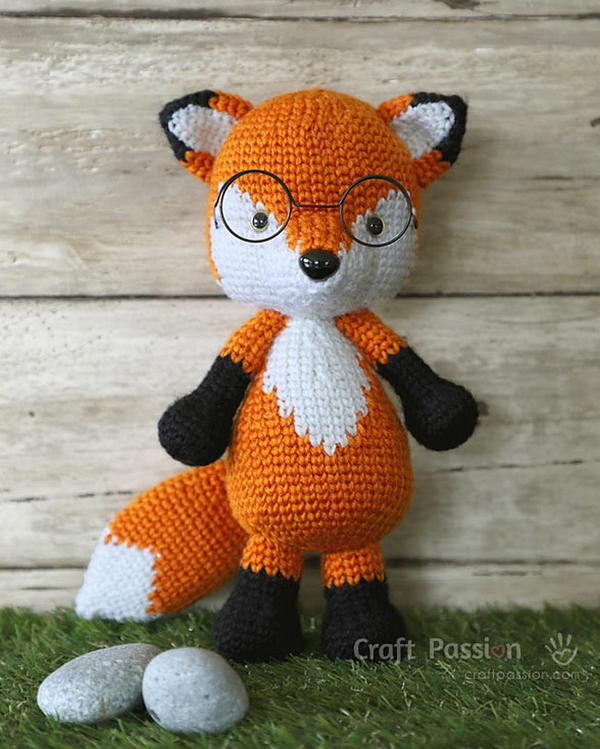 Make your own adorable crochet fox with this complete kit. Our kits offer the materials and instruction to make a complete amigurumi animal. Put them in fun poses to create a whole family of critters! Soft, huggable, and super cute! A perfect crochet pattern for children of all ages and it also makes a great gift! Handmade Fox Amigurumi Mr. Furu with glasses 100% handmade crochet Very soft and cuddly toy! It will be a stunning gift for yourself or for somebody you love!