Seeking a crochet wolf pattern? If so, you've come to the right place. Our collection of beautiful crochet wolf patterns will delight the wolf enthusiast in your life. Wolves are revered and admired animals by many people. Many patterns can be made for wolf lovers; whether you want to create a whimsical stuffed wolf toy, a cuddly pillow, or a more realistic-looking wolf, you'll find the most suitable crochet wolf patterns available for you here.
Crochet Wolf Patterns

Wolf lovers, look no further than these crochet wolf patterns. From the wild and fierce to lovable and cuddly, you'll find every breed of wolf imaginable in this collection of crochet animal patterns. These crochet wolf patterns will show you how to make many different toys, accessories, and other fun things with your furry friends. You'll find all sorts of hats, toys, and even softies that will make perfect gifts for anyone who needs a little extra encouragement on their journey through life! You can even use these wolf crochet patterns to make yourself something special you can wear or hang around your home.
Ferdi The Fox & Walt The Wolf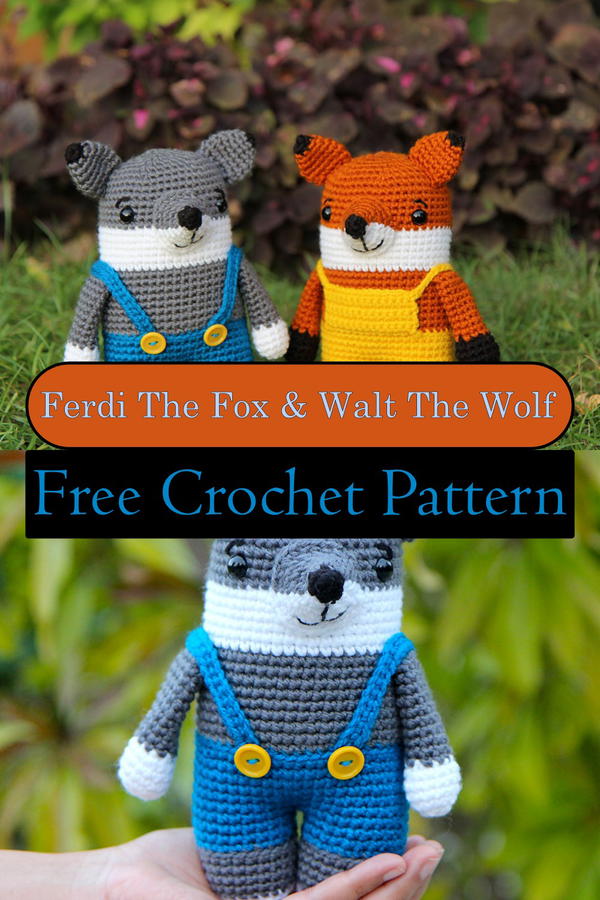 As any father might know, the thrill of a hide and seek game with your toddler is unmatchable. If you are looking for a cozy toy for your little one to play with or love as a sleep companion, then Ferdi The Fox and Walt The Wolf are the perfect match! They look best when made in pastel shades, but you can use any color you like. They will make a wonderful gift too! You'll love these two adorable amigurumi characters, and I hope you'll love this stunning pattern.
Wolf Hand Puppet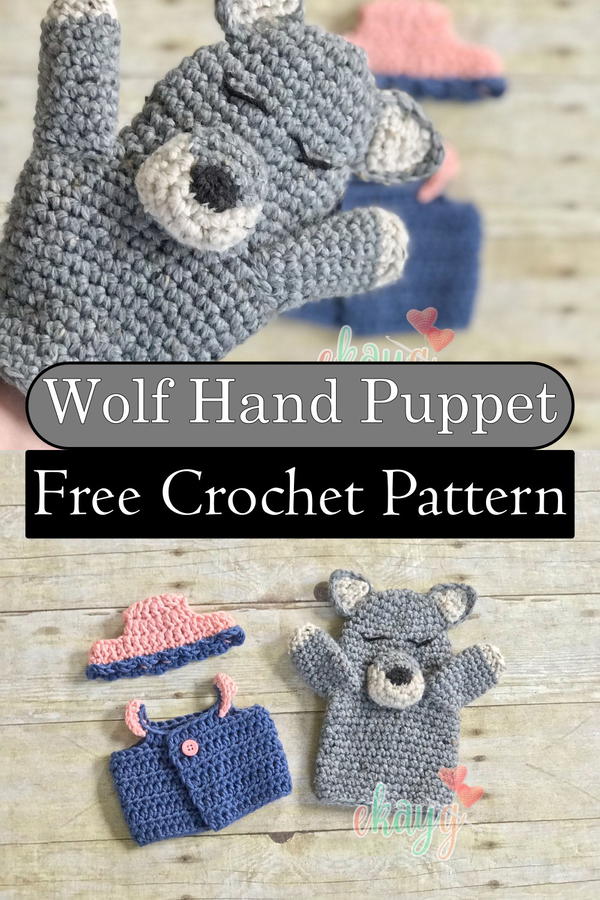 This wolf puppet is perfect for your little one. This hand puppet is made using 100% cotton yarn and worked up with care, and the result is a truly unique and functional piece of art that can be used repeatedly. It's a wonderful way to let your child be creative while also getting their imagination going! It's an easy pattern that even the most novice crocheters can make and customize to their taste. The pattern comes with both charted and written instructions. To complete this project, you only need some yarn, a size G crochet hook, and scissors!
Ferdi The Fox & Walt The Wolf Rattle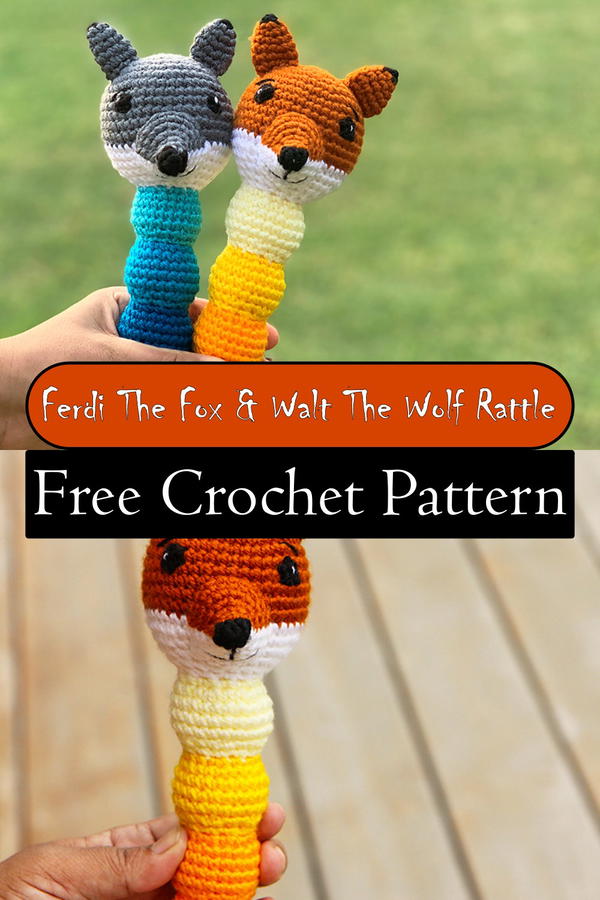 Get ready for lots of coos and smiles with your new crochet rattle! This adorable crochet toy makes a great baby shower gift and is quick to hook up. Once you learn how to make these, you can customize them by using other colors of crochet thread or create a fox or wolf in your favorite color. The possibilities are endless. This adorable rattle works quickly and makes a wonderful crochet gift for any baby shower. It's made using basic crochet stitches (chain, single crochet) and should be a quick project for beginners or those who have been crocheting for a while.
You can also see: Crochet Bee Patterns 
Hooded Timber Wolf Scarf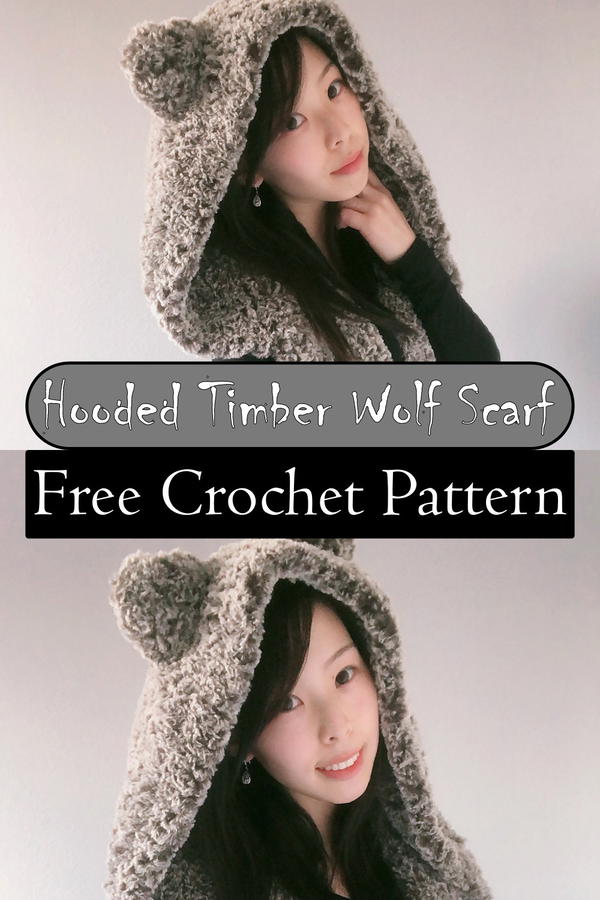 This fun and whimsical hooded scarf/vest are perfect for the little wolf in your life, OR for you. The Hooded Timber Wolf Scarf comes with cozy hand pockets (handy for a warm beverage or some tasty snacks!) It is crocheted in the round, so you will only have one seam to sew up at the end of your project. You can choose your yarn and hook size to create something that fits you perfectly. And with the built-in hand pockets and cozy hood, you can use this scarf all year long!
Walter The Wolf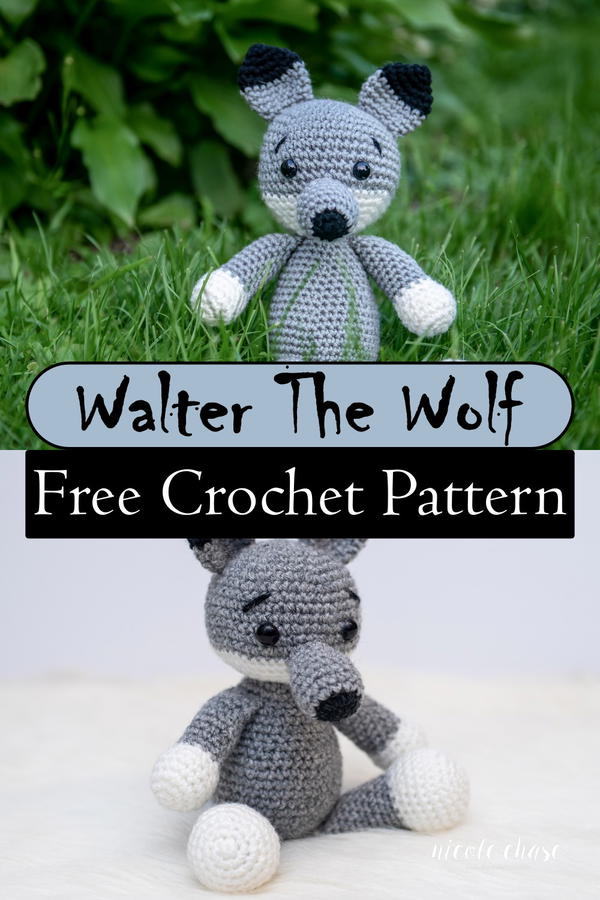 This crochet pattern will instruct you to make a cute and fluffy little Walter the Wolf. Use the gray yarns in this pattern or orange to create a cute fox. Walter is worked in the round in pieces and then sewed together. The pattern also contains instructions for sewing on the eyes, nose, and ears. This adorable Walter the Wolf amigurumi is loads of fun to make and is a perfect gift for kids. The pattern includes instructions for making your personalized stuffie, including a recommended size and yarn requirements.
Crochet Big Bad Wolf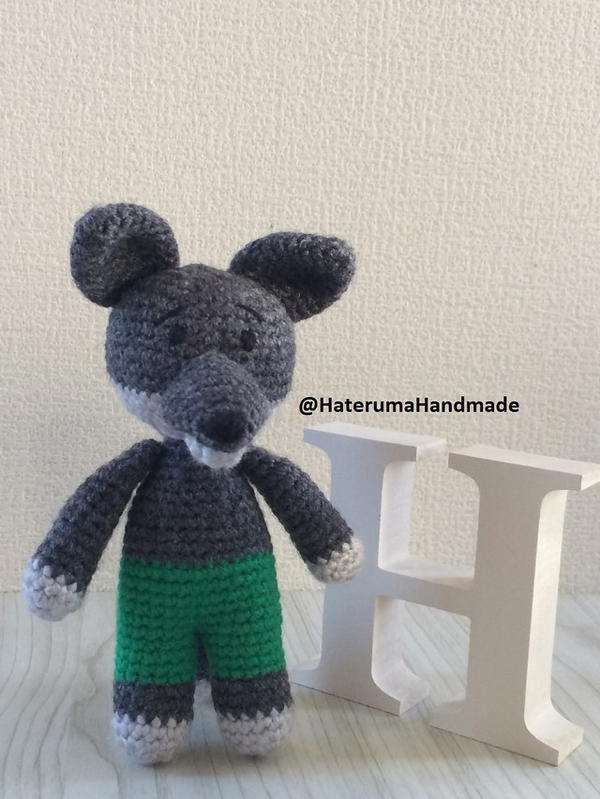 The Big Bad Wolf is a fun and easy crochet project that will make a great addition to your wardrobe. This easy crochet pattern is great to make if you want a quick and cute project. The Big Bad Wolf features a sweet snout, a fluffy top knot, and ears that can be folded flat or left unfolded. Designed around worsted weight yarn, this wolf stands on its own and makes for an adorable addition to any room in the house.
Remus The Wolf Pup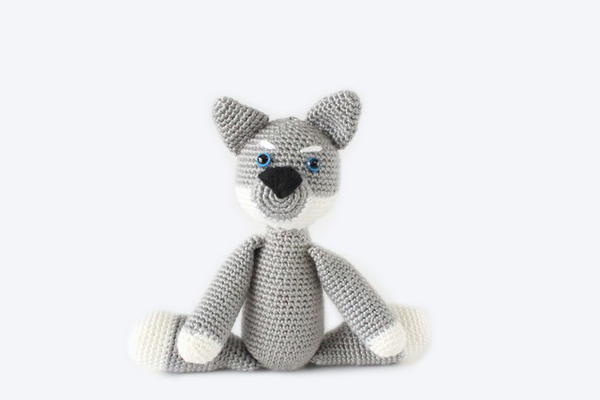 Remus is a fluffy, soft, and adorable wolf pup. He's the perfect size for cuddles, adventures, or proudly displaying in your home. Remus stands at 11 inches tall and is worked from the bottom up, with a unique shape that allows you to use up all of the yarn you have on hand! His bulky weight yarn means that even novice crocheters can make him easily! And best of all, this pattern is designed to be made with only two skeins of Caron One Pound yarn.
Crochet Wiley Willa The Wolf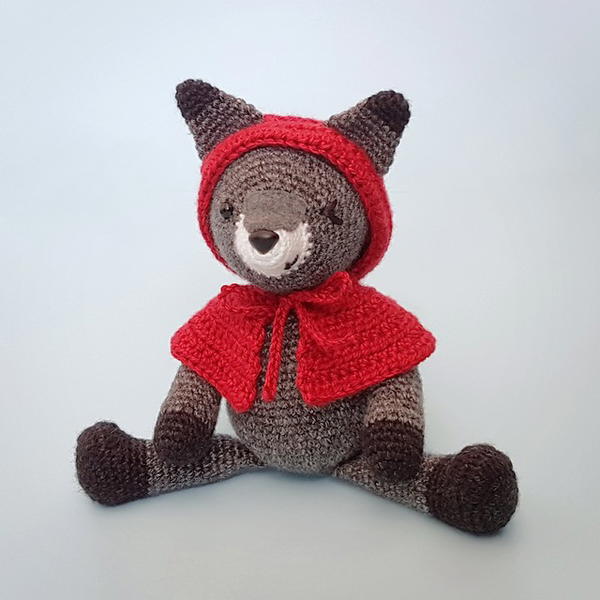 Willa The Wolf is a sweet and practical crochet amigurumi project. Willa sits approximately 5" tall and is crocheted using simple crochet stitches that are not difficult to master. She looks like a sweet little farm girl, with her big eyes and cheeks showing through her little knitted coat, but if you look closely, there is something wild in those eyes, which can only be tamed by love. This amazing pattern also includes instructions on how to make her poncho. This pattern is perfect for a beginner but also does a great project for an expert crocheter who wants to make something quick and adorable!
Grey Wolf C2c Square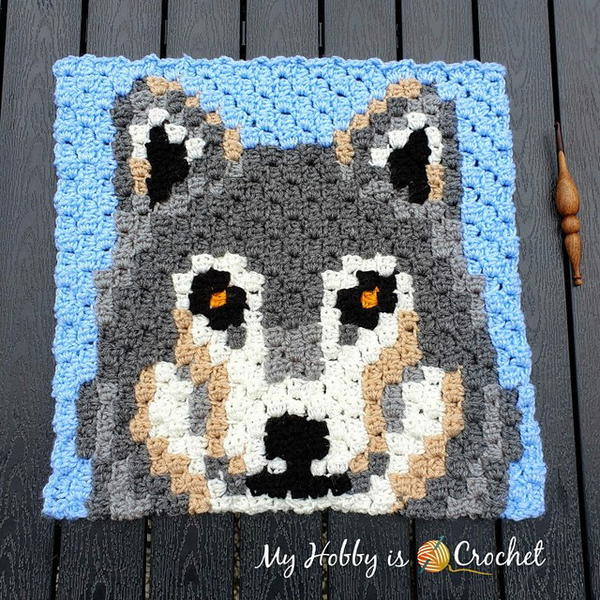 The grey wolf C2C square is a part of a Wildlife Graphghan Pattern. It can be used to make a lovely blanket or as a pillow case to create your masterpiece. The pattern is very detailed and easy to follow. The squares are crocheted from the top down in rows and joined together after all the squares are done. You can use DK or light worsted weight yarn for this pattern; it will surely be your favorite, especially while crocheting stuffed accessories for little ones.
Walter The Wolf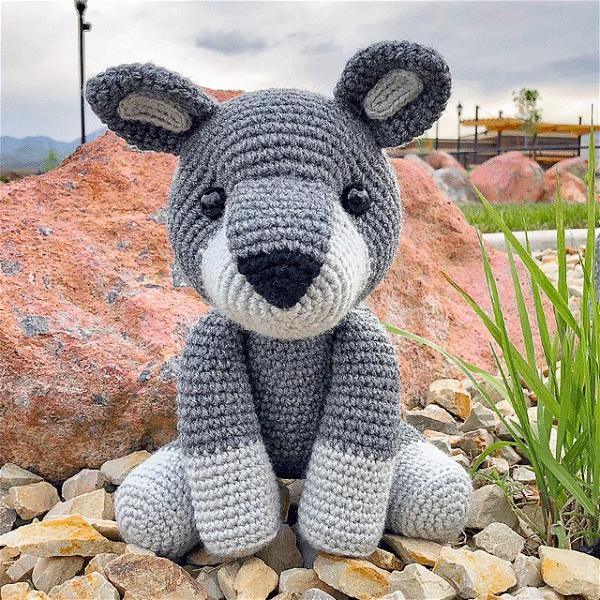 Walter the Wolf may look cute and cuddly, but he's far from your average teddy bear. This amazing Walter has a soft cream and black fur body, plush ears, and an adorable tail. But with his wide eyes, frowning mouth, and sharp teeth, you might think twice before welcoming him into your home! The perfect gift for anyone who loves wolves or wants to give their home an intimidating little edge. The head and body of this pattern are made in one piece, which makes this project suitable for beginners.
Crochet Halloween Wolf Amigurumi
This video tutorial will guide you through a simple method for making a crochet wolf amigurumi in an hour or less. You can use nearly any yarn to make a tiny wolf stuffed animal, but thinner yarn and smaller hook sizes give you more detail. For example, a sportweight yarn (like the one used here) will be easier to work with as it is lighter and more flexible than chunky yarns while still giving you a good definition of the features of your crocheted wolf toy.
A howling wolf
Are you ready for the colder months? This adorable little wolf is a great first step into crochet toys. This little wolf makes a great addition to any room in your house. All you need to do is add a name and some yarn, and he's ready for a family member of your choice! You will love this pattern if you want to make a basic wolf and have fun. It can also be a great gift-giving option for your loved ones, especially for expecting and new mothers.
Crochet Tutorial Amigurumi Wolf
This crochet amigurumi wolf pattern is a great gift for anyone that likes wolves and wants to create a cuddly little friend. This crochet project will work up quickly and can be done by any level of crocheter who is ready to start learning how to make an amigurumi or stuffed animal. There are detailed instructions on how to crochet the amazing patterns of this little creature, including step-by-step photos to help you along.
Woolfie Realistic Crochet Wolf Pattern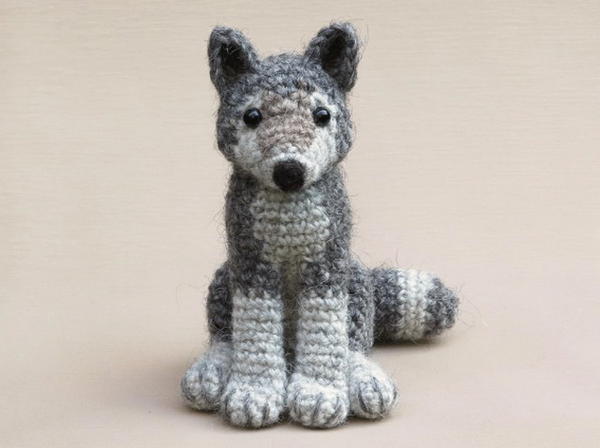 Woolfie is a realistic crochet wolf pattern design to make your cutest little wild animal in various colors and styles. This pattern is perfect for everyone who loves wolves, cute creatures, and small animals. It can customize in many ways - choose the size and the coat pattern and make it as plushy or as hard as you want! It will also be a loveable gift-giving accessory for special occasions like Halloween and birthday parties.
Duke The Wolf Free Crochet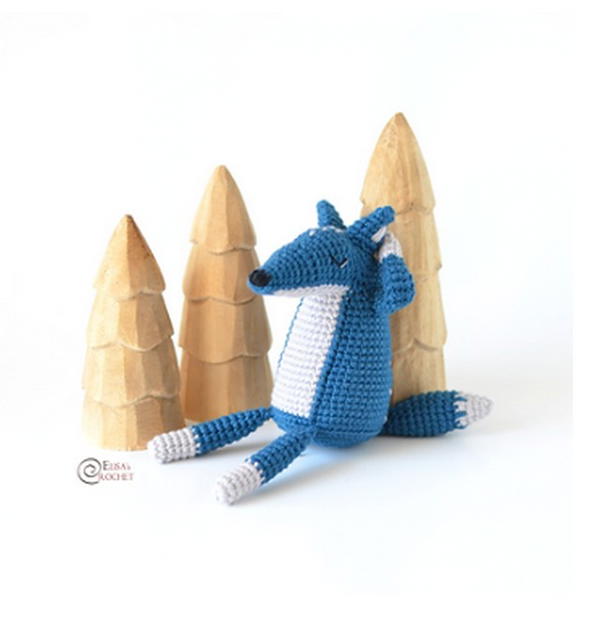 Whether you want to use this as a little plush or amigurumi doll, this pattern is perfect! Duke, the amigurumi wolf, is a top-down, in-the-round crochet pattern. He's quick to make and sure to be a hit with kids and adults alike! It uses the basics of crochet, so it's great for beginners. The body and legs can crochet separately and then combine to complete Duke. His head, ears, and tail can also work separately, then sew them all at the end.