Bring a little sweetness to your life with these cuddly Crochet Bee patterns. They are easy-to-follow and result in very sweet cute little amigurumi, bee plushies, and many other cute accessories that are perfect for children and adults alike. Inside this cute bee crochet series, you will find endless patterns for crocheting your bees. These include the Big Bumble Bee, Baby Bumble Bees, and even a Beehive and a sunflower to go with them. So if you are looking to crochet some stuffed bumble bees to play with, this is the perfect collection of crochet bee patterns.
Crochet Bee Patterns

This collection of bee patterns is the perfect gift for your loved one, even if they are your little one or yourself. You can fill their nursery or kids' room with bees, and they wouldn't mind. It's amazing how you can decorate every angle of every room in your home with just this one crochet pattern collection. Each pattern is specially designed to match each other so that these crochet bee patterns will fit perfectly into any theme for any room.
Pocket Bee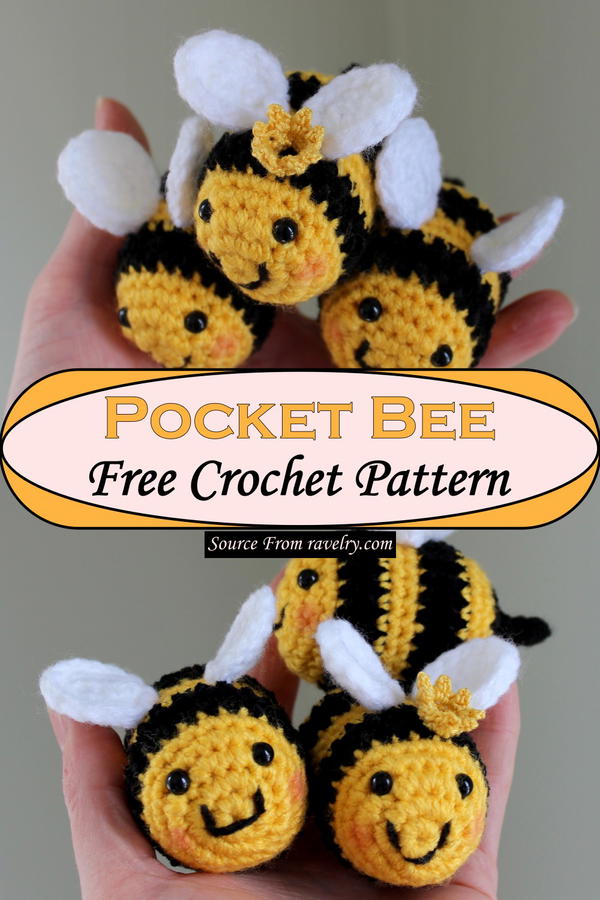 This softie crochet Pocket Bee pattern is an excellent choice for amateurs. The time is taken to make this plushie will help you pass the time effectively and save you from boredom. The bee crochet pattern is very easily mastered by following instructions. Make this softy bee for your kids as a play friend or yourself as a companion. This nice toy will be a great decor option if need be too. Once finished, you can also add it to your home decor collection.
Bee Shofi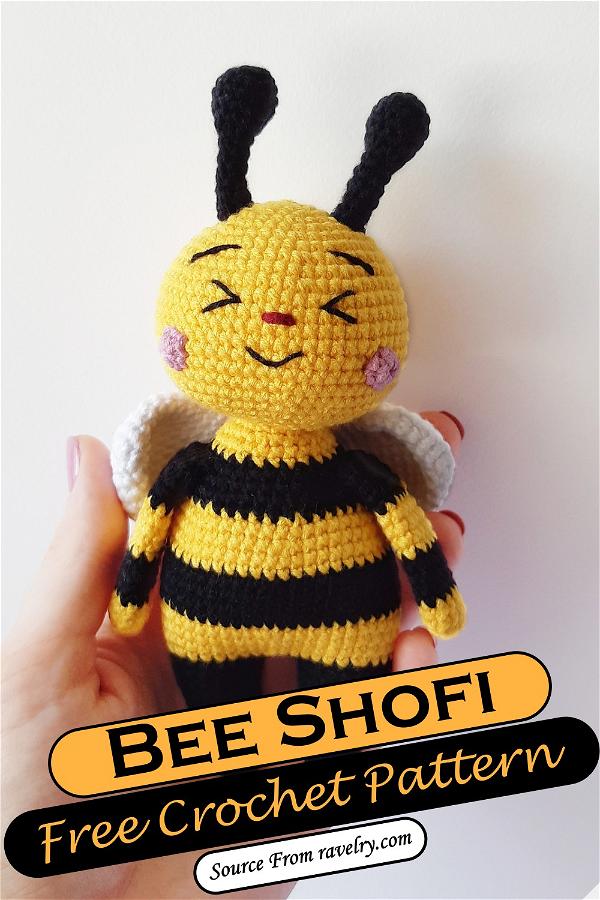 Why not get your hook out and make something for all the little visitors to the garden this summer? The pattern is for the Bumble Bee Shofi - a fun, textured, and cuddle-friendly crochet amigurumi perfect in all weather! Use various colors to simulate the rich texture of these creatures and make as many bees as you like. The result is a super cute toy! It will be an unusual gift to your friends, colleagues, and children! All the toys are my personal experience; I have tested each pattern in practice.
Cheeky Bee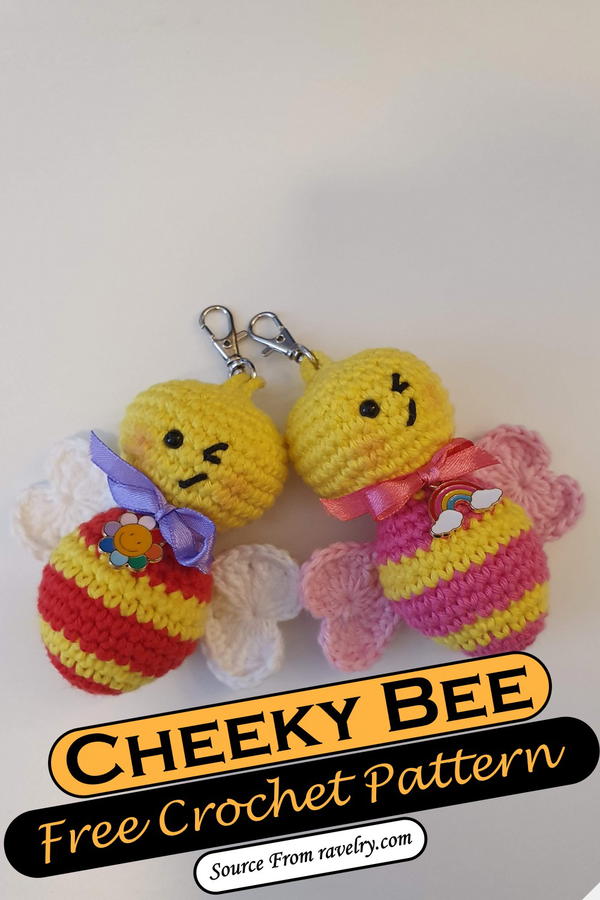 The Crochet Cheeky Bee is a little amigurumi cutie that will look great wherever you decide to place it. It is a perfect gift for the postman and mail carrier or for the gardener who has it all. Using your favorite cotton yarn and the pattern, you will be able to make one in no time. The main pattern gives instructions for the bees pictured in the pattern photos, but use whatever yarn you wish to create any bee you like. Use whatever colors you like, make them big or small, add extra legs - go nuts!
Amigurumi Mini Bee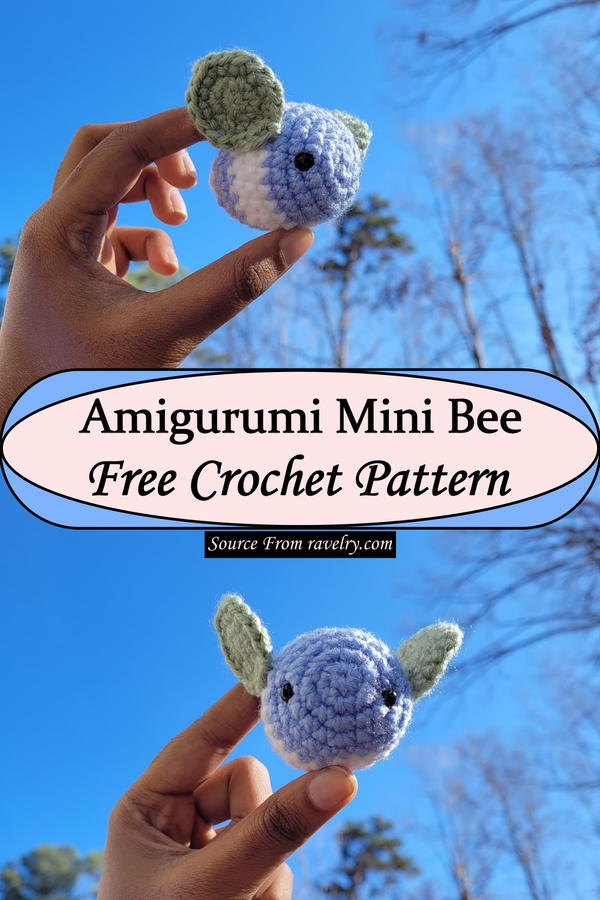 Let's make your sweetest friends a little surprise to brighten their day. If you are not drawn to making fabric items but want to create something more of a crocheted nature, then this Crochet Amigurumi Mini Bee pattern is what you are looking for. You can make impressive gift-giving accessories in no time with minimal effort with this Crochet Amigurumi Mini Bee pattern. It can be used as decoration to inspire your creative peering or be a crochet water toy - the choice is yours!
Buzzy The Bee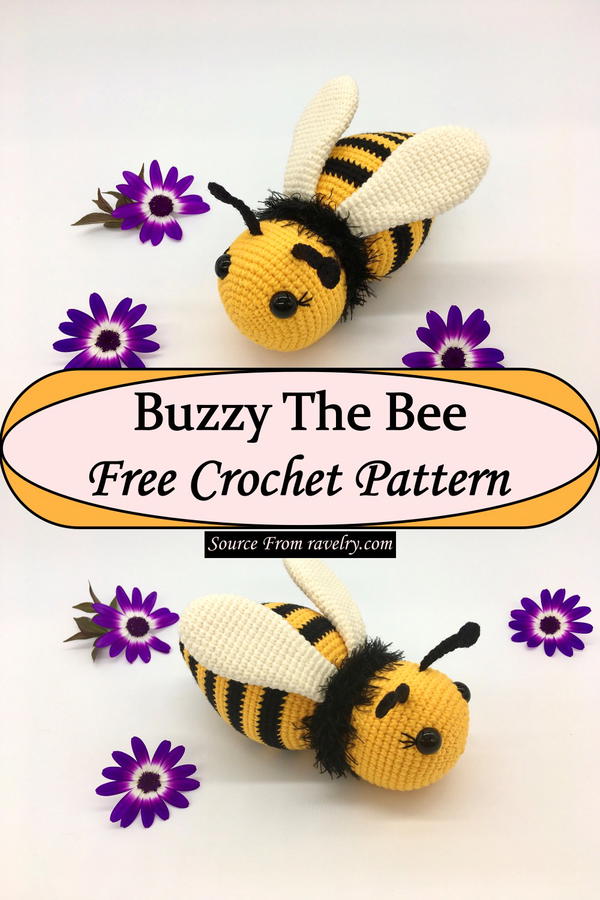 Easy to make Crochet Buzzy the Bee toy pattern for you! My Crochet stuffed animals are made of high-quality yarn materials. They are very cuddly and durable at the same time. All parts of my crochet amigurumi toys are crocheted separately and then sewn together by hand. This creates a soft and huggable body part and gives a professional-looking finish to the toy. The Crochet buzzy the bee toy is a fun plushie to add to your collection. It is also a great gift for any children who love stuffed animals.
Lil Monsters Bumble Bee Pumpkin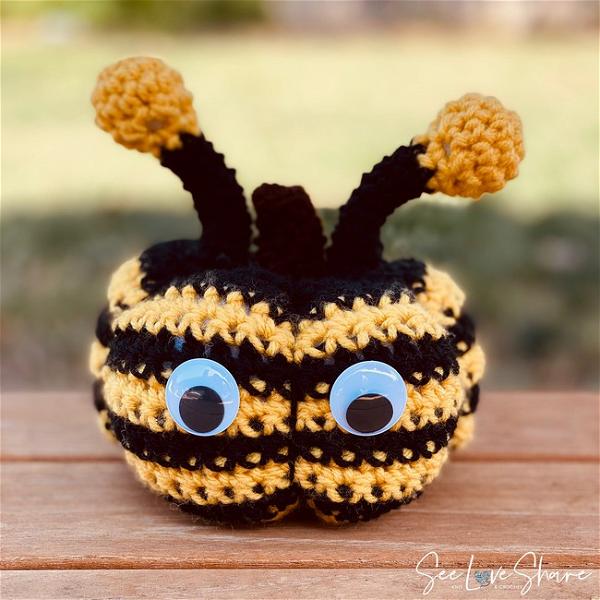 The Lil monsters are designed to be a creative and fun project that kids can join in. The smaller size makes it a great first amigurumi for crafters and an exciting project for more seasoned crafters. We've created this sweet amigurumi Bumble Bee to add to our Halloween decor. It's the perfect size to use as a centerpiece and decorative enough to be left out all year round! It is easy enough for someone learning to crochet and fun enough that even experienced crocheters will enjoy it.
Crochet Bee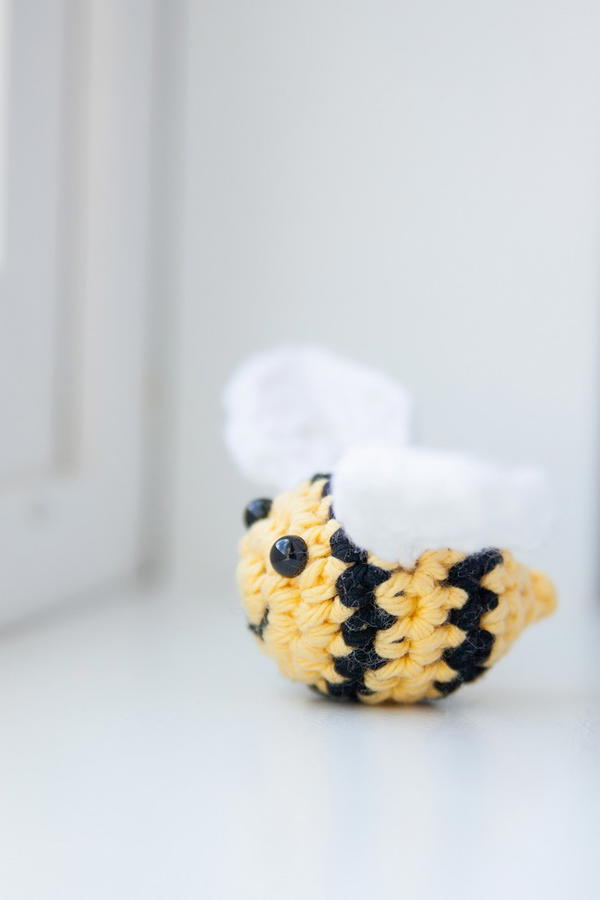 This bee is sure to cause a buzz wherever you go! Crafted from cotton thread, this soft little bug can sit on your finger or a jacket lapel with soft leather-covered antennae and wings. It's content to hang out until you need him. Like all Bugs in Hats, this bubbly bug is one-of-a-kind, and his outfit will never be replicated. Enjoy! This cute little guy is made from cotton yarn and some beads for the eyes. It can sit on its own and is a great decoration for nearly any room.
Fuzzy Bee Amigurumi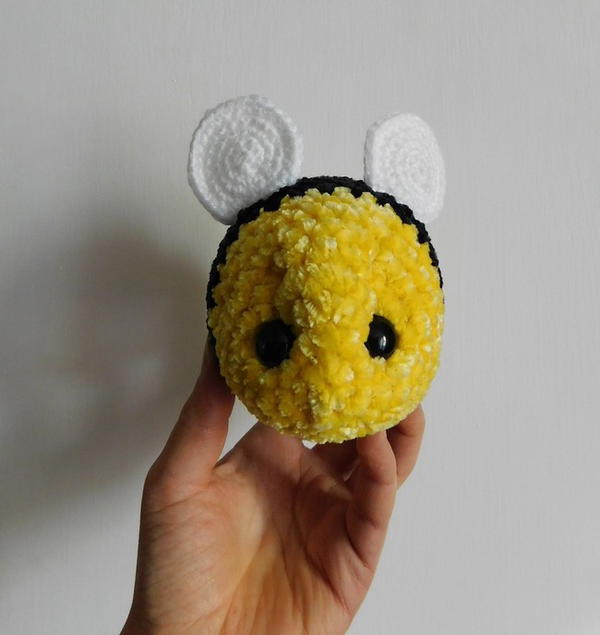 A soft, furry yarn lends the fuzzy effect to this crochet bee amigurumi. The black and yellow chenille yarn has a velvety texture, especially after you brush it with a slicker brush (available from pet supply stores). The wings are white acrylic yarn worked in the round and sewn in place. This crochet pattern is an original amigurumi design by me. This crochet fuzzy bee pattern uses chenille and acrylic yarn, but any yarn may be substituted to make a special fuzzy bee of your own.
Bee Family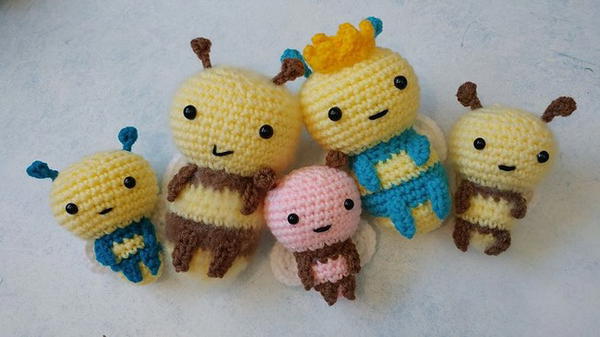 This Crochet Bee Family pattern will be a decent option for trying this decoration season. You can make this adorable crochet bee family a nice present to your loved ones or friends. They can be used as decorative homes, but they will also look great as toys. With this Crochet Bee Family pattern, you can make adorable family dolls for home decoration. I have collected various crochet bee patterns listed below that you can use to inspire your imagination and creativity.
Bee Potholder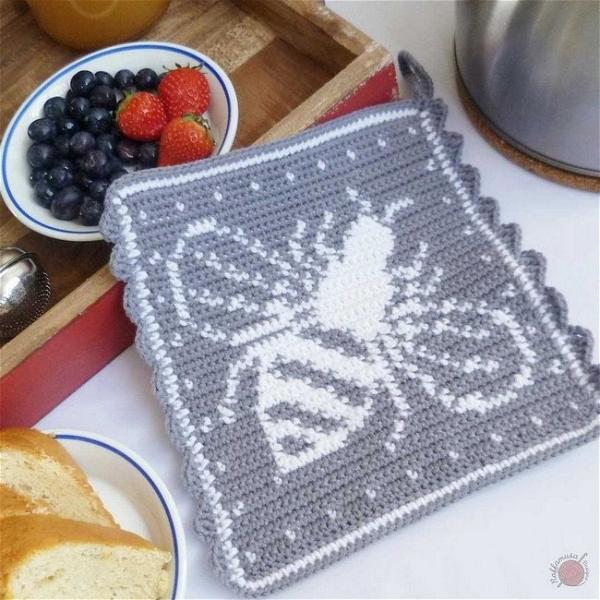 This bright yellow and black potholder is part of my Farmhouse Collection of tapestry crochet potholders. The bee is crocheted in yellow, and the body of the potholder is crocheted in black. It measures 7 inches at its widest point and 7 ½ inches in height when flat. Being made in tapestry crochet, this compact potholder doesn't have any holes; thus, it is very functional. Being made in tapestry crochet, this potholder is compact and has no holes; thus, it is very functional. The circle shape represents the sun, energy, and fire. In the end, it's the center of attraction during the family gathering on holidays or Sunday dinners.
Mini Bee Plushie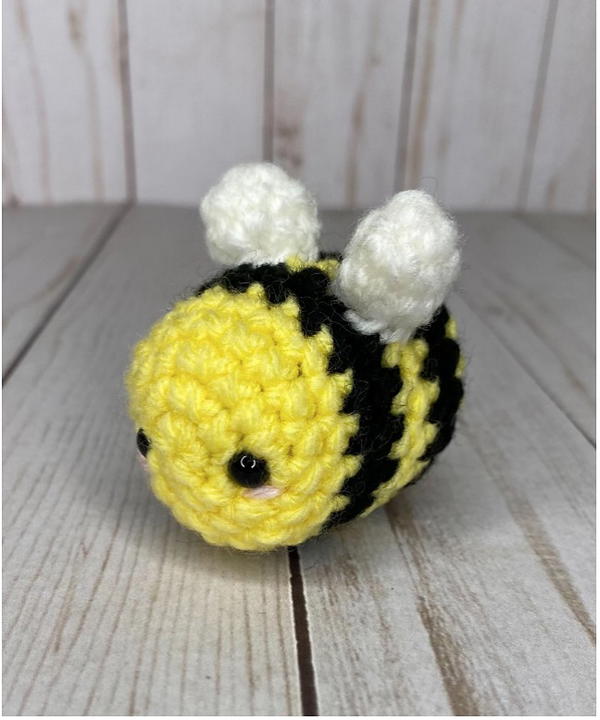 This Makes A Super Cute Bee Plush! Add the optional keychain ring or looped cord, and you can turn it into a keychain, ornament, or mini plushie. It is 2.5" long from nose to tail and thick enough to stand on its own. A cute and easy crochet pattern perfect for crafting beginners, our mini bee plushie is a project that you can make in no time. It will make a charming keychain or miniature stuffy for your loved ones. Complete with instructions for making any or all of the accessories – antenna, stingers, and wings – this does a fun project that you can use to customize your bee to your liking.
Amigurumi Biene Bee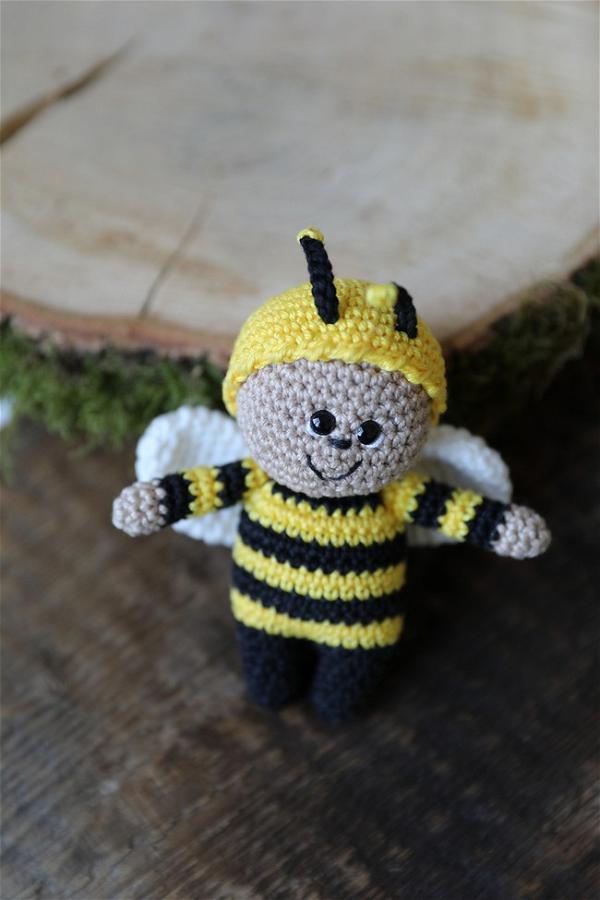 This Crochet Amigurumi Biene Bee pattern will be a decent option to make a kid's playing toy and an impressive way to make fabulous decorations. A colorful crochet amigurumi bee would be an interesting gift to children during birthdays or other special occasions. Besides, it can be a great toy to decorate kids' rooms. The choice of colors is completely up to you so that you can use any color combination for your amigurumi plushie. The kids will love them as playmates, and you can use them as decorations too.
Buzz the Bee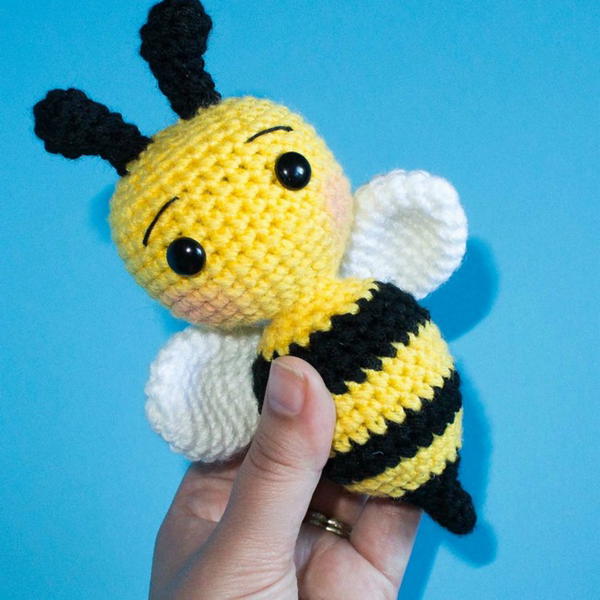 This is a pattern to make a bright yellow bee with black stripes, big eyes, and fuzzy antennae. The bee stands about 8 inches high and is made using two contrasting yellow shades of acrylic yarn. The body and head are made in one piece, but the antennae and wings are attached separately to give them more of a 3-dimensional effect. The pattern uses single crochet, half double crochet, and double crochet stitches, increases, decreases, and a tiny bit of embroidery to make the bee's facial features. He's small enough to carry in your pocket but large enough to get all the important little girl hugs!
Amigurumi Tik Tok Bee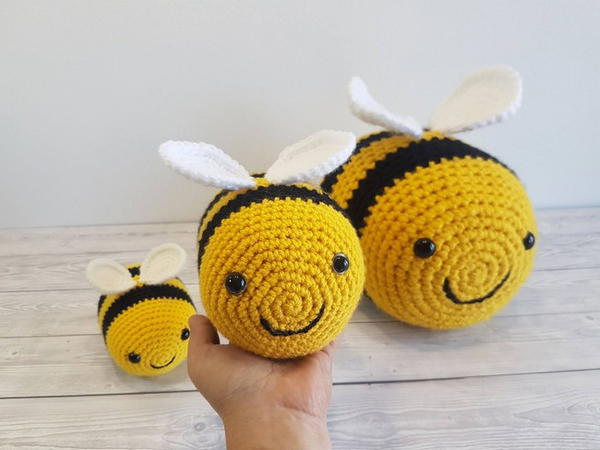 The Crochet Amigurumi Tik Tok Bee is the perfect amigurumi plush toy for cute nursery decor. This is the pattern and instruction to make crochet amigurumi bee in different sizes. You can use this pattern with three different yarn weights and hook sizes. Each of them makes a very special creation. The large size is the size of a small pillow, and the small size is great as a toy. Make any of these for yourself or your little loved ones, or even as a gift for an expecting mom, perfect to decorate any nursery or kids' room.
Bumble Bee Amigurumi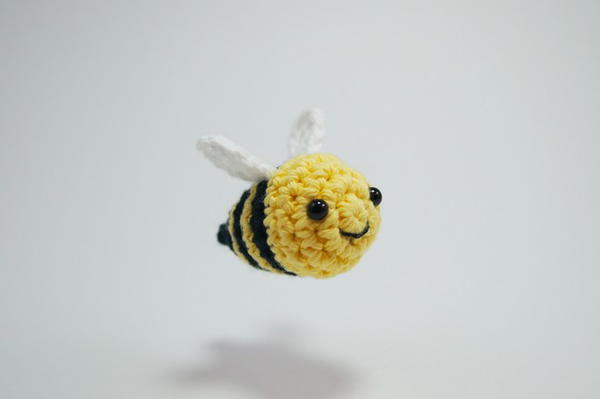 Learn how to make an adorable crochet bumblebee or crochet amigurumi! This easy pattern is worked in continuous rounds and starts as a simple magic ring. We have a video tutorial or written pattern for this cute bee, amigurumi buddy! Whether you've never held a crochet hook or you've been crocheting for years, you'll love following along with my easy Crochet Bee Amigurumi Tutorial. The first step involves making the bee body and learning how to crochet in rounds. I've included links to video clips, so you'll have no trouble learning even if you've never crocheted in rounds before!
Jumbo The Bee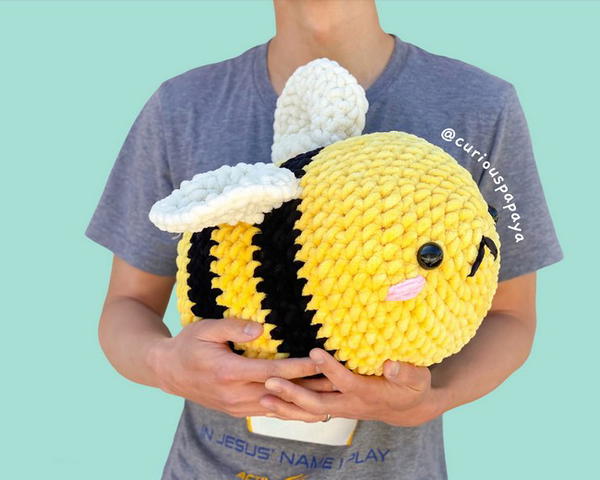 This cuddly sweet Jumbo the bee pattern will make an impressive gift for the special little champs in your life. The Crochet Jumbo The Bee has been designed by the expert crafter's hand and will stay in perfect shape after several washes. You can also hang it inside the kid's room to make them smile every time they look at it. This plush Jumbo the Bee is perfect both as a decoration and as a gift. A crocheted gift will always be appreciated, and this plush Jumbo will make an impressive present for your friends and loved ones.
Bee Mine Headband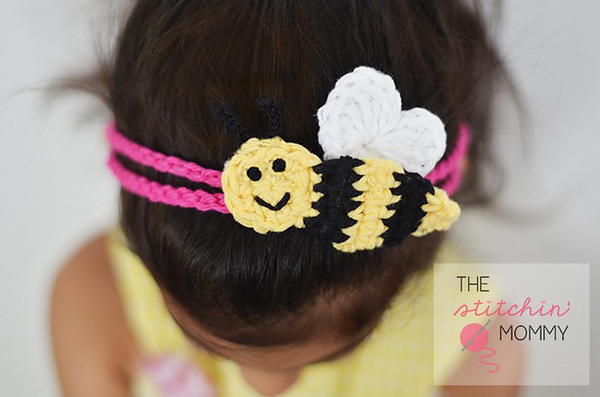 This headband works quickly and is the perfect accessory for Valentine's Day or spring. It is also a great way to use some of your scrap yarn! This adorable headband is perfect for Valentine's Day or any day. Whip one up in under an hour and use all those scrap yarn leftovers. The pattern repeats to make a wide range of sizes from baby, child, teen, and adult, for a full range of matching adorableness. It's also great for spring - small and lightweight to fit under a hood or hat, but large enough to make a statement.
Barbara The Bee Mini Amigurumi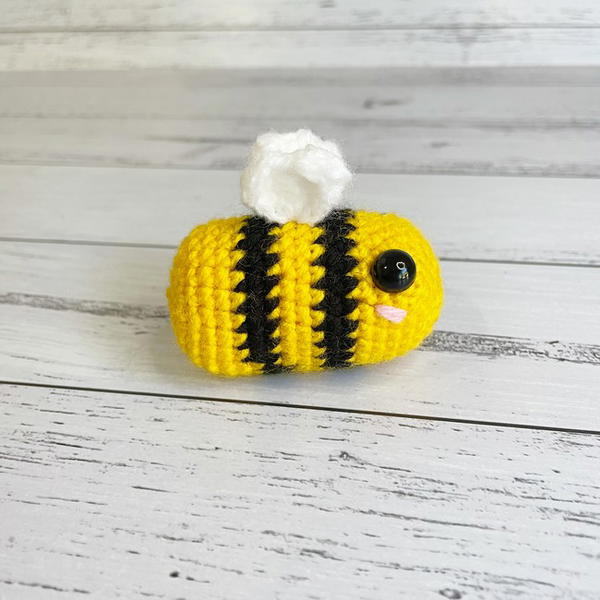 Honey Bee Barbara is small, cute, and easy to make. Her body is yellow with black stripes. Her head has a yellow pompom on top. Character traits are happy-go-lucky, always busy, hardworking, and sweet. She collects pollen from bee-friendly plants like clover to make honey. The crochet Barbara the bee mini amigurumi pattern will make you one of the unique gatherings ever. This mini bee has a big heart and is looking for a new friend!
Bumble Bee Amigurumi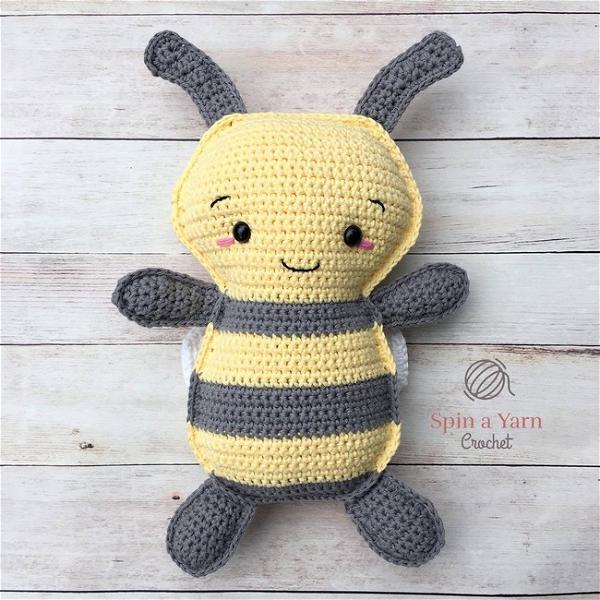 The recipient will adore this adorable crochet bumble bee amigurumi. This sweet little bee is versatile - use it as a cuddle buddy or hang it up on a wall; either way, it makes a wonderful gift for new moms and baby showers. Pair it with one of my beautiful, hand-knit blankets to make the cutest package ever! This little crochet bumble bee was crocheted from soft acrylic yarn, so it is machine washable. Perfect for a baby shower, this bee will make a beautiful gift as either a wall decor or cuddle buddy for the new baby.
The Bee In Your Bonnet Toque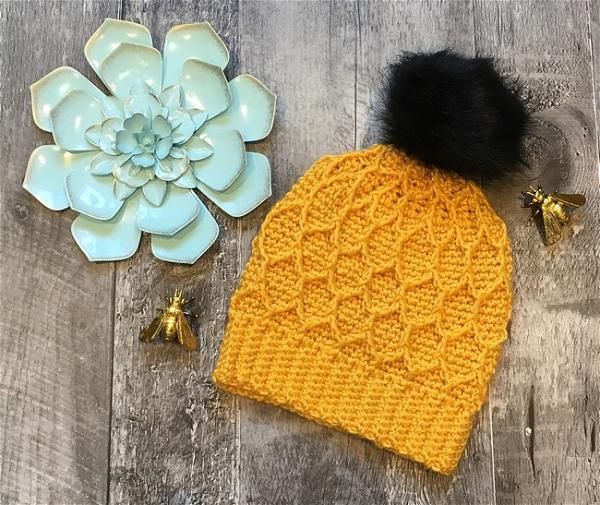 This toque is the perfect winter accessory and makes a great gift. Made from 100% acrylic yarn, it is lightweight and warm. Has been treated with fabric softener and has been blocked to add extra warmth, softness, and durability. This design uses fun stitches to mimic a bee's flight in your very own bonnet! This cute toque features the bee motif in a honeycomb pattern. Set on a white background, it is reminiscent of the bees' busy spring blossoms.
Princess Bee Amigurumi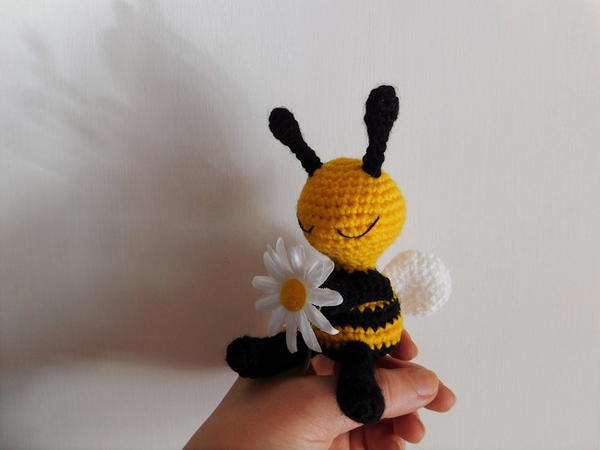 This is an excellent amigurumi because it was so much cuter than I envisaged. She is a little teeny scamp of a bee with a cute little face and looks so adorable in her dress that she's almost too good for me to give her away. This cute little bee is perfect for any young princess or a simple bee decoration! Amigurumi makes great gifts, and these are very quick to make. They have very good details which add much interest to them, but they aren't hard to make. Perfect for birthday parties/events or simply as a gift! People of all ages love the friendly, cute look of amigurumi, and this is perfect because it isn't that complicated of a model.
Mini The Bee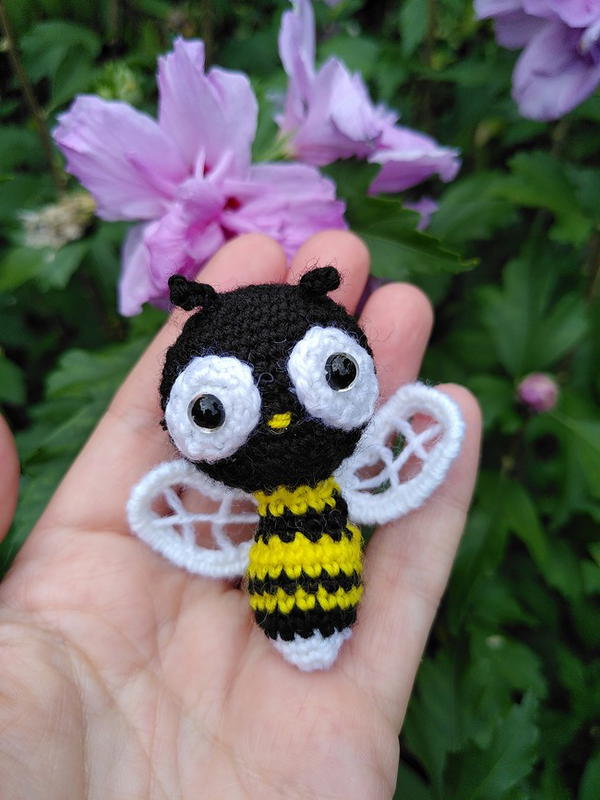 This Crochet Mini The Bee pattern is the go-to project that is friendly to all levels of crocheting experience. The combination of color and charm brings attention to the little ones. Your child will be delighted by this adorable design. A delightful pattern is perfect for a day out or a gathering with friends. You will love this adorable mini version of the popular Bee pattern, the perfect size to be a new key chain or to attach as a fun addition to any bag. The pattern includes written instructions, a photo tutorial, and a brushstroke chart on working up this cute key chain.
Chubby Bee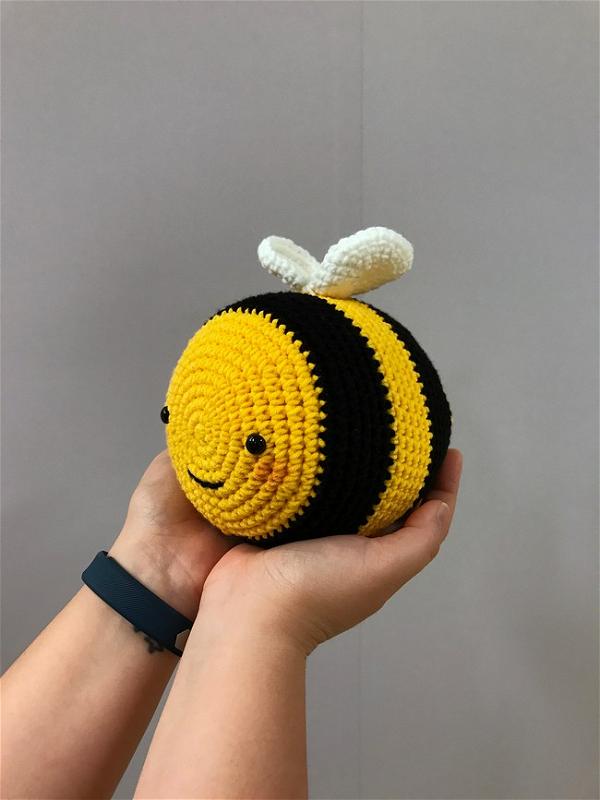 Create a bee pal your kid will never want to let go of with this amigurumi Crochet Chubby Bee. Perfectly sized for hugging, this bee will inspire adventures to the backyard and beach alike. With the body measuring approximately 10 inches in length and 6 inches in width, young children will have no trouble holding on to their friends, even when exploring. This giant bee is the perfect snuggle buddy for young and old alike. Made from all machine washable Acrylic yarn and machine stitched for strength and durability, it will make a great gift for the bee lover in your life.
Benevolent Bumble Bee
Bees are an important part of our environment but seem to get a bad rap. Let your love for these misunderstood creatures shine with this one-of-a-kind bee design. It's easy to crochet, made from simple stitches such as single crochet and double crochet. And by holding the yarn doubled and using a small hook, the fabric is tight enough to stuff without needing any fabric lining. The pattern is easy to follow and includes detailed photos so crocheters of any skill level can create their plush bee.
Amigurumi Bee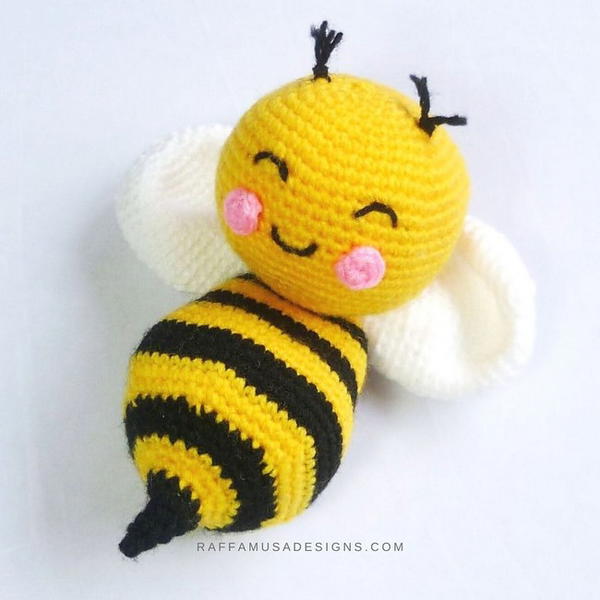 The Amigurumi Bee is a delightful crochet toy perfect for babies. It can also be used to add handmade stroller toys and loveys. You could also make many bees to put on hooks and around the home, showing your love for these buzzing little creatures! This crocheted Amigurumi Bee is a sweet toy to make for any special baby. Its small little body would also make it the perfect addition to a handmade lovey for a sweet little one. This crochet pattern is also a great opportunity to support Save the Bees!