Create a unique and beautiful wall hanging for your home with these DIY tapestry ideas. While the term "tapestry" may conjure up images of medieval castles, ornate palace wall hangings, and needlepoint samplers from days gone by, these days the art of macrame has enjoyed a revival as one of the best ways to add texture, warmth, and style to any space.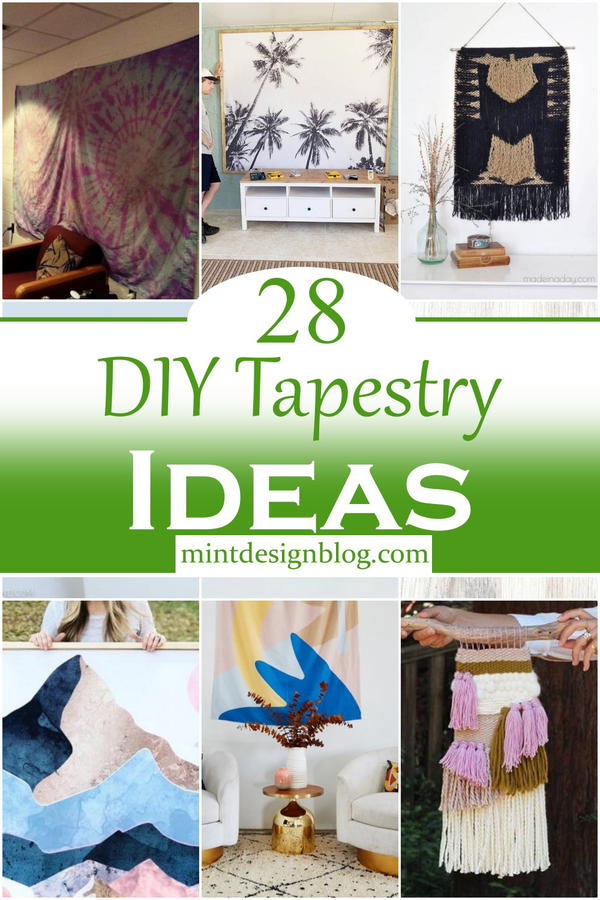 Whether you are looking for a way to add some color and interest to a bare or boring wall, or you just want to try your hand at tapestry weaving, this collection of DIY tapestry patterns is sure to have something that speaks to you. Here you will find everything from gorgeous macrame wall hangings to fun is woven yarn projects and so much more. And if you are new to tapestry weaving, don't worry! This collection has plenty of simple designs that are perfect for beginners and plenty of advanced designs as well. There is also a helpful video tutorial included that will teach you how to make your own DIY woven tapestry in only 30 minutes. Here are 28 DIY tapestry ideas that are not just fun but will also be great additions to your home's interior.
Looking for an easy way to add some color and style to your home? Check out these awesome 28 DIY tapestry ideas; so there are plenty of ways to make inexpensive tapestries that are just cool.
Materials Needed For DIY Tapestry Ideas
You've probably seen DIY tapestry ideas around—those decorative wall hangings that look as though they were made in a professional studio. They're fun, cute, and give your room a perfect little touch of personality that tells the world who you are—or at least who you want to be. They're also incredibly easy to make!
Fabric (the amount will vary depending on what you want to make)
A large piece of cardboard or foam board
Measuring tape
Scissors
Hot glue gun
-Tapestry canvas (or a doubled-up piece of cardboard)
-Fabric paint in multiple colors (or acrylic paint)
-Paintbrushes in multiple sizes and shapes
-Tapestry rings (if hanging on a wall)
DIY Framed Tapestry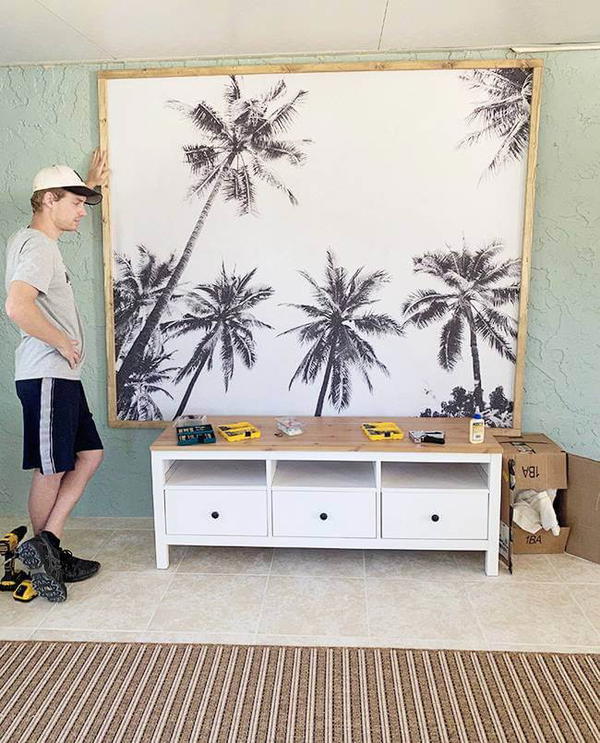 You can turn your tapestry into wall art that feels personal and looks right at home with a few supplies. Measure and cut out wood. Create a four-sided frame with wood glue and nails or a brad nailer. Sand and stain the wood, then pre-drill holes to mount the brackets. Place your tapestry on the back of the frame and staple it in place on the edges. Use picture frame hooks at the top sides of the frame to hang up. In just a few steps and with minimal tools, you have a designer look to add to any room of your home. Perfect for any dorm room or apartment of your favorite person who loves to express their creativity in interior design!
SKILL LEVEL: ADVANCED
DIY Woven Tapestry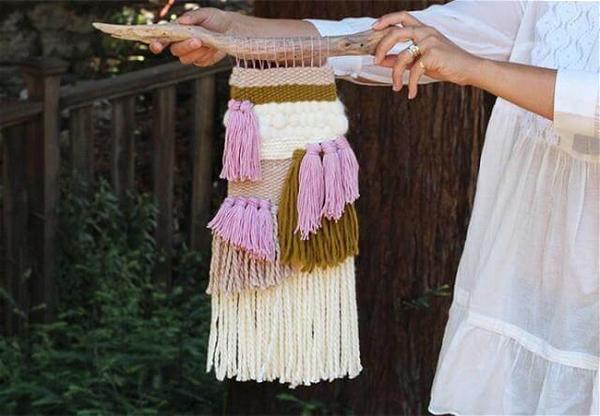 Weave your own beautiful tapestry using a custom-made frame, high-quality natural wool roving, and cotton warp in a classic weaving pattern. Make your own weaving using this DIY Woven Tapestry Kit. Anyone with weaving skills can accomplish this beautiful artwork. The kit includes a wooden frame and dowel for easy weaving and adding tassels. Choose your favorite color wool roving and embellishments to create a special display piece in any room.
SKILL LEVEL: EASY
How To Hang Wall Tapestry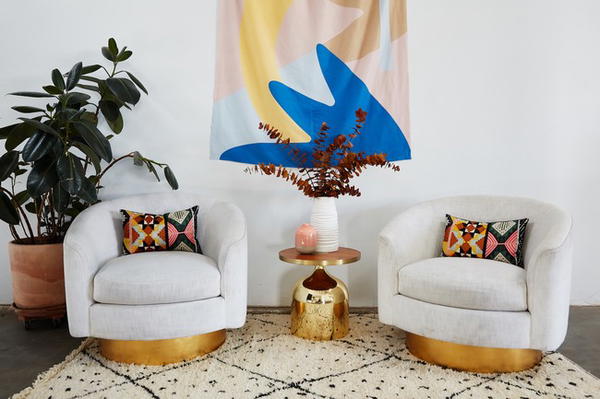 Using a nail, rope, or command strips to hang a wall tapestry. Use one nail for light-weight tapestries and two nails for heavy-weight tapestries. Always hang the tapestry on a wall that is sturdy. The tapestry should also be hung on drywall. Before choosing where to hang the tapestry, test out a few spots to figure out where you want it hung up so that you can plan accordingly. Only use command strips when hanging your tapestry on lightweight walls like cinder block or plasterboard.
SKILL LEVEL: EASY
DIY Mini Tapestry
Do you like to craft and express yourself through your home decor? Whether it's for a housewarming gift or for your own space, this mini woven tapestry is the DIY project for you. You'll get all of the supplies in a premade kit to make this creative craft. You get varying weights and textures of yarn for this mini woven tapestry. You will start weaving with any color of yarn you please, add fringe also. Take off the loops when you're done weaving and tie knots. Remove the top part of the tapestry, tie knots across, and hang by tying tail ends together.
SKILL LEVEL: ADVANCED
How To Make DIY Tapestry
Looking for a cheap and easy way to decorate your room? A DIY tapestry or wall hanging is the perfect way to experiment with your home decor. Making your own tapestry can be fun and easy, as long as you know what type of fabric to use, outline the design correctly, and don't use too much paint, or else it will run. A bed sheet is all you need for an excellent canvas for this project! This is a fun DIY project, and it is simple to make. All you need are a few materials and some paint. Watch the video to see how!
SKILL LEVEL: ADVANCED
DIY Large Tapestry - No Weave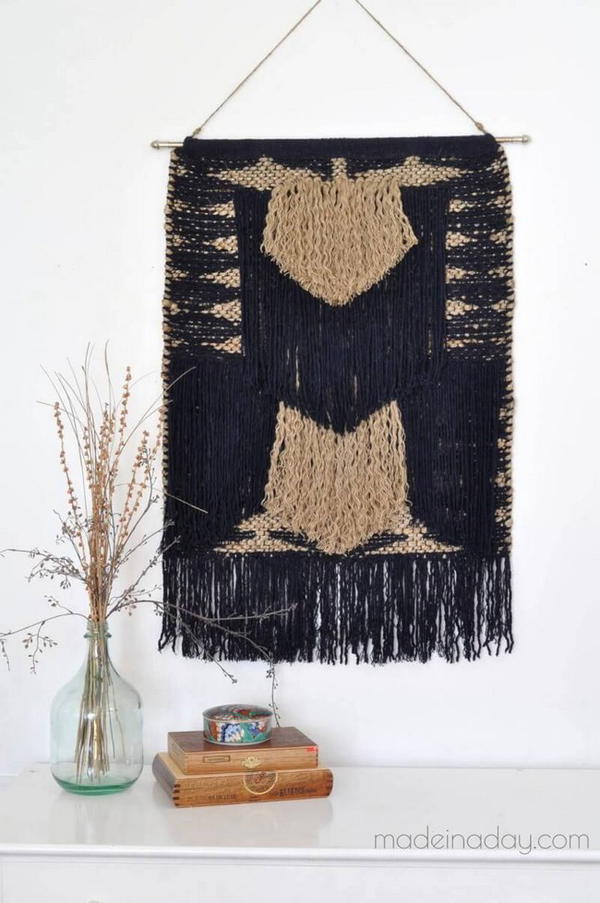 Good vibes and good design can come together in any space when you know how to make a DIY tapestry. Looking for a cheap and easy way to decorate your room? A DIY tapestry or wall hanging is the perfect way to experiment with your home decor. Making your own tapestry can be fun and easy, as long as you know what type of fabric to use, outline the design correctly, and don't use too much paint, or else it will run. A bed sheet is all you need for an excellent canvas for this project!
SKILL LEVEL: ADVANCED
DIY Yarn Tapestry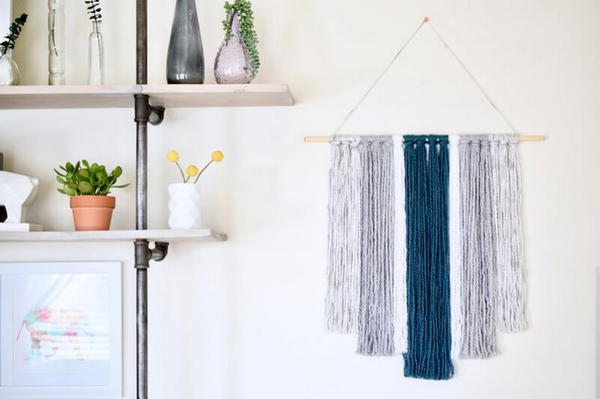 A tapestry can help bring your room or living area to life, adding warmth and texture like nothing else. If you want to create something yourself, then consider making a DIY yarn tapestry! To make one of these, all you need is a piece of stretcher bar frame, yarn, and scissors. All you need is this DIY Yarn Tapestry Kit and some patience, and voilà! A colorful accessory that will add the perfect amount of warmth to any room in your home.
SKILL LEVEL: EASY
DIY Large Wall Art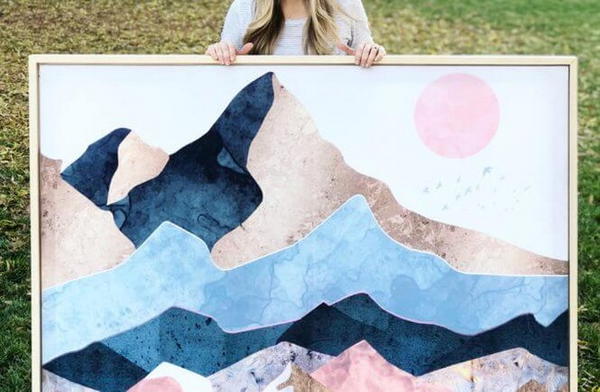 This large wall art will instantly transform anything you're displaying it on, from a basic white wall to a textured wall. There are so many ways to create beautiful art for the walls in your home, but framing always makes it look just a little more polished and professional. The easiest way to frame something is to use a floating frame. A floating frame is one that does not attach directly to the art. Instead, the art is sandwiched by two pieces of glass and a frame. A wall piece of art can be done using tapestries that are affordable and add a personal touch to your home.
SKILL LEVEL: ADVANCED
DIY $7 Tapestry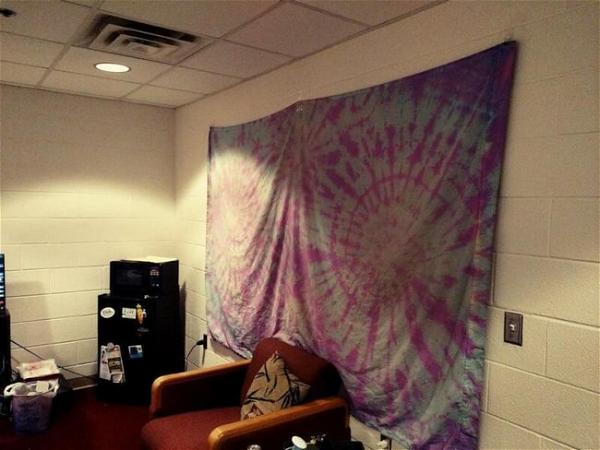 Love your home with a beautiful tapestry that you make all on your own. One of the easiest and most beautiful DIY projects to make at home is a tie-dye tapestry. Create your own one-of-a-kind tapestry using a sheet, dye, and your imagination. Get creative using a large sheet, some rubber bands, and fabric dye from your local craft store! This DIY kit has tape, sheets, and a step-by-step guide to help you create a unique piece of artwork for hanging in your living room, bedroom, or wherever you want to add a pop of color and life.
SKILL LEVEL: EASY
DIY Tapestry Tutorial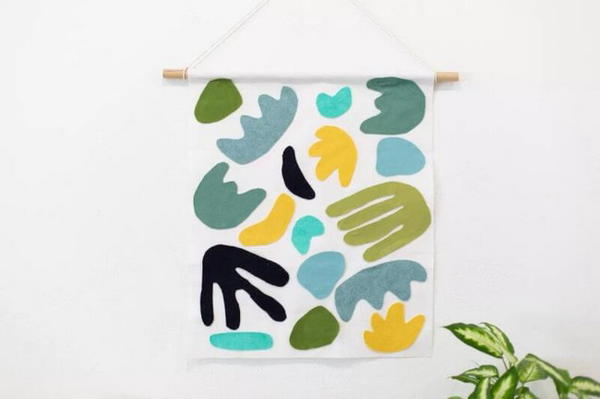 This Tutorial will show you how to transform an ordinary wall into a beautiful tapestry. Pick from one of our many tapestry styles and follow these simple instructions to make your own hanging tapestry. It is easy! Transform the blank wall in your bedroom into a boho-inspired piece of art with a fabric hanging. With a few simple pieces, you can create a high-drama effect with this giant textile piece that'll add pattern and texture to your space. Easy to make and customize to your space, this woven wall hanging makes for an affordable, modern piece of art for your home.
SKILL LEVEL: EASY
DIY Wall Tapestry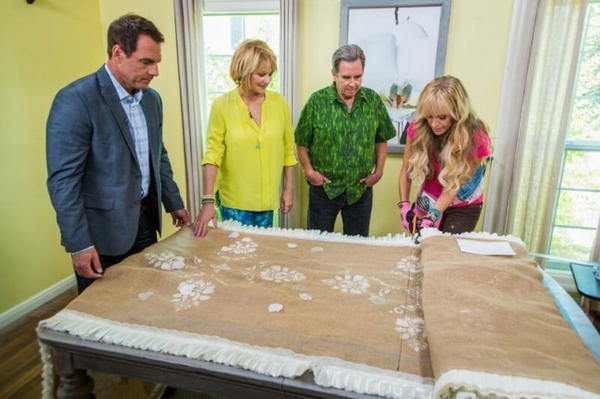 This DIY Wall Tapestry is the perfect addition to any room! These heavyweight woven wall hangings arrive ready to hang or easily transform into a creative do-it-yourself project. Create your own wall hanging or upgrade the headboard in your bedroom by cutting out this fully hemmed cotton wall tapestry. Perfect for DIY-ing your space and expressing yourself. The heavyweight, textured woven fabric has a slightly faded effect you can only get from a true vintage tapestry. Fully machine washable, iron safe, and colorfast.
SKILL LEVEL: EASY
DIY Wall Tapestry - 3 Ways
Revolutionize your home décor with DIY art wall tapestries! Instead of spending hours at the store looking for decor that catches your eye, create something designed to fit your own style! No matter what kind of mood you want to set for the room, design your own custom tapestry wall art piece with a photo or message that lights up the room. Add a few tassels to your tapestry and you have a beautiful hippie easy home decor piece that'll look divine when stuffed between your pillows on all of your dorm bedding. Easy to iron on, we have an endless number of styles to choose from!
SKILL LEVEL: ADVANCED
DIY Batik Mandala Tapestry
Batik is an ancient Indonesian art form which has been in practice for centuries. This beautiful craft can now be practised at home using your own imagination and creativity. All you need is access to a white bed sheet and some fabric paints, and you are good to go. Make a perfect gift for friends and loved ones who appreciate art. Easy way to create a beautiful DIY tapestry with paint and yarn. It comes with a pre-drawn Batik Mandala design; sketch out your own pattern or just fill the beautiful patterns with your favorite colors!
SKILL LEVEL: ADVANCED
DIY Tie-Dye Tapestry
The DIY Tie Dye tapestry is a perfect summer project for those sunny days in the garden. Make your own unique tie-dye tapestry with a bedsheet and some fun colors! The steps are quite simple. After you have crumpled up the fabric, soak it in water and squish out the dye. Then put the fabric in an ice cube bath to get more beautiful results! Wash off until the water is pastel pink and then dry. This is a great project for kids as well as adults. This tie-dye tapestry is sure to be the coolest DIY gift for any occasion.
SKILL LEVEL: EASY
DIY Scrap Fabric Tapestry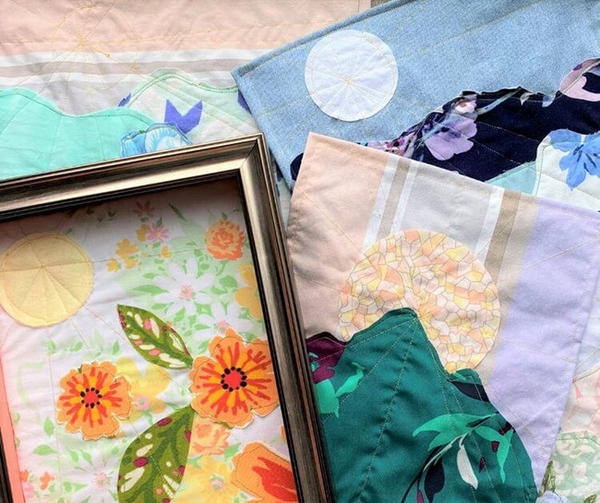 Use scrap material to make a tapestry that represents you. Construct your tapestry from scraps of material you like and hang it on the wall in your space. If you have a few scrap fabrics collecting in your closet and are looking for projects to use them, this tapestry is perfect for making the most of those odds and ends of fabric. Supplies you will need: Scrap Fabrics, A piece of cloth that is bigger than the size you want your tapestry in, Measuring tape or ruler, Scissors, Embroidery needle & thread, Sewing machine
SKILL LEVEL: ADVANCED
DIY Tapestry Shirt
If you love being creative with clothing, this DIY Tapestry Shirt is your project! Purchase the shirt style of your choice, then choose from a variety of beautiful tapestries. Cut and sew the tapestry pieces so they fit your shirt perfectly. Be sure to add some sparkly adornments! The result will be a truly unique and beautiful piece of wearable art. This DIY Tapestry Shirt project demonstrates just one way you can use leftover materials to make a beautiful, unique outfit!
SKILL LEVEL: ADVANCED
How To Make Tapestry Blanket Pants
Don't put away those tapestry blankets after winter. Take advantage of your tapestry's warmth and create some trendy, comfy pants from them. These pants are in style and you can make your own for an added statement by following these simple steps. A tapestry blanket is a piece of fabric that can be used as bedding, and it's available in different colors, patterns, or styles. You can use it to make tapestry blanket pants without having to be an expert in sewing. It's a no-sew project that you can do yourself with minimal effort at home if you already have some experience.
SKILL LEVEL: EASY
 How To Hang A Tapestry - 3 Ways
You may be wondering how to hang a tapestry? These are easy options, whether you are living in a dorm room where nails or command hooks cannot be used. Most people that want to hang up their new wall tapestry can't do so because they're not allowed to put holes in the walls of their college dorm rooms. You can definitely use push pins, just take your tapestry and lay it over the surface you want to put them on. It will look great this way and make your room cosy as well.
SKILL LEVEL: EASY
DIY Palmist Tapestry
Here's a fun DIY craft idea for the palmist in your life. Use a palmistry printable to iron onto fabric and then frame to hang in your room. It would also make a nice gift for friends or family members. Everyone is fascinated by palmistry, which makes this Palmist Tapestry a fun project to add a little mystery to your walls. It's the perfect middle ground between print and needlework: all you need is a printer, fabric, and glue. Finish it off with trim and dowels for hanging! Don't have time? Try looking at your friend's hands instead.
SKILL LEVEL: ADVANCED
DIY Map Tapestry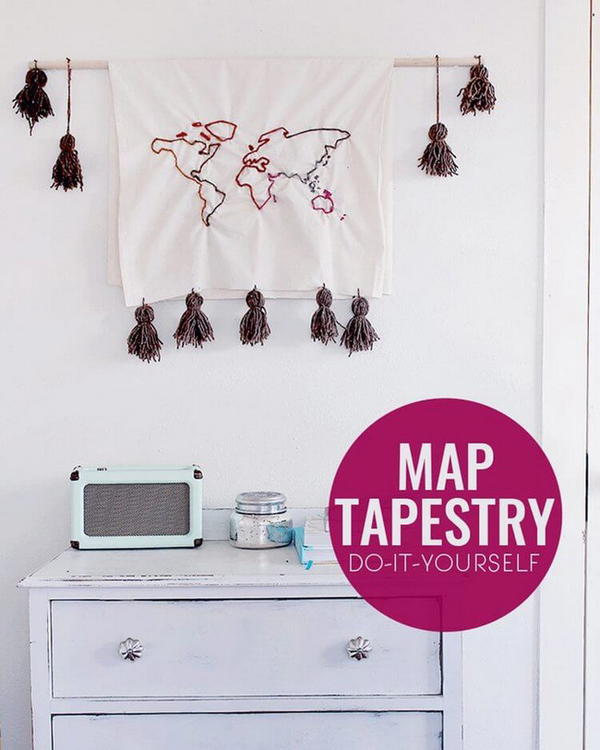 This tapestry features a print of the world map and a needle to get you started with stitching! Mark your favorite destinations as you go, then hang them in your room as a reminder of where you've been. Map Tapestry is the perfect way to add a dose of wanderlust to your home and space. You can use it as a wall hanging art, bedspread, bed cover, table cloth, beach throw, etc. This customizable map tapestry is perfect for your wall, window, or any space you want to decorate! It's a great gift for friends and family who love traveling and exploring kinds of new things.
SKILL LEVEL: ADVANCED
DIY Wall Tapestry For $10
Paint your own wall tapestry with dye, paint, or ink. This DIY canvas is durable and can be used either indoor or outdoor. You can give it a go in the backyard, back deck, or patio, or bring it on a picnic and see what you can create. Make something that suits your style and adds to your distinctive home decor.
This hanging fabric wall decoration adds a beautiful artistic touch to any room in your home. It's easy to do; just soak the white sheet in water and then start painting. Let dry and hang as a tapestry for a unique wall hanging you can use again and again.
SKILL LEVEL: EASY
Dip Dye Wall Hanging DIY
Here is your chance to make a perfectly on-trend Dip Dye Wall Hanging. Follow the instructions for this fantastic DIY. It's a unique way to personalize your home décor and bring personality into any room. Decorate your walls with a fun and modern DIY at the same time. A tapestry is a handy piece to have around on a wall; they're perfect for covering up corners and brighten up spaces. It's pretty easy to do, and the only skill you need is to be able to tie a knot!
SKILL LEVEL: ADVANCED
DIY Tapestry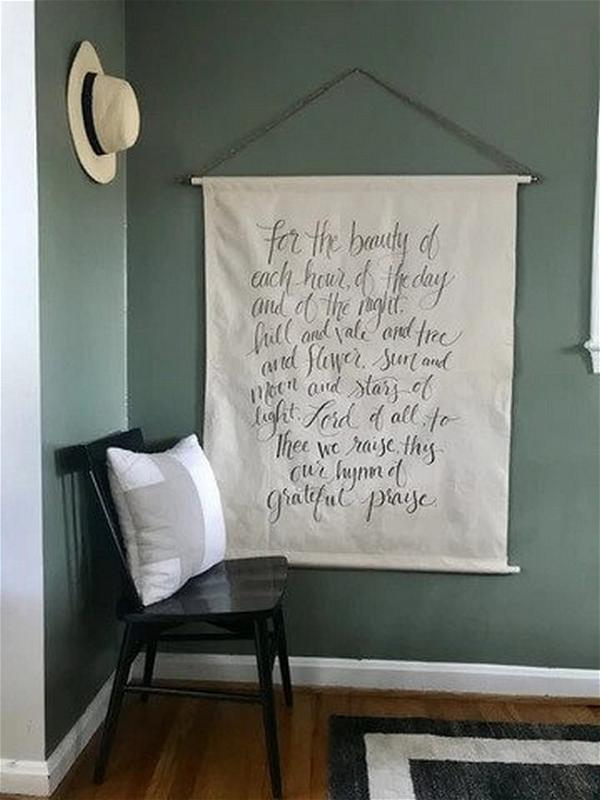 The pack contains an electric drill, screwdriver bits, and nut drivers with hex key and nut setter. The electric power tool not only drills holes in wood but also in metal, brick, and concrete walls. It is a portable, lightweight, and easy-to-use DIY tool. Hang this simple yet chic DIY hanging on any wall to add a modern appeal to your space. This beautiful home accessory is a great addition for enhancing the ambience but simultaneously maintaining the balance and harmony of any room of your home or office.
SKILL LEVEL: EASY
DIY Woven Wall Hanging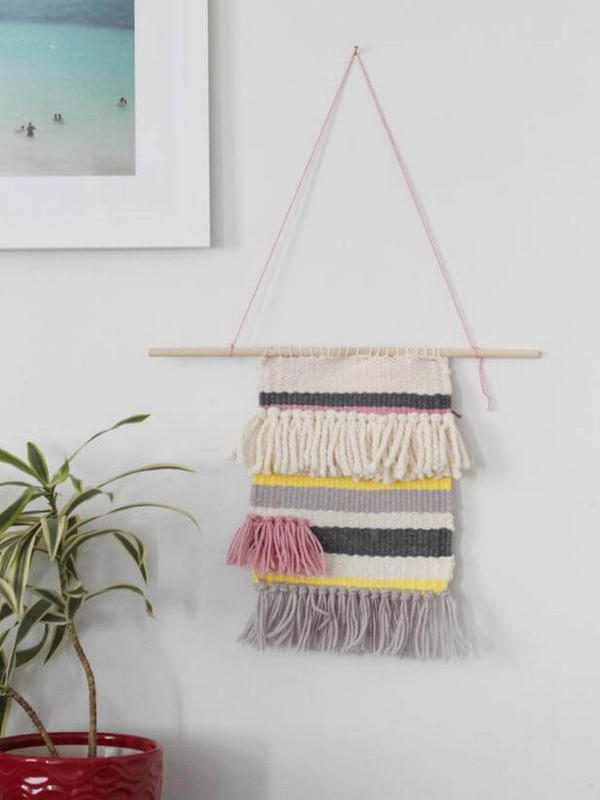 You can weave your own tapestry to hang on a wall or use it as a rug. This kit includes enough yarn for one tapestry plus the loom and weaving tool you'll need to make it. Make the warp and create your own shape using cardboard and start threading. This DIY is easy, fast, and fun to make! When done, you will use it to decorate your walls, above your bed, or even on the coffee table. With this loom, you can make different sizes. Hang up your textile wall art with some nails and show everyone what a great artist you are!
SKILL LEVEL: EASY
DIY Geometric Wall Hanging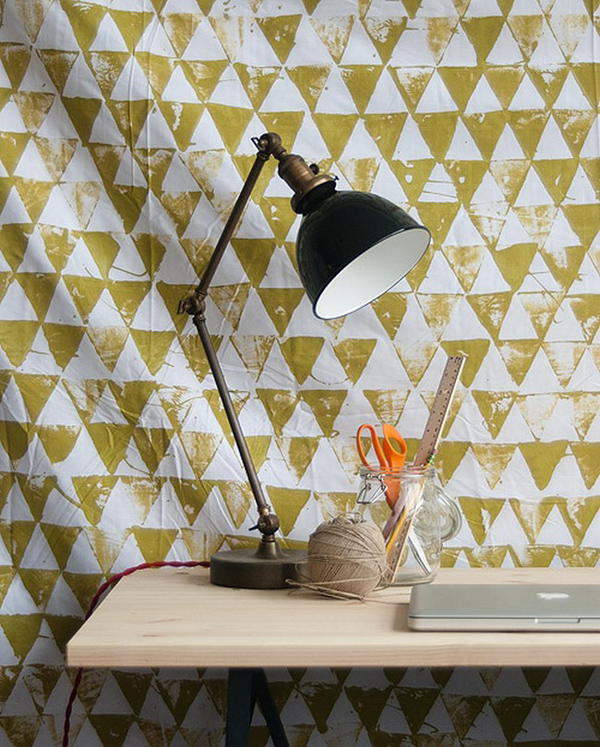 This DIY geometric wall hanging tapestry is made of natural cotton. You can hang it as one piece or use two for an asymmetrical look. The possibilities are endless with this double-sided tapestry! It adds a nice homey touch to any room. This cool geometric wall hanging is the perfect DIY project for anyone who considers themselves a novice with a needle and thread. The pattern features a simple shape that meets another to create a more complex design. Sure to add some style to your space!
SKILL LEVEL: EASY
DIY Large Tapestry Wall Hanging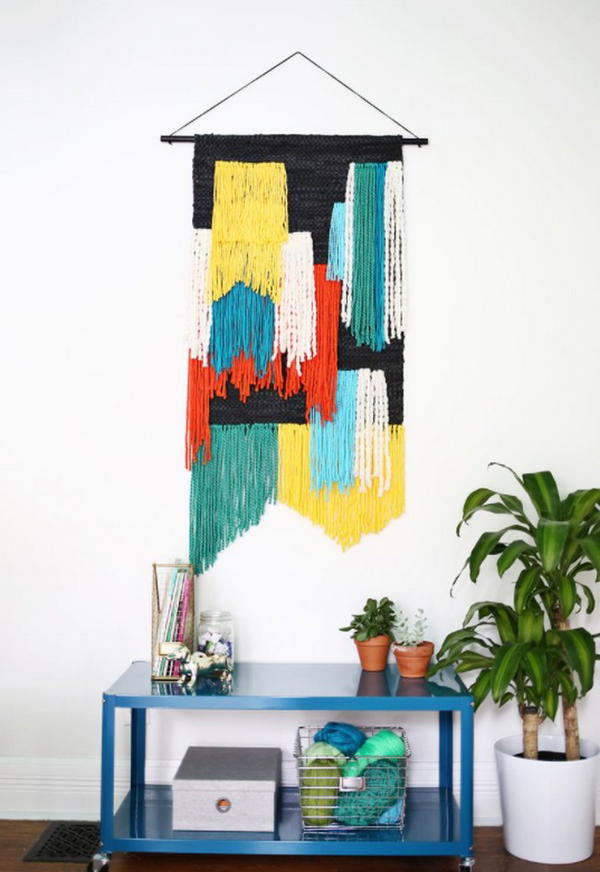 DIY tapestry is short for do-it-yourself tapestry. This large blanket scarf is made from super soft and warm chunky knit yarn. It's the perfect piece for anyone who loves to wear cozy fabrics but also loves to make their own fashion with a DIY twist. The fibers are designed in such a way that they won't unravel, so you can just cut and play instead of worrying about losing threads. Just wash separately on a gentle cycle or by hand in cold water, hang or lay flat to dry, and let the creative possibilities begin!
SKILL LEVEL: EASY
DIY Wall Weaving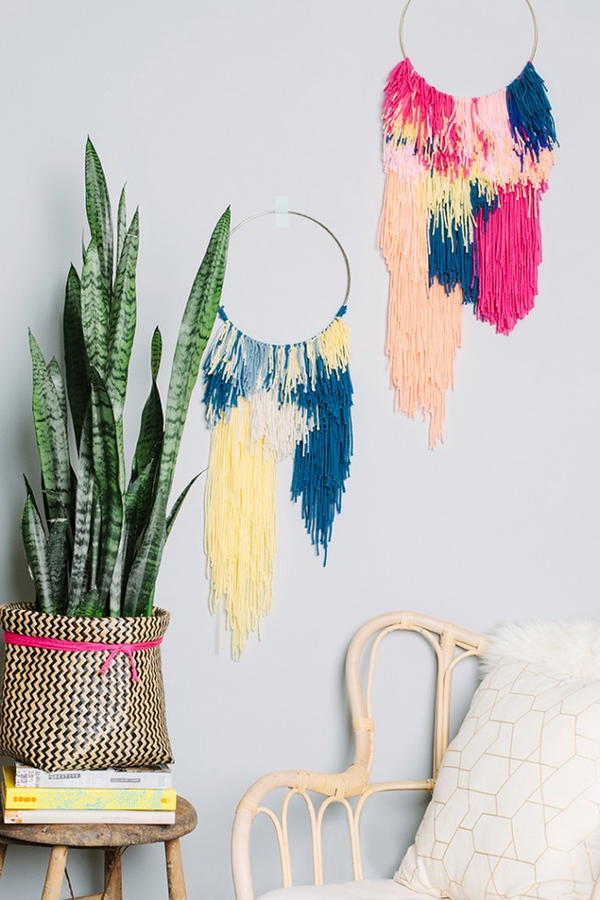 This DIY kit lets you create a wall hanging or small loom on any door. Whether you are a novice weaver or have done it before, this DIY kit is fun and easy to use. Simply thread the handmade natural cotton warp (the yarn that is strung vertically on the loom) through a pressure-mounted curtain rod, and weave across with your own woven fabric scraps, wool roving, or yarns. Instructions are included, but feel free to explore your own techniques and show us what you made.
SKILL LEVEL: EASY
CONCLUSION
Add a blush colour and personality pop to your walls with these DIY tapestries! It's so fun to do projects for your home, and adding a handmade touch does wonder for your space. The world of tapestries is similar to tie-dying but with more neat patterns and shapes. Whether you want something with a happy pattern or an intricate design, These 28 DIY tapestry ideas will inspire you to get crafting. They're a spiritual accessory but also decorative and very captivating. Not only are they beautiful and artsy, but they also have a great purpose.