Crochet toys are great for any child, especially if you know how to sew or knit. Even though stuffed animals are always popular, there is something about a crochet toy that is different from the ones you can buy in a store. They are handmade and that makes them unique. Crochet toys often become family heirlooms! If you love the cuddly softness of a crochet donkey baby toy, you'll love the wide variety of donkey patterns! Or, if you want to explore something new and different, why not try some of these crochet donkey crafts? These Crochet Patterns are sleepy baby donkeys, adorable crocheted amigurumi donkeys, crochet applique, and more! These crochet patterns will trigger a smile and make you want to create something cute for yourself or as a gift for someone else!

There are so many cute projects here that it's hard to choose just one! From crochet donkey blankets, donkey hats, and stuffed animals, to crochet donkey amigurumi and even a pattern for making your own patriotic donkey scrubby! Don't miss out on the entire collection of 17 Crochet Donkey Patterns. Whether you want to make a gift or treat yourself, these Crochet Donkey Patterns will leave you grinning from ear to ear! Adorable, cute, and soft Crochet Donkeys are standing by to keep you company and make your day a little bit brighter. These easy-to-crochet donkey toys are a quick project that will bring you and your kids a lot of joy.
If you're looking for some cute, soft, and cuddly crochet toys to make for your kids, take a look at these 17 adorable donkey amigurumi crochet patterns.
Interesting Facts About Crochet Donkey Patterns
Crochet donkeys are adorable and fun. They're also surprisingly versatile! Here are some fun facts about crochet donkeys:
-They're great for kids.
-They're a great gift.
-You can use them to decorate your home or play area.
-They make a great decoration for Easter.
-You can even use them as a pillow.
-You can crochet the ears, the body, and the head separately for maximum customization and flexibility in size and shape. This means you can make all sorts of different animals—from cats to camels to elephants!
Importance Of Donkey Patterns
Donkeys are friendly, intelligent animals. When they were first domesticated, they were used to transport loads across the desert. Today, they are most commonly used as work animals on small farms and ranches.
Crochet donkey patterns have been gaining popularity in recent years, with many people using them to add a touch of whimsy to their homes.
There are many different ways to crochet a donkey pattern, from the size and shape of your finished product to the materials you use. Crocheting a donkey pattern can be simple or time-consuming depending on the pattern you choose and how detailed it is.
Crochet donkey patterns can be made by weaving yarn through a piece of cardboard or by crocheting from scratch using commercial yarns or your own homemade yarn.
Making your own yarn for crochet patterns is not only fun but also gives you a chance to customize your project by varying the thickness, length, and color of your yarn.
TIPS TO CROCHET DONKEY PATTERNS
Crochet Donkey Patterns is a lot of fun to do. It's a great way to relax and unwind. This can be done with a group, alone or as a family. You can crochet with friends, neighbors, and family members.
There are many different patterns to choose from when it comes to crocheting. Some are simple, others are more complex. Depending on what you want your final piece to look like will determine the type of pattern that you need.
When you decide on the pattern that you would like to use, it is important that you make sure that it is complete before starting your project. If it isn't complete, then you could end up with a lot of extra work in order to finish it up properly.
Crochet Donkey Patterns is not difficult but does take some time and patience on your part. If it's easy enough for you then this will be an easy project for you to complete quickly and easily too!
Amigurumi Horse And Donkey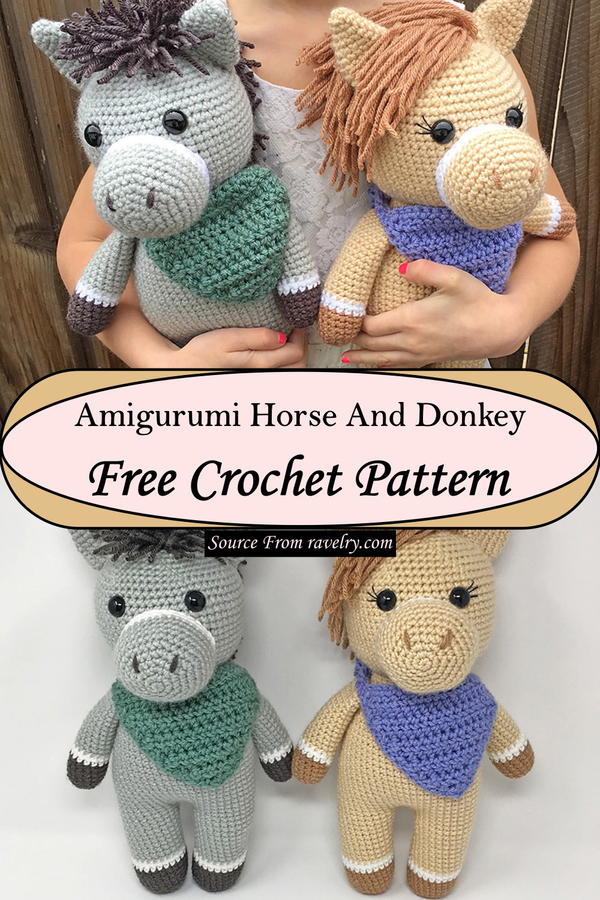 Have you ever wanted to learn how to crochet your own amigurumi? Amigurumi are crocheted toys made from yarn. They are so much fun to make and even more fun to give as gifts! This amigurumi horse and donkey pattern are easy to follow, even if it's your first time making an amigurumi. These adorable amigurumi animals are ready to be your new friend! With their big eyes and adorable faces, you will want one (or more!) for yourself too! Crochet your own amigurumi horse or donkey with this easy-to-follow pattern! Great for gift giving, or just snuggling up with the horses and donkeys you create!
Amy The Donkey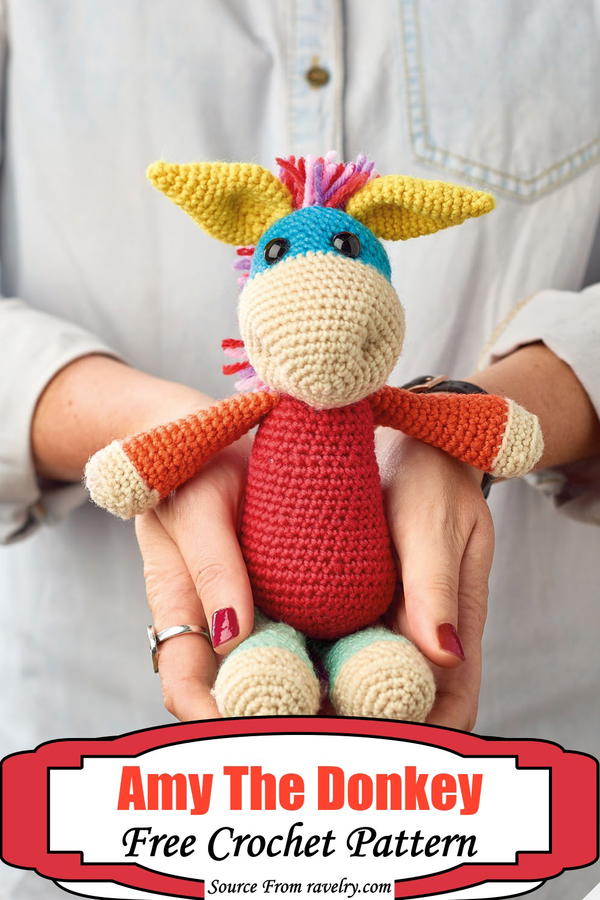 Ready to get your craft on? This crochet kit is perfect for any skill level and comes with everything you need (except scissors!). This project is a fun way to learn how to crochet. Amy is a donkey and will be a cute addition to your farm. This tutorial takes you through the entire knitting process, from creating the legs and body to sewing them together and adding fun details for a professional finish. Create a lovable donkey that you'll love fondly for years to come.
Funky Donkey Kids Blanket Hoodie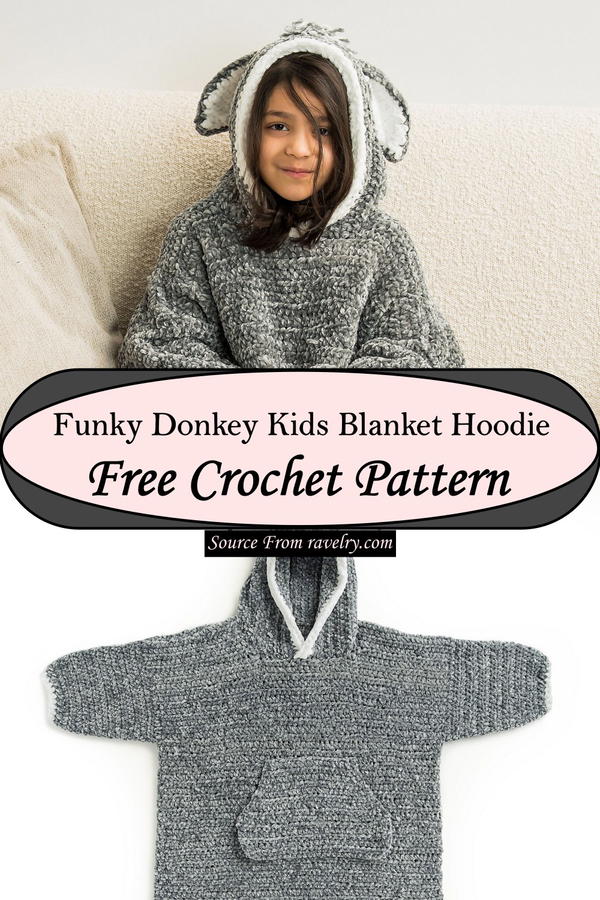 The Funky Crochet Donkey Kids Blanket Hoodie is perfect for children who love animals! This cozy crochet blanket hoodie uses a bold color palette and is worked in the round to help create a fun design that's great for lounging about the house. The Funky Crochet Donkey Kids Blanket Hoodie is perfect for keeping kids snug and warm while they're watching movies, playing games or reading. This fun & funky hooded blanket is knitted in Bernat Velvet Yarn and features double-knit construction to give it a luxurious, velvety feel. Plus, kids will love the shaggy hair and ears on the hood!
Donkey Amigurumi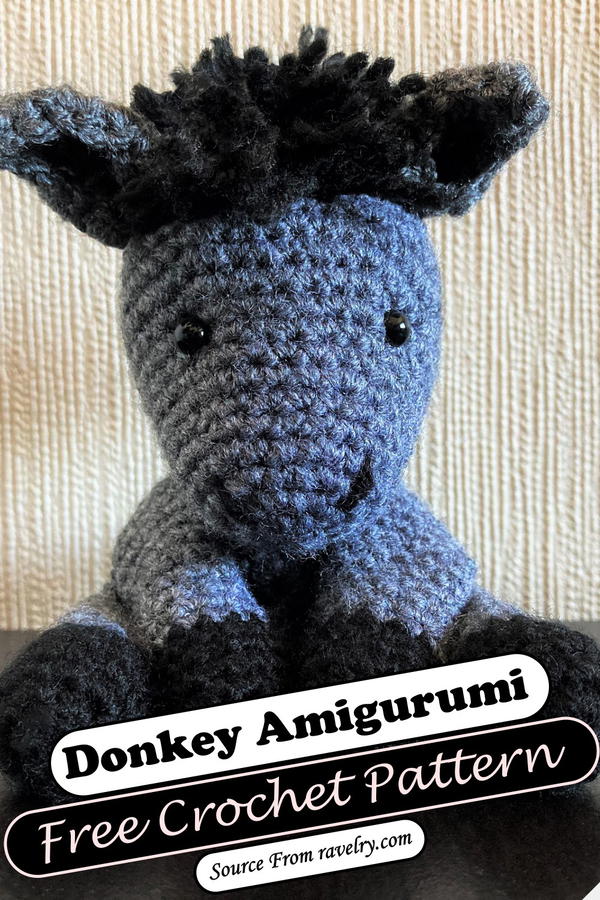 Meet Marge the donkey, the perfect tiny amigurumi to make an adorable keyring or backpack charm! This little donkey was so much fun to make, and is so cute! This penny toy donkey is a great gift for children and adults. This crocheted donkey would be a lovely addition to a bedroom decor or nursery. It could also be used for nursery rhyme themes. He's a wonderful little project that works up in just a little while. Great for using up scraps of yarn or using what you have on hand.
Rainbow Donkey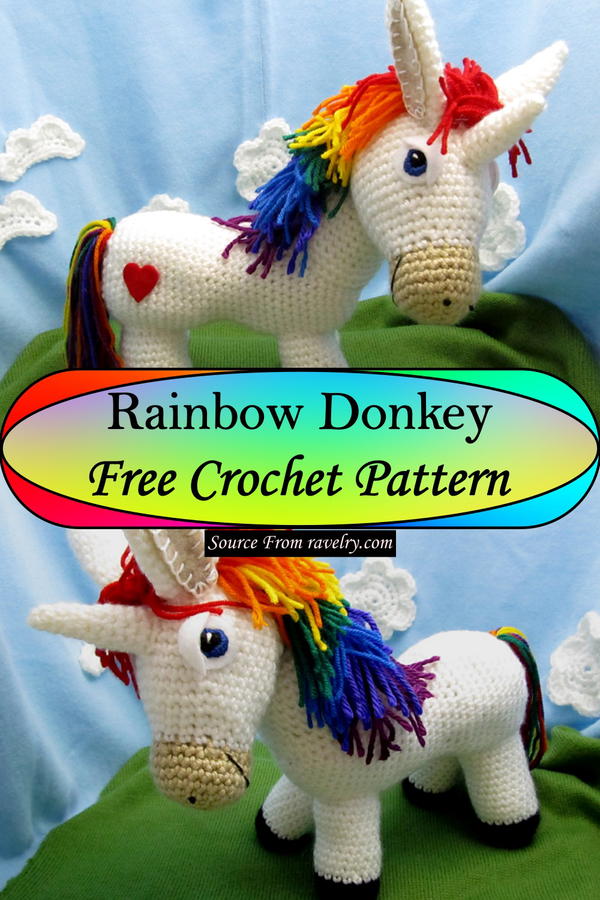 Make your own adorable crochet Rainbow Donkey with this pattern. This donkicorn is a little bit donkey and a little bit unicorn and a lot of cute. Adjusting the ears and horn would make it easy to create a horse, donkey, or unicorn instead. This pattern is worked in rounds, so there's a bit of sewing involved at the end to connect the front and back pieces. The face is worked first, then the body and legs. The mane and tail are made separately so that you can place the colored strands where you like.
Crochet Donkey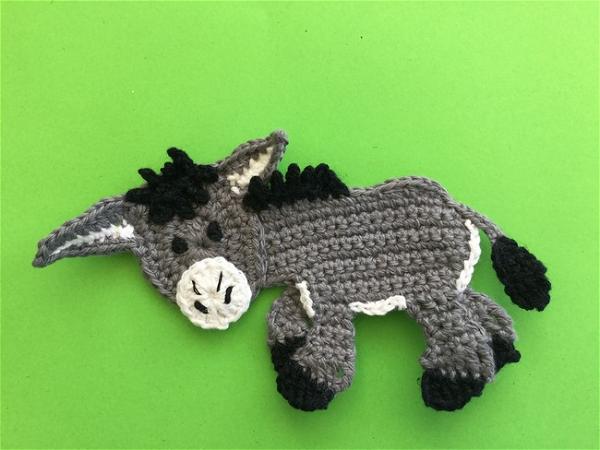 If you love the world of crochet, then this adorable donkey is the best companion to have along for the ride. Now, you can embrace your inner artisan with this delightfully detailed, completely crocheted donkey. The perfect addition to your crafting collection, this donkey is ideal for anyone who appreciates needlework and textiles. It is not a stuffed toy. It is a black, white, and grey donkey made of yarn. This Crochet toy donkey is soft, lovely, and realistic. It will be a wonderful gift for children, girls, and women as well.
Summer Breeze Amis Donkey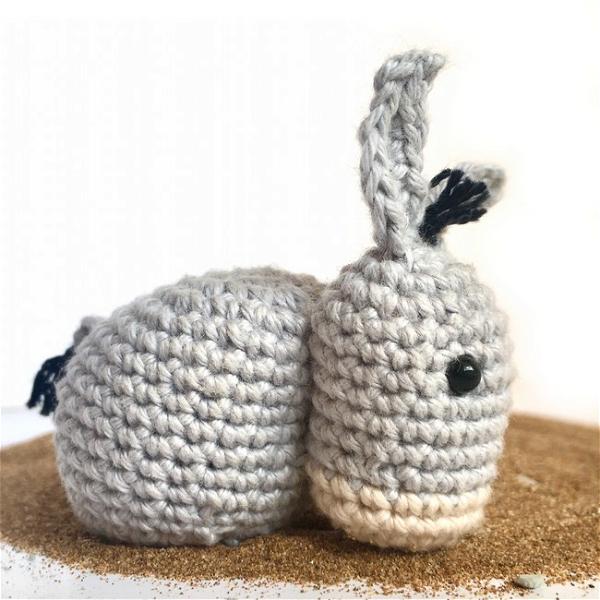 Donkey loves the summer breeze, but what he loves, even more, is having his ears flapped while he basks in the sun. This Summer Friend Donkey is all dressed up for the season! He's the perfect vacation companion and will always be ready to take a picture! His ears are an impressive size and he will stand on his own. He is hand crocheted, using a light grey yarn, making it possible for him to be spot cleaned or even lightly surface washed.
Christmas Donkey
A cute and festive handmade crochet Christmas Donkey is your home's perfect gift or decoration. A very special Christmas donkey for you! Handmade to order and made with love! Crocheted from 100% acrylic yarn. Perfect for people who collect donkeys. You can use it as a Christmas decoration, collectible, or as a plush toy. It's a great gift idea and a perfect present for Christmas, birthday party, baby shower, children's celebration. The Crochet Christmas Donkey is perfect to hang on a tree or doorknob this holiday season.  This is a fun, labor of love creation. This lovely donkey is part of a new range of crochet Christmas toys. The toys are easy to make and suitable for all-year-round use as well. They will fit in with any holiday decor.
Thunder Donkey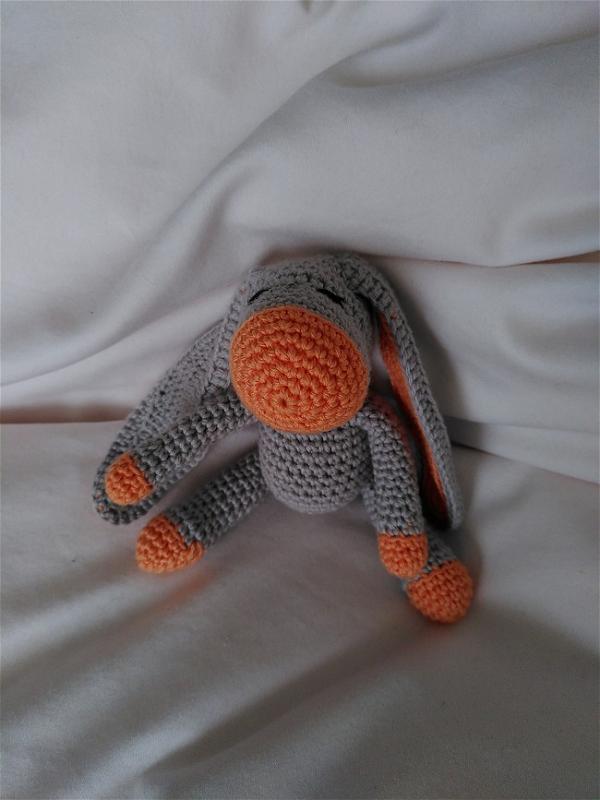 Cute and fuzzy, this little Thunder Donkey is waiting to hang out with you. It is soft and cuddly. What a great addition to your stuffed animal collection! Show off your Thunder Donkey to all of your friends! The Thunder Donkey is custom designed by Brandefy to be a bit more fuzzy and durable than you would get from a blind pack. This soft, fuzzy, and huggable plush is the perfect size for bringing on the go for playtime, road trips, or snuggling up at home!
Bitsy The Baby In A Donkey Suit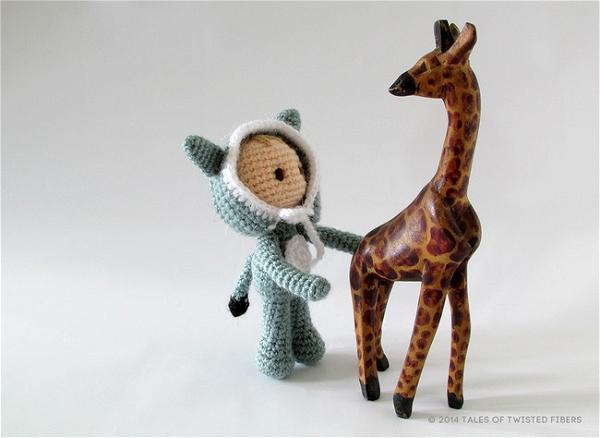 Bitsy the Donkey is a rambunctious baby animal who loves to play and who has an equally playful mama to keep him safe. This animal will bring hours of wonder and fun for your baby, toddler, or even for yourself! This is a super cute crochet pattern for an adorable little baby in a donkey costume. It's the perfect, unique photo prop for your newborn! This is a crochet doll! It would be a perfect gift for a newborn baby boy or girl or even older kids and adults who still love stuffed animals. This is a full of character lovey that is nice and big to cuddle up with.
Slowpoke The Donkey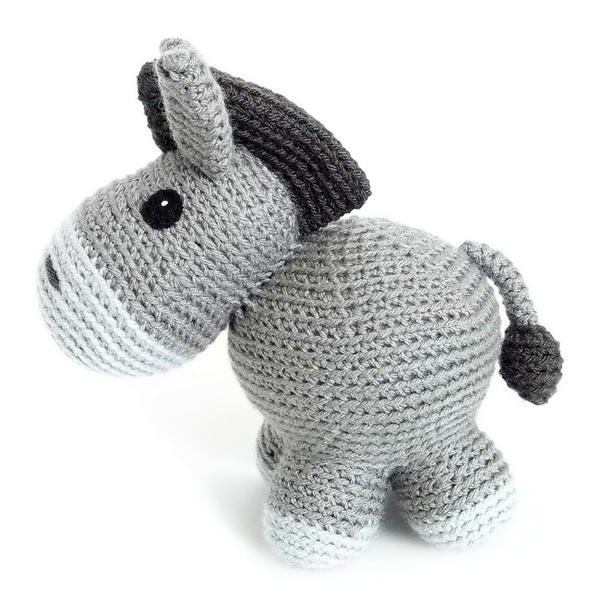 Slowpoke here is cute and cuddly and amigurumi-super simple! Beautiful and fun to make Crochet Slowpoke Donkey which is a unique gift idea for someone special but also the perfect gift for yourself. This Donkey is an adorable and cuddly companion for kids, a fluffy home & office decor, a wonderful plush toy, and just a perfect gift! He's great for beginner crocheters: straight stitches, increases, and decreases are all you need to make this sweet little donkey. He's just the right size to tuck into a purse or knapsack, so he can tag along wherever you go!
Sad Donkey Amigurumi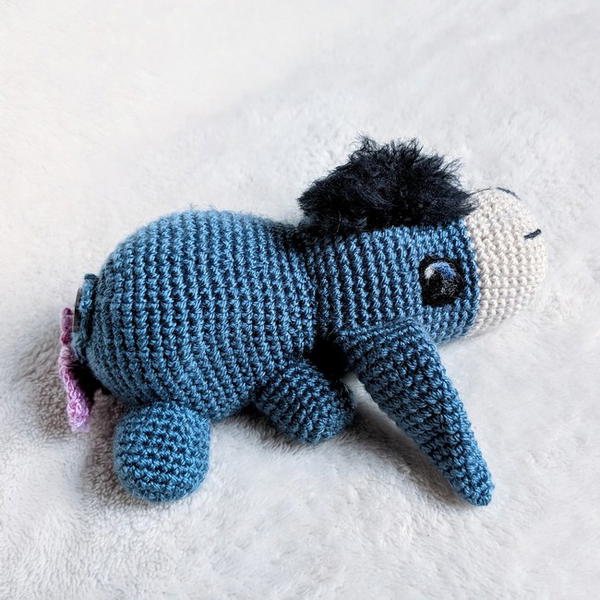 Adorable little donkey amigurumi! This small donkey will make for a great gift to anyone, of any age, and is very huggable! Soft and warm, perfect for a little friend or as a gift. This is a cute little donkey, who has a sad face but is actually rather cheerful. Don't let his big ears and sad eyes fool you. He wants to spread happiness wherever he goes. This Sad Donkey Amigurumi looks sad, but he is sure to make someone smile. The adorable decorative item will bring joy to anyone who sees it. It's perfect for nurseries and kids' rooms.
Patriotic Donkey Scrubby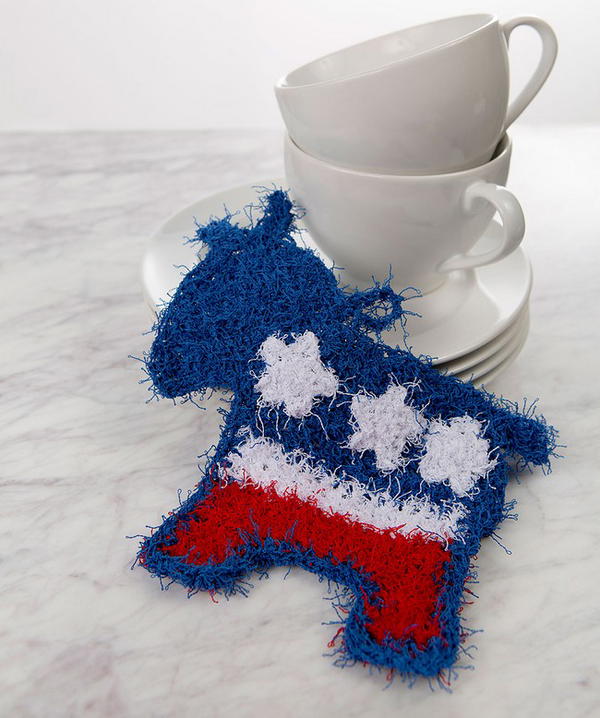 Show your party affiliation with this clever donkey scrubby! Wash all your dishes while showing some political pride! This crochet design is red, white, and blue, featuring true patriotic American colors. You will be sure to enjoy demonstrating who you support when you use this special scrubby for kitchen or bathroom cleaning. This scrubby is perfect for cleaning dishes, counters, or wiping down stoves. Yet don't be afraid to show off your patriotic side during those upcoming summer barbeques.
This donkey scrubby is a clever way to show your support for your favorite political party. The crochet design features true patriotic American colors, and the yarn is easy on dishes. And why not crochet one of our other politicians while you're at it?
Donkey Amigurumi Stuffed Animal
Crochet stuffed toys are perfect for babies, children, or adult big kids. This little Crochet Donkey Amigurumi Stuffed Animal is too cute for words! Made of super soft acrylic yarn and stuffed with high-quality polyester filling; this amigurumi stuffed donkey will make a great cuddle buddy for your little one. This crochet donkey amigurumi will make a wonderful decoration for a child's room. It is very soft and cuddly, so it can easily be used as a toy. The donkey can be used as a toy or a room decoration because it stands on its own!
Donkey Hat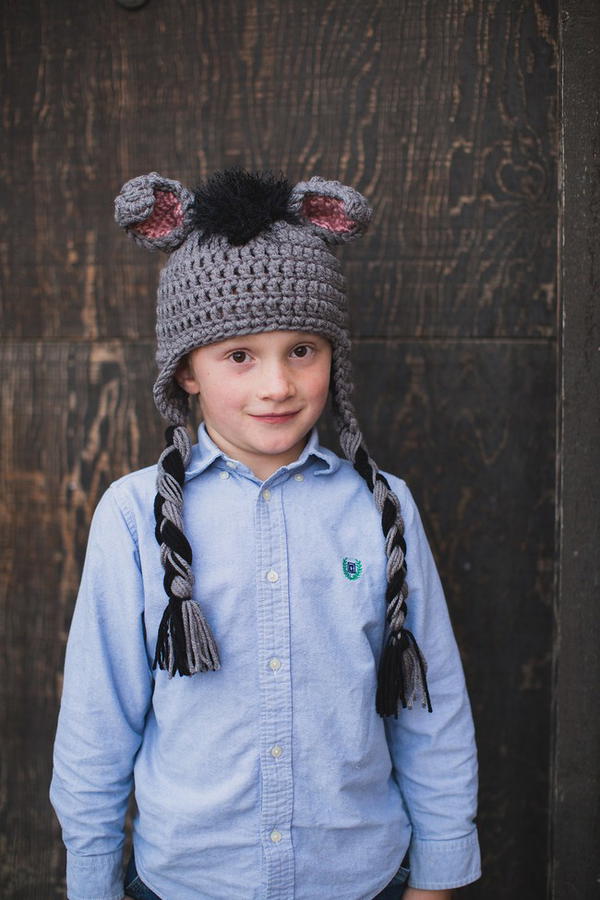 Charming and cozy, this adorable crochet donkey hat could be the perfect accessory for your little girl. It features crochet ears, whiskers, and donkey noses, which add charm to the accessory. Delightfully adorable, this crochet donkey hat is a charming choice for a girl. Dress Up in this cozy Crochet Donkey Hat with Eyelash Yarn Mane. Perfect for being the donkey in a reenactment of the nativity scene or for wearing around the house on a cold winter day! The hat is warm and snugly, perfect for hiding your ears during the cold winter months.
Mini Amigurumi Horse And Donkey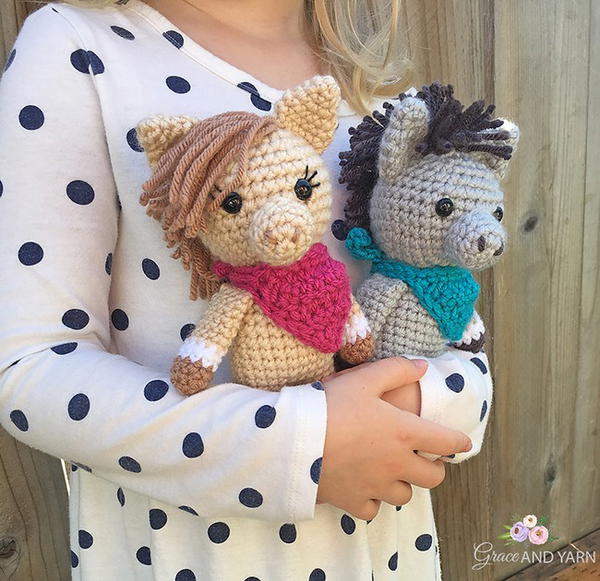 Simple amigurumi pattern! Perfect for beginners. Create a small horse or donkey with a single skein of yarn! This listing includes both the crochet and embroidery pattern! This adorable mini set of crochet amigurumi horse and donkey patterns is designed for the on-the-go crafter. The mini size is perfect to stuff a purse or use as a keychain! These make lovely gifts for animal lovers and will be cherished for years to come. Follow this pattern to create these adorable mini amigurumi horses and donkeys! The perfect addition to any party, stocking stuffer, or gift basket!
Dearest Donkey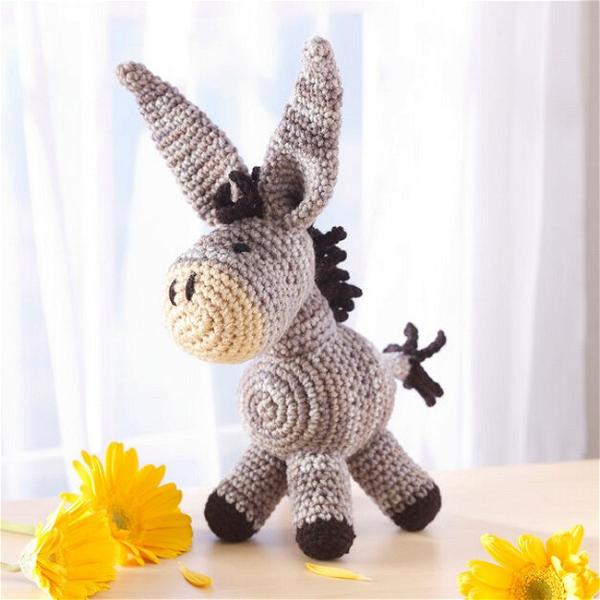 With soft and sweet snuggles to share, here's a cuddly companion for a baby that's also a wonderful new baby gift. Dearest Donkey is ready to liven up any nursery, with a smiley face and embroidered ears and feet. This Dearest Donkey has all the charm of a vintage market find with its soft, fuzzy mane and tail, soothing brown hue, and even freckles! It's a sweet friend who can hold on to toys and boppy blankets when not being snuggled. This adorable crochet donkey is the perfect friend for any child. It features a soft, comfortable body and a cute little hat to keep his ears warm.