Horses are one of the most popular themes for crochet patterns and toys. Our selection of crochet horse patterns will delight any horse lover, or those who just love cute toys. These 30 Free Crochet Horse Patterns are a collection of handmade crochet horse toys that would make great gifts or playthings. They include an assortment of patterns for both kids and adults, in all shapes, sizes and colors! Some of the stuffed crocheted toy horse patterns have unicorn and mini sized versions too.
Crochet Horse Patterns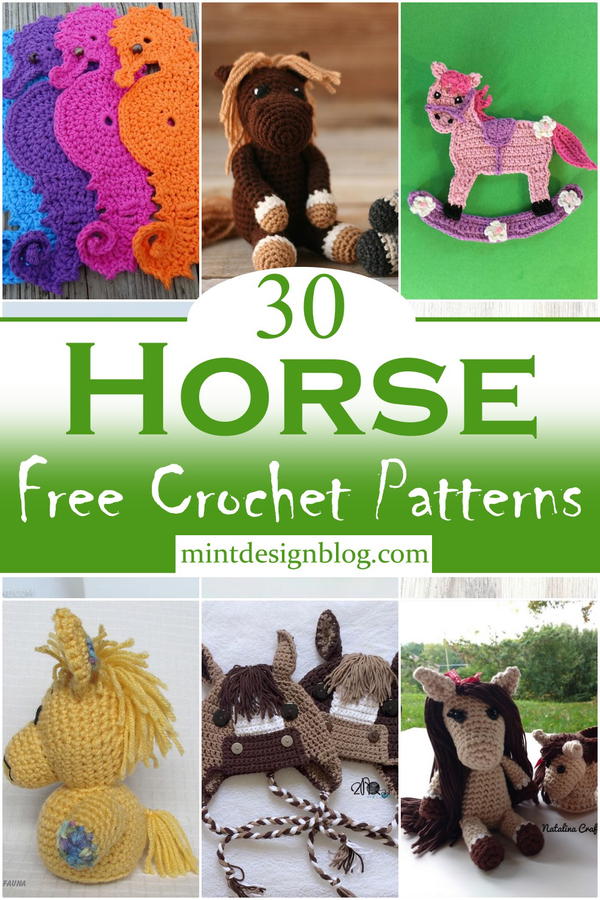 The horse is the very favorite animal of kids and they are crazy for them. So, why not crochet some cute and softy toy horse patterns that they love to have in their hands. It will also be a great gift idea to present them on any occasion like on their birthdays or Christmas, etc. Moreover, these patterns are so easy to crochet in a very short time span and can be added to your list of last-minute gift ideas. This list is full of 30 free crochet horse patterns that are not only for kids but also for adults, too. So, get along with these free crochet horse patterns that are still hot this season.
The following 30 free crochet horse patterns will give you a few ideas on what kind of designs are possible with this type of project.
Uses of Crochet Horse Patterns
Crochet horse patterns can be applied for a variety of different uses
Use it for ornamentation and decoration
They can also be used in the veterinary industry
They make good toys for children
Crochet Horse Patterns make great gifts
There are a variety of uses for the patterns
Use them to upcycle old sweaters, blankets, hats, and curtains
Use them as soft toys for kids and decorations for adults
Learn an art form and make something beautiful
You have to have some friends over at the house, then they can say it's practical
Things to be kept in mind while Crocheting Horse Patterns
-Learn how to crochet horse patterns that look like they're full of color, but it's really just yarn.
-How to keep the pattern intact after a few.
-Make sure to pick a loose and thick yarn.
-Materials required: thread, scissors, crochet hook.
-Back loop only, slip stitch, and chain spaces.
-Use a whip stitch to join the first and last edge of the horse body.
-Keep your left and right yarn tension loose.
-Use a hook that fits into the gauge.
Zodiac Horse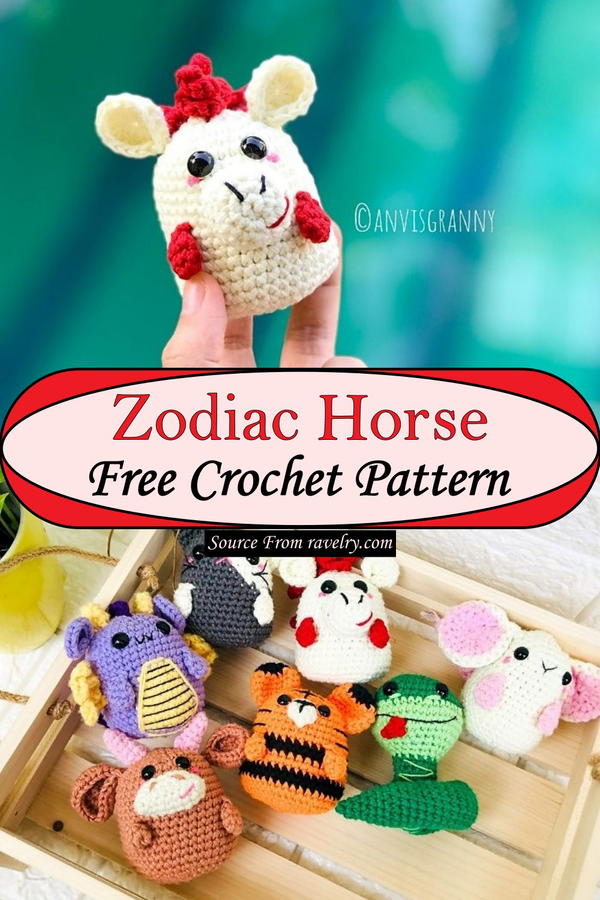 Are you keen on amigurumi? Do you want to try adding more amigurumi toys to your finished projects? Here is the perfect crochet project for you! With this beginner-friendly zodiac horse crochet amigurumi pattern, you can wrap up the crochet ponies within 2 hours. The zodiac horse crochet amigurumi is easy and fun making, the best stash-busting crochet project, and the perfect gift for your friends and family. This adorable amigurumi crochet toy will give you endless hours of fun playing with it or just having it as a crocheted decorative piece in your room.
Hazel-the Horse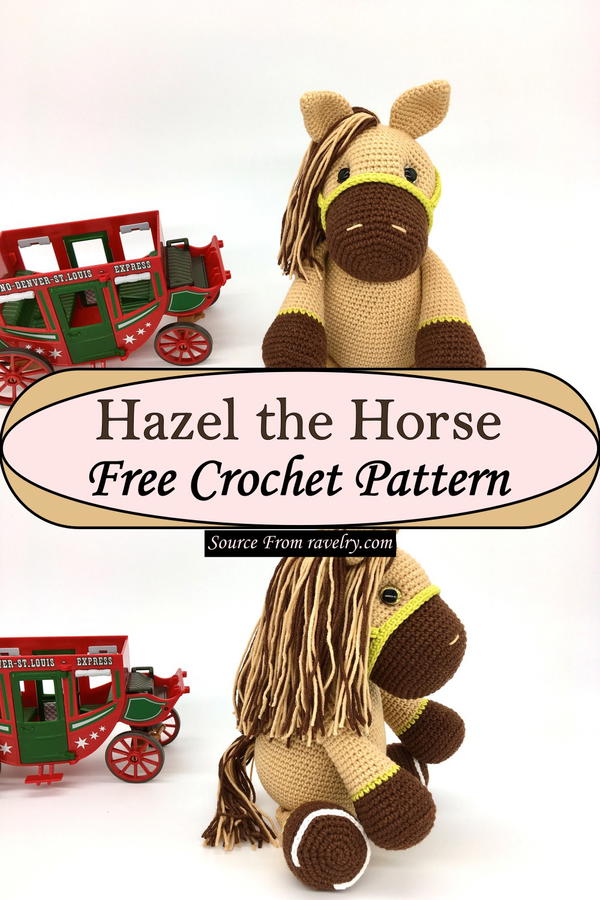 Hazel-the horse is a great crochet toy, which can be made very quickly. This crochet horse pattern will make a lovely animal friend for a child or an adult who likes cute little crochet toys. This step-by-step tutorial will teach you how to crochet an adorable horse that you can use as a stuffed toy, as a decoration for your home, or as a gift for family and friends. Crocheting is fun and relaxing when you have this easy-to-follow tutorial by your side. Have fun learning to crochet this stuffed horse. Access to this crochet pattern is instant so grab your yarn and hook and start crocheting now! This cute horse pattern is easy to follow. No special skills are required - if you can crochet a chain and work single, half double, or double crochet stitches you can make your own crochet horse!
Horse Candy Cane Cover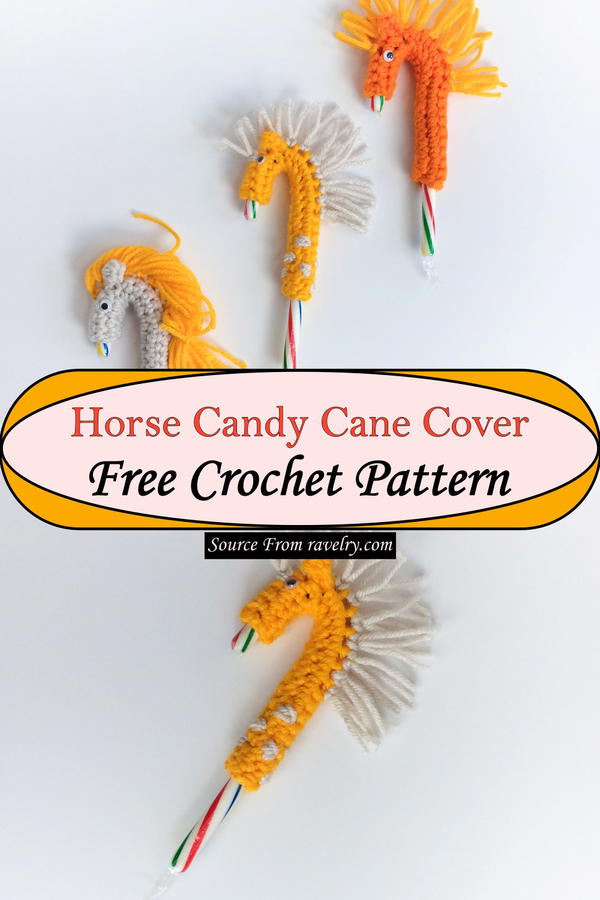 With the crochet Horsey Candy Cane Cover, you can create your own crochet pattern and add a special touch to your present wrapping! Your child will have hours of fun creating and using this delightful wrap. The candy cane is easy to work with and not fussy with lots of room for imagination! Your child is sure to love this crayon-covered, soft, and fuzzy Christmas caroling friend as a gift. Wrapped in yellow and white yarn it will delight any child. Whether he wants to give it as a gift or to keep for himself, this sweet crochet friend will bring a smile to your little one's face.
Hessy Horse Amigurumi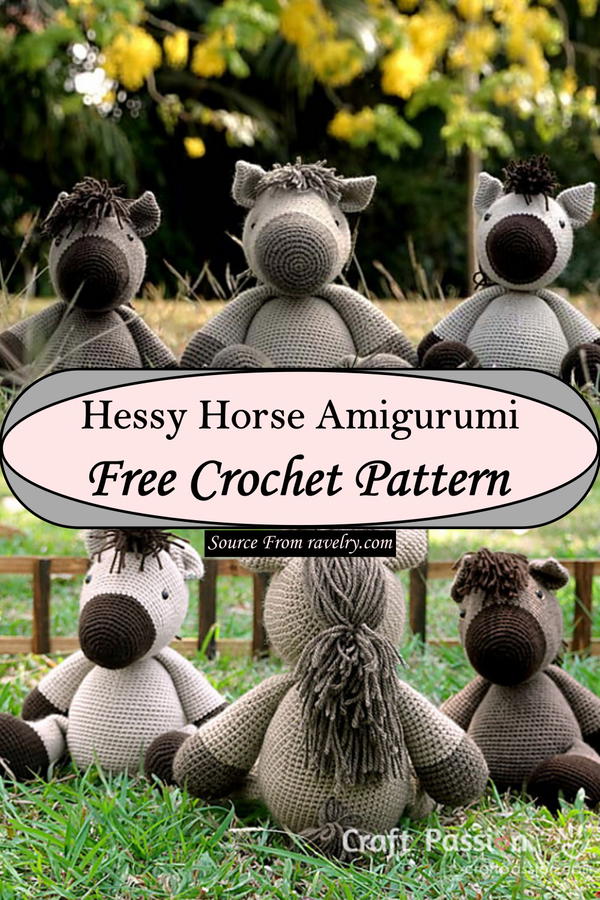 This is the lovable Hessy the Horse Amigurumi pattern. She is a happy friendly amigurumi horse in a sitting position and perfect for anyone who loves colorful toys, especially handmade ones too. Crochet Hessy Horse Amigurumi Pattern is a super toy for little children, especially girls. It's so adorable that it will soon become a baby's best friend! This adorable Hessy Horse Amigurumi is not only a beautiful toy but also a great decoration. It's a perfect birthday gift or crochet toy to play with! Hessey is a great size for both playtime and bedtime. Each piece is made with simple stitches, so even if you are a beginner, you can easily make this horse amigurumi.
Horse Potholder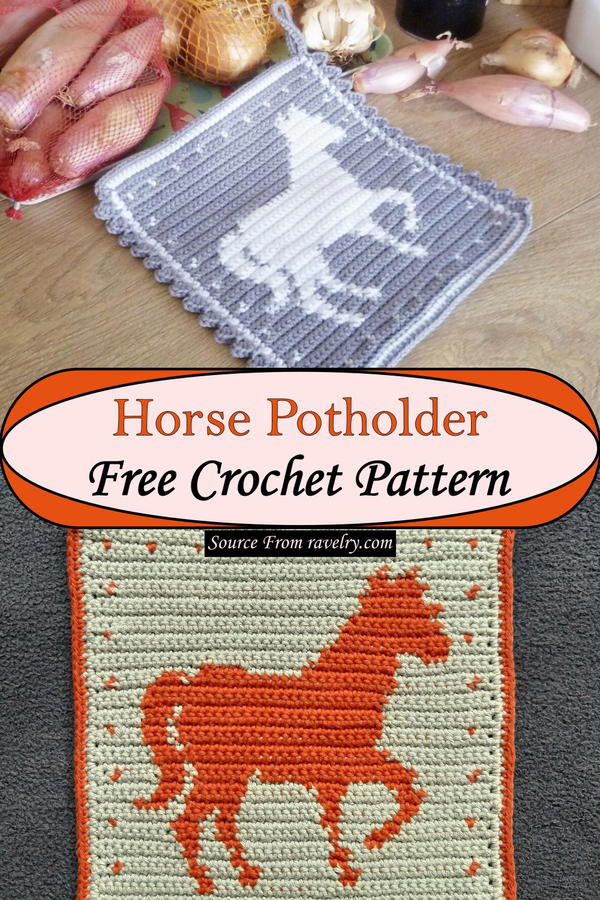 This crochet horse potholder pattern is perfect for any occasion! It can be used to serve fruit and decorate the kitchen in a country-chic farmhouse style. Use this for all your kitchen needs, heating low pans, serving pans, and even for storage. Spice things up in the kitchen, get you some style and enjoy creating this project. It is also a gift for all the horse lovers who want to show their affection even in the kitchen! This project also works up fast, using simple stitches and some basic crochet knowledge.
Icelandic Horse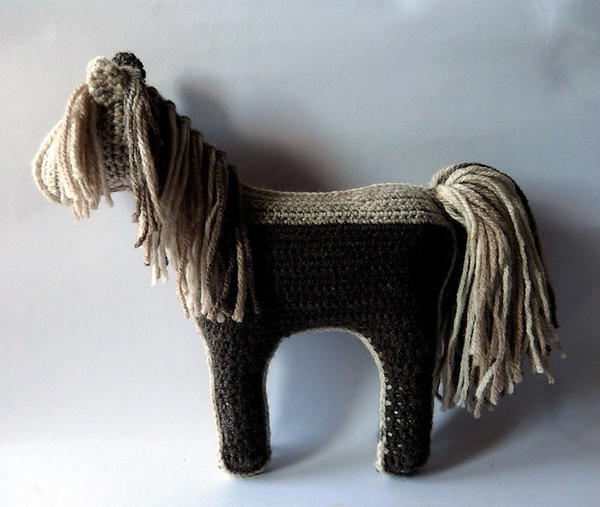 Icelandic Horses are usually made from wool yarn. This is so because the Icelandic horses are always well-stuffed, ensuring that their legs are firmly placed and don't fall out of shape. Crochet an Icelandic Horse to bring Nordic festive flair to your home, office, or classroom. And if you want to use your impressive yarn to make a decorative Christmas horse or another Icelandic horse, stitches around the legs give the horse extra stability. The design is based on traditional Icelandic sculpture but adapted for home use.
Rocking Horse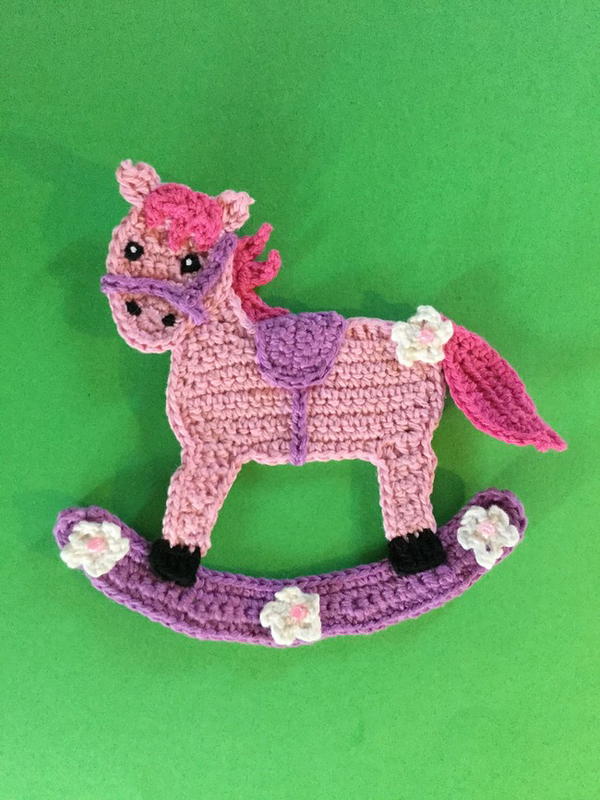 The Crochet Rocking Horse is a beautiful work of art perfect for young and old alike. Classic crochet style will bring you back to the sweet and innocent days of childhood-this rocker is perfect for a child's playroom or bedroom. Crochet Rocking Horse is made of durable glass and requires no assembly. Rock up on your rocker or sit down, whichever you prefer! Great for naptime, nursing babies, or playing with your dolls! This rocking horse is so easy to make, you'll have time to make lots of friends with the sweet little critters who will love sitting on your crochet rocking horse.
Horse Hat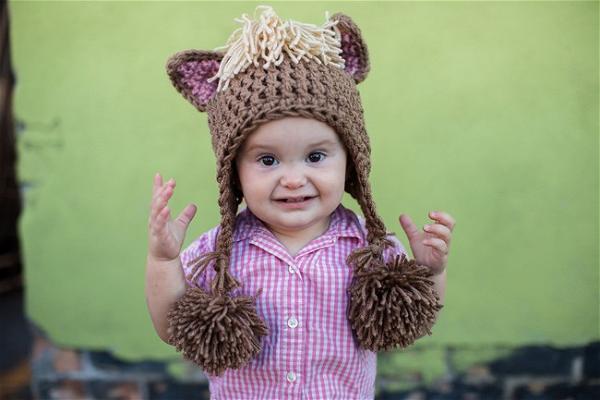 This is a handmade crochet hat. Included are the ears, the mane, and the nose. There is the option of adding a pom-pom tail adding a braid. This hat is perfect for reenacting the nativity, and any other time that your child would love to be a horse. It features a very warm and snuggly brown yarn with a thick light brown mane. It will keep you warm but not too warm on a cold day. Horse hat that is great for Halloween and plays or just to wear around the barn on a cold day. This Crochet Horse Hat fits most children, and some teens or smaller adults for a special Christmas presentation.
Small Animal Collection Horse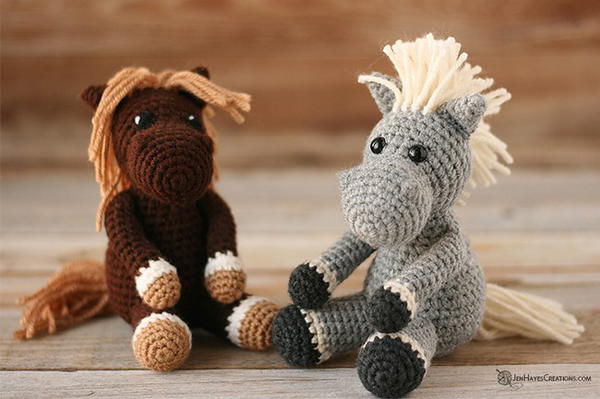 The Small Animal Collection Horse is the perfect quick amigurumi project. It's a great way to collect or gift them to friends and families of all ages. And best of all, sharing is caring. With its durable polyester fiber and soft stuffing, it's sure to be loved by people of all ages for many years to come. The Small Animal Collection Horse is the perfect souvenir, collectible, gift, or personal project. These soft and cuddly animals are sure to be loved by people of all ages. Through a combination of simple knitting and crochet stitches, you can create unique toys with a spiral stitch to easily shape the animal's head or body. The design features a tiny hinged tail and opening prop designs! Newborn baby sizes, mini dolls, and toy ponies add charm to any shelf or table.
Seahorse Coaster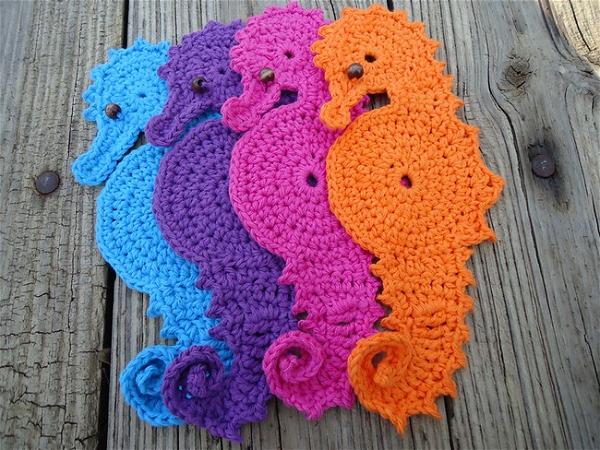 Create the ocean scene of your dreams with these seahorse coasters. This hand-crocheted coaster features a playful sea creature design that reminds us to appreciate the natural beauty of the ocean. The elegant airy design is just right for your living room or beach house. These sweet little seahorses are sure to brighten up any kitchen and make you smile and protect your tables from heat and dampness. Crochet coasters are the perfect gift for the beverage lover in your life. Keep your furniture in an unharmed condition, while also adding a touch of style to your home with these coasters. This cocktail coaster set will help you protect your beautiful, expensive furniture from moisture and stains, which can be caused by glasses, mugs, or other objects.
Little Horse Amigurumi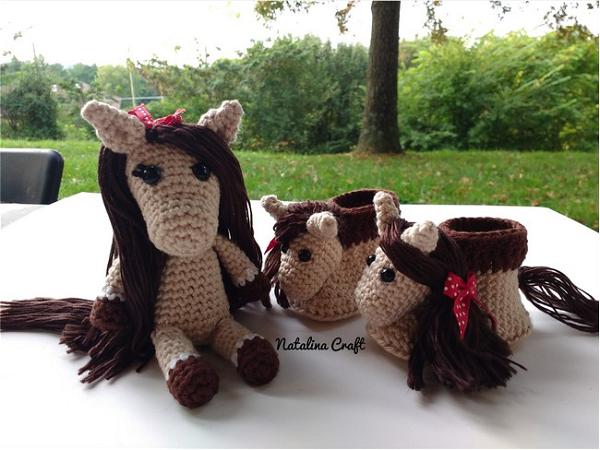 This little horse is so adorable! This Amigurumi Horse has very sweet facial features and mane. Crochet this beautiful little horsie for your Child, niece, nephew, or grandchild. This toy is the ideal gift for your loved ones. This adorable pattern is easy to follow and will result in the most beautiful little horse. The hair can be done in so many ways, and you can make so many different horses with the same pattern – just by changing it! There is also a free pattern for matching baby booties, how cute!
Twinkle The Horse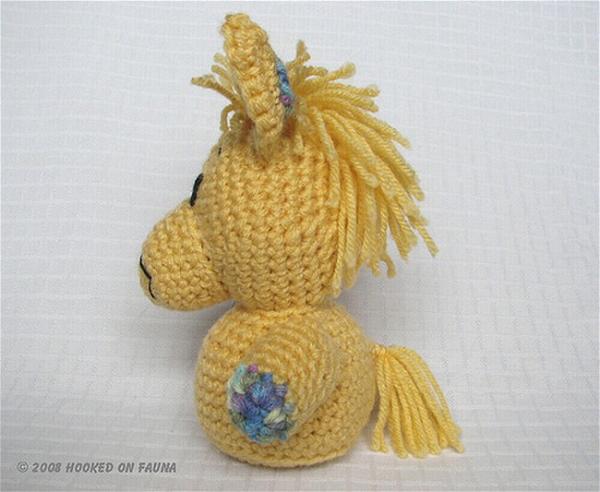 Twinkle The Horse is a fun crochet decoration for your stroller, car seat, crib, or anywhere else you might want to hang him. He's very sweet and cuddly, and he loves to munch on grass. Twinkle the Horse is a whimsical addition to any child's toy collection. As soft as it is adorable, this little stuffed animal friend will delight as children improve their motor skills and hand-eye coordination by tugging, petting, and holding him. Twinkle is a unique gift item that everyone would appreciate. Made with love, he will bring joy to your loved ones.
Crochet S'mores The Horse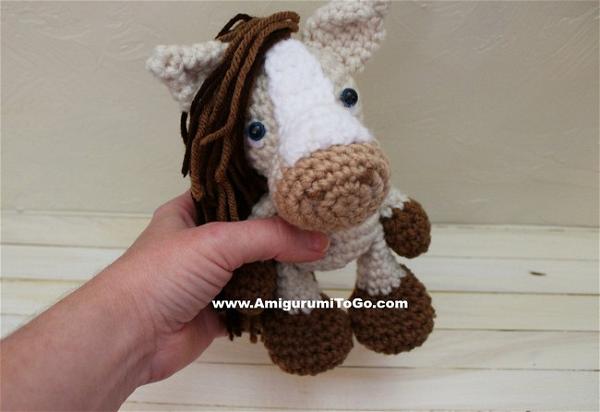 Crochet S'mores, a darling little show horse sure to keep your kid all smiles. Bring home this plush playmate and make some memories today. Loved for its soft fur, this fluffy Crochet S'mores The Horse loves to romp and play. After a long day running from toy to toy, this plush horse will be ready for bedtime cuddles; this cuddly critter is sure to quickly become one of their favorite toys. This adorable S'mores horse will keep you company on the couch or be a great addition to your stuffed animal collection! His soft, pliable body makes for delicious hugging.
Pony Horse Beanie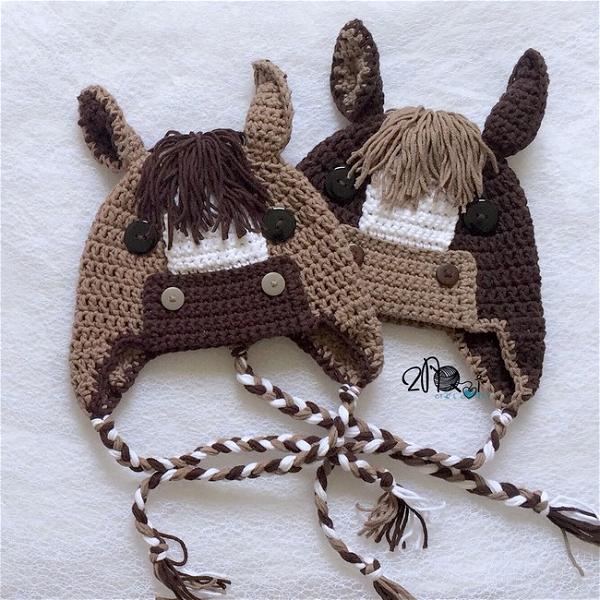 Keep your kid's head warm and toasty this winter. The Baby Pony Horse Beanie is just what you need to keep your baby's little ears cozy during the winter. This baby hat is super cute and makes a great unique baby gift that is sure to be treasured for years. This soft beanie covered in adorable pony horses will keep their ears from getting cold, while also keeping them looking cute as a button. Perfect for those early ski trips or family strolls downtown.
Baby Booties Horse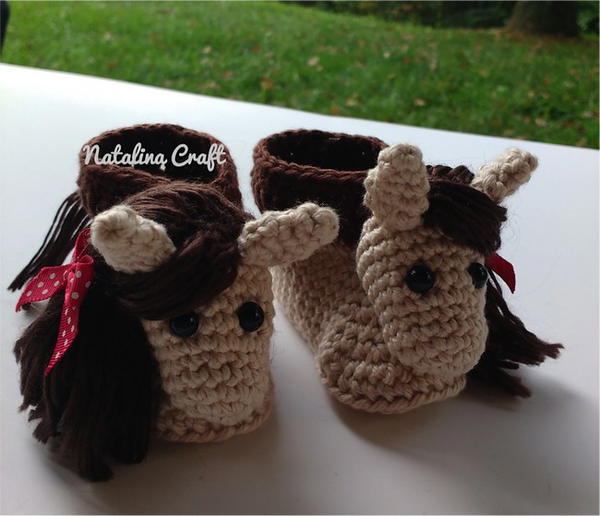 Beautiful and very warm boots for the baby's feet. They are crocheted with a very soft and delicate yarn. The material used for the insole is very soft and does not irritate the baby's skin. These baby crochet booties are simply adorable, with room for the baby's toes to keep you relaxed and smiling. You can also get a free pattern for a matching miniature amigurumi horse! This unique design will provide warmth and comfort to your baby's little feet. It is made special set to celebrate the birth of a sweet little girl. These will fit perfectly if your little one is between 0-and 3 months old.
Windu Horse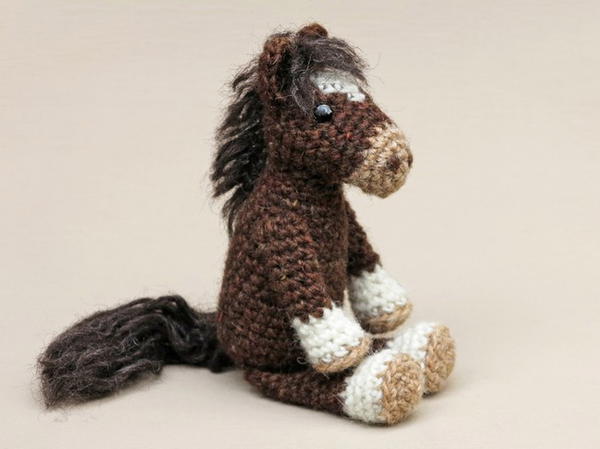 Windu loves to run free in fields but also likes to enjoy a quiet afternoon at home. This pattern shows you how to create Windu based on your own imagination. This crochet pattern will allow you to craft a realistic-looking horse that is sure to be a new favorite! Windu is crafted with worsted weight yarn, so he is the perfect size for riding adventures with any child. This pattern makes it easy to create your own horse in any color you would like!
Zodiac Horse Graph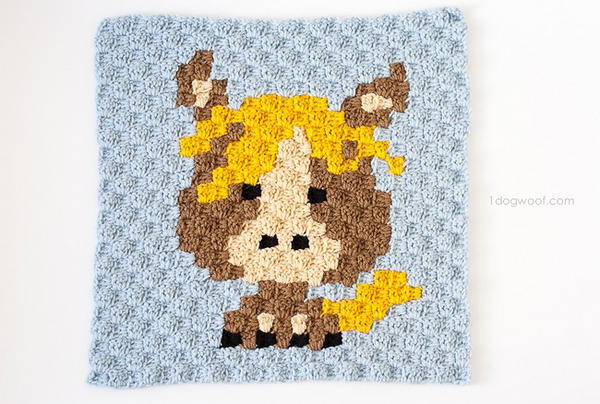 Crochet is a unique, one-of-a-kind piece sure to get attention. This is often the perfect skill to learn if you plan to design your clothing or decor items. Suitable for beginners, this is a super fun project that makes great gifts or even a keepsake item of your own design and work. Crochet your beautiful Horse Graph! This fun and reversible pattern can be made in a variety of sizes and color combinations, and when you finish, you'll have an elegant graph to add to your decorative collection. This works up quickly and is excellent for a new beginner.
Flip Flop Horse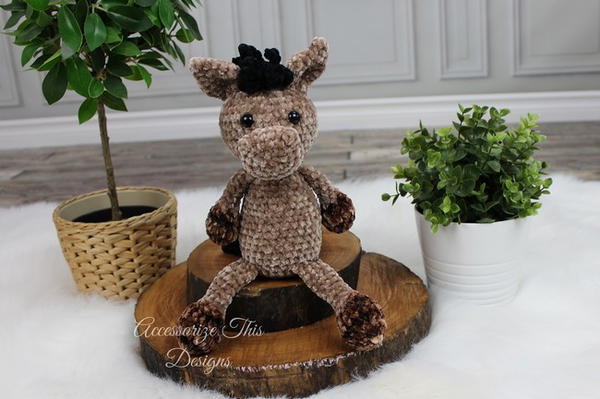 For the kids who love stuffed animals, this cute and crafty Free Crochet Flip Flop Horse Pattern will be a gift they will love carrying around and hugging during the night. It's made from soft and cuddly toy stuff from Cotton Yarn, Bernat Velvet, and Bernat Crushed Velvet yarn in bright pinks, hot pinks, blues, oranges, and greens. This crochet pattern is an excellent choice for any beginner crocheters and beginners to slip stitch crochet. Now that you've been told the story of Flip Flop Horse, it's time to crochet him up! Whether you're a seasoned pro or a beginner, this will be a fun project to make. Start with Bernat Velvet yarn and Bernat Crushed Velvet yarn.
Horseshoe Applique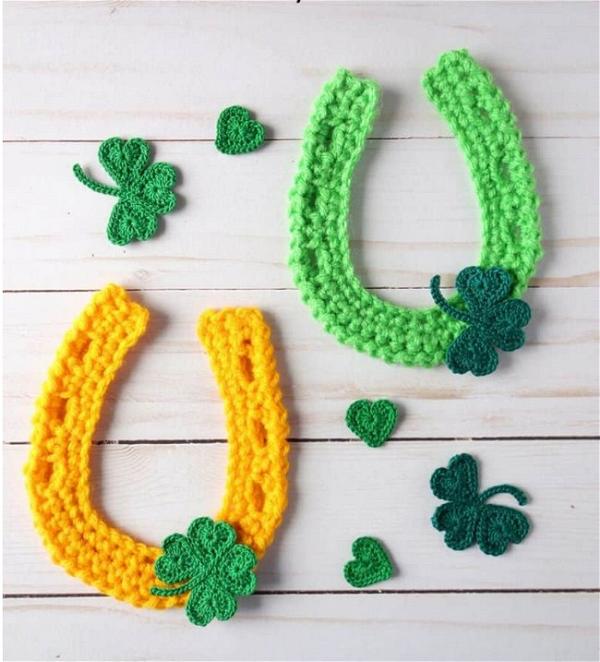 Crochet this Horseshoe Applique Pattern to give your home a festive look. Best of all, according to many people, crocheting these horseshoes are considered a symbol of peace and good luck. Crocheted Horseshoe Applique always has been a symbol of good luck and peace but also creates a decorative accent to your home or room. Many people consider it is a symbol of fortune and peace. However, whatever the reason is you are looking at this Free Crochet Horseshoe Applique Pattern, you will have quite fun and feel amazing while you do this crochet thing.
Golden Palomino Horse Crochet Pattern: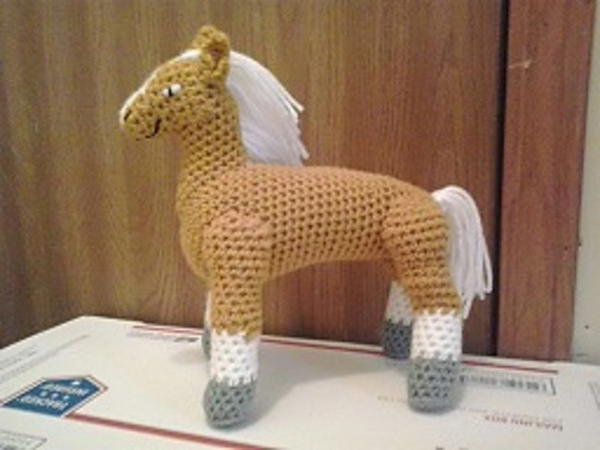 Learn how to make a palomino horse by crocheting this Golden Palomino Horse Crochet Pattern. This Golden Palomino horse crochet pattern from Loving Crochet is a fun project to teach you a new crochet skill or make a homemade gift for someone special. The Golden Palomino is a fun addition to any animal-themed room, or as a perfect gift idea for any occasion. The colorful horse amigurumi pattern is perfect for young children, who will love chasing around this adorable palomino. If you are looking to crochet a new creation and want to give it a unique personal touch, please your kids; this Golden Palomino Horse Crochet Pattern will be a fun choice for you.
Heidi The Horse Free Amigurumi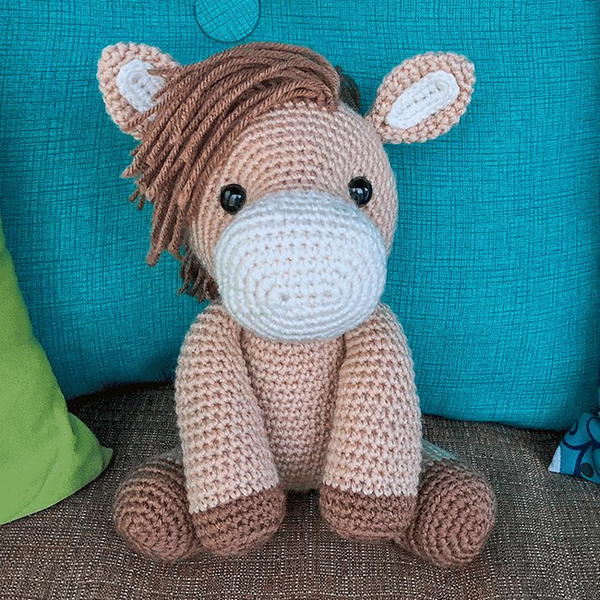 You will learn how to crochet a Heidi's The Horse Free Amigurumi. You will be making an easy crochet pattern, which can be used for multiple colors and as a gift. This horse is very cute, on its head you can find some character features such as a horn, bow, or ribbon; the white contrast of color on its skin makes it more appealing. This free crochet pattern is easy to make, so feel free to try it out with your own favorite colors of yarn. Make a few and gift them to friends and loved ones in your life!
Lucky The Horse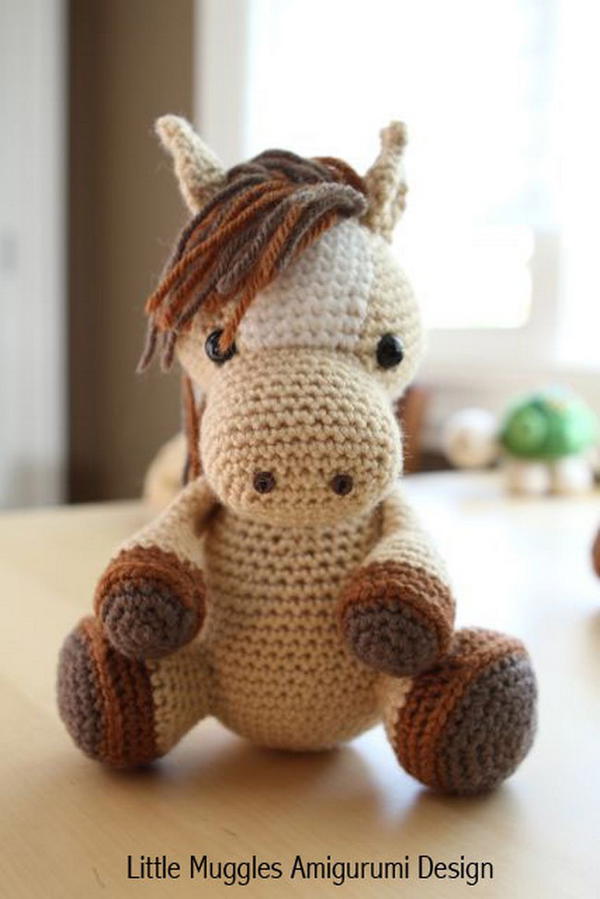 In search of an adorable stuffed animal to make for your baby? Search no more. Lucky the Horse is the perfect soft toy for little children and even a great toy for older kids. This adorable crochet horse pattern will fill your kids' day with joy. It will be a lovely handmade gift for a beloved child. Elegance and softness are the main characteristics of this crochet animal, so it will be a perfect choice to add beauty to your home décor. He is quick and easy to make, using very basic crochet stitches.
Mini Amigurumi And Donkey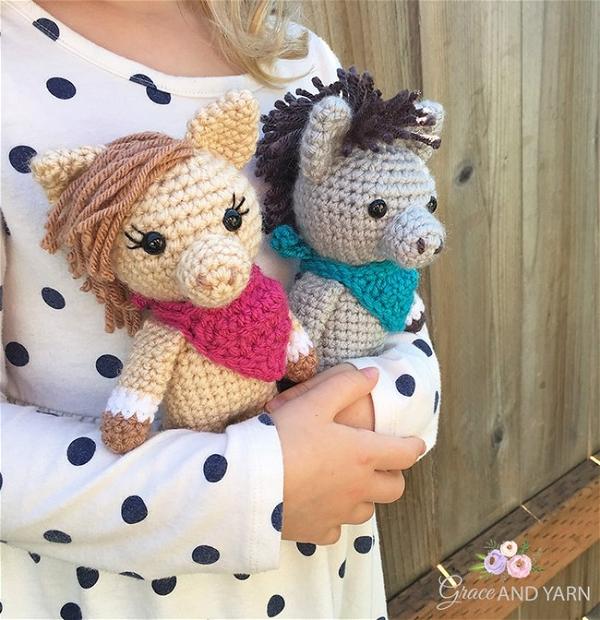 Soft and adorable, these mini amigurumi and donkey toy patterns will make fantastic crochet gifts. Crochet experts will love matching these crochet toys with their favorite color combinations or using them to decorate their homes or office. Crochet them in different styles, you'll find many designs! Buy this awesome pattern now! They will become a great companion for your kids, or can be kept as pets to add a touch of cuteness to your home décor. A little effort will make them a masterpiece to work with. You can have them embroidered onto clothes, or maybe they can make a great portrait on the wall.
Appliques And Unicorn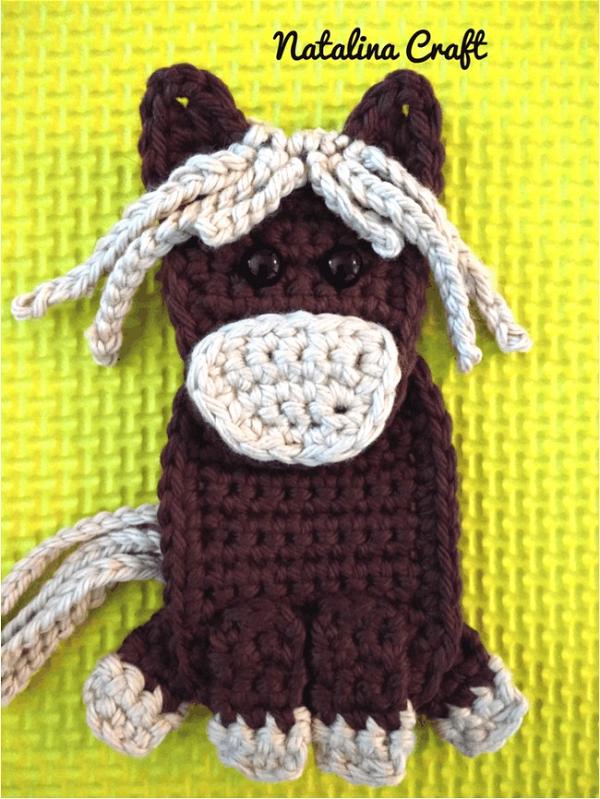 With a realistic three-dimensional look and feel, the Appliques & Unicorn crochet horse pattern is perfect for encouraging kids to learn new skills. The unique design looks like the unicorn of the fairies, it is so cute to take care of and make yourself comfortable with it. This step-by-step guide will help you to make the design in about two hours. You can choose among the many colors for making this cute toy. Using your favorite yarn and crochet hook, you can soon create your own adorable unicorn to join the other appliques in your home décor.
The Callie Horse Hat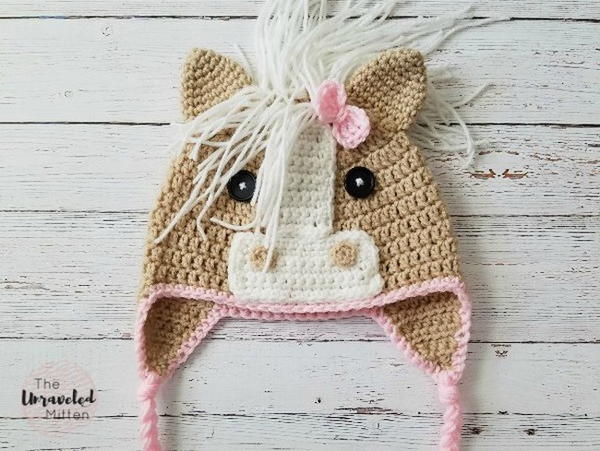 Dress your kids up for the cold winter months with this unique Christmas gift. The Callie Horse Hat pattern is ideal for both beginners and skilled crocheters, with a wide range of crochet stitches required to complete this project. The Callie Horse Hat is designed for young ladies or younger children. This cute crochet hat pattern is a great gift-giving choice when you need to supply a warm winter accessory to your younger girl. The adorable color combination and the standing ears on the top make this pattern look more admirable and unique.
Farm Horse Crochet Pattern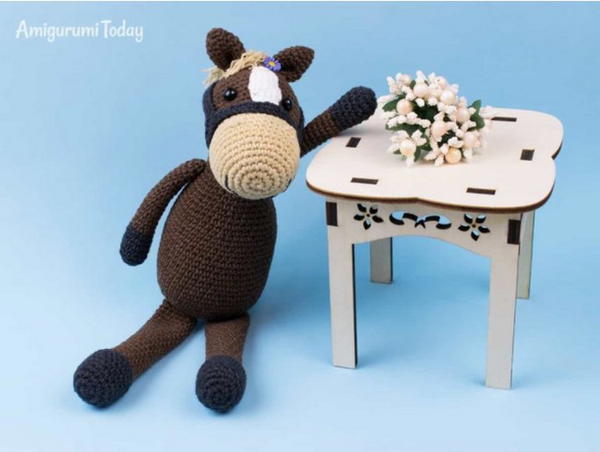 Add a little fun to your holidays and celebrations with this crochet pattern for a farm horse! Crochet this farm horse pattern for a versatile addition to your home, collection, or as a gift. This Crochet Horse Pattern is a perfect choice for your little girl's love of horses. Made to work on the most basic crochet stitches and techniques, it is simple enough for any first time crocheter. The finishing size of this crochet horse pattern is about (7) inches so that you can keep it along yourself for trips and picnics as your kid's soft friend.
Horse Amigurumi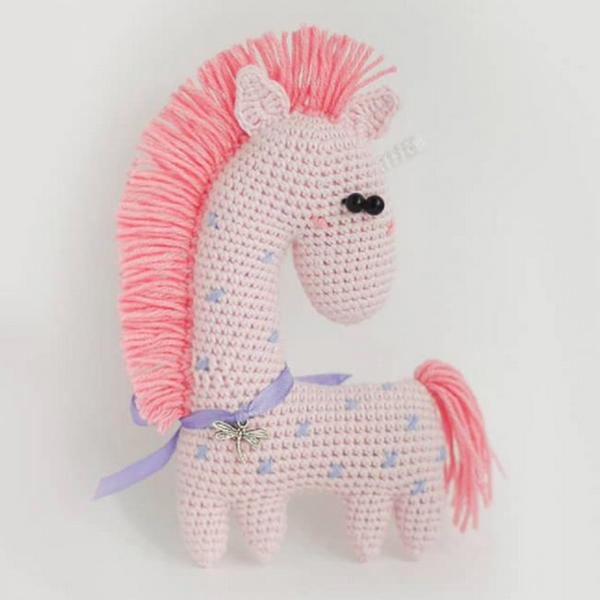 This Majestic Steed crochet horse pattern amigurumi is the perfect piece to add flashy shine to your home decor. Made of one single piece, this adorable pattern is super simple to make and will be super fun for everyone who craves a little adventure. The crochet hook and acrylic yarn you'll need to work up this horse can be bought at any hobby or craft store. This crochet amigurumi pattern is easy enough to be worked up in a single piece and is a perfect project for the beginner to learn something new and innovative.
Horse And Donkey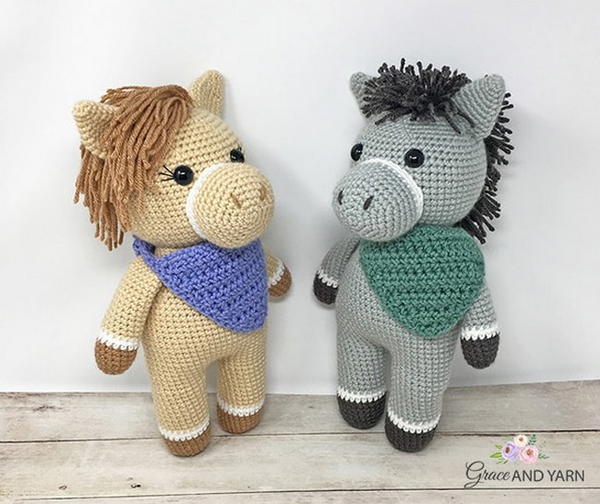 These crochet horse and donkey patterns will help you create two cute pieces for your home, especially for the kids. Creating this crochet horse and donkey pair, it's sure to be a fun, fast and easy project that your kids will love to work on because you can actually see it take shape as you go along. So gather up the worsted weight yarn and crochet hook, grab a mug of hot chocolate or a nice cup of tea – or both – and get started on your Christmas gift. With time and patience, you should have a great set of crochet horses and donkeys for your home décor in no time.
Crochet Horse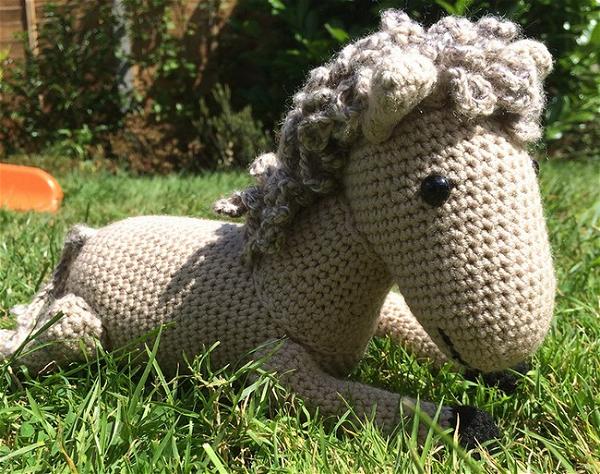 Get inspired and make a crochet project with this easy pattern: Crochet Horse Amigurumi Pattern. This toy is very beneficial for the children, and if you want to gift this to your near or dear ones, it serves as a perfect choice. The size of this horse amigurumi pattern makes it easy to carry anywhere and lets your kids get inspired in the craft of crafting. Your children will love crocheting this adorable horse amigurumi pattern. The combination of unique stitches gives it an extra adorable appearance. The innovative industrial design makes a perfect gift for yourself, or for someone on whom you wish to show happiness. You will never tire of looking at your new horse friend; it's easy enough to make, yet so much fun.
Horse Piem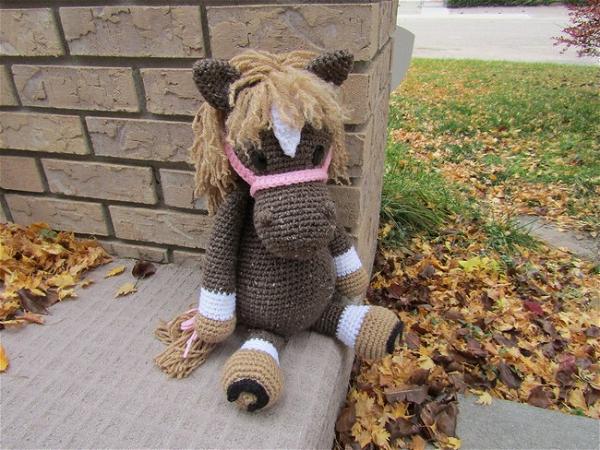 Horse Piem is a colorful but straightforward crocheted horse pattern that you can use to make a unique and fun accessory for yourself or a gift. With the light-fingering weight, the crochet is easy to work, and the motif with an outline at the top is simply adorable. You can make it in any color you like and adjust its size as you wish by changing the number of rows. Whether you are a crocheter or an inspiration seeker, this is definitely a project that can help you while forming your personal style.