Discover the latest and greatest in crochet owl patterns: adorably cute owls. Owls are one of the most popular crafts out there, and they are totally trendy right now. You will love making these awesomely cute crochet owl patterns. Crochet owls are some of the most popular patterns around. People love them, collect them and give them away as gifts. In this collection, you'll find all sorts of cute owl projects to create, ranging in difficulty from beginner to advanced. These crochet owl patterns include a wide variety of designs, including amigurumi owls, crochet hats with ears, keychains, and more. Whether you want to make a cute stuffed animal or something a little more functional like a blanket or potholder, this list has patterns for all skill levels.

From tiny and cute to big and bold, it's impossible not to love these adorable crochet owl patterns. Some of them can be made by just crocheting a round ball and you'll never believe how wonderfully the features are added to these little balls. From its amazing eyes, ears, beak, wings, and even the talons nailed at the bottom of its legs. An equally beautiful work would be done by making feathers around the boundary of the owl's body. The end results are so adorable that they would go with any style of your home decor. The wholesome, the wise, and the wisest Owl fans have been waiting for these 25 Crochet Owl Patterns to be compiled into one easy-to-find collection.
These 25 Crochet Owl Patterns will help you create cute friends that are sure to bring a smile to your face every time you see them.
Uses of Crochet Owl Patterns
Crochet owl patterns are a great way to help you create something new and beautiful.
There are many uses for owl patterns, from adorable additions to your home decor to thoughtful gifts for friends and family.
There are crochet owl patterns available to suit any skill level, from beginner to advanced.
You can create something unique with owl patterns that will stand out from the crowd.
With a crochet owl, you can make your own stuffed animal.
Crochet owls are fun to make and even more fun to play with.
You can use these crochet owls as a decoration for your home, as a baby shower gift, or for your child's birthday party.
How to Crochet an Owl Pattern
"Owls are usually a symbol of wisdom. This owl is no exception. He's a great way to show off your smarts and skills with crocheting."
-Gather supplies
-Make a slip knot
 Make the first foundation row of chain stitches
-Continue making rows of stitches until the owl is as long as you like.
Why we Crochet an Owl Pattern
There are a lot of simple, beautiful, and fun things to crochet. Owls are among one of the most preferred things to make. This is why we crochet an owl pattern from time to time.
-Owls are adorable, and everyone loves how they can look like a cute little stuffed animal
-Crocheting an owl is easy even for beginners, and you can make so many patterns
-Owls can be a good gift
-Owls are great to crochet because they are so simple
-They make adorable stuffed animals and they look great in your home
Conway The Owl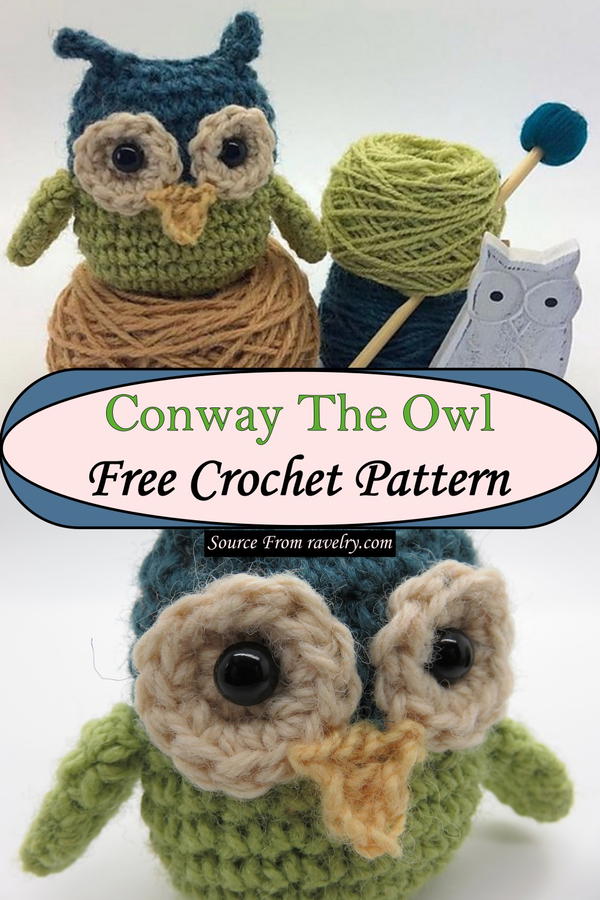 Conway the Owl is a fun crochet project suitable for beginners. Once you know basic crochet stitches and how to increase and decrease, you can make your own Conway! He not only looks great as a beanie but with just a little amending can also be made into a lovely soft toy.
A crochet pattern for a soft, cuddly owl amigurumi toy. Suitable for beginners to crochet. Look, listen and learn with the wise owl that any child will adore! Crochet up this little guy and make a child's day as they snuggle up to their new friend! With great character and charm, Conway The Owl is a friendly and easy-to-make toy to stitch.
Baby Owl Crochet Tree Ornament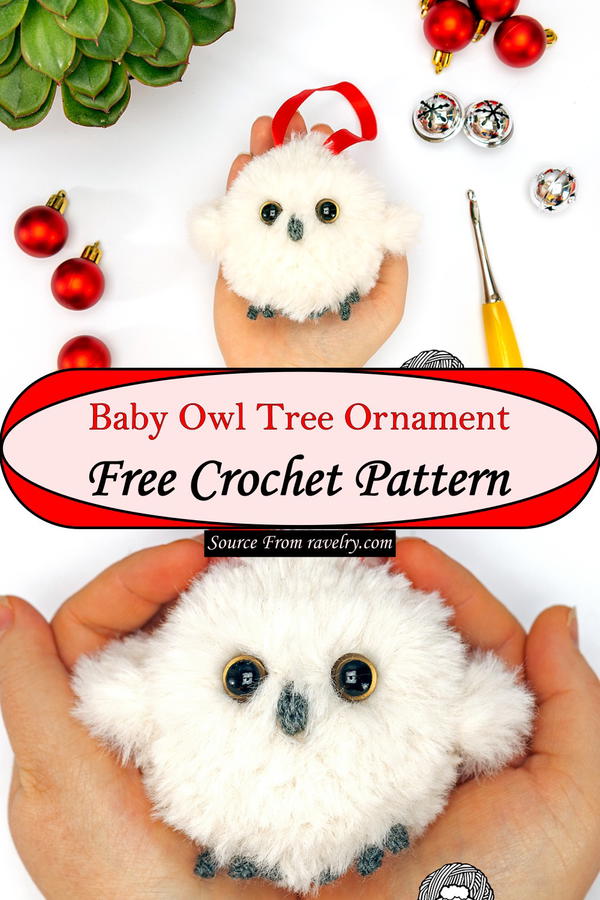 This fluffy baby owl is just too cute to resist. Trim the tree with this adorable baby owl ornament! No glass inside means it's safe for little ones that may be attracted to the tree. It's a quick and easy project that'll surprise your friends and family when you tell them that it's crochet! This little owl is the perfect ornament to hang from your tree this Christmas.
This cute little owl is stitched in worsted weight yarn for a quick project and added durability. It's safe for kids and pets and has a contrasting fabric inner ear that gives it more definition and character. And with no glass to be cautious of, it's fun for all ages!
Otis The Owl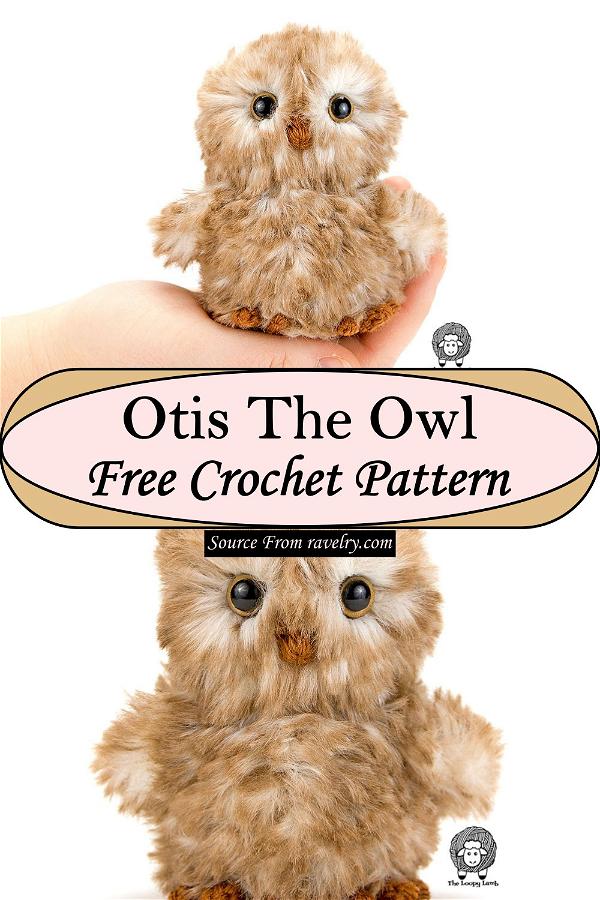 Did you meet Otis the Owl? A tiny little owl that fits in the palm of your hand. Super cute tiny Owl that fits in the palm of your hand. Quick to make from felt and so adorable from the top of his head to his tiny feet! He is quick and easy to make, will look gorgeous on any surface of your home or at the office, or as a key chain. Otis makes a terrific gift for any age!
Owl Applique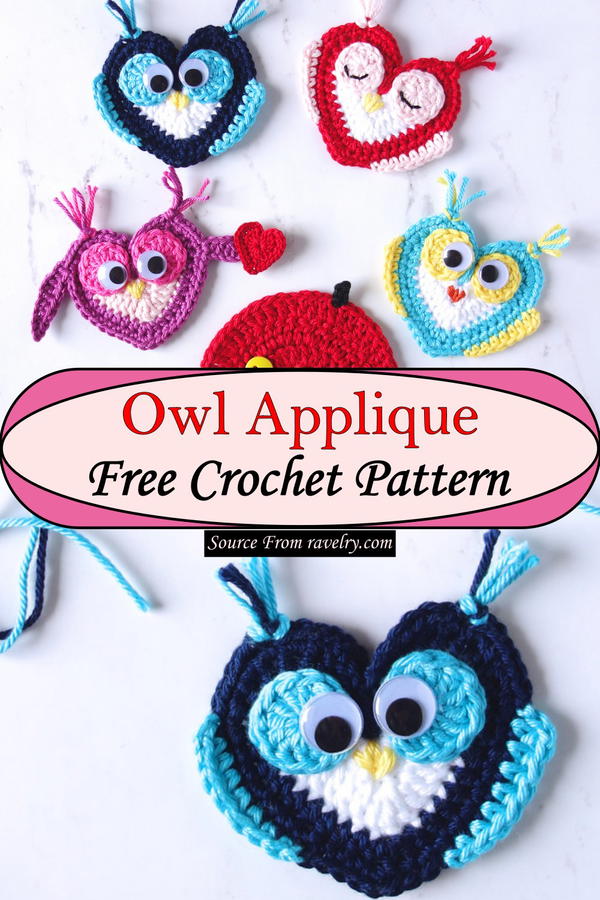 This crochet Owl is made in the shape of a heart, perfect for your nursery, to decorate anything all year long. As adorable as its inspiration, this charming crochet owl applique doesn't hoot or shine a light, but it will allure you with its charm and texture. Whether you decide to make this owl face applique or add it to a love note for your partner, it will become a new favorite! This Owl applique is the cutest crochet Owl around! This crochet Owl has so much personality, it would be the perfect addition to any item. They are great for hats, beanies, headbands, scarves, baby blankets, or as an ornament. You can make these little owls with every color yarn you love and change the colors of the hearts.
Owl Amigurumi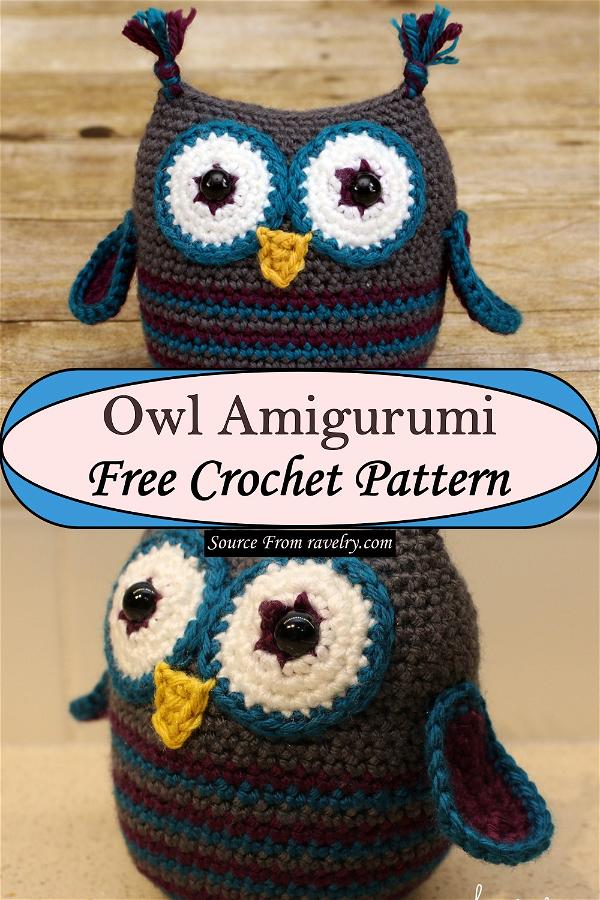 A wonderful and easy amigurumi pattern! This super cute owl amigurumi is a perfect gift for a child or just for yourself! This owl amigurumi is a unique and fun addition to any Owl lover's collection. Makes a great gift as well. This little owl is soft, huggable, and perfect for play. He's also beautifully hand made which makes him special. This crochet owl looks more like a pigeon, but it is great for a beginner. It will definitely become your favorite toy as it is just adorable! A great gift for any child or teenage girl.
Owl Cushion For Tim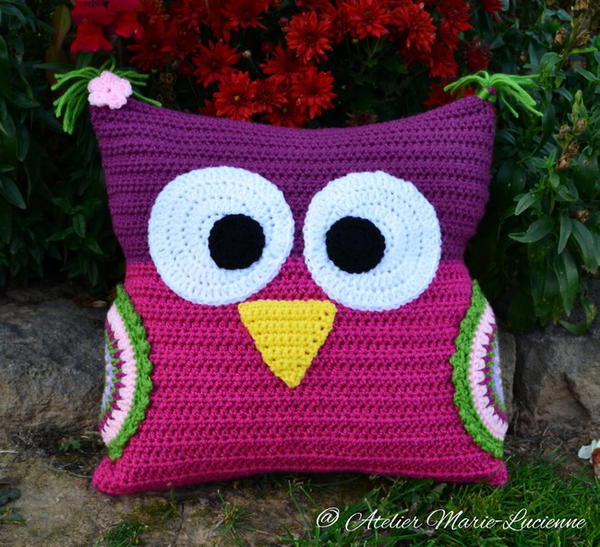 Owl Cushion For Tim is a super-cute cushion, that will instantly become your child's BFF. The handmade Owl Cushion For Tim is ideal for parents looking for an adorable gift for their child or loved one. He's soft and huggable and can be dragged around the house all day for maximum fun – one of his legs doubles up as a carry handle so he'll never get left behind. This friendly companion is ideal for traveling, keeping your little one company on long journeys. An adorable owl cushion will be a great decorative addition to any nursery or child's room.
Owl Glasses Holder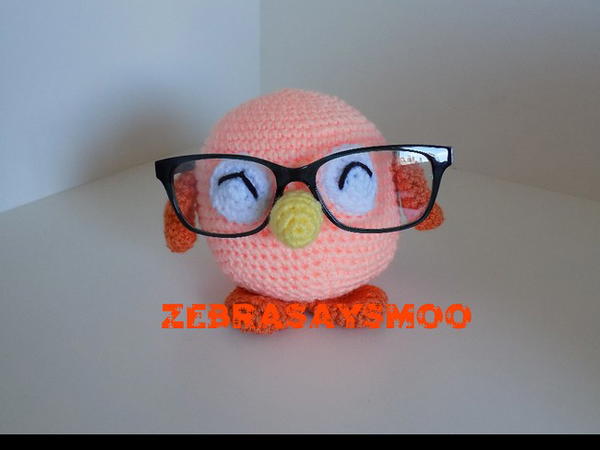 Your glasses are perching for a home when you're not wearing them, give them a fun place to stick in this cute Owl Glasses Holder. Now you won't forget to take your glasses when you go out with this happy little owl. Made from bright, colorful yarn, he fits comfortably on any nightstand. A perfect gift for your glasses-wearing friends. An adorable owl to store glasses when not in use. No more forgetting them or falling over in your bag! A lovable character to store glasses when not in use. Perfect for a stash buster or gift.
Owl Amigurumi Dreamland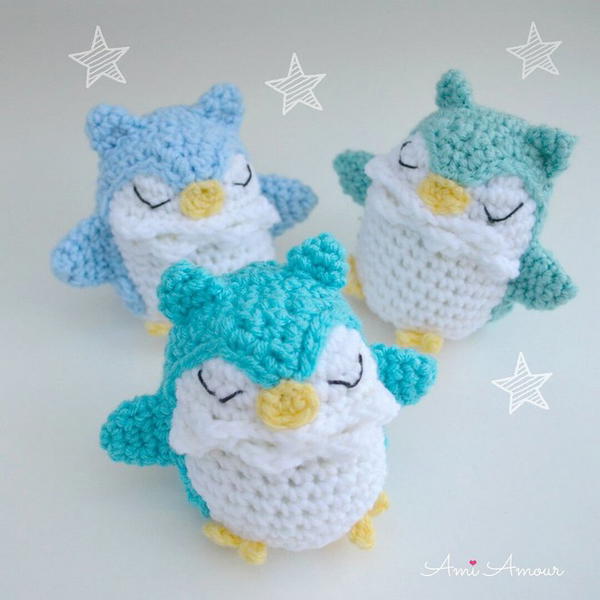 This Owl Amigurumi is so whimsical and soft- a must-have addition to any crocheted toy collection. The sleepy eyes, puffed-out chest feathers, and plush body are done with a combination of techniques that make this owl so unique. It's sure to be a hit with the kids, not just because it's cute but because it can stand on its own feet so easily. The color of this Owl Amigurumi is especially dreamy, and he'll be a sweet addition to any child's room. Decorate him however you'd like and make your owl as unique as he should be.
Owl Be Warm Hat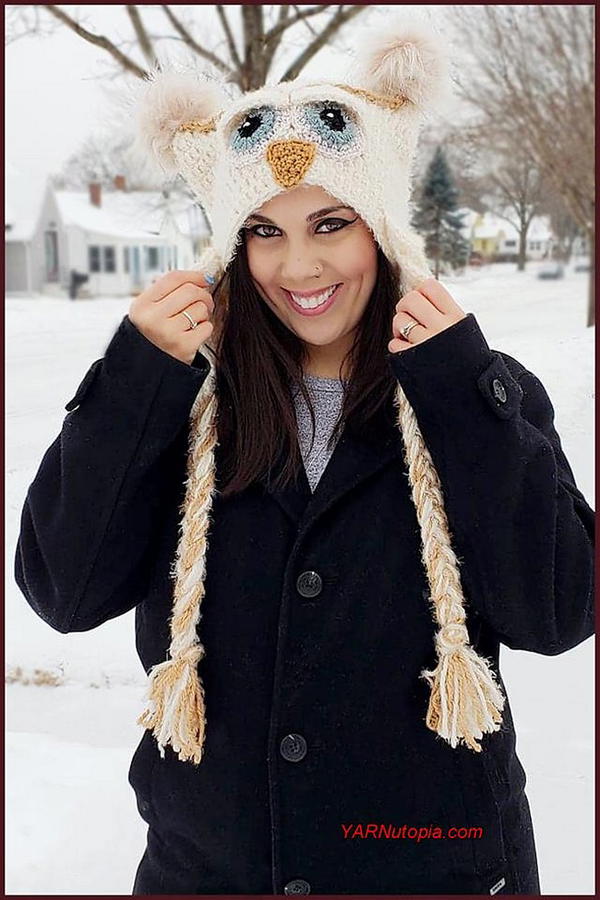 If you love owls, then you will love this crochet Owl Be Warm Hat. Winter doesn't have to be cold and miserable. The owl is here to keep you warm this winter with a crochet knitted hat. This winter hat comes in several popular colors and styles. The Owl Be Warm Hat is in women's adult size and great to wear during the cold season, it would look awesome with a hoodie or trench coat. Stay cozy and warm during those cold winter months with a cute knitted hat. Perfect for staying toasty and showing a little personality, the Owl Be Warm Hat is a great addition to any winter wardrobe.
Owl Hat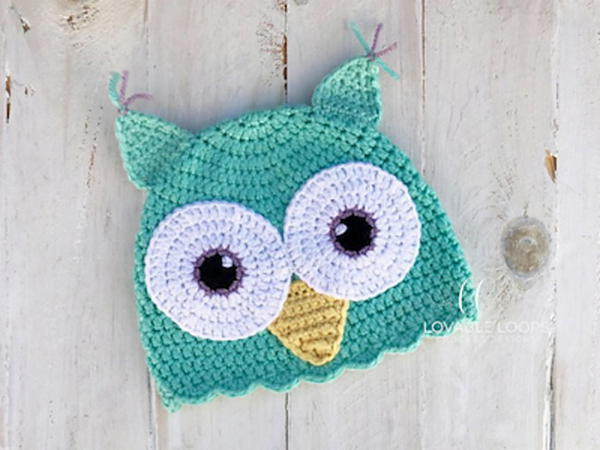 This easy-to-crochet Owl Hat looks so adorable on little heads! In sizes from newborn to adult, this is a family favorite—a great gift for every occasion. This owl hat was designed with the colder months in mind. Crocheted in chunky wool, it is warm and cozy and sure to keep a cute little head toasty while looking stylish. Your child is sure to get plenty of compliments on these hats! This owl hat is a perfect fit for anyone who loves to be different and who wants to stand out in the crowd. It is really easy to make and would look great on anyone!
Owl Always Love You, Valentine Caddy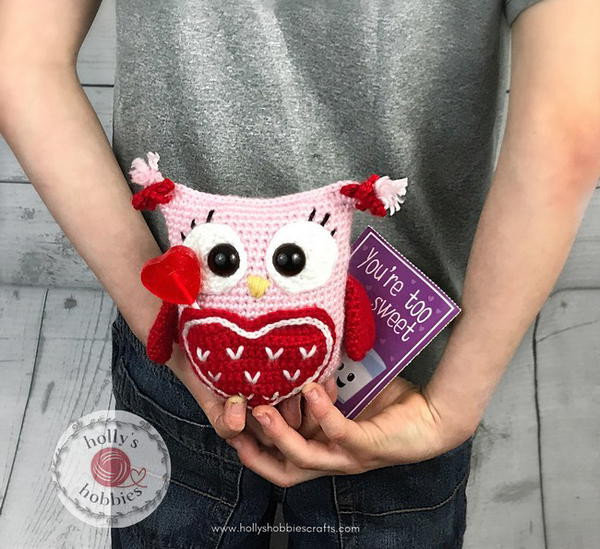 This adorable Owl Always Love You, Valentine caddy is the perfect way to hold and store all of your valentine's day goodies. The fun, colorful design is perfect for classrooms, offices, or anywhere you want to show off your love for owls! Pair this adorable online with a gift and you're set for Valentine's Day! This owl-shaped caddy is quick to sew and perfect for storing small gifts. Use it to hold pens or pencils, or add some candy and give it as a little gift. This project features a handy caddy with pockets for cards and treats on one side and a softie plush toy on the other. Make the toy to keep, or slip it into the pocket to deliver as part of a gift.
Witchy Owl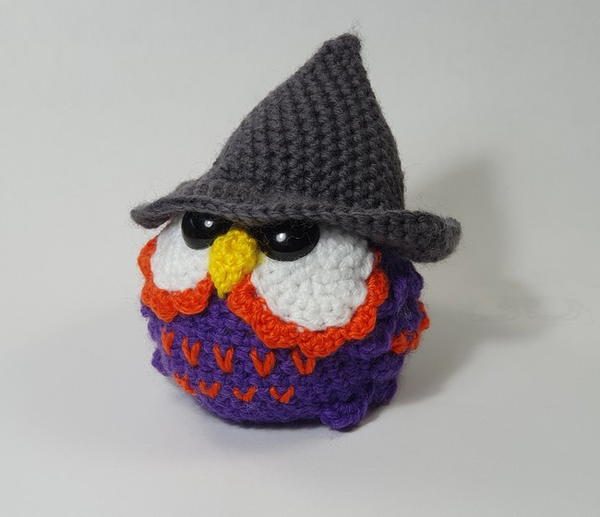 The rest of the coven is going to be super jealous! You're too cute to be scary, but you'll do your best to conjure up some ~spookiness~ this Halloween. A magical-looking owl, dressed like a witch. She has buttons for eyes and is a great decoration for Halloween. This little yarny buddy is ready to accompany any child on a fun adventure. Knitted with the softest yarn, this owl makes the perfect gift. This is a funny and scary witchy owl. It will be a good idea like a gift to your friends or just to decorate your interior.
Peggy The Pirate Owl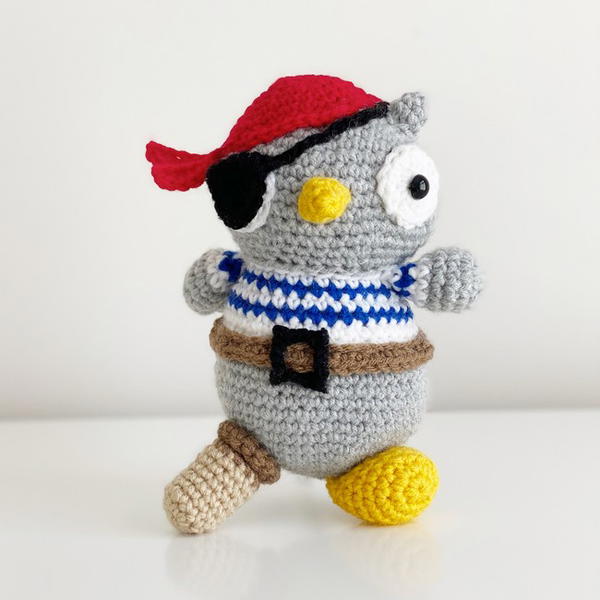 Peggy is super kawaii and wants to be your best friend! Cute, charming, and cuddly. Peggy the Pirate Owl is a lovely little owl to have as your travel buddy wherever you go. She is super-cute with her own little quirky personality. Great for kids and adults alike. This would also make a great gift for any occasion! Peggy would make a great gift for any crochet lover or as a complement to your nursery decor. She can also be attached to a keychain so you can have her accompany you everywhere! Peggy The Pirate Owl is the perfect gift for your best friend, teen sibling, or any other person who is awesome!!!
Baby Owl Lovey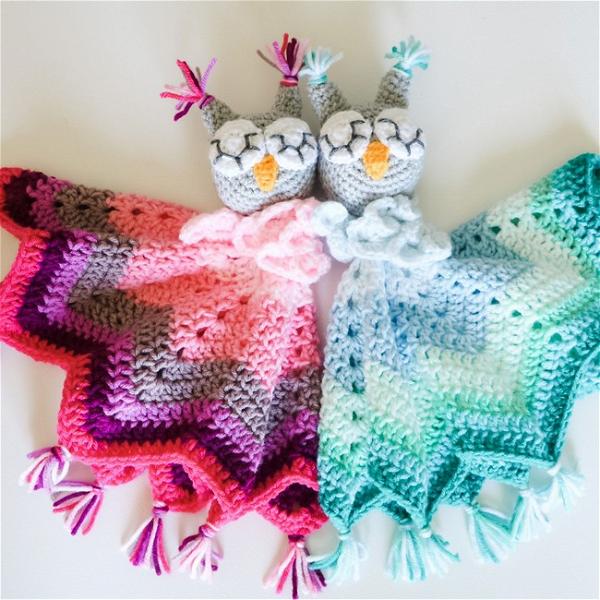 Adorable, huggable, and so darn cute! This Crochet Baby Owl Lovey is the perfect security blanket and plush toy to crochet for your baby. Use it as a prop for your photography session or just to prop them on the couch. Especially great around nap time. Add a little embroidery to the eyes and feet to make it a little more custom. With an adorable owl face and soft fabric wings, this little lovey is sure to help the baby feel so cozy. This adorable crochet pattern is perfect to make for baby shower gifts. The pattern calls for worsted weight yarn and can be customized with colors of your choice.
Wisdom The Graduation Owl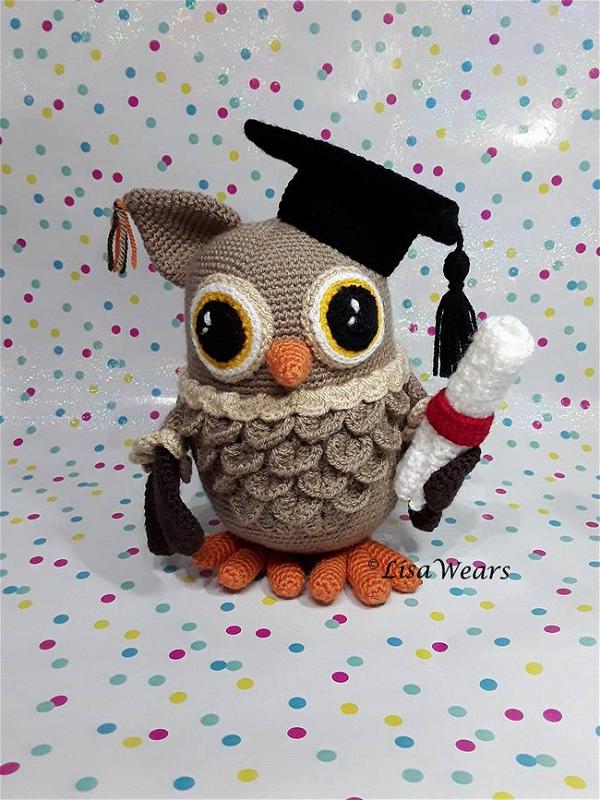 Sweet and wise, this graduation owl is ready to join his college-bound owner on the next big adventure. This Crochet Wisdom The Graduation Owl is the perfect pattern for a graduation-themed owl. This fun little amigurumi arrives at their new home with a cap, diploma, and even some small classroom-themed props. This cute little owl is the perfect graduation gift. It's small enough to fit on a bookshelf and has plenty of space to put a personalized message. Give it your wisdom, words of advice, motivation, or whatever you think your graduate will cherish forever.
Olive the Owl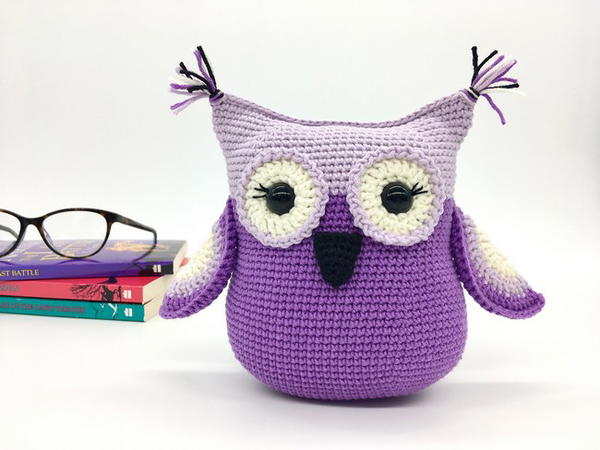 Oliver is a hooting good time! Knit in an adorable polka dot, this crochet owl is sure to impress all your friends. Start crocheting this adorable little owl as a relaxing project or something to do with your kids. Create your own unique crochet toy with this free pattern for Olive the Owl. This crochet stuffed animal would be a great gift for someone special or a cute addition to your own home. Everyone will love Olive, from beginners to advanced crocheters. This pattern is rated an easy skill level.
Owl & Snow Owl Amigurumi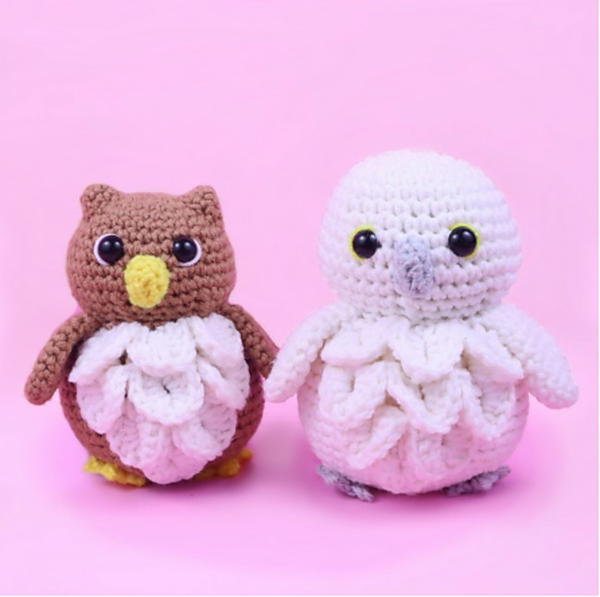 Bring some fun and cuteness to your home! These Crochet Owl & Snow Owl Amigurumi are so adorably chubby and cute! They will look great on the sofa, armchair, bed, or playroom. A must-have for nursery decor. Handmade amigurumi owl toy crochet toys. Made with acrylic yarn, stuffed with polyester fiberfill. A fabulous gift as a baby shower gift, first birthday gift, newborn photo prop, nursery room decoration, and even a Christmas gift.
Baby Owl Corner-to-Corner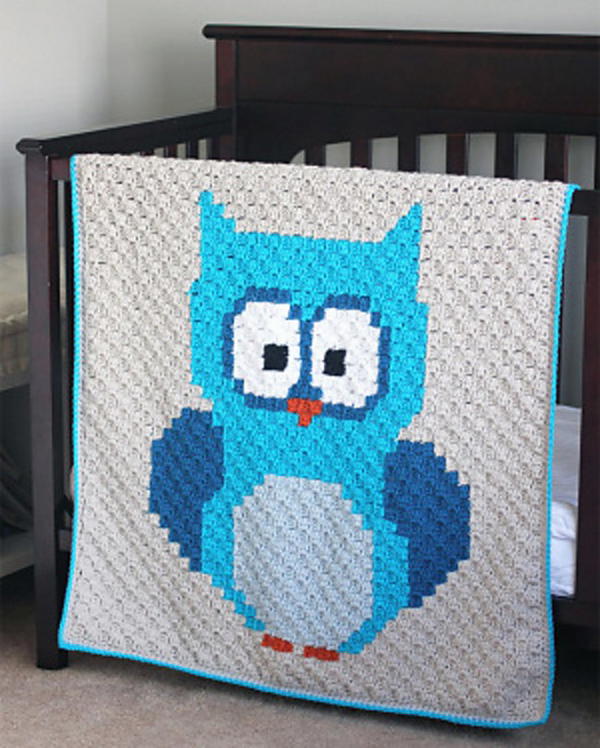 Cherish that new baby with this pattern, crocheted in corner-to-corner bird's eye stitch and finished like a blanket. This cutie is as sweet as can be for the wee ones in your life. Add a quilted owl applique to the corner of this beloved baby blanket to keep little ones safe and secure. Designed with love to provide comfort, security, or a playful friend for your favorite little one. This crocheted security buddy is lovingly created corner to corner in the shape of a baby blanket for your favorite little one.
Night Owl Blanket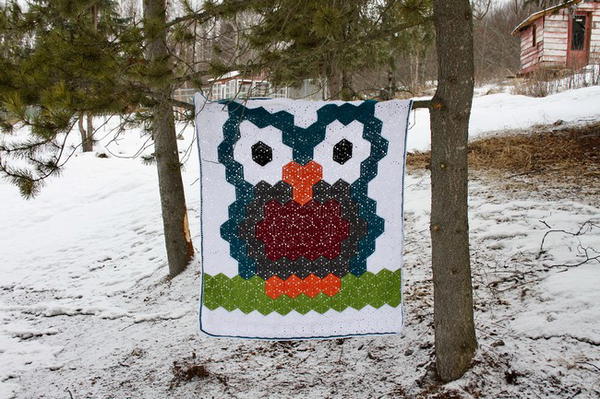 This Night Owl is a bold guy, perfect for any time of the day. It of a kind blanket made with a love for detail and a knowledge of the traditional craft. A bright and fun throw, great for the living room or on your bed. This pattern can be adjusted to a bigger blanket by adding motifs to the desired size. Awesome, colorful pattern, solid crocheting, and hard-wearing cotton yarn. This blanket is made using the whole hexagon and two half-hexagons as motifs. The pattern also includes a simple border as a finishing touch and this owl is good to go. He makes a bold owl kinda statement and is easy to customize with your favorite colors!
Owl Lovey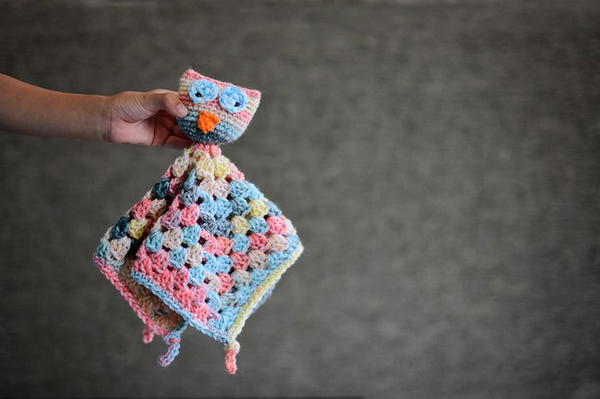 This Crochet Owl Lovey is an adorably soft lovey that doubles as a super cute, cuddly friend! The Crochet Owl Lovey is the perfect little sidekick for your baby's daily adventures. Easily attach a pacifier and keep it within reach, or use it as a tag-a-long blanket when taking the baby out on an outing. This crochet owl lovey makes a perfect gift for new parents. Wear it out on a stroller to comfort your baby, or let them cuddle with the lovey while they snuggle in the crib. This hand-crocheted lovey is just right for little hands (and mouths!) and features an owl design that's sure to delight any little one.
Owl C2C Hat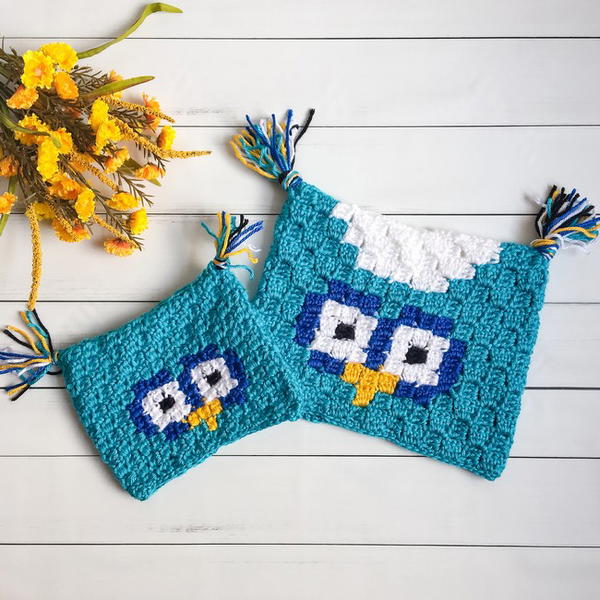 This super cute and easy corner-to-corner crochet project is perfect for beginners! Made with adorable owls in a playful design, this hat will be loved by kids and adults alike. Make one or two to match with the Owl C2c Scarf or as stand-alone items. This Crochet Owl Hat comes in sizes for the whole family. Matches perfectly with the Owl C2C Scarf! Easy and fun to crochet, this is a great beginner-friendly corner-to-corner project. Made from a rectangle that is then seamed at the back and top to create a sack shape. So cute and easy - perfect for any owl lover!
Owl Sleep Mask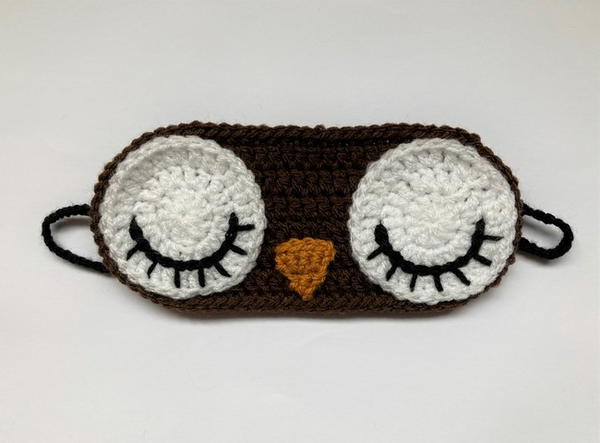 The Owl sleep mask is a fun and cute accessory to use. It is a great way to maintain privacy when needed, such as traveling or at home. Sleep soundly with this owl crochet sleep mask. Designed to easily fit around the head, it is securely held in place with a durable elastic strap. Handmade from premium cotton yarn, it is soft, breathable, and machine washable. This fun & functional sleep mask will allow you to have deeper sleep even when you are not at home. The cute sleep mask is made using double knit yarn, owl print fabric and makes the perfect gift for a friend or relative who loves to get their beauty sleep.
The Sweetest Crochet Owl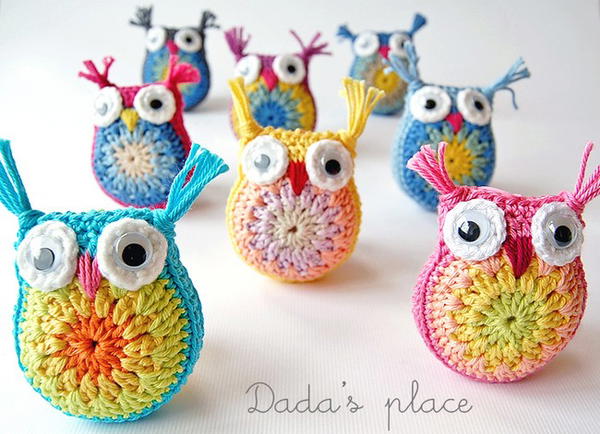 No doubt these owls are quick and simple to make! If you're looking for an easy crochet owl pattern, you are going to fall in love with them. They make thoughtful little gifts or toys for a young baby, so pop them into your holiday gift stockpile because they will be some of the most loved handmade crochet items you ever make. They are the perfect toy for a baby, with a super soft belly just right to snuggle with. The owl's eyes are embroidered on to protect little ones, and it's safe for any age. These sweet owl also make the perfect companion for car rides, trips to the grocery store and is great for keeping little ones entertained while waiting at restaurants or doctor's offices.
Amigurumi Owl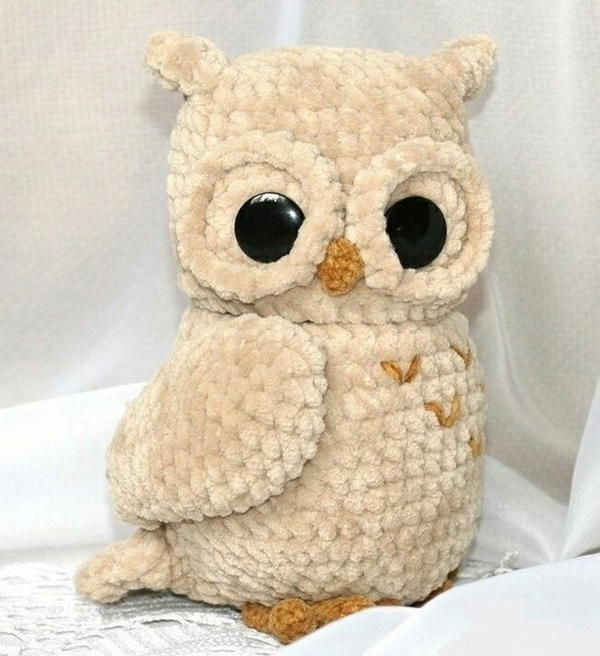 This crochet owl toy doesn't require much of your time, this is an easy and fun amigurumi project. These little colorful owls will become a favorite toy for your kids! Knitted cotton material, soft touch, and good craft, suitable for children. This is handmade and it can be a perfect gift for every occasion. Perfect birthday/Christmas gift to share with your friends and family. Not only as a toy but also as a decoration in your house, car, or anywhere you like. This little guy is the perfect addition to any little one's room or toy box. He is the perfect camera prop too!
Owl Amigurumi Mr Murasaki
This is a unique and adorable handmade crochet stuffed owl Amigurumi that is ready to ship! Mr. Murasaki's body is made with wool-blend yarn, his face with bright acrylic yarn, and his eyes are made of plastic safety eyes. His body is filled with stuffing (polyester), making him big and squishably soft. Adopt a one-of-a-kind crochet amigurumi owl, Mr. Murasaki. He will be your best buddy, people who have seen him said: "He is pretty cute but he looks also really smart and wise if he would talk he would say only smart and wise things". Or you can put some decoration in your house as well.