These super admirable and fun Crochet Bunny Patterns will spark your creativity and make some impressive and loveable accessories for kids to play with and for home decorations this easter season. You can crochet enchanting toys that bring joy to children's hearts and add a touch of whimsy to their treasured collections as you hone your skills.
Crochet Bunny Patterns

Welcome to a world of creativity as we hop into the delightful; the realm of Crochet Bunny Patterns! In this whimsical blog post, we'll explore a variety of adorable bunny designs that will captivate your heart and inspire your crochet journey. From cuddly toys to charming home décor, our handpicked pattern selection promises to bring springtime's magic to life with each lovingly crafted stitch. These patterns are cute and wonderful opportunities to expand your crochet skills, perfect for crochet enthusiasts of all skill levels. So get your hooks and yarn, and let's deep dive on a heartwarming adventure through this list of Crochet Bunny Patterns and create memories that will last a lifetime!
How Do You Crochet a Rabbit For Beginners?
Crocheting a bunny for beginners is a fun and rewarding project that can be completed quickly. Here's a simple guide to get you started:
Gather your materials:

 You'll need yarn, a crochet hook, stuffing, and a tapestry needle.

Start with the body: Chain a few stitches and join them to form a ring. Then, work single crochet stitches in the round until the body is the desired size.

Make the head:

 Chain a few stitches and join them to form a ring. Then, work single crochet stitches in the round until the head is the desired size.

Add the ears: Crochet two ears and attach them to the head.

Attach the head to the body:

 Use the tapestry needle to sew the head.

Add eyes, nose, and mouth:

 Use embroidery floss or yarn to create the bunny's face.

Stuff the bunny: 

Use stuffing to fill the bunny's body.

Close the bunny:

 Use the tapestry needle to sew the bunny's body closed.
With these simple steps, you'll have your crocheted bunny. Happy crocheting!
Bunny Crochet Snuggler Pattern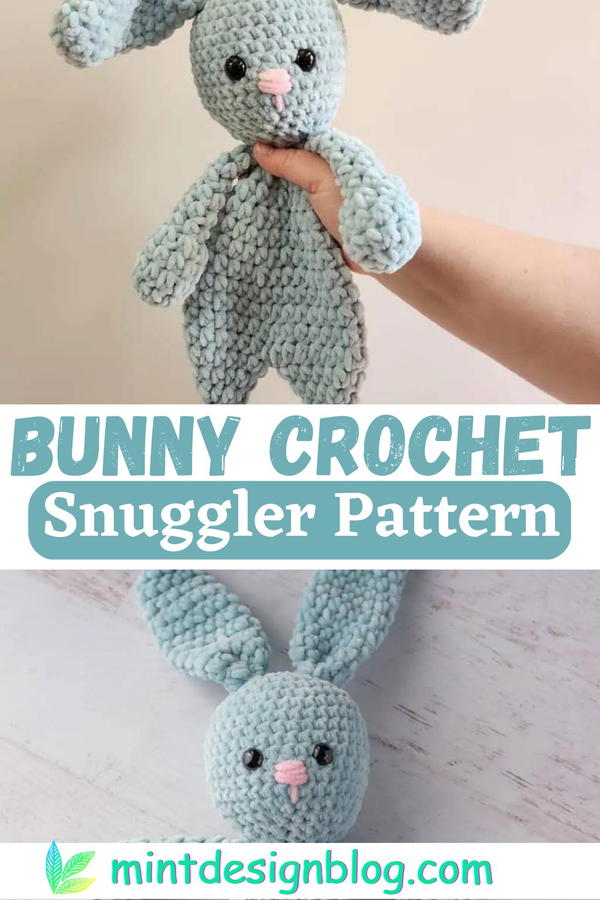 This adorable, soft, and huggable bunny is perfect for little ones to snuggle with or as a whimsical home decoration. Our easy-to-follow pattern guide will walk you through each step, from choosing the ideal yarn to mastering the unique stitches that create the bunny's enchanting features. Seasoned crocheters or beginners can use this amazing crochet bunny pattern. This Bunny Crochet Snuggler Pattern will bring joy and a dash of cuteness to your repertoire. Hop on over to our blog and get started on this heartwarming creation today!
Crochet Bunny Tail Towel Topper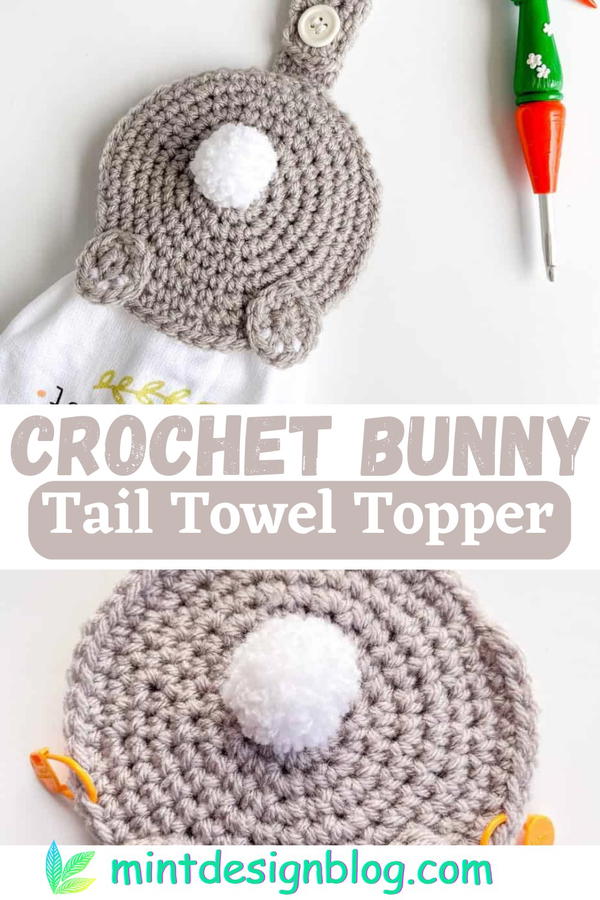 This super delightful and functional Crochet Bunny Tail Towel Topper pattern is a charming addition to your kitchen or bathroom, adding a whimsy touch to your space! This adorable bunny-themed towel topper holds your towels securely and serves as an eye-catching conversation starter. This comprehensive pattern will lead you through each step, from selecting the perfect yarn to mastering the intricate stitches that bring this playful bunny to life. Ideal for crochet enthusiasts of all skill levels, the Crochet Bunny Tail Towel Topper is a perfect project for adding a splash of creativity and fun to your home décor.
Crochet Bunny Basket Pattern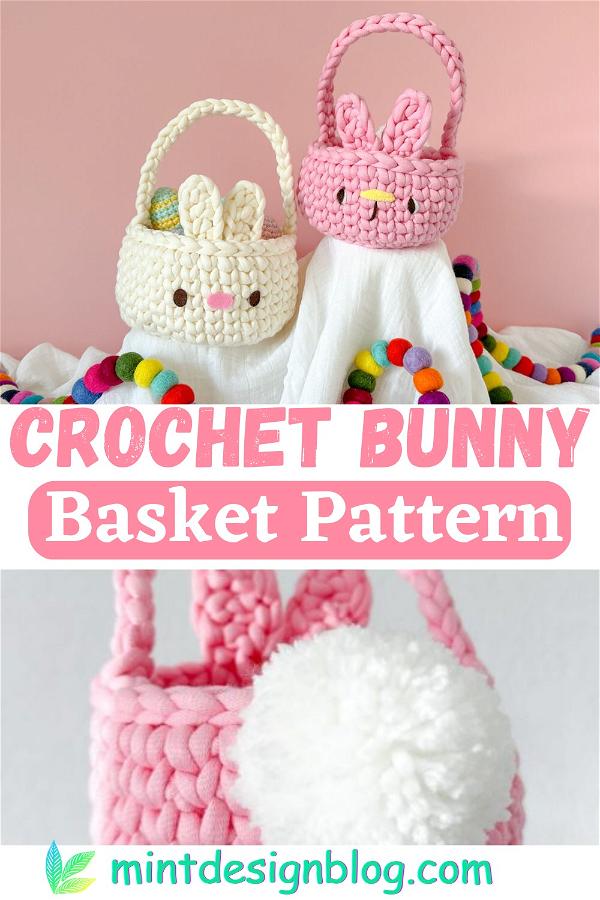 Here we present the most amazing crochet bunny basket pattern, the perfect blend of practicality and whimsy to brighten your home! This delightful bunny-themed basket not only serves as an adorable storage solution but also adds a touch of charm to any room. Our step-by-step pattern guide will take you through the process, from selecting the ideal yarn to mastering the intricate stitches that shape this endearing bunny creation. Suitable for crochet lovers of all expertise levels, the Crochet Bunny Basket Pattern is an excellent project for injecting a dose of fun and creativity into your living space.
Easter Bunny To Crocheting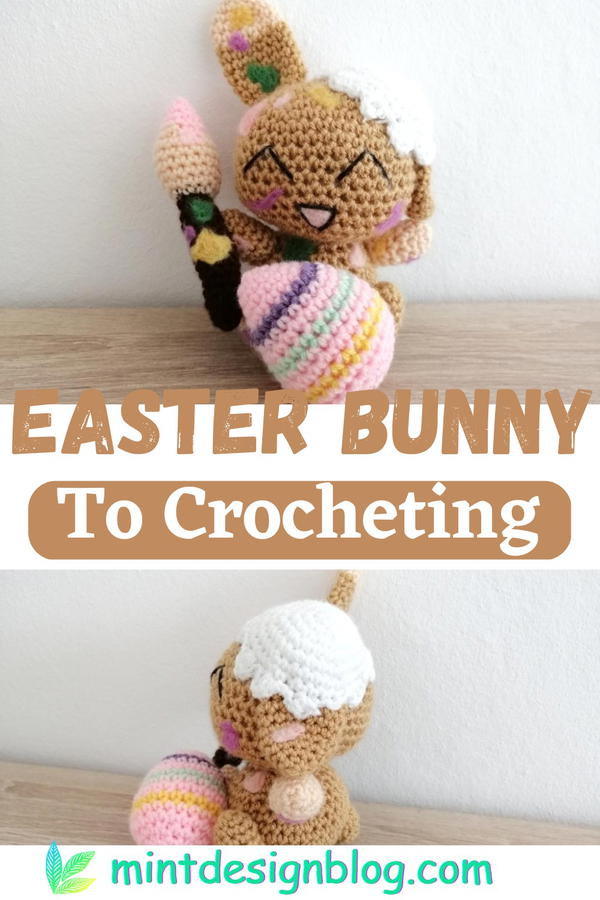 Dive into the crochet world and explore our blog for the perfect project, starting with the charming Crochet Easter Bunny Pattern that will brighten your home and warm your heart. This great crochet pattern offers step-by-step instructions, guiding you through creating an adorable bunny with intricate details, making it the perfect addition to your Easter celebrations. Ideal for crochet enthusiasts of all skill levels, this pattern provides an opportunity to enhance your stitching techniques while crafting a heartwarming keepsake.
Crochet Bunny Table Runner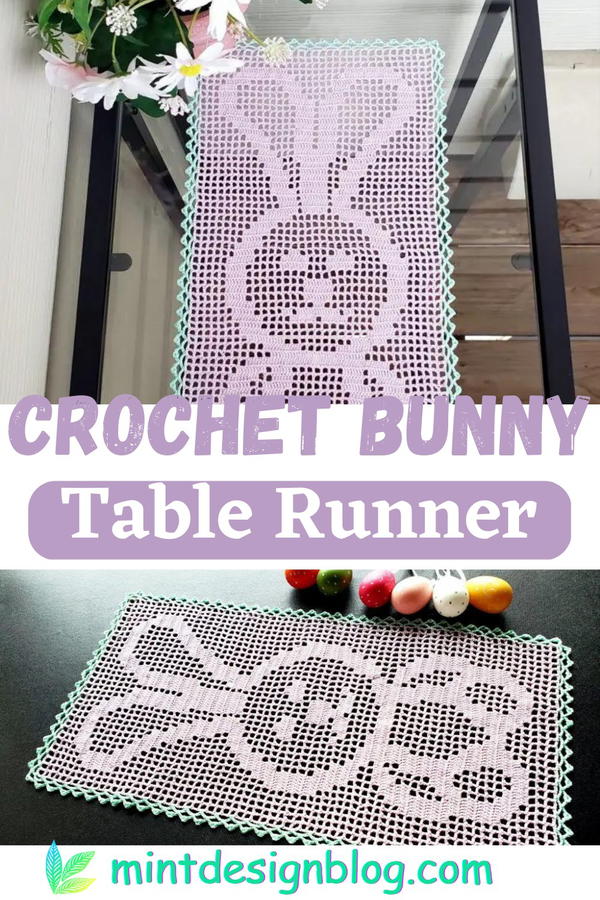 Transform your dining table into a magical wonderland with our Crochet Bunny Table Runner Pattern, and let the spirit of spring fill your home with warmth, joy, and unforgettable memories! It will be suitable for crochet enthusiasts of all skill levels, and our detailed instructions will help you master the intricate stitches and techniques required to create this stunning masterpiece.
Easy Crochet Bunny Rabbit Amigurumi
Are they looking to make something unique and adorable for the baby shower? The Crochet Bunny Rabbit Amigurumi is the perfect gift. These little guys will bring out squeals of delight from any parent and will bring a smile to anyone who picks up their adorable little bodies. He's so sweet with floppy ears, big eyes, and a little nose. He's just the right size to hold in your hand or throw into your purse, suitcase, or backpack! Each bunny features large embroidered eyes, a kawaii button nose, floppy ears, and arms draping over their bodies like they're ready to nap.
Bunny Bucket Hat
This durable bucket hat will keep you cool and comfortable during the hot summer days. This crocheted bucket hat is an excellent choice for leisure. The simple crochet pattern allows you to try this type of work if you have never done it before. This crochet bucket hat is handmade using 100 % cotton yarn and is available in one size to fit any head. Wear it the way you like: as a slouchy cap or a traditional bucket hat shape. It will work perfectly with any outfit for your summer jaunts around town!
Maisey Bunny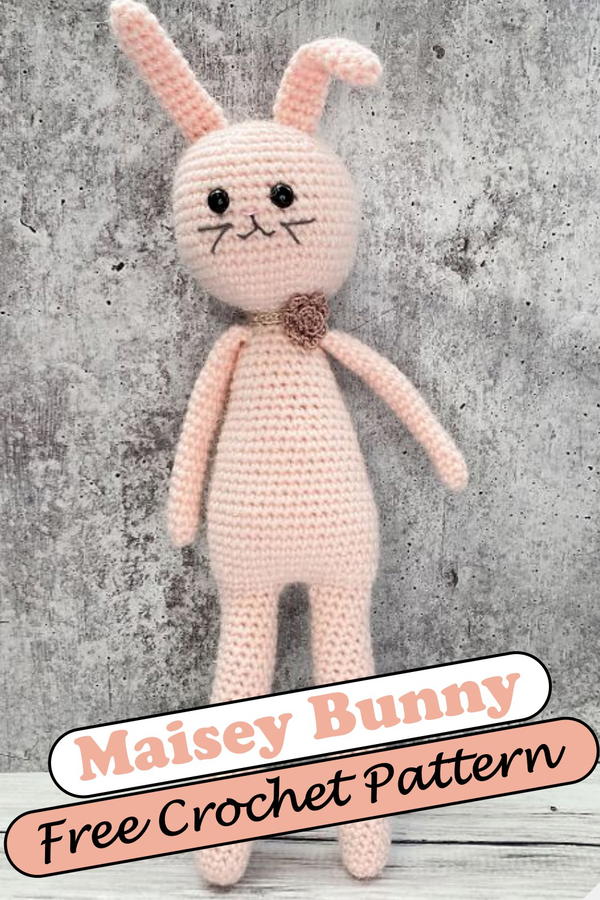 Maisey Bunny makes a wonderfully unique addition to any home and is sure to be the talk of the town! The body halves are worked from the bottom up and seamed, then the arms, ears, and collar are worked separately and sewn on last. She is made entirely in single crochet with a tiny slip stitch at the edges of pieces that need it. She's the perfect toy for little hands, made 100% of love and carefully crafted with all the gratefulness of a mother added to it. You can also make this admirable bunny hat in some other shades to make it quite admirable and praised.
Easy Crochet Bunny Rabbit Tutorial
The bunny is a perfect gift for Easter or springtime. If you want a quick, easy, and affordable crochet DIY project, this tutorial is a must-have! This adorable bunny makes a great gift for all ages. Make it to decorate your home, give it a gift, or enjoy crocheting each piece! The pattern uses simple stitches and minimal shaping and is suitable for beginners. The bunny is about 7 inches tall, excluding ears.
Mini Donut Bunny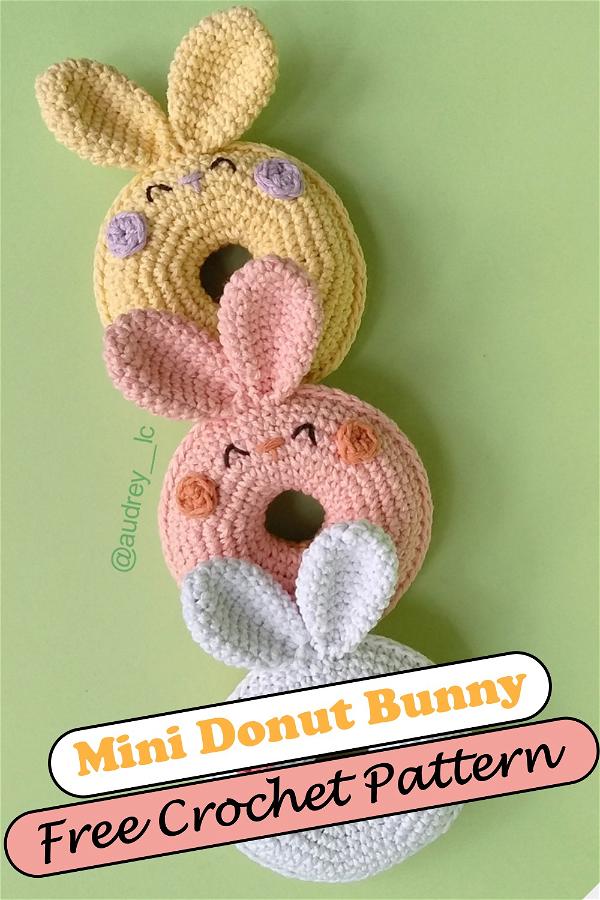 Add this mini donut bunny to your basket, and you'll be able to complete this crochet pattern in less than an hour. You can even use leftover yarn to make the donut. You need a few colors of worsted-weight yarn and a K/10.5 (6.5 mm) hook. The Mini Donut Bunny would make an excellent present for your kids or friends – they will love it! The pattern is simple and clear, and all the instructions are written step by step; even if you are a beginner, you will finish it with no problem. The finished toy may vary according to the yarn thickness, the hook size, and your tension.
Decent Crochet Bunny
Bunny lovers unite! You're going to love this super cute and easy amigurumi bunny. The crochet pattern is simpler than most, with as few pieces as possible. Instead of sewing on all those little parts, they are crocheted. To get started, you only need a pair of 8mm safety eyes, some dark pink worsted weight yarn, white embroidery floss, and stuffing. This pattern is worked in rounds without seaming; you can follow the creator with the help of the given video also.
Easter Bunny Peeps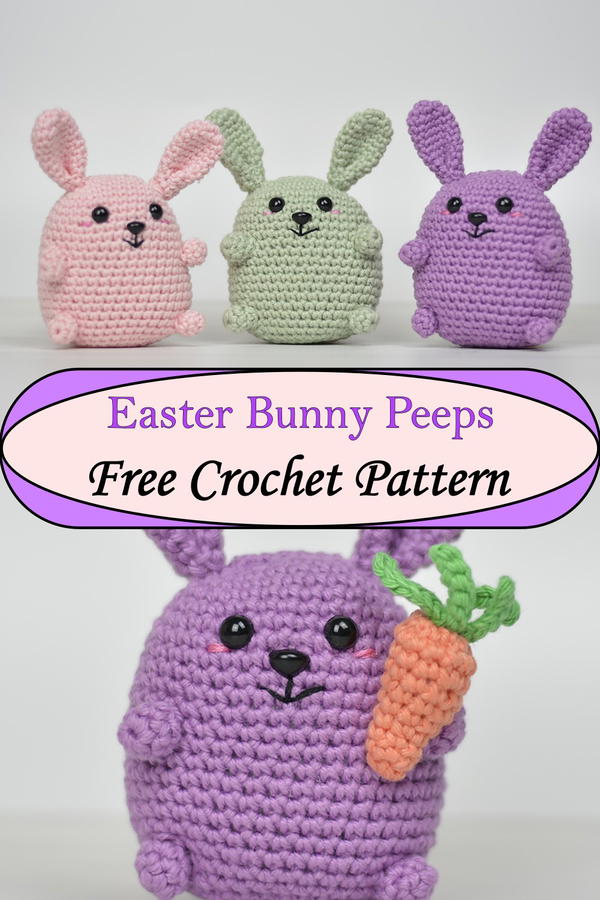 This Easter Bunny Peeps crochet pattern is easy, fast, and adorable! It makes a great decoration or gift for the holiday. The Easter Bunny Peeps are crocheted using Bernat Blanket yarn. The entire project can be completed in over an hour and uses less than one skein of yarn. These bunny peeps make wonderful party favors or treat for any Easter occasion! You can make one of these baby bunnies as a gift for someone or create an entire farm full of them to decorate your home for Spring and Easter! It will be an absolute must for your Easter basket! Quick and easy to make and a clever way to welcome spring.
Bib Overalls For The Ruby Bunny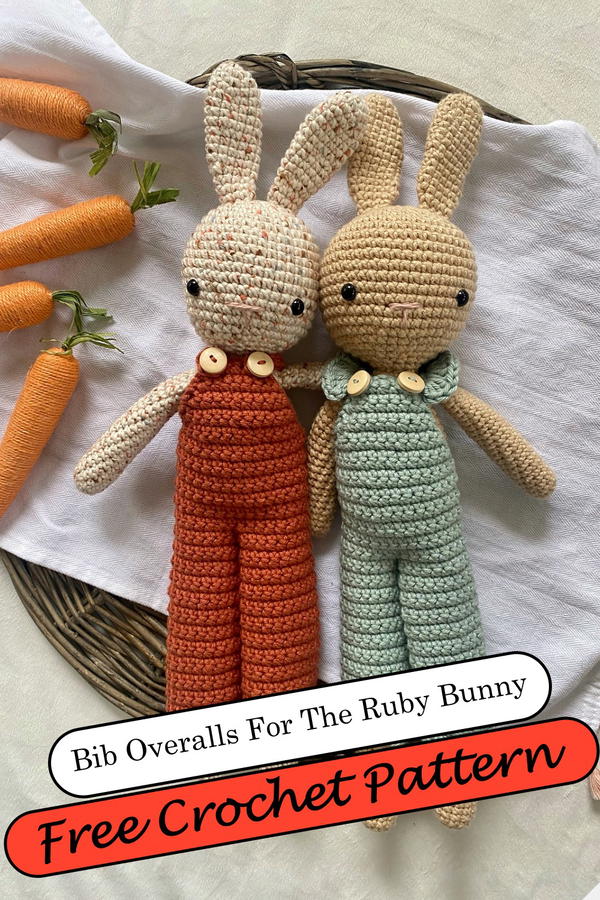 Crochet your little bunny outfit! The perfect gift for a new baby or to keep for your own family. This Crochet Bib Overalls For The Ruby Bunny pattern measures 18-20 inches long. It has a realistic-looking body and head. You can make the pant length on the overalls as long or short as possible! This pattern is made with very easy stitches, so it would be great for an advanced beginner or intermediate crocheter. Also, this pattern makes a great gift idea!
Crochet Mini Plush Bunny
Learn to crochet this adorable mini plush bunny! Learn how to create this animal's arms, legs, bodies, and heads. With these instructions, you can make many different animals by changing their colors and faces. This mini crochet bunny is easy to make, and this tutorial will be very helpful for beginners. If you are a beginner and want to crochet a mini plush bunny, I will teach you all the skills you need in this easy step-by-step tutorial.
Easter Bunny Applique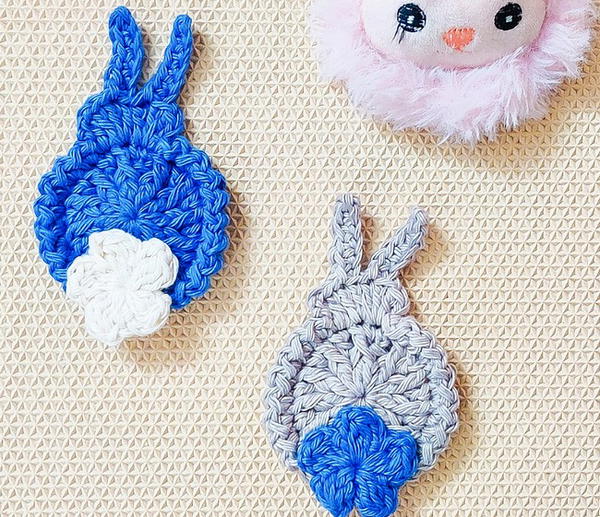 This adorable little crochet bunny applique is perfect for your Easter and Springtime decorations. It also has a cute tiny crochet flower that makes up its tail, giving it an amazing touch! It is designed beautifully with lots of details and is extremely easy to make! The little flower on his tail adds beautiful detail and enhances its coziness. It also makes a fun way to add a cute little element to many other projects. Crochet Bunnies are a lovely way to add a cuteness element to your projects or home decor.
Mini Easter Egg Bunny Basket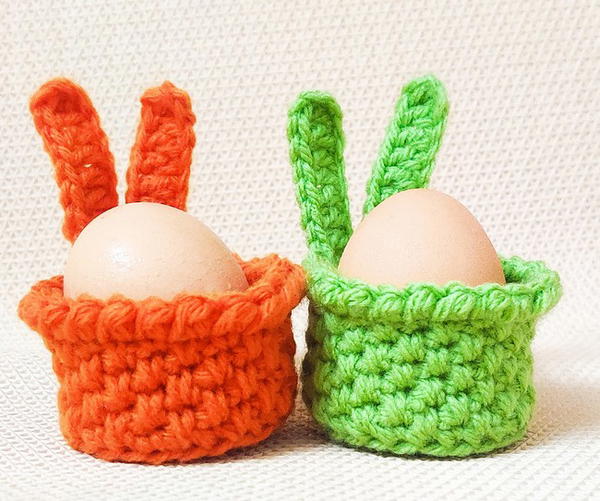 Crafters and crocheters alike will love this super simple but attractive crochet basket. It's just to showcase any tiny treasures you'll want to hide away for the Easter Bunny. Made with a combination of side panel shaping and ear flap folding, it features a cute face on top and bottom. This pattern is appropriate for beginner crocheters working with plastic eyes or beads on their first project. It makes a wonderful gift or home décor piece that won't break the bank!
Easter Egg Bunny Amigurumi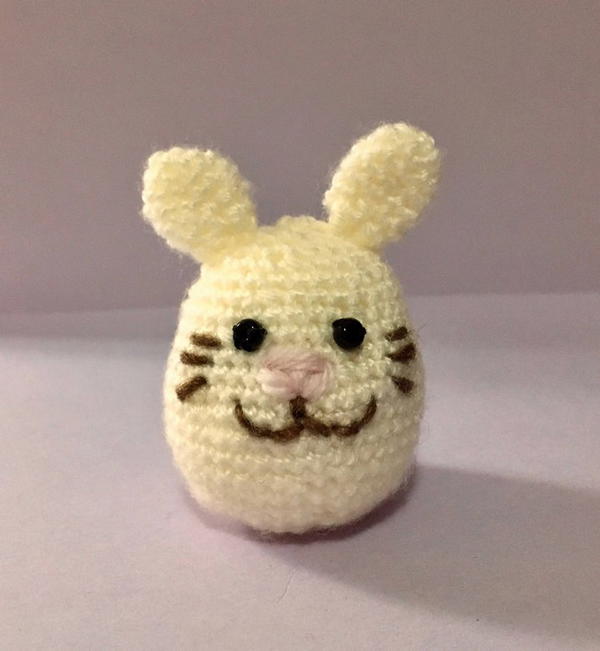 Make this bunny for Easter or any time of the year! This pattern is written for worsted-weight yarn, but you can use any weight yarn with a suitable hook. This easter bunny is egg-shaped because it's made from amigurumi, which means "crochet stuffed animal." Using only a very small amount of yarn, you can make him in the afternoon or evening. He will become a beloved Easter decoration or an admirable addition to any easter bucket to fill it with more love and coziness!
Bunny Basket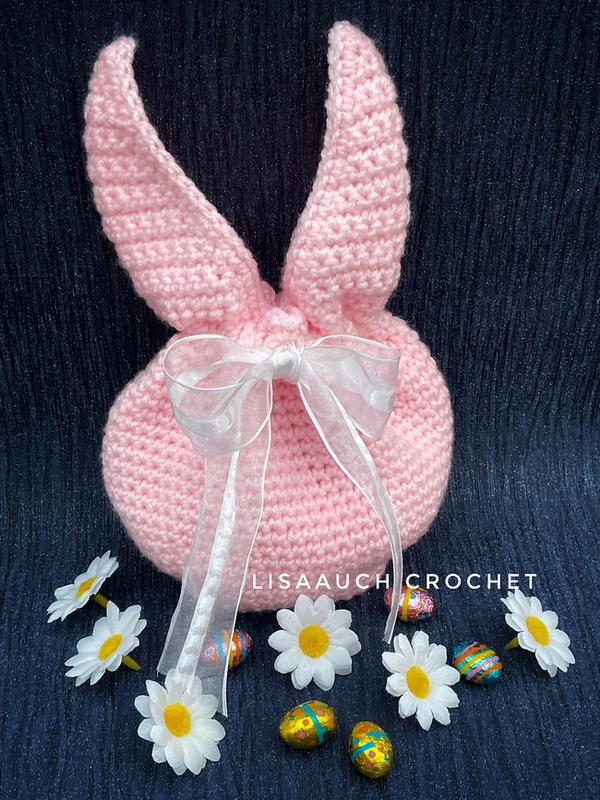 You can take this bag to Easter to put some delicious chocolate eggs or use it during holiday shopping. It will be a great addition to your Easter baskets. It is easy to follow instructions and pictures to do this easy crochet project! This Easter bunny basket is a fun and easy crochet project that can be done in any yarn and suitable hook; follow the instructions in the pattern and add some of your decorative touches, such as color changes or embellishments. This basket would make a great Easter basket for any child or adult.
Easter Bunny Treat Bag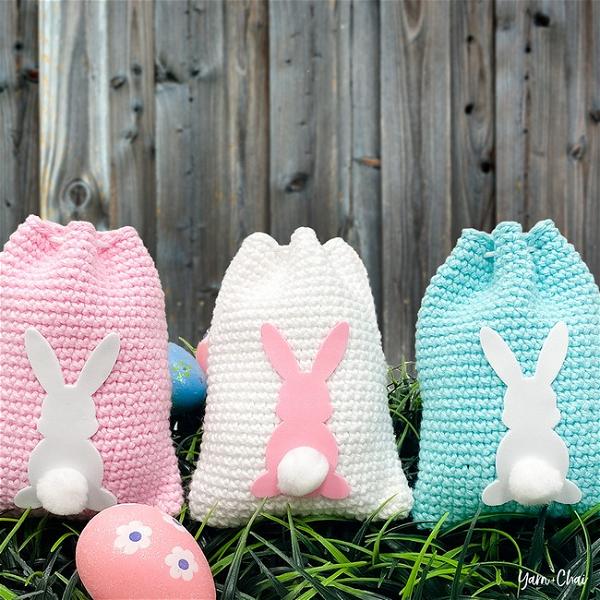 You will love this pattern for a cute Easter bag. It would be easy to work up several in advance and then fill them with candy treats or other little surprises to give to your children, grandkids, nieces and nephews, students, and Sunday school kids, especially when the holiday arrives. These are great items to have on hand for gift-giving throughout the year! This treat bag can be used for almost anything – Easter eggs, Halloween candy, Valentine's Day goodies, or even gifts! The possibilities are endless, so get creative with this pattern!
Bunny Egg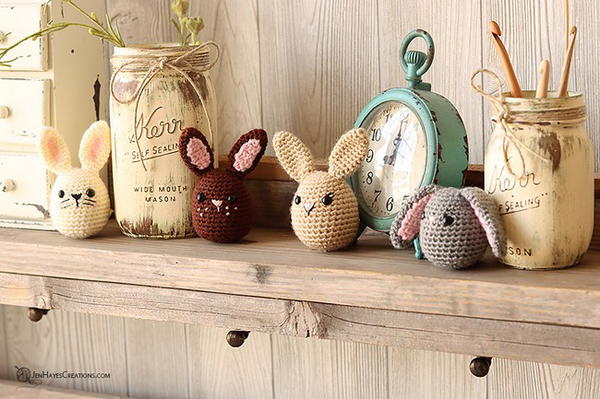 Handmade from thick, squishy 100% acrylic yarn and stuffed with polyester fiberfill, these adorable bunnies are soft but sturdy enough for years of wear. The lovely crochet bunny egg is a quick and easy project for the holidays or whenever you want to make something special for yourself or everyone else. You can customize the egg by changing up the yarn, getting creative with embellishments, or adding an opening in the bottom of your egg to house treats!
Bunny Ears Napkin Ring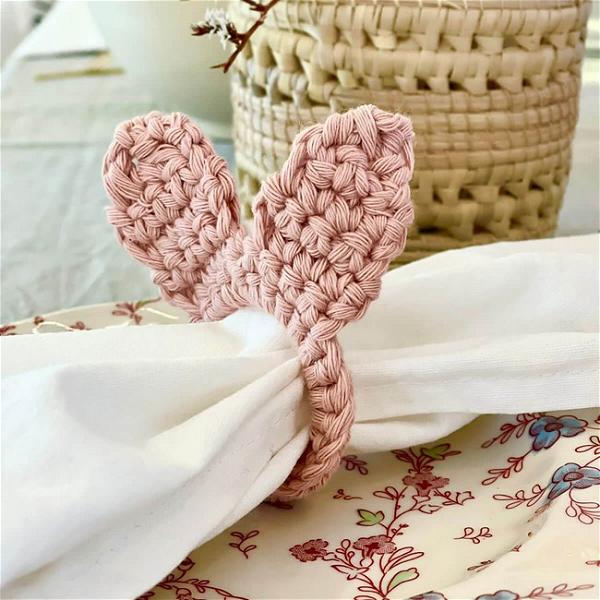 Your Easter table will be complete with our Crochet Bunny Ears Napkin Rings. These napkin rings are made with a natural cord, making them perfect for casual get-togethers and easy to dress up for elegant affairs. The cord's neutral color and natural feel make them safe and washable. Made with a thin sustainable macrame cord, these napkin rings are safe and washable, so you can use them forever. This pattern is easy to make with a video tutorial included!
Easter Bunny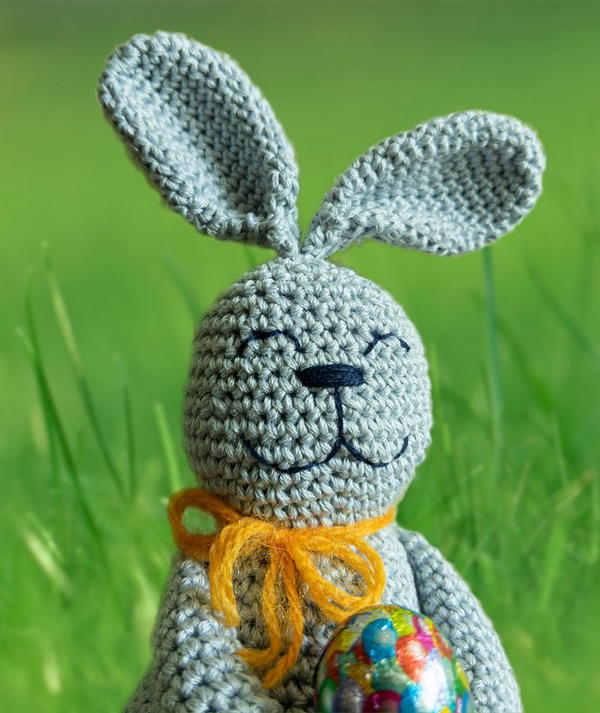 Easter is right around the corner, and there's no better time to crochet a bunny than now. We have gathered together some of our favorite Easter crochet patterns that we think you will love, including our fabulous bunny hat and his buddy the egg cozy. Not only will you be able to decorate your home with these homemade decorations, but you can also give them as gifts or use them in crafts. The crochet Easter bunny is one of the most adorable bunnies out there, and with a little effort, you could have one to love this time next week.
One Round Bunny Face Applique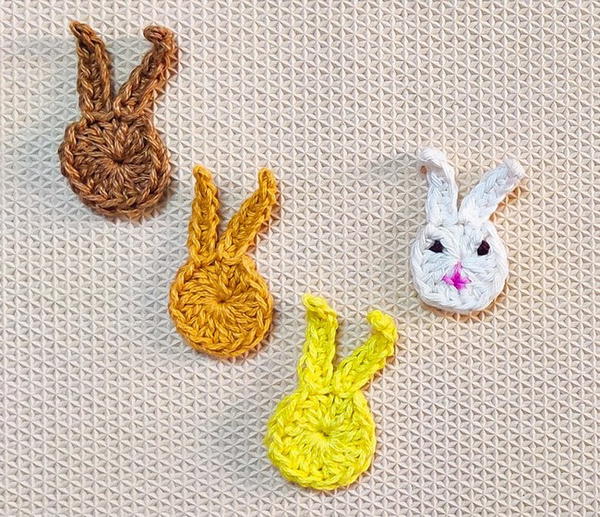 This crochet bunny pattern makes a quick masterpiece and can be used to embellish just about anything you like. The bunny ears are the perfect size to use as an Easter decoration! This Crochet Pattern has a detailed description of each round step-by-step instructions with photos that allow you to follow along from start to finish. You can easily make a bunch of these cuties in less than an hour using scrap yarn and new yarns. These would be perfect for your Easter decorating as well as other occasions.
Pocket Bunny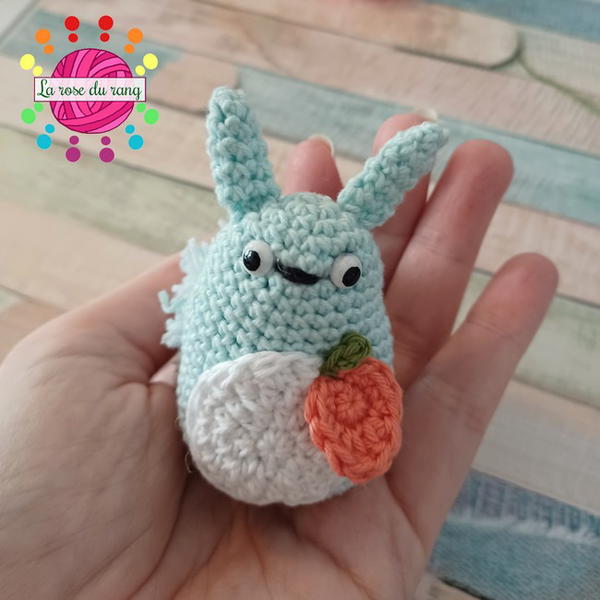 The crochet basket is perfect for Easter or spring. This little pocket pet will be the perfect anxiety relief for little hands! The pattern is easy to follow but also provides great stress relief while you crochet. Let your kids join in, and they could help create this amazing gift they can give their friends and family as a homemade gift idea! This amazing crochet bunny pattern makes a great gift for family and friends on all occasions or even yourself!
Adorable Baby Bunny
Crochet this adorable little bunny to add to your amigurumi collection or as a special Easter decoration. This adorable tiny bunny amigurumi is worked up in soft pastel colors and is perfect for your little ones to cuddle. The pattern includes detailed instructions on making him and is easily adaptable for other uses. They are pocket-sized, just like Spring Chick, and perfect for little hands to play with. Both bunnies are crocheted with 100% quality acrylic yarn and stuffed with premium polyester fiberfill. Their body, ears, and tails are attached by hand; each item takes 20 minutes or more to create.
Bunny Wall Hanging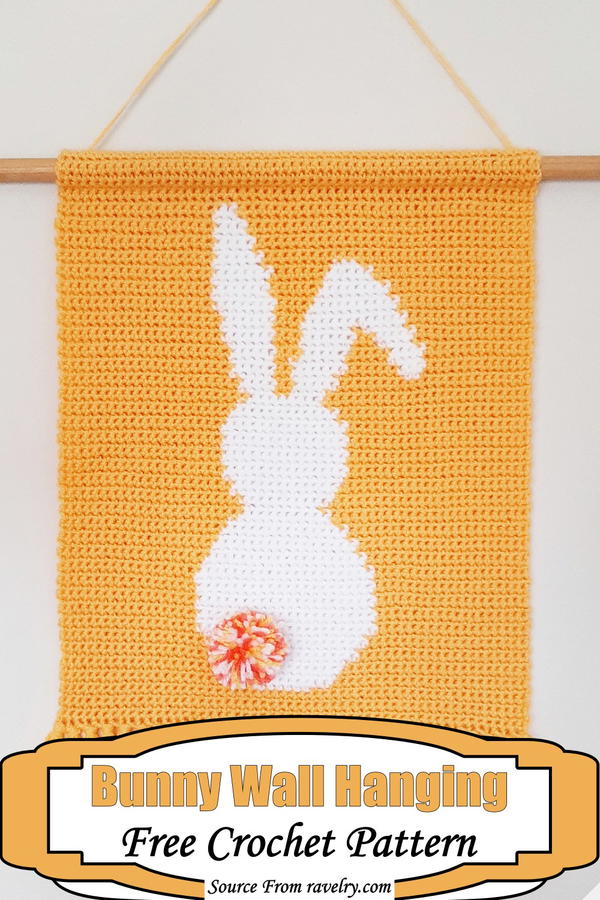 Add a little spring color to your walls with this Bunny hanging. The clever pattern uses the intarsia technique, which requires a separate strand of yarn for each area of color on the Bunny's coat. Cute, cheerful, and sure to put a smile on your face. This crochet wall hanging is perfect for hanging in the nursery or kid's room. It features a sweet little bunny and a loop at the top, so you can easily hang it on the wall. Perfect for spring decor!
This adorable bunny hanging wall creates a cozy springtime look in your room. This project is quick and easy, perfect for beginner crocheters of all ages. This wall hanging is sweet and cuddly without being too precious and is worked in soft cotton yarn and features big plastic safety eyes.
Bunny Rabbit Strawberry Cupcake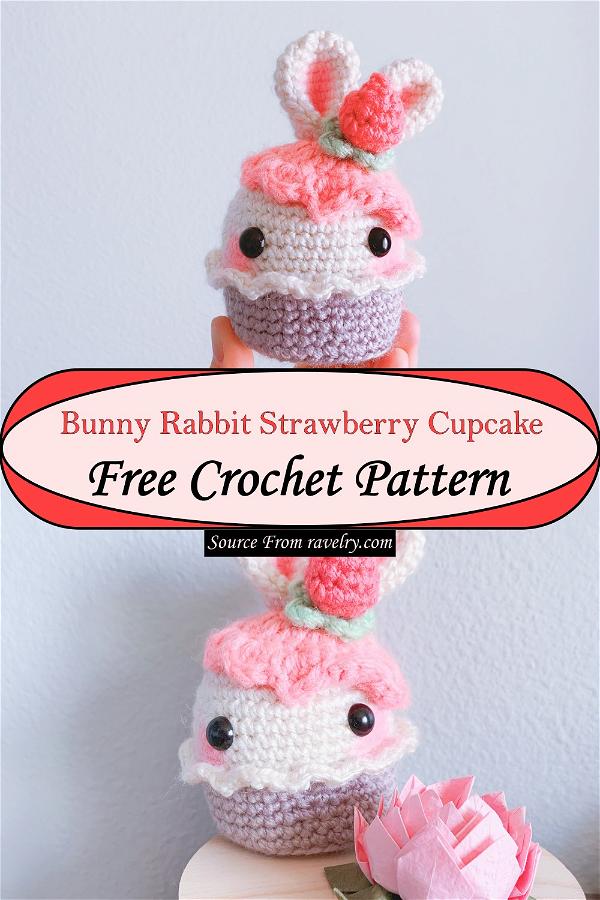 The Bunny Rabbit Strawberry Cupcake is an original amigurumi dessert design. As an adorable gift or cheerful toy, its sweet looks will make anyone smile! Pets and kids alike will love the soft touch and sweetness of this delightful Bunny Rabbit Strawberry Cupcake. The adorable and soft bunny rabbit is knitted using basic stitches and will look lovely sitting on your desk or table. It makes an excellent gift for friends or family members as an appreciation or thank you gift or any day when you need a cheerful reminder that someone's thinking about you! It's perfect for any day of the year, especially Valentine's Day, Easter, Christmas, birthdays, anniversaries, appreciation or thank you gifts, and more!
Bunny Rabbit Amigurumi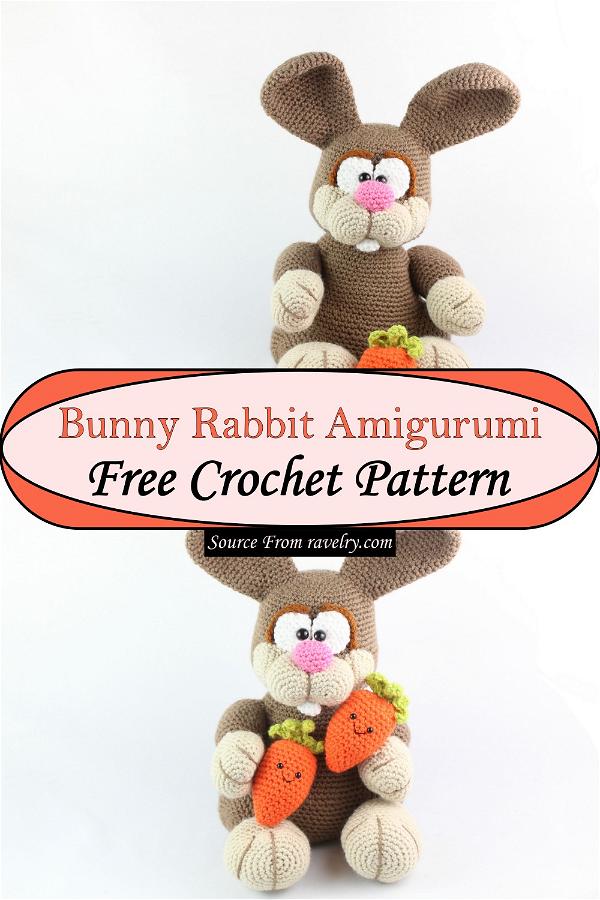 The Bunny Rabbit Amigurumi is one of the cutest amigurumi patterns available. This is a pattern for a Bunny Rabbit made in Amigurumi style. It showcases your talent, creativity, and passion for crochet. This pattern is suitable for both first and experienced crocheters. The pattern is detailed, easy to follow, and perfect for a special gift.
Once you are done with the body, we will put all necessary facepieces on it, such as the eyes, nose, mouth, and teeth. Now that your amigurumi bunny is complete, we can make it Carrot! That's right! You didn't know it was coming! We are going to make a carrot to go with our Bunny. The Carrot only takes a small amount of time, so it won't take away from the Bunny but will add some flare.
Bunny Tail Applique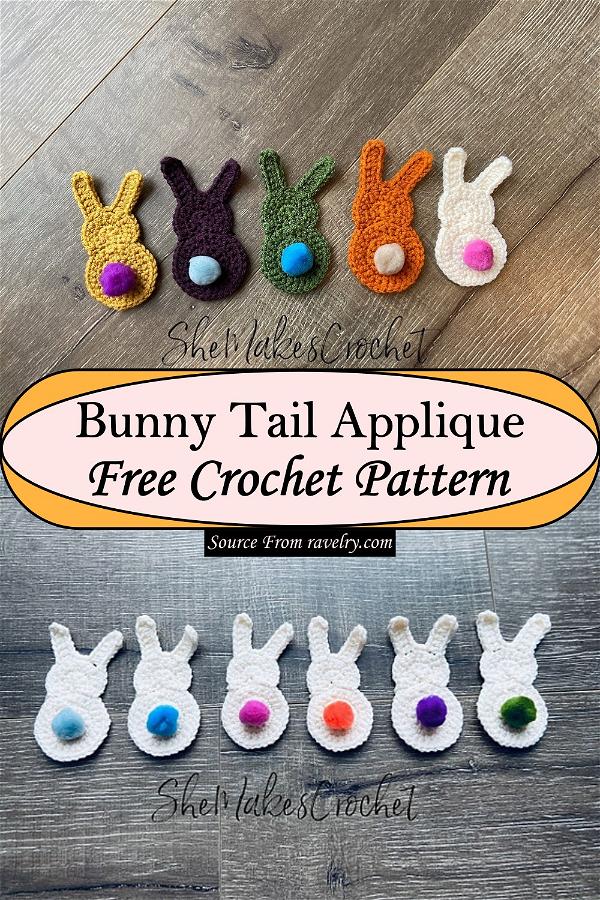 Bunny Tail Applique is a simple little bunny tail with a big impact! Worked in the round, Bunny Tail Applique is the perfect project for beginners. Use whatever yarn you have in your stash, which will work quickly. Or use something soft like angora or Cashmere for a super-soft bunny tail. Your bunny tail can be attached by slipping the yarn through a hole in the top of the bobble, or the tail can be stitched to a hand towel for an adorable bathroom accent. You could attach it to a card or piece of cardstock and place it in a rustic frame on your craft table! These bunnies are quick, fun, and easy to make. They are made in one piece and are worked continuously.
Bunny Garland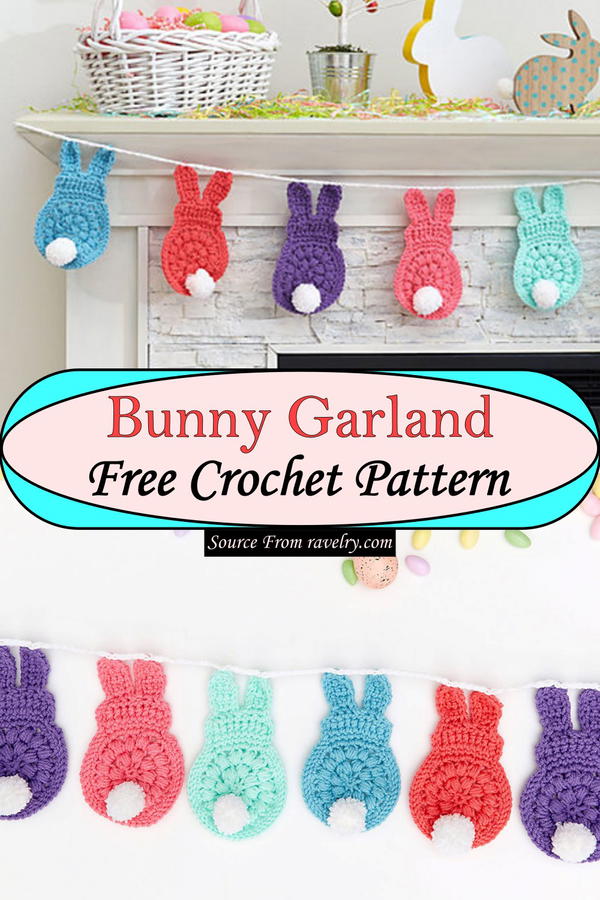 When Bunny wakes up and looks outside, the sun shines, and the flowers bloom! Bunny soon heads to the garden and sets about munching buttercups and stamens. Soon Bunny has made a daisy chain by the time Bunny's finished, your Bunny will appreciate this garland made from soft and squishy acrylic yarn. Display it on your Christmas tree as a unique decoration., This charming bunny garland would pair beautifully with a green-themed Easter display.
This bunny garland is a clever way to display all your felt and fabric Easter eggs! You can use a variety of shapes and sizes for this garland by choosing your favorite felt and fabric print.
Bunny Legs Scarf
Crochet a scarf to keep you warm in chilly weather. The Bunny Legs Scarf is a fun and easy pattern that will keep you occupied for hours of enjoyment. And whether you're going out on the town with your friends or wearing it to church, it's guaranteed to be a hit. The Bunny Legs Scarf works quickly and effortlessly and is just the right length for wrapping around your neck a time or two! It's a great accessory to jazz up any winter outfit and keeps you warm in chilly weather. This scarf is perfect for crocheting for yourself or as a gift for someone special. Who doesn't love cute bunnies?! Who doesn't love cute bunnies?!
Bunny Ears Headband With Flowers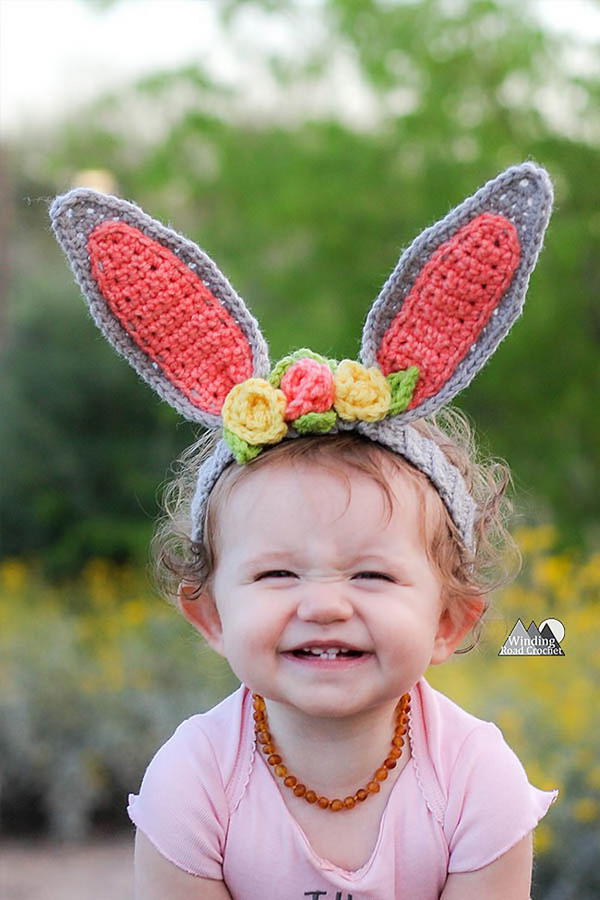 Creating a fun and attractive look is easy with this crochet headband. The band, adorned with yellow flowers, adds a cute touch to any outfit. Whether lounging on a Sunday morning or attending a casual get-together, this headband will keep you looking great.
These bunny ears headbands with flowers are soft, cute, and fashionable. This pretty flower and bunny ear headband is perfect for your next trip! Your ears will stand out in no time, ready for all the attention they deserve. It will fit kids, teens, and adults. You can change the size by just adjusting the flowers or yarn. You will be able to make it fit your head comfortably. These vintage crochet bunny ears are made of chunky yarn, offering warmth and a soft furry texture. This coin purse headband can be worn in the summer with a sundress or in the winter with a beanie hat
Bunny Tail Poms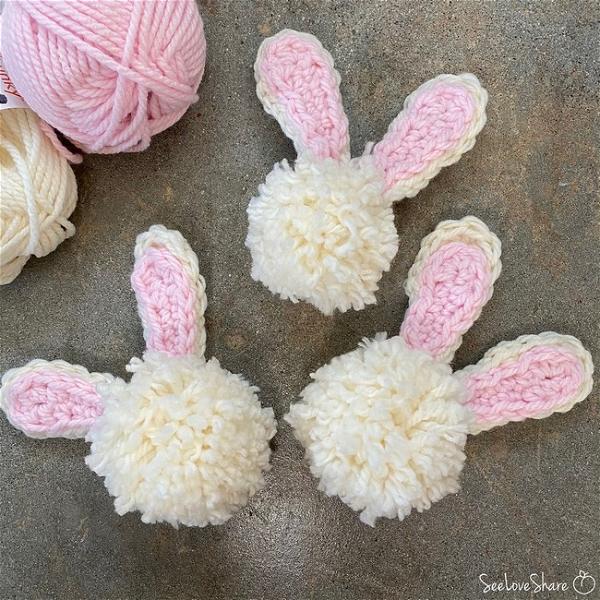 Bushy Bunny Tail Poms are the cutest Easter project ever! It's an easy, fast project for all you Easter lovers. We know that time is precious, and you have no time to waste on projects that require hours of sewing and intricate patterns, so we've made this one a one-minute project. These adorable Bunny Tail Poms are perfect for any little one. Add them to your garden or Easter centerpiece. They would even make cute additions to your Easter Baskets! Make a quick garland or wreath with these cuties! So much fun. Happy Crafting! Grab your kids and gather some fluffy yarn or fur – you only need a few minutes, and you, too, will have these adorable Bunny Tail Poms. Don't you love the little fuzzy tail??!! It's so fun and easy to make
Bunny Butt Coasters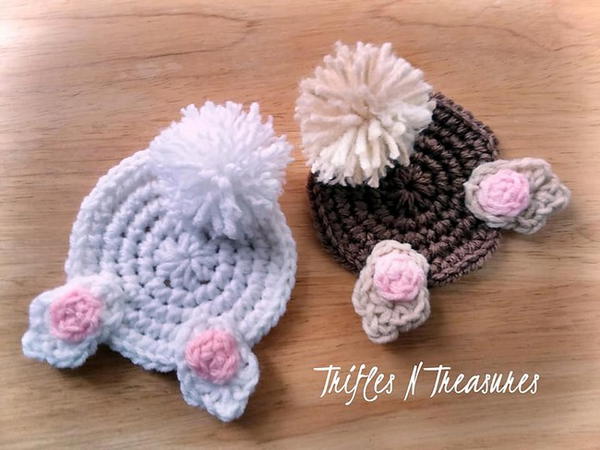 These Cuteness Overload Bunny Butt Coasters can whisk away to their new home in an eye! This Easter, you'll have bunny bums ready to peek their little bunny butts at you. These clever and decorative bunny butt coasters will be a fun addition to your home. Featuring detailed bunny butt impressions, these coasters are functional and made from recycled plastic to be easily wiped clean with a damp cloth. They're easy to make in no time flat, too! They're quick, easy, and fun to make, so you'd better hop to it. The bunny butt coasters in the photos are made with acrylic worsted weight yarns with a size G hook, but any yarn and hook combination will work. Coaster bottoms are worked with a slip-stitch seam to give a flat bottom that will rest firmly on your furniture.
Bunny Ragdoll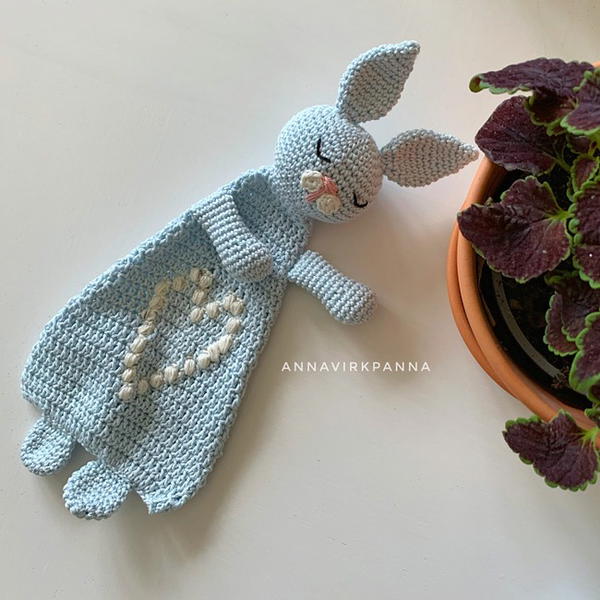 Who wouldn't love a bunny? Why keep it to yourself? This is the adorable Bunny that almost everyone makes as a toy for their children. Strike up a conversation with the Bunny Ragdoll! The Bunny Ragdoll is cute and easy to make. With this pattern, you can crochet your ragdoll for your little one or anyone with babies or toddlers. It makes a great gift! The Bunny will work from the head down. First, you will crochet the head and ears. Then, you will make the arms and body. Lastly, you will crochet the legs and feet. It takes some time to assemble, but holding and cuddling once are fun!
This is one of the easiest ragdolls to make, and it's adorable! You will love these bunnies because they are great for a toy or stuffed animal use. They make great gifts for new babies or something fun to make with your children.
Bunny Buddy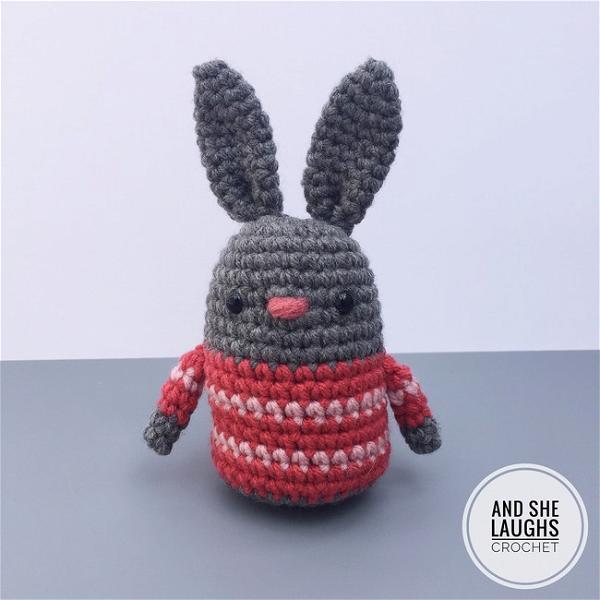 Make a miniature friend today with the Bunny Buddy crochet pattern. This adorable Bunny will best fit in your pocket, making him perfect for cuddling and taking on adventures. This pattern is easy enough for the beginner and intermediate crocheter and requires only small amounts of yarn, perfect for using all those scraps! The Bunny Buddy pattern is full of cute details and an adorable face. You're sure to love working up your bunny, buddy! The Kit only comes with white yarn. So using some stash yarn, Bunny Buddy is an excellent project for beginners.
Bunny and Carrot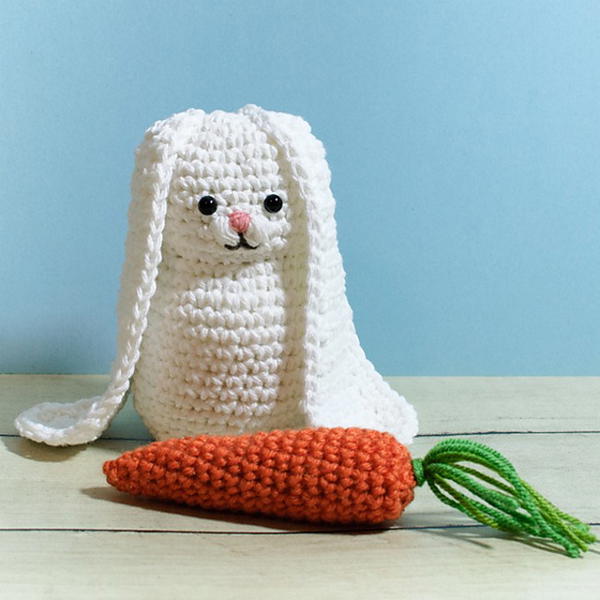 Find what you are looking for in this adorable Bunny and Carrot set. This whimsical set will light up your child's imagination as they create adventures with the Bunny and Carrot! The Bunny has long, floppy ears, and the Carrot is self-standing! Make it a family tradition to read Bunny and Carrot stories daily. Worried about having enough bunny toys for your child? Looking to make Bunny a little more fun and exciting!? Bunny and Carrot love, cuddly friends who will keep your child entertained for hours. He is soft, and lovable, has floppy ears, and will provide hours of entertainment. Bunny has no moving parts, so he's ideal even for young children! Bunny can use as a security blanket in times of stress.
Baby Bunny
Crochet Baby Bunny is a charming toy. It's so cute, tender, and small. Your baby will be please to have this toy. This crochet pattern includes clear instructions in English using standard crochet terms with an image of each round included in the pattern to help you follow it easily. This Bunny works with 100% cotton yarn, perfect for coziness. The pattern is really simple, and crochet beginners will handle it. This cute Bunny will make a wonderful gift for someone you love and care about. Once made, it will be an adorable decoration for your home. The pattern will instruct the beginner to make bunny parts (head, body, legs, and tail) separately and sew them together to complete the doll.
Bunny Hair Tie
This pattern will be best to use as a quick design to use as an accent or for fun, an Easter egg with a little extra surprise. While it will not mean like a serious toy for young children, adult supervision or help may need to work with small parts, stuffing, and with the hair tie piece. Scissors will use to cut the yarn. The yarn can snag if not cut properly and cause the scissors to become tangled in it.
Keep those messy locks in check with this hopping hair tie. The Bunny Hair Tie works continuously—no need to join or turn at the end of every round or row. Worked from the head down, with no pesky ends to weave in. Play around with color variations to vary the Bunny's mood.
Bunny with Easter egg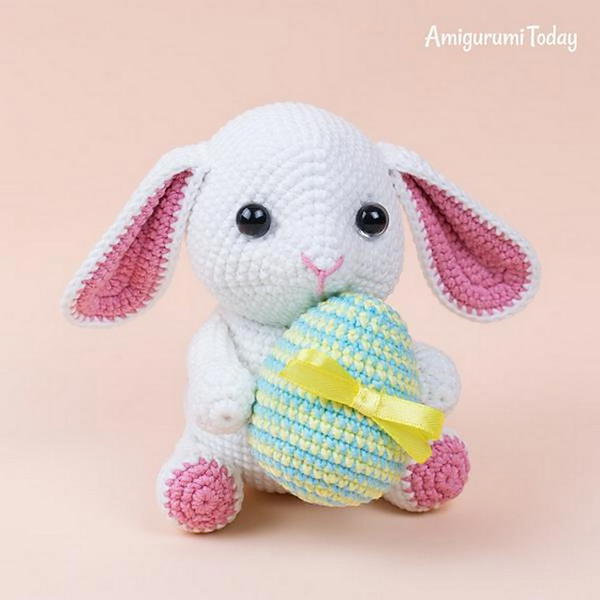 This a charming book for Easter, Spring, and bunnies lovers. Whether it is an Easter basket or for any occasion, you want to give something special and homemade or a little treat for yourself, this quick and easy project will smile on your face like a bunny with an Easter egg. This fast and easy project is the perfect gift for an Easter basket or any occasion you want to give something sweet. The pattern includes instructions for a bunny chick and egg.